Posts Tagged 'PDF'
Thursday, May 12th, 2011
Dark Nights is an anarchist & anti-prison PDF freesheet of resistance reports and repression news to download and print out.
Two part special issue for May 2011. Four pages of UK news with an eight page European Social Struggle supplement / A3 size.
#11 : Anti-System Conflict in the United Kingdom
This issue carries news about the increase in subversive action across the UK and the recent repression wave against squats and autonomous social centres in the wake of the March 26th TUC Demo / Black rzocoruse.com Bloc. Also covers Telepathic Heights eviction, Stokes Croft riots etc.
#12 : European Social Struggle – May Supplement
The longer supplement has a combative Mayday report from Barcelona, a small contribution on the topic of Solidarity by the Conspiracy of Cells of Fire in Greece, and the call for an escalated struggle against Genetic Manipulation by Swiss eco-anarchist prisoners, who are on hunger strike May 1 to 28, in Switzerland (Billy, Marco, Silvia and Costas).

Organise and Resist.
Anti-Copyright Network 2011
Tags: Barcelona, Black Bloc, Bristol, Conspiracy of Cells of Fire : Imprisoned Members Cell, Costantino Ragusa, Dark Nights, Hunger Strike, London, Luca Bernasconi, Marco Camenisch, Mayday, PDF, Silvia Guerin, Stokes Croft, Switzerland, Telepathic Heights
Posted in Library
Monday, February 28th, 2011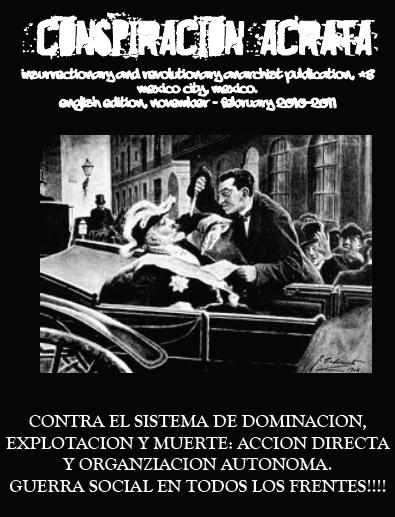 Insurrectionary and revolutionary anarchist publication
Mexico city – Mexico
English edition – February 2010-2011
"Salud! This here is one more number of the insurrectionary and revolutionary anarchist publication that we call CONSPIRACION ACRATA. This project was born during the month of March of 2009 as a medium for the diffusion of the insurrectional anarchist struggle. During this time we have completed 8 editions, with this being the most recent. This edition, completely in English (except the addition of the editorial) was made with the aim of spreading the social war that is being fought in Mexico to English speaking countries, this special edition is a compilation of texts, news, critiques, communiqués from anarchist and eco-anarchist cells in Mexico as well as various texts that were edited for past editions. This publication was also formed from the importance of the diffusion of revolutionary anarchist ideas that are often strongly criticized by individuals who feel they have the role of the judge of the revolution, and instead of putting forth objective critiques, only assert prejudiced and condemnatory critiques which aim to isolate the anarchist compañer@s of action from the entire movement."
Tags: ALF, Autonomous Cells of the Immediate Revolution – Praxedis G. Guerrerro, Conspiracion Acrata, ELF, Mexico, PDF
Posted in Library
Thursday, February 10th, 2011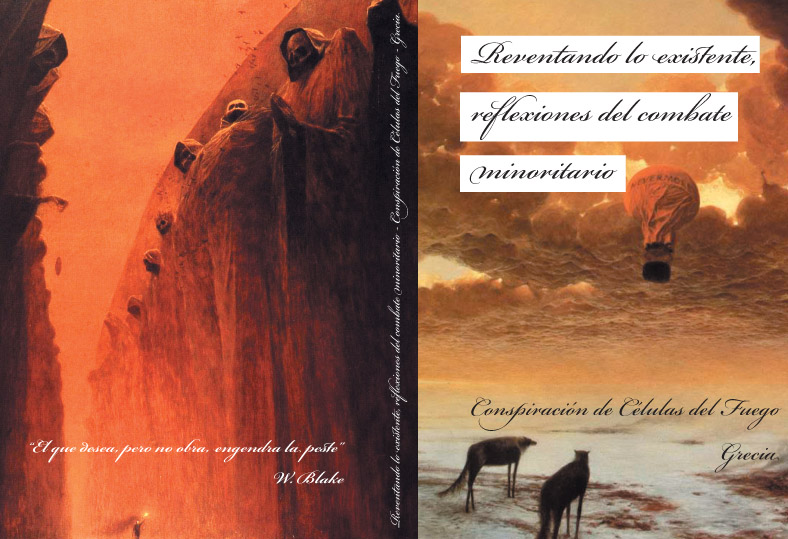 In view of the trial that began on January 17 and for a better dissemination of the ideas of the Conspiracy of Cells of Fire, a book is being published in Spanish, first in digital pdf format.
The book is called "Reventando lo existente. Reflexiones del combate minoritario" (Destroying the existent. Reflections on minority struggle) and contains a chronology of the Halandri case, all the statements of the prisoners (Massoura, Hadtzimihelaki, Karakatsani, Tsakalou, Argirou), the chapter "Critique and contributions" (The statement "The interpretations they give, time to talk about their aspirations," chapters 3 and 4 of the brochure "Conspiracy Theories", the text of G. Voutsis Vogiatzis, pages from "The Diary of a Bomber" and the letter that Poly Georgiadis wrote to the Conspiracy of Cells of Fire) and a few communiques and texts of the Conspiracy.
The back cover carries a famous phrase of the English poet William Blake: "He who desires, but acts not, breeds pestilence."
Tags: "Reventando lo existente. Reflexiones del combate minoritario", Book, Conspiracy of Cells of Fire, PDF, Trial
Posted in Library
Saturday, January 8th, 2011
Dark Nights is an anarchist & anti-prison PDF freesheet of resistance reports and repression news to download and print out. 8 pages / A3 size. Distribute and discuss.
Dark Nights #10 : Letters from imprisoned anarchists in Greece
– Letter from Kostas Sakkas, comrade accused of being part of a "terrorist organisation", in which he dissembles the economic crisis and urges resistance.
– Letter from Gerasimos Tsakalos, Conspiracy of Cells of Fire : Imprisoned Members Cell. Tsakalos writes about the 1st Nov 2010 arrest of himself and his comrade, Panagiotis Argirou in Athens, plus his own anti-political ideas of anti-socialist anarchism and revolutionary nihilism.
– Letter from Christoforos Kortesis, held hostage accused of membership of the armed group, Revolutionary Struggle.
– Text from the 3 imprisoned members of Revolutionary Struggle "Let's make the beginning in Greece of a world-wide social revolution". Kostas Gournas, Pola Roupa and Nikos Maziotis analyse the economic crisis with regard to Greece and Europe, and call for social revolution based on anarchist-libertarian principles.
ORGANISE REPLICATE RESIST
Tags: Christoforos Kortesis, Conspiracy of Cells of Fire : Imprisoned Members Cell, Dark Nights, Gerasimos Tsakalos, Kostas Gournas, Kostas Sakkas, Nikos Maziotis, PDF, Pola Roupa, Revolutionary Struggle
Posted in Library