Posts Tagged 'PDF'
Saturday, December 31st, 2011
New from Act For Freedom Now! Revolutionary Struggle PDF – Trial Solidarity Zine
Download now for free from Actforfreedomnow! A collection of letters, texts and communiques from the armed group ' Revolutionary Struggle' and their accused. Released during their current trial and intended to be one more nail in the coffin of the legitimacy of the State and the capitalist system.
From the introduction:

In the days of April 2010, when the Greek government finally agreed to accept a loan from the International Monetary Fund to begin the take-over of the country into the hands of the international financiers, the security services had prepared a media spectacle to mark the occasion: the capture of 6 anarchist fighters for the purpose of the submission of the social struggle.
Anarchist fighters who had been a thorn in their side for some time, were now hostages. Hostages who had humiliated the demoralised and brutal Greek intelligence services, anti-terrorist divisions and their American occupier counterparts, the CIA, who had sought out the Revolutionary Struggle ('Epanastatikos Agwnas' – EA – in Greek language) for a Rocket Propelled Grenade attack against the US Embassy in Athens. This daring and symbolic action came amongst scores of other targeted attacks which struck for years with symbolically definitive high-impact blows against the institutions of capitalism and government, accompanied by dozens and dozens of pages of critical, thoughtful and articulate anarchist analysis of the institutional structures that parasite on the social wealth produced by labour, with social and economic self-organisation put forward as an anti-capitalist and anti-state egalitarian alternative. Revolutionary Struggle are Nikos Maziotis, Pola Roupa, Kostas Gournas and the fallen Lambros Foundas. Together they formed a group of social-libertarian anarchists based in the busy capital, Athens, who directed their armed activities in the class interests of the exploited workers of Greece and within/alongside the specific mass anarchist/anti-authoritarian movement from 2003-2010.
And now, they continue their fight in the court rooms and prisons of the Greek regime, where they push an even harder fight to the legitimacy of the capitalist enemy. As this collection was being assembled, the show-piece trial against the comrades continues, which is partnered by a campaign of repression against the anarchist/anti-authoritarian movement in general and specifically to several anarchists who deny responsibility. What the Greek security services and their foreign colleagues wish to prevent through intimidation, surveillance and imprisonment is contagion. Contagion of tactics which made a mockery of their system and showed how easily it could be struck by anyone. Contagion of ideas which has now spread far beyond the world-wide anarchist/anti-authoritarian movement into the general masses of people who are angry with everything, wishing to see it all come down and something much more humane begin. …
FREEDOM FOR THE PRISONERS – HONOUR TO LAMBROS FOUNDAS
Trail updates and more from: actforfree.nostate.net
Tags: Athens, Kostas Gournas, Nikos Maziotis, PDF, Pola Roupa, Revolutionary Struggle, Zine
Posted in Library
Saturday, December 31st, 2011
Dark Nights is an anarchist & anti-prison PDF freesheet to download and print out on the fly.
Click here: 4 pages A4 / Double sided A3 / Print to size.
This issue has a special front-page contributed by the comrades in Mexico of Conspiracion Acrata, an insurrectionary anarchist magazine, about refusing the legalistic demands of the State, and the anarchist-individualist thought which informs this. Plus, round-up of news : from UK, about police repression of an anarchist demo during the N30 General Strike; from Greece, news about the continued political-judicial harassment of Christos Stratigopoulos, who was arrested for a bank robbery alongside Alfredo M. Bonanno in Trikala, now accused of more 'crimes' of expropriation; Montreal, Canada, was the place of a great solidarity action for G20 prisoners, with an interesting and critical flyer denouncing the prison system and capitalist society; and not least, again from Greece, a short report of an action with molotovs against riot police in Exarchia outside the Culture Ministry, Athens, shortly after the attempt by imprisoned members of CCF and P.Vlastos to escape from Korydallos prison.
1. About "Anti-Judicial Anarchism", Max Stirner, Luigi Galleani, CCF & More.
2. UK: Mass Arrests in Hackney.
3. Montreal, Canada: Counter-info action in solidarity with the G20 prisoners.
4. Greece: Solidarity with Christos Stratigopoulos.
5. Greece: Riot police attacked with molotovs at the Culture Ministry in Exarcheia, Athens.
Organise & Resist – Zines are for life not just Xmas!!
Anti-Copyright Network 2011
Tags: Athens, Canada, Christos Stratigopoulos, Conspiracion Acrata, Conspiracy of Cells of Fire, Dark Nights, G20, Greece, Hackney, Luigi Galleani, Max Stirner, Molotovs, Montreal, PDF, Repression, UK
Posted in Library
Tuesday, September 27th, 2011
The rebellious anarchist magazine is back with another 92 pages of resistance and revolution to keep you ticking. D.I.Y and not for profit, this magazine aims to be a voice from the uncontrollables. 325 has long provided a platform for prisoners and anarchist/autonomous groups/individuals to communicate, and we're proud to present this latest issue, as we received a lot of new inputs and efforts. The global network of solidarity and direct action spreads and multiplies – this magazine is only a glimpse of it.
A large selection of texts received from UK sets off the riot of info contained within this edition, and we give space to cover, amongst other subjects; the repressive anti-anarchist crack-down in Italy this year; lengthy insightful open letters and uncompromising statements from Greek anarchist prisoners of the Conspiracy of Cells of Fire and their accused; several articles form themed sections concerning Germany, Indonesia, and Chile etc. Whilst Philippines, Mexico and Russia also have a presence. A selection of poetic columns from Argentinian anarchist Rodolfo Gonzalez Pacheco, and the usual International Resistance News and Brief Global Reports make up the regular features.
The world-wide anarchic revolutionary insurrectional current could never be summed up in pages alone and grows day-by-day beyond our capability to report it. Consider these texts and images as contributions to an ongoing process of revolutionary solidarity and struggle.
Free PDF download and paper version directly available from 325 for suggested £2.5 / €3 suggested soli-donation per issue (postage extra), or pick it up from any decent anarchist distro which stocks it. Free copies available to prisoners (if they can receive it). Any money generated will be put into the 325 network and given to the funds of anarchist, eco & class-struggle prisoners.

As the crow flies… the jackanory never stops… This issue is dedicated to the memory of Gary DS & Casey. OG DSG RIP (Riot in Peace).
Articles include:
– For Riotous Assemblies not Reasonable Dissent
– Letter from Anarchist/Antifascist Prisoner Thomas Blak
– The Struggle Against the Existent Continues
– To address moral elitism within the anarchist milieu in response to the rioters of August 6th onwards…
– Incitement to Burn
– Beyond the 'Movement' – Anarchy!
– Against the British 'anti-capitalist movement': Brief notes on their ongoing failure
– To act without outside authorisation, clearance or a big pat on the back from the movement
– 'Rain & Fire' by UK sector of FAI
– A few notes on recent repressive attacks against anarchists in Italy
– To believe, to obey and to work
– 'Direct Action' by Rodolfo Gonzalez Pacheco
– About the case of Silvia, Costas & Billy
– About Solidarity
– About the "Conspiracy of Cells of Fire" case
– P.Argyrou – Statement to the Court
– Cells of Fire are Our Souls
– Political Statement of P.Masouras
– 'DO NOT SAY THAT WE ARE FEW' by FAI
– Mass sabotage in Berlin
– Sketches of the last few years anti-militarist praxis in Germany
– 'There is nothing to reform' by Gabriel Pombo da Silva
– Liebig 14 Evicted
– Solidarity with Chilean Struggle
– 'With the Rebels…' by Rodolfo Gonzalez Pacheco
– Tortuga Presente! Active Solidarity with Luciano!
– News from the Social War in Sulawesi and Java – Indonesia

link : http://325.nostate.net/library/9-325-net.pdf
Tags: 325 Magazine, 325#9, Fuck the Law, Insurrection, Library, PDF, Rioters, Sabotage
Posted in Library
Monday, July 11th, 2011
325 is pleased to present this newly released Elephant Editions free PDF download of the classic pamphlet Fra Contadini by the Italian anarchist, Errico Malatesta (1853–1932).
This classically successful text is a simple to read explanation of anarchist ideas in a conversational style. It was first printed in 1884, when it appeared in La Questione Sociale, the paper that Malatesta founded in Florence, Italy.
It is accompanied by an introduction by present day Italian anarchist-insurrectionalist comrade, Alfredo M. Bonanno, who reiterates the practical reality of expropriation and insurrection, and affirms the senselessness of attempting to "update" comrade Malatesta's great work, which attempts "… to convince the peasant, the worker, the emarginated 'lumpen' proletariat reader, of the mechanism of exploitation and repression, of the system of ideological and political swindling, with the aim of pushing them to rebel in the struggle against the class enemies, and ultimately, to insurrection."
The title also includes a short biography of Malatesta by David Poole.
Tags: Alfredo M. Bonanno, Elephant Editions, Errico Malatesta, Fra Contadini, PDF
Posted in Library
Thursday, May 12th, 2011
325 is pleased to announce the publication of a new Elephant Editions pamphlet by Alfredo M. Bonanno called "Errico Malatesta and Revolutionary Violence" [+ Cover]. The title offers insight into the well-regarded Italian anarchist Errico Malatesta (1853–1932), and offers a discussion of his ideas.
This PDF is being made available for all comrades and interested people to download at no charge. We actively encourage you to print and distribute these important anarchist theoretical texts which pose a real danger to the established order in their circulation.

"My effort did not, nor does it here, intend to provide arguments supporting revolutionary violence. It just wanted, and still does, to make a contribution to the revolutionary ideas and activity of Errico Malatesta. Many unwarranted things have been said about this anarchist who all too often has been enlisted under the banner of whatever side or even party. Like all true revolutionaries, Malatesta did not bother to sort through his papers, he addressed problems as they occured in reality, always ready to look for evidence in the social conflict rather than in a theoretical syllogism."
From the Introductory notes by Alfredo M. Bonanno, Trieste, Italy 2008
Tags: Alfredo M. Bonanno, Elephant Editions, Errico Malatesta, PDF, Revolutionary Violence
Posted in Library
Thursday, May 12th, 2011
Dark Nights is an anarchist & anti-prison PDF freesheet of resistance reports and repression news to download and print out.
Two part special issue for May 2011. Four pages of UK news with an eight page European Social Struggle supplement / A3 size.
#11 : Anti-System Conflict in the United Kingdom
This issue carries news about the increase in subversive action across the UK and the recent repression wave against squats and autonomous social centres in the wake of the March 26th TUC Demo / Black rzocoruse.com Bloc. Also covers Telepathic Heights eviction, Stokes Croft riots etc.
#12 : European Social Struggle – May Supplement
The longer supplement has a combative Mayday report from Barcelona, a small contribution on the topic of Solidarity by the Conspiracy of Cells of Fire in Greece, and the call for an escalated struggle against Genetic Manipulation by Swiss eco-anarchist prisoners, who are on hunger strike May 1 to 28, in Switzerland (Billy, Marco, Silvia and Costas).

Organise and Resist.
Anti-Copyright Network 2011
Tags: Barcelona, Black Bloc, Bristol, Conspiracy of Cells of Fire : Imprisoned Members Cell, Costantino Ragusa, Dark Nights, Hunger Strike, London, Luca Bernasconi, Marco Camenisch, Mayday, PDF, Silvia Guerin, Stokes Croft, Switzerland, Telepathic Heights
Posted in Library
Monday, February 28th, 2011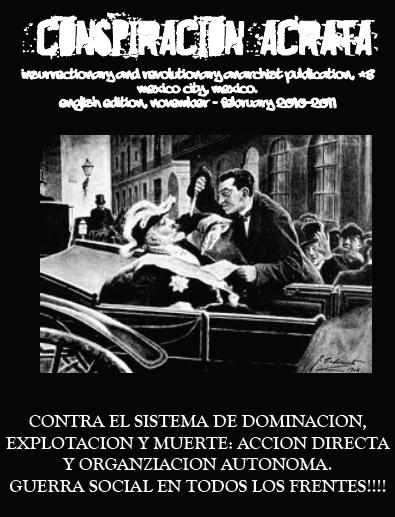 Insurrectionary and revolutionary anarchist publication
Mexico city – Mexico
English edition – February 2010-2011
"Salud! This here is one more number of the insurrectionary and revolutionary anarchist publication that we call CONSPIRACION ACRATA. This project was born during the month of March of 2009 as a medium for the diffusion of the insurrectional anarchist struggle. During this time we have completed 8 editions, with this being the most recent. This edition, completely in English (except the addition of the editorial) was made with the aim of spreading the social war that is being fought in Mexico to English speaking countries, this special edition is a compilation of texts, news, critiques, communiqués from anarchist and eco-anarchist cells in Mexico as well as various texts that were edited for past editions. This publication was also formed from the importance of the diffusion of revolutionary anarchist ideas that are often strongly criticized by individuals who feel they have the role of the judge of the revolution, and instead of putting forth objective critiques, only assert prejudiced and condemnatory critiques which aim to isolate the anarchist compañer@s of action from the entire movement."
Tags: ALF, Autonomous Cells of the Immediate Revolution – Praxedis G. Guerrerro, Conspiracion Acrata, ELF, Mexico, PDF
Posted in Library
Thursday, February 10th, 2011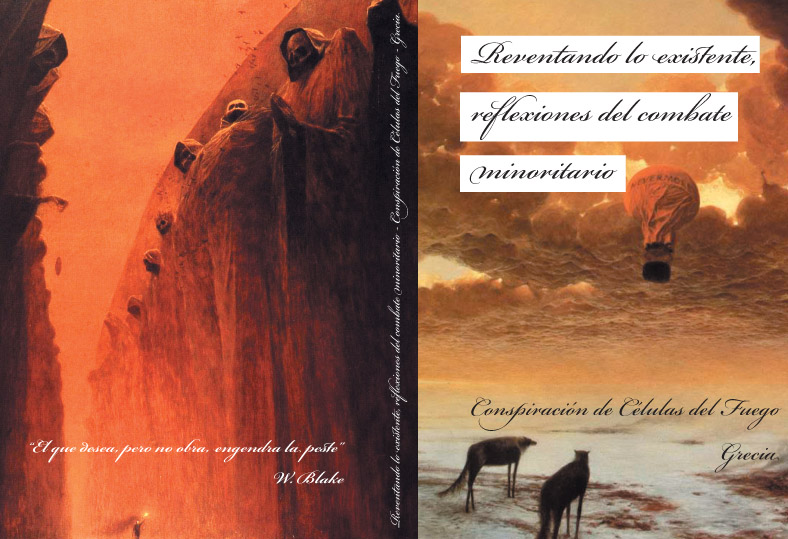 In view of the trial that began on January 17 and for a better dissemination of the ideas of the Conspiracy of Cells of Fire, a book is being published in Spanish, first in digital pdf format.
The book is called "Reventando lo existente. Reflexiones del combate minoritario" (Destroying the existent. Reflections on minority struggle) and contains a chronology of the Halandri case, all the statements of the prisoners (Massoura, Hadtzimihelaki, Karakatsani, Tsakalou, Argirou), the chapter "Critique and contributions" (The statement "The interpretations they give, time to talk about their aspirations," chapters 3 and 4 of the brochure "Conspiracy Theories", the text of G. Voutsis Vogiatzis, pages from "The Diary of a Bomber" and the letter that Poly Georgiadis wrote to the Conspiracy of Cells of Fire) and a few communiques and texts of the Conspiracy.
The back cover carries a famous phrase of the English poet William Blake: "He who desires, but acts not, breeds pestilence."
Tags: "Reventando lo existente. Reflexiones del combate minoritario", Book, Conspiracy of Cells of Fire, PDF, Trial
Posted in Library
Saturday, January 8th, 2011
Dark Nights is an anarchist & anti-prison PDF freesheet of resistance reports and repression news to download and print out. 8 pages / A3 size. Distribute and discuss.
Dark Nights #10 : Letters from imprisoned anarchists in Greece
– Letter from Kostas Sakkas, comrade accused of being part of a "terrorist organisation", in which he dissembles the economic crisis and urges resistance.
– Letter from Gerasimos Tsakalos, Conspiracy of Cells of Fire : Imprisoned Members Cell. Tsakalos writes about the 1st Nov 2010 arrest of himself and his comrade, Panagiotis Argirou in Athens, plus his own anti-political ideas of anti-socialist anarchism and revolutionary nihilism.
– Letter from Christoforos Kortesis, held hostage accused of membership of the armed group, Revolutionary Struggle.
– Text from the 3 imprisoned members of Revolutionary Struggle "Let's make the beginning in Greece of a world-wide social revolution". Kostas Gournas, Pola Roupa and Nikos Maziotis analyse the economic crisis with regard to Greece and Europe, and call for social revolution based on anarchist-libertarian principles.
ORGANISE REPLICATE RESIST
Tags: Christoforos Kortesis, Conspiracy of Cells of Fire : Imprisoned Members Cell, Dark Nights, Gerasimos Tsakalos, Kostas Gournas, Kostas Sakkas, Nikos Maziotis, PDF, Pola Roupa, Revolutionary Struggle
Posted in Library