Posts Tagged 'PDF'
Friday, March 27th, 2020
We're all living quite a situation here. Before the virus had got near most of us, we were thrown into this necessary mode of life called social-distancing. Our lack of knowledge and the speed it has covered the globe and is transmitting within the locations we live has produced feelings of shock, confusion and fear. While these feelings make sense, we should also recognise and counter the tendency that they produce towards individualism and isolation.
Fear. Individualism. Isolation. Currently the circulation of these sentiments is exponentially bolstering the power of the state. As Crimethinc have said, "social distancing must not mean total isolation. We won't be safer if our society is reduced to a bunch atomised of individuals". Such an atomised society is the path to least resistance. Even as the virus spreads we must not become too isolated and disconnected from each other to be able to resist state control and the implementation of measures that fuck most of us over in a desperate attempt to save the economy.
We've never organised in a situation like this before. We've never organised where the idea that to be responsible to each other requires us to stay away from each other is common sense. And yet, we're still finding ways to set up networks of mutual aid and support, to get supplies to people who need them. As things progress – as what is a medical- scientific issue expands further and further into the terrain of the social – we'll find ourselves returning to the things we always knew, that we'd learnt in all our experiences of struggle and resistance.
Consider this a simple reminder of some of those things, to keep them in mind now, before fear and isolation means we've ceded too much ground to an increasingly authoritarian state. (more…)
Tags: Analysis, Australia, Coronavirus, Flyposter, International Solidarity, PDF, Racism, Repression
Posted in Autonomy
Thursday, March 26th, 2020
PDF: Quale internazionale? Intervista e dialogo con Alfredo Cospito dal carcere di Ferrara. Terza parte (Vetriolo, giornale anarchico, n. 4, inverno 2020)
Il testo che riportiamo qui è la terza e ultima parte di "Quale internazionale? Intervista e dialogo con Alfredo Cospito dal carcere di Ferrara", pubblicata nel mese di marzo 2020 nel numero 4 del giornale anarchico "Vetriolo". Le parti prima e seconda sono state pubblicate rispettivamente nel numero 2 (autunno 2018) e 3 (inverno 2019). Data la complessità e la vastità degli argomenti trattati e del testo stesso, non è stato possibile pubblicarlo integralmente in un solo numero del giornale e si è scelto di suddividerlo in tre parti. Tutto lo scritto verrà stampato in un volume di prossima pubblicazione.
Con l'occasione, segnaliamo e correggiamo un errore presente nella terza parte (invitiamo a fare attenzione a questo passaggio durante la lettura del giornale). L'errore si trova nella quarta colonna di pagina 11, righe 4 – 11. Per una maggiore comprensione riportiamo l'intera frase: «Questo concetto può riacquistare un senso, una sua concretezza, una sua attualità solo se accompagnato dalla «rivolta», dalla violenza. La «rivoluzione» si accontenta del "pathos" (sentimenti, passioni, fascinazione) e della "praxis" (azione distruttiva, la propaganda del fatto, la violenza)».
L'errore è nella parola «rivoluzione», cui bisogna sostituire «rivolta». Quindi la frase corretta è: «Questo concetto può riacquistare un senso, una sua concretezza, una sua attualità solo se accompagnato dalla «rivolta», dalla violenza. La «rivolta» si accontenta del "pathos" (sentimenti, passioni, fascinazione) e della "praxis" (azione distruttiva, la propaganda del fatto, la violenza)».
Per richieste di copie: vetriolo[at]autistici.org
Tags: Alfredo Cospito, Analysis, Ansaldo Nucleare, Attentat, Black International, Counter-info, Ferrara, Informal Anarchist Federation (FAI), International Revolutionary Front, International Solidarity, Interviews, Italy, Nucleo Olga FAI/FRI, PDF, Roberto Adinolfi, Sabotage, Vetriolo
Posted in Interviews
Friday, March 20th, 2020
PDF: The Time is Now
This is a PDF explaining how to sabotage game farms. It needs to reach as many people as possible. Against all authority, speciesism and capitalism.
THE TIME IS NOW, BRING DOWN THE GAME FARM INDUSTRY
A step by step guide to sabotaging game farms and putting an end to this fucked up industry.
Game farming is abhorrent. Hunters will use the excuse of conservation as a justification for their murderous actions, but game farming cannot be sustained in any way. Breeding wild animals to be released with the sole purpose of killing them, modifying the countryside to suit the needs of the hunting community and killing all other wildlife in the process with the only aim of capitalising on animal exploitation. Game farming is, indeed, a multi million industry that can be toppled very easily using direct action.
As game farming is an incredibly lucrative business based on breeding and rearing wild animals, direct action focused on sabotaging the infrastructure and releasing the animals into the wild is the biggest and most impactful action anyone can do bring the business to their knees. I will repeat this to clarify: YOU CAN STOP THIS INDUSTRY BY WALKING IN THE COUNTRYSIDE.
This document will solely focus on how to liberate and sabotage game bird farms as a map has been made available with hundreds of entries throughout Europe where you can find your closest farms. That does not mean we do not encourage you to seek other farms, like deer, wild boar and even fox (yes, people are breeding foxes for hunting) and do exactly the same thing. You might need to modify some of the advice, but it will still be good for the most part.
Tags: Animal Liberation, Manuals, PDF, Sabotage, UK, Zine
Posted in Library
Wednesday, March 18th, 2020
PDF: Portada – Memoria y Combate
PDF: Libro – Memoria y Combate
La presente publicación nace con la intención de difundir destellos de la vida de un anarquista de la región chilena que falleció producto de un accidente. La publicación busca ser un aporte para la construcción de la memoria combativa, que, en este caso y como podrán encontrar en sus páginas se ha manifestado con diferentes gestos concretos a lo largo de los años con iniciativas, propaganda, sabotajes, fuego, reflexiones, anécdotas y más, gestos anónimos por el compañero y que hoy son compilados y salen a la luz en un nuevo formato. Para nosotrxs la muerte de un anarquista no puede pasar desapercibida, sea la forma que sea su muerte. Un/a compañerx que asume su vida en permanente lucha contra la opresión, la explotación y el poder en sus múltiples formas y concreta sus ideas en hechos es totalmente dignx de rescatar, difundir y replicar, es por eso que no olvidamos a Javier Recabarren, su muerte es un llamado para continuar firmes en la praxis subversiva anarquista. (more…)
Tags: Chile, International Solidarity, Javier Recabarren, PDF, Santiago, Zine
Posted in Library
Saturday, February 29th, 2020
Decolonization Means No State × 4
These flyers were produced with the intention to disrupt the liberal narratives surrounding the Wet'suwet'en struggle, and the activism we have seen emerge as a result of the most recent waves of state violence. Simultaneously we are inspired by the actions of many of our comrades, especially the Mohawk blockades and those engaged in militant demos and sabotage. We hope these flyers continue to feed the fire of insurrection.
Reconciliation is Dead, and Decolonization Means no State were heavily inspired by Tawinikay's (aka Southern Wind Woman) work – much of the words appearing on them are Tawinikay's directly. Her work provides a critical and revolutionary stance on current struggles to shut down so called Canada – we are very grateful for this work. As anarchists working to refine our perspective and practice, Tawinikay's critical intervention with the struggle and Indigenous solidarity work many of us engage in demands our engagement.

Against the state and capital
For a growing militant movement
Links to Tawinikay's work: 1, 2
Tags: #ShutDownCanada, Anti-pipelines, Canada, Ecological Destruction, Indigenous Struggle, PDF, Sabotage, Wet'suwet'en
Posted in Library
Wednesday, February 26th, 2020
How to Make Paint Bombs
Eggs filled with paint. Make a tiny hole either end of the egg, about the size of a syringe (no needle). Get the egg fluid/yolk out without leaving DNA traces on the egg. You can use the syringe or air pressure. After you have got the disgusting egg mess out by any safe means possible, let it dry and seal the bottom of the egg with strong tape (no DNA traces!). We like to use a parchment parcel tape because the paint bonds with the tape before drying, which helps destroy any forensics on the tape and the parchment doesn't survive the action as well as the plastic-type tape. Fill the egg with paint via the syringe, being careful about all the paint traces, i.e. don't get paint everywhere. Let it dry and cover the top hole with tape. We find it good to place all the eggs in an egg box.
Be careful about the egg box because sometimes they are marked with a QR/barcode that shows where the eggs/egg box is manufactured and also it's point of sale. Be careful about where you got the paint, tape, eggs from etc. Police forensics can trace different types of paint, tape and eggs too. Keep a clean preparation space, clothes and no unexposed skin or hair. It's a good preparation practice for further illegalist work.
With the eggs -paint-bombs- you can hit up targets quickly and almost silently (compared with smashing the windows), and gives you a good practice for
using stones and molotovs in actions. Learn how to throw if you can't do it very well! The paint will splash back if you are too close to the target. Make sure the paint won't come out during flight. The eggs can be transported inside the box and used in night actions, demos etc. Just don't smash them on yourselves or in your bag accidentally and never throw anything from the back of a crowd, only from the front before disappearing into the mob!
It's possible to make a lot of these and mass paint-bomb targets with high coverage in places under quite intense surveillance due to the speed of use and lack of noise. Using the paint-bombs newer comrades and those a 'little out of shape' can gain experience and learn from the techniques, checks and practices used in an active setting.
Serve up the eggs as needed to banks, corporations, government facilities, advertising, technocrats, animal abusers, fascists, etc.
Good luck, and take care of each other!
Tags: Manuals, Paint attack, Paint bombs, PDF, Sabotage, Vandalism
Posted in Library
Wednesday, February 19th, 2020
PDF: Storms & Lightnings
Tags: Analysis, Arson, France, PDF, Sabotage, Zine
Posted in Library
Thursday, February 13th, 2020
FR: Une carte des incendies d'antennes-relais – Solidarité avec Badger
PDF: International solidarity with Badger
Bristol Mast Fire
Fourteen arson attacks against telecommunications and mobile phone masts in the Bristol and Bath area took place over the last decade.
This imaginal map is an attempt to show a rough sketch of how these attacks were spread over a large area.
The Earth is being rapidly destroyed by a matrix of greed, consumerism, technology and industrial exploitation which has poisoned the air, rivers and land, harmed all living beings and made millions of species extinct.
These attacks caused substantial losses for the capitalist companies and shows that the system can be sabotaged through organisation and direct action. One way to hit the system is by economic and strategic sabotage in all fronts.
The cost of the damage can never equate to the profits the system loots from our lives everyday and the damage that it has done to the Earth.
Despite years of police repression against the anarchist movement no one has been charged with the fires but the cops have accused a fugitive anarchist comrade 'Badger' for involvement in one incendiary strike in 2013 that took out police radio, Vodafone services and TV and digital coverage to 80,000 homes and businesses.
The action was claimed by the FAI/ELF – Horizons of Burning Rage.
Police also accuse Badger of trashing the windows of right-wing rag 'Bristol Post' in the riots of 2011. Innocent or guilty is irrelevant to our solidarity.
Stay free Badger – Long live anarchy!
International solidarity to Badger
Freedom for ALL – Destroy Civilisation
Tags: Anti-technology, Flyposter, Huw 'Badger' Norfolk, International Solidarity, New Horizons of Burning Rage FAI / ELF, PDF, Sabotage
Posted in Library
Thursday, February 13th, 2020
FR: Tract : Comment détruire des antennes-relais
PDF: How to destroy cell phone towers
How to Destroy Cell Phone Towers
Recipe: Standard size cell phone tower, used by two or three cell carriers.
Usually on the front of the installation there will be a sign noting the companies.
Ingredients:
2-3 comrades
Entry tools (Boltcroppers, Wiresnips, etc)
Gloves, Mask, Clean Clothes, Hat, Cap or Hood (for DNA traces)
Fuel (500ml, White Spirit or Kerosene preferred instead of Benzine/Petrol)
Fuel (100ml of Benzine/Petrol)
Firelighters, Several Lighters, Long Pole or Stick (up to 15ft)
Thick Rags/Towelling (to absorb the fuel)
Small Tyre which is easy to fit in a rucksack (from Wheelbarrow, Quad Bike, Moto etc)
Stage 1. Recon the target. Locate the weak point in the installation, which is where the network cables depart from the mast vertical and enter horizontally or similar into the electrical source, which is usually either a small reinforced building or box. The exposed cables may be located at ground level or up to 15ft up the mast for example. Note estimated timings, entry and exit points, security cameras, motion sensors, lighting etc. Aim to execute the action within 15 mins.
Stage 2. Check and enter the site, climb the mast if needed, cut the cable ties that bunch the wires together at the weak point you located earlier. Wedge the tyre in between the cables securely and stuff the tyre with rags and wrap some rags around the cables climbing up the mast from that point. Soak the rags inside the tyre and up the mast with fuel. Take care not to cover yourself with fuel traces, prevent unneeded forensic evidence and do not set yourself on fire. If you are using a pre-made timed incendiary device place it inside the tyre and set it. Climb down.
Stage 3. If using a timed device, leave the site immediately. If not, check the site and your exit points quickly. This second check is to prevent any detection, unnecessary injuries or death due to the extended nature of the action.
Stage 4. Light the fire using a pole or stick wrapped with fuel-soaked rags, Benzine is better here as the wind can get very strong where these mast are located usually. Light the rags inside the tyre from a distance, getting as far back as possible. If the tyre is small, then the fire is smaller, and detection is lessened. Practice operating in windy environments to get used to using fire at altitude and in difficult circumstances. Leave immediately.
Security: Dispose of all materials used in the sabotage action and do not return to the site. Police scientific teams will extensively search the target's area, entry and exit points, and routes to and from, for any trace of material they can use as evidence.
This recipe is open to be adapted and developed for use wherever it is needed, larger and more complex targets and systems need more developed plans of attack. Trial and error are the guide.
Against 5G & the world which needs it
Tags: 5G, Anti-technology, Black International of Anarchists of Praxis, How to destroy cell phone towers, Manuals, PDF, Sabotage
Posted in Library
Friday, February 7th, 2020
PDF: 'A sea of possibilities in the concrete desert: Territory, city and insurrection'
Brochure from squatters and resisting spots in Madrid, Athens and Berlin
This publication is a compilation of texts that emerges from the discussions and the work we started in the wake of the event "A sea of possibilities in the concrete desert. Territory, city and insurrection" that happened in Madrid during June 2019 in Local Emboscada and Local Anarquista Motin. Is the product of a joint work of some comrades from Berlin and Madrid, that does not finish with the publication of this pages and pretends to extend the discussion that we have shared.
What does it mean to take territory against the State and Capitalism? How can we take it through our struggles? How does it work domination in the territories that we inhabit? Does it mean our way of living in a territory a conflict with the system?
December 2019,
Madrid and Berlin.
Tags: A sea of possibilities in the concrete desert: Territory, city and insurrection' (Zine), Germany, La Emboscada, Local Anarquista Motin, PDF, Spain, Zine
Posted in Library
Wednesday, February 5th, 2020
PDF: Against Eugenics and Anthropocide
"A crime against humanity is taking place before our eyes.
This crime, born in the brains of biologists and committed through the means of medicine and genetics, presents itself outwardly as a good deed and an emancipation for mankind.
A good deed for victims of sterility (organic or due to the chemical and industrial poisoning of the environment), for single women and couples of the same sex who are naturally infertile.
Emancipation from the living – spontaneous, autonomous and unpredictable – from the constraints of nature from which derives birth with all its uncertainties.
This crime is eugenics (at first called viriculture or aristogenics), the artificial selection of the human species, renamed this way in 1883 by Galton, a cousin of Darwin and also co-inventor of biometrics together with Karl Pearson (1857-1936). Or again race hygiene (Rassenhgyiene) in 1904, by Alfred Ploetz and Ernst Rüdin, two Nazi doctors. …"
Les Amis de Bartleby (Bordeaux), les Chimpanzés gascons (Gascogne), Hors-Sol (Lille), Lieux communs (Paris), Pièces et main d'œuvre (Grenoble), Resistenze al Nanomondo (Italy)
October 2019
Tags: Anti-technology, Artificial Reproduction, Biotechnology, Eugenics, Nanotechnology, PDF, Technological Singularity, Transhumanism
Posted in Eco Struggle
Saturday, February 1st, 2020
Recibido por correo electrónico. Para descargar el PDF aquí.
UN MAR DE POSIBILIDADES EN EL DESIERTO DE HORMIGÓN
Esta publicación es una recopilación de textos que surge de los debates y el trabajo que comenzamos a raíz de las jornadas «Un mar de posibilidades en el desierto de hormigón, Territorio, ciudad e insurrección» que sucedieron en Madrid durante junio de 2019 en La Emboscada y en Local Anarquista Motín. Es el fruto de un trabajo conjunto de algunas compañeras de Berlín y Madrid, que no termina con la publicación de estas páginas y que pretende extender el debate que hemos compartido. ¿Qué significa tomar territorio frente al Estado y el Capitalismo? ¿Cómo podemos tomarlo a través de nuestras luchas? ¿Cómo funciona la dominación en los territorios que habitamos? ¿Supone nuestra manera de habitar el territorio un conflicto con el sistema?
Diciembre 2019,
Madrid y Berlín
Índice:
-Territorio, ciudad e insurrección. Proyectualidad y propuestas de lucha.
-Conclusiones de las jornadas (Madrid)
-Conclusiones de las jornadas (Rigaer 94)
-Lo llaman "Zona de peligro" (Rigaer 94)
-La lucha por el territorio en Exarchia
-Rompiendo la espada del capital que amenaza Exarchia
-La ciudad como instrumente de dominación
-La única administración posible. Sobre la cuestión de las ciudades
Tags: Berlin, Eviction, Exarchia, Madrid, PDF, Repression, Rigaer 94, Rigaerstrasse, Sabotage, Social Insurrection, Squatting, Zine
Posted in Library
Tuesday, January 28th, 2020
PDF: Jurnal Anarki – Edisi Menjelang Badai
INTRO.
EDITORIAL.
KIDUNG BAGI UNABOMBER PART I.
KIDUNG BAGI UNABOMBER PART II.
KETIKA MASYARAKAT MEMBESARKAN HITLER.
KRITIK ATAS PRIMATA, EVOLUSI, DAN ANARKISME.
PRIMATA, EVOLUSI, DAN ANARKISME.
TEKNOFASIS KAPITALISME.
GERAKAN SOSIAL, MUSIK, DAN SEORANG HERRY SUTRESNA.
MAYDAY 2019: DUNIA ADALAH MILIK MEREKA YANG MUDA.
ARSITEKTUR DAN APOKALIPS – IVAN THEO.
TETEK BATOK.
BAGAIMANA ANAK PEMBURU DAN PERAMU BELAJAR – PETER GRAY.
PAPUA BARAT, KOLONIALISME, DAN SOLIDARITAS TANPTA BATAS – VERONIKA KOMAN.
KEBANGKITAN GLOBAL FASISME.
DOMESTIKASI DAN ANARKI PRIMAL – KEVIN TUCKER. [">EN]
MERENGKUH KEKOSONGAN KREATIF: SEKELUMIT KISAH RENZO NOVATORE
Tags: 1st May, Analysis, Anti-Fascism, Ecological Destruction, Herry Sutresna, Indigenous Struggle, Indonesia, Jurnal Anarki, Nazi, Papua, PDF, Renzo Novatore, Ted Kaczynski, West Papua, West Papua Independence, Zine
Posted in Library
Saturday, January 18th, 2020
We want more uproar, which is why we give you RUMOER! A publication which will hopefully provoke discussion, irritation, inspiration, agitation, and attack. Because we do not want a raise in wages, but the destruction of work. Because we do not want to shout 'boo!' but want to hear BOOM! We want a confrontation without compromise with the system that is destroying our lives and the planet.
In this first issue you will find texts about the increasingly disgusting expanding technologisation of the world. Another one outlines why it is really not necessary to have your phone with you at all times. Furthermore, we will talk about police violence and the worldwide revolts against it, from Chile to Iraq. Incisive texts concerning leftist misery, affinity and 'professional' activism in a triptych of translations also appear in this edition; after these, there is a critical text about the current discourse of a large activist group dealing with the climate. And last but not least, a primarily happy end — a chronicle of attacks and anarchist interventions, by way of entertainment and necessary inspiration.
You can find RUMOER in your local social center or order for free by sending us an e-mail. On our website rumoer.noblogs.org you will find a pdf version that you can read online or print and distribute yourself (but then you need gold ink of course).
If you want to order a few copies or do you have something to report, you can mail us on rumoer (((A))) riseup \\\ net
Download:
Cover
Print PDF
Read PDF
See you soon on the street!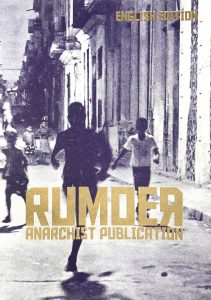 Tags: PDF, Rumoer (Zine), Zine
Posted in Library
Thursday, January 16th, 2020
Zine from the insurrectionary anarchist comrades in Philadelphia:
Volume 6 Issue 1 (PDF for reading 8.5×11)
Volume 6 Issue 1 (PDF for printing 11×17)
In this issue:
Philadelphia Energy Sale
2019 Year In Review
Attorney General Denies Parole
What Went Down
Response To Response To "Property Destruction Is Not Enough"
2020 Summits
Bern It Down!
BlackRock
World News
https://anathema.noblogs.org/post/2020/01/15/volume-6-issue-1/
Tags: Anathema, PDF, Philadelphia, USA, Zine
Posted in Library