Posts Tagged 'PDF'
Sunday, October 21st, 2018
PDF: La Bomba Zine #28 Agosto 2018
Tags: Chile, La Bomba Zine, PDF, Santiago, Zine
Posted in Library
Friday, October 12th, 2018
PDF: 'Step into the Unknown' zine
PDF: 'Step into the Unknown' posters
From the author/artist/anarchist who brought you 'Tool 4 Crowd-control – Class War-Horse', here we present: 'Step into the unknown' with more thoughts, poems, provocations and critique.
It can be printed in a zine format or as individual posters.
Tags: Flyposters, PDF, Step into the Unknown, UK, Zine
Posted in Library
Wednesday, October 10th, 2018
As requested, here is the 'Against Surveillance State UK' CCTV article as an A4 PDF to be enlarged to A3 and flyposted as a spread, or printed out on to double-sided A4 and handed out.
PDF: A4 – Against Facial Recognition CCTV
Tags: Analysis, Anti-technology, CCTV, Flyposter, Intelligent Surveillance, PDF, UK
Posted in Social Control
Wednesday, October 10th, 2018
Volume IV Issue IX
Volume 4 Issue 9 (PDF for reading 8.5 x 11)
Volume 4 Issue 9 (PDF for printing 11 x 17)
In this issue:
Hate Crimes at SCI Phoenix
We All Live Downstream Pt. 2
What Is Direct Action?
What Went Down
"Always Escalate!"
Against The Cult Of Visibility
Life's A Witch And Then You Fly
Examination: Imagination
Fireworks Etiquette At Demos
Tags: Anathema, PDF, Philadelphia, USA, Zine
Posted in Library
Sunday, October 7th, 2018
PDF: Dark Nights #47 – EN
PDF: Dark Nights #47 – ES
'Against Surveillance State UK – Against Facial Recognition CCTV'
'Contra la Vigilancia del Estado de Reino Unido – Contra el CCTV de Reconocimiento Facial'
International anarchist newsletter in English and Spanish versions. Latest issue of Dark Nights returns after more than two years. Download, copy and distribute.
Boletín anarquista internacional en versiones en inglés y español. El último número de Dark Nights regresa después de más de dos años. Descargar, copiar y distribuir.
Anti-Copyright Network

+ Facial Recognition CCTV article as A4 PDF to be enlarged to A3 and flyposted.
Tags: Analysis, Anti-technology, CCTV, Dark Nights, Insurrection, Intelligent Surveillance, Novichok Case, PDF, Repression, Sabotage, Social War, Zine
Posted in Library
Thursday, September 27th, 2018
Here is the second issue of the anarchist newsletter written by and with contributions from those on the run or illegal.
Find the PDF and the site here:
https://fantasmamagazine.noblogs.org/
Tags: Fantasma, PDF, Zine
Posted in Library
Thursday, September 20th, 2018
Fire Ant is a new publication focused on spreading the words of anarchist prisoners and generating material solidarity for our imprisoned friends. Begun as a collaboration between anarchist prisoners and anarchists in Maine, Fire Ant seeks to raise material aid for anarchist prisoners while fostering communication between anarchists on both sides of the walls.
Issue #1 contains writings by Michael Kimble, Jennifer Gann, Eric King, and Sean Swain, as well as a text in solidarity with Marius Mason.
If you would like to support Fire Ant and wider efforts in solidarity with anarchist prisoners, please print and distribute this publication or donate to Bloomington ABC's Anarchist Prisoner War Fund.
The Fire Ant collective can be contacted at
Fire Ant
PO Box 164
Harmony, ME 04942
USA
via Bloomington ABC
Tags: ABC Bloomington, Maine, PDF, USA, Zine
Posted in Library
Tuesday, August 28th, 2018
Information relating to recently dispossessed members on Mallingbar Country.
PDF: KUNIN LAW: CROW AND COUNTRY
A Letter To All First Nations
Ronald Roe
Walman Yawuru descendant,
Goolarabooloo Elder, Broome, Western Australia.
+ How Native Title backfires – big time …
Tags: Australia, Indigenous Struggle, PDF
Posted in Library
Saturday, August 25th, 2018
Why bother writing to politicians when all they deserve is our hatred? They will never listen to appeals from social reformers or the unwashed, nevermind the misguided anarchists. Why don't you write to locked-up anarchists instead, cheer them up and strike up a conversation? One of the most important and simple ways we have available to break the isolation imposed on our imprisoned comrades is to write to them and let them know that they are not forgotten but are present. Nothing stops when you enter prison and we can meet them there with our international solidarity which is taking place on many fronts.
Here is a good PDF guide to prisoner correspondence written by ABC Leeds some years ago but still relevant today, plus a list of anarchist prisoners compiled by the international groups of the Anarchist Black Cross for the week of solidarity taking place at the moment:
Writing to prisoners – Guide by ABC Leeds
Anarchist prisoners addresses list – August 2018
Tags: ABC Leeds, International Week for Anarchist Prisoners, PDF, Zine
Posted in Prison Struggle
Thursday, August 23rd, 2018
Tags: Chile, La Bomba Zine, PDF, Santiago, Zine
Posted in Library
Monday, August 20th, 2018
The following two articles / PDF files are translations from the Danish anarchist newspaper Orkanen, January and March 2018. The critical texts are about informers, snitching, prisoner solidarity, repression's effects, etc and are not just of interest for the scene/movement in Copenhagen/Denmark, but also for our anarchist/ABC/Anti-repression/Anti-prison-network.
2. Another filtering of the muddy waters
Tags: Copenhagen, Denmark, Orkanen, PDF, Snitches / Informers
Posted in Prison Struggle
Saturday, July 21st, 2018
PDF: 26 La Bomba 26 Marzo 2018
Tags: Chile, La Bomba Zine, PDF, Santiago, Zine
Posted in Library
Tuesday, July 17th, 2018
PDF: Against Eco-Extremism : Mirror image of Civilisation & Religion
Small booklet compiling the recent texts critical to the so-called 'Eco-Extremist' trend written by nihilist-anarchists and anarchist-insurrectionalists from around the world.
Produced in collaboration with Verde Press.
Tags: Analysis, Eco-Extremism, Individualists Tending Toward the Wild (ITS), PDF, Zine
Posted in Library
Tuesday, July 10th, 2018
As we'll be publishing a collection of the critiques of "eco-extremism" from the nihilist-anarchist and anarchist-insurrectionalist tendency that were previously published on our site and elsewhere, we republish this PDF which looks slightly deeper into the Little Black Cart published journal, Atassa, and the Church of ITS Mexico, as largely our tendency has not seen fit to waste too many words on anything other than dismissals of this crap. Although we really disagree with the author's overarching positions on many topics "Letter to the Anarchist Galaxy", "Nihilist Recuperation" etc, that they use to give frame to their argument and find the tedious referencing and 'social-insurrectionary' style to be repetitive, fanciful, lengthy and overcooked (which is a typical feature of these kind of texts from that sector of the solar-system), nevertheless we think it's an interesting addition to the salt of critique advancing the dialogue against green authoritarianism and wee dafties. Where arrogance and stupidity meet, nothing good comes!!
[USA] Of Indiscriminate Attacks and Wild Reactions
An Anti-Civ Anarchist Engages with ITS and Atassa, their Defenders and Their false Critics
The following is the introduction to a short book critiquing so-called "eco-extremism" in Mexico, and those in support of it in the United States. To read two essays on the subject already published on IGD, go here.
Read and Download HERE
Author's Note to IGD readers: This essay was written a year ago, in haste. It was prompted by the escalation in 2017 of conflict between insurrectionary anarchists and proponents of a new school of purportedly anti-civilization ideology known as "Eco-Extremism", both in Mexico and the US. This conflict was signaled in part by the appearance of a US journal called Atassa: readings in Eco-Extremism, which presented ideas and writings associated with the armed struggle group known as Individualidades tendiendo a lo Salvaje, abbreviated ITS but most often translated from the Spanish as Individualists Tending toward the Wild (a group with a history stretching back to around 2011).
Some of you will remember the publication around the same time of two brief pieces of news/criticism on It's Going Down by Scott Campbell ("There's Nothing Anarchist About Eco-Fascism," and "Not Our Comrades: ITS Attacks on Anarchists") which also dealt with this conflict. These pieces appeared in the wake of ITS claims of responsibility for various apparently misogynistic or random murders, physical attacks on anarchists, and a ramping up of reactionary rhetoric on the part of the mysterious and media-savvy group. Fast forward to recent weeks, and a slew of the online Egoist milieu has issued its own analyses and condemnations of ITS, Atassa, and Eco-Extremist ideas in what appears to be an ongoing fallout. (more…)
Tags: Eco-Extremism, Individualists Tending Toward the Wild (ITS), PDF, USA, Zine
Posted in Library
Sunday, July 8th, 2018
A zine creating and distributing project focused on anarchy, insurrection and anti-civilization.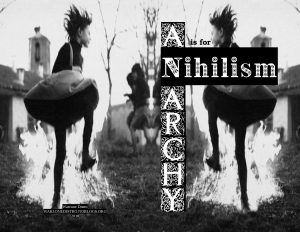 A is for Nihilism – This zine does not represent any "official" definition, nor a new program or political ideology. Instead it merely presents some common anarchist-nihilist ideas which encourage an anti-political critique of all social control and order, in favor of individual empowerment, anarchy and insurrection.
https://warzonedistro.noblogs.org/
Tags: PDF, Warzone Distro, Zine
Posted in Library