Posts Tagged 'People's Defence Units (Y.P.G.)'
Monday, December 30th, 2019
The genocide in Syrian territory since the invasion of the fascist Turkish state, with the agreement and complicity of the international community, continues. Day by day hundreds of civilians find themselves on the agonizing receiving end of the bombings and attacks carried out Erdogan's fascist army and ISIS's reemerging Islamist terrorism. For 2.5 months the revolutionary forces of rebel militias intensify defensive confrontation with every means against the imperialist international monopolies, which attempt to occupy the Syrian territories, displacing thousands of civilians with their military operations.
The NATO summit in London at the beginning of December ended with a pervasive sense of unity and an exchange of guarantees between the member states, despite superficial disagreements over the fascist Turkish state's invasion of Syria. The constant arrests and interrogations of militants in various states on suspicion of supporting the Kurdish rebels are proof of this. The latest anti-terrorist operation in the UK against the family environment of a YPG volunteer has led to his father being arrested on charges of supporting a terrorist organization.
The fascist Turkish state builds rivalry in the areas of security and energy in the eastern Mediterranean as it chooses to seal the alliance with Libya on the same day as the slaughterer of the Palestinians, Netanyahu is in Athens for the trilateral agreement between Greece, Cyprus and Israel for the EastMed pipeline. They also called for NATO's support, demanding that alliance members officially declare the YPG and the YPJ as terrorist organizations. A prime example is Erdogan's message to the Greek government amid transnational shocks and destabilization in relations between the two states on the basis of the disputed agreement with Libya: power relations and instability can change for the benefit of the Greek state with the precondition that the YPG/YPJ and DHKP-C Kurdish and Turkish fighters are extradited as terrorists. (more…)
Tags: Arson, Car Burning, Greece, International Solidarity, Islamic State in Iraq and Syria (ISIS), NATO, People's Defence Units (Y.P.G.), Revolutionary Solidarity Commando Haukur Hilmarsson, Rojava, Sabotage, Syria, Thessaloniki, Turkey, War, YPJ (Women's Protection Unit)
Posted in Direct Action
Wednesday, November 20th, 2019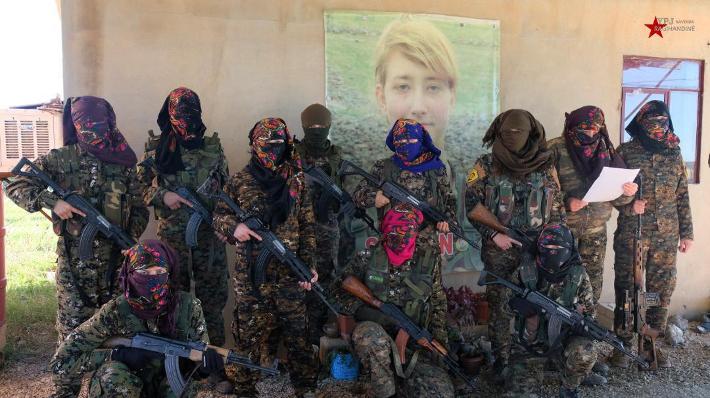 نامه ای از جانب یک آنارشیست انترناسیونالیست در روژاوا
Translation to Persian: Hasse Golkar
via barrikade:
Comrades,
I think it is important now that our voices of Rojava, out of the heart of that battle, are being heard. A fight for the life, for an existence in dignity, for real democracy and for the freedom of all women. I want to tell how the resistance of Serekaniye went on, how the beginning was, how the end was and also what happened in between. Serekaniye right now is in the hands of jihadist groups that are being supported by Turkey, upon approval by the United States. At a time they said there would be a five-day firearm rest…. we didn't believe it for one second. And that's how it was – the attacks didn't stop, maybe they've been reduced, but they continued attacking us with heavy artillery, bombings and airplanes. When there are bombings, there is not much that can be done; hide behind a tree and hope, that they didn't see you running or that they found your place.
Those five days of supposed firearm rest actually have been decisive for the United States and Turkey, to redefine the conflict, to realign the situation of war, confrontation and resistance against our forced withdrawal that no one expected. No one could believe it, after 11 days of resistance, beautiful and very hard at the same time. Leaving the city. The Turkish invasion of Serekaniye did start some days before, 8th of October, with a bombing of our military post that hasn't been answered, for not to unleash what happened later anyway. It was an attempt of the friends to protect the people and the society. But the next day, about 3 to 4 pm, another bombing of a post of the YPG took place, where 5 friends have fallen, and since then they bombed the whole border. (more…)
Tags: Islamic State in Iraq and Syria (ISIS), Kurdish Struggle, Kurdistan, Letter, People's Defence Units (Y.P.G.), Rojava, Serekaniye, Syria, Til Temir, Turkey, War, YPG International
Posted in Autonomy
Saturday, October 26th, 2019
US State gives green light for the Turkish military invasion of Northern Syria
October 7th, 2019
After a period of a hypocritical stance by the American state towards the Kurds of Northern Syria and the other rebellious peoples of the region whom they supported militarily as they gave their lives in battle against ISIS (Islamic State) and their armed forces of men and women liberated one city after another by expanding the revolutionary project of Democratic Confederalism, the US regime has shown its true face by giving the green light to the Turkish state for the military invasion of the region. It is the expected development of the "democratic" American state and the "democratic" West in general. (more…)
Tags: Athens, Greece, International Solidarity, Kurdish Struggle, Kurdistan, Nikos Maziotis, People's Defence Units (Y.P.G.), Pola Roupa, Revolutionary Struggle, Rojava, Syria, War
Posted in Autonomy
Friday, October 11th, 2019
In the afternoon of 9 October the fascist Turkish occupation army and its Islamist murder gangs started their war of aggression against the liberated areas of Rojava. With massive artillery fire and widespread air raids on towns and villages along the Syrian-Turkish border, the front was opened and ground invasion began.
The fascist AKP-MHP regime is turning its threats into reality and under the cynical name 'Operation Sources of Peace' has launched a new campaign of extermination against the people of the region. From the North, jihadist gangs try to advance to the cities and settlements along the border and the villages in the vicinity have become the scene of fierce battles between the self-defence forces of the population and the invading troops. While the fascist invaders attack the civilian population of Rojava under the protection of their heavy weapons, artillery and the bombardment of their war planes, sleeper cells of the Islamic state carry out coordinated attacks in the interior and spread fear and terror. (more…)
Tags: Afrin, Al-Nusra Front, Antifa, International Solidarity, Islamic State in Iraq and Syria (ISIS), Kurdish Struggle, Kurdistan, People's Defence Units (Y.P.G.), Repression, Rojava, Syria, Turkey, War
Posted in Anti-Fascist
Wednesday, March 20th, 2019
Publié sur https://de.indymedia.org/node/28420 le 21.01.2019 par: Autonome Gruppen (groupes autonomes) Cellule "Soledad Casilda Hernáez Vargas":
"Encore une fois, ce sont pas ceux qui le méritent qui se retrouvent dos au mur. La politique se plaît dans le role de médiatrice entre Padovicz(1) et la Liebig34(2) et Padovicz se plaît dans le role du gros capitaliste influent qui malmaine quelques locataire.trices et squatteurs.ses rebelles. Celles et ceux qui voient dans le Nordkiez(3) de Friedrichshain la graine d'une vie meilleure, se retrouvent là, comme toujours. Derrière elles et eux, rien d'autre que le mur. Il n'y a pas de main tendue puissante, et pas non plus d'issue. (more…)
Tags: Afrin, Arson, Berlin, Germany, Kurdish Struggle, People's Defence Units (Y.P.G.), Rojava, Sabotage, Thyssenkrupp, Wiseg, Women's Defense Units (YPJ)
Posted in Direct Action
Friday, October 12th, 2018
ES: SIRIA: MUERE ANARQUISTA EN ROJAVA, ŞEHÎD ŞAHÎN QEREÇOX

This epitaph was written by a friend and comrade of Şahin / Waka / Farid

Şehîd Şahîn Qereçox, known as Waka to his many friends, was sadly martyred in the fight against Daesh in Hajin on 6th October. He had been serving in the YPG, fighting for the revolution in Rojava for 4 months. For as long as I'd known him he was a loving comrade and a true revolutionary. I'm still struggling to find the words to describe him – he was so thoughtful and creative he defied simple generalisation. Whatever I write will merely scratch the surface of what he meant to me and so many people. (more…)
Tags: Islamic State in Iraq and Syria (ISIS), Kurdish Struggle, People's Defence Units (Y.P.G.), Rojava, Şehîd Şahîn Qereçox 'Waka', Syria, War
Posted in Anti-Fascist
Thursday, October 4th, 2018
Memorial video for the anarchist internationalist fighter of Rojava Haukur Hilmarsson (Sahin Huseyni). Sehid Sahin has fought against I.S. (DAESH) in Raqqa and martyred while he was defending Afrin from Turkish State's military invasion.
Ruis Rojava
https://www.youtube.com/channel/UCtUPN9d4Y6I8Br8GrrfiFyg
Tags: Afrin, Haukur Hilmarsson, Islamic State in Iraq and Syria (ISIS), Kurdish Struggle, Middle East, People's Defence Units (Y.P.G.), Raqqa, Rojava, Syria, War, YPG International
Posted in Anti-Fascist
Friday, August 25th, 2017
Two activists Markéta Všelichová and Miroslav Farkas were arrested on the 13th of November 2016 while attempting to cross the Habur border crossing from Turkey to Iraq. They were accused of participating in terrorist activity in Northern Syria and taken into custody.
On the 2nd of August they were sentenced to 6 years and 3 months for belonging to the Kurdish defence forces YGP/YPJ (these non-state kurdish groups are fighting Daesh/ISIS, the turkish army which has been repressing Kurds for several decades, and the dictatorial regime of Bashar Al-Asad).
Markéta had been to Rojava twice, according to her own words she joined the defence forces and fell in love with the region and its specific cultural and political situation. This time she and Mirek were on their way to Rojava, where they planned to set up a field hospital for fighters and civilians, and eventually help with defence, as she says herself. Together they made a campaign before their big journey, during which they wanted to acquire the necessary material, while also not being afraid to make lectures about life, fighting and revolution in the region. These public activities also probably raised the interest of Turkish agents.
In an interview Markéta said she feels with people, who risk their life in the fight against evil, that she would like to help Rojava with anything it needs, and that she realizes that as a European she has greater possibilities how to get involved and help. A bit my own way, but with them, as she said. (more…)
Tags: ABC Czech Republic, Czech Republic, Iraq, Kurdish Struggle, Kurdistan, Markéta Všelichová, Miroslav Farkas, People's Defence Units (Y.P.G.), Repression, Rojava, Syria, Turkey, Women's Defense Units (YPJ)
Posted in Prison Struggle
Saturday, March 25th, 2017
On March 22 there was an attack outside Parliament that has killed four and injured many. No sooner had this happened when Tommy Robinson, former leader of the EDL appeared at the scene of the attack to rave about a clash of civilisations and a war with all Muslims. This was swiftly followed up with an announcement of a march planned by Britain First in London.
The truth of the matter is this. These so called patriots are delighted that this has happened. This one fanatic has given them the opportunity they desired to try and start a conflict in society drawn down racial lines. They would seek to rebuild their failing movements off the blood and tears shed by ordinary people, they would use this attack to justify their own brand of jackbooted terror against the Muslim population of this country.
But we will not let them.
Our group and the national network know the reactionary ideology at the heart of the attack in the capital. Today the howls from the right are directed at us, to claim that we caused this attack through our tolerance of 'Islamic extremism' or our work to support the rights of refugees. These claims are built on the assumption that there is a clash of civilisations in this country. That 'English culture' and 'Muslim culture' cannot co-exist and a war is inevitable. (more…)
Tags: Anti-Fascism, Antifa, Britain First, Demo, English Defence League, Islamic State in Iraq and Syria (ISIS), Islamism, London, People's Defence Units (Y.P.G.), Racism, The Misery of Islam, UK
Posted in Anti-Fascist
Tuesday, December 6th, 2016
**UPDATE** via Kurdish Question
People's Protection Units (YPG) volunteers, American Michael Israel (27) from Colorado and German Anton Neshek (Zana Ciwan), were killed by Turkish warplanes on 29 November according to another international volunteer fighting alongside the pair against the Islamic State group (IS/ISIS/ISIL), north of Raqqa. [updated].
On his Facebook page, the international volunteer, who was amongst the group killed by Turkish warplanes wrote:
"We were taking a small village when we got hit by Turkish jets in the night. Two of my friends, Anton and Michael were killed among many others. I'm staying to finish out my six months. Fuck Erdogan and Fuck Turkey."
The YPG have informed both men's families. (more…)
Tags: Islamic State in Iraq and Syria (ISIS), Kurdistan, Lions of Rojava, People's Defence Units (Y.P.G.), Raqqa, Rojava, Syria, Turkey, War, Women's Defense Units (YPJ)
Posted in Uncategorised
Sunday, September 4th, 2016
PDF: ISIS AND TURKEY
ISIS and Turkey File
The Democratic Self-Administration of Rojava Foreign Relations Commisssion

Introduction
It is not a secret to any observer the relationship between Turkey's ruling Justice and Development Party (AKP) with all the armed groups in northern Syria. It began in Ras Alain and did not end in Afrin. The AKP's arguments revolve around changing the Syrian regime, bringing democracy to Syria, protecting Christians and Sunnis and unifying the country. These arguments have proven to be mere pretexts used by the AKP to intervene in Syria. The only goal of the AKP is to fight any democratic project for the future of Syria. To achieve this, the AKP has co-operated with the so-called Islamic State (Daesh) through providing training, supplying arms and facilitating the crossing of Daesh fighters to Syria through its borders.
Here are some compelling evidence for this cooperation through documents and confessions obtained by the People's Protection Units (YPG) throughout their operations in Rojava – north Syria.
Tags: Islamic State in Iraq and Syria (ISIS), Kurdish Struggle, Kurdistan, Lions of Rojava, PDF, People's Defence Units (Y.P.G.), Repression, Rojava, Syria, Turkey, War, Women's Defense Units (YPJ)
Posted in Library
Wednesday, August 31st, 2016
On 24 August 2016 Turkish Special Forces together with elements of the so-called Free Syrian Army started a cross-border offensive against the Northern Syrian town of Jarablus. According to official statements by both, Turkish officials and representatives of the FSA, target of this offensive is Islamic State as well as Kurdish People's Defense Units (YPG).
It was clear from the start that only Kurds would be targeted. During the last 5 days not a single confrontation took place between Turkish/FSA forces and ISIS. But from the beginning YPG and Syrian Democratic Forces (SDF) – the most effective forces on ground against ISIS – are being attacked by Turkish state forces.
The first day of the 'Euphrates Shield' operation, what Turkish officials have called an 'assault on Islamic State and YPG terrorists' as result of Turkish shelling of Kurdish majority neighborhoods in the east and west of Jarablus, at least 49 civilians have been killed. (more…)
Tags: Iraq, Islamic State in Iraq and Syria (ISIS), Kurdish Struggle, Kurdistan, Lions of Rojava, People's Defence Units (Y.P.G.), REPAK Kurdish Women's Relation Office, Repression, Rojava, Syria, Turkey, War
Posted in Autonomy
Thursday, August 18th, 2016
For more than 2 months there is a hard war going on in the area of Minbiç. Minbiç is a very strategic for the control over Rojava; it connects Turkey with the headquarters of ISIS, Raqqa. This area is important for the protection of Rojava and the democratic autonomy in Rojava. To be able to create a federal Syria where people of all ethnicities and religions can live in peace together, the liberation of the area of Minbiç is very important. In Rojava since four years a system of democratic autonomy exists. This model is an alternative to wars and instability in the Middle East. It offers the opportunity that all people can live together based on equality, freedom of women, ecology and democracy.
It is a well-known secret that Turkey supports ISIS and will do anything not to lose control in this area. If the area of Minbiç is freed of ISIS, it will open the road to connect the three cantons, which is a nightmare and opposed to the politics and objectives of Turkey. ISIS and Turkey are not only connected by political and economic interests; they are quite close in ideology and practices as well. Because this area is so important for the control in the Middle-East all hegemonic powers are present in this war. There are conflicting interests between the hegemonic powers which impacts and intensifies this war. It is possible to conceive the war in Syria and in Kurdistan as a third world war, where it is the main aim to imply a new division in the Middle East. (more…)
Tags: Islamic State in Iraq and Syria (ISIS), KJA - Congress of Free Women, Kurdistan, Lions of Rojava, Minbic, Minbij, People's Defence Units (Y.P.G.), Raqqa, Repression, Rojava, Syria, Turkey, War, Women's Defense Units (YPJ)
Posted in Autonomy
Saturday, August 13th, 2016


Remembering Sehid Ciwan Firat (Jordan Mactaggart)
Nom de guerre: Ciwan Firat
Real name: Jordan Mactaggart
Name of mother: Malissa
Name of father: Robert
Birthplace: Colorado / USA
Place and date of martyrdom: Minbic, 3. August 2016
I met Heval Ciwan for the first time when were waiting to cross the border into Rojava in spring 2014. He was a shy young anarchist from the US who sat in the corner of our hut, not really engaging with the rest of us and constantly writing in his journal. Quite frankly, at the time most of us were concerned that he wasn`t cut out for war but within a couple of weeks he proved all of us wrong. Soon after finishing his training he joined Tabur Soran, a unit notorious for being in every fight possible. In one of his first contacts with the enemy he got shot in the leg and due to some unfortunate circumstances he was left in the field when his unit withdrew. Heval Ciwan put on his tourniquite on and crawled back to friendly lines the entire night. Amongst the foreign fighters in Rojava this story became a legend, until today people talk about `the American kid that got shot in the leg and crawled out all night`. (more…)
Tags: Islamic State in Iraq and Syria (ISIS), Jordan Mactaggart (Heval Ciwan), Kurdistan, Lions of Rojava, Minbic, Minbij, People's Defence Units (Y.P.G.), Rojava, War
Posted in Autonomy
Thursday, August 4th, 2016
The International Freedom Battalion is an armed group consisting of leftist foreign fighters fighting alongside the People's Protection Units in the Syrian Civil War in support of the Rojava Revolution and against the Islamic State of Iraq and the Levant.
Tags: France, International Freedom Battalion, International Solidarity, Islamic State in Iraq and Syria (ISIS), Kurdistan, Lions of Rojava, Nice, People's Defence Units (Y.P.G.), Rojava, Syria, The Misery of Islam, War
Posted in Autonomy