Posts Tagged 'Poland'
Monday, June 29th, 2020
Saturday afternoon around 3pm (27.06) a van belonging to a homophobic foundation, that goes around the city of Warsaw spreading hatespeech (like announcing the supposed link between sexual education, homosexuality and child-abuse) got stopped by a group of queer rebels and anarchist friends in front of squatted autonomous social center in the very center of the city. The crew of that van got verbally and physically attacked and the van got redecorated, rid of numberplates, mirrors and windows got painted, the hateful banners got ripped and tires got stabbed. On a side of the van stop bullshit was written. Some bystanders tried to play heroes and got in the fights with rebels and fast realized that it wasn't a good idea. One comrade got wounded. Spontaneous action took place in broad daylight in the very center of the city next to the police station, showing that the time of fear and defensive has passed.
The police was lazy that day and have arrived on the spot too late (the cop shop is around 100 m away).
The State and the right wing psychopaths have lunched their anti LGBTQ+ offensive after catholic church child-sexual abuses gain some publicity in the country. In doing so, they are trying to divert the attention away from the priests and use the momentum to push forward their fascist ideologies trying to make link in people's minds that homosexuality equals paedophilia and sexual education is responsible for both, therefore targeting sexual education and LGBTQ+ folks. Since few years there has been an increase in the queerphobic attacks on individuals, groups and events like pride-demos.
The van of that foundation got attacked already several times throughout the city, this time it could be treated as a sort of spontaneous birthday gift for the squatted social center was celebrating it's 9th anniversary.
Pictures and the description of that event was published on a Stop Bzdurom organization website (Stop Bullshit), which targets queerphobic propaganda.
Tags: Poland, Queer, Sabotage, Warsaw
Posted in Direct Action
Wednesday, April 3rd, 2019
Our friend Radek, has been held in custody, in the Netherlands, for 5 months now. He was charged with attempted arson at the Polish embassy, which carries a sentence of up to 12 years in jail. Radek – just as many other workers on emigration – had dealt with exploitation by the employers, on a daily basis. Exploitation, unfair pay, unpaid overtime, atrocious living conditions – the realities of work in the West. Radek had tried to solve those problems in a less radical matter. He had given a shot by going public with it, informing the media, executing his rights. None of it helped. Eventually, he took a brave step forward. He went to the Polish embassy in The Hague, with a can full of gas and a lighter. He then informed, that he would burn the place and asked for people inside the building to be evacuated. In reality: springs from the lighter were taken out, so as to make sure, that starting a fire wouldn't be possible. (more…)
Tags: Demo, Den Haag, Netherlands, Poland, Radoslaw Bogacki (Radek), Solidarity Event, Trial, Warsaw
Posted in Prison Struggle
Monday, October 29th, 2018
Poland, Katowice 2015, AntiCongress (AntyKongres): Anarchist comrades living in Poland organised Anticongress, a protest against European Economic Congress (EEC) held in Katowice, Poland. Anarchists organised demonstrations, lectures and in the evening decided to scout an abandoned building to protest against capitalism and the economic decisions taken above our heads by politicians and bourgeois and against housing policy in Poland. The police tried to get inside and throw them out and silenced the voices of opposition preventing to disrupt the meetings at EEC. Our comrades defended bravely and fearlessly throwing petards [small explosives] and bottles but in the morning antiterrorists break through using stun grenades and arrested 21 anarchists. (more…)
Tags: European Economical Congress, International Solidarity, Katowice, Poland, Repression, Silesian 2
Posted in Prison Struggle
Monday, October 29th, 2018
On 19 October our two comrades were arrested because of a court sentence given to them for taking part in anarchist protest against European Economic Congress (EEC) 2015 which was held in Katowice.
Our friends where sentenced to community services because of the crime called "infringement of privacy". They were protesting in empty abandoned tenement house which was city property. They wanted to protest against the inherent contradiction between empty property and homelessness and to show injustice of savage capitalism.
Arrest is a consequence of avoiding these community services. One of activists went to prison for 2 months till 15 of December. He is kept in prison in Tarnowskie Góry (Silesian region). From the very beginning he started hunger strike, because he doesn't have possibility to eat vegan food. Administration refused to pass him warm clothes. The cell is not heated and he has no any jacket. According to official rules, prison keeps 50% of all money income. Anyway, director of this penal facility doesn't allow him to use prison shop, or to buy food for him during dates with visitors.
About the other detainee we have no information. Police didn't want to inform anybody about his situation, because of formal causes (administration refuse to allow him date with relatives, because he doesn't remember the exact address of their place of residence). That is why we don't know the condition of his imprisonment. (more…)
Tags: European Economical Congress, Katowice, Poland, Repression
Posted in Prison Struggle
Wednesday, September 19th, 2018
Dear Comrades,
ABC Warsaw would love to invite you for Antiprison Days, which takes place October 26th-28th 2018 in Warsaw! Right now we prepare the program for this event but we can tell you that our plans are so ambitious!
It's 5th time when we organize Antiprison Days in Warsaw. We invite you to join interesting discussions and worsksops (for ex. presentation about the "Network" repressions or workshop about transformative justice). Also we are planning anti-police and anti-repression movies, benefit tattoos, and disco party!
We see Antiprison Days as a opportunity to meet with people, exchange knowledge and skills, talk about topics important to us, and making links between groups and individuals and have fun – and sharing our ideas with new people as well. So if you would like to join us (maybe with your distros or presentation/workshop) you're more than welcome!
At the beginning of October we will present to you the program of the event. If you have any suggestions, proposals or questions – please write to us.
Hope to see each other in Warsaw
In solidarity
Warsaw ABC
Tags: ABC Warsaw, Anarchist Gathering, Poland, Warsaw
Posted in Prison Struggle
Monday, October 9th, 2017
Dear Friends,
on 27th-29th of October ABC Warsaw invites you to join 4th edition of Antiprison Days in Warsaw. The main topic of this year is "Support your local ABC".
Here in Poland, we see the need of discussion about the big role of anti-rep structures in our struggles so we would like to invite different people and groups to share their experience with repressions and how it was possible to deal with them. There will be also space to talk about difficulties in being support group and why and how anti-rep and anti-prison campaign is part of every social/land/climate/world struggle.
Of course we will not be able to talk about everything what is important because the event will be open for everybody – but the aim is to start some process in people's mind. There will be also space to present your activities and/or your groups. (more…)
Tags: ABC - Anarchist Solidarity Cell, ABC Warsaw, Anti-Prison, Poland, Warsaw
Posted in Prison Struggle
Tuesday, September 26th, 2017
At the beginning of May 2016 our comrade Patryk Cichoń from Poland was arrested by British police under an European Arrest Warrant. Patryk is a well known anti-fascist militant notorious among neo-Nazi-boneheads in his city for his uncompromising stance against them in the past. The boneheads managed to convince a few of their friends to testify against Patryk and his friend for an alleged assault and robbery. As later transpired, his friend had a very good alibi and had the charges against him dropped (despite being allegedly recognised by the "victim" and his friends), so Patryk ended up being sentenced on his own. The whole trial was an absolute travesty and Patryk, as a poor, young working class person, was not able to afford a proper defence. He spent two months on remand in 2004 and was sentenced to three years in prison.
It is clear that this whole case was politically motivated and had only one purpose, which was to get rid of the core of the anti-fascist resistance in Patryk's home town. (more…)
Tags: ABC Brighton, Antifa, Brighton, Deportation, Patryk Cichoń, Poland, UK
Posted in Prison Struggle
Thursday, September 14th, 2017
This is short video from antifascist protest in Poznan, clashes with fascists.
Tags: Antifa, Demo, Neo-Nazis, Poland, Poznan, Racism, Videos
Posted in Anti-Fascist
Friday, July 21st, 2017
In the previous months many important things happened in the Warsaw 3 case that we would like to share with our non-polish speaking supporters. Many of the materials we were only able to translate now and we apologize for this long silence! Below you will find an update about the case from February to end of May 2017. Here you can also read the updated chronology of the events.
The first trial of the three warsaw anarchists took place on may 31st.
Our comrades acknowledged the charges (which are now: property destruction), but they did not plead guilty, as they don't consider the action they took as something you can 'be guilty' of. They also revoked the testimonies they gave while they were held captive in July 2016. They gave new testimonies that are narrower than the previous ones. Two of them gave also a detailed description of tortures they had to endure after the arrest.
The three had chosen a common strategy for the trial in which they openly speak about political motivations for their actions and take responsibility for it. They wrote political statements about their motives, police and state violence but judge didn't allow them to read it (every time they tried to talk about the political context of their action, the judge stopped them saying: "That's for the final speech. Today we're talking only about the facts"). (more…)
Tags: Poland, Repression, Warsaw, Warsaw 3
Posted in Prison Struggle
Saturday, May 13th, 2017
Dear Friends,
We have been waiting for over a year for the trial of the Warsaw 3. Today, we send this call out for solidarity actions on the first court sitting – the 31st of May 2017.
There is also a demonstration 'WE ARE ALL TERRORISTS' planned for that day in front of the court in Warsaw (adress: Marszałkowska 82).
The Polish government follows the international trend to see terrorist threat everywhere. There is no better reason to fuel war economy, enhance policing tools and prepare the ground for autocracy than the figure of the enemy. Either external threat – migrants (including kids ready to commit acts of terror), or the inside threat in the form of the domestic terrorism category is at this point commonly used in the whole EU to scare the population into obedience. (more…)
Tags: International Solidarity, Poland, Trial, Warsaw, Warsaw 3
Posted in Prison Struggle
Friday, April 21st, 2017
On Saturday, April 8, a demonstration "Nationalism shall not pass" was organized by an anarchist collective Rozbrat[1], in Poznan. The protest was organized as an opposition to the growing wave of hatred, xenophobia, racism and homophobia. The goal was to show this wave as a result of the exploitation of the capitalism. The demonstration was supported by various groups and organizations, such as foreigners living in Poznan, feminist and LGBTQIA + organizations, the academic community and people of culture. There was approximately 800 people participating. The demonstration started in the city center, next to the one of the shopping centers where the racist attack on a Polish citizen of Syrian origin had taken place a few months ago. After reading off the statements "Nationalism shall not pass" and "Students and academics of Adam Mickiewicz University against nationalism and racism", the demonstration was attacked by a few nationalists. (more…)
Tags: Anti-Fascism, Demo, Nationalism, Poland, Poznan, Racism
Posted in Anti-Fascist
Thursday, April 6th, 2017
Ameer deported today, miserable Polish Internal Security Agency in action
Do you remember Ameer ?
We were writing about him and his situation several times, following his situation from the very beginning. Here you can find more information.
Yesterday (05-04-2017) provincial court in Przemyśl released Ameer from arrest. The court said that Ameer is staying in Poland legally, there were no reasons to arrest him. Secret documents from Internal Security Agency (an opinion on a piece of paper) didn't prove that he was – or is – guilty of any crime. (more…)
Tags: Deportation, Iraq, Irbil, Kurdistan, Poland
Posted in No Borders
Sunday, March 19th, 2017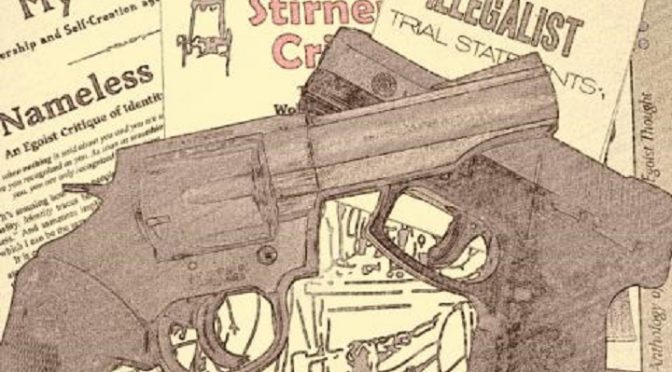 Translated version of "It's Time for Anarchists to Pick Up A Gun" by Dr. Bones.
Long live Black Praxis
https://czarnateoria.noblogs.org/
PDF: https://czarnateoria.noblogs.org/files/2017/03/czas-by-anarchi%C5%9Bci-chwycili-za-bro%C5%84.pdf
Tags: PDF, Poland, USA, Zine
Posted in Library
Thursday, March 2nd, 2017


29-30.04 KONGRESONO
3rd Anarchist Congress
1.05 DEMONSTRATION
Working People's Day
Discussions | Meetings | Lectures | Books | Art | Gigs + more
Join us in Wrocław [PL] for the 3rd Anarchist Congress and May Day celebrations!
Kongresono is a grassroots initiative – together we try to create space for meetings and discussions, encourage dialogue within the anarchist movement and strengthen contacts between its members. We strive for integration of anarchist circles and – through the exchange of experiences and mutual education – wish to introduce and promote anarchist thought and social practice in all their various shapes and forms, reaching a wide-ranging audience.
During the two-day conference we will have a chance to examine a broad spectrum of current issues and reflect on the perspective of our future activities, their goals and possibilities for action.
On 1st May we are taking to the streets to put the theory into practice through action! By returning to the original meaning and ideals that this date represents, we refer to the long tradition of workers' movements. Although it has been over 100 years since the beginning of the struggle for such fundamental rights as 8-hour workday, they are still being breached. On that day we shall manifest workers' pride and call for self-organisation and solidarity.
Details about the programme and venue coming soon!
For more information and updates visit us at kongresono.bzzz.net.
E-mail: kongresono2017@riseup.net
* The conference will be held in Polish. For non-Polish speakers we can provide whispered interpreting (Polish → English).
Tags: 1st May, Anarchist Gatherings, Demo, Poland, Wrocław
Posted in Autonomy
Sunday, January 22nd, 2017
Czarna Teoria, comrades of black anarchy in Poland have translated the important and visionary title "From Riot to Insurrection" by Alfredo M. Bonanno into Polish.
Check it out here:
https://czarnateoria.noblogs.org/broszura-alfredo-bonanno-od-zamieszek-od-insurekcji-pdf/
https://czarnateoria.noblogs.org/files/2017/01/Bonanno-Od-zamieszek-do-Insurekcji.pdf
Tags: Alfredo M. Bonanno, Czarna Teoria, From Riot to Insurrection, PDF, Poland, Zine
Posted in Library