Posts Tagged 'Police Bastards'
Tuesday, January 12th, 2016
via RabbleLDN, also see – "Schedule 7″ – Important Advice for Anarchists Travelling To/From the UK.

Bristol Anarchist Chases Away Counter-Terror Police
Today at Stansted Airport, plainclothes police officers pulled aside a travelling anarchist (Tim from Bristol) and seemingly sought to coerce him into becoming an informant with a combination of intimidation, veiled threats, and offers of free alcohol. But when he started recording the officers on his mp3 player they quickly terminated the exchange and made a sharp exit.
He believes he was targeted by counter terror police because of his Anarchism, stating: "Anarchism is about ordinary people standing up to the rich and powerful – exactly what the police are there to prevent. These people claim to be protecting us, but they spend most of their time blacklisting trade unionists, spying on activists and harassing ethnic minorities."
Here's his full account of what happened today:
"As I was leaving the EU e-passport gate about 1pm today, I was approached by a man who came out from behind the desk to the left. He was a similar height to me, with short light brown hair/beard, and a light northern English accent. He said "Hi Tim, I'd like to have a word with you. I think you know what this is about". I got my phone out and called a friend as soon as he started speaking. I told him I had a phone call which I needed to take. A man who had approached in the mean-time from the right, wearing a grey suit-jacket, asked me to turn my phone off. I repeated that I had to take the call. When my friend picked up I asked them to call my solicitor. (more…)
Tags: Bristol, Fuck the Police, Police Bastards, Repression, Schedule 7, UK
Posted in Social Control
Sunday, November 8th, 2015
From Noticias de la Guerra Social
At dawn on October 29, 2015, anonymous hands placed an explosive device in the 12° Comisaria de San Miguel. The device consisted of a fire extinguisher filled with black powder and it would have been placed around 2am. The bomb was placed near the intersections of Gran Avenida with Alvarez Toledo, close to the court of appeals in San Miguel and the Fiscalía Sur [Prosecutors of the Southern district], precisely at the gate of the police barracks.
Police bastards who were on duty at the police station noticed a suspicious bag in the police station perimeter, activating all security protocol.
To the place came the GOPE [Grupo de Operaciones Policiales Especiales / Police Special Operations Group] who managed to remove the device without it detonating, then they took it to their offices in Cerrillos to analyze it. Finally Renato Avellao, that bastard Colonel of this putrid institution stated: "There are security cameras throughout the environment of the barracks and it is through these images we will detect which person left the bag with the extinguisher on the side of the unit. It was in the hours of the morning."
Tags: Chile, Fuck the Police, Police Bastards, Santiago
Posted in Direct Action
Wednesday, September 2nd, 2015
On 28th August (Friday), over a dozen police with automatic weapons and K-9 unit attacked Rumah Api (social center/house project in Kuala Lumpur) during a concert on that night. The police raided the house project and raid everybody during the concert and also trashed the living space of people who live there without any warrant or solid reason for the raid.
We all believe the raid were conducted due to the connection of Bersih 4 Rally which happen on the next days (29 and 30th) which is totally insane since the organizer of the concert, participants, and Rumah Api have little interest to join or even support the rally, due to our political stance on the issue of election and voting system.
The state use Rumah Api as the scapegoat of recent event of attack on banks and multinational corporations in KL for the past 2 years. So far, they found nothing to link us with that events. The police seize all the musical equipment at the concert hall, seize 2 computers of people who live there, one smart phone, artwork, and books belonging to people who live there. The police said they search the building for any weapons or explosives that can link us to terrorism. (more…)
Tags: Kuala Lumpur, Malaysia, Police Bastards, Repression, Rumah Api (social center/house project)
Posted in Social Control
Thursday, June 18th, 2015
From Bristol Defendant Solidarity:
Police in the UK are allowed to question anyone entering/leaving the country about "terrorism" – without the right to silence. We have spoken to a number of anarchists who have been questioned under these powers, known as "Schedule 7″. Because of a lack of information on the law, most of those stopped have given more information than they had to. This includes people from outside of the UK who have not even heard of "Schedule 7″ before. For this reason, we strongly recommend any anarchists travelling to/from the UK read our briefing beforehand – http://bristolabc.wordpress.com/defendant-solidarity/resources-and-advice/schedule-7/.
If you have been questioned under "Schedule 7″, please contact the Network for Police Monitoring, so they can keep track of how the police are using this power. Website: http://netpol.org; Email: info (at) netpol.org
Tags: Fuck the Police, Police Bastards, Repression, Schedule 7, UK
Posted in Social Control
Sunday, May 10th, 2015
Thousands of protesters laid siege to Downing Street and marched on the Conservatives' campaign HQ and Parliament, causing havoc which ranged across central London in a disruptive demo which saw at least 17 people arrested and a number of police injured in clashes. A small black bloc was active on the frontlines attacking police and defending the demo from police attacks. Eventually the demo was kettled and the crowd processed. There was a simultaneous event in Cardiff, Wales, and an anti-fascist demo in Walthamstow against the English Defence League, fascist-nationalist group.

"Those who forget the past are condemned to repeat it." – Fuck Tory Scum
Tags: Cardiff, Conservative Party, Demo, London, Police Bastards, Repression
Posted in Anti-Fascist
Saturday, March 28th, 2015
Fuck the Police – Fuck the Tories – Fuck the lot of them – All Fucking Wankers
http://www.classwarparty.org.uk/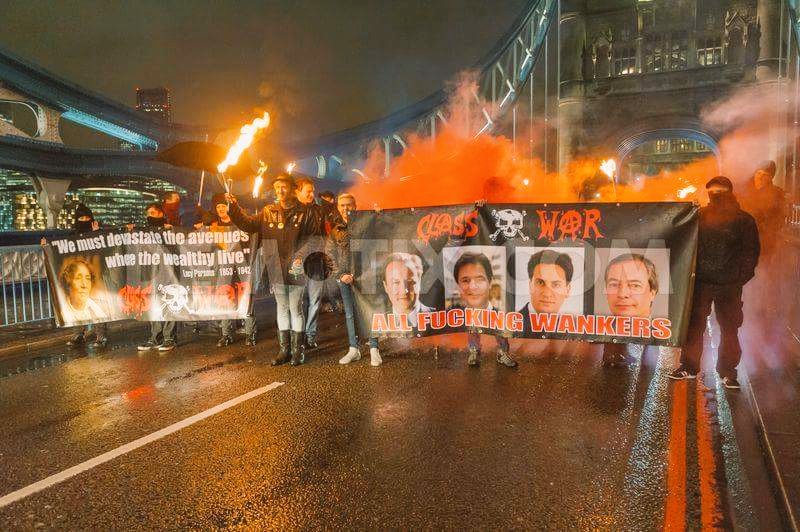 Tags: Class War (UK), Demo, Fuck School, Fuck the Church, Fuck the Elections, Fuck the Law, Fuck the Mainstream Media, Fuck the Police, Fuck the Queen, Fuck Work, Fuck You Tesco, Mayday, Police Bastards
Posted in Uncategorized
Thursday, March 26th, 2015
Warsaw: Demo against police violence
A spontaneous demonstration against police violence took place in Warsaw, Poland, on 19th of March. Protest was direct reaction to events that took place few days earlier in Legionowo, Warsaw suburb: police organised hunt for marihuana users. During the arrest, one of the detainees was basically suffocated by a cop, who was trying to stop him from swallowing a bag of pot.
Death of the detainee caused a few days of intense protest- demo on 19th March was first held in Warsaw. It was a reaction against the police statement, full of lies and manipulations, which blames whole situation on the murdered detainee. This secondary victimization and police attempt to cover-up the whole case was the direct impulse to organise protest in the capital. Protest started in front of Prosecutors Office on Brudnowska street, where going to police station was decided. Police was present from the beginning, and after allowing demonstrators to pass almost 2 km decided to start confrontation: all of the protesters were surrounded, then police started checking IDs of the majority of the protesters. Some people were detained and brought to various police stations. Police called all checked protesters to testify in the following days, as suspected of committing the felony – "participating in illegal assembly". (more…)
Tags: Anti-Fascist, Chmielna, Fuck the Police, Jolanta Brzeska, Legionowo, Neo-Nazis, Poland, Police Bastards, Police Brutality, Warsaw, Wilcza
Posted in Direct Action
Friday, March 13th, 2015
On Wednesday, March 11th, the District Attorney's office pushed in court for Dante Cano to be hit with a felony charge for vandalism. The one police officer in court claimed that after hearing a window being hit, he saw a person in black running in a sea of other people in black. Several moments later, Dante was in police custody, despite no evidence actually linking him to the crime. We are asking people to
please help bail Dante out of jail, which will increase his changes of defending himself in court. We also call on everyone to continue to support the Ferguson 3, youths arrested during the first night of the rebellion in the Bay Area. (more…)
Tags: Dante Cano, Ferguson, Oakland, Police Bastards, Racism, USA
Posted in Prison Struggle
Thursday, March 12th, 2015
6pm @Cardiff Central Police Station on the 24th of March 2015
It has been over five years since we learned that Mark "Marco" Jacobs was not just another anarchist in the south Wales activist scene, but was actually an undercover police officer.
Since then a number of people who were directly effected by his use of sexual relations as an infiltration tactic have taken legal action to attempt to hold the system to account.
Sickeningly South Wales Police and the Metropolitan Police have maintained a "Neither Confirm Nor Deny" defence of all aspects of Officer Jacobs deployment. (more…)
Tags: Cardiff, Demo, Fuck the Police, Mark 'Marco' Jacobs (Undercover Cop), Police Bastards, Rapist abusers, Repression, Wales
Posted in Social Control
Thursday, March 12th, 2015
Last night, two cops were shot outside Missouri city police station during a demo against police brutality and the killing of Michael Brown, 18-year-old unarmed black man slain by cops last summer. The two cops did not die, but are seriously injured. On Wednesday, Ferguson Police Chief Thomas Jackson announced that he planned to resign after a harsh U.S. Justice Department investigative report about his handling of the police killing last summer of Michael Brown. (more…)
Tags: Ferguson, Fuck the Law, Fuck the Police, Missouri, Police Bastards, Police Brutality, Racism, USA
Posted in Direct Action
Thursday, March 12th, 2015
Berkin Elvan was a 15-year-old Turkish boy who was hit in the head by a tear-gas canister fired by a police officer in Istanbul, while the boy was out to buy bread for his family during the June 2013 Gezi park protests in Turkey. He died on March 11, 2014. Widespread demonstrations erupted following Berkin's death. Gezi park remains heavily monitored by secret police.
We received the following report from DAF of an action taken to commemorate Berkin. In the video you can see and hear small explosives and fireworks being used against the police and to create a rupture in the city. Here is the communique we received:
DAF action for Berkin Elvan
One year ago, murderous police killed our brother Berkin Elvan who was 15 years old. DAF was on the streets in the first year of his murder. We are not afraid of the murderers. We will keep on fighting. Murderous Police, Terrorist State will pay for these massacres.
Berkin is here, We are here!
https://www.facebook.com/video.php?v=808076932606258
DAF
–
On the first anniversary of the death of Berkin Elvan, the comrades from LAF (High School Anarchist Action) also opened a banner on the stairs of Gezi Park. On it was written the slogan "Berkin is here". They poured red paint on the stairs to the Gezi Park, shouting "If the government is thirsty for blood, then take it." Our 8 comrades were then assaulted, abused and taken into custody, handcuffed from the back.
Tags: Berkin Elvan, Demo, Devrimci Anarşist Faaliyet - DAF - Revolutionary Anarchist Action, Istanbul, Police Bastards, Solidarity Action, Taksim Gezi Park, Turkey
Posted in Direct Action
Wednesday, February 25th, 2015
Spread around. Lumpen-proletarian rebel arrested recently in Oakland, CA USA at anti-police demonstration. Squatter and anarchist. Facing serious charges. Help get word out.
Dante Cano is currently being held in Santa Rita jail for participation in a demonstration against police brutality and murder in the Bay Area and across the United States. At the time of his arrest, police in near-by Emervyville had just killed Yuvette Henderson in early February. At the same time, police also had just shot people in San Jose, East Oakland, and also the courts had exonerated the police that shot and killed Alex Nieto in San Francisco. This happened against a back-drop of ongoing police murder and violence across the US as well as a deep and furious revolt in the Bay Area against this murder and repression. (more…)
Tags: California, Dante Cano, Oakland, Police Bastards, Police Brutality, Repression, Trial, USA
Posted in Prison Struggle
Wednesday, February 25th, 2015
Fire to the Prisons #12 is Available Now!
PDF – https://firetotheprisons.org/issues/fttp12.pdf
The new issue of Fire to the Prisons is now completed and available online. Check out the new issue, print your own copies, and view past PDFs at our new website: www.firetotheprisons.org
(NOT TO be confused with .com, which is hosted by unknown sources)
Fire to the Prisons is an insurrectionary periodical. It focuses on promoting a revolutionary solidarity between different struggles, prisoners, and existing social tensions that challenge capitalism and the state.
We made 10,000 copies of this issue because we wanted to get them as far and wide as possible. In order to create a publication for free to comrades and the general discontented public, we have forfeited our traditional magazine form and went with a less costly newspaper. We hope to spread this as far as it can go. A lot of blood, sweat, and tears went into this project and we hope that it shows. (more…)
Tags: Fire to the Prisons (Zine), Fuck the Law, Fuck the Police, PDF, Police Bastards, Police Brutality, Racism, USA, Zine
Posted in Library
Saturday, February 21st, 2015
Here is an overview that we were sent reporting on some recent events in Guerrero, written by a Mexican anarchist living in the U$A
Guerrero, considered to be one of the most violent states in Mexico, seems to be in a never ending state of chaos. Murders in the beach resort town of Acapulco, the capital city Chilpancingo, multiple clandestine grave sites and of course, the Iguala massacre. Estado Fallido, failed state, is constantly used to describe Mexico, but especially Guerrero. No doubts there, police involvement in many heinous crimes, politicians and political parties working hand in hand with organized crime. A failed state, but what is a functioning state?
Tags: Coca Cola, Community Resistance, Drug War, Fuck the Law, Guerrero, Mexico, Petaquillas, Police Bastards, Repression
Posted in Autonomy
Monday, January 19th, 2015
Update: Ex-undercover cop Bob Lambert resigns from two university jobs.
325 is very happy to spread this call to ruin the life of a no-good pathetic scrote of a man, Robert Lambert. Death to police spies and informers. Revenge.
Via Rabble LDN, From Islington Against Police Spies:
SACK BOB LAMBERT!
Former Police Spy, Serial Liar & Exploiter of Women
Join us to demand the removal of Bob Lambert from London Metropolitan University.
Picket London Met
Friday January 30th
12.00 – 2.00pm
LMU Tower, 166-220 Holloway Road, 
London N7 8DB
Bring placards, banners, anything to make noise…
In November Islington Against Police Spies (IAPS) held a lively picket of London Metropolitan University in Holloway, launching our campaign to demand the sacking or resignation of Bob Lambert. Former police spy, Special Branch manipulator, abuser of women, agent provocateur, Lambert is now lecturing at London Met on policing and criminology.
For a brief account of Bob Lambert's dubious record, check out this pdf flyer. Which you can also spread as wide as possible…
As local residents we feel it is totally inappropriate for London Metropolitan to be employing a man with Lambert's record in such a position; where he has influence and power over the lives of students, who may be young or vulnerable. Most particularly Lambert has shown he cannot be trusted not to abuse and lie to women. (more…)
Tags: Bob Lambert, Demo, Police Bastards, UK, Undercover Police
Posted in Direct Action