Posts Tagged 'Prison : Abolish or Destroy?'
Sunday, December 21st, 2014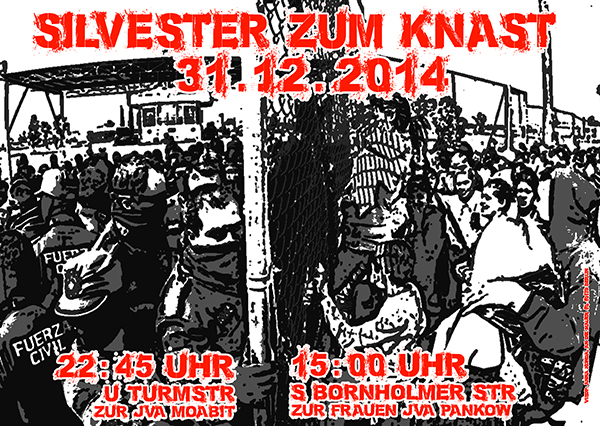 Bremen, Deutschland: endofroad.blogsport.de
Stuttgart, Deutschland: www.silvesterdemo-stuttgart.tk
Bristol, UK: bristolabc.wordpress.com
London, UK: network23.org/londonabc
Durham, North Carolina, USA: www.facebook.com
New York City, New York, USA: nycabc.wordpress.com
Oakland, Kalifornien, USA: www.facebook.com
Portland, Oregon, USA: www.facebook.com
Seattle, Washington, USA: pugetsoundanarchists.org


Call from Berlin-
Aufruf
"…solange es eine Unterschicht gibt, bin ich Teil davon. Solange es kriminelle Elemente gibt, bin ich eines davon, und solange auch nur eine Seele im Gefängnis ist, kann ich nicht frei sein."
Eugene V. Debs
Knäste sind das Resultat einer kranken Gesellschaft, welche zu feige ist sich mit ihren Problemen auseinander zu setzen. Wer sich den fremdbestimmten Regeln widersetzt, sich normfremd verhält oder manchmal einfach nur um Überleben kämpft hat in der Reproduktionsmaschinerie von Staat und Politik schlechte Karten. Kriminalisierung und schließlich das Wegsperren sind die vermeintlich leichtesten Mittel der Wahrheit aus dem Weg zu gehen und sich einer grundlegenden Konfrontation zu entziehen. (more…)
Tags: Anti-Prison, Fuck the Police, New Year, Prison : Abolish or Destroy?, Prison Abolition, Prison demo
Posted in Prison Struggle
Wednesday, May 7th, 2014
To provoke discussion about the issues contained within, and sharpen the attack against the existent, we reproduce the full text of this newly retrieved article from Deranged #0. Deranged #0 was published a few years ago by random anarchists in London. In UK this year there is a 'Prison Abolition' campaign and conference[1], with prior workshops happening in Bristol soon[2]. The post-industrial cybernetic society of the present and near-future, has as it's aim the abolition of prisons in the name of rehabilitation and social reconfiguration. New technologies of social control have made it possible for the incarceration of the entire society through exclusion, remote tracking, private security companies, surveillance, "community punishment" and the securitisation of the social environment. Which is why as anti-civilisation anarchist-insurrectionalists and nihilists, we don't advocate the "abolition" of prisons, but their destruction, as part of a polymorphous attack against every aspect of the State, Society and Civilisation. We think that there are no real "anarchist" solutions to the "anti-social problem", other than the constant war against power and continual anarchist revolution. Towards the point of no-return and freedom – Attack the prison-society.

The plan is to empty the prisons of the great majority of prisoners and throw them back into the prison-society using the technology of isolation and control; and for the minority of irreducible rebels, keep them inside for ever. What is being presented as 'progress' is nothing other than the advance and spread of repression. This is what the abolitionists are really subscribing to: 'change everything so that everything remains the same'.
It has been said, not mistakenly, that those who do most harm in this world are those who try to do most good. Still today, with increasing isolation and atomisation of individuals, there are people around who decide to ruin their lives with excessive altruism.
Always with the best of intentions, they set out to try to remedy the ills they see before them. They can even be paid by the State for doing so, and this is one of the great swindles of capital: it imposes conditions of untold suffering, and, through its ally the State, paves the way for it to be prolonged in time, rationalised and reformed. (more…)
Tags: 2012 Olympics, Deranged, London, Panopticon, Prison : Abolish or Destroy?, Prison Abolition, UK
Posted in Prison Struggle