Posts Tagged 'Prison Abolition'
Thursday, February 20th, 2020
The anti-prison week is in less than a month! It will happen from 2 to 8 March 2020 in the old train station of Luméville, close to Bure, place of a struggle against a project of a center for burying nuclear waste. The idea is to take time to meet, between people and groups from different countries, have formal and informal times of discussions, workshops, movie screenings, readings. You can come to the week with your own proposals, with or without telling us in advance. Zine distros are also very welcome.
We received criticisms regarding the lack of topics related to racism in prison and state racism in the program of the week, considering the key role that racism play in penitentiary systems. We would like to make more space for these topics, so if you think you have something to contribute on these topics, please contact us.
Program
We are currently contacting the groups that will take part in the week to know when each workshop or discussion will happen. This section will be updated regularly between now and the beginning of the week.
Monday
An update on the struggle in Bure, the Cigéo project, the events of the last few years. More info about specific presentations and workshops soon. (more…)
Tags: ABC Bure, Anti-Prison, Bure, CIGEO, France, Prison Abolition, Racism, Repression, Solidarity Event
Posted in Prison Struggle
Saturday, October 12th, 2019
There is a group of prisoners who although imprisoned for non-political offences subsequently become politicised or radicalised whilst in jail, and in both the USA and Britain this is a phenomenon that has become increasingly widespread.
In the USA during the 1960s and 70s the radicalisation of ordinary black prisoners, in particular, was fostered by the centrality of imprisonment in the experience of black activists and revolutionaries like Malcolm X (who described prisons as "universities of revolution"), Eldridge Cleaver, George Jackson, H Rap Brown, Angela Davis and others. George Jackson described his own politicisation succinctly: "I met Marx, Lenin, Trotsky, Engels, and Mao when I entered prison and they redeemed me".
Thus those whom W.E.B. Dubois described as an "army of the wronged" increasingly defined themselves as political prisoners who were the products of an oppressive political-economic order. This belief underpinned the praxis of radical groups such as the Black Panthers and Symbionese Liberation Army, and prisons were seen as the epicentre of a broader social and political revolution. The call for recognition of radicalised prisoners claim to political status underpinned prisoners' demands in a series of protests that punctuated the 1970s in U.S. Prisons such as Folsom, Soledad, San Quentin and, later, Attica. (more…)
Tags: Anti-Prison, Black Panther Party, Irish Republican Prisoners, John Bowden, Letter, Prison, Prison Abolition, Prison Industrial Complex, Racism, UK
Posted in Prison Struggle
Saturday, September 30th, 2017
BANG UP AND SMASH: WOMEN'S PRISONS, PROBATION AND BAIL HOSTELS
Bang-up and Smash is an overview of women's prisons in the UK, and a political analysis of their physical and ideological construction.
From the moment of arrest, to coming home, Bang-up and Smash uses first hand experiences to critically engage with the procedures, concepts and apparatus the state relies on, and the economics behind the expansion of the prison industrial complex.
Bang-up and Smash is a practical guide to women's prisons in the UK, and a rallying call to attack. Solidarity is a weapon, and abolition is not enough…
See Active Distribution for free pdf download or order print version
http://www.activedistributionshop.org/shop/books/4325-bang-up-and-smash-by-asbo.html
Also download pdf from Empty Cages website http://www.prisonabolition.org/wp-content/uploads/2017/09/bang-up-and-smash.pdf
For more information email asbo.hmp@riseup.net
Copy left. Share, discuss, dismiss…. comments welcome. Please circulate.
Tags: Anti-Prison, Bang-up and Smash (Zine), PDF, Prison, Prison Abolition, Prison Industrial Complex, Prison Labour, Prison Struggle, UK, Zine
Posted in Library
Friday, August 26th, 2016
On September 9th, prisoners across the United States will begin a strike that will be a general work stoppage against prison slavery. In short, prisoners will refuse to work; they will refuse to keep the prisons running by their own labors. Prisoners are striking not just for better conditions or changes in parole rules, but against prison slavery. Prisoners state that under the 13th Amendment which abolished racial slavery, at the same time it allowed human beings to be worked for free or next to nothing as long as they were prisoners.
Prisoners see the current system of prison slavery to thus be a continuation of racial slavery, which is a system that generates billions of dollars in profits each year for major corporations in key industries such as fossil fuels, fast food, banking, and the US military.
Soon after the passing of the 13th Amendment, many former slaves were soon locked up in prisons on petty offenses, quickly returned to their former roles as slaves. Over a century later, the Drug War sought to deal with the growing unemployment rate brought on by changes in the economy (outsourcing, financialization, deregulation, etc), as well as the threat of black insurrection which grew in the 1960s and 70s, by throwing more and more people in prison. At the same time, the state and corporations continued to look towards prison labor as a source to generate massive profits. (more…)
Tags: Anti-Prison, International Solidarity, Letter, Prison Abolition, Prison Industrial Complex, Prison Labour, Prison Labour Strike, Repression, Sean Swain, USA
Posted in Prison Struggle
Sunday, December 21st, 2014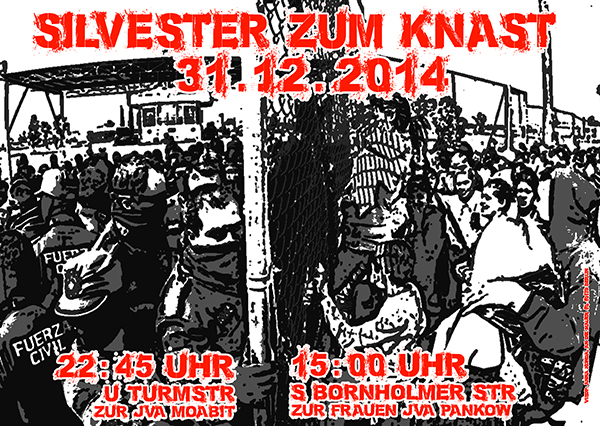 Bremen, Deutschland: endofroad.blogsport.de
Stuttgart, Deutschland: www.silvesterdemo-stuttgart.tk
Bristol, UK: bristolabc.wordpress.com
London, UK: network23.org/londonabc
Durham, North Carolina, USA: www.facebook.com
New York City, New York, USA: nycabc.wordpress.com
Oakland, Kalifornien, USA: www.facebook.com
Portland, Oregon, USA: www.facebook.com
Seattle, Washington, USA: pugetsoundanarchists.org


Call from Berlin-
Aufruf
"…solange es eine Unterschicht gibt, bin ich Teil davon. Solange es kriminelle Elemente gibt, bin ich eines davon, und solange auch nur eine Seele im Gefängnis ist, kann ich nicht frei sein."
Eugene V. Debs
Knäste sind das Resultat einer kranken Gesellschaft, welche zu feige ist sich mit ihren Problemen auseinander zu setzen. Wer sich den fremdbestimmten Regeln widersetzt, sich normfremd verhält oder manchmal einfach nur um Überleben kämpft hat in der Reproduktionsmaschinerie von Staat und Politik schlechte Karten. Kriminalisierung und schließlich das Wegsperren sind die vermeintlich leichtesten Mittel der Wahrheit aus dem Weg zu gehen und sich einer grundlegenden Konfrontation zu entziehen. (more…)
Tags: Anti-Prison, Fuck the Police, New Year, Prison : Abolish or Destroy?, Prison Abolition, Prison demo
Posted in Prison Struggle
Wednesday, May 7th, 2014
To provoke discussion about the issues contained within, and sharpen the attack against the existent, we reproduce the full text of this newly retrieved article from Deranged #0. Deranged #0 was published a few years ago by random anarchists in London. In UK this year there is a 'Prison Abolition' campaign and conference[1], with prior workshops happening in Bristol soon[2]. The post-industrial cybernetic society of the present and near-future, has as it's aim the abolition of prisons in the name of rehabilitation and social reconfiguration. New technologies of social control have made it possible for the incarceration of the entire society through exclusion, remote tracking, private security companies, surveillance, "community punishment" and the securitisation of the social environment. Which is why as anti-civilisation anarchist-insurrectionalists and nihilists, we don't advocate the "abolition" of prisons, but their destruction, as part of a polymorphous attack against every aspect of the State, Society and Civilisation. We think that there are no real "anarchist" solutions to the "anti-social problem", other than the constant war against power and continual anarchist revolution. Towards the point of no-return and freedom – Attack the prison-society.

The plan is to empty the prisons of the great majority of prisoners and throw them back into the prison-society using the technology of isolation and control; and for the minority of irreducible rebels, keep them inside for ever. What is being presented as 'progress' is nothing other than the advance and spread of repression. This is what the abolitionists are really subscribing to: 'change everything so that everything remains the same'.
It has been said, not mistakenly, that those who do most harm in this world are those who try to do most good. Still today, with increasing isolation and atomisation of individuals, there are people around who decide to ruin their lives with excessive altruism.
Always with the best of intentions, they set out to try to remedy the ills they see before them. They can even be paid by the State for doing so, and this is one of the great swindles of capital: it imposes conditions of untold suffering, and, through its ally the State, paves the way for it to be prolonged in time, rationalised and reformed. (more…)
Tags: 2012 Olympics, Deranged, London, Panopticon, Prison : Abolish or Destroy?, Prison Abolition, UK
Posted in Prison Struggle
Wednesday, February 29th, 2012
– This call comes out of Canada and parts of Western Europe.
325 receives and transmits:
Working Title: Challenging Convictions: Survivors of Sexual Assault/Domestic Violence Writing on Solidarity with Prison Abolition.
Completed submissions due: April 15, 2012.
Like much prison abolition work, the call for this anthology comes from frustration and hope: frustration with organizers against sexual assault and domestic violence who treat the police as a universally available and as a good solution; frustration with prison abolitionists who only use "domestic violence" and "rape" as provocative examples; and, frustration with academic discussions that use only distanced third-person case studies and statistics to talk about sexual violence and the Prison Industrial Complex (PIC). But, this project also shares the hope and worth of working toward building communities without prisons and without sexual violence. Most importantly, it is anchored in the belief that resisting prisons, domestic violence, and sexual assault are inseparable. (more…)
Tags: Anthology, Canada, Prison Abolition, Prison Industrial Complex, Prison Struggle, Sexual Assault, Survivors
Posted in Prison Struggle