Posts Tagged 'Prison Industrial Complex'
Saturday, October 12th, 2019
There is a group of prisoners who although imprisoned for non-political offences subsequently become politicised or radicalised whilst in jail, and in both the USA and Britain this is a phenomenon that has become increasingly widespread.
In the USA during the 1960s and 70s the radicalisation of ordinary black prisoners, in particular, was fostered by the centrality of imprisonment in the experience of black activists and revolutionaries like Malcolm X (who described prisons as "universities of revolution"), Eldridge Cleaver, George Jackson, H Rap Brown, Angela Davis and others. George Jackson described his own politicisation succinctly: "I met Marx, Lenin, Trotsky, Engels, and Mao when I entered prison and they redeemed me".
Thus those whom W.E.B. Dubois described as an "army of the wronged" increasingly defined themselves as political prisoners who were the products of an oppressive political-economic order. This belief underpinned the praxis of radical groups such as the Black Panthers and Symbionese Liberation Army, and prisons were seen as the epicentre of a broader social and political revolution. The call for recognition of radicalised prisoners claim to political status underpinned prisoners' demands in a series of protests that punctuated the 1970s in U.S. Prisons such as Folsom, Soledad, San Quentin and, later, Attica. (more…)
Tags: Anti-Prison, Black Panther Party, Irish Republican Prisoners, John Bowden, Letter, Prison, Prison Abolition, Prison Industrial Complex, Racism, UK
Posted in Prison Struggle
Thursday, August 22nd, 2019
21.08.19: On Monday night, we set fire to several construction vehicles on the grounds of the Zwickau Marienthal Prison construction site. An excavator was burned out completely, the other four excavators and a front end loader were damaged by our fire and made partially unusable. We would like to dedicate this action especially to Loic, the Park Bench 3 and the Basel 18. They are missing from our side.
In Zwickau-Marienthal, construction work on a joint new prison complex for the states of Saxony and Thuringia began recently. At the beginning of 2020, a 6 meter high wall will surround the 10ha area. The concrete complex, which is to be completed by 2024, will then hold 820 people within its walls. In its workshops more than two-thirds of the prisoners will be forced to work. (more…)
Tags: Anti-Prison, Arson, Germany, International Week for Anarchist Prisoners, Prison Industrial Complex, Prison Labour, Sabotage, Saxony, Thomas Meyer Falk
Posted in Direct Action
Wednesday, September 19th, 2018
Corporate Watch released its new report on prison expansion in England, Wales and Scotland: PRISON ISLAND. It shines a light on one of the biggest prison building programs in generations.
The UK prison population has risen by 82% in the last 30 years. We are increasingly becoming a 'prison island', where state violence and imprisonment are used to maintain a divided society built on exploitation. England and Wales have the highest imprisonment rate in western Europe, with Scotland the third most imprisoning country.
This once-in-a-generation prison building programme represents a significant expansion of the repressive apparatus of the British state, entrenching the power of corporations in the criminal justice system even further. This report aims to document and contextualise this escalation in mass incarceration and provide information to support those fighting against it.
https://corporatewatch.org/prisonisland
Tags: Prison Industrial Complex, UK
Posted in Prison Struggle
Saturday, September 30th, 2017
BANG UP AND SMASH: WOMEN'S PRISONS, PROBATION AND BAIL HOSTELS
Bang-up and Smash is an overview of women's prisons in the UK, and a political analysis of their physical and ideological construction.
From the moment of arrest, to coming home, Bang-up and Smash uses first hand experiences to critically engage with the procedures, concepts and apparatus the state relies on, and the economics behind the expansion of the prison industrial complex.
Bang-up and Smash is a practical guide to women's prisons in the UK, and a rallying call to attack. Solidarity is a weapon, and abolition is not enough…
See Active Distribution for free pdf download or order print version
http://www.activedistributionshop.org/shop/books/4325-bang-up-and-smash-by-asbo.html
Also download pdf from Empty Cages website http://www.prisonabolition.org/wp-content/uploads/2017/09/bang-up-and-smash.pdf
For more information email asbo.hmp@riseup.net
Copy left. Share, discuss, dismiss…. comments welcome. Please circulate.
Tags: Anti-Prison, Bang-up and Smash (Zine), PDF, Prison, Prison Abolition, Prison Industrial Complex, Prison Labour, Prison Struggle, UK, Zine
Posted in Library
Sunday, October 30th, 2016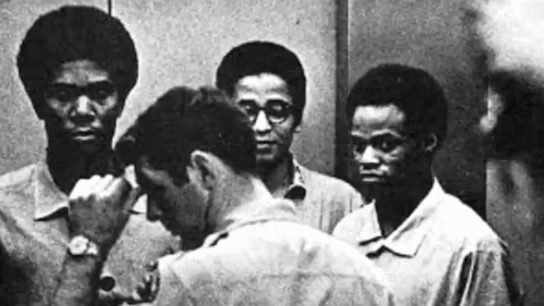 "Gentlemen, the Dragon Will Fly Out"
In Support of September 9th Mobilization in US Prisons
"Gentlemen, the dragon will fly out" is a saying attributed to prisoner George Jackson. On August 21st 1971, holding a pistol, he opened all the cells in an adjustment unit, taking jailers hostage. George Jackson was killed in his attempt to escape…
Since September 9th, prisoners in the United States have called for action against slavery.
A multitude of "invisible" slaves (there are about 2.5 million prisoners in the United States) are condemned to forced labor, or as jailers of their own selves (internal work in prisons, cleaning, repairs, technical operations), or as cheap meat in the service of corporate behemoths (Honda, McDonald's, Wendy's, Victoria's Secret, Starbucks, and many others). Besides, the 13th amendment to the US constitution clearly states: "neither slavery nor involuntary servitude, EXCEPT as a punishment for crime whereof the party shall have been duly convicted…" To put it simply, detainees are considered slaves as part of their punishment.
Prisons in America—and not just there–aren't only bars, walls, surveillance cameras or lockdowns. They're also an enormous lucrative business. Prisons are a dirty dealing for continuously supplied shackled labor force without name and without voice. They represent a modern slave trade, making billion-dollar profit, that not only supplies the companies-caretakers but also the industry of lawyers, judges, cops, corrections officers, private prisons. (more…)
Tags: Attica (Prison Uprising), Conspiracy of Cells of Fire, Fleeta Drumgo, George Jackson, Greece, Informal Anarchist Federation (FAI), International Revolutionary Front, International Solidarity, John Clutchette, Korydallos Prison, Letter, Michael Kimble, Prima Linea, Prison Industrial Complex, Prison Labour, Prison Labour Strike, Racism, Red Army Faction (RAF), USA, Weather Underground
Posted in Prison Struggle
Friday, August 26th, 2016
On September 9th, prisoners across the United States will begin a strike that will be a general work stoppage against prison slavery. In short, prisoners will refuse to work; they will refuse to keep the prisons running by their own labors. Prisoners are striking not just for better conditions or changes in parole rules, but against prison slavery. Prisoners state that under the 13th Amendment which abolished racial slavery, at the same time it allowed human beings to be worked for free or next to nothing as long as they were prisoners.
Prisoners see the current system of prison slavery to thus be a continuation of racial slavery, which is a system that generates billions of dollars in profits each year for major corporations in key industries such as fossil fuels, fast food, banking, and the US military.
Soon after the passing of the 13th Amendment, many former slaves were soon locked up in prisons on petty offenses, quickly returned to their former roles as slaves. Over a century later, the Drug War sought to deal with the growing unemployment rate brought on by changes in the economy (outsourcing, financialization, deregulation, etc), as well as the threat of black insurrection which grew in the 1960s and 70s, by throwing more and more people in prison. At the same time, the state and corporations continued to look towards prison labor as a source to generate massive profits. (more…)
Tags: Anti-Prison, International Solidarity, Letter, Prison Abolition, Prison Industrial Complex, Prison Labour, Prison Labour Strike, Repression, Sean Swain, USA
Posted in Prison Struggle
Tuesday, August 9th, 2016
Here is a poster (11×17) for the upcoming nationwide prisoner strike on September 9th. Download, print and put it up around your city if you feel it. There is a grayscale version here too.
For more information about the strike and the ongoing wave of prison rebellions across the country, check out these articles: Strike Against White Supremacy | Incarcerated Workers Take the Lead | Call To End Prison Slavery
Text from the poster:
"We are not beasts and we do not intend to be beaten or driven as such… What has happened here is but the sound before the fury of those who are oppressed."
– L. D. Barkley, participant in Attica rebellion
On September 9, 1971, the inmates of Attica Correctional Facility in upstate New York seized control of the prison. The Attica uprising, which lasted for five days, was not the first and certainly not the last prison rebellion. And yet its importance is indelibly marked within the history of the struggle against white supremacy and the prison society we still inhabit today.
In the forty years since Attica, prisons have swelled to bursting with the tragedies of disrupted lives, fractured families, and broken communities. In the last decade, resistance movements have steadily grown behind the prison walls. From the statewide work stoppage in Georgia prisons of 2010 to the hunger strike that spread throughout the California prison system in 2013; from fires lit in I.C.E. detention centers in Texas to riots and prison takeovers in Nebraska and Alabama, prisoners across the country are wide awake and on the move.
This September, prisoners, their families, and supporters on the outside are coordinating a nationwide prisoner strike to take place on the 45th anniversary of the Attica rebellion. This historic effort holds within it the potential to expand and embolden the movement against the horrific conditions of confinement, the prisons themselves and the society that creates them.
Towards the destruction of all prisons and the creation of a free and genuine human community!
Support Prisoner Resistance | IWW Incarcerated Workers Organizing Committee | Anti-State STL | IT'S GOING DOWN
Tags: Anti-Prison, Flyposter, Prison Industrial Complex, Prison Labour, Prison Labour Strike, Racism, USA
Posted in Prison Struggle
Wednesday, February 4th, 2015
From a comrade of ABC Brighton:
The growth of what some have described as the "prison industrial complex" and the unleashing of economic free market forces upon the prison system by a government ideologically-driven to sell off or "out source" virtually every state function has created the spectre of a prison population utilised as essentially a source of cheap, forced labour for an increasingly avaricious neo-liberal capitalism. There is no starker example of organised modern slavery.
In the US, the epicentre of the prison industrial complex, the exploitation of cheap convict labour takes place on an industrial scale and in poor urban areas, especially districts with a majority poor Afro-American population, prisons are increasingly replacing factories as places where the criminalised poor are confined and exploited by multi-national security corporations.
In Britain, whose criminal justice system is becoming almost a mirror-image of it's American counterpart, the exploitation of cheap convict labour by private companies is increasingly as is the ownership of entire chunks of the prison system. More and more prisoners are dealt with and treated not as offenders to be rehabilitated but as a source of considerable profit for an economic elite not hamstrung by wishy-washy concepts such as public service or moral conscience in the treatment of prisoners. (more…)
Tags: Germany, HMP Shotts, John Bowden, Letter, Militante Gruppe (MG), Oliver Rast, Prison Industrial Complex, Prison Labour, Scotland, UK
Posted in Prison Struggle
Monday, February 17th, 2014
From a comrade of ABC Brighton:
A recent Government announcement that it was considering introducing U.S. style prison sentences like a hundred years custody for the most serious offences is on one level a straightforward attempt to undermine a recent European Court of Human Rights ruling that life sentence prisoners should be given some hope that their sentences will be reviewed before they die, and on another level evidence that the Americanisation of the British criminal justice system continues to increase and deepen.
Apart from the probable introduction of prison sentences that are in effect a slow form of capital punishment, an American penology has characterised the treatment of British prisoners for quite some time in the form of the treatment model with its psychology-based programmes and courses designed and inspired by Canadian and U.S. ideologies regarding "offending behaviour", which is attributed not so much to social and environmental causes but more the individual pathology of the "offender". So the fact that the prison population is drawn disproportionately from the poorest and most disadvantaged group in society is of absolutely no significance and instead a crude behaviourist notion prevails that providing prisoners can be re-socialised into behaving in a "normal" way then "offending behaviour" can be exorcised from their thinking before they're released back into the same desperate economic and social circumstances. (more…)
Tags: Americanisation of the British criminal justice system, HMP Shotts, John Bowden, Letter, Prison, Prison Industrial Complex, Prison Riots, Prison Struggle, Scotland, UK
Posted in Prison Struggle
Wednesday, February 29th, 2012
– This call comes out of Canada and parts of Western Europe.
325 receives and transmits:
Working Title: Challenging Convictions: Survivors of Sexual Assault/Domestic Violence Writing on Solidarity with Prison Abolition.
Completed submissions due: April 15, 2012.
Like much prison abolition work, the call for this anthology comes from frustration and hope: frustration with organizers against sexual assault and domestic violence who treat the police as a universally available and as a good solution; frustration with prison abolitionists who only use "domestic violence" and "rape" as provocative examples; and, frustration with academic discussions that use only distanced third-person case studies and statistics to talk about sexual violence and the Prison Industrial Complex (PIC). But, this project also shares the hope and worth of working toward building communities without prisons and without sexual violence. Most importantly, it is anchored in the belief that resisting prisons, domestic violence, and sexual assault are inseparable. (more…)
Tags: Anthology, Canada, Prison Abolition, Prison Industrial Complex, Prison Struggle, Sexual Assault, Survivors
Posted in Prison Struggle