Posts Tagged 'Prison Labour Strike'
Saturday, October 27th, 2018
From It's Going Down:
Below is an interview with Greek anarchist prisoner Christos Tsakalos that discusses the situation of heightened repression and resistance inside of Greek prisons, and discusses the influence of the US prison strike on Greek prisoners.
The following is an interview with anarchist political prisoner Christos Tsakalos who is currently in his 7th year of 180 year prison sentence in the Korydallos prison of Athens, Greece. He is accused of association with the revolutionary group known as the Conspiracy of Cells of Fire or CCF. Christos has refused to ever claim innocence as he refuses to kneel with remorse for acting against his enemy the state and capitalist society. He was caught while on the run from the state in 2011 in the city of Volos. He has been accused of bank robbery, participating in dozens of actions against the state and capitalism claimed by CCF, and given 115 years for a prison escape in itself. He has remained active throughout his time in prison, and has shown inspiring integrity in his refusal to cooperate or compromise with the state.
CCF was a group that was formed out of the December 2008 uprising in Greece that resulted from the police murder of a 16 year old boy Alexandros Grigoropoulos. The group saw defeat and futility in the street protests happening both in reaction to this murder, plus the dawning austerity of the 2008 crisis, and began a clandestine campaign of revolutionary action. With an extreme effort by the state to crack down on "terrorist" groups, CCF faced an extensive operation against them, resulting in the imprisonment of alleged and admitted members, plus a new dawn of modern surveillance and counter-insurgency strategies by the typically disorganized Greek state.
Christos is one of many political prisoners in Greece who have remained active in prison, and has openly declared solidarity with the prison strikes happening in the USA. There have been solidarity actions in Greece this year alone at the Korydallos and Larissa prisons of Greece. (more…)
Tags: Christos Tsakalos, Conspiracy of Cells of Fire, Greece, Informal Anarchist Federation (FAI), International Revolutionary Front, International Solidarity, Korydallos Prison, Prison Labour Strike, USA
Posted in Interviews
Tuesday, September 4th, 2018
On Sunday, 2/9/18, banners from prisoners in Larissa were hung in A Wing. The banners were in solidarity with striking prisoners in the US, the banner reads "SOLIDARITY TO ALL US STRIKING PRISONERS – UNTIL THE DESTRUCTION OF ALL PRISONS"
Outside of the prison, 15 comrades were present, they called out slogans and had a little contact with the comrades who put the banner.
Tags: Banner drop, Greece, International Solidarity, Larissa, Prison Labour Strike, Solidarity Action, USA
Posted in Prison Struggle
Saturday, September 1st, 2018


Above: Banner of solidarity hung by Utopia AD, Greece, with the prison labour strike of the US prisoners and with the anarchist prisoners around the world.
Solidarity text to prisoners of "Lee Correctional Institution" prison of U.S.A.

In light of what happened at the "Lee Correctional Institution" prison in the state of South Carolina, U.S.A., and with the tragic death of 7 of our detained and 17 seriously injured and with the full responsibility of the service of the prison, the director and the chief guard, as they knew they were members of rival gangs and intentionally placed them in the same wing, being proud about their cowardly result. We, the prisoners of the A' wing based on solidarity with all South Carolina imprisoned fighters and all the prisons of America, declare our support in the general situation of this time, setting as a primary purpose the opposition to the dirty manipulations the director and the guards exercise in the prisons, having for result the death of our retained brothers. (more…)
Tags: Greece, International Solidarity, Prison Labour Strike, USA
Posted in Prison Struggle
Wednesday, August 15th, 2018
The solidarity groups of Germany's Incarcerated Workers' Union (GG/BO), with the support of the anarchist workers' union (FAU), are calling for a protest to take place in front of the US consulate of Leipzig on August 21st, which is the start date of a nationwide prison strike in the USA.
You can find the call on the blog of the GG/BO solidarity group of Jena and on the website of GG/BO.
Tags: Demo, Germany, Leipzig, Prison Labour Strike, USA
Posted in Prison Struggle
Tuesday, July 10th, 2018
A call from a variety of groups to make some noise for the upcoming prison strike, kicking off on August 21st, 2018.
This is a challenge to every anarchist, abolitionist, rebel and determined fighter against prison society and white supremacy in Amerikkka: Between Monday, July 16 and Saturday, July 21, we're calling on you to help unleash a concerted and spectacular array of solidarity actions before the upcoming prison strikes!
Prepare now, bring mayhem everywhere!
As you likely know, prisoners will strike from August 21st to September 9th. They anticipate guards and administrators to respond with violent reprisals, media distortions, and extended lockdowns. Defending the strikes from the outside is an essential component of its success. Don't wait; retaliation has already started and as August 21st approaches we expect to see transfers, preemptive lockdowns, and more. (more…)
Tags: Prison Labour Strike, USA
Posted in Library
Sunday, October 30th, 2016
NON SERVIAM – I WILL NOT SERVE YOU
"Worse than enslavement is getting used to it…"
Life in the modern civilized world comprises false representations, false patterns, and false formalities. Formalities that determine our upbringing within a family, our education, our professional career, our relationships, our emotions, our smiles or tears. Patterns that castrate the scope of our perception so that our thoughts are directed onto a moving walkway going only one direction. Representations that disguise the system's functions and pathogenies so that we see life unfold only on stage, and never wonder what's hidden backstage. So, the thousands of suicides of desperate debtors is just another statistic among the unpleasant consequences of the economic crisis, the impoverishment of the so-called third world is just an unfortunate fact, and its wounds will heal by charity organizations, the countless dead of modern crusades, the unfortunate victims of the absurdity of war, and the convict slaves in American prisons are simply antisocial elements that provide social services to Democracy.
Prison itself is exile from life; a non-place and non-time behind the screen of a decent society, to make the ugliness that bothers the eyes of reputable citizens unseeable. Prisons are a proof of the perverse intelligence of authoritarian minds. They're built onto walls echoing the screaming and weeping of thousands of people who've learned to sleep with anguish and despair. Prison is the country of captivity, the country where one learns to kneel before the "Forbidden", a landfill for the disposal of human waste, an industrial dump where the social machine's hazardous waste ends up. For most people, however, for all those who never learned to doubt, to question, to look beyond the obvious, prison is a security wall necessary to protect their peaceful and quiet life. (more…)
Tags: Athens, Attica (Prison Uprising), Conspiracy of Cells of Fire, Greece, Informal Anarchist Federation (FAI), International Revolutionary Front, International Solidarity, Korydallos Prison, Letter, Operation Scripta Manent, Prison Labour, Prison Labour Strike, Racism
Posted in Prison Struggle
Sunday, October 30th, 2016
Hello. My name is Lukáš Borl. I am 34 years old and recently I am held in custody prison in Czech republic – Europe. I am an anarchist and I express my solidarity with all oppressed and exploited people around the World regardless their origin, sexual orientation or gender. From this perspective I decided to send few words of solidarity to the prisoners in USA where, according to the information available to me, a general strike of working prisoners began on 9.9.2016. Regardless what they've done, regardless how the Criminal Procedure is categorizing it, I want to express my support to every striking person in prisons around USA.
Every person without exception has a right to respect and human dignity. All prisons trample this right in different ways. For example, a person whose dignity was taken away by prison is additionally exposed to exploitation by working there. As prisoners, you labor hard under hard conditions and often in danger to your own health. Time spent at work is managed by bosses, and the products of this work are taken by capitalists. On one side, there is the growing wealth of corporations, and on the other, you: the humiliated and exploited people who create the profit produced by their work. The implacable antagonism of these two worlds is obvious. If you decided to go on strike, then, it is a legitimate form of a struggle for ending exploitation. I understand this struggle and I support it. I want to let you know that your struggle is also mine. We share the same reality as human beings suffering under the control of the capital and state. (more…)
Tags: Czech Republic, Letter, Lukáš Borl, Prison Labour, Prison Labour Strike, Racism, USA
Posted in Prison Struggle
Sunday, October 30th, 2016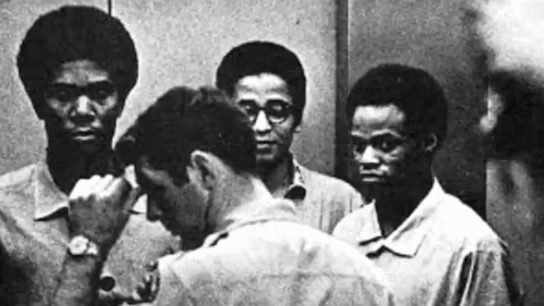 "Gentlemen, the Dragon Will Fly Out"
In Support of September 9th Mobilization in US Prisons
"Gentlemen, the dragon will fly out" is a saying attributed to prisoner George Jackson. On August 21st 1971, holding a pistol, he opened all the cells in an adjustment unit, taking jailers hostage. George Jackson was killed in his attempt to escape…
Since September 9th, prisoners in the United States have called for action against slavery.
A multitude of "invisible" slaves (there are about 2.5 million prisoners in the United States) are condemned to forced labor, or as jailers of their own selves (internal work in prisons, cleaning, repairs, technical operations), or as cheap meat in the service of corporate behemoths (Honda, McDonald's, Wendy's, Victoria's Secret, Starbucks, and many others). Besides, the 13th amendment to the US constitution clearly states: "neither slavery nor involuntary servitude, EXCEPT as a punishment for crime whereof the party shall have been duly convicted…" To put it simply, detainees are considered slaves as part of their punishment.
Prisons in America—and not just there–aren't only bars, walls, surveillance cameras or lockdowns. They're also an enormous lucrative business. Prisons are a dirty dealing for continuously supplied shackled labor force without name and without voice. They represent a modern slave trade, making billion-dollar profit, that not only supplies the companies-caretakers but also the industry of lawyers, judges, cops, corrections officers, private prisons. (more…)
Tags: Attica (Prison Uprising), Conspiracy of Cells of Fire, Fleeta Drumgo, George Jackson, Greece, Informal Anarchist Federation (FAI), International Revolutionary Front, International Solidarity, John Clutchette, Korydallos Prison, Letter, Michael Kimble, Prima Linea, Prison Industrial Complex, Prison Labour, Prison Labour Strike, Racism, Red Army Faction (RAF), USA, Weather Underground
Posted in Prison Struggle
Tuesday, October 25th, 2016
Dear all,
As Anarchist Radio Berlin, we recorded a presentation about the ongoing prison strike in the United States of America, its backgrounds as well as the methods of support and solidarity that are used in- and outside of prisons. The presentation was held in October 2016 in Berlin.
You'll find the audio (to listen online or download in different sizes) here.
Length: 57:47 min
You can find other English and Spanish language audios here:
http://aradio.blogsport.de/englishcastellano/.
Tags: Anarchistisches Radio Berlin, Berlin, Germany, International Solidarity, Prison Labour Strike, USA
Posted in Prison Struggle
Wednesday, October 5th, 2016
Inside the framework of the international day of solidarity to the struggle of the US prisoners that was called by the Anarchist Black Cross-Solidarity Cell, a protest outside of the American embassy took place.
ABC solidarity cell, Assembly for solidarity to political prisoners, Assembly for solidarity to the prisoners' struggle against slavery, A.S.M.P.A., Assembly of anarchists communists for the class counter attack against the European union as well as other comrades participated in the protest. During the protest, slogans were shouted, flyers were spread, texts were given out and banners were hanged.
Anarchist Black Cross – Solidarity Cell
Tags: ABC - Anarchist Solidarity Cell, Athens, Demo, Greece, International Solidarity, Prison Labour Strike, USA
Posted in Prison Struggle
Saturday, September 24th, 2016
Prisons in the USA – The dark side of slavery in American society
In order to be in the position to understand the importance and necessity of the us prisoners' struggle, we first need to analyze the role of slavery in the foundation and evolution of the american state and its historical and integral ,until today, link with the capital.
Slavery in its many forms was actually the foundation on which the omnipotence of american overlordship was gradually built. The root of this phenomenon can be traced back in the era when the christian empires of europe started a race to conquest unknown lands, founding colonialism regimes, in the era of brutal genocides of the indigenous populations and the slave trade of the non-white african population. Since then and until today, the social and political circumstances have rapidly changed, mainly because of a heavy blood tax that has been paid from beneath, towards the direction of the total shaking off of slavery as an institution. However, it continues up until today, more or less covered.
Today's prisoners' class and racial composition, the spreading of private prisons, the institutionalization of enforced labor as a form of criminal sanction, the exploitation of prisoners by big companies highlight the fundamental connection between state-capitalism-slavery and prison. (more…)
Tags: ABC - Anarchist Solidarity Cell, Greece, International Solidarity, Prison Labour, Prison Labour Strike, Prison Riots, USA
Posted in Prison Struggle
Tuesday, September 13th, 2016
This is dedicated to all the very young ones, youths with no direction yet, the kids that punch out at everything. Those that hate being told what to do and hate authority, who've fell foul of the law, who don't even consider anarchy. Rebels without a cause. A prison gate is a border, it is a part of the class system, crime, scarcity and resource war. They need people to control and use in private prison labour. The prisons are exploding.
HMP Bristol, Horfield – 2 cars of screws are scratched up and tyres punctured, one a black sportscar – P6 SHT.
Horfield, Bristol – 12 Oak Road, house of screw has 'bars' sprayed on the windows and "screw" scrawled on the house in spraypaint.
Done in the International Week of Solidarity to Anarchist Prisoners, 23-30 August.
Solidarity to the anarchists in Italy arrested in Operation Scripta Manent and to all those in the prison uprising in America, 9 September.

Eco-anarchist vandals – FAI/IRF
Tags: Bristol, Eco-anarchist vandals - FAI/IRF, HMP Bristol, Informal Anarchist Federation (FAI), International Revolutionary Front, International Week for Anarchist Prisoners, Operation Scripta Manent, Prison Labour Strike, Sabotage, UK, Vandalism
Posted in Direct Action
Monday, September 12th, 2016
Received:
video of prison strike solidarity noise demo, fireworks, flares. smoke bombs at juvenile 'detention centre' in Narrm (so-called 'Melbourne') Wurundjeri land
Tags: Australia, Demo, Melbourne, Prison Labour Strike
Posted in Prison Struggle
Saturday, September 10th, 2016
The 9/9/71 marked one of the most important dates for the struggle against prisons. The uprising in Attica would still be a major event, even without the subsequent massacre committed by the cops who acted in compliance with the mandates of the Law and Order doctrine, which has found various diversified applications in the western world until today.
Back then, the liberation movements (black liberation, anti-war movement, feminist movement etc.) that were active outside prisons influenced a substantial number of US prisoners, who chose to position the prison -as a space and institution- in the core of struggle for change in the status quo.
Prisons constitute a fundamental tool in the hands of the state and its pursuit to get rid of all those who are deemed superfluous or dangerous to the deathly hush it seeks to impose.
The more capitalism evolves and reaches its limits, swallowing down human beings, natural resources and entire ecosystems in its destructive course of action, the bigger profits it demands, resulting in millions of people being turned into slaves.
The Pan-American strike which is due on 9/9 means to convey a straightforward message: "We refuse to be slaves any longer".
Forced labor in public or private, federal or state prisons turns nearly 2.500.000 prisoners in the US into slaves to international corporations.
"This is a call to end slavery in America. This call goes directly to the slaves themselves", as we read in the prisoners' announcement.
We know how hard it is to fight capitalism where it's the most powerful, namely the US; and we also know that depriving it from part of its profits is the only way to inflict a severe damage.
That's why the upcoming strike is of utmost importance.
That's why we stand in solidarity and salute the subversive dignity of the prisoners in the US.
VICTORY FOR THE PRISONERS' FIGHT IN THE US
SOCIAL REVOLUTION TO ABOLISH STATES AND CAPITALISM

Some anarchist prisoners from Greece
Korydallos Prison Block D
Tags: Athens, Greece, Korydallos Prison, Prison Labour Strike, USA
Posted in Prison Struggle
Saturday, September 10th, 2016
On September 8th, in solidarity with prisoners taking action for the 9/9 prisoner strike, about a dozen people disrupted activities at the local Democratic Party campaign headquarters. Standing outside the building, people held a large banner announcing the prisoner strike while a statement was read and others passed out handbills. Additionally, a group of people went inside the headquarters to yell chants, clog sinks, tear down campaign posters, and scatter handbills. An American flag in the office found its way into a toilet. People walked away from the building tossing handbills in the air.
From the handbill scattered at the action:
As the ruling party, the Democrats and their Bureau of Prisons are responsible for the conditions in federal prisons and everyone being held hostage inside of them.
They profit from the labor of prisoners and contract with countless companies and industries that do the same, while prisoners earn as little as a few cents per hour.
They are responsible for the exorbitant prices of phone calls, commissary foods, and other basic necessities in prison. For the mailroom censorship, both institutionalized and arbitrary, of political and other materials. They are responsible for the poor quality of water and food that some must endure for decades, or even the rest of their lives. And for the dismal or nonexistent health care for prisoners when these conditions start to take their toll.
(more…)
Tags: Banner drop, Bloomington, Indiana, Prison Labour Strike, Racism, USA
Posted in Direct Action