Posts Tagged 'Prison Labour'
Tuesday, December 10th, 2019
Well, as you know, I continue to be in the prison of Brians I, and I should not be surprised that the fascist torturers continue, those who like to insult, humiliate, harass and beat the prisoners, but in Module I of this prison, what is happening is beyond the unthinkable.
In this module we have a jailer named Pablo and as usual, the prisoners know him as Don Pablo. This individual has several complaints of mistreatment of prisoners, so it is strange that he continues to work in a prison and dealing with people, when he is at least a psychopath.
This jailer works normally on Monday, Tuesday double shift and Wednesday until noon. This past Monday, the 11th, he apparently had one of those psychotic outbreaks because already in the morning he began first with the barber of the module, in front of other prisoners, asking him "Are you dumb or what, what do you think, what is it? Do you want me to break your face?"
Then, near noon, to another prisoner, in this case a fate of the dining room, he said words shouting like the others: "You are shit, you are not worth anything, you are a cockroach, you are nothing and cease to exist". In the afternoon, and continuing with his vocabulary, there was a prisoner destined for the workshop that was talking on the phone with his family. This prisoner was calling out of the usual schedule because when he comes up from the workshops, at noon later than one o'clock and in the afternoon after seven o'clock, this schedule is agreed after hours with the director of this jail and with the captain of the Module, and I agreed with it myself because those at the workshops could not call during normal business hours. (more…)
Tags: Amadeu Casellas, Catalan Independence, Catalunya, Letter, Prison Labour, Spain
Posted in Prison Struggle
Thursday, August 22nd, 2019
21.08.19: On Monday night, we set fire to several construction vehicles on the grounds of the Zwickau Marienthal Prison construction site. An excavator was burned out completely, the other four excavators and a front end loader were damaged by our fire and made partially unusable. We would like to dedicate this action especially to Loic, the Park Bench 3 and the Basel 18. They are missing from our side.
In Zwickau-Marienthal, construction work on a joint new prison complex for the states of Saxony and Thuringia began recently. At the beginning of 2020, a 6 meter high wall will surround the 10ha area. The concrete complex, which is to be completed by 2024, will then hold 820 people within its walls. In its workshops more than two-thirds of the prisoners will be forced to work. (more…)
Tags: Anti-Prison, Arson, Germany, International Week for Anarchist Prisoners, Prison Industrial Complex, Prison Labour, Sabotage, Saxony, Thomas Meyer Falk
Posted in Direct Action
Thursday, January 31st, 2019
1: 2019 – Year of Action against Prison Expansion
2: March 2019 – Month of Action against Prisons and the State – For Anna
3: 13 March – Global day of solidarity with Kevan Thakrar & Against Solitary Confinement
Tags: Anti-Prison, Close Supervision Centre CSC, International Solidarity, Kevan Thakrar, Prison Labour, Racism, UK
Posted in Prison Struggle
Saturday, September 30th, 2017
BANG UP AND SMASH: WOMEN'S PRISONS, PROBATION AND BAIL HOSTELS
Bang-up and Smash is an overview of women's prisons in the UK, and a political analysis of their physical and ideological construction.
From the moment of arrest, to coming home, Bang-up and Smash uses first hand experiences to critically engage with the procedures, concepts and apparatus the state relies on, and the economics behind the expansion of the prison industrial complex.
Bang-up and Smash is a practical guide to women's prisons in the UK, and a rallying call to attack. Solidarity is a weapon, and abolition is not enough…
See Active Distribution for free pdf download or order print version
http://www.activedistributionshop.org/shop/books/4325-bang-up-and-smash-by-asbo.html
Also download pdf from Empty Cages website http://www.prisonabolition.org/wp-content/uploads/2017/09/bang-up-and-smash.pdf
For more information email asbo.hmp@riseup.net
Copy left. Share, discuss, dismiss…. comments welcome. Please circulate.
Tags: Anti-Prison, Bang-up and Smash (Zine), PDF, Prison, Prison Abolition, Prison Industrial Complex, Prison Labour, Prison Struggle, UK, Zine
Posted in Library
Sunday, October 30th, 2016
NON SERVIAM – I WILL NOT SERVE YOU
"Worse than enslavement is getting used to it…"
Life in the modern civilized world comprises false representations, false patterns, and false formalities. Formalities that determine our upbringing within a family, our education, our professional career, our relationships, our emotions, our smiles or tears. Patterns that castrate the scope of our perception so that our thoughts are directed onto a moving walkway going only one direction. Representations that disguise the system's functions and pathogenies so that we see life unfold only on stage, and never wonder what's hidden backstage. So, the thousands of suicides of desperate debtors is just another statistic among the unpleasant consequences of the economic crisis, the impoverishment of the so-called third world is just an unfortunate fact, and its wounds will heal by charity organizations, the countless dead of modern crusades, the unfortunate victims of the absurdity of war, and the convict slaves in American prisons are simply antisocial elements that provide social services to Democracy.
Prison itself is exile from life; a non-place and non-time behind the screen of a decent society, to make the ugliness that bothers the eyes of reputable citizens unseeable. Prisons are a proof of the perverse intelligence of authoritarian minds. They're built onto walls echoing the screaming and weeping of thousands of people who've learned to sleep with anguish and despair. Prison is the country of captivity, the country where one learns to kneel before the "Forbidden", a landfill for the disposal of human waste, an industrial dump where the social machine's hazardous waste ends up. For most people, however, for all those who never learned to doubt, to question, to look beyond the obvious, prison is a security wall necessary to protect their peaceful and quiet life. (more…)
Tags: Athens, Attica (Prison Uprising), Conspiracy of Cells of Fire, Greece, Informal Anarchist Federation (FAI), International Revolutionary Front, International Solidarity, Korydallos Prison, Letter, Operation Scripta Manent, Prison Labour, Prison Labour Strike, Racism
Posted in Prison Struggle
Sunday, October 30th, 2016
Hello. My name is Lukáš Borl. I am 34 years old and recently I am held in custody prison in Czech republic – Europe. I am an anarchist and I express my solidarity with all oppressed and exploited people around the World regardless their origin, sexual orientation or gender. From this perspective I decided to send few words of solidarity to the prisoners in USA where, according to the information available to me, a general strike of working prisoners began on 9.9.2016. Regardless what they've done, regardless how the Criminal Procedure is categorizing it, I want to express my support to every striking person in prisons around USA.
Every person without exception has a right to respect and human dignity. All prisons trample this right in different ways. For example, a person whose dignity was taken away by prison is additionally exposed to exploitation by working there. As prisoners, you labor hard under hard conditions and often in danger to your own health. Time spent at work is managed by bosses, and the products of this work are taken by capitalists. On one side, there is the growing wealth of corporations, and on the other, you: the humiliated and exploited people who create the profit produced by their work. The implacable antagonism of these two worlds is obvious. If you decided to go on strike, then, it is a legitimate form of a struggle for ending exploitation. I understand this struggle and I support it. I want to let you know that your struggle is also mine. We share the same reality as human beings suffering under the control of the capital and state. (more…)
Tags: Czech Republic, Letter, Lukáš Borl, Prison Labour, Prison Labour Strike, Racism, USA
Posted in Prison Struggle
Sunday, October 30th, 2016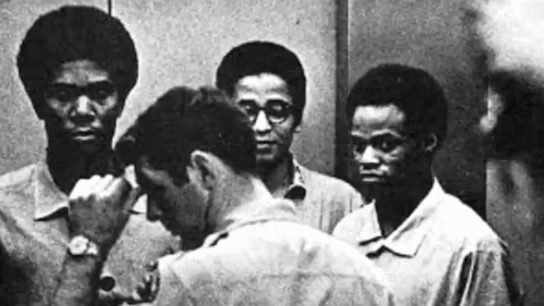 "Gentlemen, the Dragon Will Fly Out"
In Support of September 9th Mobilization in US Prisons
"Gentlemen, the dragon will fly out" is a saying attributed to prisoner George Jackson. On August 21st 1971, holding a pistol, he opened all the cells in an adjustment unit, taking jailers hostage. George Jackson was killed in his attempt to escape…
Since September 9th, prisoners in the United States have called for action against slavery.
A multitude of "invisible" slaves (there are about 2.5 million prisoners in the United States) are condemned to forced labor, or as jailers of their own selves (internal work in prisons, cleaning, repairs, technical operations), or as cheap meat in the service of corporate behemoths (Honda, McDonald's, Wendy's, Victoria's Secret, Starbucks, and many others). Besides, the 13th amendment to the US constitution clearly states: "neither slavery nor involuntary servitude, EXCEPT as a punishment for crime whereof the party shall have been duly convicted…" To put it simply, detainees are considered slaves as part of their punishment.
Prisons in America—and not just there–aren't only bars, walls, surveillance cameras or lockdowns. They're also an enormous lucrative business. Prisons are a dirty dealing for continuously supplied shackled labor force without name and without voice. They represent a modern slave trade, making billion-dollar profit, that not only supplies the companies-caretakers but also the industry of lawyers, judges, cops, corrections officers, private prisons. (more…)
Tags: Attica (Prison Uprising), Conspiracy of Cells of Fire, Fleeta Drumgo, George Jackson, Greece, Informal Anarchist Federation (FAI), International Revolutionary Front, International Solidarity, John Clutchette, Korydallos Prison, Letter, Michael Kimble, Prima Linea, Prison Industrial Complex, Prison Labour, Prison Labour Strike, Racism, Red Army Faction (RAF), USA, Weather Underground
Posted in Prison Struggle
Saturday, September 24th, 2016
Prisons in the USA – The dark side of slavery in American society
In order to be in the position to understand the importance and necessity of the us prisoners' struggle, we first need to analyze the role of slavery in the foundation and evolution of the american state and its historical and integral ,until today, link with the capital.
Slavery in its many forms was actually the foundation on which the omnipotence of american overlordship was gradually built. The root of this phenomenon can be traced back in the era when the christian empires of europe started a race to conquest unknown lands, founding colonialism regimes, in the era of brutal genocides of the indigenous populations and the slave trade of the non-white african population. Since then and until today, the social and political circumstances have rapidly changed, mainly because of a heavy blood tax that has been paid from beneath, towards the direction of the total shaking off of slavery as an institution. However, it continues up until today, more or less covered.
Today's prisoners' class and racial composition, the spreading of private prisons, the institutionalization of enforced labor as a form of criminal sanction, the exploitation of prisoners by big companies highlight the fundamental connection between state-capitalism-slavery and prison. (more…)
Tags: ABC - Anarchist Solidarity Cell, Greece, International Solidarity, Prison Labour, Prison Labour Strike, Prison Riots, USA
Posted in Prison Struggle
Friday, August 26th, 2016
On September 9th, prisoners across the United States will begin a strike that will be a general work stoppage against prison slavery. In short, prisoners will refuse to work; they will refuse to keep the prisons running by their own labors. Prisoners are striking not just for better conditions or changes in parole rules, but against prison slavery. Prisoners state that under the 13th Amendment which abolished racial slavery, at the same time it allowed human beings to be worked for free or next to nothing as long as they were prisoners.
Prisoners see the current system of prison slavery to thus be a continuation of racial slavery, which is a system that generates billions of dollars in profits each year for major corporations in key industries such as fossil fuels, fast food, banking, and the US military.
Soon after the passing of the 13th Amendment, many former slaves were soon locked up in prisons on petty offenses, quickly returned to their former roles as slaves. Over a century later, the Drug War sought to deal with the growing unemployment rate brought on by changes in the economy (outsourcing, financialization, deregulation, etc), as well as the threat of black insurrection which grew in the 1960s and 70s, by throwing more and more people in prison. At the same time, the state and corporations continued to look towards prison labor as a source to generate massive profits. (more…)
Tags: Anti-Prison, International Solidarity, Letter, Prison Abolition, Prison Industrial Complex, Prison Labour, Prison Labour Strike, Repression, Sean Swain, USA
Posted in Prison Struggle
Tuesday, August 9th, 2016
Here is a poster (11×17) for the upcoming nationwide prisoner strike on September 9th. Download, print and put it up around your city if you feel it. There is a grayscale version here too.
For more information about the strike and the ongoing wave of prison rebellions across the country, check out these articles: Strike Against White Supremacy | Incarcerated Workers Take the Lead | Call To End Prison Slavery
Text from the poster:
"We are not beasts and we do not intend to be beaten or driven as such… What has happened here is but the sound before the fury of those who are oppressed."
– L. D. Barkley, participant in Attica rebellion
On September 9, 1971, the inmates of Attica Correctional Facility in upstate New York seized control of the prison. The Attica uprising, which lasted for five days, was not the first and certainly not the last prison rebellion. And yet its importance is indelibly marked within the history of the struggle against white supremacy and the prison society we still inhabit today.
In the forty years since Attica, prisons have swelled to bursting with the tragedies of disrupted lives, fractured families, and broken communities. In the last decade, resistance movements have steadily grown behind the prison walls. From the statewide work stoppage in Georgia prisons of 2010 to the hunger strike that spread throughout the California prison system in 2013; from fires lit in I.C.E. detention centers in Texas to riots and prison takeovers in Nebraska and Alabama, prisoners across the country are wide awake and on the move.
This September, prisoners, their families, and supporters on the outside are coordinating a nationwide prisoner strike to take place on the 45th anniversary of the Attica rebellion. This historic effort holds within it the potential to expand and embolden the movement against the horrific conditions of confinement, the prisons themselves and the society that creates them.
Towards the destruction of all prisons and the creation of a free and genuine human community!
Support Prisoner Resistance | IWW Incarcerated Workers Organizing Committee | Anti-State STL | IT'S GOING DOWN
Tags: Anti-Prison, Flyposter, Prison Industrial Complex, Prison Labour, Prison Labour Strike, Racism, USA
Posted in Prison Struggle
Tuesday, July 5th, 2016
Hello comrades abroad!,
We are getting in touch with you today to inform you about a historical day of action happening in the United States and to make a call for international solidarity actions, both inside and outside prisons across the world!
On September 9th, 2016, prisoners across the United States will be conducting work stoppages, hunger strikes and other forms of action in a call to end prison slavery. The call was originated by organizers from the Free Alabama Movement. A national coalition of community groups associated with the IWW's Incarcerated Workers Organizing Committee, Anarchist Black Cross chapters and others throughout the country have come together to build a national support network to push for a final end to prison slavery.
To achieve this goal, we need support from the international community.
We hope that prisoner support groups in the across the globe will hold solidarity demos and inform prisoners they are in contact with about the September 9th day of action. This spring and summer will be seasons of organizing, spreading the word, building networks of solidarity and showing that we're serious and what we're capable of. We ask that you organize some sort of solidarity action and help spread the word to prisoners in your area. We hope that the fires of prison rebellion spread from the United States to prisons across the globe! With one unified voice of rebellion we can send a strong message to captors across the globe that the iron bars of their cage cannot contain our thirst for freedom! (more…)
Tags: International Solidarity, Prison Labour, Prison Labour Strike, USA
Posted in Prison Struggle
Monday, April 4th, 2016
United States – Last Friday prisoners across the US released a call to action announcing a nationally coordinated prisoner protest on the anniversary of the Attica prison uprising. On the heels of a similar announcement of an April 4th workstoppage issued by Texas prisoners, the call to action states that "[s]lavery is alive and well in the prison system, but by the end of this year, it won't be anymore." It calls for prisoners to "to stop being a slave, to let the crops rot in the plantation fields, to go on strike and cease reproducing the institutions of your confinement."
The coordinated strike is called for September 9th 2016, the forty-fifth anniversary of the most infamous prisoner revolt in US history. The announcement references Attica repeatedly, comparing recent upsurge of prisoner protest movements (from historic workstoppages in Georgia and Alabama to massive hunger strikes in California) to the years of prisoner unrest surrounding the flashpoint of the Attica rebellion. (more…)
Tags: Attica (Prison Uprising), Prison Labour, Prison Labour Strike, Texas, USA
Posted in Prison Struggle
Wednesday, February 4th, 2015
From a comrade of ABC Brighton:
The growth of what some have described as the "prison industrial complex" and the unleashing of economic free market forces upon the prison system by a government ideologically-driven to sell off or "out source" virtually every state function has created the spectre of a prison population utilised as essentially a source of cheap, forced labour for an increasingly avaricious neo-liberal capitalism. There is no starker example of organised modern slavery.
In the US, the epicentre of the prison industrial complex, the exploitation of cheap convict labour takes place on an industrial scale and in poor urban areas, especially districts with a majority poor Afro-American population, prisons are increasingly replacing factories as places where the criminalised poor are confined and exploited by multi-national security corporations.
In Britain, whose criminal justice system is becoming almost a mirror-image of it's American counterpart, the exploitation of cheap convict labour by private companies is increasingly as is the ownership of entire chunks of the prison system. More and more prisoners are dealt with and treated not as offenders to be rehabilitated but as a source of considerable profit for an economic elite not hamstrung by wishy-washy concepts such as public service or moral conscience in the treatment of prisoners. (more…)
Tags: Germany, HMP Shotts, John Bowden, Letter, Militante Gruppe (MG), Oliver Rast, Prison Industrial Complex, Prison Labour, Scotland, UK
Posted in Prison Struggle
Sunday, October 27th, 2013
via a comrade of Brighton ABC:
Neo-liberalism, an ideology and concept usually associated with a particularly ruthless brand of free-market economics, has now reached into the very core services of the state and institutions that were once considered strictly off limits to financial speculators and entrepreneurs: the NHS, the prison system and the criminal justice system. Neo-liberalism doesn't just involve a massive shift of economic power and wealth to an already extremely powerful and wealthy social group, but also a fundamental shift in the philosophy and policy of organisations like the welfare and criminal justice systems, both of whose 'clients' are now increasingly lumped together as an undifferentiated mass of the 'undeserving poor' or an always potentially criminal 'underclass' requiring an equal degree of punitive supervision, surveillance and 'management'. For the poor the welfare state is becoming increasingly like a carceral state. (more…)
Tags: HMP Shotts, John Bowden, Neo-Liberalism And Prisons, Prison Labour, UK
Posted in Prison Struggle
Sunday, May 12th, 2013
Right-wing Tory Justice Minister Chris Grayling's declaration in late April that prisoners would now be made to "earn" basic privileges by "working harder" probably wasn't just the usual "popularist" promise to stick the boot into one of the most powerless and demoralised social groups. During times of economic austerity and potential social unrest scapegoating marginalised and outcast groups like prisoners, is always useful as a means of deflecting and re-focusing public anger away from the true culprits of the country's economic ruination, in this case Grayling's pals in the city of London. Behind the rhetoric and the guise of "getting tough" on prisoners is the actual purpose of the prison industrial complex: to turn prisons into privatised forced-labour factories. (more…)
Tags: Chris Grayling, John Bowden, Letter, Prison Labour, UK
Posted in Prison Struggle