Posts Tagged 'Prison Riots'
Wednesday, December 28th, 2016

via Fire on the Horizon:
Last Thursday (23rd Dec) another riot broke out on prison island, this time it exploded at HMP Swaleside, as 60 masked prisoners took over a wing at the Category B training prison on the Isle of Shippey. The riot lasted for more than 6 hours as fire as extensive damage was done to the wing, fire extinguishers let off and pool balls thrown at screws. Again a riot unit called 'Tornado Team' had to be sent into the prison to quell the riot, which did not end till 1am the following day. Pictures and video footage that were sent out on illegally smuggled in phones show the rioters in full control of the wing rearing themselves up to fight the authorities, chanting loudly 'Swaleside is burning!'
Tags: HMP Swaleside, Prison Riots, UK
Posted in Prison Struggle
Friday, December 23rd, 2016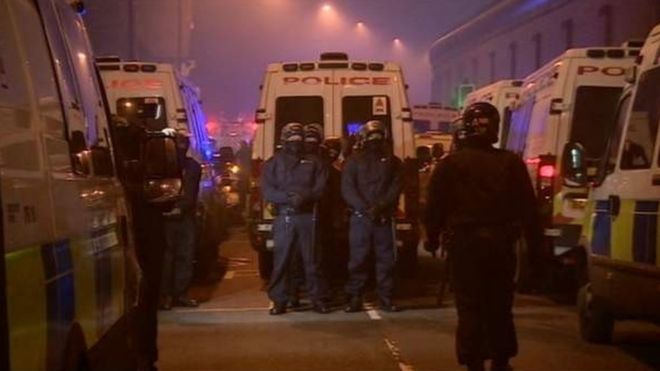 Last night a full scale riot escalated at HMP Birmingham, better known locally as Winson Green, continuing for 12 hours as several riot cop units were unable to contain the escalating rebellion. The outbreak of rage began when some inmates broke lights and grabbed fire hoses in the prison's N Wing. The screws moved in to lock prisoners back in their cells while the fracas was contained, prisoners overpowered a screw, took his keys and started unlocking the cells. Screws were forced to flee after the rioters numbering 600 cut through chains and burned documents in the worst prison disorder for more than 20 years. Internal connecting security gates were left chained to prevent rioters taking control of the whole prison, but it was not enough to stop the rebellion spreading. Prisoners used stolen equipment to cut through the chains. Within a short time four wings – said to be L, M, N and P – fell under the control of the rioters, who also broke into the security store, pharmacy and gym.  Prison owners scumbag G4S had to admit defeat and handed over control of the jail to the Ministry of Justice. Specialist response 'Tornado' teams were sent in to try to restore order as fires broke out and inmates chanted 'war cries' which could be heard outside. (more…)
Tags: Fuck the Law, G4S, HMP Birmingham, Prison Riots, UK
Posted in Prison Struggle
Saturday, September 24th, 2016
Prisons in the USA – The dark side of slavery in American society
In order to be in the position to understand the importance and necessity of the us prisoners' struggle, we first need to analyze the role of slavery in the foundation and evolution of the american state and its historical and integral ,until today, link with the capital.
Slavery in its many forms was actually the foundation on which the omnipotence of american overlordship was gradually built. The root of this phenomenon can be traced back in the era when the christian empires of europe started a race to conquest unknown lands, founding colonialism regimes, in the era of brutal genocides of the indigenous populations and the slave trade of the non-white african population. Since then and until today, the social and political circumstances have rapidly changed, mainly because of a heavy blood tax that has been paid from beneath, towards the direction of the total shaking off of slavery as an institution. However, it continues up until today, more or less covered.
Today's prisoners' class and racial composition, the spreading of private prisons, the institutionalization of enforced labor as a form of criminal sanction, the exploitation of prisoners by big companies highlight the fundamental connection between state-capitalism-slavery and prison. (more…)
Tags: ABC - Anarchist Solidarity Cell, Greece, International Solidarity, Prison Labour, Prison Labour Strike, Prison Riots, USA
Posted in Prison Struggle
Tuesday, August 9th, 2016
At the moment I'm writing from segregation (lockup) after being stripped, handcuffed, slapped, and placed here by the CERT (riot squad) on Monday, August 1, 2016 at approximately 11:45 pm. It's now Wednesday and I haven't been given my personal property (shoes/slides, soap, deodorant, clothes, toothbrush, etc.) nor have I received a 72 hour investigation notice as to why I'm being held in segregation.
I'm assuming that I'm being held for being involved in a rebellion (riot) that popped off on August 1, 2016 at around 3:06 pm. Initially there was a fight between prisoners, but escalated into a rebellion against the guards when they tried to intervene after being told numerous times that things were under control.
The guards didn't listen and was chased out of C-dorm, which has become a space of self-governance and resistance against prison officials. Fires were set, control units taken.
I'm one of about ten prisoners who was also placed in segregation.
So, if you don't hear from me personally, it means that all my property, including letters, addresses, phone numbers, have been destroyed or lost. I've had to borrow writing materials to get this out.

from anarchylive
Tags: Isolation, Michael Kimble, Prison Riots, Repression, USA
Posted in Prison Struggle
Monday, April 18th, 2016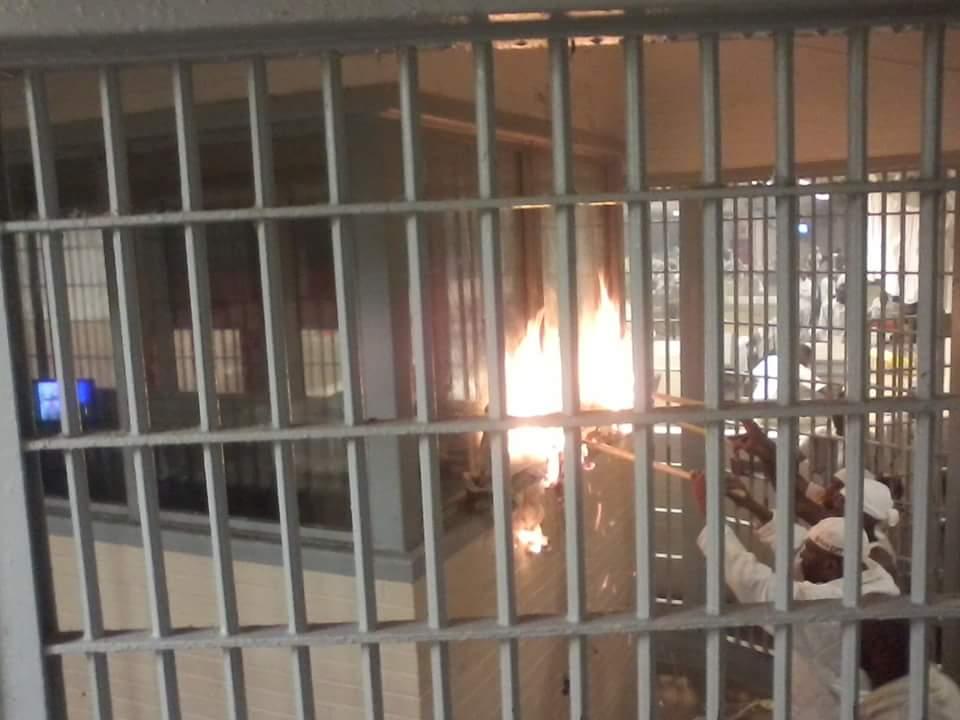 Friday, Feb. 12, 2016 – Monday, Feb. 15, 2016
What began as a confrontation between prisoners from different regions of Alabama – namely, B'ham and Montgomery, with B'ham being the largest – escalated into two short riots against the pigs. After the prisoners squashed the beef among themselves without any violence, two pigs ran into C-dorm, which houses 114 prisoners and was informed that there was no problem and everything was under control.
One pig (Tate) tried to bogart his way through a crowd of prisoners and was immediately stabbed a number of times. After the two pigs ran out the dorm, one bloodied the warden, Carter Davenport, who has a reputation as an extremely sadistic, disrespectful, and nasty scumfuck fascist, who was recently removed from his post as warden at St. Clair maximum security prison for assaulting a prisoner, and reassigned as warden at Holman in 2015. He was stabbed after entering C-dorm like some kind of god. (more…)
Tags: Alabama, Letter, Michael Kimble, Prison Riots, USA
Posted in Prison Struggle
Thursday, March 17th, 2016
"Things here are tense but festive. The C.O. and warden was stabbed… It has nothing to do with overcrowding, but with the practice of locking folks up for profit, control and subjugation. Fires were set, we got control of two cubicles, bust windows. The riot team came, shot gas, locked down, searched the dorms. Five have been shipped and two put in lockup."
– An inmate at Holman Correctional
This week, prison rebels at Holman Correctional Facility in Atmore, Alabama staged two riots in three days—battling guards, building barricades, stabbing the warden, taking over sections of the prison and setting a guard station on fire. These actions come as no surprise to those who have been paying attention to the crumbling prison system in Alabama and the increasing level of radicalization of the prison population there.
The uprising at Holman, and the conditions of Alabama prisons in general, provide a unique situation in which anarchist solidarity may prove strategic. Historically speaking, successful prison uprisings have often been the result of a degrading prison system (incompetence, understaffing, weak administration) in combination with a high level of prisoner-unity and the development of a strong political subculture within the prison that supports and encourages acts of resistance. These conditions shift the balance of power between prisoners and their captors and allow prisoners more latitude to take bold action. Prison rebels in Alabama report that guards often refuse to enter the cell blocks for months at a time out of fear of attacks. The conditions for rebellion are ripe in the Alabama prison system. (more…)
Tags: Alabama, Holman Correctional Facility (Atmore), Prison Riots, USA
Posted in Prison Struggle
Thursday, March 26th, 2015
A small riot happened in E1 wing of Type C prison Domokos where Nikos Maziotis, Giannis Naxakis and Christos Rodopoulos are, it occurred Wednesday morning after the suicide of a Pakistani prisoner. According to reports, detainees destroyed CCTV cameras and caused extensive damage to the wing.
The 42 year-old Pakistani detainee from E2 wing of Domokos was found hanging in his cell, -according to others, the garrison headquarters-, by prison officers at 20:20 on Tuesday night. Reportedly, the 42 year-old committed suicide by making a loop with a sheet.
+ Also: Letter from Nikos Maziotis: To the Assembly for solidarity to the hunger strikers, Athens – Greece
Tags: Domokos, Greece, Prison Riots, Riot, Type C prisons
Posted in Prison Struggle
Wednesday, February 25th, 2015
Faschistischer Angriff auf die Ege Universität: 1 Faschist tot
Eine faschistische Rotte von ca. 200 Personen griff progressive und
revolutionäre Studenten an, auf dem Gelände der Literatur Fakultät,
befindlich auf dem Campus der Ege Üniversitesi. Der Mob griff mit
Stangen, Messer, Äxten und Schusswaffen an, während ein Faschist starb,
wurde drei Studenten schwer verletzt. (more…)
Tags: Anti-Fascist, Prison Riots, Texas, Turkey, USA
Posted in Social Control
Saturday, February 21st, 2015
HMP Oakwood is a very well-known large shit-hole of a prison run by G4S private security company, known for very poor conditions and overcrowding.
From inthebellyofthebeast, via mainstream media slime:
Six criminals have been jailed over a riot which caused £170,000-worth of damage at Britain's biggest jail.
The crooks smashed up their wing at the privately-run HMP Oakwood, near Wolverhampton, in January last year.
Staff were forced to flee as they trashed TVs, furnishings, pool tables and washing machines. (more…)
Tags: G4S, HMP Oakwood, Prison Riots, Repression, UK
Posted in Prison Struggle
Tuesday, October 7th, 2014
ABC Hurricane uploaded the Filaki – Prison World DVD about 2007 prison riots uprising in Greece.
PDF: Prison World – Filaki zine
Documentary from Greece about the prison society, its role in social control and the ongoing rebellion against it…
The film focuses on the prison uprisings against the political repression and social war against the comrades in Greece as well as the hunger strikes against the Type-F prisons in Turkey which soon spread to engulf many of the prisons in Greece. These prisons are similar to the Type-C prisons in Greece, the FIES in Spain, the CSC in the UK and other punitive isolation torture regimes around the world.
During the afternoon R.Z. escapes again, for the last time. A detainee shouts to him, 'How did you do it?'. R.Z answers: 'From there at the top… you can't find a way to escape from those walls, because there are other walls beyond… another prison. You must escape from the roof, and head towards the sun. They will never be able to build a wall between the sun and the earth'.

Our passion for freedom is stronger than all prisons!!!
–
Vimeo link- https://vimeo.com/108159482
This is a DVD rip. Contact abc-hurricane [at] riseup [dot] net if you would like an original DVD copy.
Tags: Filaki - Prison World, Greece, Hunger Strike, Isolation, Korydallos Prison, Prison Riots, Turkey, Type C prisons, Type-F Prisons, Video
Posted in Prison Struggle
Tuesday, September 9th, 2014
From ABC Hurricane:
A brief spark of revolt was seen from those incarcerated in Morton Hall Immigration Removal Centre near Lincoln after a Bengali man, who had been in the prison only three days, died on September 5.
Disorder broke out at breakfast on September 6 and staff were forced to flee, withdrawing to a "place of safety".
A 'Tornado' team, or 'national tactical response group', was called into the prison to quell the riot, which lasted all day.

Solidarity with prisoners in struggle everywhere!
–
NB: There have been many riots in UK immigration centres over the last 18 months, and the mainstream media are keeping the incidents from being widely known, whilst spreading intolerable racism against migrants and stirring up hateful nationalism. Business as usual…
Tags: Migrant Struggle, Morton Hall Immigration Removal Centre, Prison Riots, Racism, UK
Posted in No Borders
Monday, February 17th, 2014
From a comrade of ABC Brighton:
A recent Government announcement that it was considering introducing U.S. style prison sentences like a hundred years custody for the most serious offences is on one level a straightforward attempt to undermine a recent European Court of Human Rights ruling that life sentence prisoners should be given some hope that their sentences will be reviewed before they die, and on another level evidence that the Americanisation of the British criminal justice system continues to increase and deepen.
Apart from the probable introduction of prison sentences that are in effect a slow form of capital punishment, an American penology has characterised the treatment of British prisoners for quite some time in the form of the treatment model with its psychology-based programmes and courses designed and inspired by Canadian and U.S. ideologies regarding "offending behaviour", which is attributed not so much to social and environmental causes but more the individual pathology of the "offender". So the fact that the prison population is drawn disproportionately from the poorest and most disadvantaged group in society is of absolutely no significance and instead a crude behaviourist notion prevails that providing prisoners can be re-socialised into behaving in a "normal" way then "offending behaviour" can be exorcised from their thinking before they're released back into the same desperate economic and social circumstances. (more…)
Tags: Americanisation of the British criminal justice system, HMP Shotts, John Bowden, Letter, Prison, Prison Industrial Complex, Prison Riots, Prison Struggle, Scotland, UK
Posted in Prison Struggle