Posts Tagged 'Publications'
Friday, June 17th, 2011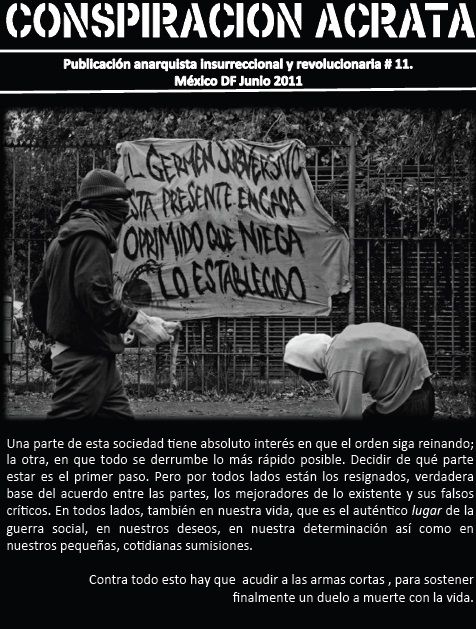 New edition of the Mexican anarchist publication, "Conspiración Acrata", #11.
–
– Editorial.
– Noticias incendiarias y acciones mundiales.
– Marcha, meeting y planton, y de paso un buen raspon que avala el martirologio libertario x. CIA.
– III. Afinidad y organización informal. Alfredo Maria Bonanno.
– Nosotrxs y lxs muertxs que se los llevo el viento.
– De la teoria a la practica x: Giannis Dimitrakis.
– Acciones, sabotajes, comunicados.
– Algunos escritos, poemas del compañero Mauricio Morales.
– Algunas noticias incendiarias de Mexico y el Mundo.
– Comunicado de las barricadas incendiarias en C.U.
– Articulos de opinion Acrata.
– Anarquismo del sigo XXI: La insoslayable necesidad de abandonar todo lo ajeno x: Gustabo Rodriguez.
– Un texto que fue enviado y que el congreso no quiso difundir.
– Mauri: la ofensiva no te olvida: Comunicados de Acciones en Mexico para el Mauri.
– Reseña de la actividad en solidaridad con lxs compas del caso bombas.
– Contra portada: Poema de Gabriel Pombo da Silva.
link: aqui
Tags: Conspiracion Acrata, Mexico, Publications
Posted in Library
Tuesday, November 17th, 2009
'Insurrection' is an anarchist magazine of the 1980's which was edited by Jean Weir of Elephant Editions, UK. Amongst agitational news reports of rebellion and repression, the publication carried some of the first English language translations of the work of Italian anarchist insurrectionist, Alfredo M. Bonanno, and remains an example of a high-quality revolutionary anarchist publication which has a confrontational analysis coupled with lasting insight.
'Insurrection' is the first publication to carry the key basic perspectives of anarchist insurrectional theory and methodology emerging at that time. Texts such as 'Affinity Group', 'Why Insurrection', 'Beyond Workerism, Beyond Syndicalism', 'Informal Organisation', 'Beyond the Structure of Synthesis', 'Towards A New Projectuality' and 'Autonomous Base Nucleus', all back to back with action reports informing and illuminating these theoretical ideas which have developed and spread around the world, becoming 'dangerous' tools in the hands of uncontrollables everywhere.
From direct action, strategy, organisation, rebellion, anti-militarism, to current affairs, ecology, changes in production, economy, Palestine, urban riots, anti-nuclear struggle and more; the scope of the magazine was very broad. The art and design of 'Insurrection' is superb, with many issues being treated to the illustration and graphic design of renowned radical artist and anarchist, Clifford Harper, as Graphic Editor. 'Insurrection' was designed to be an instrument of struggle for the revolutionary project and it certainly retains its coherent vitality to inform, educate and inspire fresh anti-state and anti-capitalist struggle over twenty years later.
'Insurrection' is a joy to read and it is our pleasure to host these newly released PDFs from a publication which has stood the test of time, which still appears current and relevant, unlike so many 'anarchist' and 'radical' publications of the left, which are seemingly consigned to historical irrelevance and terminal boredom the moment they are printed.
Some capitalist parasites (so-called 'antiquarian' & 'rare' second-hand booksellers) sell 'Insurrection' and other Elephant Editions publications for expensive prices due to their strong production values and continuing appeal, so part of the intention to put these PDFs online is to make available to everyone these publications and undermine the creation of a new commodity market – namely – 'rare' anarchist books! Don't ever give your money to any online 'antiquarian' bookstores for any Elephant Edition, support your local anarchist distro who print their own copies or order them direct from Elephant Editions at reasonable prices or download free online in our Library section. Make your own print run of Elephant Editions texts and distribute them in your local area, ideas are weapons! Watch out for new releases coming soon.
In an over-saturated digital world of the information economy, Elephant Editions spreads the 'anti-info' for destructive and passionate individuals who seek nothing but the end of the present system and the beginning of our path into unknown freedom and anarchy.
Insurrection #0 (Dossier 'Comiso') / December 1982
Sample articles:
Why Insurrection?
Dossier 'Comiso' (about anti-militarist struggle in Italy)
Towards Anarchist Anti-Militarism
Torture in Italy
Document Azione Rivoluzionaria
Sample articles:
The Logic of Insurrection
Stop the City – Politics in Wolves Clothing
Vandalising for Fun not Profit
Stop the City? – From Information to Attack
Street Politics in Barcelona
Sample articles:
Strategy & Methods
The Question of the Miners
New Forms of Counter-Revolution
Interview from Sergovia Prison with the Autonomous Groups
Letter from Orazio Valastro
Sample articles:
Violence and Non-Violence
On Amnesty
Pannekoek on Trade-Unionism
The Miners Strike at Carmaux
Anarchism and the National Liberation Struggle
In Times of Danger Half-Way Measures Lead to Certain Death – Revolutionary Cells
Sample articles:
Social Conflict
Beyond Workerism, Beyond Syndicalism
Autonomous Base Nucleus
Affinity Group
Beyond the Structure of Synthesis
Informal Organisation
Internationalism
Palestine
Insurrection #5 / October 1988
Sample articles:
A Question of Class
Against Technology
Against Ecology
Pinelli, Nineteen Years On
Sabotage of Information Technology
Insurrection #6 / September 1989
Sample articles:
A False Problem
Anarchists Against Aparthied
The Pylons of Death Come Crumbling Down
Ecological Luddism: The Montedison Explodes
Towards A New Projectuality
China: Deng's Guarantee
ALF: Striking the Laboratories of Power
Palestine: Time for Action
The Catastrophe Psychosis
Tags: Alfredo M. Bonanno, Elephant Editions, Insurrection, Jean Weir, Publications
Posted in Library