Posts Tagged 'Racism'
Monday, August 5th, 2013
Graff above done in Newcastle upon Tyne. Video:- http://youtu.be/HH5GaY9CURM
For more information visit:- http://neantifascists.wordpress.com/

David Irving is visiting the UK in August (19th-31st) 2013. (more…)
Tags: Anti-Fascist, Anti-Semitism, David Irving, Demo, Holocaust Denial, Racism, UK
Posted in Anti-Fascist
Monday, August 5th, 2013
One month to go and it is time to get mobilising for the biggest turnout possible against the EDL in Tower Hamlets.
The racists are mobilising nationally to descend on London's East End but they won't get to intimidate people and parade their hatred through the streets unopposed. (more…)
Tags: Demo, English Defence League, London, Racism, Tower Hamlets, UK
Posted in Anti-Fascist
Saturday, July 13th, 2013
Another sad story, one that passes from time to time on the liberal media; a migrant is killed during deportation. Did this one starve themselves, sew their lips together, swallow razor blades in some private detention centre hell? No, Jimmy Mubenga was killed by three G4S security guards on a plane full of people during an episode of 'legal restraint techniques' that they inflicted upon him until he died. The Criminal Prosecution Service (CPS) decided not to prosecute the murder.
"Please, please, they are killing me." cried Mubenga repeatedly to the passengers on the plane. Jimmy had a wife and a family that the UK Border Agency had snatched him from earlier. They would never see him again. And on the plane, the people saw him murdered by those "just doing their job", and didn't do anything about it. Now it's more grief, as if death weren't enough: the "inquest" of "British justice" rubber-stamps the approved killing and serves more white justice to black faces. (more…)
Tags: Border Agency, G4S, Jimmy Mubenga, Migrant Struggle, Migrants, Racism, UK, UKBA
Posted in No Borders
Saturday, July 13th, 2013
Britain, like any other country of the western world, is a huge prison for thousands and thousands of people who come here in search of a better life, the so-called 'asylum seekers'. It's not by chance that so many desperate people try to enter the U.K. as well as the other rich countries. They can't do otherwise. In their homeland not even the basic conditions of surviving are left.
The globalisation of capital requires the maximum production at the lowest cost. That's how the bosses move the centres of production from one country to the other searching for the cheapest labour cost. And that's also the way they spread poverty and desolation and rob millions and millions of their resources. When the occasion occurs, the bosses and their armed mercenaries invade other countries to steal their oil or in order to keep some geopolitical context in equilibrium. (more…)
Tags: Border Agency, Migrant Struggle, Migrants, Racism, UK, UKBA
Posted in No Borders
Saturday, June 22nd, 2013
Hidden inside a quiet business park in Portishead, just outside Bristol, is a UK Border Agency office from where an immigration crime team work with police, including launching raids in the south-west. We visited Thursday night into Friday (with the death of anarchist Carlo Guiliani in combat with police during the G8 summit 12 years ago still fresh in our minds) to set fires that damaged the building and burnt 6 vehicles stationed there – 3 cars, 2 blacked-out people carrier vans (known to be used for dawn snatches of immigrant family groups) and 1 large van. The border regime mercenaries draw the attention of our total contempt the same as any other cop does, and now this long arm of the State has felt that we are close and we don't stop.
A couple of weeks earlier, high noon on Sunday 2nd at a Tascor corporation depot at a Cribbs Causeway/Patchway area trading estate, 2 minibuses with barred passenger windows had their windscreens smashed and multiple dents to the bodywork of the cabs. Tascor (formerly Reliance Secure Task Management) work for the Border Agency and Border Force to 'escort' detainees between immigration prisons and to their deportations, utilizing the consequence-free violence their position furnishes them with such as during the recent forced removals of Marius Betondi and Raul Ally, and are the largest private sector provider of this 'service' worldwide (having taken over these duties in the UK from Group 4 Security in 2011). They also run designated holding rooms and short-term holding facilities throughout the UK as well as for UK border forces in Calais and Coquelles, France.
Capitalism profit greatly from a pool of cheap migrant labor, including known 'illegals' who are even more vulnerable to the bosses' blackmail. The State criminalizes those they decide are non-productive, utilizing poisonous nationalism to further divide the exploited (like the recent wave of hatred against anyone thought to appear 'Muslim') and to win elections. The 'lucky' migrants get to arrive in the slums of alienated Western society and are thrust into competition with other urban poor, the 'unlucky' or unprofitable in deportation prisons, in both cases governed by fear and racialized policing. However this sorting of human bodies doesn't always go as smoothly as planned: mass hungerstrikes in Dutch detention facilities and heavy rioting on the streets of Sweden are recent instances of refusal to submit to such degradation.
We don't want a world where the tyranny of immigration bureaucrats can mean the difference between life and death, and unique beings are categorized and labelled to wring the maximum profit and subordination from us all. We don't want the indignity of every movement being scrutinized for the purposed of social control and enclosure, whether at borders, on the housing estates, in school or at work.
The legend has it that 'we' are lucky to live here, under democratic totalitarianism with some comfortable cages and technological addiction to escape from reality. But infact we are surrounded by depression, divides of wealth and race and gender, devoid of any earth-based selfsufficiency and dependant on the very machine we hate. This machine is only fuelled by rampant exploitation here and largely in the countries that migrants have fled from, creating a disgusting feedback loop as industrial civilization consumes everything in its path. We want to demolish the myth that there is any good place to be within a global system of interconnected misery.
Our struggle is far from the calls for peaceful (re)integration of 'illegals' into this faceless society. We also don't want to set ourselves up as advocates of homogenized groups of migrants, nor to sanctify them all for their specific oppression. Instead of abstract humanitarian charity, we search for the rebel affinity that may be found with migrants who maybe want more than a different regime, and who breach borders, wound guards and destroy prisons from the Mediterranean to Australia; that may be found in the hearts of those who self-organize, with or without accomplices.
Borders are just one significant expression of the currently dominant order, in a world of divisions both physical and psychological, of walls segregating populations, classes and imaginations. Our attack carries the seeds for another world. One where each and every creature is free to roam as they choose. Our borderless solidarity bursts out like our flames for people struggling for life unchained, for Gabriel Pombo da Silva, the CCF imprisoned members, comrades raided in Belgium, Marco Camenisch, Henry Zegarrundo, the anarchists held in Italy and Denmark, the dignified criminals, lawless fugitives, rebellious migrants and other socially disaffected who arm their rage to fight for liberation.
We would consider this our leaving gift to the UK Border Agency, due to be renamed and reorganized in the future – except it turns out it'll mainly be "the same jobs", "in the same places", "with the same mission". We know that their same regime of exploitation will continue more adapted and integrated, so likewise our war is perpetually against all forms of categorization and control that attempt to hinder free movement and wild life on Earth. Nothing is over, everything continues.
Borderless Solidarity Cell (Informal Anarchist Federation)
Tags: Arson, Border Agency, Borderless Solidarity Cell (Informal Anarchist Federation), Bristol, Carlo Giuliani, Conspiracy of Cells of Fire, Conspiracy of Cells of Fire : Imprisoned Members Cell, Gabriel Pombo da Silva, Informal Anarchist Federation (FAI), International Revolutionary Front, International Solidarity, Marco Camenisch, Migrant Struggle, Migrants, Portishead, Racism, Tascor, UK, UKBA
Posted in Direct Action
Friday, June 21st, 2013
From sudsciencespo:
Wednesday, June 5. Only a few days have passed, yet it seems like it has been an eternity. Since the death of Clément, we have been caught in ceaseless currents of grief. Nothing, perhaps not even the years and the experience that we do not yet have, could prepare us for the death of a friend and comrade. In spite of this, we have not been granted time for mourning, as the murder of Clément was a political murder. And a murder such as this requires a political response.
The world has not stopped out of respect for our tears, so we, out of respect for Clement, cannot stop in turn. We need to raise our heads, turn our pain into anger and our rage into strength. We want the immense pain, the irrepressible anger, rage, and strength which live in these words, to give Clément's death the meaning he would have wanted to give it: a political meaning. (more…)
Tags: Clément Méric, France, Racism, Repression
Posted in Anti-Fascist
Saturday, June 1st, 2013
325 receives and transmits this statement. We have total solidarity with the arrested anti-fascists, but we state our position against the defence of "democracy" as is advocated in the following statement, in accordance with our anarchist principles.
At approximately 12:40 on Saturday 25 May 2013, 14 anti-fascists were arrested outside the Haymarket metro station in Newcastle as they were about to join the Newcastle Unites march against the English Defence League (EDL). The youngest of those arrested was just 15. There is substantial evidence that members of Newcastle Unites played a part in the arrests. All those arrested had their homes raided while they were in custody, and police have seized mobile phones, computers, cameras, notebooks and political literature. The protesters were released without charge 10 hours later, in the middle of the night at a police station on the outskirts of Newcastle. They have been bailed until 7 August 2013. (more…)
Tags: English Defence League, Fight Racism! Fight Imperialism! (FRFI), Newcastle 14, Newcastle Unites, Racism, Repression, UK
Posted in Anti-Fascist
Tuesday, April 2nd, 2013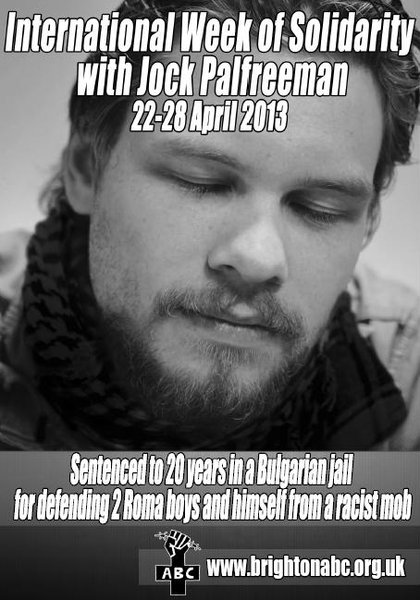 More details via ABC Brighton.
Tags: ABC Brighton, Ant-Facism, Bulgaria, International Solidarity, Jock Palfreeman, Racism
Posted in Prison Struggle
Friday, March 1st, 2013
Australian Anti-fascist prisoner Jock Palfreeman, serving 20 years in Sofia/Bulgaria for defending two Roma boys from a racist mob, was on hunger strike from the 13th January 2013. The Director of the Central Sofia Prison had ordered another punishment measure because of Jock´s activist work as chairman of the Bulgarian Prisoner´s Association. Due to this punishment Jock is now not allowed to finish his studies which is very important to him. (more…)
Tags: Anti-Fascism, Bulgaria, Hungerstrike, Jock Palfreeman, Racism
Posted in Prison Struggle
Friday, February 8th, 2013
Solidarity with friends of Saleh family arrestees.
SUPPORT THE TWO FRIENDS OF THE SALEH FAMILY WRONGLY ARRESTED DURING THE DAWN RAID ON THE FAMILY HOME.
18/02/2013 @ Cardiff Magistrates Court
Friends arrested during dawn raid of family home:
Last October at around 6.30am Mrs Saleh and her two children were woken up by half a dozen UKBA officials and told to prepare themselves for deportation. Mrs Saleh's daughter and other friends of the family quickly came to the house and video footage of some of these events can be found here: http://www.youtube.com/watch?v=N1NXwTOnzp8
Two friends of the family were arrested outside the families home, without being told what they were being arrested for. Later at the station, charges were made up citing obstruction of UKBA officers during their official duty.
The two friends have known the family personally for some time and were well aware of the fear the family faced at the threat of being sent back to Egypt. More on the background of Mrs Saleh's claim can be found here: http://ncadc.org.uk/blog/2012/10/instead-of-protection-the-saleh-familys-ordeal-continued-in-the-uk
Their court case is on Monday 18th February 9:30am in Cardiff Magistrates court. This is a call out for solidarity with this case and the wider struggle for freedom of movement.
Friends of Saleh Family Campaign
– Homepage: http://www.facebook.com/SaveSalehFamily
Tags: Cardiff, Deportation, Egypt, Racism, UK, UKBA, Wales
Posted in No Borders
Tuesday, February 5th, 2013
February 2nd: UKBA raid West African Restaurant, Old Kent Road, near Elephant and Castle.
On Saturday night, approximately 6-7 UKBA officers and around 4 police officers rushed into a West African restaurant at 8.55pm. The raiding party arrived in one white van and one silver van, licence plate BP55DCU. But this time the operation wasn't going to take place in silence.
About 20 people from the Anti Raids network entered the restaurant hot on their heels and informed everyone present of their rights in the face of immigration checks: you do not have to answer any questions, and you are free to leave at any time. Many people immediately got up and left – presumably not wanting to spend their night out being interrogated by UKBA thugs. (more…)
Tags: London, Migrant Struggle, Racism, UK, UKBA
Posted in No Borders
Sunday, February 3rd, 2013
From Contra-Info:

On February 1st, 2013 at around 20.30pm immigrant street vendors in the neighbourhood of Thissio were chased off by the Athens municipal police who trapped one of the immigrants in a corner just above the rails of the Thissio metro station. When the cops attempted to steal the worker's merchandise by shoving him, Babakar Ndiaye (38 years old from Senegal) fell onto the subway tracks from a height of 7 meters, where he died instantly. (more…)
Tags: Anti-Fascism, Athens, Babakar Ndiaye, Demo, Golden Dawn, Greece, Migrant Struggle, Police Brutality, Racism, Repression, Senegal
Posted in No Borders
Friday, January 18th, 2013
We received this information about an autonomous nazi in UK- Keep hunting:
This is to inform you about an upcoming and very politically active young crypto-Nazi. His name is Benjamin Kyle Raymond but within his organization and when doing political activities he goes by the name Ben or Benjamin Noyles. He is originally from Bognor Regis but is at present living and studying at Essex University doing a BA in politics.
His FaceBook page http://en-gb.facebook.com/benjamin.raymond.5621
His organisation is called the Integralist Party of Great Britain and Northern Ireland and is quite active you can find them here http://integralistparty.zzl.org/ (more…)
Tags: Anti-Fascist, Benjamin Kyle Raymond, Benjamin Noyles, Essex, Integralist Party of Great Britain and Northern Ireland, Iron March, Racism, UK
Posted in Anti-Fascist
Sunday, November 4th, 2012
We are presenting this information from Harmondsworth Immigration Removal Centre, regarding the death of Prince Ofosu, a detainee aged 31 years.
What we do know about the death of Prince Ofosu, the Ghanaian detainee who died on Tuesday 30th October, 2012 is as follows:
1. Prince Ofosu was forcibly restrained by GEO officers employed by the UKBA.
2. We understand that Prince Ofosu sustained some injuries. The GEO officer, Jim by name who inflicted massive blows on prince Ofosu had some blood stains on his uniform, but he was asked to remove the blood stained clothes so that no one would notice what happened. His clothes were changed for him. That happened in a room known as "block" [rule 40]. (more…)
Tags: GEO, Ghana, Prince Ofosu, Racism, UK, UKBA
Posted in No Borders
Wednesday, October 31st, 2012
Update : Contrary to what the article states, and popular presumption, the family were in fact deported on the 8am flight. The son was beaten up twice on the flight to try to subdue his defiance. The daughter, Shroukie, is left in the UK separated from her family. Solidarity with the Saleh family and all migrants who fight for their dignity and freedom. No Borders – No Nations – Stop Deportations!
The Saleh family, Mr S and her two children, arrived in the UK in November 2007 after suffering 15 years of violence in Egypt. The whole family is now under serious threat of honour-based violence and possibly even death. They had a court hearing on 13th November to receive a fair hearing of their case, but this was completely ignored by UKBA.
The first attempt to deport the family was on the morning Thursday 18th October, which resulted in the family's home being raided by UKBA officers in Cardiff and two activists being arrested for 'obstructing UKBA officers', one of which additionally charged with 'obstruct pc'. While a call-out was made for supporters to attend Cardiff Bay police station, where the family were taken in order to be transfered to a coach for a flight later that day in London, others made their way to the motorway sliproad. What followed was an attempt to run down activists blockading the road. (more…)
Tags: Anti-Fascism, Racism, UK, UKBA
Posted in No Borders