Posts Tagged 'Racism'
Thursday, April 6th, 2017
On 31st March, a young boy, Reker Ahmed, was brutally beaten by a gang in the area of Croydon whilst waiting for a bus. The gang (of almost 25) approached the boy and after asking where he was from, chased him and attacked him, leaving him with life-threatening injuries. He was only 17 years old and currently applying for asylum in the UK. This attack occurred on the Shrublands Estate, in Shirley, a diverse working-class area and its significance was felt by the local community.
In response to this racist and xenophobic violence, we chose to decorate the neighbourhood with our outrage. In offering a message of solidarity here, we demonstrate our solidarity everywhere; from the U.S to Greece, from Belarus to the Middle East; for all victims of the State, of the border regime and for all victims of hate crime.
We carried out this action as a clear message from the community, but also as a message to the perpetrators. At the time, we were still unsure as to whether this was an attack carried out by people from within the estate, as it would be unlikely and unheard of in such a diverse, close community. However, sadly, the gang consisted of people from many backgrounds. It is the true that nationalism blurs the truth of oppressive class and racial hierarchies and has us identify with our own oppression. However, the response has to our action has revealed exactly what we also suspected; that this was an attack endorsed by self-identifying FASCISTS from likely within the area. (more…)
Tags: Anti-Fascism, Croydon, Graff, Kurdish Struggle, Racism, Reker Ahmed, Solidarity Action, UK
Posted in No Borders
Saturday, March 25th, 2017
On March 22 there was an attack outside Parliament that has killed four and injured many. No sooner had this happened when Tommy Robinson, former leader of the EDL appeared at the scene of the attack to rave about a clash of civilisations and a war with all Muslims. This was swiftly followed up with an announcement of a march planned by Britain First in London.
The truth of the matter is this. These so called patriots are delighted that this has happened. This one fanatic has given them the opportunity they desired to try and start a conflict in society drawn down racial lines. They would seek to rebuild their failing movements off the blood and tears shed by ordinary people, they would use this attack to justify their own brand of jackbooted terror against the Muslim population of this country.
But we will not let them.
Our group and the national network know the reactionary ideology at the heart of the attack in the capital. Today the howls from the right are directed at us, to claim that we caused this attack through our tolerance of 'Islamic extremism' or our work to support the rights of refugees. These claims are built on the assumption that there is a clash of civilisations in this country. That 'English culture' and 'Muslim culture' cannot co-exist and a war is inevitable. (more…)
Tags: Anti-Fascism, Antifa, Britain First, Demo, English Defence League, Islamic State in Iraq and Syria (ISIS), Islamism, London, People's Defence Units (Y.P.G.), Racism, The Misery of Islam, UK
Posted in Anti-Fascist
Sunday, March 19th, 2017
On the 19th of February, Taras Bogay, an anarchist and eco-activist from Lviv, Ukraine, was assaulted by a group of 20-30 drunk neo-nazis from the rightwing organisations Right Sector and the neo-nazi militia named the Azov battallion. They attacked Taras after he tried to protect a group of foreigners that the nazi group was harassing with racial slurs and threats.
During the fight the attackers threatened to kill Taras. He was knocked unconscious and sustained a heavy concussion and numerous cuts resulting in the near loss of one of his fingers. While defending himself and the foreigners, Taras slightly cut one of the attackers with no serious injury. Taras fought well, but the forces were uneven.
Despite Taras having been found covered in his own blood, the Lviv police department released news about the incident later that day without mentioning Taras' injuries. The news stated: "the police arrested a 27-years old man that stabbed an 18-year old teenager in a conflict".
A few days after the incident a false "witness" claimed that Taras suddenly attacked the group of innocent people, then cut himself and ran away. While every word of this evidence is a clear lie, it may be considered as proof of Taras's fault in the court. The case clearly demonstrates that Ukrainian police has a strong affiliation with far-right organizations. Currently, Taras is being treated for his wounds, and is doing rehabilitation from his concussion. Taras is recovering gradually and his condition is gradually improving. Nevertheless, he is still unable to work.
Taras is experiencing severe financial problems. First, he is unable to work due to the injuries and have to pay medical bills. Second, to protect himself from the false charges, Taras requires a lawyer that cost at least €900 (he has concluded a contract with a lawyer for the period of investigation – about half of a year).
Without a good lawyer Taras could face a prison sentence between five and seven years (the charges being disorderly conduct and grievous bodily harm).
We have started the fundraising campaign at firefund.net/ukraine to collect €900 that will enable us to provide Taras with a good lawyer and help him to survive during the period of unemployment. The struggle against far-right politics relies on global solidarity and mutual aid.
Also, you may donate to ABC bitcoin wallet: 39pQm5RxArsFZEBt4MPvMFuHEuyY1oG18k
Stop fascist scum! Solidarity with Taras Bogay!
Thank you for the support!
Long live anarchy!
Tags: Anti-Fascist, Lviv, Neo-Nazis, Racism, Taras Bogay, Ukraine
Posted in Anti-Fascist
Monday, February 13th, 2017
The annual fascist "Lukov March" is again planned for the 18/02/2017, the date marked by Bulgarian fascists as it was when the Communist rebel Violeta Yakova killed him as part of the class war and resistance against the then fascist regime.
In reaction to the barbaric affront that the Bulgarian fascists and their lumpen commit yearly there is also a yearly anti-Lukov March demonstration organised. The anti-Lukov March is more then just symbolic opposition to fascists in Bulgaria; it is also symbolic opposition of the crimes that the fascists commit against all human decency. For example when the fascists from the Bulgarian National Union make illegal identification checks on public streets, or when the Bulgarian National Resistance makes ambush attacks on human rights demonstrators in trams. The beating and assault of a random Bulgarian man in the park with the "excuse" that they thought he was a Roma. The anti-Lukov protests are general symbolic opposition not simply to General Lukov, it is against the crimes committed by his modern day acolytes. The fascist political parties such as Ataka and the Patriot Front. It is against the crimes committed by the fascist street gangs such as National Resistance and the NAZI football formations such as Sector B. (more…)
Tags: Bulgaria, Jock Palfreeman, Letter, Lukov March, Neo-Nazis, Racism, Sofia
Posted in Anti-Fascist
Thursday, February 9th, 2017
On Saturday 7th January at around 3pm a far-right nationalist meeting was taking place in Almondsbury Sports and Social Centre, attended by white supremacists and neo-nazis. The event called by fascist group 'Bristol Forum' was attempting to bring together racists and bigots in a safe space for their views. This meeting was raided by a black bloc of anti-fascists who allegedly fired air guns, smashed windows, threw chairs and used fire extinguishers to attack the fascist scum inside the building. Desperate and terrified nationalist bigots were apparently in fear for their lives, with just 3 of them claimed to be suffering injuries, as the fascists barricaded themselves inside the building like the cowardly scum they are. Fascist-nationalist Adrian Romilly from Portsmouth who attended the meeting with another fascist friend gave an interview with the local right-wing paper Bristol Post, likening the antifa black bloc to a "special forces unit", giving great publicity to the "impression they'd done this sort of thing before and their silence, dress and general 'professionalism' added to the sense of menace". Describing how the attack started he was quoted as saying "… there was a sound like a rifle shot and the first window glass splintered, shards of glass scattering over the place where the speaker had been sitting moments before", "This was followed by a series of sharp cracks as a succession of windows were broken by a fire extinguisher and by chairs brought up from a lower floor."
It seems the successful raid was only made public in early February as a police faithful citizens appeal for information swung into place due to the investigation resulting in so far no arrests and presumably almost zero information as to the identities of the Antifa "special forces unit", despite CCTV recordings being studied.
In Bristol last year in March fascists attacked an anti-racist mainstream event attended by 100 people and members of the Labour Party, Green Party and the local Mosque. The 10 or so fascists were beaten up and ejected from the area.
The struggle against fascism will always need to be autonomous, extraparliamentary and street-based. Hatred, racism and bigotry has to be confronted physically, and absolutely no quarter given for fascist and neo-nazi groups to spread. Hunt and attack.
Tags: Adrian Romilly, Anti-Fascist, Antifa, Bristol, Bristol Forum (Fascist group), Neo-Nazis, Racism, UK
Posted in Anti-Fascist
Sunday, January 22nd, 2017
Blood & Honour is a neo-nazi music promotion network and political group founded in the UK in 1987. Founded by Ian Stuart Donaldson and Nicky Crane it is composed of white power activists and other white nationalists and has links to Combat 18, a neo-nazi terrorist group.
PDF: Blood & Honour list leak

'The force of Hitler makes us small
But one day we will be free again;
we are about to break the chains.
For our fists, they are hard;
yes — and the knives sit ready;
for the freedom of the youth
Navajos fight'
Edelweiss Pirates
Tags: Anti-Fascist, Blood & Honour, Neo-Nazis, PDF, Racism, UK, Zine
Posted in Anti-Fascist
Sunday, January 22nd, 2017
Vadim Boyko is an antifascist supporter of FC Partyzan from Minsk. He was detained on March 22, 2016 together with other people on suspicion of participating in the attack on the right-wing hooligans that happened about two years ago. His trial is set for February 3, 2017 and we ask for financial support to pay the legal advice. The approximate cost of the legal aid for him is 5000 euros, part of which has already been covered by us.
Here is a full story.
FC Partyzan (former MTZ-RIPO) is an antiracist football club that doesn't exist any more, while there are still some active groups of hooligans involved in street fights. As reported, on June 29, 2014 a mob of Partyzan supporters attacked a trolley-bus carrying a gang of right-wing hooligans of FC Torpedo. The attackers blocked the vehicle and broke a few windows. In the following days the police detained five Partyzan fans on suspicion of the attack, but they were eventually set free with no charges. The case was frozen.
(more…)
Tags: Anti-Fascist, Belarus, FC Partyzan, Racism, Repression, Vadim Boyko
Posted in Anti-Fascist
Monday, January 2nd, 2017
From Avalanche – A conversation with two anarchist comrades from Den Haag, NL, an overview of the context, struggle and projects of a few anarchists from this city. We chose to transcribe this interview in order to better understand the particular path, circumstances and moments of revolt that have composed the experience of these comrades.
Tell me a bit about the city itself…
A – Den Haag is a city of 500 to maybe 600 thousand people, it is both the home to poor neighbourhoods, such as the Schilderswijk, the poorest neighbourhood in the Netherlands, and of the biggest institutions of justice of the European Union. The motto of the city is "Peace and Justice".
It is the host of some of the most important military, intelligence and justice institutions of the European Union… Europol, international summit centres, international courts, embassies…
B – There is also an international zone, protected by security delta, this is not only for the State but also companies, it attracts companies, capital. This city has all changed in the last 15 years, some- one in charge, from one day to the next, decided to flip the switch… and everything changed, all the dozens of squats were evicted, cleaned up, made the space for its new international role… (more…)
Tags: Den Haag, Islamic State in Iraq and Syria (ISIS), Mitch Henriquez, Netherlands, Police Brutality, Racism, Repression, Riots, Schilderswijk
Posted in Interviews
Friday, December 23rd, 2016
[Note: December 2016 marks both what would have been Kuwasi's 70th birthday and the 30th anniversary of his death (murder) from AIDS-related illnesses while serving a life sentence on charges related to the robbery of a Brinks armored car undertaken to fund guerrilla activities.]
I became acquainted with Kuwasi Balagoon in the 1990s through his writings and the writings of revolutionaries that knew and fought alongside him. What is clear is that Kuwasi had an intense love for New Afrikan people and all oppressed people, and an equally intense hatred for racist and oppressive authority, and dedicated the bulk of his life in defense and liberation of all oppressed people. First as a member of the Central Harlem Committee for Self-Defense and later as a Black Panther and soldier within the Black Liberation Army. Soldier is really a misnomer, because a soldier is one who follows orders and the dictates of authority without question. And that wasn't Kuwasi. We see that Kuwasi was rebellious as a young kid and later in his stay in the military. Kuwasi can best be defined as a warrior who lived to fight.
Sundiata Acoli, a comrade of Kuwasi's within the Black Liberation Army, wrote that if we had read Kuwasi's poem "I'm a Wildman" we would know Kuwasi, because he was a wildman – and that we need more of today. Sundiata also wrote that Kuwasi hated authority. I don't know when Kuwasi officially or theoretically became an anarchist, but it's clear that he was always an anti-authoritarian. He exemplified that through the numerous actions he carried out, from bucking in the military to the numerous prison breaks after being captured, which one isn't supposed to do simply because authority says you should. It's against the law, right?
Well, Kuwasi didn't give a flying fuck about the law. He understood to really be free, one must act outside the law and destroy the lawmakers and their authoritarian institutions. Kuwasi's trial statement says it all – it's brilliant, defiant, and clearly shows what we should be about. I'm sure Kuwasi caught a lot of grief and heartache for becoming an anarchist because it's seen as a white thing, just as Ashanti Alston spoke about. But I'm sure Kuwasi said fuck you to those who criticized him for being an anarchist.

Micheal Kimble
Tags: Black Liberation Army, Black Panther Party, Kuwasi Balagoon, Michael Kimble, Racism, Sundiata Acoli, USA
Posted in Prison Struggle
Friday, December 16th, 2016
"May you live in interesting times" was a curse the ancient Chinese hurled at their adversaries, wishing them strife, oppression, and struggle. It applies to us now because for all the uncertainties a Trump presidency holds, it will certainly be an interesting time, filled with opportunities for resistance and perhaps revolution.
Big T's pedal-to-the-metal exploitation of humanity and the planet will accelerate the vicious policies of his two predecessors, poisoning the environment, forcing our financial will around the world, killing thousands of people in imperialist wars, manipulating other nations, modernizing our nuclear weapons, and jailing dissenters at home. Fortress America will continue to expand globally as prison, sweatshop, and fire base.
After all our years trying to change this country, how could we end up with this?
To answer this question and avoid falling into catatonic despondency or self-destructive rage, we need an historical perspective. What we are experiencing now is the long war the ruling elite is fighting to maintain its grip on the world. The current phase began with the collapse of Keynesian capitalism, which flourished from the 1950s into the '70s, when the primary consumer market was in the capitalist headquarter countries of North America and Western Europe. Corporations were able to stimulate domestic consumption and quell worker discontent there by acceding to labor's demands for better wages and conditions. That led to a 30-year bubble of improvement for unionized workers, predominantly male and white, that began to collapse in the '80s as capitalism gradually became globalized. (more…)
Tags: Anti-Fascism, Donald Trump, Racism, Radical Peace: People Refusing War, USA, William T. Hathaway
Posted in Anti-Fascist
Tuesday, November 8th, 2016
A couple of weeks ago the Home Office once again sent their uniformed bullies into Easton. This time things did not go smoothly for them.
Early evening on a weekday in mid-October: word spread that 'immigration enforcement' vans had been spotted near an off-license in the backstreets of Easton, Bristol. People soon started to gather. Some had heard what was happening, others were passing by and stopped to watch.
Several of the 'enforcement' thugs were inside the off-license, and a couple of people went inside briefly, presumably to make sure everyone inside knew their rights. Before long someone from inside was marched out and put in the van. The small crowd followed, heckling and shaming the racist quasi-cops as they went.
Then the van drove off, leaving two of the 'enforcement' bods behind in the offie. People stuck around to see what they were up to next. As they loitered we overheard them on the phone sounding mildly rattled.
Then they made a silly mistake – they came back again with the same van to pick up these stragglers. By now the crowd of people wanting to challenge them was just a bit bigger, and a bit more confident – enough to make the difference between heckling and resistance.
Finding their van blocked on several sides, while louder chants filled the air, they panicked and turned down a one-way street – the wrong way! As they realised their mistake and came to a halt, they were quickly surrounded and blocked. One of their tyres started to lose some air, albeit very slowly.
A standoff ensued: those inside the van sitting tight waiting for the police to rescue them, those outside unable to find a way to free the person imprisoned inside. Someone was holding up useful phone numbers next to the window, but who knows if they had a pen, let alone their phone?
Eventually, a group of cops turned up, on foot, running and somewhat out of breath. Apparently the rush hour chaos on the main roads had combined with the various one-way backstreets of the area to make life a bit stressful for them.
Bizarrely, their first demand (to someone standing in the road nearby) was: "Who are you with?". Cue a certain amount of confusion, causing even more grumpiness on their parts.
After a certain amount of shoving and threatening arrest, they pushed us out of the road. The van drove off, in spite of the low tyre, with its kidnapped captive still inside. Not what we might have hoped for, but at least we made it difficult for them – and began to prove to ourselves that it is possible to stop them.
Tags: Bristol, Easton, Immigration Raids, Racism, UK, UKBA
Posted in No Borders
Sunday, October 30th, 2016
NON SERVIAM – I WILL NOT SERVE YOU
"Worse than enslavement is getting used to it…"
Life in the modern civilized world comprises false representations, false patterns, and false formalities. Formalities that determine our upbringing within a family, our education, our professional career, our relationships, our emotions, our smiles or tears. Patterns that castrate the scope of our perception so that our thoughts are directed onto a moving walkway going only one direction. Representations that disguise the system's functions and pathogenies so that we see life unfold only on stage, and never wonder what's hidden backstage. So, the thousands of suicides of desperate debtors is just another statistic among the unpleasant consequences of the economic crisis, the impoverishment of the so-called third world is just an unfortunate fact, and its wounds will heal by charity organizations, the countless dead of modern crusades, the unfortunate victims of the absurdity of war, and the convict slaves in American prisons are simply antisocial elements that provide social services to Democracy.
Prison itself is exile from life; a non-place and non-time behind the screen of a decent society, to make the ugliness that bothers the eyes of reputable citizens unseeable. Prisons are a proof of the perverse intelligence of authoritarian minds. They're built onto walls echoing the screaming and weeping of thousands of people who've learned to sleep with anguish and despair. Prison is the country of captivity, the country where one learns to kneel before the "Forbidden", a landfill for the disposal of human waste, an industrial dump where the social machine's hazardous waste ends up. For most people, however, for all those who never learned to doubt, to question, to look beyond the obvious, prison is a security wall necessary to protect their peaceful and quiet life. (more…)
Tags: Athens, Attica (Prison Uprising), Conspiracy of Cells of Fire, Greece, Informal Anarchist Federation (FAI), International Revolutionary Front, International Solidarity, Korydallos Prison, Letter, Operation Scripta Manent, Prison Labour, Prison Labour Strike, Racism
Posted in Prison Struggle
Sunday, October 30th, 2016
Hello. My name is Lukáš Borl. I am 34 years old and recently I am held in custody prison in Czech republic – Europe. I am an anarchist and I express my solidarity with all oppressed and exploited people around the World regardless their origin, sexual orientation or gender. From this perspective I decided to send few words of solidarity to the prisoners in USA where, according to the information available to me, a general strike of working prisoners began on 9.9.2016. Regardless what they've done, regardless how the Criminal Procedure is categorizing it, I want to express my support to every striking person in prisons around USA.
Every person without exception has a right to respect and human dignity. All prisons trample this right in different ways. For example, a person whose dignity was taken away by prison is additionally exposed to exploitation by working there. As prisoners, you labor hard under hard conditions and often in danger to your own health. Time spent at work is managed by bosses, and the products of this work are taken by capitalists. On one side, there is the growing wealth of corporations, and on the other, you: the humiliated and exploited people who create the profit produced by their work. The implacable antagonism of these two worlds is obvious. If you decided to go on strike, then, it is a legitimate form of a struggle for ending exploitation. I understand this struggle and I support it. I want to let you know that your struggle is also mine. We share the same reality as human beings suffering under the control of the capital and state. (more…)
Tags: Czech Republic, Letter, Lukáš Borl, Prison Labour, Prison Labour Strike, Racism, USA
Posted in Prison Struggle
Sunday, October 30th, 2016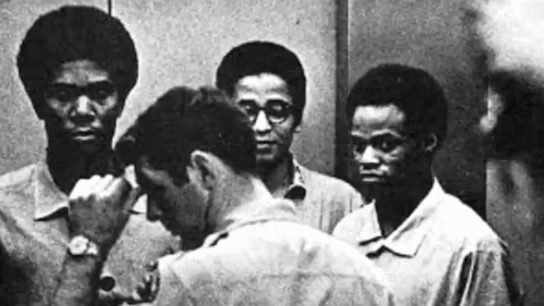 "Gentlemen, the Dragon Will Fly Out"
In Support of September 9th Mobilization in US Prisons
"Gentlemen, the dragon will fly out" is a saying attributed to prisoner George Jackson. On August 21st 1971, holding a pistol, he opened all the cells in an adjustment unit, taking jailers hostage. George Jackson was killed in his attempt to escape…
Since September 9th, prisoners in the United States have called for action against slavery.
A multitude of "invisible" slaves (there are about 2.5 million prisoners in the United States) are condemned to forced labor, or as jailers of their own selves (internal work in prisons, cleaning, repairs, technical operations), or as cheap meat in the service of corporate behemoths (Honda, McDonald's, Wendy's, Victoria's Secret, Starbucks, and many others). Besides, the 13th amendment to the US constitution clearly states: "neither slavery nor involuntary servitude, EXCEPT as a punishment for crime whereof the party shall have been duly convicted…" To put it simply, detainees are considered slaves as part of their punishment.
Prisons in America—and not just there–aren't only bars, walls, surveillance cameras or lockdowns. They're also an enormous lucrative business. Prisons are a dirty dealing for continuously supplied shackled labor force without name and without voice. They represent a modern slave trade, making billion-dollar profit, that not only supplies the companies-caretakers but also the industry of lawyers, judges, cops, corrections officers, private prisons. (more…)
Tags: Attica (Prison Uprising), Conspiracy of Cells of Fire, Fleeta Drumgo, George Jackson, Greece, Informal Anarchist Federation (FAI), International Revolutionary Front, International Solidarity, John Clutchette, Korydallos Prison, Letter, Michael Kimble, Prima Linea, Prison Industrial Complex, Prison Labour, Prison Labour Strike, Racism, Red Army Faction (RAF), USA, Weather Underground
Posted in Prison Struggle
Tuesday, October 25th, 2016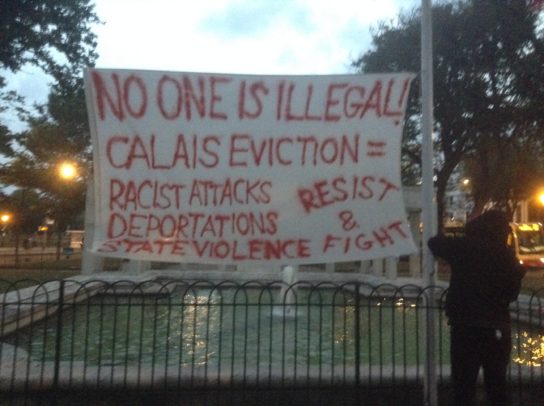 'we got up nice and early this morning to put up a banner expressing solidarity and anger towards the situation in Calais where, on 17th October, the French state have planned to begin a total eviction of the jungle. The banner was attached to the flagpoles in front of the war memorial in the centre of the city, somewhere that people regularly go to visit to remind themselves of their nationalist pride and identity that has been built on war, genocide, displacement, criminalisation and conquerence of other people. We want to show solidarity in this small way not just with the people in the jungle but in all places where people are trying to get on with their lives in the face of such incredible and brutal opposition – the peeps on strike/resisting within prisons all over the place, everyone fighting some serious battles against the Dakota access pipeline, autonomous zones under attack, the list is endless.
reduced mobility meant that the banner wasn't up very high so unfortunately it was taken down within a few hours, but we hope that whoever did it enjoyed the generous amounts of lube that we smothered the ropes with… '
Tags: Banner drop, Brighton, Calais, Racism, UK
Posted in No Borders