Posts Tagged 'Racism'
Sunday, October 30th, 2016
Hello. My name is Lukáš Borl. I am 34 years old and recently I am held in custody prison in Czech republic – Europe. I am an anarchist and I express my solidarity with all oppressed and exploited people around the World regardless their origin, sexual orientation or gender. From this perspective I decided to send few words of solidarity to the prisoners in USA where, according to the information available to me, a general strike of working prisoners began on 9.9.2016. Regardless what they've done, regardless how the Criminal Procedure is categorizing it, I want to express my support to every striking person in prisons around USA.
Every person without exception has a right to respect and human dignity. All prisons trample this right in different ways. For example, a person whose dignity was taken away by prison is additionally exposed to exploitation by working there. As prisoners, you labor hard under hard conditions and often in danger to your own health. Time spent at work is managed by bosses, and the products of this work are taken by capitalists. On one side, there is the growing wealth of corporations, and on the other, you: the humiliated and exploited people who create the profit produced by their work. The implacable antagonism of these two worlds is obvious. If you decided to go on strike, then, it is a legitimate form of a struggle for ending exploitation. I understand this struggle and I support it. I want to let you know that your struggle is also mine. We share the same reality as human beings suffering under the control of the capital and state. (more…)
Tags: Czech Republic, Letter, Lukáš Borl, Prison Labour, Prison Labour Strike, Racism, USA
Posted in Prison Struggle
Sunday, October 30th, 2016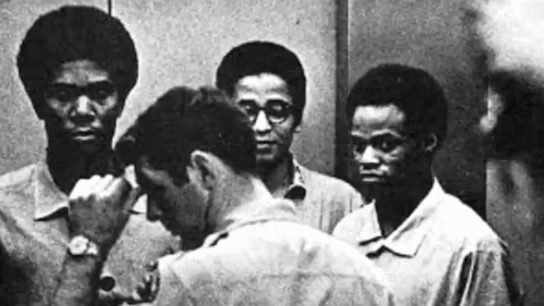 "Gentlemen, the Dragon Will Fly Out"
In Support of September 9th Mobilization in US Prisons
"Gentlemen, the dragon will fly out" is a saying attributed to prisoner George Jackson. On August 21st 1971, holding a pistol, he opened all the cells in an adjustment unit, taking jailers hostage. George Jackson was killed in his attempt to escape…
Since September 9th, prisoners in the United States have called for action against slavery.
A multitude of "invisible" slaves (there are about 2.5 million prisoners in the United States) are condemned to forced labor, or as jailers of their own selves (internal work in prisons, cleaning, repairs, technical operations), or as cheap meat in the service of corporate behemoths (Honda, McDonald's, Wendy's, Victoria's Secret, Starbucks, and many others). Besides, the 13th amendment to the US constitution clearly states: "neither slavery nor involuntary servitude, EXCEPT as a punishment for crime whereof the party shall have been duly convicted…" To put it simply, detainees are considered slaves as part of their punishment.
Prisons in America—and not just there–aren't only bars, walls, surveillance cameras or lockdowns. They're also an enormous lucrative business. Prisons are a dirty dealing for continuously supplied shackled labor force without name and without voice. They represent a modern slave trade, making billion-dollar profit, that not only supplies the companies-caretakers but also the industry of lawyers, judges, cops, corrections officers, private prisons. (more…)
Tags: Attica (Prison Uprising), Conspiracy of Cells of Fire, Fleeta Drumgo, George Jackson, Greece, Informal Anarchist Federation (FAI), International Revolutionary Front, International Solidarity, John Clutchette, Korydallos Prison, Letter, Michael Kimble, Prima Linea, Prison Industrial Complex, Prison Labour, Prison Labour Strike, Racism, Red Army Faction (RAF), USA, Weather Underground
Posted in Prison Struggle
Tuesday, October 25th, 2016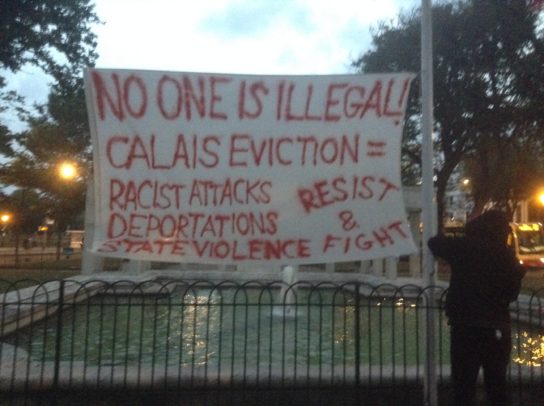 'we got up nice and early this morning to put up a banner expressing solidarity and anger towards the situation in Calais where, on 17th October, the French state have planned to begin a total eviction of the jungle. The banner was attached to the flagpoles in front of the war memorial in the centre of the city, somewhere that people regularly go to visit to remind themselves of their nationalist pride and identity that has been built on war, genocide, displacement, criminalisation and conquerence of other people. We want to show solidarity in this small way not just with the people in the jungle but in all places where people are trying to get on with their lives in the face of such incredible and brutal opposition – the peeps on strike/resisting within prisons all over the place, everyone fighting some serious battles against the Dakota access pipeline, autonomous zones under attack, the list is endless.
reduced mobility meant that the banner wasn't up very high so unfortunately it was taken down within a few hours, but we hope that whoever did it enjoyed the generous amounts of lube that we smothered the ropes with… '
Tags: Banner drop, Brighton, Calais, Racism, UK
Posted in No Borders
Sunday, October 9th, 2016
Yesterday, an antifascist and anarchist from The Hague received another area-ban imposed upon them, five days after the expiration of the previous area-ban for several Hague anarchists.
This time, the area-ban applies to the center of The Hague and the Haagse Hout neighborhood during the coming Pegida demonstrations, and is accompanied by the requirement to report to the police station.
The police showed up yesterday at the house of an anarchist in The Hague to issue another area-ban. This time in the context of actions that were taken against the extreme-right wing group Pegida, which has announced that it will demonstrate every month in the Hague from now on. The area-ban is in force during the coming three Pegida demonstrations in The Hague and applies to The Hague city center and the Haagse Hout neighborhood. On three dates, October 9th, November 13th, and December 11th, the anarchist and antifascist may not come into this area and they must report to the police station twice a day. (more…)
Tags: Antifa, Area Ban, Den Haag, Holland, Netherlands, Pegida, Racism, Repression
Posted in Social Control
Saturday, September 10th, 2016
On September 8th, in solidarity with prisoners taking action for the 9/9 prisoner strike, about a dozen people disrupted activities at the local Democratic Party campaign headquarters. Standing outside the building, people held a large banner announcing the prisoner strike while a statement was read and others passed out handbills. Additionally, a group of people went inside the headquarters to yell chants, clog sinks, tear down campaign posters, and scatter handbills. An American flag in the office found its way into a toilet. People walked away from the building tossing handbills in the air.
From the handbill scattered at the action:
As the ruling party, the Democrats and their Bureau of Prisons are responsible for the conditions in federal prisons and everyone being held hostage inside of them.
They profit from the labor of prisoners and contract with countless companies and industries that do the same, while prisoners earn as little as a few cents per hour.
They are responsible for the exorbitant prices of phone calls, commissary foods, and other basic necessities in prison. For the mailroom censorship, both institutionalized and arbitrary, of political and other materials. They are responsible for the poor quality of water and food that some must endure for decades, or even the rest of their lives. And for the dismal or nonexistent health care for prisoners when these conditions start to take their toll.
(more…)
Tags: Banner drop, Bloomington, Indiana, Prison Labour Strike, Racism, USA
Posted in Direct Action
Thursday, August 18th, 2016
Wilson Storage and Wilson Parking benefit from the suffering caused by Wilson Security on Manus, Nauru and elsewhere. In the past week we attacked both subsidiaries with glue, concrete, paint and hammers. We will continue to attack Wilson Group until they pull out of detention wholly and permanently. Any company associated with the border industrial complex is a target. We urge our comrades to join us in solidarity with protesters on Nauru and all others incarcerated.
Tags: Australia, Melbourne, Migrant Struggle, Racism, Sabotage, Wilson Security
Posted in No Borders
Thursday, August 11th, 2016
Anti-Fascist/Anti-ISIS graffiti by the comrades in Newcastle Upon Tyne UK.
Track:- 'Angelic Upstarts – Anti Nazi'
Link:- https://antifascistnetwork.org/
Tags: Antifa, Graff, Graffiti, Islamic State in Iraq and Syria (ISIS), Neo-Nazis, Newcastle, Racism, UK, War
Posted in Anti-Fascist
Tuesday, August 9th, 2016
Here is a poster (11×17) for the upcoming nationwide prisoner strike on September 9th. Download, print and put it up around your city if you feel it. There is a grayscale version here too.
For more information about the strike and the ongoing wave of prison rebellions across the country, check out these articles: Strike Against White Supremacy | Incarcerated Workers Take the Lead | Call To End Prison Slavery
Text from the poster:
"We are not beasts and we do not intend to be beaten or driven as such… What has happened here is but the sound before the fury of those who are oppressed."
– L. D. Barkley, participant in Attica rebellion
On September 9, 1971, the inmates of Attica Correctional Facility in upstate New York seized control of the prison. The Attica uprising, which lasted for five days, was not the first and certainly not the last prison rebellion. And yet its importance is indelibly marked within the history of the struggle against white supremacy and the prison society we still inhabit today.
In the forty years since Attica, prisons have swelled to bursting with the tragedies of disrupted lives, fractured families, and broken communities. In the last decade, resistance movements have steadily grown behind the prison walls. From the statewide work stoppage in Georgia prisons of 2010 to the hunger strike that spread throughout the California prison system in 2013; from fires lit in I.C.E. detention centers in Texas to riots and prison takeovers in Nebraska and Alabama, prisoners across the country are wide awake and on the move.
This September, prisoners, their families, and supporters on the outside are coordinating a nationwide prisoner strike to take place on the 45th anniversary of the Attica rebellion. This historic effort holds within it the potential to expand and embolden the movement against the horrific conditions of confinement, the prisons themselves and the society that creates them.
Towards the destruction of all prisons and the creation of a free and genuine human community!
Support Prisoner Resistance | IWW Incarcerated Workers Organizing Committee | Anti-State STL | IT'S GOING DOWN
Tags: Anti-Prison, Flyposter, Prison Industrial Complex, Prison Labour, Prison Labour Strike, Racism, USA
Posted in Prison Struggle
Sunday, August 7th, 2016
So far, so good ?*
Wednesday, July 13, 2016
"10 years ago, in the same kind of meeting as today, if you'd said « white » [1], people would have broken the furniture. Today, thanks to the Indigenous of the Republic, thanks to Houria [2] one can say « the whites »." – Eric Hazan [3]
Unfortunately we are still unable to prove wrong what Eric Hazan has said above. He is the publisher, classified as extreme left, of the latest explicitly anti-semitic pamphlet by Houria Bouteldja, Whites, Jews and us, whose enormously repulsive character has not caused as many reactions as it would deserve. The categories and vocabulary of the ideology of racialisation, which for some time has been taken up in political organizations and milieus that range from the extreme left to the libertarians, are now becoming the norm and are establishing their hegemony. This vocabulary is being imposed insidiously, without being either discussed or argued. Moreover, many people are unable to politically support these untenable positions, except through affirming tautological assertions and false evidence. A semantic shift is already, for the most part, being operated : the terms "race", "white", "non-white", "racialized," "racialization", "decolonial" have overnight become analytical categories considered relevant, necessary, and are even promoted as tools with a perspective for emancipation, whereas we see this as a catastrophic failure. (more…)
Tags: Analysis, Anti-Semitism, Eric Hazan, Houria Bouteldja, Nationalism, Racism, Repression, The Misery of Islam
Posted in Cognitive Liberty
Friday, July 8th, 2016
On the 2nd July, the day of the federal election in so-called Australia, we glued locks, graffitted and broke the windows of Liberal and Labour MP offices across Narrm/so-called Melbourne.
We did this in solidarity with those on Manus Island, Nauru and in detention centres everywhere. End the border & prison industrial complex. End white supremacy.

[three photos here]
Tags: Australia, Melbourne, Migrant Struggle, Racism, Sabotage
Posted in No Borders
Tuesday, July 5th, 2016
DISCUSSION | Thursday July 7th at 20:00, Gini building Athens Polytechnic School (entrance from Stournari St.), Exarchia
Themistokleous 58 squat
& anarchist counter-info sites Rabble LDN and Contra info
Tags: Counter-info, Greece, Migrant Struggle, Racism, UK
Posted in No Borders
Thursday, June 30th, 2016


On Thursday 16 June Labour MP Jo Cox was shot and stabbed to death by the fascist nationalist Thomas Mair in Birstall, West Yorkshire. Mair shouted nationalist slogans, apparently "Britain First", during the assassination. We publish this article and the photo above, in contrast to the corporate media who have overwhelmingly played down Mair's Neo-Nazi links, instead presenting him in the typical 'Lone Wolf' garb suitable for covering up the extensive growth of a dangerous right-wing that has been nurtured by the daily press.
Thomas Mair is portrayed by the right-wing tabloids as being 'mentally ill' – a label usually reserved for those perpetrators of a political assassination if they are white. But Mair's far-right, neo-Nazi links not only span decades but countries: a network of hate and racism that knows no bounds. The network, both formally and informally, links fascist organisations and tendencies globally. In Mair's case, his links extend to organisations that span at least three continents. Mair is charged with the murder of Jo Cox MP, who was a lifelong campaigner of human rights and spearheaded many humanitarian causes. She was just the sort of person Mair and his fascist associates detested. Some may believe his alleged vile act was not premeditated, but his history proves otherwise. That Mair allegedly chose to carry out the act in the lead up to the EU Referendum speaks volumes. Below is a mapping of the trail of hate that provides the topographical context to Mair's beliefs and motivations. Moreover, what this trail shows is that Mair and his hate-filed colleagues were the subject of surveillance by an MI5 (and FBI) informer as far back as 2000.

Read the full story on undercoverinfo.
Tags: Birstall, Britain First, Jo Cox (Labour MP), Neo-Nazis, Racism, Thomas Mair (Nazi), UK, Yorkshire
Posted in Anti-Fascist
Thursday, June 30th, 2016
via NYC Antifa, check for translations and prisoner list:
In the year since the first July 25th International Day of Solidarity with Antifascist Prisoners in 2015, there has been a disturbing increase of Far Right activity worldwide. Every day brings news of some new wave of reaction—in the name of nationalism and security—which demonizes refugees and immigrants, stokes hatred for Muslims, and attacks LGBTQ and other oppressed groups fighting for their liberation and their very lives.
We see Nigel Farage and UKIP in the UK, the Burmese magazine The Irrawaddy, the Front National in France, and Donald Trump in the U.S. all making the same racist claims about refugees using almost identical Far Right language. In response, anti-fascists from Poland, Thailand, Malaysia, England, Australia, Brazil, Burma, Greece, France, Sweden, the United States, and all points in between, have the same response to this bigoted garbage:
NO PASARAN! (more…)
Tags: Antifa, International Solidarity, Jock Palfreeman, NYC Antifa, Racism
Posted in Anti-Fascist
Monday, June 27th, 2016
Whitechapel and Bethnal Green have seen anti-raids and no borders posters and graffiti appearing all over the place.
Tags: Bethnal Green, London, Racism, UK, Whitechapel
Posted in No Borders
Sunday, June 12th, 2016
Yesterday there was a far-right march and counter demonstration in Bishop Auckland, County Durham.
Tags: Antifa, Bishop Auckland, County Durham, Demo, Racism, UK
Posted in Anti-Fascist