Posts Tagged 'Racism'
Saturday, April 4th, 2015
The recent wave of hunger strikes and other protests in UK migration prisons has subsided, as prisoners have been silenced, moved between prisons, and humiliated and beaten. This report from the Anti Raids Network is just one of many cases of how people are treated in detention centres and during deportation attempts.
Tahar Khalifa beaten by guards in an attempted deportation on Tuesday 31st March.
On Tuesday, 31st March, Tahar Khalifa, detained at Brook House detention centre [one of the two migration prisons inside the perimeter of Gatwick Airport], was forcibly removed from the centre in an attempted deportation to Tunisia, on flight TU791 at 1745hrs. As he was going up the stairs to the plane he was physically assaulted and beaten by the guards.
In a statement Tahar says that there were multiple officers trying to get him up the stairs; one was choking him, another was twisting his upper body. Tahar was handcuffed at the front and one officer was holding him by the wrist and pulling very hard. (more…)
Tags: Brook House (Immigration Detention Centre), Migrant Struggle, Racism, Repression, Tahar Khalifa, UK
Posted in No Borders
Friday, March 13th, 2015
On Wednesday, March 11th, the District Attorney's office pushed in court for Dante Cano to be hit with a felony charge for vandalism. The one police officer in court claimed that after hearing a window being hit, he saw a person in black running in a sea of other people in black. Several moments later, Dante was in police custody, despite no evidence actually linking him to the crime. We are asking people to
please help bail Dante out of jail, which will increase his changes of defending himself in court. We also call on everyone to continue to support the Ferguson 3, youths arrested during the first night of the rebellion in the Bay Area. (more…)
Tags: Dante Cano, Ferguson, Oakland, Police Bastards, Racism, USA
Posted in Prison Struggle
Thursday, March 12th, 2015
Last night, two cops were shot outside Missouri city police station during a demo against police brutality and the killing of Michael Brown, 18-year-old unarmed black man slain by cops last summer. The two cops did not die, but are seriously injured. On Wednesday, Ferguson Police Chief Thomas Jackson announced that he planned to resign after a harsh U.S. Justice Department investigative report about his handling of the police killing last summer of Michael Brown. (more…)
Tags: Ferguson, Fuck the Law, Fuck the Police, Missouri, Police Bastards, Police Brutality, Racism, USA
Posted in Direct Action
Tuesday, March 10th, 2015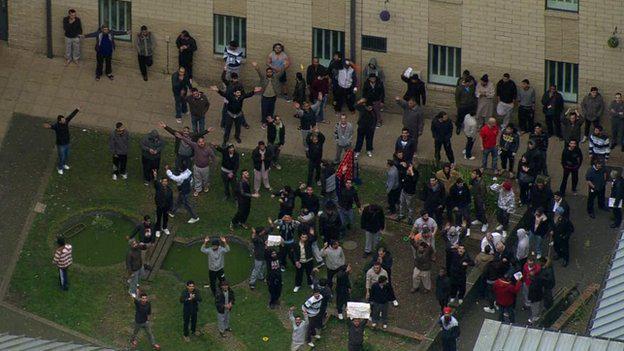 Update: Protests spreading across immigration detention centres in UK.
Resistance continued yesterday at Harmondsworth and Colnbrook. Over 70 people detained had gathered in the courtyard to continue the protest.
Outside at 9am a group of people made a solidarity demonstration in support of the protests. They could hear people shouting 'Freedom' and 'No Food'. The police were called to the protest and one person was pushed aggressively. Guards and centre managers are asking detainees to go to their rooms and come to talk to the managers one-by-one or in pairs. Detainees have refused and ask the management/staff to come and listen to them in the yard. (more…)
Tags: Colnbrook, Demo, Harmondsworth, Hunger Strike, Migrant Struggle, Racism, UK, UKBA
Posted in No Borders
Tuesday, March 3rd, 2015
On Saturday 28 February in Zurich, Switzerland, there was a demo/rally organised by Revolutionäres Bündnis Zürich, against racism and repression and for solidarity. The demo was specifically as part of international solidarity days for Albert Woodfox, member of Angola 3 and Black Panthers. An American flag was burned in front of the banner "Freedom for A. Woodfox and all the Black Panther prisoners"
Tags: Albert Woodfox, Angola 3, Black Panther Party, Demo, Racism, Solidarity Action, Switzerland, Zurich
Posted in Direct Action
Saturday, February 28th, 2015
The Anti Fascist Network is all about getting out of our armchairs and on to the streets, so here's a run through of what's coming up. How will anyone know you oppose fascism if you don't get out there and say so!
First up in March is an EDL national demo in Manchester on Saturday the 7th. The local UAF are organising a counter demo. It's Piccadilly Gardens at midday. The EDL say their demo is because of 'Muslim grooming gangs' but a recent post from Malatesta demonstrates how the far-right has more than its fair share of sex offenders as well. Unfortunately, paedophiles and rapists turn up in all walks of life. It is not about ethnicity. (more…)
Tags: Anti-Fascist Network, Antifa, Bolton, Brighton, English Defence League, Leeds, Manchester, National Action, Newcastle, Racism, Rotherham, Salford, Stamford Hill, UK
Posted in Anti-Fascist
Friday, February 27th, 2015
Neither in Sofia nor anywhere…
Last Saturday, February 14, 2015, around 150-200 antifascists demonstrated in Sofia against the annual march in honour of general Hristo Lukov, Nazi collaborator and leading figure of the Bulgarian national-socialism, executed by partisans in 1943.
Fascists from all over Bulgaria take part in the march in memory of Lukov, and previously up to 1,000 people were participating in it. This year, the fascist gathering was attended by 300 invertebrates.
The antifascist demonstration was also directed against the rise of racism observed in Bulgaria in recent years, after the appearance of refugees (from Syria) for the first time in the country. Furthermore, demonstrators chanted slogans against homophobia (in 2008, fascist hooligans killed 25-year-old student Mihail Stoyanov at a park in Sofia because he "looked gay").
In a display of internationalist antifascist solidarity, also 15-20 comrades from Greece, Romania and the Republic of Macedonia participated in the antifascist march.

ContraInfo, more pics
Tags: Antifa, Bulgaria, Demo, Mihail Stoyanov, Racism, Sofia
Posted in Anti-Fascist
Wednesday, February 25th, 2015
Fire to the Prisons #12 is Available Now!
PDF – https://firetotheprisons.org/issues/fttp12.pdf
The new issue of Fire to the Prisons is now completed and available online. Check out the new issue, print your own copies, and view past PDFs at our new website: www.firetotheprisons.org
(NOT TO be confused with .com, which is hosted by unknown sources)
Fire to the Prisons is an insurrectionary periodical. It focuses on promoting a revolutionary solidarity between different struggles, prisoners, and existing social tensions that challenge capitalism and the state.
We made 10,000 copies of this issue because we wanted to get them as far and wide as possible. In order to create a publication for free to comrades and the general discontented public, we have forfeited our traditional magazine form and went with a less costly newspaper. We hope to spread this as far as it can go. A lot of blood, sweat, and tears went into this project and we hope that it shows. (more…)
Tags: Fire to the Prisons (Zine), Fuck the Law, Fuck the Police, PDF, Police Bastards, Police Brutality, Racism, USA, Zine
Posted in Library
Sunday, February 22nd, 2015
The Redfern Aboriginal Tent Embassy in Sydney is facing eviction on Monday 23rd February. The Embassy are calling for people to come down and help them resist eviction.
The embassy plans to apply for an injunction Monday against the eviction order, which was issued by the Aboriginal Housing Corporation (AHC) on Friday afternoon. The order demands the total dismantling of Redfern Aboriginal Tent Embassy, which has been a 24 hour protest camp since May 2014. In an area known as the 'Block', it sits wedged between Redfern Station and Eveleigh Street. It's a sparse green oval resting on a grey concrete slope. On first glance it's as unassuming and ordinary as its namesake would suggest. But the tents have only catalysed the political discontent and community activism that has boiled below the suburb's surface for years.
The site has grown over the months to include vegetable patches and a seed bank, a sacred fire pit, kitchen and a collection of tents. The embassy was established to protest a controversial redevelopment plan for the Block – a chunk of Sydney's Redfern suburb where Indigenous Australians have been promised affordable housing since the 1970s. When the AHC first began to be handed parts of what would later become the Block in the 1970s, it was widely viewed as a major victory in the battle for Indigenous land rights. The entire area was earmarked for affordable housing for Indigenous Australians. (more…)
Tags: Australia, Eviction, Indigenous Struggle, Racism, Redfern Aboriginal Tent Embassy, Sydney
Posted in Autonomy
Tuesday, February 17th, 2015
From ABC Brighton:
15/02/15
In the protracted saga of the US State's victimisation of the Angola 3, the Attorney General's office has decided to indict him for a third time for the 1972 murder of Louisiana State Penitentiary prison guard Brent Miller. Albert, who has spent more than 40 years in solitary confinement, has had his conviction overturned three times, yet the State continues not to admit defeat and release him. Just as with his comrade Herman Wallace, who was released on October 1, 2013, suffering from terminal cancer was re-indicted two days later but died on October 4, 2013 before he could be re-arrested, they want him to die in prison come what may.
For more details see:
http://www.nola.com/crime/baton-rouge/index.ssf/2015/02/angola_3_member_albert_woodfox_1.html
Tags: Albert Woodfox, Angola 3, Black Panther Party, Herman Wallace, Racism, Repression, USA
Posted in Prison Struggle
Monday, February 9th, 2015
In the night between the 28th and 29th of January 2015, Destroika struck in Berlin, and two prison industry vehicles turned into ruins. Through these pinpricks, we will limit the flexibility of the relevant companies. A van of Wisag in Lichtenberg and another of Sodexo in Moabit came under attack.
The company WISAG provides, in addition to the exploitative cleaning sector, security staff for transport services such as the BVG transport company in Berlin, and is responsible for filling the Berlin prisons of fare-dodgers, with ticket inspectors plain-clothed as well as in uniform.
The company Sodexo now runs five prisons in the UK under their own responsibility since the privatisation of the British justice system. In addition, Sodexo is blacklisted in Belgium for their involvement in deportation prisons, besides providing facility management services to deportation lagers in Germany. The company is owned by the Zehnacker group, which is presented in this way: "As a partner of the armed forces, we accompany them in their operational areas at home and abroad. Our mission is to take care of both the troops and their command for a better quality of life. Under the supervision of the Ministry of Justice, Sodexo plans and delivers solutions that contribute to smooth operations in correctional facilities. In all our activities, we respect our values and ethical principles. Our work in this domain is further proof of our strong commitment to society."
Freedom for the prisoners of Operation Pandora and all the others!
On the 18th of March 2015 off to Frankfurt – to reduce the European Central Bank to ruins and ashes!
Autonomous Group "Muslim H."
(Muslim H., originally from Kosovo, was 28 years old when he was killed by 8 screws in the prison of Landshut on May 24th, 2014, in revenge for his successful resistance to his deportation to Hungary.)
Translation note: On January 30th, the remaining seven prisoners of Operation Pandora were released on conditional bail.

– ContraInfo
Tags: Arson, Autonomous Group "Muslim H.", Berlin, Car Burning, Destroika, Germany, Migrant Struggle, Operation Pandora, Racism, Sodexo, Solidarity Action, Wisag
Posted in Direct Action
Tuesday, February 3rd, 2015
Here is a letter which announces the campaign for a comrade of the Black Panthers. In French and German translation done by Red Help International. Angola Free!
Guten Tag,
Heute beginnen wir eine Kampagne für die Befreiung von Albert Woodfox. Hier angehängt findet ihr den Aufruf dazu und ein Plakat dazu.
Albert Woodfox ist mit Robert King und Herman Wallace einer der "Angola three". Das sind drei afroamerikanische politische Gefangene, die seit 1971 im Angola-Knast, Staatsgefängnis von Louisana in den USA, einsitzen. Die Strafe sass er auf Grund eines bewaffneten Überfalls ab. Während seinem Prozess ist Albert Woodfox aber aus dem Knast ausgebrochen und ist der Plack Panther Party beigetreten. Trotzdem er wieder verhaftet und inhaftiert wurde, war er weiter aktiv und gründete mit Wallace und King eine Black Panther Party Sektion im Gefängnis. (more…)
Tags: Albert Woodfox, Angola 3, Black Panther Party, Racism, Repression, USA
Posted in Prison Struggle
Wednesday, January 28th, 2015
via rabbleLDN:

From Midlands Anti-Fascists.
ALERTA! Anti-Fascist response needed in the West Midlands!
The racists of the English Defence League (EDL) are planning to have their national demo on Saturday February the 7th in Dudley. They are treating it very seriously, and antifa need to be just as committed and more organised.
In the context of Charlie Hebdo, islamaphobia from the government, the media and the far-right is on the rise. Letting them feel they can have these views and gather in an attempt to intimidate Black, Asian and other minority ethnic populations is not an option. (more…)
Tags: Antifa, Demo, Dudley, English Defence League, Racism, UK
Posted in Anti-Fascist
Saturday, January 24th, 2015
UPDATE : Fascists blockade Dover pub garden – ANTIFA DEMO REPORT 25th Jan
From rabbleLDN:
The local state authorities (Prefecture) have banned the fascist demo planned in Calais on Sunday by the "Sauvons Calais" group. The fascists have announced on their facebook page that they are going to obey the order and have called off the demo, although asserting that everyone has "freedom of movement [!!!] and can do what they want".
Based on previous experience, it is likely that some fascists will still come to Calais, perhaps staying in smaller groups and launching surprise attacks rather than trying to gather together in the centre. In the past, nazi groups have lingered some days after announced demos to form "hunting parties" against migrants and anti-fascists.
Given this, and because there is always plenty to do, comrades in Calais still very much welcome support from anyone planning to travel to the town. Get in touch with Calais Migrant Solidarity.
On the English side of the channel, the simultaneous fascist demo in Dover is still very much going ahead. Antifascists will be there to oppose them. See the call-out here.
As swastika-tattooed Kevin Reche, the young leader of "Sauvons Calais", is personally banned from demonstrating in Calais town centre, it is thought quite possible that he (and other known Calais fash) will take the ferry to Dover to join the demo there. He is the one on the right in the photo above.
Tags: Calais, Demo, France, Migrant Struggle, Racism
Posted in Anti-Fascist
Monday, January 19th, 2015
Above: Τhe video of the attack at Golden Dawn office
Neonazis of Golden Dawn gather at their local offices in Athens, only to be paid a visit by antifascists. The Nazis lock themselves in, behind a metal door and wait anxiously for their best buddies in the Greek police to save them.
https://www.youtube.com/watch?v=a-_7RyICwvM
Tags: Antifa, Athens, Golden Dawn, Greece, Police Bastards, Racism
Posted in Anti-Fascist