Posts Tagged 'Racism'
Sunday, January 24th, 2016
Tags: Antifa, Birmingham, Demo, Pegida UK, Racism, UK
Posted in Anti-Fascist
Tuesday, January 12th, 2016
Dear all,
For refugees heading to Central and Northern Europe, the Balkan route has been of upmost importance. As Anarchist Radio Berlin we talked to two anarchists from Slovenia about the situation in the Balkans, their work with the refugees and the perspectives of this struggle beyond humanitarian actions.
You'll find the audio (to listen online or download in different sizes) here:
http://aradio.blogsport.de/2016/01/12/a-radio-in-english-mediterranean-2-anarchists-in-slovenia-and-the-refugee-balkan-route/

Length: 8:06 min
You can find other English and Spanish language audios here:
http://aradio.blogsport.de/englishcastellano/.
Tags: Anarchistisches Radio Berlin, Migrant Struggle, Racism, Slovenia
Posted in No Borders
Saturday, January 2nd, 2016
Dear all,
As Anarchist Radio Berlin we had the opportunity of making an interview
with two activists of the occupied and self-organized refugee center
Notara26 in Athens, Greece. The comrades tell us about the origins and
ideas of their center as well as of the anarchist influence and
importance of the Exarchia neighbourhood. They also comment on the topic
of governmental (Syriza) policies and the difference of their work to
such policies. And they also mention problems encountered in this project.
You'll find the audio (to listen online or download in different sizes)
here:
http://aradio.blogsport.de/2016/01/02/a-radio-in-english-mediterranean-1-the-occupied-refugee-center-notara26-in-athens/
Length: 12:36 min
You can find other English and Spanish language audios here:
http://aradio.blogsport.de/englishcastellano/
Tags: Anarchistisches Radio Berlin, Exarchia, Germany, Greece, Migrant Struggle, Notara26, Racism, SY.RIZ.A.
Posted in No Borders
Thursday, October 29th, 2015
Political Prisoner Radio is a program that seeks to educate the public on the individual cases of political prisoners and prisoners of war being held by the United States government, many for decades under torturous conditions. It features former political prisoners, advocates, family members and organizations work to free these individuals. The program often discusses the historical political repression and social conditions that existed and still exist within the United States of America.
www.politicalprisonerradio.blogspot.com
politicalprisonerradio.blogspot.com/p/tune-in.html
Tags: Black Panther Party, Counter-info, Ferguson, Leonard Peltier, MOVE, Racism, USA
Posted in Prison Struggle
Thursday, August 13th, 2015
New photo/video of action to share:
Cleaning up Nazi/Anti-semitic graffiti in Newcaste Upon Tyne
Photo:- http://imgur.com/N2qpwfx

Video:- https://www.youtube.com/watch?v=H54n7yoHQBE
Tags: Anti-Semitism, Graffiti, Newcaste Upon Tyne, Racism, UK
Posted in Anti-Fascist
Monday, July 6th, 2015
On Saturday, July 18th, the Loyal White Knights of the Ku Klux Klan will assemble on the statehouse grounds in Columbia, SC. And we will confront them.
This rally is part of a recent wave of anti-Black terror, from the Charleston massacre to the arson of Black churches, that has strategically sought to build upon a white racist backlash against the #BlackLivesMatter, anti-police uprisings of the past year.
We call upon all those willing and able—#BlackLivesMatter activists, community organizers, anti-racists, anarchists and other radicals, and anyone else furious with racism and the police—to converge on Columbia, confront the Klan, and defy their message of white supremacy. History has shown—from the armed standoff against a lynch mob in Columbia, TN in 1946 to the 1958 Battle of Hayes Pond, from the Deacons for Defense to the armed defiance of Monroe, NC's NAACP chapter, from the 1979 Greensboro Massacre to the 1997 confrontation with the Klan in downtown Asheville, NC—that we must oppose white supremacist organizing actively and physically, in our streets and neighborhoods.
The KKK is only a small group, whose ability to inflict racist violence actually pales in comparison to that of structures like the police, the economy, and the state. But the sentiment that groups like the KKK hold runs deep through the currents of whiteness in this country, and is a major obstacle to our struggles against these larger structures. Explicit manifestations of white supremacy like the Klan are one way that the state will seek to contain the #BlackLivesMatter organizing and anti-police riots of the last year; at this historic juncture, a large Klan rally in the South cannot go unchallenged.
Bring banners, bring a friend, and bring your anger and rage against the white supremacy that courses through the veins of this society. See you in Columbia.
Tags: #BlackLivesMatter, Columbia, Demo, Ku Klux Klan, Racism, USA
Posted in Anti-Fascist
Tuesday, June 30th, 2015
Also: "This is how we do it": Neighbourhood Solidarity after East Street raid.

In the wake of the militant resistance to the immigration raid on East Street London on the 21st, this message above was painted …
As one of the East Street Two remains caged at Gatwick Detention Centre we sprayed our message of vengeance at the offices of the United Kingdom Border Agency.
To explain the organised misery of their oppression the agents of this racist state need scapegoats to blame. We dismiss their petty attempts to divide us and will continue to fight together as we did on Sunday until all borders are destroyed, their fences and prisons torn down.
With paint, fists and crowbars we will destroy the rotten infrastructure and poisonous ideology of this racist system. Let this message be a warning – every deportation must be met with furious resistance.
Fuck UKBA- Vegeance on all authority – until every deportation is stopped.
Tags: East Street Market, Fuck the Police, Graffiti, Racism, UK, UKBA
Posted in No Borders
Tuesday, June 23rd, 2015
Home Office immigration enforcement have been targeting the East Street market in Walworth, London SE17, all week, with no less than five raids over previous days. Today they came again at 5PM and snatched one man from a fish shop, presumably accused of working without legal documents.
But this time, things were not going to go so easy for the thugs in blue. After call-outs went out through the local grapevine and also on social media, people from the area including the next door Aylesbury Estate rushed down to the scene. The Home Office snatch van was blockaded and penned in on a side street off the market. The bullies retreated inside the van with their prisoner while it was surrounded by people's bodies and by makeshift barricades, the tires were let down, and it was pelted with rotten fruit and eggs from the market.
(more…)
Tags: East Street Market, Fuck the Police, Immigration Raids, London, Racism, Riots, UK, UKBA
Posted in No Borders
Thursday, June 4th, 2015
From a comrade of ABC Brighton:
Ultimately prisons exist as instruments of state violence, and no matter how legitimized by statuary law their prime function and purpose is to inflict pain and suffering in the interests of social control. They are nothing more than blunt weapons of state power and ruling class authority and for those confined within them the experience of naked vulnerability and brutality is a constant every day reality.
Control within prisons themselves is maintained by a mixture and blend of officially sanctioned violence in the form of riot-squads, control units, segregation-units and "control and restraint teams" and the more unofficial forms of violence inherent in prison gangs and prisoner hierarchies, which ultimately are allowed to exist providing they serve the interests of the system in maintaining the overall prison status quo. Intrinsically prisons embody the iron law that ultimately power equals violence, especially in closed and total institutions like prisons where people, usually the most dispossessed and powerless, are held against their will.
In the UK prisons unofficial violence is an institutionalised and "normal" way whereby prisoners are controlled and terrorised into conforming and it is customary for those officially employed to maintain prison "good order and discipline" to recruit and manipulate prisoners into controlling their fellow captives by any means necessary, even occasionally murder. (more…)
Tags: Balcombe Street Active Service Unit, Feltham, Irish Republican Army (IRA), Irish Republican Prisoners, John Bowden, Muslim Prisoners, Racism, Repression, UK
Posted in Prison Struggle
Saturday, April 18th, 2015
From Movement for Justice via RabbleLDN:
Anna Rjabova and Lillija Jezdovska are brave fighters for their own freedom and for the rights and freedom of their fellow detainees in the notorious Yarl's Wood detention centre, near Bedford. On Thursday 9th April they were part of an integrated group of African, Caribbean and East European women who gathered to physically block the deportation of Lucy N, a victim of torture from Kenya. The women gathered together, sitting around Lucy, linking arms and singing.
That afternoon 30+ 'guards' employed by Serco (the private company that manages Yarl's Wood) forced their way into Lucy's room, wearing full riot gear and armed with batons. You can hear the moment the guards entered the room and dragged the women away here, there were 3 guards for every woman. Anna, Lillija and four other women were handcuffed and taken to Kingfisher wing, the isolation block within Yarl's Wood.
Anna and Lillija had been brutally beaten on their legs with a baton by one of the guards, Jo Singh, against whom Lillija had previously made official complaints. Anna had to be taken to Bedford hospital for treatment on Saturday. They have made further complaints and have spoken to the Prison Inspectors currently visiting Yarl's Wood. (more…)
Tags: Jo Singh, Racism, Serco, UK, UKBA, Yarl's Wood Detention Centre
Posted in No Borders
Saturday, April 4th, 2015
The recent wave of hunger strikes and other protests in UK migration prisons has subsided, as prisoners have been silenced, moved between prisons, and humiliated and beaten. This report from the Anti Raids Network is just one of many cases of how people are treated in detention centres and during deportation attempts.
Tahar Khalifa beaten by guards in an attempted deportation on Tuesday 31st March.
On Tuesday, 31st March, Tahar Khalifa, detained at Brook House detention centre [one of the two migration prisons inside the perimeter of Gatwick Airport], was forcibly removed from the centre in an attempted deportation to Tunisia, on flight TU791 at 1745hrs. As he was going up the stairs to the plane he was physically assaulted and beaten by the guards.
In a statement Tahar says that there were multiple officers trying to get him up the stairs; one was choking him, another was twisting his upper body. Tahar was handcuffed at the front and one officer was holding him by the wrist and pulling very hard. (more…)
Tags: Brook House (Immigration Detention Centre), Migrant Struggle, Racism, Repression, Tahar Khalifa, UK
Posted in No Borders
Friday, March 13th, 2015
On Wednesday, March 11th, the District Attorney's office pushed in court for Dante Cano to be hit with a felony charge for vandalism. The one police officer in court claimed that after hearing a window being hit, he saw a person in black running in a sea of other people in black. Several moments later, Dante was in police custody, despite no evidence actually linking him to the crime. We are asking people to
please help bail Dante out of jail, which will increase his changes of defending himself in court. We also call on everyone to continue to support the Ferguson 3, youths arrested during the first night of the rebellion in the Bay Area. (more…)
Tags: Dante Cano, Ferguson, Oakland, Police Bastards, Racism, USA
Posted in Prison Struggle
Thursday, March 12th, 2015
Last night, two cops were shot outside Missouri city police station during a demo against police brutality and the killing of Michael Brown, 18-year-old unarmed black man slain by cops last summer. The two cops did not die, but are seriously injured. On Wednesday, Ferguson Police Chief Thomas Jackson announced that he planned to resign after a harsh U.S. Justice Department investigative report about his handling of the police killing last summer of Michael Brown. (more…)
Tags: Ferguson, Fuck the Law, Fuck the Police, Missouri, Police Bastards, Police Brutality, Racism, USA
Posted in Direct Action
Tuesday, March 10th, 2015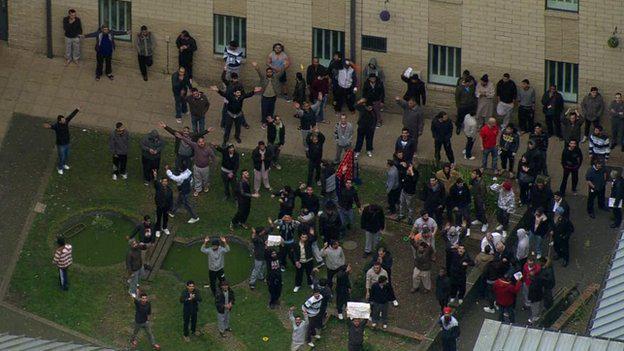 Update: Protests spreading across immigration detention centres in UK.
Resistance continued yesterday at Harmondsworth and Colnbrook. Over 70 people detained had gathered in the courtyard to continue the protest.
Outside at 9am a group of people made a solidarity demonstration in support of the protests. They could hear people shouting 'Freedom' and 'No Food'. The police were called to the protest and one person was pushed aggressively. Guards and centre managers are asking detainees to go to their rooms and come to talk to the managers one-by-one or in pairs. Detainees have refused and ask the management/staff to come and listen to them in the yard. (more…)
Tags: Colnbrook, Demo, Harmondsworth, Hunger Strike, Migrant Struggle, Racism, UK, UKBA
Posted in No Borders
Tuesday, March 3rd, 2015
On Saturday 28 February in Zurich, Switzerland, there was a demo/rally organised by Revolutionäres Bündnis Zürich, against racism and repression and for solidarity. The demo was specifically as part of international solidarity days for Albert Woodfox, member of Angola 3 and Black Panthers. An American flag was burned in front of the banner "Freedom for A. Woodfox and all the Black Panther prisoners"
Tags: Albert Woodfox, Angola 3, Black Panther Party, Demo, Racism, Solidarity Action, Switzerland, Zurich
Posted in Direct Action