Posts Tagged 'Raids'
Sunday, January 8th, 2017
UPDATE ON THE RAIDS & INVESTIGATION HERE.
We learn from the national media of the explosion of a bomb in front of a neo-fascist bookshop in Florence and of an unspecified number of raids in homes and places of anarchist comrades. A police bomb disposal expert was wounded during the operation to defuse the device connected to a timer: the explosion led to injury of a hand and an eye [previously the media reported the amputation of the hand and loss of the eye].

In the hours following searches were conducted in the area of anarchist circles in Florence and Tuscany; at the moment there is no more information about the places affected, while reports say they have not found anything. The bomb had been discovered by a patrol of the Digos in the town involved in monitoring the bookshop near to Casapound [neo-fascist hangout], identified as a sensitive objective and already attacked in the past. The prosecutor is investigating for attempted murder.
Further updates coming soon.
informa-azione.info

Translated by Act for freedom now!
Tags: Anti-Fascism, Casa Pound, Florence, Italy, Raids, Repression, Tuscany
Posted in Social Control
Sunday, October 30th, 2016
Freedom For All Resisting Women In The Name of
AYLA AKAT ATA and GÜLTAN KIŞANAK
The attacks, detentions and arrests towards the people and their representatives as a part of the ongoing state violence in Kurdistan since July 2015 have reached its peak in the last 3 days. Gültan Kışanak, as the first Co-Mayor of Diyarbakır Metropolitan Municipality and resisted for two years against the tortures in Diyarbakir Prison during the military coup in 1980, was taken into custody on 25th October 2016; the municipality building was blockaded and raided by hundreds of police.
On 26th October 2016, the people who gathered in front of the municipality building to protect their will had been attacked with impunity via water cannons and teargas, and, many people were battered and detained.
During this attack, the women who resisted in front line are specifically targeted. As well as many of our women comrades have been detained, co-speaker of KJA, Ayla Akat Ata, has also been battered and detained, and, the advocate and family visit is prohibited for five days. (more…)
Tags: Diyarbakır, KJA - Congress of Free Women, Kurdish Struggle, Kurdistan, Raids, Repression, Turkey
Posted in Social Control
Tuesday, June 14th, 2016
Received from the Committee for Diplomatic Relations of Kongra Star:
To the press and public,
This morning at 9 a.m. the premises of the Kurdish Women's Relation Office (REPAK) in Erbil – Iraqi Kurdistan was raided by General Asayish Security Forces. During the raid the ID's and mobile phones of the staff including the chairwoman were seized so that they were not able to inform anybody. While the heavily armed Asayish [police] and Intelligence Forces did not state any reason or showed any documents, the premises of REPAK got closed and the staff expelled from the city.
Outside the borders of the city the three activists were released in the middle of the road, got back their mobiles and ID's and were told that from now on they will not be able to enter the city anymore. This all happened in an arbitrary and lawless way.
REPAK was founded in March 2014 as legal NGO in Erbil. Main aim was to strengthen the ties and cooperation between different Kurdish women organisations. At the same time REPAK is cooperating with a high number of women's, civil society and human rights organisations in Kurdistan and at international level to introduce the Kurdish women's situation and struggle. Especially together with the attacks of IS in Southern/Iraqi Kurdistan REPAK became the main address for women's delegations to visit Kurdistan and observe the situation and the struggle of Kurdish women. REPAK has participated dozens of international conferences and panels to share the situation of Yazidi Kurdish women captured by IS and the big resistance of Kurdish women that struggle for freedom. Moreover REPAK is part of a lot of international women's organisations and structures as Middle Eastern coordinator, like the World Women's Conference. (more…)
Tags: Aysel Avesta, Erbil, Iraq, KJA - Congress of Free Women, KÖM (Women's Freedom Assembly), Kurdish Women's Relation Office (REPAK), Kurdistan, Raids, Repression
Posted in Social Control
Thursday, April 21st, 2016
Koridallos prisons – Announcement of Prisoners for the raiding of the EKAM (special forces) and the violent transfer of our fellow prisoners.
During the night, specifically from 00.30 until 7-8am, special forces of the police together with mixed units of police and prosecutors, carried out extensive searches in the 1st and 4th wing of Koridallos prisons.
The state mechanisms raided with superiority of power and an intention to humiliate the prisoners.
Specifically the searches were done 2 cells at a time and 4-5 prisoners were against dozens of fully armed EKAM (special forces),who tied the prisoners behind their back and had them on their knees while they made them look at the wall as long as the search was underway, whoever resisted this sadistic hazing was beaten by the police forces. All cells in the two wings were searched, objects and devices were smashed while the provocations continued by the police since they threw all clothes in the garbage, destroyed their stuff and threw food and other products on the floor.
The state carries out exercises for imposing and controlling who will speak of human rights when all is bypassed before the dogma of law and order. like we said prisoners were beaten and dozens of others were violently transferred to other prisons, while the cells did not open until 11am.
Against one more move of imposition we will remain in the yards of our wings until 8pm and we will return to our cells after 10pm tonight. We demand to know the reason of the raids by the police, and the correctional service together with the ministry of justice should give us an explanation for the autarchy, broken cells, beatings and the provocations by the police.
Let's create communities of solidarity and dignity towards the state brutality.

Prisoners of the 1st, 2nd and 4th wing of Koridallos prisons.
18/4/16

via Act for freedom now!
Tags: Athens, Greece, Korydallos Prison, Raids, Repression
Posted in Prison Struggle
Monday, April 18th, 2016
The centre of Free Women's Congress (KJA) Association was raided anomalously by police on April 10, 2016, around 05:00 am. The Association was raided without any prior notification and in an unusual hour that none of the administrators were there. 16 politicians, including 6 women who are members, administrators and activists of KJA, were detained in the same time with similar illegal methods. Our 4 women members, Çimen Işık, Pero Dündar, Olcay Kanlıbaş and Zozan Toprak are imprisoned after they were judged in the court on April, 11.
The police raid is totally anomalous and targets to destroy generally the democratic organization as an essential element of democracy, and specifically the organization of women. While all of our computers were stolen in the raid, our archive was also taken by the police. This crime is tried to be covered up with a "confidentiality order". Seizing all the computers means the cessation of the Association's actions even it is possible to backup all of the documents and keep on our investigations. (more…)
Tags: Diyarbakır, KJA - Congress of Free Women, Kurdish Struggle, Raids, Repression, Turkey
Posted in Social Control
Wednesday, March 30th, 2016
UPDATE BELOW
On the island of Lesvos, where the deportation machine is working at full speed, all the camps for refugees are cleared out and registration center 'Moria' has showed the true purpose and is now functioning as an deportation centre, NBK is still standing strong and operating at full speed.
On the island of Lesvos, where the deportation machine is working at full speed, all the camps for refugees are cleared out and registration center 'Moria' has showed the true purpose and is now functioning as an deportation centre, NBK is still standing strong and operating at full speed.
The current situation is that we now host a couple of hundred refugees, who have been hunted down the island by Frontex and police and have no other place to go. The kitchen is up and running day and night to help anyone in need on food, shelter, medical aid and a (semi)safe place to rest, where refugees work side by side with people in solidarity on an equal level. We host, the refugees participate, and together we keep the camp up and daily life running. (more…)
Tags: Frontex, Greece, Lesvos, Migrant Struggle, Mytilene, NBK Lesvos, Racism, Raids, Repression
Posted in No Borders
Friday, January 22nd, 2016
Yesterday on the 20th of January another sudden search was once again conducted inside the cells housing imprisoned members of the anarchist organization Conspiracy of Cells of Fire (CCF) as well as anarchist prisoner Nikos Romanos at Section A of Korydallos Prison.
The search was coordinated by prison official Victoria Marsioni who had previously made threats against CCF members involving disciplinary transfers to other facilities after they hung a banner in solidarity with the hunger strike of anarchist Evi Statiri.
It is most certain that Marsioni is not acting independently but receives orders from above and this recent search is merely another addition to a systematic exercise of pressure against the imprisoned members of the CCF, which is orchestrated by high ranking officials of the 'leftist' Ministry of Justice and Counter-Terrorism Police.
(via Athens Indymedia, Insurrection News, translated by BlackCat)
Tags: Athens, Conspiracy of Cells of Fire, Conspiracy of Cells of Fire : Imprisoned Members Cell, Greece, Korydallos Prison, Nikos Romanos, Raids, Repression
Posted in Prison Struggle
Friday, January 22nd, 2016
via throwoutyourbooks:
On January 18th, police raided a small apartment in Kita ward in Tokyo, where they uncovered hints on the whereabouts of Masaaki Ōsaka. Now aged 66, Ōsaka was an activist in the far-left radical group Chūkaku-ha and is named as a suspect in the death of a police officer during a riot in Shibuya 45 years ago.
Police announced that the apartment was a Chūkaku-ha ajito, or secret base, and that they believe Ōsaka is had been living there until a few years ago. This is the first known raid on a place where he is suspected to have resided. Ōsaka has been on the lam the longest among the most-wanted fugitives in Japan. His image remains a common sight on wanted posters at police substations, especially in Tokyo.
Police perennially make announcements about Ōsaka as they find the crumbs left behind on his fugitive trail. In 2012, an ajito was exposed in Tachikawa City, west Tokyo, and items seized from it revealed possibilities that Ōsaka was hiding out somewhere in Kita ward. (more…)
Tags: Chūkaku-ha, Fumiaki Hoshino, Japan, Masaaki Ōsaka, Raids, Repression, Shibuya, Tokyo
Posted in Social Control
Friday, November 13th, 2015
Via Insurrection News.
12.11.15: Police in Italy and Greece launched a repressive operation at dawn this morning against activists who participated in the #NoExpo May Day 2015 mobilizations in Milan.
10 comrades have been detained – 5 in Italy (all in Milan) and 5 in Greece on charges of 'destruction and looting', aggravated resisting of the police and misrepresentation.
5 other comrades who are still at large are under investigation for the same charges – 3 in Milan, one in Como and one in Greece.
The detained comrades all had DNA samples taken from them.
More news as it comes.
UPDATE: One woman activist who was arrested in Milan has been released pending further investigation.
(via Radio Onda D'urto)
Tags: 1st May, EXPO Milan 2015, Greece, Italy, Milan, Raids, Repression, Riots
Posted in Social Control
Thursday, October 29th, 2015
Update: 8 released on bail.
10 comrades arrested in Barcelona and Manreza (Cataluña, Spain) accused of membership of GAC (anarchist coordinated groups). At the moment the information comes from state media.
[Urgente] Compañeros detenidos en Barcelona y Manresa con acusaciones de terrorismo.
Desde las seis de la mañana los Gossos* d'Esquadra (policía autonómica
catalana), bajo órdenes de la Audiencia Nacional, registran locales y
viviendas de compañeros/as anarquistas en Barcelona (barrios de Gracia,
Sant Andreu y Sants) y en Manresa. Según los medios de intoxicación de
masas, los arrestos son la continuación de la "operación pandora" contra
lo que la policía y los jueces creen que son los GAC (Grupos anarquistas
Coordinados), a quienes acusan de ser los responsables de los ataques
reivindicados por grupos anarquistas durante los años 2012 y 2013
(habría que recordar que según la Fiscalía General del Estado desde el
año pasado el anarcoterrorismo ya no tiene capacidad para atentar).
Según la prensa del patrón, hay ya 9 o 10 detenidos/as, y otros tantos
registros, entre ellos, el del Ateneo Libertario de Sants.
Seguiremos informando.
¡El Estado es el único terrorista!
¡Libertad anarquistas detenidos!
* Juego de palabras: Gosso en catalán es perro. El cuerpo policial se
llama Mossos d'Esquadra.
Tags: Catalunya, GAC (coordinated anarchist groups), Raids, Repression
Posted in Social Control
Wednesday, May 6th, 2015
Police have just announced that 3 people being held in custody were accused of terrorism. According to Czech law the minimum penalty for this crime is 12 years and it is one of the very few crimes with possible life sentence. Two other people are accused of not reporting this crime and the last two of illegal arms (police reported they found an explosive timed device made of a steel tube). The case is apparently very serious. Terrorism charge gives the police some extra power and rights.
Other people arrested are being investigated for "supporting the movement seeking to violate human rights and freedom", which is a crime designated for use against hate movements [racist/far-right].
Police released this story to the public: those accused planned an attack with Molotovs on a train transporting Hyundai cars. Two of them should have obtained
the "explosives", two others should actually attack the train, the last three should work as scouts. The attack should have taken place last November but never happened for an unknown reason, it is possible it was just delayed.
The police say that all of them belong to "Conspiracy of Cells Of Fire". All people were under surveillance at least since last September.

From ABC.
Tags: Conspiracy of Cells of Fire, Czech Republic, Prague, Raids, Repression
Posted in Social Control
Tuesday, April 21st, 2015
Monday 20 April: Last night in the early morning hours, police raided a house squatted by activists in Mariacka street, Katowice. The police used rubber bullets, smoke, and stun grenades. 21 people were beaten up and arrested. (At least 3 people were taken to hospital) The people imminently stated that they are starting a hunger strike against their detention. According to the police, the people are accused of breaching domestic peace (in an empty building!). Solidarity picket took place at 13:00 in front of the cop station at Lompy 19, Katowice. In Poznan at 14:00 solidarity picket in front of the Regional Police station, Kochanowskiego 2a.
—
Solidarity communique:
European Economic Congress in Katowice: full hotels, empty houses – Antiterrorists fighting social change
Katowice. Another day of meetings for the European elites. The subject is TTIP and hundreds of other anti-social programs, forced on people against their will. A group of anarchists and trade unionists who organize Anticongress, together with the people that need a roof above their head, have squatted one of the thousands of empty buildings, which after being 'cleaned' of the tenants awaits its demolition and transformation into an office building. On the front wall, a huge banner is hung, saying 'human capital resists!'. In the newly opened space, the 'Alternative Economical Forum' took place. The debates started on a different kind of economic politics, the kind that could reverse the trend of radical accumulation of wealth into the hands of the elites in Europe and the world. (more…)
Tags: European Economical Congress, Katowice, Poland, Police Brutality, Raids, Repression, Squatting
Posted in Social Control
Monday, March 30th, 2015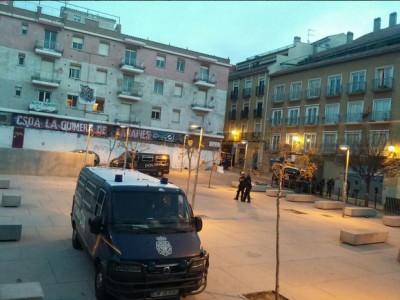 UPDATE: Operation Piñata – Five comrades imprisoned, ten conditionally bailed, address for three of the prisoners
Via squat.net:
This morning in Operation Piñata (following Pandora in December) cops have raided social centres and arrested people (at least 26) in Barcelona, Madrid, Palencia and Granada.
La 13-14 in Madrid announced it was being raided this morning.
CSOA La Redonda in Granada released a communique condemning the raids, which they said occurred without a warrant.
Centro Social (re)Okupado La Quimera in Lavapies, Madrid was evicted. It also stated no warrant was shown after its doors were smashed at 06:30 and added:

"This is just another attack on the anarchist movement with intent to criminalize and victimize our struggle."
Other raided social centres were la Magdalena and La Enredadera de Tetuán.
In solidarity!
On squat.net:
Estado español: Zarpazo represivo, al menos 26 detenciones. Desalojan el CSOA La Quimera

La policia espanyola deté 27 persones en una operació contra col·lectius anarquistes
Tags: Barcelona, Catalunya, Granada, Madrid, Operation Pandora, Operation Piñata, Palencia, Raids, Repression, Spain, Squatting
Posted in Social Control
Friday, January 16th, 2015
It was 3rd of January when after a wide operation of anti-terrorist police, the wanted comrade Ch.Xiros was arrested in the region of Anavissos. At the same time, there was detected a hideout in the same region. After a stake-out of this property cops discovered a large amount of ammunition and firearms (8 Kalashnikovs, 1 RPG, 3 rockets, hundreds of bullets, more than 150 kilos of explosives etc.), drawings regarding an escape plan of Conspiracy of Cells of Fire members and a fake ID of comrade Angeliki. (who was visiting members of CCF in prison). The very same night EKAM (special forces of anti-terrorist police) and officers of anti-terrorist police raided all the cells of CCF members in prison, and the comrades Christos Tsakalos and Gerasimos Tsakalos, as well as the comrades Spiros Mandilas and Andreas Tsavdaridis, were transferred to a solitary confinement wing in a dungeon under Korydallos prison where there are no other prisoners.
In the next days, the anti-terrorist police declares comrade Angeliki is a fugitive and starts an intense man-hunt for her arrest (after giving her photo in publicity through all TV channels), and they discover another safehouse in the region of Loutraki where they found dozens of ready-made bombs, a gun, and two stolen vehicles (1 jeep and 1 van).
The Minister of Public Order and the Chief of Police are making official statements announcing that police managed to prevent an escape plan of the members of Conspiracy of Cells of Fire. According to this announcement, some comrades would attack and blow up the outside wall of the prison wing that members of CCF were held in, with a mega-bomb of 150 kilos of explosives put in a trapped vehicle (stolen van) and with the Kalashnikovs and the RPG would strike armed guards at the guard-houses of the prison.
After that, they would escape with CCF members in stolen vans which they intended to change with other stolen vehicles during the route of escape with the safehouses as destinations.
The imprisoned members of CCF published two texts ("It was worth a try", "Communique of War") in which they express their solidarity with comrade Angeliki and they closed with the phrase "Nothing is over…. Everything continues."

Freedom to the imprisoned members of Conspiracy of Cells of Fire
Solidarity with the fugitive comrade Angeliki
Comrades in solidarity
Tags: Andreas Tsavdaridis, Athens, CCF Escape case, Christodoulos Xiros, Christos Tsakalos, Conspiracy of Cells of Fire, Conspiracy of Cells of Fire : Imprisoned Members Cell, Gerasimos Tsakalos, Greece, Raids, Spyros Mandylas
Posted in Prison Struggle
Monday, January 12th, 2015
On January 10, 2015, in the club "Pirates" there was supposed to be a concert of several punk bands including Italian "Kalashnikov".
However, on information received from witnesses, this never happened. Approximately during the middle of the set of the first band, the club was surrounded by police cars and "branded" vans of Riot police without numbers. Front doors were locked, people were banned to leave the building. After that riot police in masks broke into the building. Without explanations they put everyone face to the walls with hands behind the head. This was followed by ID check and control of personal belongings. The whole procedure took around one hour and a half with constant video recording from police. Distro with anarchist and other political literature was of particular interest for them – they were searching for owners of items without any success. However they confiscated all the items from distro including political books, musical CDs and Vinyls. The whole raided as abruptly as it had begun: after checking everyone they left the place without any explanations.
3 detainees reported after this. The concert just ended before it could even begin. Apparently the preparation for the elections of the President of the Republic of Belarus has already begun.
Update on yesterday's raid on the concert:
3 people were detained who were selling items at the distro table. Initially, all of them were charged with distribution of extremist materials, later one of the detainees was released, but on Monday there will be court on minor Hooliganism. The trial of two other detainees will also be held on Monday in Minsk. Pre-court will be held at 11:00. Till the trial 2 people will stay in jail.
–
On January 12 in Minsk court have ruled on three cases of people detained on Saturday at New Year Punk Show. All the three people were charged with minor hooliganism, two of them were additionally charged with distribution of extremist materials. During the court the Judge have found violations in protocols on distribution of extremist materials so the documents were send back to police to fix the violations.
The Hearing started with Judge forbidding friends and comrades to enter the court room. However several people managed to go through and observe the process. All the detainees were accused of swearing at the moment of riot police entrance to the club. They all accepted the charges. The result was not so optimistic: the girl got around 100 euro fine, two guys were sentenced to 10 days in prison. It is still unclear when the hearing on distribution of extremist materials will be held.
One of the detainees reported that he was beaten up in police station.
http://abc-belarus.org/?p=5480&lang=en
Tags: Belarus, Fuck the Law, Minsk, Punx, Raids, Repression
Posted in Social Control