Posts Tagged 'Raids'
Thursday, February 13th, 2020
via ContraMadriz:
We are at war
29th of May and 19th of October of 2018: Police raids in Madrid and Palencia related to the repression against the riots of Hamburg against the G20 summit in July 2017 take place. This police operation was coordinated at an European level, with a lot of cooperation between different states. Attacks in response to these police raids happen all around Europe, and they are still happening.
29th of October of 2018: Two anarchists are arrested in Madrid accused of burning a Bankia ATM the 11th of april of that same year. This action was done in solidarity with Lisa, an anarchist who is actually in prison for robbing a bank in Germany. A lot of banks receive the solidarity of the anarchists.
25th of April of 2019: An anarchist is arrested accused of attacking VOX headquarters in Madrid with a hammer. Several political headquarters are attacked during the election campaign.
13th of May of 2019: Antiterrorist operation against the anarchist movement in Tetuán (Madrid). Two anarchists are arrested under the charge of terrorism. Police break into a house and the Espacio Okupado Anarquista La Emboscada. Different attacks in solidarity happen all around the State.
During all 2019: There is an increase of evictions of squatted spaces all around the state. Dozens of people are arrested and are waiting for trial. Attacks and riots in defence of those squatted spaces.
Solidarity-Complicity- Attack.
No rest for the Exploiters.
No rest for the Power.
No peace for the State.
Tags: Flyposter, International Solidarity, La Emboscada, Lisa, Madrid, Palencia, Raids, Repression, Sabotage, Spain, Tetuan
Posted in Social Control
Tuesday, February 11th, 2020
On July 8th, 2019, the New Democracy government of Kyriakos Mitsotakis assumed power in Greece, after campaigning on a promise to 'clean up' the central Athens neighbourhood of Exarchia, and 'take it back' from the anarchists.
Since then, the Greek state has launched a renewed attack against the anarchist and self-organized migrant movements, targeting squats and promising future raids. Against this threat, Greek anarchists have responded with characteristic resolve and determination.
Featuring interview with Pangiotis Varthalis of the squat Lelas Karagiannis 37
Translated by Boubouras (Act For Freedom Now)
Tags: Alexis Grigoropoulos, Athens, Counter-info, Exarchia, Greece, International Solidarity, Lelas Karagianni 37, Migrant Struggle, Racism, Raids, Repression, Riots, Sabotage, Squatting, Video
Posted in Autonomy
Tuesday, December 24th, 2019
Precautionary eviction of La Emboscada
Thursday, December 19th.
Hello comrades!
We write this statement from La Emboscada (Tetuán, Madrid), to inform that the last December 17th a judge ordered our precautionary eviction from a denunciation made by one of the owners of our Anarchist Squatted Space La Emboscada.
According to this notification, the eviction could be very close, in less than twenty natural days. Considering this information, we decide to fight with all our capacities to stop this eviction. So we call to the eviction day for a concentration in the afternoon, at 20h and we count with your support. The place of the concentration wont be public until the last moment, so we encourage you to be aware.
We decided not to remain silent while we see tens and tens of eviction processes both to living spaces and social centers. We decide not to give up neither deal with those people that want to defend their private property over everything, because we know that private property only looks for the individual profit of some, and we know that the State defends and supports this old class enemies that are already known.
We know that this case is not an isolated one (we count with all the previous facts happened in the last year) but it responds to a functioning and normal capitalist structure. We know that the owner is not the devil who escapes the norm or the common sense accepted by most citizens. So we have decided to approach it as a conflict more to face and with all the motivation and mutual aid that we could get all together with those who understand and show solidarity with the struggle against Capitalism, the law and the State.
We decide to defend squats as a tool to attack private property. This attack that every time becomes more difficult, but we only think in creating new formulas to get that they don't bury our will to continue fighting and squatting. We know that we can't do this without you. We know that solidarity and direct action against speculation are our better weapons.
So we encourage you to be aware to the next callings, to come to the space and the possible events that we could organize, defending the squats.
Against the reinforcement of laws to our dis-articulation and criminalization, now more than ever: Squat! Against gentrification and speculation: Squat and resist!
Tags: Eviction, La Emboscada, Madrid, Raids, Spain, Squatting
Posted in Social Control
Thursday, December 19th, 2019
From Anarchists Worldwide:
Athens, Greece: The Greek government has gone into war with anarchists and anti authoritarians, following the end of a 15 days ultimatum issued by the Ministry of "Public Order", towards the dozens of political and refugee squats across Greece (some of them more than 30 years old), threatening them with violent evictions by the riot police and police special forces, if they did not evacuate within the deadline. The deadline ended on Thursday night on the 5th of December 2019, a political decision by the Greek State aiming to agitate and create an "explosive atmosphere".
Following the first wave of attacks and evictions, mainly against squats housing refugees during the fall, the second wave of attacks has just begun, this time against political squats and social centers. Coinciding with the arrest of antifascists and the proposed judicial acquittal of Neo Nazi leaders in the Golden Dawn trial, the right wing Greek government and its self proclaimed socialist Minister of Public Order have proceeded with the eviction of "Kouvelou Mansion" Squat in Marousi, Athens on Tuesday 17 December, while another three squats have been evicted today December 18th, in Koukaki, Athens, following a massive police operation, that terrorized a whole neighborhood with police brutality, attacking people living in adjoining houses that were no squats. Brutal images of Greek SWAT policemen having their boots on people's heads on the ground and a mother bound on the floor of her terrace with a hood on her head, reminiscing of Abu Ghraib torture images, have been circulated in the media.
While this info text is being written it has become known that at about 22:00 today 18 December, people attacked shops and banks near the main square of Athens at Syntagma, while also the Christmas tree at Exarcheia Square in Athens has been set on fire [Note from Anarchists Worldwide: see second video]. While the Greek government has proclaimed that more than 20 squats, just in Athens, will be violently evicted until the end of 2019, the police attacks seems like the match that will put fire in an already explosive situation during Christmas and New Year's festivities.
Tags: Arson, Athens, Demo, Eviction, Greece, Kouvela, Raids, Sabotage, Squatting
Posted in Direct Action
Wednesday, November 27th, 2019
21/11/2019
PUBLIC STATEMENT
Since Saturday 9th of November, following the police raid at a man's home, which has been his declared residence for many years, this man and one more, a persecuted fighter and political prisoner in the past, have been incarcerated in the cells of the Greek state, facing heavy charges. The regime's propaganda media, which take on the job of spreading the scenarios of the repression mechanisms, portray the two arrested as well as myself as members of the armed organization Revolutionary Self Defense, who have been preparing, according to the suspicions of the "counter"-terrorist agency, new attacks. Starting from these arrests and with the added excuse of the search for me, the state has unleashed a mass operation of terrorism against anarchists and the wider social movement. Such efforts, which are pillars of the timeless counter-revolutionary strategy of the rulers, have been dealt with several times by the movement, by its stamina, its broad solidarity and by continuing and intensifying the struggle. Being at the epicenter of this operation I ought to make a public statement about my political stance and the characteristics of the regime's current aggression that is directed against society and the movement.
In addition, the condition of the two imprisoned persons (who are now political prisoners since they are persecuted in the framework of such an operation), my personal responsibilities, and justice urge me to speak publicly about the real background of the facts.
By definition, an organization of armed resistance needs arms. However, the weapons by themselves do not constitute an organization. Even a weapon that has been identified as a tool of a specific organization and which, as such, carries a symbolic value on top of the practical capacity of every weapon, is not sufficient, by itself, to maintain an organization of political activity. Rather, what is necessary is a collective body that carries on the public presence of the organization through its deeds.
It is an objective fact that the organization Revolutionary Self Defense has been inactive for years. By reading its public texts and particularly its specific political goals, one comes to the undoubted conclusion that for a long period the particular organization has abandoned its field of struggle. For sure, there has not been a lack of occasions to act. The capitalist aggression has been ceaselessly intensified, by all governments. The subordinate classes are sucked dry for the sake of the banking system for over a decade. Killings continue at the hands of state murderers and bosses. Just like the police murders of Zak Kostopoulos and Ebuka Mamasubek, or the indirect killings of prisoners in the prisons and of migrants at the borders and in the concentration camps. Squats, which comprise the open bases of the anti-capitalist movement, spaces in which the world of solidarity, equality and freedom is built here and now, are receiving one attack after the next from the beginning of the SYRIZA government until today. Throughout the globe, the oppressed are revolting and fighting, having to face the murderous counter revolutionary state mechanisms. In Latin America, anarchists and indigenous peoples are abducted and executed by order of multinational companies. (more…)
Tags: Athens, Dimitris Chatzivasileiadis, Greece, Letter, Organization for Revolutionary Self-Defense, Raids, Repression
Posted in Prison Struggle
Tuesday, November 12th, 2019
On November 9th, 2019, an anti-terrorist operation led to two arrests, charging them with robbery and involvement in a terrorist organization. At the same time, authorities are looking for another comrade in order to give him the same accusations, while arresting a close female comrade on lesser charges.
FREEDOM TO THE THREE COMRADES CHARGED.
STRENGTH TO THE COMRADE WANTED FOR THE SAME CASE.
Message from anarchist comrade Vangelis Stathopoulos from the GADA central anti-terrorist headquarters:
Once again I find myself in GADA accused of acts that do not concern me and in fact it is because I have not stopped fighting against the state and power. The scenarios elaborated by the counter-terrorism do not bother me. I will continue to fight steadfast either outside or inside the prisons.
Vangelis Stathopoulos – GADA dungeon

[From actforfree.nostate.net].
Tags: Athens, Greece, Letter, Organization for Revolutionary Self-Defense, Raids, Repression, Vaggelis Stathopoulos
Posted in Social Control
Monday, October 14th, 2019
On October 4th, 2019, at dawn, the Genoa ROS (special operations of carabinieri) turned up at the homes of two comrades in Genoa with search warrants. They went back to one of them on October 10th to seize material they had forgotten – a computer, two modems, an USB key, a paper draft of this writing.
The warrant reads: "under investigation for offences concerning articles 110, 423, 270bis, committed in Genoa on July 30th, 2019". [Articles of the Italian penal code that correspond to: "participation in the same crime", "fire" and "subversive association with the purpose of terrorism or subversion of the democratic order"].
Through local web news we learn that we are accused of setting fire to an ENI car [energy company], an action that was followed by a claim published in counter-information websites. (more…)
Tags: ENI, Genoa, Italy, Raids
Posted in Social Control
Thursday, October 3rd, 2019
DEBRIEFING TEXT OF THE OPEN ASSEMBLY OF SQUATS, COLLECTIVES, INTERNATIONALISTS, MIGRANTS AND SOLIDARIANS
This text is a debrief of the actions of the open assembly from its beginning right after the evacuation of four squats in Exarchia on 26/8 until the demo of 14/9, where four arrests took place.
The evictions of 26/8 were not left unanswered, as hundreds of comrades made a spontaneous demo from Exarchia to Psyrri. The next day, the assembly calls for a solidarity gathering at the courtrooms for the three arrested people of Gare, and, the afternoon, for a solidarity gathering for the detained migrants in Petrou Ralli.
On 29/8 we made a solidarity rally in front of Mpoumpoulinas migrant housing squat, while the next morning at 4am the squat began to be barricaded and solidarians started gathering outside, acting as a bulwark against a possible eviction. On Saturday, August 31st, the assembly supported the march around Exarchia with a bloc of its own. The next action was to break the blockade around the steki of anarchist immigrants with a support rally and hanging a banner. Next, in preparation for the march against state repression on 14/9 at Propylaia, four kinds of posters, calls and texts in five different languages were printed, and then posted and given out in neighborhoods, universities, schools and squats. Actions culminated with the informational intervention of a hundred comrades at the hip-hop festival in Technopoli, Gazi, on 6/9.
(more…)
Tags: Athens, Demo, Exarchia, Greece, Raids, Repression, Squatting
Posted in Autonomy
Tuesday, September 24th, 2019
On Friday, September 20, 2019, the notorious executioners of the Turin police headquarters went back to work directing their puppets in various cities to carry out three arrests, order 11 proibitions of abode and overturn several houses.
The charges are specific to this damn system. Having expressed anger and dissent over the arrests of comrades in Turin and against the eviction of Asilo Occupato [operation "Scintilla", February 7, 2019] translates into the allegations of resistance, injury and damage [for the demonstration on February 9, in Turin].
The three comrades arrested are currently in the "Le Vallette" prison, where solidarity has already been heard with a roaring greeting.
The addresses to make us feel again are:

Ammanuel Francesco Rezzonico
Federico Daneluzzo
Patrick Bernardone
C. C. "Lorusso e Cotugno"
via Adelaide Aglietta 35
10149 Torino
Italia [Italy]
Updates will follow and in the meantime… let initiatives abound!
Some comrades
Tags: Italy, Milan, Raids, Repression, Turin
Posted in Social Control
Saturday, August 31st, 2019
We provide an update on recent events in Exarcheia, Athens, following the beginning of the first major repressive attack upon the squats by minions of the Greek state, ordered by Prime Minister Mitsotakis* and the far-right New Democracy party that begun on 26th August. Below follows a text released on Athens Indymedia:
On the morning of 28th August, around 02:30, a group of 30 anarchists, attacked MAT at Tositsa/Trikoupi streets with molotovs.
The attack happened as two groups of comrades: the first group of comrades attacked MAT from Tsamadou street and burned them in Tositsa street, while the cops were next to the squatted steki of anarchist immigrants. (more…)
Tags: Athens, Exarchia, Greece, Molotovs, Raids, Repression, Squatting
Posted in Autonomy
Thursday, August 29th, 2019
(IT) Atene, Grecia: Lo Stato greco ha iniziato gli sgomberi di edifici occupati da anarchici e persone migranti nel quartiere di Exarcheia
The first major repressive attack against Exarcheia by the far-right wing New Democracy Party began on the morning of August 26, as police arrested 143 people from four different anarchist and refugee squats.
The following are English translations of statements by the German-language website The Hydra World and Devrimci Anarşist Faaliyet (Revolutionary Anarchist Action), an anarchist group, based in Turkey.
The Attack Has Begun – First Evictions of Squats in Exarcheia
The first wave of attack against autonomous life in Exarcheia is part of a massive plan to transform the area into the Montmartre of Athens… an operation that is scheduled to take five years. At the end of the tunnel is the successful construction of the Exarcheia Metro Station. Intermediate stations along the way to this are the eviction of squats, the expulsion of refugees and the enforcement of full police control over Exarcheia. To support the police actions, an intervention force was formed from various parts of the city administration – from cleanliness to environment to city infrastructure. Graffiti is to be removed, smart lanterns installed and the dismantling of "Anarchy in Exarcheia" organized. (more…)
Tags: Athens, Eviction, Exarchia, Greece, Migrant Struggle, Raids, Repression, Squatting
Posted in Social Control
Tuesday, July 23rd, 2019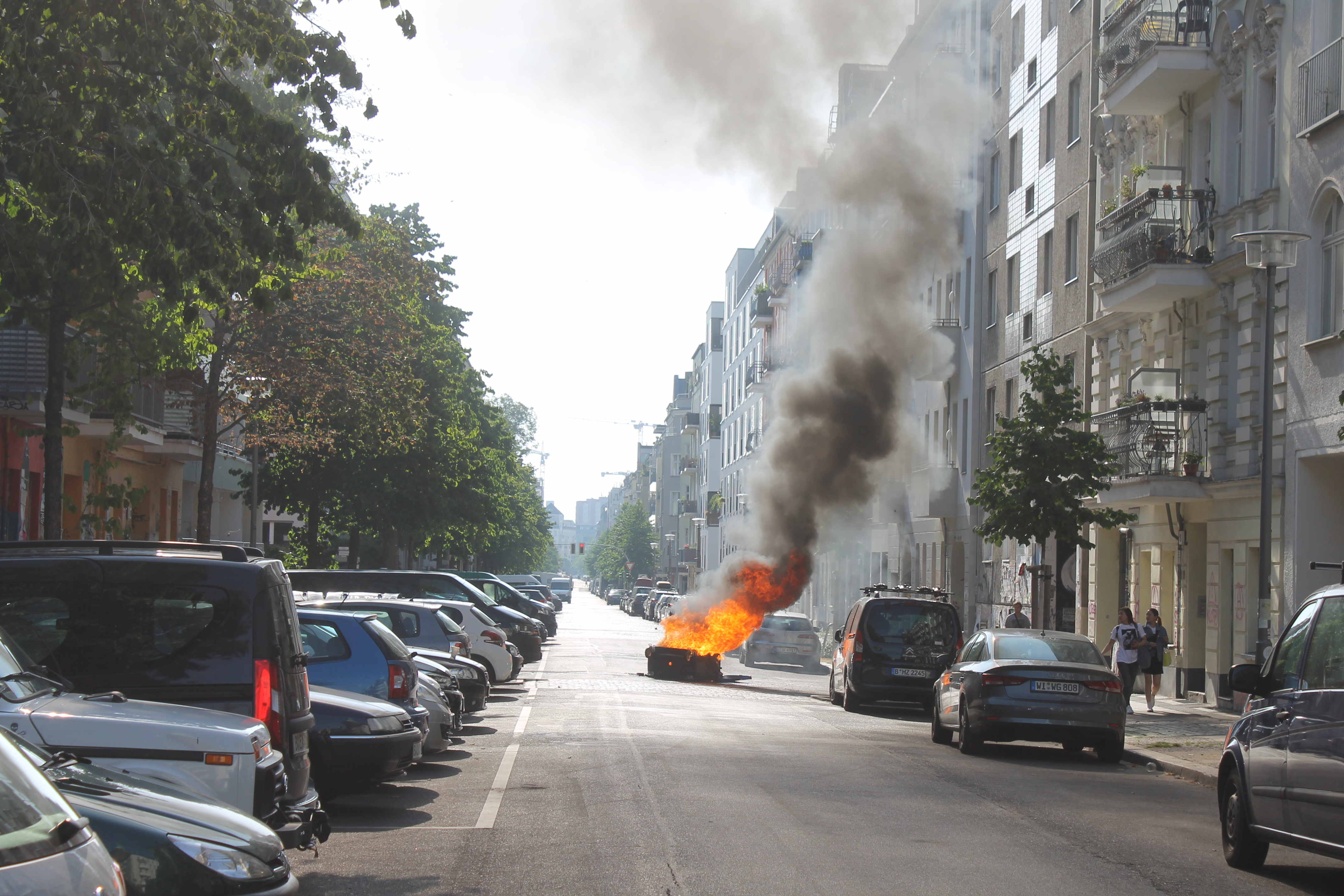 This morning [20/7], the cops of the LKA 5.21 unit under the command of Kranich raided Liebig34. Unusual was the saturday, unusual the mix of units from different departments. New were a few civil cop faces, not new: the repression.
The reason for this raid was probably stones thrown from the house during the last few weeks. After the cops collected stones from the Dorfplatz around 2:30 this morning, they obtained a court order and search warrant to search part of our house and returned around 6:30 a.m.. They came through the backyard and the front door, sawed the doors and barris, picked them up and thus forcibly gained access to our project. A lawyer was quickly on the scene and was able to observe and testify. Altogether the cops were about three hours in the house, having searched officially and intensively three connected rooms and the attic. They also snooped around in unlocked private rooms, tore posters from the walls, knocked over furniture, cut internet cables and destroyed windows. (more…)
Tags: Berlin, Germany, Liebig34/XB, Raids, Repression, Rigaerstrasse
Posted in Social Control
Monday, July 22nd, 2019
Received Saturday 20 July
This morning 6:30, the police broke into Liebig34 to search evidence and DNA in one room. The reason is an attack with stones against repression forces on Friday night. Soon after many riot police vans and a helicopter arrived, a barricade was burning in Rigaer Street. After some hours police left, no one was arrested. There is a call for resistance tonight and solidarity actions. More info as it comes.
https://twitter.com/Liebig34Liebig
https://twitter.com/rigaer94
Tags: Berlin, Eviction, Germany, Liebig34/XB, Raids, Rigaerstrasse
Posted in Social Control
Saturday, February 23rd, 2019
At the beginning of the year everybody were shocked by "Network case" in Russia where anarchists were tortured and detained. According to the FSB, a chapter of the "Network" also operated in Belarus. The KGB hasn't publicly reacted to this statement, however, we noticed increased efforts to recruit youth associated with the anarchist movement in different parts of Belarus.
Winter
At the beginning of February 2018, the KGB started investigating a regional educational organisation Critical Thinking. One of the volunteers was summoned to an informal chat via phone – previously he had been detained together with Russian anarchist Piotr Ryabov and sentenced to a fine for "public display of Nazi symbols"[1] and the confiscation of his hard drive. At the same time, his mother was called for an informal conversation. Several friends of this volunteer were picked up by the police, questioned and later released. The police was interested in the activity of Critical Thinking, as well as attempted to force people to sign cooperation papers[2].
On February 8, the anti-extremist police in Mogilev visited parents of an activist. They were asking about their child's activity, her political interests and so on. The flat was searched with a warrant issued under a criminal case initiated in 2017, when red paint was spilt on Lenin's statue in the city. The raid happened in one more flat of parents of another activist. This activist was considered a witness on the same criminal case [3]. (more…)
Tags: ABC Belarus, Anti-Fascist, Belarus, Raids, Repression, Russia
Posted in Social Control
Friday, February 22nd, 2019
[In English and Italian language, below Italian version].
[In inglese e italiano, sotto la versione italiana].
During the night and the morning of Tuesday, February 19, 2019, seven anarchists were arrested in various places in Trentino (Italy): Agnese, Giulio, Nico, Poza, Rupert, Sasha, Stecco. One person (Sasha) was placed under house arrest while all the others were imprisoned in various prisons. The main accusations are "subversive association for the purpose of terrorism and subversion of the democratic order" (article 270bis of the penal code) and "terrorist attack" (article 280 of the penal code), with reference to some direct actions that took place in Trentino during the last few years. Other offenses of which they are accused are: "interruption of public service", "damage", "sabotage of telematic devices", "fire" and "transport of exploding material". (more…)
Tags: Italy, Operation Renata, Raids, Repression, Trentino
Posted in Social Control