Posts Tagged 'Raids'
Tuesday, July 23rd, 2019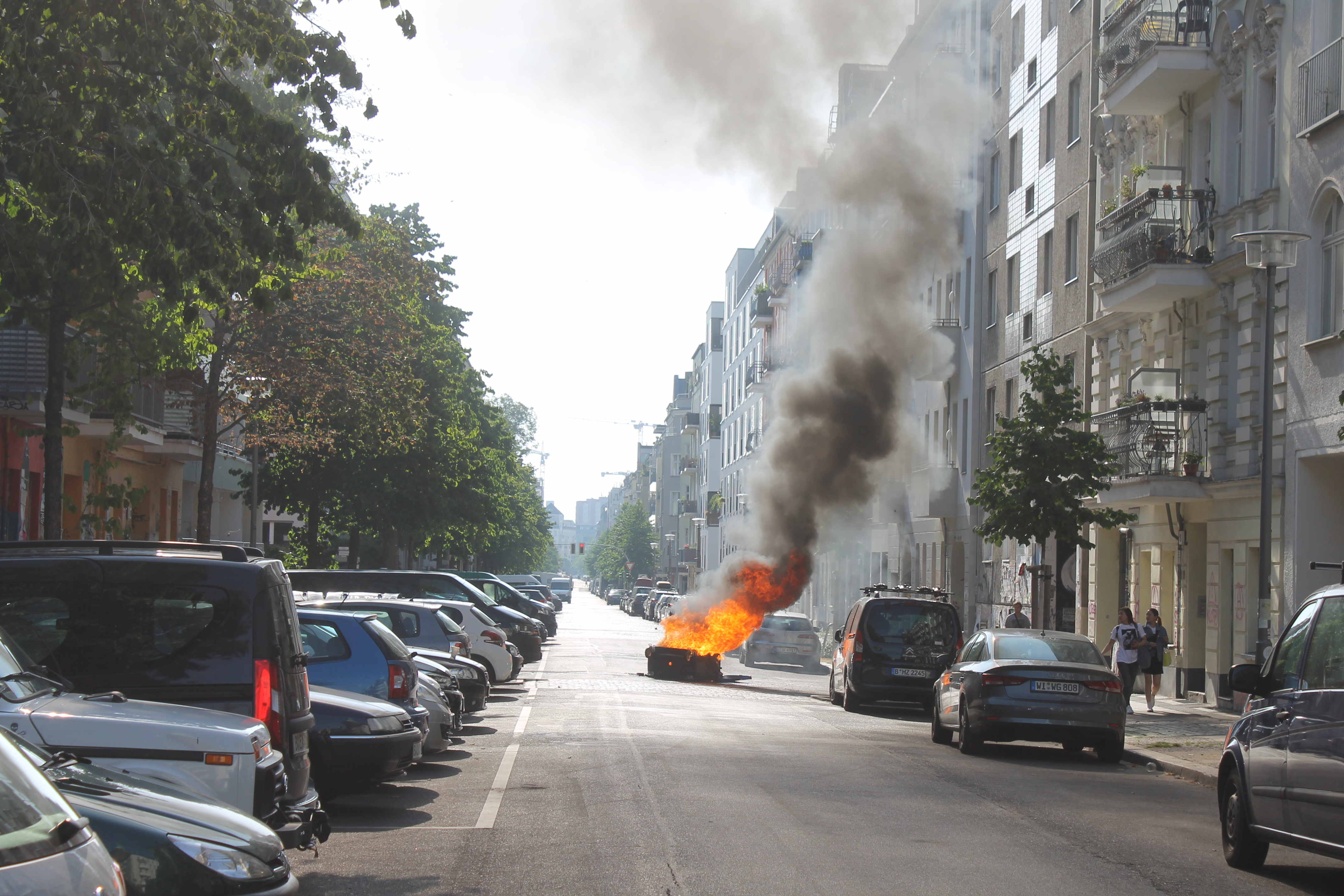 This morning [20/7], the cops of the LKA 5.21 unit under the command of Kranich raided Liebig34. Unusual was the saturday, unusual the mix of units from different departments. New were a few civil cop faces, not new: the repression.
The reason for this raid was probably stones thrown from the house during the last few weeks. After the cops collected stones from the Dorfplatz around 2:30 this morning, they obtained a court order and search warrant to search part of our house and returned around 6:30 a.m.. They came through the backyard and the front door, sawed the doors and barris, picked them up and thus forcibly gained access to our project. A lawyer was quickly on the scene and was able to observe and testify. Altogether the cops were about three hours in the house, having searched officially and intensively three connected rooms and the attic. They also snooped around in unlocked private rooms, tore posters from the walls, knocked over furniture, cut internet cables and destroyed windows. (more…)
Tags: Berlin, Germany, Liebig34/XB, Raids, Repression, Rigaerstrasse
Posted in Social Control
Monday, July 22nd, 2019
Received Saturday 20 July
This morning 6:30, the police broke into Liebig34 to search evidence and DNA in one room. The reason is an attack with stones against repression forces on Friday night. Soon after many riot police vans and a helicopter arrived, a barricade was burning in Rigaer Street. After some hours police left, no one was arrested. There is a call for resistance tonight and solidarity actions. More info as it comes.
https://twitter.com/Liebig34Liebig
https://twitter.com/rigaer94
Tags: Berlin, Eviction, Germany, Liebig34/XB, Raids, Rigaerstrasse
Posted in Social Control
Saturday, February 23rd, 2019
At the beginning of the year everybody were shocked by "Network case" in Russia where anarchists were tortured and detained. According to the FSB, a chapter of the "Network" also operated in Belarus. The KGB hasn't publicly reacted to this statement, however, we noticed increased efforts to recruit youth associated with the anarchist movement in different parts of Belarus.
Winter
At the beginning of February 2018, the KGB started investigating a regional educational organisation Critical Thinking. One of the volunteers was summoned to an informal chat via phone – previously he had been detained together with Russian anarchist Piotr Ryabov and sentenced to a fine for "public display of Nazi symbols"[1] and the confiscation of his hard drive. At the same time, his mother was called for an informal conversation. Several friends of this volunteer were picked up by the police, questioned and later released. The police was interested in the activity of Critical Thinking, as well as attempted to force people to sign cooperation papers[2].
On February 8, the anti-extremist police in Mogilev visited parents of an activist. They were asking about their child's activity, her political interests and so on. The flat was searched with a warrant issued under a criminal case initiated in 2017, when red paint was spilt on Lenin's statue in the city. The raid happened in one more flat of parents of another activist. This activist was considered a witness on the same criminal case [3]. (more…)
Tags: ABC Belarus, Anti-Fascist, Belarus, Raids, Repression, Russia
Posted in Social Control
Friday, February 22nd, 2019
[In English and Italian language, below Italian version].
[In inglese e italiano, sotto la versione italiana].
During the night and the morning of Tuesday, February 19, 2019, seven anarchists were arrested in various places in Trentino (Italy): Agnese, Giulio, Nico, Poza, Rupert, Sasha, Stecco. One person (Sasha) was placed under house arrest while all the others were imprisoned in various prisons. The main accusations are "subversive association for the purpose of terrorism and subversion of the democratic order" (article 270bis of the penal code) and "terrorist attack" (article 280 of the penal code), with reference to some direct actions that took place in Trentino during the last few years. Other offenses of which they are accused are: "interruption of public service", "damage", "sabotage of telematic devices", "fire" and "transport of exploding material". (more…)
Tags: Italy, Operation Renata, Raids, Repression, Trentino
Posted in Social Control
Sunday, December 9th, 2018
On the 6th of December, police and Ukrainian Security Forces arrested and searched anarchists in Kyiv, Lviv and Dnipro.
In Kiev, police searched the residence of Sergey Kovalenko (name and last name are changed). Sergey was not at home at that time. Law enforcement officers asked the mother of the activist to recognize her son on the video with the beating of Dmytro Verbych, former member of neo-nazi group C14, that happened on the 2d of May. Earlier, in April 2018, Sergey and her wife Svetlana (name is changed) were arrested during the action of solidarity with workers of Mykolaiv Shipbuilding factory. Also, police searched and interrogated animal rights and eco-activist Anna Luhova (name is changed). Anna was threatened with opening of a criminal case (296, 187, 263 of Ukrainian Criminal Code – hooliganism, brigandage, and illegal weapon possession), if she refuse to give information about members of the anarchist movement in Ukraine. (more…)
Tags: Dmytro Verbych, Dnipro, Kyiv, Lviv, Neo-Nazis, Raids, Repression, Ukraine
Posted in Social Control
Monday, July 2nd, 2018
Several people were charged with illegal usage of forest resources and distribution of extremist materials after political police with support of task forces attacked an informal anarchist encounter. Around 20 participants were at the camping site at that point.
On Saturday 30 June special task force of police attacked the camp shooting into the air. After a few minutes all the activists were forced on the ground by a crowd of people armed with machine guns and shotguns. They were accompanied by chiefs in plain clothes but wearing masks. When anarchists started asking about the reasons for this circus one of the cops said that they had a report that somebody was illegally cutting trees in the area and shooting in the forest. Other cops were answering, "you are not stupid, you understand yourself why you are here".
Tents were searched for illegal materials. Merchandise from several groups was confiscated under the pretext of distribution of extremist materials. All activists were put on their knees and filmed by the cops. (more…)
Tags: ABC Belarus, Anarchist Gathering, Belarus, Raids, Repression
Posted in Social Control
Sunday, October 29th, 2017
Grecia – Arrestado un anarquista acusado de pertenecer a la CCF y de haber participado en el ataque contra el ex-primer ministro Papademos [es]
According to info via Athens IMC, comrade Kostantino Y. has been arrested and is suspected by the security forces of being involved in the letter-bomb attack against technocrat ex-prime minister and IMF employee Loukas Papadimos which took place in May 2017. The attack led to deep wounds to Papadimos and injuries to two other people accompanying him inside the vehicle he was in. Papadimos was hospitalised for a month.
The hostage comrade was inflicted an injury to his leg early Saturday morning during his violent kidnapping by the counter-terror unit. Apparently Kostantino is going to be charged with many felonies. Today he will be taken to the investigating judge where there will be a concentration in solidarity at the court.
This repressive action by state forces won't go unanswered and comrades in the struggle internationally should be aware of this latest move.
Corporate media reported from the police that Kostantino had been under surveillance for two weeks before being caught carrying eight forged ID cards, two guns, ammunition, an explosive device rigged with a timer and gunpowder in three hold-alls, a plastic garbage bag and a fanny pack. The police spread in the media also that the comrade was clearing out a safe house rented in a false identity. The police suspect him of links to Conspiracy of Cells of Fire and implicated him in several unsolved letter-bomb actions including the attack against German Finance Minister Wolfgang Schäuble. It doesn't matter if Kostantino Y. is guilty or innocent of the charges, no comrade is left alone!
Solidarity to Kostantino G: 29/10 19:00 Polytechnic Athens
OPEN ASSOCIATION OF SOLIDARITY TO KOSTANTINO Y.
Day / Time: 29/10/2017 at 7 pm
Location: EXARCHIA / GINI
OPEN ASSOCIATION OF SOLIDARITY IN KOSTANTINO Y. FIRST CASUAL INFORMATION. ALL THERE. NO COMRADE IN THE HANDS OF THE STATE.
Tags: Athens, Conspiracy of Cells of Fire, Greece, International Solidarity, Konstantinos Yagtzoglou, Loukas Papadimos, Raids, Repression, Wolfgang Schäuble
Posted in Social Control
Friday, October 27th, 2017
Chile / Brazil: Solidarity Is Action
As has been reported in some media and blogs, at dawn on October 25th in Brazil the civil police of Rio Grande do Sul invaded anarchist spaces and homes in the context of an investigation into attacks on banks, police stations, car dealerships and headquarters of political parties carried out by anarchists over the last four years in Porto Alegre.
All of this occurred on the eve of the 8th Annual Anarchist Book Fair in Porto Alegre, that was scheduled to begin on the 27th of October but has now been cancelled until further notice in light of the events that have taken place.
The police have named this new repressive coup against anarchists 'Operation Erebo'. In Greek mythology, Erebus (blackness) was a primordial god of darkness and shadow. (more…)
Tags: Brasil, Chile, International Solidarity, Operation Erebo, Porto Alegre, Raids, Repression, Sin Banderas Ni Fronteras
Posted in Social Control
Thursday, October 26th, 2017
AGAINST OPERATION "ÉREBO"
Police started the so called "OPERATION ÉREBO" aiming to prosecute anarchists in Porto Alegre city, south region of the territory under domain of bra$silian state. This operation is an attempt to arrest anarchists that supposedly took part in informal activities since 2013.
About this case, we don't have nothing to say but the necessary:
WE DON'T SPEAK THE ENEMIES LANGUAGE
It doesn't matter if they are "guilty" or "innocent", much less if they were "right" or "wrong". Morality is the language of trials. We fight against laws, because its oppressive nature exists only for maintaining "order and progress", both responsible for human misery. We stand against prisons and therefore we do not cooperate to fill this human warehouse. So we strongly support the 10 anarchists prosecuted by the state's genocidal machine.
WE DO NOT BELIEVE THE MEDIATIC SPECTACLE
As always, the media takes advantage from this recent episode to form its spectacle. The news tries to paint anarchists as part of one single group as a way to give deputy Paulo César Jardim and his dogs from the Civil Police some credits. The moment of the rotten nation we live in is very fragile and therefore it is clear for us that media has only political interests which we despise.
THERE'S NO WAY TO ARREST AN IDEA
Neither one nor a thousand police operations will be capable to, as they say, "demobilize" our fight for freedom. Anarchy rises from the gaps of authority and technological domain, and that is why the powerful won't stop us. Our passion for freedom is stronger than every cell.

FOR TOTAL FREEDOM!!!
WE ARE EVERYWHERE!!!
Tags: Brazil, Operation Erebo, Porto Alegre, Raids, Repression
Posted in Social Control
Thursday, October 26th, 2017
This morning (October 25th) the civil police in Rio Grande de Sul executed several search warrants on residences and collective spaces in the metropolitan region of Porto Alegre (RS) to collect materials for investigation. Police allege that the addresses are linked to a group that would have carried out attacks on vehicles, political party headquarters, police stations, banks and car dealerships. The action was violent and the police assaulted the people who live in these spaces and took some of them to the police station.
There were a total of 10 search and seizure orders, where anarchist material (posters, books, banners, etc), fantasy masks, spray cans and other common objects, including plastic bottles filled with plastic bags were seized and reported as being molotov cocktails. Not even police officers are so ignorant as to think that once can make molotov cocktails with plastic bottles and without a flammable liquid. In fact these bottles were going to be used as ecological bricks for bio-construction. (more…)
Tags: Anarchist bookfair, Brazil, Porto Alegre, Raids, Repression
Posted in Social Control
Monday, October 9th, 2017
We were covering the situation in Belarus in March this year during the big protests that were happening here against the policy of the state that was forcing people to pay a fine for being unemployed for longer than six months in a year. For now the protests are over, however pressure from the government on those who were participating in the events of last spring didn't stop.
We met activists from the Belarusian anarchist and ecological movement that had to move twice in the last 6 months due to constant pressure from the police on the owners of the house. The scenario repeats itself every time. In spring, police were raiding flats and houses of the activists that were already in prison and confiscating things that nobody had a track of. Later most of the belongings were returned, but some activists had to move out of the rented flats and houses – owners of property didn't want to have trouble with the police and KGB. (more…)
Tags: ABC Belarus, Belarus, Raids, Repression
Posted in Social Control
Monday, October 9th, 2017
On the 1st of January 2017, following the explosion of a home-made bomb in front of the fascist bookshop in which a policeman from the bomb disposal unit lost a hand and an eye, several homes of comrades were searched. The police were hoping to find firearms and/or explosives. The searches didn't lead to nothing except for the seizure of pamphlets, computers, clothing and other everyday objects. An investigation against persons unknown was launched with the intention to charge them with the offences "manufacturing, possession, and transportation of an explosive or incendiary device to a public place" and "attempted murder".
The police began a separate operation called "Operazione Panico" (Operation Panic) on January 31st. At 12:30am the police knocked at the door of several comrade's houses to notify them of the enforcement of ten provisional measures. These consisted of 3 people confined to house arrest, 4 people given orders to prevent them from leaving the city and also forcing them to return by evening to their houses and to sign on a daily at the police station. And finally 3 people were given bail conditions of signing on at the police station everyday.
(more…)
Tags: Italy, Operation Panic, Pierloreto Fallanca, Raids, Repression, Salvatore Vespertino
Posted in Social Control
Friday, September 29th, 2017
11 men have been arrested by counter-terror police in the UK following an investigation into the proscribed Neo-Nazi group National Action. National Action was banned as a terrorist organisation in December 2016 by the UK's home secretary after the murder of Labour MP Jo Cox. "Death to traitors, freedom for Britain" became a slogan for the group after being said in court by Cox's killer, Thomas Mair, an anti-Semitic, far-right extremist and white power activist who was glorified in their online propaganda calling for more murders. The group has been tied to several foiled plots and far-right violence. National Action models itself on European far-right Neo-Nazi hooligan street groups and autonomous nationalist organisations, copying tactics, rhetoric and aesthetics from these extreme-right groups which learnt initially from studying the success of their enemies, autonomous anti-capitalist organisations and anarchists.
After proscription, National Action was evading authorities by taking on new names – including 'Scottish Dawn' and 'NS131', and trying to go towards newer underground tactics. It seems the raids aimed to prevent this, the operation was investigation-led and based on police work into the group post-ban and followed on from recent arrests of members of the group in the military. Anti-fascist research estimates are that up to 60 members are still currently active, down from a peak of 150 when their Neo-Nazi conference was held in Southport.
Several of the alleged National Action supporters were arrested in and around Warrington, Cheshire, in the North-West, where the group was continuing to operate a hang-out in a small brick warehouse for Mixed Martial Arts training and recruitment. (more…)
Tags: Anti-Fascism, Anti-Fascist, Antifa, Jo Cox (Labour MP), National Action, Neo-Nazis, Racism, Raids, Thomas Mair (Nazi), UK, Warrington
Posted in Anti-Fascist
Thursday, September 28th, 2017
On Wednesday more than 100 cops raided 14 apartments and a store in Hamburg and the German state of Schleswig-Holstein. The cops confiscated 7 iPhones during the raids. On October 1 there will be a demonstration to Billwerder prison in Hamburg. Many of the NoG20 prisoners are imprisoned in Billwerder. We also publish some of the addresses of NoG20 prisoners and the next trial dates. Earlier today NoG20 prisoner Orazio was released.
The cops confiscated 7 iPhones during the raids. The cops claim the iPhones were stolen as a mobile phone store was looted during the NoG20 protests in Hamburg on July 7. In a press conference the cops yesterday claimed that they are investigating 2000 people, but expect that this number will rise to 3000. Given the fact that yesterdays raids were based on located mobile phones that were allegedly stolen in a mobile phone store during the NoG20 protests, its possible that the 180 men/women strong special investigation squad "Black Bloc" actually don't seem to have that much. But activists should be aware that the cops are also investigating video material from public transport companies and that they use face recognition software to identify people. The 180 men/women strong task force will continue to investigate in order to repress as much people as possible, so stay alert. (more…)
Tags: G20, Germany, Hamburg, International Solidarity, Raids, Repression
Posted in Social Control
Sunday, January 8th, 2017
UPDATE ON THE RAIDS & INVESTIGATION HERE.
We learn from the national media of the explosion of a bomb in front of a neo-fascist bookshop in Florence and of an unspecified number of raids in homes and places of anarchist comrades. A police bomb disposal expert was wounded during the operation to defuse the device connected to a timer: the explosion led to injury of a hand and an eye [previously the media reported the amputation of the hand and loss of the eye].

In the hours following searches were conducted in the area of anarchist circles in Florence and Tuscany; at the moment there is no more information about the places affected, while reports say they have not found anything. The bomb had been discovered by a patrol of the Digos in the town involved in monitoring the bookshop near to Casapound [neo-fascist hangout], identified as a sensitive objective and already attacked in the past. The prosecutor is investigating for attempted murder.
Further updates coming soon.
informa-azione.info

Translated by Act for freedom now!
Tags: Anti-Fascism, Casa Pound, Florence, Italy, Raids, Repression, Tuscany
Posted in Social Control