Posts Tagged 'Raids'
Tuesday, April 21st, 2015
Monday 20 April: Last night in the early morning hours, police raided a house squatted by activists in Mariacka street, Katowice. The police used rubber bullets, smoke, and stun grenades. 21 people were beaten up and arrested. (At least 3 people were taken to hospital) The people imminently stated that they are starting a hunger strike against their detention. According to the police, the people are accused of breaching domestic peace (in an empty building!). Solidarity picket took place at 13:00 in front of the cop station at Lompy 19, Katowice. In Poznan at 14:00 solidarity picket in front of the Regional Police station, Kochanowskiego 2a.
—
Solidarity communique:
European Economic Congress in Katowice: full hotels, empty houses – Antiterrorists fighting social change
Katowice. Another day of meetings for the European elites. The subject is TTIP and hundreds of other anti-social programs, forced on people against their will. A group of anarchists and trade unionists who organize Anticongress, together with the people that need a roof above their head, have squatted one of the thousands of empty buildings, which after being 'cleaned' of the tenants awaits its demolition and transformation into an office building. On the front wall, a huge banner is hung, saying 'human capital resists!'. In the newly opened space, the 'Alternative Economical Forum' took place. The debates started on a different kind of economic politics, the kind that could reverse the trend of radical accumulation of wealth into the hands of the elites in Europe and the world. (more…)
Tags: European Economical Congress, Katowice, Poland, Police Brutality, Raids, Repression, Squatting
Posted in Social Control
Monday, March 30th, 2015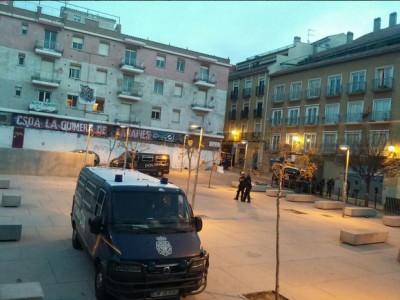 UPDATE: Operation Piñata – Five comrades imprisoned, ten conditionally bailed, address for three of the prisoners
Via squat.net:
This morning in Operation Piñata (following Pandora in December) cops have raided social centres and arrested people (at least 26) in Barcelona, Madrid, Palencia and Granada.
La 13-14 in Madrid announced it was being raided this morning.
CSOA La Redonda in Granada released a communique condemning the raids, which they said occurred without a warrant.
Centro Social (re)Okupado La Quimera in Lavapies, Madrid was evicted. It also stated no warrant was shown after its doors were smashed at 06:30 and added:

"This is just another attack on the anarchist movement with intent to criminalize and victimize our struggle."
Other raided social centres were la Magdalena and La Enredadera de Tetuán.
In solidarity!
On squat.net:
Estado español: Zarpazo represivo, al menos 26 detenciones. Desalojan el CSOA La Quimera

La policia espanyola deté 27 persones en una operació contra col·lectius anarquistes
Tags: Barcelona, Catalunya, Granada, Madrid, Operation Pandora, Operation Piñata, Palencia, Raids, Repression, Spain, Squatting
Posted in Social Control
Friday, January 16th, 2015
It was 3rd of January when after a wide operation of anti-terrorist police, the wanted comrade Ch.Xiros was arrested in the region of Anavissos. At the same time, there was detected a hideout in the same region. After a stake-out of this property cops discovered a large amount of ammunition and firearms (8 Kalashnikovs, 1 RPG, 3 rockets, hundreds of bullets, more than 150 kilos of explosives etc.), drawings regarding an escape plan of Conspiracy of Cells of Fire members and a fake ID of comrade Angeliki. (who was visiting members of CCF in prison). The very same night EKAM (special forces of anti-terrorist police) and officers of anti-terrorist police raided all the cells of CCF members in prison, and the comrades Christos Tsakalos and Gerasimos Tsakalos, as well as the comrades Spiros Mandilas and Andreas Tsavdaridis, were transferred to a solitary confinement wing in a dungeon under Korydallos prison where there are no other prisoners.
In the next days, the anti-terrorist police declares comrade Angeliki is a fugitive and starts an intense man-hunt for her arrest (after giving her photo in publicity through all TV channels), and they discover another safehouse in the region of Loutraki where they found dozens of ready-made bombs, a gun, and two stolen vehicles (1 jeep and 1 van).
The Minister of Public Order and the Chief of Police are making official statements announcing that police managed to prevent an escape plan of the members of Conspiracy of Cells of Fire. According to this announcement, some comrades would attack and blow up the outside wall of the prison wing that members of CCF were held in, with a mega-bomb of 150 kilos of explosives put in a trapped vehicle (stolen van) and with the Kalashnikovs and the RPG would strike armed guards at the guard-houses of the prison.
After that, they would escape with CCF members in stolen vans which they intended to change with other stolen vehicles during the route of escape with the safehouses as destinations.
The imprisoned members of CCF published two texts ("It was worth a try", "Communique of War") in which they express their solidarity with comrade Angeliki and they closed with the phrase "Nothing is over…. Everything continues."

Freedom to the imprisoned members of Conspiracy of Cells of Fire
Solidarity with the fugitive comrade Angeliki
Comrades in solidarity
Tags: Andreas Tsavdaridis, Athens, CCF Escape case, Christodoulos Xiros, Christos Tsakalos, Conspiracy of Cells of Fire, Conspiracy of Cells of Fire : Imprisoned Members Cell, Gerasimos Tsakalos, Greece, Raids, Spyros Mandylas
Posted in Prison Struggle
Monday, January 12th, 2015
On January 10, 2015, in the club "Pirates" there was supposed to be a concert of several punk bands including Italian "Kalashnikov".
However, on information received from witnesses, this never happened. Approximately during the middle of the set of the first band, the club was surrounded by police cars and "branded" vans of Riot police without numbers. Front doors were locked, people were banned to leave the building. After that riot police in masks broke into the building. Without explanations they put everyone face to the walls with hands behind the head. This was followed by ID check and control of personal belongings. The whole procedure took around one hour and a half with constant video recording from police. Distro with anarchist and other political literature was of particular interest for them – they were searching for owners of items without any success. However they confiscated all the items from distro including political books, musical CDs and Vinyls. The whole raided as abruptly as it had begun: after checking everyone they left the place without any explanations.
3 detainees reported after this. The concert just ended before it could even begin. Apparently the preparation for the elections of the President of the Republic of Belarus has already begun.
Update on yesterday's raid on the concert:
3 people were detained who were selling items at the distro table. Initially, all of them were charged with distribution of extremist materials, later one of the detainees was released, but on Monday there will be court on minor Hooliganism. The trial of two other detainees will also be held on Monday in Minsk. Pre-court will be held at 11:00. Till the trial 2 people will stay in jail.
–
On January 12 in Minsk court have ruled on three cases of people detained on Saturday at New Year Punk Show. All the three people were charged with minor hooliganism, two of them were additionally charged with distribution of extremist materials. During the court the Judge have found violations in protocols on distribution of extremist materials so the documents were send back to police to fix the violations.
The Hearing started with Judge forbidding friends and comrades to enter the court room. However several people managed to go through and observe the process. All the detainees were accused of swearing at the moment of riot police entrance to the club. They all accepted the charges. The result was not so optimistic: the girl got around 100 euro fine, two guys were sentenced to 10 days in prison. It is still unclear when the hearing on distribution of extremist materials will be held.
One of the detainees reported that he was beaten up in police station.
http://abc-belarus.org/?p=5480&lang=en
Tags: Belarus, Fuck the Law, Minsk, Punx, Raids, Repression
Posted in Social Control
Monday, January 5th, 2015
Breaking news from mainstream media slime reports that Christodoulos Xiros, escaped member of the Revolutionary Organisation – 17 November, has been captured by police on 3rd Jan after a stake-out of a safehouse in Anavyssos, near Athens.
The safehouse was found to contain numerous weapons: Kalashnikovs, pistols, RPG launcher with three warheads, many kilos of explosives, etc. The pigs also stated that inside the safe house there was extensive notes detailing a plan to assault Korydallos prison in Athens and free imprisoned comrades there.
Xiros was serving six life terms, plus 25 years, for his role in R.O – 17 November, which eliminated 23 targets, including Greek politicians, businessmen and British, American and Turkish intelligence and military officials, from 1975 to 2000. The group was one of the longest running and successful anti-capitalist groups in history.
Xiros is now charged with creating and being in charge of an unknown terrorist organization and with aggravated possession of weapons. Charges also included forgery, violation of detention rules, illegal firearm possession. The prosecutors also pressed charges of 'harboring a criminal' against three unknown individuals who appear to have rented the house to comrade Xiros.
Now, the pigs and their political masters have begun an anti-terror hysteria with the aid of the media, prior to the elections which will take place at the end of the month, at the same time that many imprisoned comrades are being transferred to the Greek 'Stammheim', the Type C prison in Domokos, where they are attempting to annihilate the imprisoned urban guerrillas. The pigs are searching for other comrades who may have been working with Xiros and have released the image of a fake-ID card of a woman they are searching for in connection with the case. The pigs are also trying to collect DNA and fingerprint evidence from the safehouse in the hope it will lead them to other comrades in struggle.
Comrade Xiros was forced to appear before the public prosecutor earlier today. "I don't talk to the detectives of the Troika*" said Xiros, while leaving the police headquarters of Athens to appear before the prosecutor. The comrade also said that the weapons found in the house had been secured by him and he is willing to take responsibility for them.
Xiros remained unrepentant and refused to co-operate, declaring to the prosecutor:
"Our country is under foreign occupation by the Troika and [German PM Angela] Merkel and I think it is my duty to resist. Those mechanisms supporting the occupation forces and their local collaborators, have no authority to ask me anything. Instead, as part of the mechanism, you are the ones who should apologize to the people and history."
"There is no cooperation with the mechanisms that serve the occupation and government. The Revolution will continue despite the setback I face because it is a social need." C. Xiros

INTERNATIONAL REVOLUTIONARY SOLIDARITY
–
* [International Monetary Fund – European Central Bank – European Commission]
Tags: 17 November, Christodoulos Xiros, Greece, Korydallos Prison, Raids
Posted in Social Control
Wednesday, October 8th, 2014
Inter Arma received and translated:
Today, 6/10, the last 2 of the 5 defendants who were arrested during a coordinated raid of the Counter-terrorism agency in Athens and Thessaloniki, were led to Korydallos prison (in the basement of the F wing). The two comrades are Panagiotis Michalakoglou and M.B.
The two comrades are not accused of participating in a terrorist or criminal organization neither are they related to any robberies, as the counter-terrorism agency was leaking to the press during the first days. The accusations are: aggravated possession of arms and possession of explosives (grenade).
From the first moment Panagiotis claimed responsibility for the weapons found in his house while M.B. has nothing to do with the case. Communiques written by the two comrades will follow. We stand by them with fury and conscience.

Solidarians
Tags: Athens, Greece, Korydallos Prison, Panagiotis Mihalakoglou, Raids, Repression, Thessaloniki
Posted in Social Control
Monday, February 13th, 2012
This is a communiqué written by comrades in Bologna:
Rebel or fuck off
On 27th June the forces of order evicted the Free Republic of the Maddalena [in Val Susa] in order to start the works for the construction of the high speed railway. Hundreds of NO TAV people opposed directly the military occupation of the territory. On 3rd July 70,000 people assaulted the TAV yard in Val Susa. A very special yard, as no worker could be found there but antiriot troops and police were entrenched there. This is an outstanding example of devastation of the environment, and of the interests of big capital and the mafia that goes along it. On 26th January the State arrested 32 comrades all over Italy 'for the events of those days'. An operation that means just one thing: active resistance against infrastructures, powers, armed forces and institutions that rape and impoverish the planet is considered illegal. (more…)
Tags: Bologna, Italy, Raids, Repression, TAV, Val Susa
Posted in Eco Struggle
Tuesday, January 31st, 2012
From informa-azione:
NB: The TAV is the destructive European High-Speed Railway mega-project of capitalist development which is fought across many territories. You can find the addresses of the prisoners below.
26/01/2012 – At 6:30 this morning, Thursday, January 26, 2012, a vast police operation ordered by the Public prosecutor of Turin has struck many friends, comrades, and No TAV resisters throughout Italy with arrests and cautionary measures. The practices of resistance that set off this massive operation concern conflictual episodes starting from the eviction of the Libera Repubblica della Maddalena [Free Republic of the Magdalene], passing through the siege of July 3 and the long Susa Valley summer. Of the more than 40 measures, 25 are remands in prison, 15 measures of mandatory residence, 1 detention under house arrest and 1 prohibition of residence in the province of Turin. (more…)
Tags: Bologna, Italy, Raids, Repression, TAV, Turin, Val Susa
Posted in Social Control
Monday, May 9th, 2011
The liberated space 400 Colpi was heavily hit by police on 4th May.
Communiqué from the liberated space 400 Colpi*, Florence
Results of the 4th May 2011 police raid in Florence: 5 comrades under house arrest, 17 comrades forced to report to the police station daily, the liberated space 400 Colpi searched and ransacked by the cops.
The charge: organized crime, referring mainly to situations of conflict of last autumn, and in particular unauthorized demos, occupations, damages to banks, road and railway blocks, scuffles in Novoli when we tried to kick minister Santaché out of the faculty, gatherings outside the juvenile court in solidarity with comrades on trial. (more…)
Tags: 400 Colpi, Bologna, Florence, Italy, Raids, Repression
Posted in Social Control
Monday, May 9th, 2011
Here we are writing about yet another police raid carried out by the Italian pigs on a large scale. After the searches of last month, the arrests perpetrated in Bologna and the seizure of the anarchist place Fuoriluogo, on 4th May police searched houses and squats in Florence (more than 70 searches) and put 22 people under investigation. (more…)
Tags: Bologna, Florence, Italy, Raids, Repression
Posted in Social Control
Monday, March 14th, 2011
Brief news:

Today, 14 of March in the morning, the anti-terrorist police arrested 7 people (5 men and 2 women) during an operation conducted in Athens and Volos. According to the police sources the raids are connected with the Revolutionary Organisation Conspiracy of Cells of Fire. At this same moment the operation follows; some houses continue to be searched, supposedly in one house there was found two Kalashnikov, several pistols, uniforms of police, wigs, etc. When it is possible we will try to inform more.
Tags: Athens, Conspiracy of Cells of Fire, Greece, Raids, Repression, Volos
Posted in Social Control
Monday, December 13th, 2010
Three updates, one about the trial of anarchist Giannis Dimitrakis, and another about the 6 arrested alleged "terrorists" who are held hostage in huge media-spectacle-process, accused of being members of armed groups, lastly an update about the connected raid of the Nadir squat in Saloniki : (more…)
Tags: Athens, Giannis Dimitrakis, Nadir Squat, Raids, Repression, Sect of Revolutionaries, Thessaloniki
Posted in Prison Struggle
Thursday, May 20th, 2010
Turin – 4 occupations searched, 3 people arrested and others to house arrest.
Waiting for news, we communicate that, around 6am of the mourning, the Digos (political police) has searched many occupations (Asilo, Barocchio, Mezcal, Askatasuna) and houses, arresting three people, notifing some house arrests (it seems they're 4 people) and to others, the requirement to sign in at the local police station. The repressive operation it's a revenge for the riots occurred on the first eviction of L'Ostile, the restricted measures are emaned by PM Rinaudo. … (more…)
Tags: Italy, Occupied Spaces, Raids, Repression, Turin
Posted in Social Control