Posts Tagged 'Repression'
Sunday, February 17th, 2019
Recibido por correo electrónico
A principios de julio de 2017 tuvo lugar en Hamburgo la reunión del g20. Representantes de los países dueños de la economía mundial, planeaban durante dos días como seguir manteniendo ese sistema de miseria, explotación y muerte. Manifestaciones, bloqueos, sabotajes, enfrentamientos con las fuerzas del orden, saqueos… (al igual que ataques descentralizados las semanas previas) pretendieron, y lograron durante muchos momentos, interrumpir el normal funcionamiento de esta cumbre.
El 6 de junio, el día que llegaban los políticos, acompañados de sus más de 6000 delegados, seguidos en todo momento por más de 3000 periodistas y protegidos por unos 10000 policías, estaba convocada una manifestación anticapitalista bajo el lema de Welocome to Hell. (more…)
Tags: G20, Germany, Hamburg, International Solidarity, PDF, Repression, Spain, Zine
Posted in Library
Sunday, February 17th, 2019
Summary of the recent repressive operation in Italy in connection with the resistance against the Italian migration regime

This is a translation of an original article in German, with pictures.
On Thursday 7 February 2019, at 4:40 a.m., the eviction of the squat "Asilo occupato" ("the occupied kindergarden") in Via Alessandria 12 in Turin, occupied since 1995, began. The eviction was carried out as part of the "Operazione Scintilla" ("Operation Spark"). Several hundred
Carabinieri in riot gear, police officers and Guardia di finanza with machine guns and plain clothes police not only evicted the house, but also arrested six anarchists. A seventh person is still being searched for.
The charges are serious: formation of a subversive association, incitement to crime and the possession, manufacture and transportation of explosives in a public place. The charges are related to the resistance against the Italian migration regime, namely against the deportation camps/prisons CPR and CIE (Centro per l'Immigrazione e il Rimpatrio = Immigration and Repatriation Centre; Centro di identificazione ed espulsione = Identification and Deportation Centre), more information below. (more…)
Tags: Asilo Occupato, Italy, Migrant Struggle, Operation Scintilla, Repression, Squatting, Turin
Posted in No Borders
Sunday, February 17th, 2019
Solidarity fund for imprisoned and persecuted militants is a structure from Greece, which for the past 9 years has been actively organizing the political, ethical and material support of imprisoned and persecuted revolutionaries. Due to the immense amount of money we have to collect and send _each month_ to the imprisoned comrades in order to cover their needs inside the prisons, and thus the tough financial situation we're facing, we decided to use the firefund platform.
Firefund is an online crowdsourcing platform, run by activists, in order to fund radical causes. You can donate safely either by using credit card or with cryptocurrency (ether). Also if you want you can choose to contribute an amount to the team that administrates the platform.
The link of our campaign is this: https://www.firefund.net/prisonsoli
You can find more info about us and why we choose to use firefund in the link.
The contribution of each and every one who wants to help our cause is ESSENTIAL. While we also believe that it's rather important to forward this initiative to anyone with whom we may not have contact with. To any comrade/collective who stand with solidarity against oppression.
Solidarity fund for imprisoned and persecuted militants from Greece
(for contact: tameio (at) espiv (dot) net)
Tags: Greece, International Solidarity, Repression, Tameio
Posted in Prison Struggle
Sunday, February 17th, 2019
1. Did the FSB use a neo-Nazi agent provocateur in their case against Russian anti-fascists? ("Network" Case)
2. Moscow Anarchist Azat Miftakhov: Arrested, Tortured and Missing
3. Torture First, Ask Questions Later (The Case of Azat Miftakhov)
4. "Expressive Eyebrows": Azat Miftakhov Jailed After Secret Witness Testifies
Tags: Azat Miftakhov, FSB, Neo-Nazis, Repression, Russia
Posted in Social Control
Wednesday, January 9th, 2019
We have prepared another video: Radical Anarchists in the BUR 2018 (Eng)
Video on Anarchy Today: https://a2day.net/radical-anarchists-in-the-bur-2018/
Tags: "Network Case", Belarus, Repression, Russia, Ukraine, Video
Posted in Autonomy
Monday, December 17th, 2018
On November 19th 2016, a group of 250 demonstrators joined at the Kerkplein to demonstrate against the growing repression against anarchists and antifascists in The Hague and further. Repression being the always prohibiting of demonstrations and the identifying of anarchists and antifascist to then take repressive measures against them. This demonstration has also been repressed with violence from the police and with the arrest of 166 people.
Now, almost two years later the public prosecutor decided to prosecute the 166 demonstrators that were arrested at the Kerkplein. The first 50 people had to show up in court last month. After two full days in court, the judge ruled on December 3rd and the first 50 people were acquitted. Yesterday (13/12/2018) the public prosecutor decided not to appeal and to dismiss the remaining cases.
The court case
During the court case that lasted two days, a few things became clear. The police ended the demonstration at the Kerkplein, because some people were wearing face covering. In court it became clear, as our lawyers had already put forward, that there was no restriction on face coverings imposed by the mayor. (more…)
Tags: Den Haag, Repression
Posted in Social Control
Thursday, December 13th, 2018
Note from the Chilean blog Publicacion Refractario: Despite the continuous contradictory information that has come to us from different factions regarding the detained comrades on the other side of the mountain range, which is related to the fact that their situation is not being publicized- their names, the charges, everything that happened has been silenced. We prefer to publish the communique from the 'Union of Lawyers and Attorneys' who are quite clear about the recent events that have taken place in the Argentine territory… Against silence and indifference: To spread the insurrectionist anti-prison solidarity.
All the detained anarchists defended by our union have been processed and placed in preventive detention.
In total there are 12 anarchist political prisoners.
One is accused of throwing an explosive device at Judge Bonadio's car. His name is Marco Viola.
Two others are accused of having attacked the tomb of the criminal chief of the Federal Police Colonel Ramón Falcón. Their names are Anahi Salcedo and Hugo Rodriguez.
There was a raid on a social center in the Barrio of Constitución, in CABA (Autonomous City of Buenos Aires) and all they detained everybody who was meeting in this place, some with more permanence, others circumstantially.
ALL OF THEM have been accused of EVERYTHING.
They are all under investigation for being part of an organized structure established and created to commit offences among which are those that we have already mentioned.
Bail was refused for all of the detainees.
Now Judge Ercolini has indicted all of the accused.
The prosecution ruling for PREVENTIVE DETENTION was passed.
They have ordered that ALL the anarchist detainees remain imprisoned for their trial.
The Union will appeal the resolution.
Union of Lawyers and Attorneys.
December 2018
Tags: Anahi Salcedo, Argentina, Buenos Aires, Hugo Rodriguez, Marco Viola, Repression
Posted in Social Control
Tuesday, December 11th, 2018
Deutsch | Arabisch | Türkisch | Farsi | Englisch
Hallo liebe Freund*innen,
wir möchten am Samstag, den 15. Dezember 2018, gemeinsam von Berlin aus
zur "Freiheit für Musa Aşoğlu"-Demo nach Hamburg fahren. Hierzu treffen
wir uns am 15. Dezember um 7.30 Uhr am Ostbahnhof, Gleis 7. Wir besorgen
uns zusammen Wochenendtickets. Der Zug fährt dann um 7.52 Uhr ab. Wir
wären dann pünktlich in Hamburg, wo die Demo um 12 Uhr vor der Roten
Flora beginnen soll. Im Anschluss an die Demo würden wir gemeinsam
wieder zurück nach Berlin reisen.
Musa Aşoğlu wurde am 2. Dezember 2016 verhaftet und befindet sich
seitdem in Hamburg in Isolationshaft. Ihm wird nach §129b
(Mitgliedschaft in einer verbotenen terroristischen Vereinigung)
vorgeworfen, Mitglied der in der Türkei kämpfenden DHKP-C (Revolutionäre
Volksbefreiungspartei-Front) zu sein. Dass Oppositionelle in der Türkei
verfolgt, gefoltert und ermordet werden, stört die BRD in keinster Weise
– ist er doch enger Verbündeter und politischer Stabilidsator des immer
offener faschistisch agierenden Regimes in der Türkei.
Der §129b-Prozess gegen Musa Aşoğlu dauert seit dem 25. Januar 2018 an
und wir gehen davon aus, dass dieser im Frühjahr 2019 enden könnte.
Wir möchten Musa Aşoğlu und alle §129b-Gefangenen durch unsere
Teiilnahme an der Demo supporten. Schließt euch uns an. (more…)
Tags: Berlin, Demo, DHKP-C (Democratic People's Liberation Party-Front), Germany, Hamburg, Musa Aşoğlu, Repression, Trial, Turkey
Posted in Prison Struggle
Sunday, December 9th, 2018
On the 6th of December, police and Ukrainian Security Forces arrested and searched anarchists in Kyiv, Lviv and Dnipro.
In Kiev, police searched the residence of Sergey Kovalenko (name and last name are changed). Sergey was not at home at that time. Law enforcement officers asked the mother of the activist to recognize her son on the video with the beating of Dmytro Verbych, former member of neo-nazi group C14, that happened on the 2d of May. Earlier, in April 2018, Sergey and her wife Svetlana (name is changed) were arrested during the action of solidarity with workers of Mykolaiv Shipbuilding factory. Also, police searched and interrogated animal rights and eco-activist Anna Luhova (name is changed). Anna was threatened with opening of a criminal case (296, 187, 263 of Ukrainian Criminal Code – hooliganism, brigandage, and illegal weapon possession), if she refuse to give information about members of the anarchist movement in Ukraine. (more…)
Tags: Dmytro Verbych, Dnipro, Kyiv, Lviv, Neo-Nazis, Raids, Repression, Ukraine
Posted in Social Control
Friday, December 7th, 2018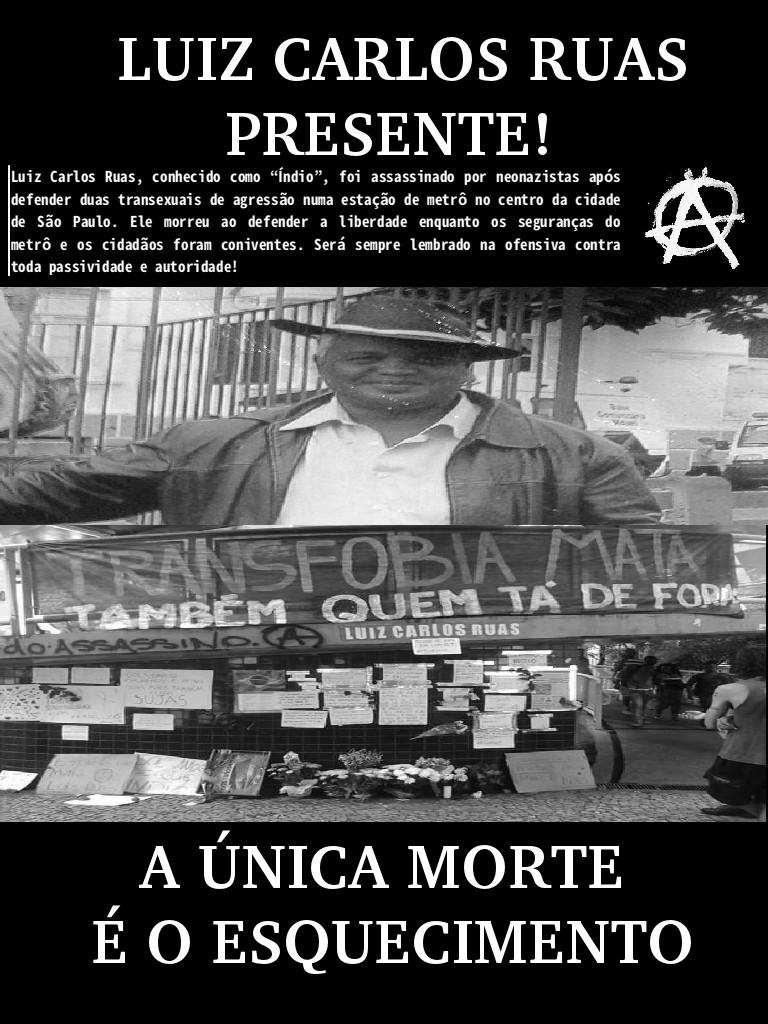 Luiz Carlos Ruas presente, the only death is oblivion.

Luiz Carlos Ruas, aka Indio, was murdered by neonazis after defending two trans people from aggression in a central subway station in São Paulo city. He died after defending freedom meanwhile security guards and citizens were conniving. He will always be remembered in the offensive against all passivity and authority!"
How's that, "who killed him"? If the murderers' names and faces are already known… It did not take so long until the butchery media turned this event into spectacle. There was an exposure not only of who assaulted him until his last breath but also of his family, of the trans people he defended, his life history and a lot of information applied just to create a huge smokescreen. Up this disgusting situation, two years after his death, it becomes indispensable to tell this event from beneath the claws of domination. (more…)
Tags: Black December, Brazil, Luiz Carlos Ruas aka Indio, Repression
Posted in Uncategorised
Friday, December 7th, 2018
Network Case Suspects Go on Hunger Strike
OVD Info
December 2, 2018
Dmitry Pchelintsev and Andrei Chernov, residents of Penza and suspects in the so-called Network case, have gone on hunger strike, claiming remand prison officials and FSB officers have intimidated them during their review of their criminal case file, something to which they are entitled by Russian law. Several Penza suspects in the case have claimed they have been put in solitary confinement, handcuffed to radiators, and threatened with violence.
Pchelintsev and Chernov went on hunger strike on November 29, as reported by the Parents Network, a support group established by the mothers and fathers of the young men, who have been accused of involvement in a "terrorist community" that, allegedly, was planning an armed uprising during the March 2018 presidential election and 2018 FIFA World Cup, held in Russia this past summer.
It was on November 29 that wardens put Pchelintsev in solitary, demanding he admit to breaking the rules by talking with other inmates during yard time. He responded by going on hunger strike, and Chernov joined him as a token of support and solidarity. On November 30, wardens again tried to bargain with Pchelintsev and threaten him. (more…)
Tags: FSB, Hunger Strike, International Solidarity, Repression, Russia, Trial
Posted in Prison Struggle
Tuesday, December 4th, 2018
Originally published by Indymedia DE. Edited machine translation by Enough is Enough.
According to a report of German weekly Focus, Federal Minister of Interior Horst Seehofer (CSU) plans a ban on the solidarity organization Rote Hilfe eV ['Red Help']. It is up to you, now you can give back the association the solidarity it deserves.
The only cross-flow organization of the radical left has supported you all, all left-wing activists, that watched your back in recent years. Whether financially, if again existence was threatened because of political activity, a good advice if once again there was a yellow letter (Courts and state prosecuters send their letter in yellow envelope on the German territory, EIE) in the mailbox, a good leaflet at the right time, that you better shut up (Don't talk with the cops, EIE) or the costs of being imprisoned.
Not to mention that Rote Hilfe e.V. is one of the only left-wing organizations that continuously opposes snooping paragraphs and sharpening of laws by law and order ideologues. And that from a unsellable and incorruptible anti-capitalist position. Where else is there something like this?
Today's Rote Hilfe e.V. is the direct successor to Rote Hilfe Deutschland, an organization that massively strengthened the anti-fascist struggle until its last ban by the Nazis in 1936. All this with the idea of ​​solidarity – to bolster up each other to maintain the political struggle for a better world. We tie into the struggle on this principle today. The fact that a new ban is pending only shows in what stormy times we are living. (more…)
Tags: Germany, International Solidarity, Repression, Rote Hilfe
Posted in Social Control
Sunday, November 25th, 2018
PDF: Dark Nights #48
International newsletter of social war keeping the black flag flying with a nihilist, anarchist and anti-social revolutionary cover feature written by two comrades in Italy. Usual resistance and repression round ups included. It's an 8-page hand out for your local squat, social centre, mate's house or given out at a demo. Help ignite the next wave of the black international – Download, copy and distribute!
1. 'Without Delay' by Michela Ortu and Pierleone Porcu.
2. Direct Action Chronology.
3. Repression News.
4. More Than Words.
Anti-Copyright Network
Tags: Analysis, Dark Nights, Michela Ortu, PDF, Pierleone Porcu, Repression, Sabotage, Zine
Posted in Library
Friday, November 23rd, 2018
Source: Anarchici fiorentini
Translated by act for freedom now!
–
The third hearing of the trial concerning Operation Panico took place on Thursday 8th November. We don't know how it went nor are we much interested. The events speak for themselves. Giova, Ghespe, Paska, some of the other comrades on trial and an audience of comrades were in court. As soon as the hearing started, through his lawyer Paska demanded to speak in order to read out a declaration. He had come to court with the signs of the beating he had been given in La Spezia prison in the morning before being transferred to Florence. He started to read out his declaration, which began by telling of the screws' beating, but the judge immediately ordered his microphone to be switched off, blabbing that what the comrade was saying was not pertinent to the trial, that the court was not the place to denounce this kind of thing and similar bullshit. (more…)
Tags: Italy, Operation Panic, Paska, Repression, Trial
Posted in Social Control
Wednesday, November 21st, 2018
On November 14th, two specific events took place in the city of Buenos Aires, with media coverage and a rapid police / judicial response.
During the afternoon, in the Recoleta cemetry, at the mausoleum dedicated to Colonel Ramon Falcon (assassinated by comrade Simón Radowitzky) – a bomb explodes leaving the comrade Anahi Salcedo wounded, she is transferred to Fernandez hospital and detained with wounds to her face and skull as well as the loss of three fingers on one of her hands. She is currently in an induced coma. At the same place, comrade Hugo Rodriguez was arrested.
Hours later, outside the home of Judge Bonadio (famous for his hard line, his indelible past with the youth of the iron guard- a Peronist fascist group, and his current practice and discourse against anti-conservatism and repression of dissenting sectors and individuals opposed to the current order), comrade Marco Viola is arrested, accused of throwing an explosive device at the magistrate's car.
At dawn, and throughout the following days, various spaces of the anarchic environment including squats, neighborhood centers and private homes are searched, resulting in the arrests of another 12 people.
The detainees were transferred to 2200 Cavia street where the anti-terrorist unit works, then to the police superintendence on Madariaga street, and then finally on Saturday morning they were taken to the Comodoro Py courts to testify in front of judge Ercollini and the public prosecutor Di Lello, following 72 hours of uncertainty, isolation and being subjected to who knows what by the eternally miserable wretches.
After this, two people are released, leaving a total of 10 imprisoned comrades charged with illegal association, public intimidation and possession of explosive material. The two actions unified under the same cause.
At the moment it is all prudential what can be transmitted, we know that other places are under surveillance, as well as specific people, since the government itself have confirmed the seizure of more than 100 private phones belonging to activists, and they have reopened investigations into direct actions that were carried out in the city from 2005 until the present (some claimed by anarchists and others not).
The call is clear and leaves no room for double interpretations.
Every gesture of concrete solidarity is welcome and desirable.
Do not leave the comrades kidnapped by the Argentine State alone, without fear and with perseverance extend the offensive.

ANARCHIST NIHILIST ANTI-AUTHORITARIAN COMRADES WE ARE HERE AND WE ARE STRONG
WITHOUT FEAR AND WITH MORE ANGER THAN EVER
FREEDOM FOR THE ANARCHIST PRISONERS
Tags: Anahi Salcedo, Argentina, Buenos Aires, G20, Marco Viola, Repression
Posted in Social Control