Posts Tagged 'Repression'
Friday, December 11th, 2020
IT | (Italy, December 2020)
It is nothing new that police operations, convictions and the most varied repressive measures fall on the heads of anarchists. In recent times the attack by the state has intensified throughout the peninsula, from the very heavy sentences of Scripta Manent trial [in Turin], to the accusation of massacre against Juan, to the countless anti-anarchist operations.
Even in Trentino, the number of confined comrades continues to increase. From those confined for having fought unreservedly in Valsusa against the high-speed train [TAV struggle], to those who are serving final sentences for having opposed the imposition of a TSO [Compulsory Health Treatment]. From those who have been put under special surveillance for showing solidarity with a comrade beaten up in prison by the guards, to those who still find themselves in the limbo of an obligation to stay in the municipality of residence that grows longer with each rejection by the courts. (more…)
Tags: Italy, Repression, Trentino
Posted in Social Control
Monday, November 16th, 2020
The information below comes from a recent article published by Reporterre, a left-wing environmentalist media. The article in question, whose "legalistic" approach disturbs us, can be read here: https://reporterre.net/Au-Carnet-des-cameras-cachees-et-illegales-pour-surveiller-des-ecologistes (in french).
In august 2020, four cameras were found near the "ZAD du Carnet", a place of struggle against the creation of an industrial area, in Loire-Atlantique, in the west of France. The cameras were found on August 31, and "appear to have been installed right before a « weekend of resistance »" organized there on August 29 and 30.
The four cameras, hidden near an access gate to the area, were "camouflaged in a fake tree log and fake stones". They "filmed continuously and were connected, via buried cables, to large batteries and modems, also concealed, allowing images to be sent directly to a remote station".
In addition, "the mention « Allwan », visible on some of the images found, as well as on a label on a camera, strongly suggests that the equipment was supplied by the company Allwan Security". The company Allwan Security is present in our list of companies.
Below, you will find a picture of the devices found, two pictures of the objects in which they were hidden, and a map showing the positioning of the cameras around the access gate.
Tags: Allwan Security, France, Loire-Atlantique, Repression, Surveillance, ZAD du Carnet
Posted in Social Control
Monday, November 16th, 2020
… war der sofortige Tenor der Regierungsklasse nach dem Terroranschlag in der Wiener Innenstadt am 2. November, der vier Menschen das Leben kostete und bei dem über 20 zum Teil schwer verletzt wurden. Natürlich wird genau das von diesen Politikern jetzt gemacht.
Von denen, die seit Jahren nichts anderes tun, als durch die konstante, weitere Verschärfung der Lebensbedingungen Hass und Gewalt zu kultivieren. Genau die sprechen sich jetzt öffentlich gegen Hass und Gewalt aus (z.B. Kurz & Nehammer). Einem rechten Innenminister ist es nicht zu blöd sich selbst als den starken Anführer sämtlicher Polizeieinheiten zu stilisieren, der keine Straftat unbeantwortet lassen will und "gegen jeden Extremismus mit eiserner Hand vorgehen wird" (Zitat Nehammer). Als hätte das jemals einen Anschlag verhindert. Dabei: war es nicht das Bundesamt für Verfassungsschutz und Terrorismusbekämpfung BVT (welches ja bekanntlich dem Innenminister unterstellt ist), das im Juli 2020 die Ermittlungen gegen den bereits amtsbekannten Attentäter vom 2. November eingestellt hatte und zwar exakt an dem Tag, als dieser nachweislich versucht hatte, in der Slowakei Sprengstoff und Munition zu erwerben? (more…)
Tags: Analysis, Austria, Islamic State in Iraq and Syria (ISIS), Islamism, Neo-Nazis, Racism, Repression, Vienna
Posted in Social Control
Saturday, November 14th, 2020
By Anarchist Black Cross Belarus
For over three months, people in Belarus have been fighting against the authoritarian regime.
In 26 years, dictator Lukashenko has built a system aimed at suppressing any political life. The coronavirus and a number of economic problems have greatly changed what is happening in the country. In a few months, Belarusians have learned to self-organize. The presidential elections provoked a wave of the largest protest in the country's history! But the tyrant does not want to give up his throne. At least 5 people were killed (some died under strange circumstances). Thousands of people were beaten and disabled by the violence of the police. More than 15 thousand have been detained and sentenced on administrative cases. More than 500 criminal cases have been initiated. At least 200 people are awaiting trial in the pre-trial detention center (including at least four
anarchists and four anti-fascists). (more…)
Tags: Belarus, Dictatorship, Repression, Social Insurrection
Posted in Social Control
Friday, November 13th, 2020
On Thursday, November 12th, the judge of the Appeals Court in Brussels made its decision public concerning the case against anarchists accused of criminal association and various crimes;
2 persons got 10 months of probation (during 5 years)
1 person got 8 months of probation (during 5 years)
1 person got 6 months of probation (during 3 years)
5 persons got a suspension of sentencing (during 3 years)
1 person got acquitted
(2 persons got acquitted in first instance and were not part of the appeal)
People also got sentenced to paying fines and a part of the investigative and juridical costs, but the state will have to pay the bill for the phone taps (by far the biggest amount).
(A suspension of sentencing means the judge finds you guilty and doesn't set a sentence, but leaves this up to the next judge if you get caught in a certain period of time for a similar crime – not very different from probation).
– (more…)
Tags: Belgium, Brussels, Repression, Trial
Posted in Social Control
Wednesday, November 11th, 2020
PDF: Poster A3
EINE EINZIGE GEWISSENHEIT
Zwei Wochen Mobilität zur Unterstützung von angeklagten Anarchisten und Anarchistinnen
Heute erleben wir eine Verschärfung der Repression, die durch den Gesundheitsnotstand COVID-19 erleichtert wurde, und folglich eines Angriffs gegen alle Formen von Konflikten, einschließlich der anarchistischen Bewegung. In Italien werden bald Hunderte von Genossen und Genossinnen wegen verschiedener repressiver Operationen der Staatsanwaltschaft vor Gericht gestellt: "Op. Scripta Manent", "Op. Panico", "Op. Ritrovo", "Op. Bialystok", "Op. Lince", "Op.Renata", "Op. Scintilla", "Op. Prometeo", der Brenner-Prozess, der Prozess wegen des Angriffs auf den Sitz der "Lega Nord" in Treviso.
Industrie- und Finanzlobbys und Repressionsapparate scheinen zu regieren, und der Staat konzentriert sich darauf, die Praktik des direkten Handelns und sogar subversives Denken abzuschaffen. Und so wird die Verbindung von Epidemien mit der kapitalistischen Ausplünderung des Planeten zu einer Prämisse des "Terrorismus", so wie jede Form der Mobilisierung zu einem "assoziativen Verbrechen" werden kann.
Als der Konflikt die Stärke der Revolte annahm – wie im März in den Gefängnissen – lautete die Antwort des Staates: bewaffnete Überfälle durch Schließer und Carabinieri, systematische Schlägereien und ein Massaker mit dem Tod von 15 Gefangenen.
Die Strafvollzugsverwaltung verbreitet und isoliert revolutionäre und Rebellen in den verschiedenen Kreisen des Gefängnissystems, sie verhindert jeglichen Kontakt zur Außenwelt und die physische Anwesenheit der Angeklagten in den Prozessen mit dem Einsatz von Videokonferenzen. Sie dehnt auf alle Gefangenen einige Inhaftierungspraktiken aus, die das "41 bis" Regime kennzeichnen, einschließlich die Reduzierung der Besuche (und nur mit Plexiglastrennwänden), Zensur der Korrespondenz, Zellensperrung.
Die Staatsanwälte zugleich rekonstruieren die Geschichte der anarchistischen Bewegung, indem sie revolutionäre Praktiken in "akzeptable" und "terroristisch" trennen.
Ein System, das nur soziale, wirtschaftliche und ökologische Katastrophen hervorruft, ist auf Angst gegründet und benutzt jeden Tag mehr und mehr die Sprache des Krieges.
Wir fordern daher eine zweiwöchige Mobilisierung vom 9. bis 24. November.
IN SOLIDARITÄT MIT DEN GENOSSEN, DIE IN ITALIEN VOR GERICHT STEHEN,
GEGEN DIFFERENZIERUNG UND ISOLATION IN DEN KNÄSTEN,
UM DER TOTEN IN DEN GEFÄNGNISSEN ZU GEDENKEN.
UM AUF DIE NEUEN HAFTBEDINGUNGEN UND AUSGANGSSPERREN ZU REAGIEREN.
Damit die Fackel der Revolte niemals erlischt und immer neue Hände bereit sind, sie zu ergreifen.
In einer unsicheren Zeit, für uns, aber auch für die Herren, ist die einzige Gewissheit, dass Widerstand und Gegenangriff richtig sind.
GEGEN KNAST UND FÜR DIE BEFREIUNG ALLER GEFANGENEN.
Tags: Flyposter, Germany, International Solidarity, Italy, Repression
Posted in Social Control
Monday, November 9th, 2020
Tags: Anti-Prison, Coronavirus, Flyposter, International Solidarity, Italy, Repression
Posted in Prison Struggle
Saturday, November 7th, 2020
As mentioned in the article "Some concrete elements on the searches of Berlin and Athens for a criminal association case" (https://kontrapolis.info/586, in german), a GPS tracker and a listening device were found in a vehicle shortly before the searches.
Unfortunately, the cops prevented a quick publication, and this must now be made up for.
These devices were obviously installed by the federal criminal police (BKA) in order to retrieve information on the persons accused in the present "criminal association" proceedings. In general, it is very important not to keep such things to oneself, but to reveal these occult methods.
According to what is currently known, the GPS tracker was installed in august 2019 and the listening device intended for "internal surveillance of a vehicle" during or after september 2019.
The two devices were installed separately, each in one of the front seat headrests.
The headrests were opened and glued back together after the bugs were installed. (more…)
Tags: Berlin, Germany, Repression, Surveillance
Posted in Social Control
Thursday, November 5th, 2020
Born in Ravensburg in 1938, Klaus Schwab is a child of Adolf Hitler's Germany, a police-state regime built on fear and violence, on brainwashing and control, on propaganda and lies, on industrialism and eugenics, on dehumanisation and "disinfection", on a chilling and grandiose vision of a "new order" that would last a thousand years.
Schwab seems to have dedicated his life to reinventing that nightmare and to trying to turn it into a reality not just for Germany but for the whole world.
Worse still, as his own words confirm time and time again, his technocratic fascist vision is also a twisted transhumanist one, which will merge humans with machines in "curious mixes of digital-and-analog life", which will infect our bodies with "Smart Dust" and in which the police will apparently be able to read our brains.
And, as we will see, he and his accomplices are using the Covid-19 crisis to bypass democratic accountability, to override opposition, to accelerate their agenda and to impose it on the rest of humankind against our will in what he terms a "Great Reset".
Schwab is not, of course, a Nazi in the classic sense, being neither a nationalist nor an anti-semite, as testified by the $1 million Dan David Prize he was awarded by Israel in 2004.
But 21st century fascism has found different political forms through which to continue its core project of reshaping humanity to suit capitalism through blatantly authoritarian means. (more…)
Tags: Analysis, Anti-technology, Coronavirus, Fourth Industrial Revolution, Klaus Schwab, Repression, The Acorn, Transhumanism, UK, World Economic Forum
Posted in Eco Struggle
Thursday, November 5th, 2020
We express our solidarity with the prisoners of the Chilean state, who have already been in preventive isolation for more than 8 months, due to the sanitary measures for the Covid 19 virus. We understand that the authorities are once again using isolation, as a method of repression and torture against those who are held in the dungeons of the capitalism. Using the prohibition of family visits as a punishment for those who have already been sentenced by the laws of the Chilean state-capitalist-prison.
From the other side of the world, we send a warm greeting to those, who resist the scourges of repression and the effects of the Covid 19 pandemic-control, both inside and outside the prison walls.
With fire in our hearts and hands… Here nothing is over, everything continues….
"Until the last bastion of the prison society is destroyed."
"As long as misery exists, there will be rebellion."

From the territory dominated by the German capitalist state.
November 2020
–
Alemania: Solidaridad sin fronteras con lxs presxs del estado chileno
Expresamos nuestra solidaridad con lxs prisionerxs del estado chileno quienes ya cumplen más de 8 meses de aislamiento preventivo a causa de las medidas sanitarias por el virus Covid 19. Entendemos que el Poder utiliza nuevamente el aislamiento como método represivo y de tortura contra quienes se encuentran recluidos en las mazmorras del capital. Usando la prohibición de recibir visitas de familiares como castigo a quienes ya han ido sentenciados por las leyes del estado-Capital-Prisión chileno.
Desde el otro lado del mundo enviamos un afectuoso saludo a quienes resisten dentro y fuera de los muros de las prisiones los azotes de la represión y los efectos de la pandemia-control Covid 19.
Con fuego en el corazón y en las manos… Aquí nada ha acabado, todo continua….
"Hasta destruir el Último Bastión de la sociedad Carcelaria".
"Mientras exista miseria, habrá rebelión".

Desde el territorio dominado por el estado-capital Alemán
Noviembre 2020
–
Wir solidarisieren uns mit den Gefangenen des chilenischen Staates, die nun schon seit mehr als 8 Monaten der präventiven Isolation aufgrund der Gesundheitsmaßnahmen wegen des COVID 19 Virus ausgesetzt sind.
Die Macht benutzt erneut die Isolation als eine repressive Methode und als Folter gegen diejenigen, die in den Kerkern des Kapitals eingesperrt sind.
Das Verbot von Familienbesuchen wird als Strafe eingesetzt für diejenigen, die bereits durch die Gesetze des chilenischen Staates- Kapitals- Knasts verurteilt worden sind.
Wir schicken herzliche Grüße von der anderen Seite der Welt an diejenigen, die sich innerhalb und außerhalb der Knastmauern den Peitschen der Repression und den Auswirkungen der Pandemie-Kontrollen von COVID 19 widersetzen.
Mit Feuer im Herzen und in den Händen…Der Kampf ist noch lange nicht vorbei, es geht weiter….
"Bis die letzte Bastion der Knastgesellschaft zerstört ist."
"Solange es Elend gibt, wird es Aufstand geben."
Aus der Region, die durch den kapitalistischen Staat Deutschland dominiert wird
November 2020
–
Wyrażamy solidarność z więzniami stanu Chile, którzy już ponad 8 miesięcy przebywają w prewencyjnej izolacji, w związku z sanitarnymi środkami zapobiegawczymi przed wirusem Covid19.
Widzimy, ze władza po raz kolejny używa izolacji jako metody represji i tortury przeciwko przebywającym w lochach kapitalizmu. Używają zakazu wizyt rodzinnych jako karę przeciw tym, którzy już zostali skazani prawami stanu-kapitalistycznego-więzienia Chile.
Z drugiego końca świata, przesyłamy pozdrwienia do tych, którzy opierają się batom represji oraz kontroli narzuconej pod pretekstem pandemii, zarówno w środku, jak i poza murami więzienia.
Ogień w naszych sercach i rękach. Tutaj nic nie jest skończone, wszystko kontynuuje…
"Aż ostatni bastion więziennego społeczeństwa zostanie zniszczony."
"Póki istnieje niedola, będzie rebelia."
Z terytorium zdominowanego przez niemiecki kapitalistyczny stan.
Listopad 2020
Tags: Chile, Flyposter, Germany, International Solidarity, Repression
Posted in Prison Struggle
Thursday, November 5th, 2020
IT | Sull' Operazione Bialystock – Una lettera di Nico dal carcere
FR | Un texte de Nico, depuis la prison de Terni, sur l'opération Bialystok
EL | Κείμενο του Nico, συλληφθέντα της επιχείρησης Bialystok
(28th September 2020)
ON "OPERATION BIALYSTOK"
These short notes from a brief reading of the papers at my disposal concerning so-called Operation Bialystok were written to enlighten, albeit superficially given my subjective point of view, some of the salient contents of this new anti-anarchist investigation and the consequent repressive developments. The cyclical movements of the social conflict have always been followed by repressive waves, to the point that we often end up stating there is "nothing new under the sun". However, analysing the changes in paradigm and the instruments being used along with those occurring in society as a whole means we can put them in context, identify their causes and specific goals and develop appropriate strategies of resistance and counter-attack. In fact repression changes and understanding it in its transformations should be of interest to those who are determined "always to do better" in the anarchist struggle against all power.
In the specific case that concerns me the most interesting part is the report that the prosecutor presented to the investigating judge with the request for custodial measures. The "wide overview" that the investigation aspires to is evident right from the first pages, an investigation whose declared goal is that of understanding the recent development of the anarchist movement in the Italian territory and, in the case in point, what some are referring to as the "New Anarchy". (more…)
Tags: Alfredo Cospito, Analysis, Informal Anarchist Federation (FAI), International Revolutionary Front, Italy, Letter, Nico Aurigemma, Operation Bialystok, Operation Scripta Manent, Repression
Posted in Prison Struggle
Wednesday, November 4th, 2020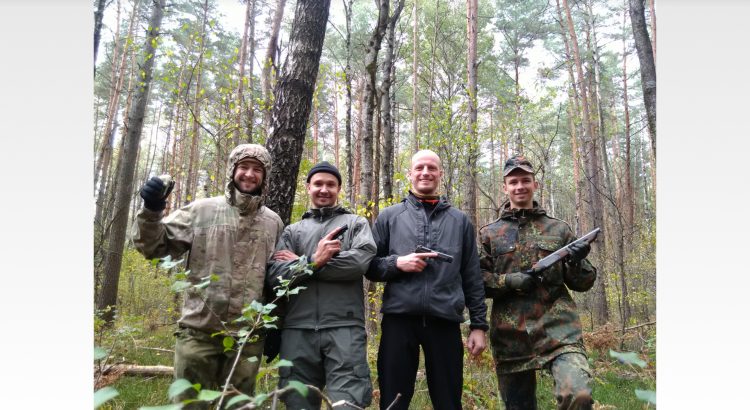 What's happened?
On October 22 in Soligorsk (Belarus) administrative building of State committee of forensic examination was attacked and cars were set on fire at the parking lot of Soligorsk district prosecutor's office. On the night of October 28 the building of traffic police department of Mozyr district police department was set on fire. Soon a group of anarchists-revolutionaries: Ihar Alinevich, Dmitry Dubovsky, Dmitry Rezanovich and Sergey Romanov were detained by a mobile group of Mozyr border detachment near the Ukrainian border in Zabozye village of Yelsky raion (Belarus). The detainees are currently held in a KGB remand prison in Minsk. They were charged under part 3 of article 289 of the Criminal Code (act of terrorism committed by an organized group).

Anarchist Revolutionaries
Each of the detainees had been an opponent of the fascist state for many years and had regularly experienced its repressions. (more…)
Tags: Belarus, Dzmitry Dubouski, Dzmitry Rezanovich, Ihar Alinevich, Ihar Alinievich, International Solidarity, Repression, Sergei Romanov, Sergey Romanov, Siarhei Ramanau, Social Insurrection, Soligorsk
Posted in Social Control
Friday, October 30th, 2020
(Berlin, October 9, 2020 – and the nights before.)
Tags: Arson, Demo, Eviction, Germany, International Solidarity, Liebig34, Liebig34/XB, Repression, Sabotage, Video
Posted in Social Control
Friday, October 30th, 2020
PDF: Manifesto A3 solidarieta a Natascia
Manifesto da stampare in A3 in solidarieta' a Natascia in sciopero della fame contro la censura, in attesa di processo per l'operazione Prometeo. Fuoco alle galere
Tags: Flyposter, Hunger Strike, International Solidarity, Italy, Natascia Savio, Repression
Posted in Social Control
Friday, October 30th, 2020
The general crisis – health, economic, institutional–continues to tighten its grip. We are just at the start. And the stench of the spectre of semi-lockdown, which will be worse than the first, is starting to be felt ».
WHY A HALF LOCKDOWN IS WORSE THAN A WHOLE ONE
The newspapers are now saying it for certain: maximum 7-10 days. It should be noted that every prediction, in recent weeks, has been "revised" in advance of the facts. But what will semi-lockdown be? It will still be the old mass quarantine, like last spring, with the difference that we will keep going to work.
In this permanent dystopia reality will continue to surpass the most perverse fantasy of science fiction writers: not just a virus that reduces humanity to house arrest, we are now facing a society in which people only leave their domestic cells to go to be exploited. As written in the latest issue of "Vetriolo", just out, "the energies of the exploited in our time are frozen, in many senses, only to be thawed at the moment of production" (Cf. "Vetriolo", n. 5 , Stato di pandemia [Pandemic state]). A post-consumerist capitalism, in which the old produce-consume-drop-dead, has been reduced to the binary process: produce-drop-dead. In this system women and men of flesh and blood are only useful if they are able to work.
Will the exploited allow themselves to be locked in the freezer? (more…)
Tags: Analysis, Coronavirus, Italy, Napoli, Repression, Riots
Posted in Social Control