Posts Tagged 'Repression'
Sunday, September 20th, 2020
§129a Investigation in Frankfurt/Main, Germany
17.06.2020, 6.00 a.m., windows break. The residents of the shared flat jump out of the bed because they think Nazis are smashing the windows, but the loud shouts, and hooded people with flashlights leave no room for discussion until all residents of the living community are already in pain on the floor. It takes a while for the excitement to subside and they realize that there are more than twenty Federal Police BFE cops in the little apartment. Others are waiting in the entrance and have positioned themselves around the house. It takes even longer until a search warrant is finally handed out and the lead management is handed over to the investigating BKA. They try to act formally legally correct, their goal is to work legally clean. These are the different sides of the repression, the hooded thugs are supposed to intimidate, the jovial BKA cops collect everything they can get and organize the whole thing.
The accused's room and common rooms are officially searched, and the rooms of the other residents are filmed.
The search warrant is issued by the Federal Court of Justice (BGH) on January 20th, 2020. They are investigating against the person concerned and at least two other unknown perpetrators for being part of an alleged "terrorist organization". On New Year's Eve 2018/2019, they and many others allegedly attacked the BGH branch in Leipzig. DNA finds on clothing and camera recordings are brought forward. The police are looking for certain clothing, communication media, other references to this alleged association. 3 laptops, a USB stick, papers and small items such as a balaclava were confiscated. (more…)
Tags: Frankfurt, Germany, Raids, Repression
Posted in Social Control
Saturday, September 19th, 2020
+ Amenaza Inminente de Desalojo del Ateneo Libertario de Vallekas
El pasado 16 de septiembre se volvió a dejar constancia de que la solidaridad y la acción directa es la mejor arma de la que disponemos como medio de defensa frente al Estado y la represión. Alrededor de 150 personas de vallekas y otros barrios de la ciudad se plantaron en la puerta del Ateneo para impedir el desalojo del espacio. No se trata solo del desalojo de un espacio, es la defensa de la okupación como herramienta de lucha en la guerra social, como herramienta para crear con nuestras propias manos, al margen de partidos e instituciones, espacios de lucha, encuentro y aprendizaje.
Y lo conseguimos (gracias a todos y a todas). Contamos con un tibio despliegue de periodistas, furgonas de la policía municipal y el comisario del distrito. Debido a la fluencia de solidarias, la secretaria judicial no tuvo más remedio que pasar de largo. Ahora, cualquier día y sin previo aviso, el Ateneo puede ser desalojado.
Más especial resulta esta muestra de solidaridad si tenemos en cuenta como se esta desplegando el discurso represivo sobre vallekas (y los barrios obreros de Madrid en general): criminalización mediática, constante señalamiento de los medios y la clase política por los casos de Covid-19, persecución a las personas migrantes, abusos policiales, videovigilancia, multas y una persecución especialmente intensificada a la okupación en los últimos meses. Todo ello con la retina cargada de imágenes como las colas del hambre, que no cesan, los desahucios y desalojos, que no cesan, los centros de salud, colapsados, los trabajadores hacinados en el metro y esperando que un político les diga si pueden salir a la calle para algo que no sea trabajar para nuestros patrones. Esa es la lógica del estado y el capital para los pobres y los barrios donde vivimos.
La lucha continua por muchas y variadas formas, la solidaridad no tiene límites ni barreras, y va más allá de los días concretos de desalojos: bancos, inmobiliarias, especuladores, policías, medios de co- municación, políticos y empresarios siguen ahí, manejando y gestando las condiciones de nuestra explotación. Llamamos a extender la solidaridad en todas sus formas.
Este domingo convocamos nuevamente jornadas de resistencia en el Ateneo, y seguimos con el llamamiento: el viernes de la semana del desalojo del Ateneo, manifestación a las 20H en vallekas en solidaridad con los espacios okupados. El lugar exacto lo confirmaremos el día del desalojo.
¡Solidaridad con los espacios okupados!
¡Ningún desalojo, ningún desahucio sin respuesta!
¡Okupación, resistencia y acción directa!
ateneolibertariovallekas@riseup.net
ateneolibertariovk.noblogs.org
Tags: Ateneo Libertario de Vallekas, Eviction, Madrid, Repression, Spain
Posted in Autonomy
Saturday, September 19th, 2020
On Friday, September 25, 2020, from 8:30 a.m., another hearing will take place at the District Court in Most in the Fénix 2 case. So far, witnesses have been invited for questioning at the instigation of public prosecutor Václav Richter, who drafted the indictment. More precisely, witnesses who did not testify to anything to confirm the allegations. This time, witnesses nominated by the defendants themselves in their defense will finally be present.
Recall that four anarchists and one environmentalist are charged with offenses punishable by 3 to 10 years in prison. Support the accused directly in court or by another solidarity action.
Tags: ABC Czech Republic, Czech Republic, Fenix 2, Repression, Trial
Posted in Social Control
Wednesday, September 16th, 2020
[09.10.20 RÄUMUNSGVERSUCH DER LIEBIG34 – DON'T TOUCH LIEBIG34!!!!!]
Don't touch Liebig 34!
Eviction date on 09 October 2020
Today, on September 15, we received mail from the bailiff T. Knop.
They threatened to evict Liebig34 on Friday, October 9 at 7 am!
We will not let that happen!
How is it possible that an attempt to evict is being planned even though it is publicly known that a different association than the defendant is present in the rooms?
How is it possible that in times when a second wave of Corona and #StayHome is expected, a home is to be evicted by so many people?
How is it possible that especially now, in times of fascist marches and a shift to the right, a feminist, leftist and queer house project is being attacked so massively?
We are angry but determined.
We will not give up the Liebig 34 without further ado.
Support us in our struggle.
Come to the general assemblies, annoy politicians and homeowners.
Be creative! Let's make the eviction attempt a disaster!
MORE INFOS WILL COME – WE'LL KEEP YOU UPDATED!
Liebig34 blog: http://liebig34.blogsport.de/
via AWW.
Tags: Berlin, Eviction, Germany, Liebig34, Liebig34/XB, Repression
Posted in Autonomy
Tuesday, September 15th, 2020
Tags: International Solidarity, Philippines, Repression, Video
Posted in Autonomy
Monday, September 14th, 2020
«From 2019 to today the Italian State has carried out many repressive operations and inflicted a series of restrictive measures on anarchist comrades, limiting their freedom of movement and forcing them to remain within the limits of their city or to move away from the city or region where they reside.
As recipients of these kind of minor measures, together we want to relaunch our solidarity with the more than 200 comrades involved in the various trials in Italy that are starting this September and that shall continue throughout the autumn.
In particular, the appeal trial of the Scripta Manent Operation will resume at the beginning of September: this trial involves 5 comrades who have been in prison for 4 years (two of them for 8 years) and which has resulted in 20+ years of sentence in the first grade. (more…)
Tags: Flyposter, Operation Bialystok, Operation Panic, Operation Prometeo, Operation Scripta Manent, Repression, Trial
Posted in Social Control
Monday, September 14th, 2020
Demo – The annual United Families and Friends Campaign rally will take place in London on Saturday 31 October 2020.
via Inquest.
Tags: #BlackLivesMatter, Anti-Prison, Fuck the Police, Kano, London, Police Brutality, Racism, Repression, UK, Video
Posted in Anti-Fascist
Monday, September 14th, 2020
On 11th September a maxi-trial will begin in Lecce against almost a hundred demonstrators accused of having opposed the realization of the TAP gas pipeline in various ways. A sort of spectacular event with big numbers set up mainly to impress and leave a sign of repression that can also be a warning to others in some way. Besides the place, a bunker courtroom, chosen for the trial, officially for reasons linked to anti-Covid regulations, unofficially to create an atmosphere suitable for the criminalization of the TAP opposition, the obstinate and law-dependent clerks of Order and the Economy do not have much in their hands. In fact, we have nothing to defend. On the contrary: this trial should be an accusation that rebounds against those who are devastating the earth in the name of a progress that has been revealing its rotten face for centuries. Infrastructures with a strong impact such as a gas pipeline are feeding an energy-consuming system that only produces devastation, control, repression. It's enough to just take a look around. There is not one thing that is not connected and linked to everything else. That is why we can't see the realization of a gas pipeline as that alone. On the contrary, this is an operation that is colonizing places and minds. It is the expression of an economic system that is pushing the planet to the brink, to the slavery and death of millions of individuals. (more…)
Tags: Italy, Lecce, Repression, Trans Adriatic Pipeline (TAP), Trial
Posted in Eco Struggle
Sunday, September 13th, 2020
Updated contact addresses for solidarity correspondence:
Francesca Cerrone
c.c. Latina via Aspromonte 100
04100 Latina LT, Italy
Flavia Digiannantonio
C.C di Roma Rebibbia, via Bartolo Longo 92,
00156 Roma, Italy
(at the moment she is in cell with Anna Beniamino)
Nico Aurigemma
Casa Circondariale di Terni, Str. Delle Campore 32 ,
05100 Terni (TR)
Italy
Roberto Cropo
C.R. "San Michele"
Via Casale, 50
15122 Alessandria
Italy
(Same prison as Marco Bisesti from Operation Scripta Manent, but not in the same cell)
Tags: Flavia Digiannantonio, Francesca Cerrone, Italy, Nico Aurigemma, Operation Bialystok, Repression, Roberto Cropo
Posted in Prison Struggle
Friday, September 11th, 2020
From AMW:
Hiya pals,
We are midway through Black August and I've been doing lots of thinking, fasting, and trying to grow as a person and as a radical anarchist. Lots of fitness, reading, mentally taking stock.
This is my third Black August in SHU. I was thrown into segregation two years ago on August 17th and was kept within for a year pending prosecution; then, after they brought these new charges, we've done another year pretrial. It's been a rough two years filled with restrictions, violence, abuse, but also love strength and friendship. Resistance is strong.
Last year's Black August was spent partially at USP Lee, where I met Thomas Smith (aka Mad Dog) a blood leader and revolutionary who was also participating. He had been in SHU at that point for 18 months pending an ADX transfer. We fasted together, had long conversations on resistant strength and what it means to be a revolutionary today. I still think of Mad Dog often and encourage everyone to write and send reading material into him. (more…)
Tags: Anti-Prison, Black August, Eric G. King, Letter, Racism, Repression, USA
Posted in Prison Struggle
Thursday, September 10th, 2020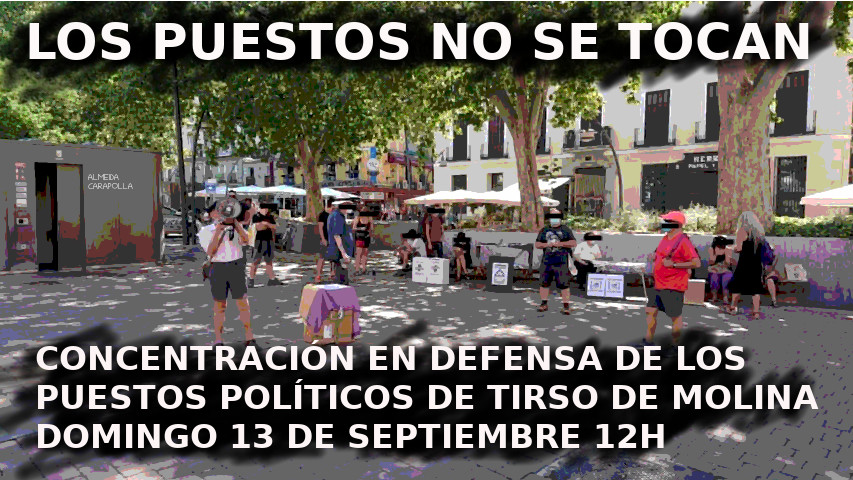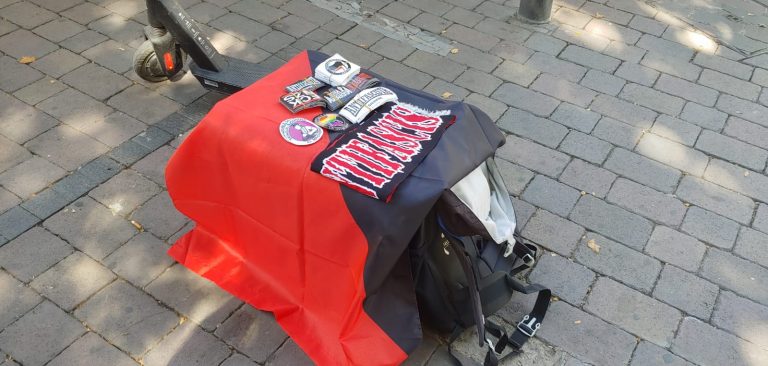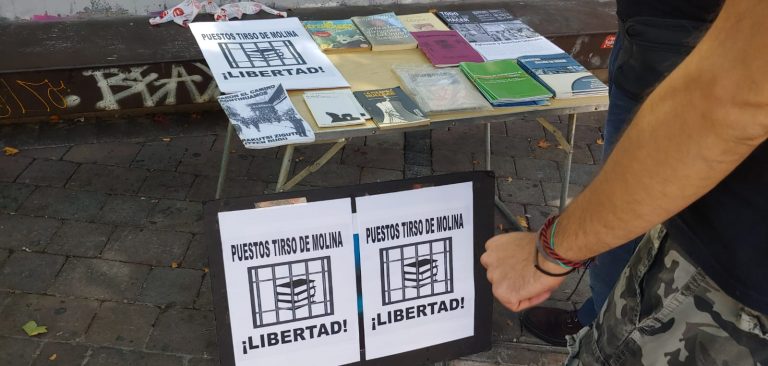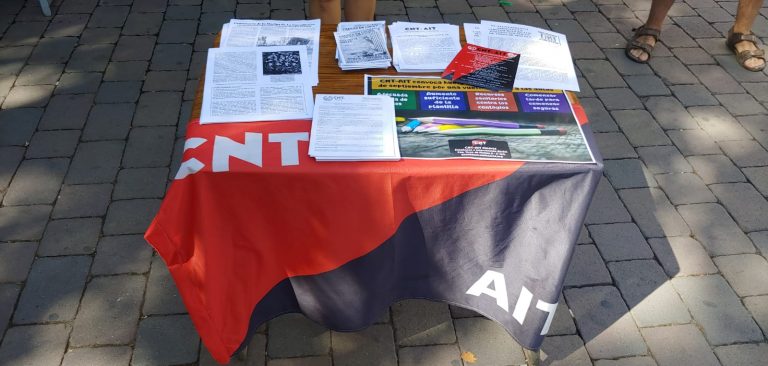 Since last July 19, the date on which the municipal police evicted us from the Tirso de Molina square with the threat of sanctions and seizure of the stands, we have been gathering every Sunday to protest against this arbitrary decision by the City Council. We maintain that it is a political decision rather than a health one, since that day we were complying with the measures imposed by the Community; masks, distance between the stalls, hand disinfection gels, if we add to this that the space in the plaza is wide and the number of stalls that we set up that morning was small, it was not possible that there would be crowds.
In fact, the only official justification we received from the agents was not having a license and the assertion that "El Rastro was closed by municipal order." The reality is that El Rastro continues to be closed as of today since the stalls do not accept the City Council's reform plans that seek to end the emblematic market as we know it and also know that for more than three decades political stands lack licenses. For this reason, we are convinced that the Pandemic is only an excuse to eliminate political positions that spread ideas and free culture, and it is clear that Tirso de Molina and El Rastro are also part of the gentrification plans that we have been suffering in the area in recent years. (more…)
Tags: Coronavirus, El Rastro, Eviction, Madrid, Repression, Spain, Tirso de Molina
Posted in Autonomy
Wednesday, September 9th, 2020
De la revista 325 (próximamente en español):
DE | Automatisierung, Robotik und Arbeit in der 4ten und 5ten industriellen Revolution
EN | Automation, Robotics & Labour in the 4th & 5th Industrial Revolutions
Desde que comenzó la primera Revolución Industrial en la década de 1700, las sucesivas revoluciones industriales han afectado profundamente a los trabajadores, a los propios trabajadores, creando incluso el concepto de 'clase trabajadora', cómo vivían, su integración en los agujeros del infierno urbano que avanzaban, las prisiones de las fábricas, molinos y pozos mineros, incluso sus hijos no se libraron de la indignidad, ni siquiera de la muerte de la esclavitud moderna de la época. La industrialización, el resultado de la mecanización en la industria, alimentó la esclavitud moderna y la domesticación de los seres humanos en todos los rincones de los imperios y colonias en expansión, no solo en el resto del planeta vivo. Ahora estamos en la cúspide del comienzo de una 4ta Revolución Industrial (4IR) e incluso una 5ta (5IR) que afectará tan radicalmente nuestro encarcelamiento dentro de la sociedad tecnológica como las hizo en las anteriores. El concepto mismo de trabajo, incluso el trabajo mismo, cambiará más allá del reconocimiento una vez más. Ya en la consiguiente 'pandemia del coronavirus' y en los controles de toque de queda que se han aplicado a miles de millones en todo el mundo, las señales de las próximas revoluciones industriales ya están apareciendo, y se informa que millones perdieron sus empleos en muchos países. (more…)
Tags: 'The Uncivilized', 3D Printing, 4ta Revolución Industrial (4IR), 5G, 5ta Revolución Industrial (5IR), Alfredo M. Bonanno, Analysis, Artificial Intelligence (AI), Automation, Cashless Society, Coronavirus, Drones, Fifth Industrial Revolution, Fourth Industrial Revolution, From Riot to Insurrection, Ingreso Básico Universal, Intelligent Surveillance, Internet of Things, Reino Unido, Repression, Robotics, Surveillance, UK, Universal Basic Income
Posted in Library
Wednesday, September 9th, 2020
From 325 #12:
DE | Automatisierung, Robotik und Arbeit in der 4ten und 5ten industriellen Revolution
ES | Automatización, robótica y mano de obra en la 4ta y 5ta revoluciones industriales
Since the first Industrial Revolution began in the 1700's, successive industrial revolutions have profoundly affected labour, the workers themselves, creating even the concept of the 'working class', how they lived, their integration into the advancing urban hell holes, the prisons of the factories, mills and mining pits, even their children were not spared the indignity, even death of modern slavery of the time. Industrialization, the result of mechanisation in industry, fed modern enslavement and domestication of human beings in every corner of the spreading empires and colonies not just the rest of the living planet.
We are now on the cusp of the beginning of a 4th Industrial Revolution (4IR) and even a 5th (5IR) that will affect just as radically our imprisonment within the technological society as it did in the previous ones. The very concept of labour, even work itself will change beyond recognition once again. Already in the ensuing 'coronavirus pandemic' and curfew controls that have been enforced on billions worldwide, the signals of the coming industrial revolutions are already appearing, with millions being reported to lose their jobs in many countries. (more…)
Tags: 'The Uncivilized', 3D Printing, 5G, Alfredo M. Bonanno, Analysis, Artificial Intelligence (AI), Automation, Cashless Society, Coronavirus, Drones, Fifth Industrial Revolution, Fourth Industrial Revolution, From Riot to Insurrection, Intelligent Surveillance, Internet of Things, Repression, Robotics, Surveillance, UK, Universal Basic Income
Posted in Library
Tuesday, September 8th, 2020
Anti-fascist revolutionary Michael Reinoehl was assassinated by pigs near Lacey, Washington on September 3 in retaliation for the shooting of a member of the fascist group Patriot Prayer.
Reinoehl claimed responsibility for the shooting as an act of self-defense against the fascist who threatened Reinoehl and a friend with mace and a knife. Reinoehl went to downtown Portland on Saturday night to provide security for revolutionaries who were threatened by a caravan of fascist Trump supporters who paraded through the city center.
"Had I stepped forward, he would have Maced or stabbed me," Reinoehl said in an interview. "I was confident that I did not hit anyone innocent and I made my exit… I feel it's important that the world at least gets a little bit of what's really going on. I had no choice. I mean, I, I had a choice. I could have sat there and watched them kill a friend of mine of color. But I wasn't going to do that." (more…)
Tags: #BlackLivesMatter, Anti-Fascism, Anti-Fascist, Antifa, Fuck the Police, Lacey, Michael Reinoehl, Neo-Nazis, Patriot Prayer (Fascist Group), Police Brutality, Portland, Racism, Repression, Riots, Social Insurrection, USA, Washington
Posted in Uncategorised
Monday, September 7th, 2020
Genoa, Piazza San Lorenzo
Saturday 26th September, 4pm 2020

Gathering against repression in solidarity with the anarchists arrested following operation Scripta Manent.

ANARCHY CAN'T BE LOCKED UP BEHIND BARS
The «Scripta Manent» appeal trial in Turin is coming to an end. It was on 6th September 2016 that eight anarchists were arrested and accused of having formed or participated in a «subversive association with aims of terrorism and subversion of the democratic order», a charge that about twenty anarchists are accused of in the trial. In particular the accusations are of carrying out, from 2005, several direct and armed actions against the police (police chiefs, carabinieri barracks, carabinieri training centres and RIS), men of State (mayors, the minister of the interior), journalists, companies involved in the restructuring of CIEs and the director of a detention centre for migrants, actions that were claimed FAI and FAI-FRI (Informal Anarchist Federation-International Revolutionary Front). In addition that of having written and edited anarchist publications including a historic publication of the movement, "Croce Nera Anarchica" [Anarchist Black Cross].
In April 2019, with the first-grade trial sentence, the comrades Alessandro, Alfredo, Anna, Marco and Nicola were given sentences ranging from 5 to 20 years of imprisonment, whereas another 18 were acquitted and two were released. In Alfredo and Nicola's case, years of imprisonment were added to a previous sentence for the kneecapping of the managing director of Ansaldo Nucleare, Roberto Adinolfi. This action was carried out on 7th May 2012 in Genoa and proudly claimed by the two comrades in court during the trial following their arrest in September of the same year. (more…)
Tags: CNA Italia, Informal Anarchist Federation (FAI), International Revolutionary Front, Italy, Operation Scripta Manent, Repression, Trial
Posted in Social Control