Posts Tagged 'Repression'
Friday, October 30th, 2020
Osman Aslan has been in extradition custody in Slovenia since June this year. He was arrested by police officers because of a Red Notice entry at Interpol. The Turkish regime uses this controversial instrument to be able to harass opposition members who have fled Turkey, even after decades.
Aslan is 50 years old and lives with his family in Bergkamen (NRW, Germany). The 50 year old Kurd has an unlimited residence permit. The permit threatens to expire because he has been in Slovenian detention for over six months now. Since his court hearing on July 30th, he has had to wait for a Slovenian court to examine the documents so he can finally return to Germany.
This is not the first case in which the Slovenian authorities have delayed such a process for months. Last year, Ismet Kilic from Duisburg was arrested and detained at the border. After 80 days and massive protests in Germany and Slovenia the persecuted unionist got released from extradition.
Anja Sommerfeld, member of the federal executive board of Rote Hilfe e.V.=:
Hardly a day goes by without reports of repression against opposition members and refugees from Turkey, even across the European Union. Once again we are dealing with a procedure in which the regime in Ankara exploits the means of Interpol searches to pursue and arrest those who think differently. Mr. Aslan has lived in Germany as a political refugee since 1994 and has a regular residence. The responsible authorities in both countries must deal with the matter immediately. The deportation of Mr Aslan to Turkey must be prevented, as he is threatened with political persecution and imprisonment there. He must be released from prison and be allowed to return to Germany.
Tags: Germany, International Solidarity, Osman Aslan, Repression, Rote Hilfe, Solvenia, Turkey
Posted in Social Control
Friday, October 30th, 2020
Como ya es conocido, lxs compañerxs se encuentran en prisión desde julio acusadxs de distintos ataques explosivos ocurridos en julio del 2019 y febrero del 2020. El proceso judicial en su contra continua abierta al igual que el plazo investigativo, sin mayores novedades.
En la situación particular de cada unx, podemos informar que:
Francisco aún permanece encarcelado en la Sección de Máxima Seguridad de la Cárcel de Alta Seguridad, y durante el último tiempo ha vivido dos allanamientos realizados por personal policial de inteligencia en colaboración con los carceleros. Esta incautación se tradujo en la requisa de los apuntes de la defensa del compañero, bosquejos de textos además del hostigamiento permanente y continuo por parte de la fiscalía que ha solicitado estos allanamientos.
Mónica, por su parte, se encuentra en el Modulo de Connotación Publica en la cárcel de San Miguel, enfrentándose a una fuerte y completa censura de la comunicación durante semanas. Sin poder entrar ni sacar ninguna carta bajo ningún formato, finalmente y tras varias insistencias la administración carcelaria constituyo un protocolo para que la compañera pueda sacar cartas, pero al mismo tiempo prohibió que se le envíen cartas por correo directamente a la cárcel. En vista a esta situación se ha levantado provisoriamente la siguiente dirección para que compañerxs de otras latitudes envíen su correspondencia y podamos entrarla: Sta Isabel 0151 local 6. Providencia. Santiago
A pesar de las aperturas y desconfinamiento, en las cárceles siguen sin visitas y solo mediante llamadas y videollamada monitoreadas por gendarmería.

¡Solidaridad con Mónica y Francisco!
Tags: Chile, Francisco Solar, International Solidarity, Monica Caballero, Repression, Santiago
Posted in Prison Struggle
Thursday, October 29th, 2020
Rotating Hungerstrike in Spanish prisons
From last 1st of September on at least 14 prisoners, mostly anarchists, take actually part of a new rotating hunger strike against the precarious health conditions in the Spanish prisons. They reinvicate also a 14 point program against isolation custody (FIES/DERT), tortures and physical and psychical violence from the prison guards, dispersion of prisoners far from their home, etc. Every comrade is doing a 10-days-hungerstrike, one following other, every month 3 prisoners.
Violence in Spanish prisons is very common, every year 200 prisoners die inside Spanish prisons violently or from drugs, no medical attention or diseases. Actually in corona times, the conditions in jail are mostly insoportables (bad food, no activities, no visits…). Last month of August our comrade Carmen Badía Lachos was violated from a prison guard inside the 'hospital' part of the Zuera-prision (Zaragoza). (more…)
Tags: Carmen Badía Lachos, Claudio Lavazza, Gabriel Pombo da Silva, Hunger Strike, International Solidarity, Repression, Spain
Posted in Prison Struggle
Wednesday, October 14th, 2020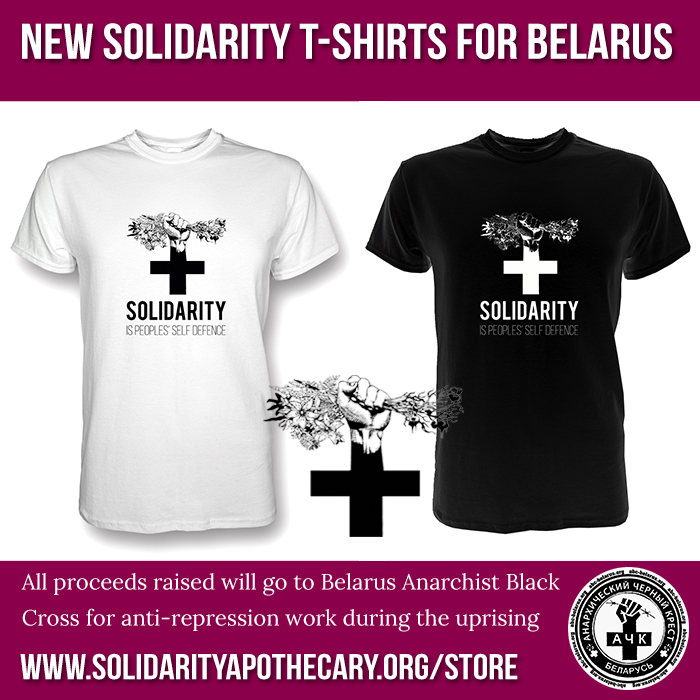 The Solidarity Apothecary is screenprinting tshirts to help raise funds to send to Anarchist Black Cross Belarus.
You can buy one here: https://solidarityapothecary.org/store/
People in Belarus are no stranger to state violence or repression living under a Dictatorship. However, as people have taken to the streets to protest, thousands are experiencing state violence at an unprecedented scale. In the first three days of the uprising in August, more than 5000 were detained by police. Many are experiencing beatings, torture, rape and sexual assault. One person was murdered. Despite the repression, people continue to fight on the streets.
Income from this t-shirt will go towards defendant support, meeting people from jails, legal costs and other anti-repression work. Solidarity is the peoples' self defence!
Please note this is a pre-order. An order will be placed with the printer on the 3rd of October and may take longer than usual to screenprint due to covid-19 restrictions. Thank you for your patience!
To learn more about the situation in Belarus check out:
ABC Belarus – https://abc-belarus.org
Belarus: Anarchists in the uprising against the Dictatorship – https://crimethinc.com/2020/08/12/belarus-anarchists-in-the-uprising-against-the-dictatorship-an-interview
Pramen (for translated news) – https://pramen.io/en/main/
Tags: ABC Belarus, Belarus, International Solidarity, Police Brutality, Repression, Social Insurrection, Solidarity Apothecary, Torture, UK
Posted in Prison Struggle
Monday, October 12th, 2020
9 October 2020
It feels incredible to type these words into the keys: The Liebig34 is cleared.
At 7:00 a.m. Robocops started sawing and flexing fences, doors, windows and barricades and at 11:00 a.m. the last inhabitants* of the Liebig34 were dragged out of the rooms.
We are sad. We are crying. We are exhausted. WE ARE ANGRY.
They can't imagine the determination they have awakened in us. This act of violence will explode in an act of counter-violence and self-defense. Already so much solidarity has happened in the last nights, months, years and has shown what we are capable of doing. This eviction is a moment of radicalization. We can use it and together we can express our hatred for this shit.
Even if the press, politicians, cops and Nazis are now taking pleasure in our loss, we are turning powerlessness into anger. So many borders have been crossed. We shout NO in your spiteful eats. You can have our house, you will never get our passion. We are so much more than this house – we are anarchists, feminists, queers and antifascists who will now channel their anger and attack capitalist patriarchy to the last.
We call for the demo from 21:00 in Monbijoupark. We call for decentralized actions. Let us experience a wild and chaotic October together!
34 million property damage – we are already well on the way.
Liebig34 lives. Liebig34 fights.
Tags: Berlin, Eviction, Germany, Liebig34, Liebig34/XB, Repression
Posted in Social Control
Thursday, October 8th, 2020
IT | PDF: "Andare all radice" – Marco Camenisch & John Zerzan
"Andare alla radice"
È uscito l´opuscolo "Andare alla radice" contenente un intervista di John Zerzan a Marco Camenisch.
PREFAZIONE
In una soleggiata cucina del sudest della Svizzera ho preso parte a questa magnifica conversazione con uno dei miei eroi, Marco Camenisch, e un caro amico che gli aveva più volte fatto visita durante i molti anni passati in prigione. Quest'incontro aveva per me un valore importantissimo, soprattutto perché, a differenza di Matteo, avevo conosciuto Marco solo la notte prima. Scriversi è una cosa, per quanto molto preziosa, ma di certo nulla può sostituire la possibilità di sedere faccia a faccia, l'uno di fronte all'altro. La nostra causa comune, per come la vedo io, è quella di eliminare la civilizzazione, la sua marcia funebre, e sostituirla con comunità di rapporti diretti, faccia a faccia. La società di massa ha soppresso la comunità. Ogni volta che ci s'incontra, come nel nostro caso, ci si prepara al suo ritorno. La nostra esplorazione ha ravvivato in ciascuno di noi l'anelito profondo per un nuovo mondo. È presente in ognuno, per quanto soffocato o deformato, nonostante le mastodontiche e onnipresenti forze contrarie. Le ore passate in così buona compagnia mi hanno rigenerato, stando assieme a guerrieri che non si arrendono. Prima di tornare in Italia con Matteo, ho salutato Marco che stava pulendo il pavimento della cucina della casa dove alcuni compagni ci avevano ospitato. Sorrideva e canticchiava, e questo mi ha reso ancor più felice!
John Zerzan
Eugene, Oregon, febbraio 2020
–
"Andare alla radice"
The booklet "Going to the root" has been published with an interview by John Zerzan with Marco Camenisch.
PREFACE
In a sunny southeastern Swiss kitchen I took part in this wonderful conversation with one of my heroes, Marco Camenisch, and a dear friend who had visited him several times during his many years in prison. This meeting had a very important value for me, especially because, unlike Matteo, I had met Marco only the night before. Writing is one thing, though very precious, but certainly nothing can stop you from sitting face to face, one in front of the other. Our common cause, as I see it, is to eliminate civilization, its funeral march, and replace it with a community of direct, face-to-face relationships. Mass society has suppressed the community. Every time we meet, as in our case, we prepare for its return. Our exploration has enlivened in each of us the deep yearning for a new world. It is present in each one of us, no matter how stifled or deformed, despite the mastodontic and omnipresent opposing forces. The hours spent in such good company have regenerated me, being together with warriors who do not give up. Before returning to Italy with Matteo, I said goodbye to Marco who was cleaning the kitchen of the house where some of our comrades had hosted us. He was smiling and humming, and that made me even happier!
John Zerzan,
Eugene, Oregon, February 2020
https://istrixistrix.noblogs.org/
Tags: Analysis, Anti-Nuclear, Anti-technology, Ecological Destruction, Interview, Italy, John Zerzan, Marco Camenisch, PDF, Repression, Switzerland, TAV, Zine
Posted in Library
Thursday, October 8th, 2020
Eric King describes himself as a 33-year-old vegan anarchist political prisoner and poet who was arrested and charged with an attempted firebombing of a Congressperson's office in Kansas City, Missouri, in September 2014. King was charged with throwing a hammer through a window of the building, followed by two lit Molotov cocktails. The criminal complaint states that both incendiary devices failed to ignite. King was identified as a suspect by local police because he had previously come under suspicion for anti-government and anti-police graffiti. After accepting a non-cooperating plea agreement, King was sentenced to ten years in June 2016. His release date is October 2023. He has served his time in various facilities of the federal Bureau of Prisons, or BOP.
King is currently facing one count of assaulting a government official for an incident that occurred in August 2018 at the Federal Correctional Institution (FCI) Florence. According to King's account, he was taken into a mop closet, out of sight of prison cameras, and beaten up by a corrections officer. The officer then said that King had assaulted him. King has been housed in a segregation cell at FCI Englewood since August 2019, fighting this charge. Overall, King has spent about three years in solitary confinement. He now faces a maximum of 20 additional years in prison. Read more about Eric King here: supportericking.org.
–
My toilet is right next to my cellmate's face, not hyperbolically, it is literally three inches from where he lays his head. I am in the FCI Englewood Secure Housing Unit (SHU)—the oddest SHU in the Bureau surely. In this segregation unit, you will get inmates from the Low [security prison], pre-trial people and folks like myself and my cellie who are on writ [having a court case] from other penitentiaries. This oddball combo makes no sense and causes a localized class system, all a part of the psych-ops of this odd rust bucket of a prison.
On August 17, 2017, I was taken into a mop closet by Super Patriot Lieutenant. I have been in solitary ever since, 19 months and counting. I learned how bad it can get, discovering new ways they can torture you; mentally and physically. Whether being choked while being held in four-point restraints for seven hours, being held in a cell for four days without a functional toilet filled with someone else's feces, I have seen their brutality and am stronger for it. I hope. (more…)
Tags: Eric G. King, International Solidarity, Isolation, Letter, Repression, USA
Posted in Prison Struggle
Tuesday, October 6th, 2020
Giannis Dimitrakis was sentenced to 11.5 years without mitigation for robbery, possession of a weapon and use of a forged document.
Kostas Sakkas was sentenced to 7 years and 10 months on the same charges.
However, both were acquitted of the charges of resistance and possession of drugs that the cops had included in the case file …
The co-accused anarchist comrade Dimitra Syrianou was sentenced to two years in prison with a three-year suspension for simple complicity in robbery, and was released.

Anarchists from Act for freedom now!
Tags: Dimitra Syrianou, Giannis Dimitrakis, Greece, Kostas Sakkas, Repression, Thessaloniki
Posted in Prison Struggle
Friday, September 25th, 2020
IT | Dichiarazione di Alfredo Cospito letta in aula il 9 settembre 2020 per l'appello del processo Scripta Manent
ES | Declaración del compañero Alfredo Cospito
Statement by Alfredo Cospito read in the courtroom on September 9, 2020 for the appeal of the Scripta Manent trial
I would have liked to be silent and let only my lawyer speak (who is more than capable), but seeing that my ideas have been torn to shreds and that words that I have never said have also been put in my mouth, I am forced to intervene directly in the first person.
For us anarchists the end does not justify the means, we firmly believe in the ethics of the means we use, for us it is the means that justify the end, not the other way around.
That is why I must reiterate that I have never made an apology for massacres or mass murder (as stated by – the prosecutor – Sparagna in a previous hearing). The prosecutor is confused, deliberately confusing "terrorism" with "massacre."
Two ugly words (without a doubt): one belongs to me, "terrorism", the other is totally foreign to me, "massacre."
(I open a brief parenthesis on "terrorism")
Sparagna, in order to create the monster ("the bloodthirsty anarchist," myself, so we can understand each other), has fished in the context of many of my writings, extrapolating phrases at random. Phrases that are the result of a diatribe (from one of the many debates) that our movement is going through, "the legitimacy of the use or not of the term 'terrorism' in an anarchist sphere." For those who are not anarchists, it is difficult to understand the passion with which we anarchists collide on certain issues. (more…)
Tags: Alfredo Cospito, Analysis, Black International, Black International of Anarchists of Praxis, Conspiracy of Cells of Fire, Earth Liberation Front, Informal Anarchist Federation (FAI), International Revolutionary Front, Italy, Nucleo Olga FAI/FRI, Operation Scripta Manent, Repression, Roberto Adinolfi, Trial
Posted in Prison Struggle
Thursday, September 24th, 2020
The rebellions of misery
"All control systems are based on the punishment/award binomial. When punishments are disproportionate to rewards and when employers no longer have any rewards left, uprisings occur."
Burroughs(1)
In the second decade of this century, urban revolts are becoming more frequent throughout the global geography, with subtle variations in duration and intensity. Hong Kong, France, Algeria, Iraq, Haiti, Lebanon, Catalonia, Ecuador, Bolivia, Sudan, Chile, Belarus, and now the United States of America, have been the sites of massive protests widely reported in the means of mass domestication. As I have pointed out on other occasions, these demonstrations have very particular motivations that explain them; however, it is indisputable that they all possess an intangible link that serves as a common denominator of most of these mobilizations: the weariness and rage of despair.
Far from the leftist rhetoric that insists against all evidence that "as long as there is misery there will be rebellion", what has really motivated the recent rebellions has not been "misery" but the conjunction of weariness and despair. These two factors – which drive the nostalgia for the "devil you know" and yearn for the return to the welfare state, to industrial capitalism and to the society of labour – are the causes of the widespread unrest that has led to the global revolt of our days.
It is increasingly axiomatic that "misery" only produces "misery". That is to say, servitude, begging and even the loss of all dignity. As the proverb goes, "hunger is a bad counsellor". She is the mother of all those specimens that hang a sign around their neck that says "I will do any work" (even for the SS, as George Steiner reminds us). Therefore, instead of creating rebels and refusers, misery breeds disease, malnutrition, mortality, fear, sexual exploitation, corruption, soldiers, police, informants and voters: human misery. (more…)
Tags: Analysis, Argentina, Germany, Gustavo Rodriguez, Repression, Riots, Russia, Social Insurrection
Posted in Anti-Fascist
Thursday, September 24th, 2020
Il numero 5 del giornale anarchico "Vetriolo" uscirà in un'inedita edizione murale, online e cartaceo. Una scelta, la nostra, che non rappresenta un mutamento editoriale definitivo, rispetto alle solite lunghe analisi critiche, di attualità e teoriche. Con ogni probabilità, "Vetriolo" tornerà nel consueto formato. La scelta di una edizione murale nasce nei mesi di prigionia di massa disposta dallo Stato con il pretesto dell'emergenza Coronavirus. Abbiamo sentito in questi mesi l'esigenza di una comunicazione in grado di rompere il distanziamento che le autorità vorrebbero interporre tra ciascuno di noi. Abbiamo sentito il desiderio di vedere appesi nei muri nelle nostre città le nostre e le vostre «grida» contro la repressione, tanto più in un momento a nostro avviso importante per l'anarchismo tutto, rappresentato dal processo d'appello dell'operazione «Scripta Manent», nonché dalle innumerevoli inchieste che le procure d'Italia continuano a indirizzare contro il movimento anarchico. Un'edizione murale vuole anche essere uno strumento in mano a quei refrattari che volessero sfuggire a futuri scenari autoritari, come l'antico gesto di appendere un manifesto. Divulghiamo, come anticipazione, il nostro articolo sul processo «Scripta Manent». Un contributo in vista del prossimo fine settimana di mobilitazioni.
A breve gli altri scritti e il manifesto murale. Per richieste di copie e contatti: vetriolo[at]autistici.org.
* * *
Un contributo per il processo d'appello dell'operazione «Scripta Manent».
In alto la mente e i cuori!
Quanti esseri hanno attraversato la vita senza mai svegliarsi!
E quanti altri si sono accorti che stavano vivendo solo per il monotono tic-tac degli orologi! (more…)
Tags: CNA Italia, Informal Anarchist Federation (FAI), Operation Scripta Manent, Repression, Vetriolo, Zine
Posted in Library
Thursday, September 24th, 2020
Programa #6 de Negras Tormentas Radio
Programa internacionalista realizado el martes 25 de agosto del año 2020 como especial de música en el marco de la "Semana Internacional de Solidaridad con lxs Anarquistas Encarceladxs". En este se compartieron textos del compañero Marcelo Villarroel Sepúlveda (prisionero de la guerra social) y se destaca la participación de manera conjunta con la Red Solidaria Antikarcelaria con Juan y Marcelo.
Para ver más visita: //www.facebook.com/sinfronterasninaciones/
Tags: Anarchist Radio, Chile, International Solidarity, International Week for Anarchist Prisoners, Marcelo Villarroel Sepúlveda, Negras Tormentas Radio, Radio, Repression, Santiago
Posted in Prison Struggle
Sunday, September 20th, 2020
§129a Investigation in Frankfurt/Main, Germany
17.06.2020, 6.00 a.m., windows break. The residents of the shared flat jump out of the bed because they think Nazis are smashing the windows, but the loud shouts, and hooded people with flashlights leave no room for discussion until all residents of the living community are already in pain on the floor. It takes a while for the excitement to subside and they realize that there are more than twenty Federal Police BFE cops in the little apartment. Others are waiting in the entrance and have positioned themselves around the house. It takes even longer until a search warrant is finally handed out and the lead management is handed over to the investigating BKA. They try to act formally legally correct, their goal is to work legally clean. These are the different sides of the repression, the hooded thugs are supposed to intimidate, the jovial BKA cops collect everything they can get and organize the whole thing.
The accused's room and common rooms are officially searched, and the rooms of the other residents are filmed.
The search warrant is issued by the Federal Court of Justice (BGH) on January 20th, 2020. They are investigating against the person concerned and at least two other unknown perpetrators for being part of an alleged "terrorist organization". On New Year's Eve 2018/2019, they and many others allegedly attacked the BGH branch in Leipzig. DNA finds on clothing and camera recordings are brought forward. The police are looking for certain clothing, communication media, other references to this alleged association. 3 laptops, a USB stick, papers and small items such as a balaclava were confiscated. (more…)
Tags: Frankfurt, Germany, Raids, Repression
Posted in Social Control
Wednesday, September 16th, 2020
[09.10.20 RÄUMUNSGVERSUCH DER LIEBIG34 – DON'T TOUCH LIEBIG34!!!!!]
Don't touch Liebig 34!
Eviction date on 09 October 2020
Today, on September 15, we received mail from the bailiff T. Knop.
They threatened to evict Liebig34 on Friday, October 9 at 7 am!
We will not let that happen!
How is it possible that an attempt to evict is being planned even though it is publicly known that a different association than the defendant is present in the rooms?
How is it possible that in times when a second wave of Corona and #StayHome is expected, a home is to be evicted by so many people?
How is it possible that especially now, in times of fascist marches and a shift to the right, a feminist, leftist and queer house project is being attacked so massively?
We are angry but determined.
We will not give up the Liebig 34 without further ado.
Support us in our struggle.
Come to the general assemblies, annoy politicians and homeowners.
Be creative! Let's make the eviction attempt a disaster!
MORE INFOS WILL COME – WE'LL KEEP YOU UPDATED!
Liebig34 blog: http://liebig34.blogsport.de/

via AWW.
Tags: Berlin, Eviction, Germany, Liebig34, Liebig34/XB, Repression
Posted in Autonomy
Tuesday, September 15th, 2020
Tags: International Solidarity, Philippines, Repression, Video
Posted in Autonomy