Posts Tagged 'Repression'
Wednesday, February 19th, 2020
We must not forget the anarchists and anti-fascists suffering repression in Russia! We are calling for people to take action of all forms to express support for these prisoners, to protest the prison system, and to spread information about the use of torture as an instrument of repression in Russia.
Why now? On 10th February, 630 kilometers from Moscow, the court in Penza passed sentence on seven people accused of organizing the so-called "anarchist terrorist community 'Network'". This entire case is based on confessions the defendants were forced to agree to via intense torture as well as weapons planted by police and an extremely tenuous accusation that they were "planning to plan terrorist actions to overthrow the government of Russia". For a "crime" without victims involving no real action and no real plan, the sentences decreed by the court are shockingly high. Dmitry Pchelintsev and Ilya Shakursky, the supposed organizers of this fabricated "Network," were sentenced to 18 years and 16 years in prison, respectively. The others have been sentenced as follows: Arman Sagynbaev 6 years, Andrei Chernov 14 years, Vasily Kuksov 9 years, Mikhail Kulkov 10 years, and Maxim Ivankin 13 years of imprisonment.
Scientists, journalists, human rights defenders, and other groups in Russia have protested and demanded that the sentence be repealed.
International solidarity is especially important at this moment because the "Network case" is not over. In St.-Petersburg, two more people, Viktor Filinkov and Julian Boyarshinov, await trial on related charges. The next court hearings are planned for February 25-28. This is why we ask that solidarity actions take place the last week of February.
Many other anarchists and anti-fascists in Russia are experiencing repression and torture, including Azat Miftahov, Ilia Romanov, Egor Lesnyh, Evgeny Karakashev and Kirill Kuzminkin. They also deserve our attention.
If you have a Russian consulate or embassy in your city, consider organizing an action in front of it!
Email action reports to rupression@protonmail.com or via Telegram to @RUPRESSION_bot or Rupression social networks.
We will inform the prisoners about any actions that take place.
For more information about the Network case, details of financial support and prisoners addresses: rupression.com
YOUR TORTURE WILL NOT KILL OUR IDEAS!
–
Russia – Un appello ad Azioni di Solidarietà – 22-29 febbraio
Non dimentichiamo le persone anarchiche e le antifasciste che subiscono la repressione in Russia!Chiediamo a tutt* di agire in qualsiasi modo per esprimere sostegno a questi prigionieri, per manifestare contro il sistema carcerario, e per
sensibilizzare sull'uso della tortura come strumento di repressione in Russia.
Perché ora? Perché il 10 febbraio, a 630 kilometri da Mosca, la corte di Penza ha giudicato sette persone accusate di organizzare la presunta «community anarchica terrorista di nome "Network" [NdT: Сеть, pronuncia "set'"]». L'intero caso è montato su confessioni estorte agli imputati sia con pesanti torture, sia su armi portate dalla polizia [NdT: come le molotov del G8 alla Diaz], e con l'accusa per niente fondata che stessero «pianificando azioni terroriste per sovvertire il governo della Russia». Per un "crimine" senza vittime che non implica né azioni e né piani reali, le sentenze decretate dalla corte sono drammaticamente alte. Dmitrij Pčelincev e Il'â Šakurskij, i supposti organizzatori di questo sedicente "Network", sono stati condannati rispettivamente a 18 e 16 anni di prigione. Gli altri sono stati condannati ai seguenti anni in prigione: 6 anni a Arman Sagynbaev, 14 anni a Andrej Černov, 9 anni a Vasilij Kuksov, 10 anni a Mihail Kul'kov e 13 anni a Maksim Ivankin.
Scienziati, giornalisti, difensori dei diritti umani e altri gruppi in Russia protestano e richiedono che la sentenza sia revocata [NdT: "repealed" in originale inglese].
La solidarietà internazionale è particolrmente importante in questo momento perché il "caso Network" non è finito. Altre due persone a San Pietroburgo, Viktor Filinkov e Ûlian Boâršinov, attendono un processo per accuse simili. La prossima udienza è fissata per il 25-28 febbraio. È per questo che vi chiediamo di tenere azioni di solidarietà l'ultima settimana di febbraio.
Molti altri anarchici e antifascisti in Russia stanno subendo repressioni e torture, fra cui Azat Miftahov, Il'â Romanov, Egor Lesnyh, Evgenij Karakašev e Kirill Kuz'minkin. Meritano la nostra attenzione.
Se avete un consolato o un'ambasciata russa nella vostra città, valutate di organizzare un'azione lì davanti!
Mandate resoconti delle azioni a rupression@protonmail.com o via Telegram a @RUPRESSION_bot o ai canali social di Rupression.
Informeremo i prigionieri delle azioni che avranno luogo.
Per altre informazioni riguardo il caso Network, dettagli per il supporto finanziario e gli indirizzi dei prigionieri: rupression.com
LE VOSTRE TORTURE NON UCCIDERANNO LE NOSTRE IDEE!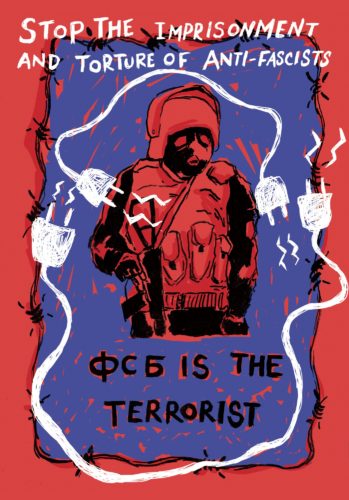 Tags: "Network Case", International Solidarity, Repression, Russia
Posted in Social Control
Thursday, February 13th, 2020
via ContraMadriz:
We are at war
29th of May and 19th of October of 2018: Police raids in Madrid and Palencia related to the repression against the riots of Hamburg against the G20 summit in July 2017 take place. This police operation was coordinated at an European level, with a lot of cooperation between different states. Attacks in response to these police raids happen all around Europe, and they are still happening.
29th of October of 2018: Two anarchists are arrested in Madrid accused of burning a Bankia ATM the 11th of april of that same year. This action was done in solidarity with Lisa, an anarchist who is actually in prison for robbing a bank in Germany. A lot of banks receive the solidarity of the anarchists.
25th of April of 2019: An anarchist is arrested accused of attacking VOX headquarters in Madrid with a hammer. Several political headquarters are attacked during the election campaign.
13th of May of 2019: Antiterrorist operation against the anarchist movement in Tetuán (Madrid). Two anarchists are arrested under the charge of terrorism. Police break into a house and the Espacio Okupado Anarquista La Emboscada. Different attacks in solidarity happen all around the State.
During all 2019: There is an increase of evictions of squatted spaces all around the state. Dozens of people are arrested and are waiting for trial. Attacks and riots in defence of those squatted spaces.
Solidarity-Complicity- Attack.
No rest for the Exploiters.
No rest for the Power.
No peace for the State.
Tags: Flyposter, International Solidarity, La Emboscada, Lisa, Madrid, Palencia, Raids, Repression, Sabotage, Spain, Tetuan
Posted in Social Control
Tuesday, February 11th, 2020
On July 8th, 2019, the New Democracy government of Kyriakos Mitsotakis assumed power in Greece, after campaigning on a promise to 'clean up' the central Athens neighbourhood of Exarchia, and 'take it back' from the anarchists.
Since then, the Greek state has launched a renewed attack against the anarchist and self-organized migrant movements, targeting squats and promising future raids. Against this threat, Greek anarchists have responded with characteristic resolve and determination.
Featuring interview with Pangiotis Varthalis of the squat Lelas Karagiannis 37
Translated by Boubouras (Act For Freedom Now)
Tags: Alexis Grigoropoulos, Athens, Counter-info, Exarchia, Greece, International Solidarity, Lelas Karagianni 37, Migrant Struggle, Racism, Raids, Repression, Riots, Sabotage, Squatting, Video
Posted in Autonomy
Tuesday, February 11th, 2020
THEY DON'T INTIMIDATE US, THEY INFURIATE US!
Last night at Notara26 Refugee/Migrant Housing squat we were attacked for the third time in the past six months by the state uniformed bullies.
Around 4:30 am – only a few minutes after one more attempt by undercover police to intimidate one of our comrades who was on her way to our squat- a riot squad, totally unprovoked, surrounded our squat twice.
The first time they were flashing their torches and laser pointers into our lobby persistently trying to see our faces and how many we were. They then withdrew for about ten minutes but came back reinforced. Τhis time apart from torches and laser pointers, they tried to force our squat's door open.
These practices of the uniformed state terrorists DO NOT SCARE US! We are here, we continue our everyday struggle against fascism, racism and repression. We form strong solidarity and comradeship ties.
The only result this kind of bullying can have is to bring us even more together and our ranks closer!!!
There is only one thing to say…
WE SHALL MEET AT THE BARRICADES
Assembly of Notara 26, 10/2/2020
via Enough 14.
Tags: Athens, Eviction, Exarchia, Greece, Migrant Struggle, Notara26, Racism, Repression, Squatting
Posted in Social Control
Tuesday, February 11th, 2020
ACERKA DE LA RESISTENCIA A LA PRISIÓN Y LA NECESIDAD DE EXTENDER LA LUCHA AUTÓNOMA ANTIKARCELARIA.
Una breve mirada a las experiencias de lucha desde el encierro, sus énfasis y los kontextos en ke se han desarrollado.
«Sin ningún Comité Central ni ninguna jerarquía que clasifique nuestrxs miembrxs, solo podemos conocer caras extrañas como amigxs a través de sus acciones. Lxs queremos, Ixs abrazamos, al igual que sabemos que otrxs lo harán. Otras células, secciones, grupos.»
Brigada de la Cólera
1970.-
En tiempos de agudización del konflikto social la kárcel es el principal instrumento de kontrol y kastigo para kienes no se someten y se rebelan.
Históricamente el dominio a través de todos sus dispositivos ke sostienen el poder, la autoridad, el mundo de las jerarkías, el patriarkado y el kapital a usado la sanción normalizadora para kombatir toda forma de Resistencia ke atake y amenace su paz social.
Sin ir más lejos no fue sino en la diktadura de Pinochet en donde esta dinámika afectó masiva y sistemátikamente a miles y miles de Rebeldes ke la kombatieron entregando los mejores días de sus vidas.
Se reformuló el marko jurídiko fundado en la doktrina de seguridad nazional ke veía un enemigo interno al ke había ke aplastar bajo la exkusa de «kombatir el káncer marxista» según la voz de los genocidas de la époka.
Operaba la pútrida «justicia militar»:
Miles de muertxs, desaparecidxs, exiliadxs, perseguidxs, violentadxs, torturadxs son el rekuerdo imborrable y el triste legado de la refundación kapitalista neoliberal del imperio yanky a través de la insurrexión militar burguesa del genocida ejército chileno. (more…)
Tags: 14/14, Anti-Prison, Chile, Dictatorship, General Pinochet, International Solidarity, Isolation, Letter, Mapuche, Marcelo Villarroel Sepúlveda, Repression, Torture
Posted in Prison Struggle
Tuesday, February 11th, 2020
Note from the Russian Reader: This verdict doesn't leave me at a loss for words. I'm just convinced there is no point in using them when everyone who could listen has made a point of tuning out people like me. If someone invited me to appear on their aptly named alternative radio program or their globe-spanning Qatar-based international TV network (as nearly happened in the past), I could talk for hours about the Network Case. But that's not going to happen. Although if I were a betting man, I would wager that our tiresome planet's obnoxious pillars of liberal truth—the New York Times, the Guardian, the Washington Post, and Al Jazeera, among others—will suddenly weigh in on the case after blithely ignoring it for two years, as will many if not all of the crypto-Putinist "Russia watchers" in our midst, eerily silent until now. Barring a sudden revolution, don't imagine this is the last such case in Russia, a country that has worried so many people around the world for the last several years that they're determined not to know anything particular about it except "Putin" and "troll factories." And don't imagine that a show trial just as juicy and unjust won't be coming to a theater near you. Please don't reprint, repost or otherwise reference this article without prefacing it with my remarks. I'd like to preempt "spontaneous" shows of "solidarity" by people who couldn't be bothered to do anything when it would have made a difference. Despite the well-known saying, it IS a popularity contest, and seven innocent young men in Penza have lost it.
Bumaga
February 10, 2020
The Volga District Military Court, [sitting in Penza], has [convicted and] sentenced seven defendants in the Network Case.
Dmitry Pchelintsev was sentenced to 18 years in a maximum-security penal colony. Ilya Shakursky was sentenced to 16 years in a penal colony and fined 50,000 rubles. Investigators claimed they were organizers of a "terrorist community." Both men alleged that FSB officers had electrocuted them in order to obtain confessions.
Maxim Ivankin was given 13 years in a maximum-security penal colony, while Andrei Chernov was sentenced to 14 years, and Mikhail Kulkov, to 10 years. They were found guilty of involvement in a "terrorist community" and attempting to sell drugs.
Vasily Kuksov was sentenced to 9 years in a penal colony. He was accused of involvement in a "terrorist community" and illegal possession of a weapon. Another defendant, Arman Sagynbayev, received 6 years in prison.
The verdict handed down by the court in Penza suggests that the acquittal of the Petersburg defendants in the case is less likely, Viktor Cherkasov, the lawyer for Viktor Filinkov, a defendant in the Network Case, told Bumaga.
"It sends a message," said Cherkasov. "It is difficult to hope [for a positive outcome], but we are still determined to protect Filinkov's interests."
Cherkasov said that he planned in court to point to the faked evidence in the case. He also that he would take the case to the European Court of Human Rights if Filinkov were found guilty. The next hearing in the Network Case in Petersburg should take place between February 25 and February 28.
[In October 2017 and January 2018], antifascists and anarchists were detained in Penza and Petersburg. They were accused of organizing a "terrorist community," allegedly called "the Network." Its alleged purpose was to "sway the popular masses for further destabilization of the political situation" in Russia.
The defendants in the case said investigators had tortured them as a way of forcing them to confess and weapons had been planted on their persons and property to further implicate them. [Some of] the arrested men had played airsoft together: this, investigators, said was proof they were planning terrorist attacks.
Investigators claim that the Petersburg defendants in the case, Filinkov and Yuli Boyarshinkov, acted as the group's sapper and signalman, respectively. Their trial is scheduled to resume in late February.
Translated by the Russian Reader
Tags: "Network Case", Andrei Chernov, Arman Sagynbayev, Dmitry Pchelintsev, Ilya Shakursky, International Solidarity, Maxim Ivankin, Mikhail Kulkov, Penza, Repression, Russia, St. Petersburg, Torture, Trial, Vasily Kuksov, Viktor Filinkov, Yuli Boyarshinkov
Posted in Prison Struggle
Sunday, February 9th, 2020
Information on the arrests of anarchists K. Athanassopoulou, D. Valavani and G. Michailidis by telephone communication, 6.2.20
As is already known, the 3 comrades were arrested at 9.30am on Wednesday 29/1.
From the time of arrest until 19.00 pm they were not allowed to contact anyone. The following day, the genetic material was violently taken from the two comrades, after Mihailidis' DNA was already in their possession. Particularly Dimitra Valavani was hit despite their having been informed of a previous head injury. Her constant demand to call her doctor has been repeatedly denied. Instead, she was taken to hospital after 3 hours, where she was given irrelevant examinations.
All three held a negative attitude during the interrogation. The next day they were taken to an investigator and prosecutor, where they declared their anarchist political identity.
It is worth noting that in addition to the standard investigations in their homes, the counter-terrorism twice entered Dimitra's grandfather's house, where he was subsequently sampled for DNA.
The three comrades are strong psychologically and will send more extensive information when they manage to send a communique text.
STRENGTH TO D. VALAVANI, G. MICHAILIDIS AND K. ATHANASOPOULOU.
Translated by Act for freedom now!
Tags: Athens, Dimitra Valavani, Giannis Mihailidis, Greece, Konstantina Athanasopoulou, Repression
Posted in Prison Struggle
Friday, February 7th, 2020
Yesterday, January 29th, the sentence of first instance was issued for a trial in which four comrades from Pinerolo were accused. The proceedings, on charges of robbery and injury, involved a clash with a plainclothes carabiniere [a Carabinieri officer, one of the Italian law enforcement forces] during an anti-fascist protest in Pinerolo, in 2018: the charges relating to the carabiniere's injuries were dropped and the "robbery" was reclassified as "attempted robbery", leading to the sentencing of all four defendants to 18 months' imprisonment and payment of court costs. Since he was wronged with the physical damage, the cop has filed a claim for compensation for moral damages… 500 euros…
Certainly, even these heavy sentences confirm the criminalisation and repression that resistance movements and individuals in revolt are facing these days.
In the meantime, probably between 26 and 27 January, one of the 4 comrades on trial, Leonardo (Leo) – who was in prison in Lucca prison to serve a final sentence for another crime dating back to 2007 [it is a conviction for robbery in the trial for "Ardesia" repressive operation] – was transferred to the prison of Vibo Valentia for reasons that we do not know at the moment.
Solidarity to the comrades convicted for the facts of Pinerolo! Always enemies of cops and fascists!
Against dispersion and isolation: always at Leo's side and those who resist in the streets and in the galleys!
To write to Leo:
Leonardo Landi
C. C., nuovo complesso
Contrada Cocari
89900 Vibo Valentia
Italia
Anti-repression Fund of the Western Alps
["Cassa Anti-Repressione delle Alpi occidentali"]
Tags: Italy, Leonardo Landi, Pinerolo, Prison Transfer, Repression, Trial
Posted in Social Control
Wednesday, February 5th, 2020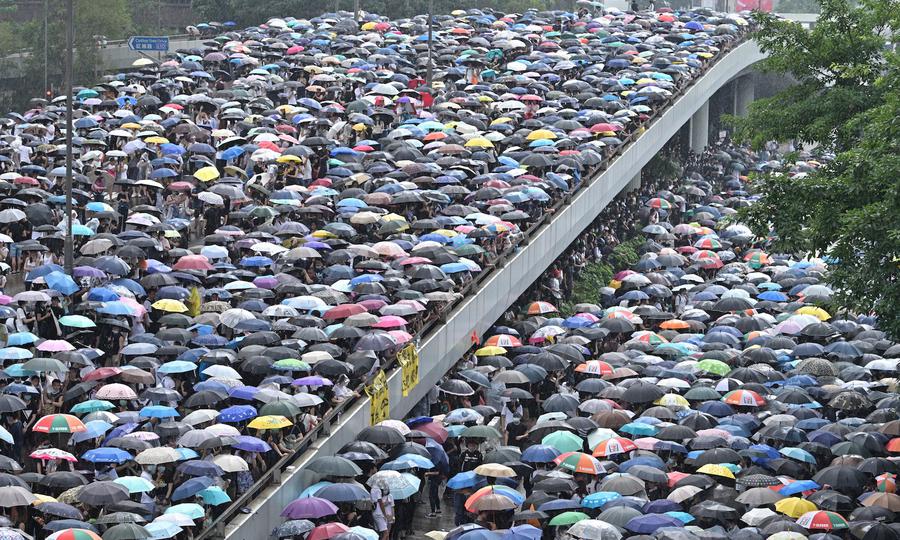 "On Wednesday 12th June, when someone shouted out that drones had started flying above them, everyone opened up their umbrellas almost simultaneously."
Four texts from Dialectical Delinquents:
1. Coronavirus – an exercise in intensified social control.
2. Hong Kong – its relevance to the rest of us… …its resistance to the science & technology of social control.
4. China: A-Z of some moments of international opposition.
Tags: Anti-technology, CCTV, China, Coronavirus, Dictatorship, Facial Recognition, Hong Kong, Repression, Riots, Social Insurrection, Surveillance
Posted in Social Control
Saturday, February 1st, 2020
On January 8, 2020, the Court of Genoa applied the measure of "special surveillance" to four of the 14 anarchists who demonstrated at La Spezia prison on January 5, 2019, in solidarity with Paska, after the beating inflicted on him by the guards in the prison of this city (Paska is an anarchist imprisoned for the "Panico" repressive operation). The "supervised" are Amma, Ciccio (from Florence), Greg and Carlo. They are affected by prevention or security measures, being forbidden to attend demonstrations and meetings, subject to a prohibition on carrying weapons and have to pay court costs.
For Amma, Ciccio and Carlo the measure also includes the obligation to stay in the area of residence (not in the city) and the obligation to communicate their movements to the cops. Since Amma is currently under house arrest, the measure will begin for him once his detention is over.
There is the possibility to appeal within 10 days and indicatively the court will reply within 30 days. This appeal is not definitive. Updates will follow.
via insuscettibilediravvedimento.
Tags: Genoa, Italy, Operation Panic, Paska, Repression
Posted in Social Control
Saturday, February 1st, 2020
On Friday 24.01 around 4.00 a.m, the cops of the police station 51 (Wedekindwache), raided the flat of Maria P. on Grünberger Straße 46, after her flatmate's phone call, and shot her dead. Police reports and its careful reproduction through mass media profile Maria as a mentally ill person attacking the cops with a knife. At the same time the state, police and the mass media are targeting persons with mental health issues, suggesting that this 'diagnosis' is enough for their potential execution.
The day after the murder, people gathered in solidarity and started a spontaneous demo in Maria's neighbourhood. This demo was attacked by the cops, completing in this way the image of zero tolerance while actively defending the provocative statements of the police union (GdP) and the public prosecutor's office which said that they are currently assuming that their colleagues have behaved correctly.
Berlin is a city based on the alternative tourism industry and a facade of diversity tolerance, promoting a progressive city image, which offers as products, ideas such as antiracism, antisexism and veganism/vegetarianism without hesitating to rely on the 'friendly' police forces (da für dich) to ensure citizen's peace and security when needed. (more…)
Tags: Anti-Psychiatry, Berlin, Demo, Germany, Maria P., Police Brutality, Repression
Posted in Social Control
Saturday, February 1st, 2020
Recibido por correo electrónico. Para descargar el PDF aquí.
UN MAR DE POSIBILIDADES EN EL DESIERTO DE HORMIGÓN
Esta publicación es una recopilación de textos que surge de los debates y el trabajo que comenzamos a raíz de las jornadas «Un mar de posibilidades en el desierto de hormigón, Territorio, ciudad e insurrección» que sucedieron en Madrid durante junio de 2019 en La Emboscada y en Local Anarquista Motín. Es el fruto de un trabajo conjunto de algunas compañeras de Berlín y Madrid, que no termina con la publicación de estas páginas y que pretende extender el debate que hemos compartido. ¿Qué significa tomar territorio frente al Estado y el Capitalismo? ¿Cómo podemos tomarlo a través de nuestras luchas? ¿Cómo funciona la dominación en los territorios que habitamos? ¿Supone nuestra manera de habitar el territorio un conflicto con el sistema?
Diciembre 2019,
Madrid y Berlín
Índice:
-Territorio, ciudad e insurrección. Proyectualidad y propuestas de lucha.
-Conclusiones de las jornadas (Madrid)
-Conclusiones de las jornadas (Rigaer 94)
-Lo llaman "Zona de peligro" (Rigaer 94)
-La lucha por el territorio en Exarchia
-Rompiendo la espada del capital que amenaza Exarchia
-La ciudad como instrumente de dominación
-La única administración posible. Sobre la cuestión de las ciudades
Tags: Berlin, Eviction, Exarchia, Madrid, PDF, Repression, Rigaer 94, Rigaerstrasse, Sabotage, Social Insurrection, Squatting, Zine
Posted in Library
Saturday, February 1st, 2020
Friday, January 24, the trial of anarchist Dinos Giagtzoglou ended in the special courtroom of Korydallos Prisons.
With a concurrent prosecution proposal, the Second Three-Member Athens Appeals Court cleared Dino of being a member of and participating in a terrorist organization (C.C.F.), the manufacture of explosives and financing of a terrorist organization but guilty of supply-possession explosive (defective) and illegal possession of pistols, ammunition (felony).
The court found him guilty by a majority (2-1) after one member considered that the charge was defective.
Anarchist comrade Dinos Giagtzoglou was sentenced to a total of 11 years and 2 months' prison without parole.
Source: Athens IMC & Actforfree.
Tags: Athens, Conspiracy of Cells of Fire, Greece, Konstantinos Yagtzoglou, Korydallos Prison, Repression, Trial
Posted in Prison Struggle
Saturday, February 1st, 2020
From Stateless:
+ Drugs, dynasties, and Nottingham Forest: Marinakis and Greece's Mafia State.
In July 2019 a new right-wing government came to power in Greece, pledging to get the country back to "normality". By this it means a 1950s-style vision of a uniform, white, christian society where everyone is happy working for low wages, shopping on credit, and blaming their troubles on scummy foreigners.
So, in external affairs, the government rattles the national sabre ineffectively against Turkey or North Macedonia. Internally, it declares war on anyone who doesn't fit the "normality" script: above all migrants, students challenging the neoliberal university, and the country's troublesome anarchist movement.
On the ground in Athens, this translates to numerous squat evictions, as well as occupying and gentrifying the "lawless zone" of Exarchia: the haunt of anarchists, migrants and students alike. Plus, in general, boosting police numbers and powers, toughening sentencing laws, and rounding up migrants evicted from the squats to be sent to camps across the country.
The previous left-wing Syriza government also sought to control Exarchia and its anarchist and anti-social elements. But it played a more sophisticated hand, often avoiding inflaming tensions which could alienate some of its supporters. New Democracy takes the opposite tack, playing up its attacks to get applause from its right-wing audience.
New Democracy in the UK
The characters behind New Democracy seem a fair representation of the Greek business elites, with their family dynasties and cronyism. Another feature of the Greek business class is its strong international connections. In particular, many business and political leaders have been educated in the UK, while London is one of the main financial centres where the Greek shipping barons and friends launder and spend their money. (more…)
Tags: Analysis, Athens, Exarchia, Fotios Stikas, George Palikaras, Greece, Kostas Papakostas, Marianna Lykourentzou, Michael Arapis, Nea Demokratia (Right Wing Party), New Democracy UK (Right Wing Party), Nikolaos Lilis, Panayiotis Kalambokis, Repression, Sokratis Ochtaras, Theodosis 'Ted' Zaimis, Vasilis Repakis
Posted in Anti-Fascist
Friday, January 31st, 2020
+ Update – 3/2/20 – Prison transfer details..
+ Update and new solidarity call to the 3 Anarchist comrades.
31.01.20202: According to information posted on Athens Indymedia and in the Greek corporate media, anarchist comrades Giannis Michailidis, Konstantina Athanasopoulou and an unnamed woman were captured in an allegedly stolen car in the Athens suburb of Agia Paraskevi on Wednesday.
Anti-terrorism police are claiming they found a Kalashnikov rifle, a submachine gun, a handgun, stolen license plates and other items inside the vehicle.
The comrades have so far been charged with four felonies and six misdemeanors including membership of a criminal organization and illegal possession of weapons.
Comrade Giannis Michailidis escaped from the Tyrintha agricultural prison in June 2019. He was originally arrested in February 2013 for the double armed robbery that took place in Velventos along with anarchist comrades Nikos Romanos, Dimitris Polis and Andreas-Dimitris Bourzokis. He was also serving time for an attack against police in Pefki in May 2011. Giannis is also known as "the archer of Syntagma" since, in February 2011, in the clashes during a general strike, he was arrested for hitting the riot police that protected the Greek parliament in Syntagma Square (Athens) with a bow and arrow.
Comrade Konstantina Athanasopoulou had been on the run after being released on bail for activities related to the revolutionary organization Revolutionary Struggle. She was sentenced in absentia in 2019 to 35 years and 6 months.
International Anarchist Solidarity to the Arrested Comrades!
via Anarchists Worldwide.
Tags: Athens, Giannis Michailidis, Greece, Konstantina Athanasopoulou, Repression, Revolutionary Struggle
Posted in Social Control