Posts Tagged 'Repression'
Friday, November 9th, 2018
The special services in Russia are preparing to destroy the anarchist movement. The pretext is the bomb attacks of the young anarchists.
17 years old anarchist Mikhail Zhlobitsky blew himself up in the building of FSB of Arkhangelsk city in the morning of the 31st of October. Before the explosion he posted messages in the 'Vkontakte' social network and in 'Rechi buntovshchika ('Speeches of the Rebel')' chat in Telegram messenger (t.me/rebeltalk). In these messages several minutes before the explosion he warned about the action in preparation, and named the reasons –  propaganda by action and revenge for the torture and repressions by FSB against the anarchists.
Michael's 14 year old supposed comrade was arrested by special services in Moscow on the 2nd of November. Special services accuse Kirill Kuzminkin in preparing a bomb attack on a neo-nazi march. Kirill denies the accusation. Cops claim that components for the production of explosives have been found in Kirill's house. Kirill's father claims that these are components for the production of firecrackers, and special services are trying to present the teenager as a terrorist.
At the same time the police and special services countrywide interrogate anarchists, socialists, anti-fascists, and even libertarians. Subscribers of "Narodnaya Samooborona (People's Self-Defense)", the largest Russian anarchist resource, and "Rechi buntovshchika ('Speeches of the Rebel')", the anarchist chat in the Telegram, where Mikhail Zhlobitsky's message about the upcoming attack on the FSB was posted, are being massively verified. For example, in Krasnodar, about a hundred people were summoned to talk with the police. They were asked about their attitude towards anarchism, "Narodnaya Samooborona" and the action of Zhlobitsky. It is reported that the police and special services intend to check all the subscribers of the "Narodnaya Samooborona" group in social networks – these are 26 thousands of people. (more…)
Tags: Alexander Kolchenko, Chelyabinsk, Crimea, Evgeny Karakashev, FSB, Ilya Romanov, Irkutsk, Kaliningrad, Kirill Kuzminkin, Misha Zhlobitsky, Moscow, Narodnaya Samooborona, Oleg Sentsov, Penza, Repression, Russia, St. Petersburg, Svyatoslav Rechkalov, Vyacheslav Lukichev
Posted in Social Control
Thursday, November 8th, 2018
Corporate media article detailing new research and development by the scientists of social control in the service of power:
An EU-funded project is developing an 'intelligent control system' to test third-country nationals who reach the EU's external borders, including a sophisticated analysis of their facial gestures.
The Intelligent Portable Border Control System, iBorderCtrl, is a series of multiple protocols and computer procedures which are meant to scan faces and flag 'suspicious' reactions of travellers who lie about their reasons for entering the Schengen area.
The AI-based screening system will check up to 38 facial micro-gestures of travellers – like eye direction, pupil dilation, minimal voice changes and micro-expressions undetectable to human guards – which were collected during a series of questions asked by the border agents at the checkpoints. (more…)
Tags: Anti-technology, Artificial Intelligence (AI), Biometrics, CCTV, EU, iBorderCtrl, Intelligent Surveillance, Migrant Struggle, Racism, Repression
Posted in No Borders
Wednesday, November 7th, 2018
Last Monday, October 29, the Information Brigade went to the houses of two anarchist comrades in Madrid to arrest them. They are charged with the crime of damages caused by the burning of a Bankia ATM in the Vallekas neighborhood during the week of action on the anniversary of the arrest of Comrade Lisa, who is currently in the custody of the German state sentenced to 7 years and accused of robbing a bank.
It is not the first nor the last time that the State represses any indication of direct anarchist action. The State has been improving its repressive machinery for some time. Proof of this is the proliferation of surveillance cameras (as in this case) and the taking of DNA and the coordination with other police bodies at European level (as in the case of Lisa or those hunted and imprisoned for the events at the [Hamburg] G20, which had its last chapter in the Spanish State on October 19 with house searches of comrades in Palencia and Madrid).
These arrests, in the way they have been carried out, mean a change of repressive strategies away from the media's spectacularization of past police operations against anarchist environments (Pandora, Piñata, Pandora II, Ice). The goal is the same, however: intimidation, fear and the consequent paralysis of the struggle. (more…)
Tags: International Solidarity, Madrid, Repression, Spain
Posted in Social Control
Saturday, November 3rd, 2018
Receive and transmit:
A critical and at times biting look back on the fight against J20 repression. This text will hopefully lead to more reflections, responses, and above all – critical reflection as we look back and assess our own activity.
I'm a former J20 defendant.
Off the bat, I want to say that I only speak for myself. I've learned this is important. No one has permission to speak for me, and I don't permit myself to speak for anyone else. I think this is the common mistake made by "organizations" of any form, all these tiny Leviathans that pick up this or that cause, on behalf of such and such people: their project is still representation, the creation of subjects and sovereigns, still business as usual. In the end, I think they manage our struggles for us.
Our struggles need to be direct. They have to emerge directly from within our own lives, our particular situations, and we need to embrace a willingness to confront them. No one is coming to liberate us but ourselves. I think this is a good thing however, it means there's no one to wait for.
I'm not going to discuss what happened on January 20th, 2017. The majority of ex-defendants had their charges dismissed without prejudice, and in addition to possibly placing them at risk, recounting a few (allegedly) shattered windows during a largely symbolic protest doesn't mean nearly as much to me as the last eighteen months of concentrated, intense state repression. (more…)
Tags: Analysis, J20, Repression, Trial, USA
Posted in Social Control
Monday, October 29th, 2018
Poland, Katowice 2015, AntiCongress (AntyKongres): Anarchist comrades living in Poland organised Anticongress, a protest against European Economic Congress (EEC) held in Katowice, Poland. Anarchists organised demonstrations, lectures and in the evening decided to scout an abandoned building to protest against capitalism and the economic decisions taken above our heads by politicians and bourgeois and against housing policy in Poland. The police tried to get inside and throw them out and silenced the voices of opposition preventing to disrupt the meetings at EEC. Our comrades defended bravely and fearlessly throwing petards [small explosives] and bottles but in the morning antiterrorists break through using stun grenades and arrested 21 anarchists. (more…)
Tags: European Economical Congress, International Solidarity, Katowice, Poland, Repression, Silesian 2
Posted in Prison Struggle
Monday, October 29th, 2018
On 19 October our two comrades were arrested because of a court sentence given to them for taking part in anarchist protest against European Economic Congress (EEC) 2015 which was held in Katowice.
Our friends where sentenced to community services because of the crime called "infringement of privacy". They were protesting in empty abandoned tenement house which was city property. They wanted to protest against the inherent contradiction between empty property and homelessness and to show injustice of savage capitalism.
Arrest is a consequence of avoiding these community services. One of activists went to prison for 2 months till 15 of December. He is kept in prison in Tarnowskie Góry (Silesian region). From the very beginning he started hunger strike, because he doesn't have possibility to eat vegan food. Administration refused to pass him warm clothes. The cell is not heated and he has no any jacket. According to official rules, prison keeps 50% of all money income. Anyway, director of this penal facility doesn't allow him to use prison shop, or to buy food for him during dates with visitors.
About the other detainee we have no information. Police didn't want to inform anybody about his situation, because of formal causes (administration refuse to allow him date with relatives, because he doesn't remember the exact address of their place of residence). That is why we don't know the condition of his imprisonment. (more…)
Tags: European Economical Congress, Katowice, Poland, Repression
Posted in Prison Struggle
Sunday, October 28th, 2018
Six anarchists have been arrested in Murcia by the Spanish National Police who accuse them of being responsible for several explosive and incendiary attacks against infrastructure including pylons. The six anarchists aged 21 to 27 are accused of possession, storage and trafficking of explosives, and property damage. This operation follows an arrest and search that took place in June this year in the town of Molina de Segura (Murcia region), during which a young anarchist was arrested and explosive material seized. Thirty similar actions in their equipment and targets took place in Murcia. The six anarchists arrested are charged for the last nine attacks.
Tags: Molina de Segura, Murcia, Repression, Sabotage, Spain
Posted in Social Control
Wednesday, October 17th, 2018
Rupression.com campaign statement about the accused
In February 2018, a campaign was launched in Russia to support those accused in the Network case. Among the main goals of the campaign were fundraising for legal costs, organizing humanitarian support for the arrested and offering support to their relatives. The resources gathered have so far been distributed according to the financial circumstances of the respective families and the needs of the arrested. Further financial support is being distributed according to the choices made by those the arrested throughout the investigation.
Currently two of the accused, Igor Shishkin, and Yegor Zorin, are firmly siding with the investigation.
Igor Shishkin has not filed a torture complaint, although traces of torture were reported on his body by the Independent Public Oversight Committee (ONK). He has signed agreement prior to being present in court, which means that he has fully admitted his guilt. He is actively cooperating in the investigation of the criminal case, and also giving testimony against other suspects. (more…)
Tags: Igor Shishkin, Repression, Russia, Yegor Zorin
Posted in Prison Struggle
Monday, October 15th, 2018
Some Yogyakarta prisoners are free!
Here are some Yogyakarta prisoners who have been released after undergoing trial and reading the verdict:
– MD detention decision of 5 months, the term of detention served, free October 9, 2018.
– OO for 5 months detention decision, deducted the period of detention served, free October 9, 2018.
– MI and MEA prisoner decision 5 months 15 days, detained prison term, free 14 October 2018.
– ZW and AMH detention decision 5 months 15 days, the detention period will be deducted, free October 14, 2018.
There are still other prisoners undergoing the trial process including Ucil (BV).
We will provide updates on any developments in the trial as soon as the information is available.
Nobody is free until everybody is free!
(Info via Palang Hitam Indonesia / Anarchist Black Cross Indonesia)
–
Sebagian tahanan Yogyakarta sudah bebas!
Berikut adalah beberapa tahanan Yogyakarta yang sudah dibebaskan setelah menjalani sidang dan pembacaan putusan:
MD putusan tahanan 5 bulan, bebas 9 Oktober 2018
OO putusan tahanan 5 bulan, bebas 9 Oktober 2018
MI dan MEA putusan tahanan 5 bulan 15 hari, bebas 14 Oktober 2018
ZW dan AMH putusan tahanan 5 bulan 15 hari, bebas 14 Oktober 2018
Hari ini, Senin 15 Oktober 2018 sidang dilakukan untuk MC dengan kesaksian dari BV dan AM.
Perkembangan persidangan akan segera kami kabari kembali.
Tidak ada yang bebas sampai semuanya bebas!
Tags: Brian Valentino (Ucil), Indonesia, Mayday, Repression, Trial, Yogyakarta
Posted in Prison Struggle
Wednesday, October 10th, 2018
For recent report about Operation Scripta Manent, see this important article translated into English by Act for Freedom Now!
Recently, as I was reading the report on the hearings of the trial that we are facing following the Turin investigation "Scripta Manent", staged by prosecutor Roberto Sparagna, I noticed an explanation regarding the keylogger (or Agent Elena, as the miserable Naples ROS called it).
A text that appears in some sites says that a keylogger was allegedly used to intercept off-line comments during RadioAzione live recordings. That would be nice, but unfortunately the reality is different.
The keylogger was a proper bug, sent to my PC via internet through a virus, and it was capable of intercepting everything around my computer. It was sufficient for the computer to be connected to the internet and the miserable ones were able to hear all audio nearby (no video because the webcam has always been blocked out).
So, because I have my PC in my bedroom they listened not only to radio off-line comments but even more… everything in fact! (more…)
Tags: Counter-info, Hacking, Italy, Operation Scripta Manent, RadioAzione, Repression
Posted in Social Control
Sunday, October 7th, 2018
PDF: Dark Nights #47 – EN
PDF: Dark Nights #47 – ES
'Against Surveillance State UK – Against Facial Recognition CCTV'
'Contra la Vigilancia del Estado de Reino Unido – Contra el CCTV de Reconocimiento Facial'
International anarchist newsletter in English and Spanish versions. Latest issue of Dark Nights returns after more than two years. Download, copy and distribute.
Boletín anarquista internacional en versiones en inglés y español. El último número de Dark Nights regresa después de más de dos años. Descargar, copiar y distribuir.
Anti-Copyright Network

+ Facial Recognition CCTV article as A4 PDF to be enlarged to A3 and flyposted.
Tags: Analysis, Anti-technology, CCTV, Dark Nights, Insurrection, Intelligent Surveillance, Novichok Case, PDF, Repression, Sabotage, Social War, Zine
Posted in Library
Sunday, October 7th, 2018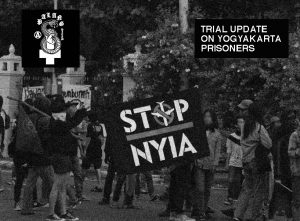 We need to explain, that we have difficulty finding information regarding detainees due to separate case files and also different the trial schedules between them and the schedules change of the trial day, but this did not stop us from giving information to you (readers).
Since October 6, 2018, we have been striving to get the latest information regarding the Class War Prisoners in Yogyakarta who were related to the M1 incident that happened in the past at the intersection of UIN Yogyakarta, from those 11 prisoners they have all received legal assistance (Advocate), with the following details: (more…)
Tags: Indonesia, Repression, Trial
Posted in Prison Struggle
Saturday, October 6th, 2018
Receive and transmit:
Three people have recently been sent to prison for 15 and 16 months for an anti-fracking action (one was on remand and was just released). Please learn more about their case here.
The three prisoners are currently being held at Preston prison. We are unsure how long they will remain in Preston before being moved on to another prison. However, letters of support are very welcome. To write to them write to: HMP Preston, 2 Ribbleton Lane, Preston, Lancs, PR1 5AB, UK. (more…)
Tags: Fracking, Repression, UK
Posted in Eco Struggle
Thursday, September 27th, 2018
ES: El detenido Achmad Azwar Darmawan colabora con la policía
For the first time in the Indonesia anarchist movement there is a snitch who has given information blaming a known anarchist comrade in that territory for organising the Mayday demo (M1) in Yogyakarta. Several comrades are still hunted by police and had to go underground. Here is the info:
Achmad Azwar Darmawan was one of the people who were arrested during the M1 (May 1st) protest in Yogyakarta. He and three other people were arrested when they escaped to Bogor. They were accused of writing down the anti-monarchy graffiti during the protest, which upset a lot of people. Two people became suspects, while two others were set free. It should be emphasized that the escape was done based on individual and group (affinity) decision where each participant was expected to understand that the action was done based on a joint decision (read: without any leader).
The decision-process among M1 participants, especially among those who wore all-black, was very different from the decision-process among leftists or other authoritarian groups, which usually is controlled by a party or a certain central-command, which is very hierarchical. There was no orchestrator who initiated the protest. Azwar is a deluded leftist who risk his comrades for his own safety. (more…)
Tags: 1st May, Achmad Azwar Darmawan (Snitch), Indonesia, New Yogyakarta International Airport (NYIA), Repression, Yogyakarta
Posted in Social Control
Thursday, September 20th, 2018
A friend who has accompanied us as a journalist for a long time in the forest, fell today [19/9] from a suspension bridge over 20 meters high in Beechtown and died. At that time police and RWE tried to evict the tree house village. The SEK [special forces cops] was in the process of arresting an activist near the suspension bridge. Our friend was apparently on the way there when he fell.
We are deeply shaken. All our thoughts and desires are with him. Our compassion goes to all the relatives, friends and people who feel concerned.
We urge the police and RWE to leave the forest immediately and stop this dangerous operation. No further lives may be endangered.
What is needed now is a moment of rest.
Even if this is difficult for you at the moment, just as it is difficult for us to give such a factual hint: We recommend, in order to protect all activists, do not give any statements, nor even make any testimonies at the police. The accident must and will be reappraised, but the police are not the place to do that. Their interest is to blame activists.

via ABC Rhineland
Tags: Eviction, Germany, Hambach Forest, Repression, RWE
Posted in Eco Struggle