Posts Tagged 'Repression'
Monday, April 18th, 2016
The centre of Free Women's Congress (KJA) Association was raided anomalously by police on April 10, 2016, around 05:00 am. The Association was raided without any prior notification and in an unusual hour that none of the administrators were there. 16 politicians, including 6 women who are members, administrators and activists of KJA, were detained in the same time with similar illegal methods. Our 4 women members, Çimen Işık, Pero Dündar, Olcay Kanlıbaş and Zozan Toprak are imprisoned after they were judged in the court on April, 11.
The police raid is totally anomalous and targets to destroy generally the democratic organization as an essential element of democracy, and specifically the organization of women. While all of our computers were stolen in the raid, our archive was also taken by the police. This crime is tried to be covered up with a "confidentiality order". Seizing all the computers means the cessation of the Association's actions even it is possible to backup all of the documents and keep on our investigations. (more…)
Tags: Diyarbakır, KJA - Congress of Free Women, Kurdish Struggle, Raids, Repression, Turkey
Posted in Social Control
Monday, April 18th, 2016
On Wednesday April 13 at 5am an operation of the Mossos d'Esquadra [Catalan Police] began in which two private homes and a squat in the neighbourhood of La Salut, the "Blokes Fantasma" were raided and the twenty or so people living in the building were detained for twelve hours.
In addition to the looting and destruction that accompanies any police search, the operation resulted in the arrest of a comrade who had already been imprisoned within the framework of the Pandora Operation, and for whom since 11 April there was a European arrest warrant on charges of participation in bank expropriations in Germany.
After her transfer to the Spanish National Court, judge Eloy Velasco ordered preventive detention for our comrade, who has been transferred to the prison of Soto del Real.
As she is also charged in the Pandora trial (currently under instruction) and that she herself has expressed her desire not be extradited, our defence has called for a "conditioning" of the European extradition order, claiming that she be held in custody in the Spanish State until the trial pending here is held. Within a maximum period of 2 months (extendable for another month), the High Court would have to decide whether the handing over of our comrade to the German authorities can be temporarily suspended or not. From the German press we learned that she has been linked to an expropriation that occurred two years ago in the town of Aachen, during which, again according to the press, the assailant group took a significant amount of money from the bank without causing any injuries or personal damage. (more…)
Tags: Bank Robbery, Barcelona, Catalunya, Operation Pandora, Repression, Soto del Real, Spain
Posted in Social Control
Sunday, April 3rd, 2016
'If fighting for freedom is a crime, innocence is really the worst of all'
In late 2008, a midst diffuse hostilities triggered by the revolt in Greece following the assassination of Alexis by police, the Belgian Federal Prosecutor launches an investigation of anarchists and anti-authoritarians. In 2010, on the basis of a list of actions that the police attribute to the "anarchist movement" and while the struggle against the construction of a new detention centre in Steenokkerzeel is underway, magistrate Isabelle Panou is assigned to the investigation, now under the anti-terrorism. In May, then in September 2013, a dozen searches took place within this investigation, the searches targeting different homes as well as the anarchist library Acrata in Brussels. It is on this occasion that the existence of an antiterrorist investigation first emerges. This investigation is led by the anti-terrorist branch of the Federal Judicial Police backed by the State Security and the General Intelligence and Security Agency of the army as well as various anti-terrorist branches of other European countries.
The investigation is closed in 2014, culminating in the referral of twelve anarchists and anti-authoritarians to the Court Chambers. (more…)
Tags: Acrata library, Belgium, Brussels, Repression
Posted in Social Control
Thursday, March 31st, 2016
via contramadriz:
Today March 30, 2016, lawyers of the compas Mónica Caballero and Francisco Solar were notified that the sentence of the High Court condemns the anarchists to 5 years in prison on charges of "injury", plus 7 years for "damage with terrorist purpose", with a total of 12 years in prison for each of them. They were acquitted of the charges of "belonging to a terrorist organization and conspiracy" against the Monastery of Montserrat.
Facing the condemnation of our comrades we have the challenge of extend the struggle and solidarity, to defend our ties and our ideas, to deny that their world is reduced to the four walls that keep them locked up.
Strength to our imprisoned comrades, always present in our struggles and our
daily lives.
There is no "inside", nor is there an "outside", there are only enemies against the state and all authority.
Death to the state and long live anarchy!
Tags: Francisco Solar, GAC (coordinated anarchist groups), Informal Anarchist Federation (FAI), Insurrectionalist Commando Mateo Morral, Monica Caballero, Operation Pandora, Repression, Spain, Trial
Posted in Prison Struggle
Wednesday, March 30th, 2016
The following recording has been made by the Anarchist Group Dortmund (in cooperation with A-Radio Berlin) during a presentation on March 6, 2016.
In it the former anarchist prisoner from Belarus Mikalai Dziadok shares his prison experiences and gives some advice on how to survive the jail. Total helplessness, psychological pressure, stupid convicts' laws, ever-lasting prison terms – this is what Belarusian prison is made of.
You'll find the audio (to listen online or download in different sizes) here:
Length: 1:29 h
You'll find more audios on Belarus from the Anarchist Radio Berlin here.

Read this previous post for details about some of the anarchist attacks which took place in Belarus for which Mikalai was taken hostage in revenge.
Tags: Anarchist Group Dortmund, Anarchistisches Radio Berlin, Belarus, Interviews, Mikalai Dziadok, Repression
Posted in Interviews
Wednesday, March 30th, 2016
UPDATE BELOW
On the island of Lesvos, where the deportation machine is working at full speed, all the camps for refugees are cleared out and registration center 'Moria' has showed the true purpose and is now functioning as an deportation centre, NBK is still standing strong and operating at full speed.
On the island of Lesvos, where the deportation machine is working at full speed, all the camps for refugees are cleared out and registration center 'Moria' has showed the true purpose and is now functioning as an deportation centre, NBK is still standing strong and operating at full speed.
The current situation is that we now host a couple of hundred refugees, who have been hunted down the island by Frontex and police and have no other place to go. The kitchen is up and running day and night to help anyone in need on food, shelter, medical aid and a (semi)safe place to rest, where refugees work side by side with people in solidarity on an equal level. We host, the refugees participate, and together we keep the camp up and daily life running. (more…)
Tags: Frontex, Greece, Lesvos, Migrant Struggle, Mytilene, NBK Lesvos, Racism, Raids, Repression
Posted in No Borders
Thursday, March 24th, 2016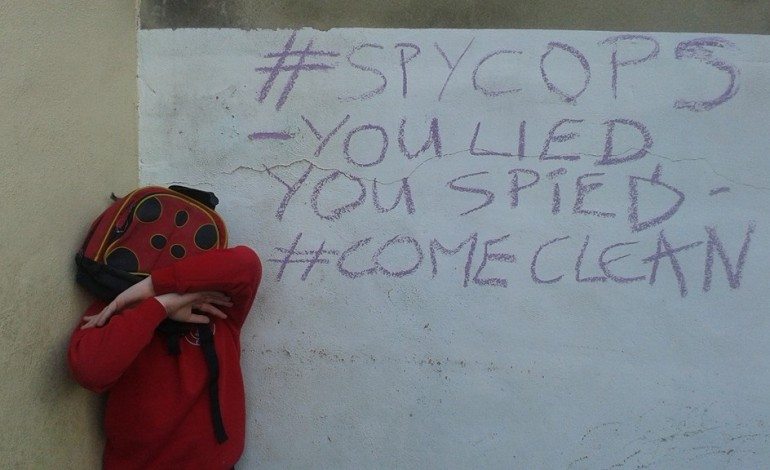 From The Canary:
The Undercover Policing Inquiry, chaired by Lord Justice Pitchford, resumed this week with legal arguments being made by the police which, if implemented, would essentially mean most of the inquiry being held in secret. Central to their position is a continuation of the policy of neither confirming nor denying (NCND) whether a person was an undercover officer.
However, whilst the lawyers for the police have been arguing that revealing the identities of officers would infringe their Article 8 right to privacy and family life, The Canary can reveal that police officers have been recording details of activists' young children.
Mae Benedict put in a Subject Access Request to find out what information the domestic extremist units held on her. She believed she might have a file as she had been arrested in the past for environmental activism. She had also been close to the only known female undercover officer, Lynn Watson. However, she was shocked to discover her file left out details of "several arrests and a conviction" but contained details of her young child:
It made me furious that my kid is on a police file already, and mostly it was really intrusive. Instead of details of when I HAD been found guilty of a crime, the focus instead was on me as a parent, and, by default, my child as a child of mine. (more…)
Tags: #Spycops, Bob Lambert, Fuck the Law, Fuck the Police, Lynn Watson (Undercover Cop), Repression, UK, Undercover Police
Posted in Social Control
Thursday, March 24th, 2016
Libcom & Aufheben – Snitches, collaborators and enemies…
Three years ago a small scandal took place when the Greek group TGTP published in an open letter that the co-founder of Aufheben, John Drury, lead workshops for the police and military and is known as a "provider of ideas" in these circles. These workshops took part within the framework of his academic career researching Crowd Control, mass panics and rescue operations. Together with his closest colleagues Stott and Reicher he has developed the Elaborated Social Identity Model (ESIM). The social psychologist Stott is renowned to be one of the globally leading experts for protests and violent uprisings. ESIM claims that a 'mob' acts according to certain patterns: people in a crowd have individual thoughts and emotions, so when the crowd is attacked indifferently by the police, people act in solidarity with each other and resist together. Therefore ESIM advices that the police should proceed in a multi-levelled approach and extract 'individual perpetrators' from the crowd. Using such kind of methods, Stott coordinated security preparations for the European football cup in Poland and Ukraine in 2012. (for more details see both open letters by TPTG)[1]
Aufheben is a group from Brighton, which publishes one of the few collectively produced magazines of the radical left in England. The magazine consists of mainly long articles tackling fundamental questions (what was the Soviet Union, decadence theory, "Green New Capitalism" etc.). They often deal with similar subjects as us (theory of the oil rent, criticism of Negri's autonomist marxism, debate about Beverly Silver's book). We have translated some of their articles (21st century Intifada, criticism of the commons thesis by Massimo de Angelis, Dole Autonomy) and have criticised them at certain points (e.g. in wildcat 89, "The oil rent, Ricardians amongst themselves"). We share similar positions when it comes to the issues of working-time reductions and guaranteed income. During the end of the 90s we initiated a closer collaboration with Aufheben and other collectives in Europe, which ultimately failed.
Therefore the revelation about John Drury came as quite a shock – which in itself would not have been a reason to write in Wildcat about it. But the way the debate about this case was lead within the left-communist scene in Europe has initially left us speechless. Most of the people shook it off ("let's move on") or attacked those who had made these scandalous facts public. (more…)
Tags: Aufheben, Clifford Stott, John Drury, Libcom, Repression, UK, Wildcat (Germany)
Posted in Social Control
Thursday, March 24th, 2016
After the courtcase of LAUtonomia activist Sarah on the 22 of March at the court district of Cottbus our compa Huba got arrested. Sarah was released and got arrested straight away again for something else but we do not have the info on why and for what. Sarah was in jail for a month for not giving ID after getting caught shoplifting. When leaving the courtroom civil cops and the screws hold Huba at the door and confronted him with a warrant for his arrest. The same day he saw a judge in Cottbuss. He came as a spectator for the court case and left in hand-cuffs.

Right now he is in the JVA Wriezen and will be transported to Aachen this week. He is charged with violent assault that allegedly happened the 11 of November in the cutting area of the Hambach forest.
We do not know how long it will take for Huba to arrive in Aachen. prisoner transport normally takes quite a long time. Huba will be transported from prison to prison where he will be put in one person cells with no access to books, sports or other things that you would normally get when you are in jail. when arriving in Duren he will be seeing another judge. (more…)
Tags: Forest Struggle, Germany, Hambach Forest, Huba, Repression
Posted in Eco Struggle
Tuesday, March 22nd, 2016
We are women from the Women's Peace Initiative in Turkey. We are concerned about the fate of families who have been displaced as a result of the destruction caused by the Turkish Armed Forces in towns in the Kurdish region in their drive to oust the Kurdish militia. We are asking you for support to rebuild the lives of those displaced by this war.
Over the last three months 21 neighbourhoods in 7 towns of the Kurdish region in the Southeast of Turkey have been under curfew and have sustained devastation that can only be compared to that of Dresden during WWII or, more recently, Kobanê in Northern Syria.
Human rights organizations and political parties active in the region maintain that 274 people have been killed in Cizre since July 2015. 167 of these were bombed, burned and dismembered in basements they had taken refuge in. In Silopi, a border town between Iraq and Turkey, 42 people have lost their lives since July 2015. More than 30 people lost their lives in the Sur district of Diyarbakır – only in this latest curfew that has been in place over more than 95 days. Among those killed are six-month-old babies and 71-year-old men and women – this has been documented numerous times, dispelling allegations that all are combatants. (more…)
Tags: Amed (Diyarbakir), Cizre, Diyarbakır, International Solidarity, Kurdistan, Repression, Silopi, Sur, Turkey, War
Posted in Autonomy
Monday, March 21st, 2016
Stop the Cover-Up of Secret Police Abuses
Demo – Tuesday 22 March
9 – 10am Royal Courts of Justice
The Strand
London
Spycops inquiry: 'If it's in secret, it's dead in the water'
Following the exposure of police spy Mark Kennedy in 2010, activists and journalists slowly began to lift the lid on political policing in Britain. Their investigations found that the state had used undercover officers to infiltrate hundreds of political groups to surveil their activity and attempt to undermine dissent.
We now know that officers commonly used intimate relationships with targets as a tactic, stole the identities of dead children, spied upon families fighting for justice following the death of loved ones in police custody, and lied in court to secure convictions against activists. Disturbingly, internal investigations by state agencies over the same period revealed little.
In 2012, Mark Ellison QC conducted an independent review into police corruption during the Stephen Lawrence murder investigation. The findings were damning. Following increased public pressure, the Home Secretary announced an independent public inquiry into undercover police operations. Lord Justice Pitchford was appointed to lead the Inquiry. (more…)
Tags: Fuck the Law, Mark Kennedy (Undercover Cop), Repression, UK
Posted in Social Control
Monday, March 21st, 2016
via ABC Brighton:
We are concerned about Mumia's deteriorating health, as has been witnessed in recent weeks by his visiting doctor, clergy, counselors, teachers, family and friends. Evidence of intensifying Hepatitis C symptoms and possible development of the diabetes that nearly killed him a year ago calls for immediate and appropriate treatment. We, therefore, urge you to:
DEMAND
1. Immediate provision to Mumia of anti-viral treatment to cure his Hepatitis C condition that is, as his doctor testified in court, the persistent cause of worsening skin disease, almost certain liver damage, now extreme weight-gain and hunger, and other diabetic-like conditions.
2. Immediate release of all recent blood test results to Mumia's attorneys.
3. Vigilant monitoring of Mumia for signs of diabetes, especially of his blood sugar level, since a diabetes attack nearly killed Mumia last Spring of 2015.
PHONE, FAX, AND E-MAIL THESE DEMANDS TO:
PA GOVERNOR, TOM WOLF
Phone: (010) 717 787 2500
Fax: (010) 717 772 8284
E-mail: governor@pa.gov
Pa Department of Corrections, Secretary, John Wetzel
Phone: (010) 717 728 2573, (010) 717 787 2500
E-mail: ra-contactdoc@pa.gov
MAHANOY PRISON, SUPERINTENDENT, Theresa DelBalso
Phone: (010) 570 773 2158
(You have to be transferred to her secretary, and she refuses to give out the fax number or e-mail for the Superintendent. Not surprising, given that this new superintendent has a very heavy military background.)
Sponsored by: International Concerned Family and Friends of Mumia Abu-Jamal, MOVE, Educators for Mumia, Free Mumia Abu-Jamal Coalition (NYC), Campaign to Bring Mumia Home, International Action Center.
–
Mumia Abu-Jamal Files Suit Over Refusal Of Medical Care
05/08/15
Attorneys for Mumia Abu-Jamal filed an amended lawsuit yesterday to challenge prison medical staff's denial of necessary medical treatment – denial that nearly killed Abu-Jamal earlier this year. (more…)
Tags: International Solidarity, Mumia Abu-Jamal, Repression, USA
Posted in Prison Struggle
Friday, March 11th, 2016
On several profiles, blogs and web pages we saw that our comrade – 100% trusted person and friend LUKAS BORL is accused of being a collaborator with Nazis and giving information to cops. Also someone started FAKE Facebook profile under Lukas' name. All of this is a COMPLETE LIE! These fake messages are probably spread by cops or entrepreneur Vladimir Krulec. Krulec is for longer time in conflict with local anarchist movement because he and his company is not paying the wages to workers and he's been angry because of sabotages which have been done on his property. Lukas Borl has been living in underground for several months because he is officially wanted. The website of Czech police says that he is dangerous and armed.
However he never harmed anyone this shows how much police wants to discredit him and make his life as hard as possible. This false messages about Lukas Borl being an informer were probably written in order to make already difficult living situation of our comrade even harder and or to monitor how anarchist network communicates. (more…)
Tags: ABC Czech Republic, Czech Republic, Lukáš Borl, Repression
Posted in Social Control
Thursday, March 10th, 2016
The Federal Public Ministry could not prove their claim that the comrade is drug dealer, so the judge had to change the charge of crimes against health in selling arrangement to simple possession of narcotics, crime considered not serious so a bail was set.
This morning the bail required for release of comrade Yorch was paid. Now it's about time to leave the maximum security prison of Hermosillo. The process continuous, although now he will face it outside the prison.
Surely this shows clearly the gross farce that the State intends to create by arresting Yorch and although it seems that they failed to build it they continue in their efforts hand to hand with the mass media: today newspapers announced that the PGR will appeal this decision and maybe our comrade will not be released
We are not surprised. We know that the campaign against the anarchist movement will continue and we know that one of the goals of this campaign is to evict the Okupa Che squat.
In response we can only continue to extend the solidarity!
Anarchist Black Cross Mexico
Tags: Che Okupa Squat, Mexico, Mexico City, Repression, Yorsh
Posted in Social Control
Tuesday, March 8th, 2016
Freitag, 18. März 2016 um 18 uhr
S-Bhf Sonnenallee
(Siegrief-Aufhäuser-Platz)
Join us for March 18 – Day of action for the liberation of all political prisoners! Resist and fight against the justice system of the bourgeoisie and the imperialist oppression!

Freedom for all political prisoners….
The internationally-operating Rote Hilfe ('Red Help') – until present the most meaningful and largest solidarity organisation for workers' and peoples' movements – was officially founded not for nothing by the Communist Internationale on March 18, 1923. It was the anniversary of the Paris Commune of 1871 – the first attempt of the working class to take over the power and carry it with the goal of reorganizing the society. France's and Germany's ruling classes united to drown in blood this struggle of the oppressed. 30,000 men and women, workers, fighters and revolutionaries were hanged, 363,000 appeared before court. To commemorate this massacre and honour the fallen, this day has been known up until now as the international day of action for the liberation of all political prisoners.
Even today it remains in the nature of things for the universal imperialist system of exploitation to produce copious amounts of hardship, poverty and war, calling forth the exploited and the oppressed to commit to a most decided resistance. To assure their continuous rule and profits, the bourgeois countries, their armed institutions and their justice system resort to various forms of political repression: intimidation, spying, news-baiting, monetary fines, tightened laws, bans, trials, imprisonment, isolation, counter-revolutionary violence, torture, planned disappearances, murder and terror are in the program of the so fully 'democratic' dictatorships of the bourgeoisie in the imperialist capitalist system. (more…)
Tags: Ahmad Sa'adat, Berlin, Demo, DHKP-C (Democratic People's Liberation Party-Front), Georges Ibrahim Abdallah, Germany, GG/BO (Prisoners Union), Gülaferit Ünsal, India, Kurdistan, Leonard Peltier, Maoist Communist Party - Turkey (MKP), Mumia Abu-Jamal, Palestine, People's War of the Communist Party of India (Maoist), Popular Front for the Liberation of Palestine (PFLP), Repression, Revolutionäre Aktionszellen, Revolutionäre Linken, Rote Hilfe, Turkey
Posted in Prison Struggle