Posts Tagged 'Repression'
Wednesday, March 22nd, 2017
The Russian authorities continue to prosecute and jail our comrades. In the summer and fall of 2016, demonstrations of solidarity with the convicts were held all across the globe. The anarchists are furthermore suffering repressions in jails, but keep the spirit up. If you think that we have missed something important in our article or are aware of other repressions, feel free to contact us at abc-msk@riseup.net
For the full text and accompanying pictures, check original at
https://avtonom.org/en/news/anarchist-black-crosss-annual-overview-repressions-2016
Tags: ABC Moscow, Alexander Kolchenko, Alexey Gaskarov, Alexey Shostakovich, Alexey Sutuga, Elizaveta Tsvetkova, Igor Martynenko, Igor Shevtsov, Ilya Romanov, Repression, Russia, Sergei Vasilchenko
Posted in Social Control
Wednesday, March 22nd, 2017
This interview with an activist from Belarus was recorded on the 19th of March. She gives us the context for the ongoing protest, pictures its development and tells us about the aims of the protest. She also explains who is attending the protest, what this means and what is to expect from it in the future.

Click link for audio:
https://abcdd.org/en/2017/03/20/interview-mit-einer-aktivistin-aus-belarus/
ABC Dresden
Tags: ABC Dresden, Belarus, Repression
Posted in Interviews
Thursday, March 16th, 2017
PDF: Repression in Spain
Report from ABC Dresden.
Tags: ABC Dresden, PDF, Repression, Spain
Posted in Social Control
Thursday, March 16th, 2017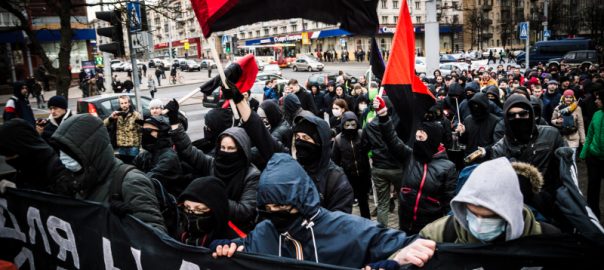 Biggest protests in Belarus in the last 10 years
In Belarus last weeks people took to the streets to fight the law against social parasitism – law that was signed by dictator Lukashenko in 2015, but started troubling population only at the beginning of the 2017. Thousands took to the streets in Minsk, Brest, Gomel and many other smaller cities all around the country, to show their discontent with the law and the current regime. The protests seems to have little influence from "official" opposition- instead of that people previously not involved in the politics are organizing together. In several places anarchist played quite a big role in the protests. Last week belarusian government started repressions against those on the streets – up until now over 48 people were detained and prosecuted for different violations. (more…)
Tags: ABC Belarus, ABC Dresden, Belarus, Brest, Repression
Posted in Autonomy
Wednesday, February 22nd, 2017
From: Bordered by Silence
Source: Cette Semaine
These past months, in different cities, including during unpermitted demos or riots, many of us have been thrilled by the number of offensive actions in the street. From clashes with the guard dogs of the state and property to the broken windows of shops and even the pillaging of their contents; from attacks on journalist-cops to overcoming the pacifiers of the day: all of this has shaken the arrogance of the powerful. In all forms of struggle — which aren't limited to "social movements" — self-organization and direct action are indispensable if we are to break with the pacification world of commodities and with state terrorism. Because to claim that it's unimaginable for individuals to directly oppose the existing order is just a veiled way of saying that social revolt is simply impossible.
Repression is not just the moment when the flashball or baton comes to strike recalcitrant bodies, it's each moment of daily life under the domination of the State and Capital, through their thousands of omnipresent psychological and physical manifestations that coerce the poor into accepting a shitty life. It's the prisons that lock up ever more people for ever longer sentences, in order to punish, isolate, break, and store them, out of sight of the peaceful consciences of good citizens. It's also the outside prison, built from measures like electronic bracelets, house arrest, exclusion areas, bail conditions, and so on. (more…)
Tags: France, Kalimero, Paris, Repression
Posted in Prison Struggle
Wednesday, February 22nd, 2017
The comrade who was arrested last Saturday after a spontaneous demonstration in the Schilderswijk, The Hague (Netherlands), is still being kept by the authorities. They are building up the pressure on him and are making his situation even more difficult. He is momentarily being kept in an isolation cell in a prison in Alphen aan den Rijn.
Last Saturday 20 people demonstrated in the Schilderswijk against police violence and repression. The demonstration was not announced to the authorities and scattered after about 15 minutes due to mounting police presence. After the police searched the neighborhood 7 people were arrested, 6 of them were released within a couple of hours. The last person is still in custody. He is being charged with a simple misdemeanor; public order disturbance. A case that usually results in 6 to 12 hours of custody and carries a maximum punishment of a fine. But our comrade has not been released yet. (more…)
Tags: Den Haag, Netherlands, Repression
Posted in Social Control
Friday, February 10th, 2017
As happens any time that power tries to block the path of the revolt that creeps like weeds, opening up cracks and disconnecting the straight secure roads of exploitation and oppression, it is necessary for those who still care about the life pulsating in those weeds to look each other in the eye.
Following the operation denominated 'Scripta Manent' we, some anarchists, decided to do a number of meetings. Those held in Pisa and Rome have produced various problematics. But obviously, happening in a context of 'emergency', i.e. in response to the arrest of eight anarchist comrades, it was difficult to find the space to go into them. Not for that should we lose the opportunity to find this space and create moments for deeper analysis. (more…)
Tags: CNA Italia, Italy, Operation Scripta Manent, Repression, Turin
Posted in Social Control
Wednesday, February 1st, 2017
Note from Insurrection News: The following text by imprisoned compañeros Fabián Durán, Enrique Guzmán, Nicolás Rojas and Joaquín García was written in response to the cowardly attacks by prison guards against the imprisoned compañeras Tamara Sol, Tato and Claudia that took place at the San Joaquin women's prison on January 11th and 12th. In response to these brutal and cowardly attacks friends and relatives of the compañeras quickly mobilized and held a demonstration outside the prison on January 13th. Banners were displayed outside the prison, slogans were shouted and also painted on the prison walls. Riot police eventually attacked the demonstration with water cannons and arrested 5 compas. Although the demonstration was suppressed it sent a clear message to the prison authorities that attacks against imprisoned revolutionary compas will be immediately responded to. You can see some photos from the demonstration here.

Chilean Prisons: Words in solidarity with Tamara Sol, Tato and Claudia
From the modules of the maximum security section we salute each of the compas kidnapped by the state, who day by day, with dignity and pride, face the prison reality in each of its expressions and forms.
A few days ago we learned in a more or less partial form of the cowardly attack by the prison guards against the compañeras Tamara Sol, Tato and Claudia. We are fully aware of how repetitive these actions have become, whether as punishment, isolation or an eternal package but the recurrence prevents normalization, this gives us more strength, to ourselves and to our convictions. Each day we become more acutely eager for revenge against the prison society and those who defend it. (more…)
Tags: Chile, Enrique Guzmán, Fabián Durán, Joaquín Garcí, Letter, Nicolás Rojas, Repression, Tamara Sol
Posted in Prison Struggle
Wednesday, February 1st, 2017
Careful who you call comrade!
Tuesday, 24 January, on the outskirts of Vigo (Mos), a deployment of about 60 armed men between the Guardia Civil and secret agents, searched (and almost destroyed) the house where Gabriel Pombo da Silva had lived for a few months with his partner Elisa Bernardo. At dawn the two were violently awakened, handcuffed and separated … aim: to find firearms and explosives! The search lasted about eight hours and in spite of the means employed (dogs and high technology radar tools), gave no results … among the things seized there is the usual "interesting" anarchist material, cameras, maps of various cities, some cable and old malfunctioning cell phones.
While Elisa, despite the repeated threat of being placed under arrest unless she revealed the much desired hiding place, remained free, Gabriel was arrested on charges of "illegal possession and trafficking of weapons and explosives and armed group". During the 24 hours' detention (the release of the comrade happened, in fact, the next day) the facts were bitterly reconstructed. (more…)
Tags: Elisa Di Bernardo, Gabriel Pombo da Silva, Galicia, Letter, Operation Ardire, Operation Buyo, Operation Scripta Manent, Repression, Spain, Vigos
Posted in Social Control
Sunday, January 22nd, 2017
Vadim Boyko is an antifascist supporter of FC Partyzan from Minsk. He was detained on March 22, 2016 together with other people on suspicion of participating in the attack on the right-wing hooligans that happened about two years ago. His trial is set for February 3, 2017 and we ask for financial support to pay the legal advice. The approximate cost of the legal aid for him is 5000 euros, part of which has already been covered by us.
Here is a full story.
FC Partyzan (former MTZ-RIPO) is an antiracist football club that doesn't exist any more, while there are still some active groups of hooligans involved in street fights. As reported, on June 29, 2014 a mob of Partyzan supporters attacked a trolley-bus carrying a gang of right-wing hooligans of FC Torpedo. The attackers blocked the vehicle and broke a few windows. In the following days the police detained five Partyzan fans on suspicion of the attack, but they were eventually set free with no charges. The case was frozen.
(more…)
Tags: Anti-Fascist, Belarus, FC Partyzan, Racism, Repression, Vadim Boyko
Posted in Anti-Fascist
Sunday, January 8th, 2017
From RabbleLDN
In the past year or so, the bottom feeders of the press managed to write many lurid stories about comrades in the UK and our networks, which have not only invaded people's privacy but have put them at risk from the state and fash. These journalists infiltrated our protests and social events, took close range pictures, trawled social media and pieced together sensationalist and often wildly inaccurate pieces about individuals, and put footage on the internet that led to people being targeted by the cops.
While I expect no better of the media, I do expect us to put up more of a fight. The tolerance of the broader London anarchist/anti-authoritarian scene for the presence of journalists on our demos, and sometimes in our spaces (at times even on invitation!), is exceptional and I've witnessed it in few other anarchist milieus. Why is this? Is it mere slackness, a fear of rocking the boat, or are people actually buying the liberal bullshit from the likes of the NUJ about "freedom of expression"? A combination of the above seems the likely contender. (more…)
Tags: Barnaby Nerberka, David Chazan, Fuck the Mainstream Media, Glen Keogh, Liam Deacon, Nick Fagge, Oliver JJ Lane, Rachel Megawhat, Repression, UK
Posted in Social Control
Sunday, January 8th, 2017
Update: According to Athens Indymedia a new order was issued by the prosecutor on 08.01.16 terminating the detention of Lambros-Viktoras Maziotis Roupas, the 6 year old son of Revolutionary Struggle members Pola Roupa and Nikos Maziotis, and awarding temporary custody of the child to his grandmother. The child has already left the hospital with his relatives. Comrades Pola Roupa, Nikos Maziotis and Konstantina Athansopoulou have ended their hunger and thirst strike. A decision on final custody of the child will take place in six months time.
International solidarity is our weapon
According to Greek media, the comrade Pola Roupa, member of Revolutionary Struggle, has been arrested at a home in the Attica region. Pola is the partner of Revolutionary Struggle member and political prisoner Nikos Maziotis and was one of the most wanted fugitives in Greece. According to media reports Pola was at the house with her young child and a 25 year old woman when police raided. The 25 year old woman was also arrested. There are unconfirmed reports that two more people may have been arrested as well. More information as it becomes available.

Solidarity with Pola Roupa and Revolutionary Struggle!
–

From our comrades in Greece we have learned that during the arrest of comrade Pola Roupa (member of Revolutionary Struggle and partner of the comrade Nikos Maziotis, also a member of Revolutionary Struggle), that the police kidnapped and detained her 6 year old son.
The child is being held in a hospital room under armed guard and the police are refusing to allow family members or legal representatives to see him. Although we do not know if he is being interrogated it is worth noting that it is illegal under Greek law to interrogate a minor without the presence of a parent / guardian or lawyer.
In response to the state's vengeful kidnapping and detention of their son, comrades Pola and Nikos have begun a hunger and thirst strike to demand that their child be released from police custody and into the care of close relatives. The 25 year old woman comrade who was arrested with Pola has also begun a hunger strike with the same demands as Pola and Nikos. She is being held under guard in hospital with a serious injury to her arm. (more…)
Tags: Athens, Greece, Hunger Strike, International Solidarity, Konstantina Athanasopoulou, Nikos Maziotis, Pola Roupa, Repression, Revolutionary Struggle
Posted in Prison Struggle
Sunday, January 8th, 2017
UPDATE ON THE RAIDS & INVESTIGATION HERE.
We learn from the national media of the explosion of a bomb in front of a neo-fascist bookshop in Florence and of an unspecified number of raids in homes and places of anarchist comrades. A police bomb disposal expert was wounded during the operation to defuse the device connected to a timer: the explosion led to injury of a hand and an eye [previously the media reported the amputation of the hand and loss of the eye].

In the hours following searches were conducted in the area of anarchist circles in Florence and Tuscany; at the moment there is no more information about the places affected, while reports say they have not found anything. The bomb had been discovered by a patrol of the Digos in the town involved in monitoring the bookshop near to Casapound [neo-fascist hangout], identified as a sensitive objective and already attacked in the past. The prosecutor is investigating for attempted murder.
Further updates coming soon.
informa-azione.info

Translated by Act for freedom now!
Tags: Anti-Fascism, Casa Pound, Florence, Italy, Raids, Repression, Tuscany
Posted in Social Control
Sunday, January 8th, 2017
On the 21st of December 2016 the court in The Hague sentenced ten people who were arrested during the eviction De Vloek free space to pay 30.030.35 in damages to the city council.
De Vloek, after being squatted for 13 years, was evicted on the 9th of September 2015 by an excessive police force, the army, anti terror units, water canons and a sniper. Ten people were arrested en later sentenced for squatting and five of the ten for violence against police officers. Those five also spent two weeks in prison. (more…)
Tags: De Vloek (Social Centre), Den Haag, Eviction, Netherlands, Repression
Posted in Social Control
Monday, January 2nd, 2017
Damien was arrested on Wednesday, December 7 in Bretagne, charged with attacks against the Chambre of Commerce, a Jaguar dealership, and other targets during a demo that took place on April 14 between Paris' 10th and 19th districts. This is his first letter out since being denied bail.

I'm writing from Fleury, where I'm being held in preventative detention[1]. Since the charges against me are, as usual, totally boring and unimaginative, I wanted to offer a different telling of the lovely spring night of revolt, written by some true lovers of disorder, so that my comrades have an accurate and realistic depiction of what I'm alleged to have done: "Reportback on April 14: hold in the rage too long and it bursts out like it should"[2]
I don't want to complain, so I won't give a detailed account of my arrest, similar as it was to all those that happen each day, here and around the world.
However, it does seem important to mention a few things.
During the search, the cops found some anarchist propaganda, namely some newspapers, brochures, posters, and tracts, as well as a few texts in the process of being translated. I refused to sign the papers dealing with the search as well as those for my being held taken into custody. (more…)
Tags: Bretagne, Damien Camélio, France, Repression
Posted in Prison Struggle