Posts Tagged 'Repression'
Sunday, December 29th, 2019
OVD Info
December 26, 2019
The state prosecutor has asked the Volga District Military Court to sentence the five defendants in the Penza portion of the Network Case to between six and eighteen years in prison, according to a member of the campaign to support the defendants who was present in the courtroom.
The prosecution asked the court to hand down the longest sentence to Dmitry Pchelintsev: 18 years in a maximum-security penal colony. It asked the court to sentence Ilya Shakursky to 16 years, Andrei Chernov to 14 years, Maxim Ivankin to 13 years, Mikhail Kulkov to 10, Vasily Kuksov to 9 years, and Arman Sagynbayev to 6 years. It asked that all the defendants except Kuksok and Sagynbayev be sent to maximum-security penal colonies.
The prosecutor told the court that the defendants' accounts that they were tortured into testifying had not been corroborated.
All the defendants are accused of involvement in a "terrorist community," punishable under Article 205.4.4 of the Russian Criminal Code. Pchelinsky and Shakursky are accused of organizing a "terrorist community," punishable under Article 205.4. In addition, some of the defendants are accused of illegal possession of firearms (Article 222.1), illegal possession of explosives (Article 222.1.1), attempted arson or bombing with mischievous intent (Article 167.2 in combination with Article 30.3), and large-scale attempted drug trafficking (Article 228.1.4.g in combination with Article 30.3).
The criminal case against the Network "terrorist community" was launched in October 2017. According to the FSB, eleven young men in Penza and Petersburg organized the Network and were planning to overthrow the government. The defendants in the case claimed the FSB subjected them to psychological pressure, tortured them with electric shocks, beat them, and planted weapons on them. Some of the defendants recanted the confessions they made in the days following their arrests. OVD Info has reported on each of the defendants in the case in detail.
via The Russian Reader.
Tags: "Network Case", Frame-up, International Solidarity, Repression, Russia, Torture, Trial
Posted in Social Control
Thursday, December 26th, 2019
Parte II
Ya ha pasado más de un mes desde que difundimos la primera parte de este texto compartiendo información y reflexiones anárquicas sobre el contexto chileno desde el inicio del llamado "estallido social" desatado el día 18 de octubre. El anterior abordaba hasta la víspera de la gran manifestación en el centro de la ciudad anunciada para el día viernes 25 de octubre.
Desde ese día hasta ahora han ocurrido muchos sucesos que podrían ser expuestos de manera detallada, sin embargo hemos seleccionado ciertos elementos y reflexiones que nos parecen relevantes para difundir, sabiendo que otrxs compañerxs han estado también aportando a al registro y la circulación de información sobre lo que está ocurriendo en estas tierras en revuelta.
Esperamos que estas palabras que lanzamos hacia nuestrxs compañerxs de todas partes puedan nuevamente contribuir a propagar una vez más experiencias y reflexiones que puedan ser esparcidas en los más diversos idiomas y latitudes donde se expresa la anarquía:
1. EL INTENTO FALLIDO DE PACIFICAR LA REVUELTA
Con más de 1,5 millones de personas en el centro de la ciudad de Santiago, la autoconvocada "marcha más grande de la historia" concentró el día viernes 25 de octubre a toda la diversidad de personas en lucha.
Con una prácticamente inexistente participación de partidos políticos de izquierda y sin ningún tipo de capacidad de amenaza desde grupos fascistas, todas las formas de manifestación se desarrollaron hasta altas horas de la noche a pesar de la restricción del toque de queda, incluyendo una vez más intensos disturbios y enfrentamientos con la represión en el centro y las periferias de Santiago y otras ciudades.
Mientras la represión hacía su trabajo propagando e intensificando sus formas de violencia, desde el gobierno y los medios de comunicación se intentó imponer la idea que esta marcha sería la culminación de un proceso en el que la gente instaló sus demandas y que ya era hora de "volver a la paz". Los canales de televisón culminaron esa noche las transmisiones conjuntas iniciadas el 18 de octubre y, luego de la campaña de lavado de imagen sobre los militares, los días posteriores el gobierno retiró a las tropas de las calles. Luego, los días sábado 26 y domingo 27 de octubre, se decretó el fin del toque de queda en Santiago otras ciudades del país.
(more…)
Tags: Analysis, Chile, Repression, Riots, Santiago, Social Insurrection
Posted in Autonomy
Tuesday, December 24th, 2019
Prisoner Solidarity Action Alert
This evening prisoner Kevan Thakrar called to inform IWOC that a known racist attempted to take his life this afternoon. Kevin McCarthy stabbed Kevan more than four times while Kevan was at the food servery. He used a wooden shank. Kevan has four puncture wounds on his back and bruises and scratches after also being hit on the head. Kevin walked past two prison officers neither of whom intervened to prevent or stop the attack until Kevan turned round to defend himself. The prison failed to take him to hospital but he was treated by two nurses on the wing.
This is the second attack Kevan has experienced in HMP Full Sutton in recent months. Kevan is shaken and in need of support to demand the prison move him to a safer location and take action to stop further racist attacks on his life. Feel free to use your own words as well as the sample scripts below.
Call script:

Hello, I am calling on behalf of Kevan Thakrar who is currently in the CSC at HMP Full Sutton. Kevan was stabbed four times yesterday by a known racist prisoner. Two prison officers were present and did not act to prevent or stop the attack until Kevan turned around to protect himself. This is the second attack Kevan has experienced in HMP Full Sutton in recent months and yet he is still held in the CSC.
I am really concerned about Kevan's safety in the CSC and I am calling to demand that he is moved out of the CSC and to a safer location immediately.
(more…)
Tags: ABC Bristol, Close Supervision Centre CSC, HMP Full Sutton, Kevan Thakrar, Racism, Repression, UK
Posted in Prison Struggle
Sunday, December 22nd, 2019
Further arrest warrant for Giuseppe, anarchist imprisoned for the "Prometeo" operation (17/12/2019)
We learn that on the morning of Tuesday December 17th, 2019, Giuseppe, already in prison for the "Prometeo" operation (arrests of May 21st, for which Natascia is also imprisoned, while Robert was released), has received another mandate of arrest as part of an operation conducted by the ROS ("Special Operational Grouping") of the Carabinieri under the direction of the Antiterrorism pool of the Turin Prosecutor's Office. He is accused of attempting to destroy a postamat (ATM) in Genoa with an incendiary device, an action dating back to June 2016. This action was included in the list of facts that corroborated the accusations of the "Scintilla" operation (arrests of February 7th and eviction of the Asilo Occupato in Turin).
To write to him:
Giuseppe Bruna
C. C. di Pavia
via Vigentina 85
27100 Pavia
Italia – Italy
–
Update about Peppe – The review court confirmed the precautionary measure in prison (December 13th, 2019)
The hearing for the review of Peppe's precautionary measures took place in Turin on December 13th, an anarchist arrested in Verona on November 26th and immediately transferred into Montorio prison, also in Verona. The review court unfortunately confirmed the precautionary measure in prison. (more…)
Tags: Giuseppe Bruna, Giuseppe Sciacca, Italy, Natascia Savio, Operation Prometeo, Operation Renata, Operation Scintilla, Repression, Robert Firozpoor, Trento, Trial, Turin, Verona
Posted in Prison Struggle
Thursday, December 19th, 2019
November 29th
42nd Social Revolt Day
LONG LIVE IRREDUCTIBLE ENEMIES OF POWER!
"We are facing a powerful and implacable enemy, who does not respect anything or anyone. He doesn't respect the lives of human beings, he doesn't respect our heroes." The phrase is repeated again and again by the President of the Republic, this time at an early graduation of police.
FEAR is one of the most powerful weapons of power, so it continues to encourage a climate of paranoia to demobilize and divide the oppressed.
The State redoubled its efforts to approve its "Anti-hooded Law." Piñera points to Anarchists, Barras Bravas [organized supporters of football teams] and drug traffickers as a coordinated trident that unleash violence.
The media plan is to exacerbate the coverage of looting of small stores. The capitalist press launches a powerful emotional charge to delegitimize the Social Revolt.
There is an obvious complicity (by action or omission) between the police, home owners and traffickers, individuals without codes who are not interested in those who are harmed by their actions.
Undoubtedly, private property is part of what we want to destroy, but today our objectives are full of strategic symbolism. If the attack on any premises needs explanation, it is not symbolic enough.
A provisional solution would be "self-defense committees," but our inexperience and ineffectiveness in these practices allow the "yellow vests" to begin to arm themselves with an undeniable fascist affinity. Let the militia return to the street! It is the speech repeated by the lovers of the neoliberal system, although in their pockets the bills have always shone by their absence. (more…)
Tags: Alexis Grigoropoulos, Analysis, Anti-Authoritarian, Chile, Concepción, Copiapo, Dictatorship, Macul, Police Brutality, Repression, Riots, Santiago, Social Insurrection, Yungay
Posted in Direct Action
Thursday, December 19th, 2019
"I believe that within the next generation the masters of the world will discover that childhood conditioning and narco-hypnosis are more efficient tools for governing than batons and prisons, and that their lust for power can be completely satisfied by inspiring people to love their slavery, instead of crushing them and reducing them to obedience".
Aldous Huxley, letter to George Orwell of October 21, 1949
Half a century ago, Piazza Fontana. The start of the so-called strategy of tension. A bomb exploded inside a crowded bank, just a few steps from the Cathedral of Milan. Over one hundred victims are dead and wounded, a massacre of blood-letting perpetrated in order to spread fear, terror and anguish throughout the country, to trigger the conditioned reflexes of Order. To sow a panic such as to justify, if not to invoke, the intervention of the State (also through its armed wing of police, also by suspending some liberties taken for granted).
Half a century after Piazza Fontana, we are in a full strategy of relaxation. After the bombs, the smartphone. After the blood, the ringtones. Millions of hyper-connected people, a massacre of neurons carried out in order to spread the entertainment, amusement and satisfaction that's necessary to neutralize the unconditional reflection of revolt. To sow a distraction such as to legitimise, if not naturalise, the presence of the State (even of its armed wing of the law, even of the suspension of some liberties taken for granted).
(more…)
Tags: Analysis, Anti-Authoritarian, Anti-technology, Dictatorship, Italy, Milan, Repression, Smartphones, Surveillance
Posted in Social Control
Tuesday, December 17th, 2019
via Popular Front.
Tags: Add Oil (Hong Kong), Anti-Authoritarian, Anti-Authoritarianism, Black Bloc, China, Counter-info, Hong Kong, Police Brutality, Popular Front (UK), Repression, Revolution, Riots, Social Insurrection, Videos
Posted in Interviews
Tuesday, December 17th, 2019
بەکوردى بۆ بڵاو کردنەوە [ku]
"From Baghdad to Beirut, we shall continue. No Sunni, no Shia…" [ar]
The Iraqi government is made up of all bourgeois factions in Iraq, and it is accepted by regional forces and the world bourgeoisie, but the proletariat tried to bring it down…
The "Green Zone" in Baghdad is a centre of the world's capitalism; the proletariat tried to occupy it and lost a lot of lives for it…
The port of Basra is a global corridor for oil exports and international trade and the proletariat blocked it, and tried to control it.
The Iraqi police, security forces, special forces and military forces are forces of global capitalism (with the participation of Shia, Sunni, Christian, Kurdish, and Turkmen bourgeoisie, with a large numbers of regional and international forces, including troops of America and Europe, Turkey, Iran, etc.), but the proletariat attacked them, their centres and detachments in the streets, and as many as 650 proletarians have been killed by them and more than 20 thousand wounded (this is not to mention the number of abducted and imprisoned…).
The proletariat in all rebellious areas of Iraq burned down the headquarters of the political parties (religious and national without exception), they burned down the houses of members of parliament and State officials and they also attacked security and police stations, media, judicial institutions and the Ministry of Justice, newspapers and television stations… By doing this, the proletariat attacked the whole State.
According to the prime minister Adel Abd al-Mahdi, this movement destroyed the national economy (capitalism) in all its aspects. The proletariat in its struggle attacked without exception everything, any symbol, any person, any base attached to the history of the authority and repression including military, diplomatic institutions, trade centres and secret services, internal as well as external. All the attacks on the repressive forces of Pasdaran in the city of Karbala are not really anti-Iranian as the media said, but it is a part of the class action against the repressive forces and centres in all their forms just like the attack on the Green Zone and the other places. (more…)
Tags: Anti-Militarism, Baghdad, Basra, Beirut, Iran, Iraq, Israel, Karbala, Lebanon, Middle East, Repression, Social Insurrection, Turkey, War
Posted in Autonomy
Sunday, December 15th, 2019
From It's Going Down:
Report from insurrectionary anarchist publication Anathema on the growth of networks of surveillance being developed by Amazon and local police departments.
In November, The Intercept reported that internal documents at Ring, the home security company owned by Amazon, reveal that the company is planning to create automated neighborhood "watch lists" by incorporating facial recognition technology into its increasingly vast network of "smart home" doorbell cameras. The feature would alert camera-owners via smartphone when someone deemed "suspicious" pops up on their cameras. Like the old-fashioned "neighborhood watch" that Ring wants to replace, the feature would extend the power of the police and as well as make certain areas of town more dangerous for anyone Ring camera owners deem "suspicious."
Ring's documents do not define what "suspicious" means. In practice, this will likely be defined by gentrifiers and cops, whose systemic racism is well documented. At its core, the watch list would identify people who "don't belong" in certain areas; this means black and brown people, poor people, and anyone whose appearance deviates from social norms. Ring's Neighbors program — an online discussion forum between camera owners — is already well known for its aggressive racism and for generally heightening distrust and paranoia within neighborhoods. For many people, Ring's new feature would make it dangerous to be in certain neighborhoods at all — a victory for the forces of gentrification everywhere.
Ring doorbell cameras have already allowed police to significantly expand their operations, simply by appropriating private citizens' technology for no additional expense. The technology therefore has immense "value," not only for the company, but for the state. For decades it's been steadily expanding policing in order to keep its increasingly immiserated people under control, while struggling to balance its own budgets. (more…)
Tags: Amazon (Company), Anathema, Facial Recognition, Intelligent Surveillance, Palantir, Rekognition, Repression, Ring (Surveillance Company), Smart Cities, Surveillance, USA
Posted in Social Control
Tuesday, December 10th, 2019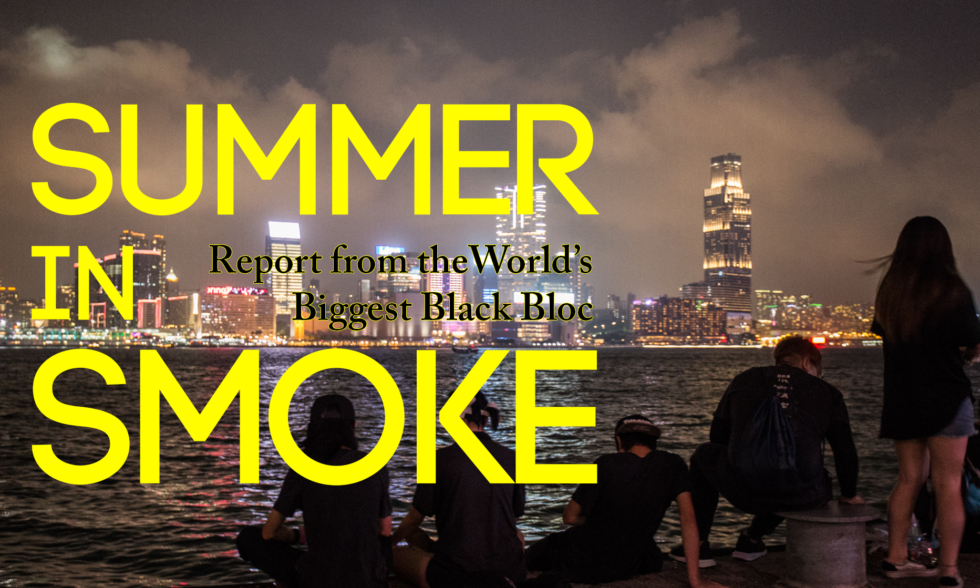 The following article was submitted to Chuang by Vitalist International. It is an account of events in Hong Kong over the summer and early fall of 2019, much of it from a firsthand perspective. We provided minor edits and designed the layout, but otherwise reproduce the piece here in more or less its original form. While the main thrust of the article is in agreement with our own views of events in Hong Kong, the piece is an intake and the opinions expressed here belong to its authors. At the bottom, we've included a gallery (provided by the authors) of 70+ posters, memes, graffiti and other graphics used in the movement.
für Sandra in liebendem Angedenken
by Vitalist International
It was only a matter of time before it happened. The protesters and the cops both knew it. On October 1st, a teenager was shot point-blank in the chest by police. The bullet missed his heart by approximately three centimeters.
Thousands of Hong Kongers gathered the next evening at a playground to fold paper cranes and wish the young protester a speedy recovery. They held banners saying "stop shooting our children!" and used the flashlights on their smartphones as torches to light up the night. In the center of the playground, a thousand origami cranes spelled out "Hong Kongers, Add oil!", a Chinese expression which has come to define the movement, meaning roughly: don't stop, keep going, add fuel to the fire. Within an hour, the protesters were setting up barricades in the streets and throwing molotovs at the nearest police headquarters.
The movement that began as a protest against a proposed extradition agreement with China has now entered its fourth month of unrest, with no end in sight. The bill — now withdrawn — would have granted the Chinese State unprecedented authority to extradite dissidents, criminals, and refugees to be processed in the shadowy court system of the mainland. Coming on the heels of 2012's Moral and National Education Law and 2014's Electoral Reform Bill,[i] this amendment was only the latest attempt at slowly dismantling the region's tenuous political arrangement of "One Country, Two Systems." With the movement rapidly evolving into widespread resistance against Chinese control, and the Hong Kong government declaring a State of Emergency, the situation has reached a political stalemate, with violence escalating on both sides. (more…)
Tags: Analysis, Arson, Black Bloc, China, Dictatorship, Hong Kong, How to make Molotovs, Intelligent Surveillance, International Solidarity, Letter, Repression, Revolution, Riots, Sabotage, Social Insurrection, Surveillance, Xinjiang
Posted in Autonomy
Tuesday, December 10th, 2019
– Update on the Belgian comrade accused for 'Possession of explosives' in Athens, Greece
Belgian comrade accused for 'Possession of explosives'
On the evening of 5th of December, in the neighborhood of Holargos, Athens, a Belgian anarchist got intercepted by two uniformed cops in a patrol car, seemingly carrying out a random ID check and search. Seeing that the comrade appeared in the police database and the cops found some items on him which they considered suspicious, he was taken to Holargos police station. After some fruitless attempts of interrogation by the local cops, cops from state security arrived and laid on more pressure, again without results. The state security cops took the comrade to their offices on the 6th floor of the main police station (Gada), in the center of Athens.
At 4 in the morning he got transferred from there to the cell complex one floor up. Some hours later a house search was carried out on the comrades house, as well as on the house where his comrade and partner is staying, and the house of her parents. In all cases the cops left empty-handed. The partner was taken to the state security offices and was released after two hours. Later that day the arrested comrade appeared in front of a prosecutor which confirmed the accusation of 'Possession of explosives' formulated by the state security, referring to the items found on the comrade at the time of his arrest (fire starters, a bottle of cleaning product and anti-mosquito spiral). The next day, Saturday 7th of December, the comrade appeared in front of court where it was decided to postpone the trial until upcoming Thursday 12th of December. After the hearing, the comrade was released from custody. (more…)
Tags: Athens, Greece, Repression
Posted in Social Control
Tuesday, December 3rd, 2019
Tags: China, Flyposter, Hong Kong, International Solidarity, Repression, Riots
Posted in Library
Sunday, December 1st, 2019
(November 23rd, 2019)
Days after being followed and days after my home in Ano Patissia was being watched by the anti-terrorist unit, I published a political statement that also includes a report about the events on 27/10/2019 [1].
Later, 09/11/2019, the anti-terrorist cops that were near my house started acting differently. At the same time, anti-terrorist unit repression against the movement became more severe, like arresting comrades with the accusation of being involved in the revolutionary organization "Organization of Revolutionary Self-Defense".
10/11/2019, 22:00 to 22:30, while I was going home, I saw many undercover cops around my home, more than usual in the past few weeks. I decided to not go home and publish immediately the information in Indymedia Athens about this event [2].
11/11/2019, in the evening, while my flatmate and his friend were coming out of the building, 15 to 20 anti-terrorist cops stopped them. First, anti-terrorist cops handcuffed them, put them in the car and probably 30 minutes later the anti-terrorist cops entered my home with the key that they took from my flatmate. Anti-terrorist cops started searching the house. After that, they arrested my flatmate with the accusation of having a military knife that was found in our home. (more…)
Tags: Abtin Parsa, Athens, Greece, Iran, Letter, Migrant Struggle, Organization for Revolutionary Self-Defense, Racism, Repression
Posted in Social Control
Sunday, December 1st, 2019
We learn that on the morning of November 26th anarchist comrade Giuseppe Sciacca was arrested by the DIGOS ("political police" of the Italian police forces) of Turin, in the province of Verona. At the same time as the arrest, the house where he resides was searched. It is not currently known whether other searches have taken place. The accusation is of "manufacture, possession and transport of explosive material", for the sending, in 2016, of an explosive envelope to Ladisa, the company that managed the canteen in the CPR ("temporary stay center", prison for migrants) of Turin. An episode already disputed, together with others, to those arrested last February 7th within the repressive operation "Scintilla"; in fact, a note from the Turin police headquarters defines arrest as a sort of extension of this operation.
Below is Giuseppe's address:
Giuseppe Sciacca
Casa Circondariale Montorio
via S. Michele 15
37141 Verona
Italia – Italy
Tags: Giuseppe Sciacca, Italy, Operation Scintilla, Repression, Turin
Posted in Social Control
Wednesday, November 27th, 2019
21/11/2019
PUBLIC STATEMENT
Since Saturday 9th of November, following the police raid at a man's home, which has been his declared residence for many years, this man and one more, a persecuted fighter and political prisoner in the past, have been incarcerated in the cells of the Greek state, facing heavy charges. The regime's propaganda media, which take on the job of spreading the scenarios of the repression mechanisms, portray the two arrested as well as myself as members of the armed organization Revolutionary Self Defense, who have been preparing, according to the suspicions of the "counter"-terrorist agency, new attacks. Starting from these arrests and with the added excuse of the search for me, the state has unleashed a mass operation of terrorism against anarchists and the wider social movement. Such efforts, which are pillars of the timeless counter-revolutionary strategy of the rulers, have been dealt with several times by the movement, by its stamina, its broad solidarity and by continuing and intensifying the struggle. Being at the epicenter of this operation I ought to make a public statement about my political stance and the characteristics of the regime's current aggression that is directed against society and the movement.
In addition, the condition of the two imprisoned persons (who are now political prisoners since they are persecuted in the framework of such an operation), my personal responsibilities, and justice urge me to speak publicly about the real background of the facts.
By definition, an organization of armed resistance needs arms. However, the weapons by themselves do not constitute an organization. Even a weapon that has been identified as a tool of a specific organization and which, as such, carries a symbolic value on top of the practical capacity of every weapon, is not sufficient, by itself, to maintain an organization of political activity. Rather, what is necessary is a collective body that carries on the public presence of the organization through its deeds.
It is an objective fact that the organization Revolutionary Self Defense has been inactive for years. By reading its public texts and particularly its specific political goals, one comes to the undoubted conclusion that for a long period the particular organization has abandoned its field of struggle. For sure, there has not been a lack of occasions to act. The capitalist aggression has been ceaselessly intensified, by all governments. The subordinate classes are sucked dry for the sake of the banking system for over a decade. Killings continue at the hands of state murderers and bosses. Just like the police murders of Zak Kostopoulos and Ebuka Mamasubek, or the indirect killings of prisoners in the prisons and of migrants at the borders and in the concentration camps. Squats, which comprise the open bases of the anti-capitalist movement, spaces in which the world of solidarity, equality and freedom is built here and now, are receiving one attack after the next from the beginning of the SYRIZA government until today. Throughout the globe, the oppressed are revolting and fighting, having to face the murderous counter revolutionary state mechanisms. In Latin America, anarchists and indigenous peoples are abducted and executed by order of multinational companies. (more…)
Tags: Athens, Dimitris Chatzivasileiadis, Greece, Letter, Organization for Revolutionary Self-Defense, Raids, Repression
Posted in Prison Struggle