Posts Tagged 'Revolution'
Tuesday, December 17th, 2019
via Popular Front.
Tags: Add Oil (Hong Kong), Anti-Authoritarian, Anti-Authoritarianism, Black Bloc, China, Counter-info, Hong Kong, Police Brutality, Popular Front (UK), Repression, Revolution, Riots, Social Insurrection, Videos
Posted in Interviews
Tuesday, December 10th, 2019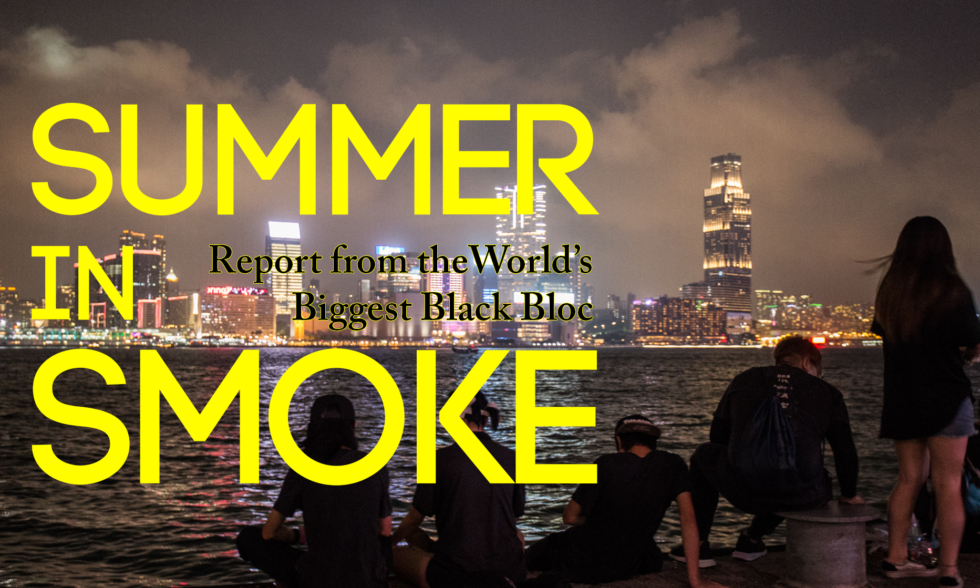 The following article was submitted to Chuang by Vitalist International. It is an account of events in Hong Kong over the summer and early fall of 2019, much of it from a firsthand perspective. We provided minor edits and designed the layout, but otherwise reproduce the piece here in more or less its original form. While the main thrust of the article is in agreement with our own views of events in Hong Kong, the piece is an intake and the opinions expressed here belong to its authors. At the bottom, we've included a gallery (provided by the authors) of 70+ posters, memes, graffiti and other graphics used in the movement.
für Sandra in liebendem Angedenken
by Vitalist International
It was only a matter of time before it happened. The protesters and the cops both knew it. On October 1st, a teenager was shot point-blank in the chest by police. The bullet missed his heart by approximately three centimeters.
Thousands of Hong Kongers gathered the next evening at a playground to fold paper cranes and wish the young protester a speedy recovery. They held banners saying "stop shooting our children!" and used the flashlights on their smartphones as torches to light up the night. In the center of the playground, a thousand origami cranes spelled out "Hong Kongers, Add oil!", a Chinese expression which has come to define the movement, meaning roughly: don't stop, keep going, add fuel to the fire. Within an hour, the protesters were setting up barricades in the streets and throwing molotovs at the nearest police headquarters.
The movement that began as a protest against a proposed extradition agreement with China has now entered its fourth month of unrest, with no end in sight. The bill — now withdrawn — would have granted the Chinese State unprecedented authority to extradite dissidents, criminals, and refugees to be processed in the shadowy court system of the mainland. Coming on the heels of 2012's Moral and National Education Law and 2014's Electoral Reform Bill,[i] this amendment was only the latest attempt at slowly dismantling the region's tenuous political arrangement of "One Country, Two Systems." With the movement rapidly evolving into widespread resistance against Chinese control, and the Hong Kong government declaring a State of Emergency, the situation has reached a political stalemate, with violence escalating on both sides. (more…)
Tags: Analysis, Arson, Black Bloc, China, Dictatorship, Hong Kong, How to make Molotovs, Intelligent Surveillance, International Solidarity, Letter, Repression, Revolution, Riots, Sabotage, Social Insurrection, Surveillance, Xinjiang
Posted in Autonomy
Sunday, December 8th, 2019
—To Joaquín García Chanks and Marcelo Villarroel Sepúlveda, comrades and co-conspirators.
"For I am the sworn poet of all the intrepid rebels of the entire world,
And whoever comes with me leaves peace and routine behind,
And you play to lose your life every moment."
Walt Whitman, To a frustrated European revolutionary (1856), Leaves of Grass.
"… where there is danger, what grows saves us."
Friedrich Hölderlin, Patmos.
A month and six days after the insurrection began, Anarchy is still alive in the Chilean region. It is an unprecedented event in Chile and Latin America. It has been the kairos of Anarchy: the emancipatory moment that occurs in the relevant time and place, the bold incarnation of a pronounced denial of the State and of all authority.
The echo of the old anarchic slogan "Neither God nor State nor Patriarchy" rumbled throughout the southern geography and has made hearts vibrate from Cape Horn to the banks of the Sama and Camarones rivers.
It is evident that in their daily subversive work, the insurrectionary anarchism of the informalist tendency, maximized their potentialities and also explored their difficulties and their own limits, using ephemeral junctions – mutating from one place to another – that allowed them (via conflict and various contingencies) to sketch out the chromatic possibilities of their theoretical-practical background and, encourage unmanageable disobedience, concentrating specifically on individual actions and / or small affinity groups aimed at attack and expropriation.
However, dynamite was missing. Diesel and gasoline failed. The attack was spared. There was a lack of expropriations. The headquarters of ALL political parties were not demolished. No prisons or madhouses were assaulted. We lashed out at the symbols but missed the target. A gigantic bonfire is still pending for the hundreds of flags that are seen on the marches (including the red and black ones, because ALL the flags are full of blood and shit). This shortage has allowed the power of denial to divert to be "triumphant", instead of injecting the conflict with life and going beyond the institutional songs that already threaten to impose the peace of the grave. (more…)
Tags: Analysis, Chile, Gustavo Rodriguez, Letter, Revolution, Riots, Santiago, Social Insurrection
Posted in Autonomy
Tuesday, October 24th, 2017
No to State, No to war. Yes for self-administration and the Social revolution
Immediate call to all our comrades Anarchists and Libertarians wherever they are
A direct and special call to our comrades Anarchists and Libertarians Arabic-speaking
No to State, No to war. Yes for self-administration and the Social revolution
For years and years we, anarchists and libertarians in Iraqi "Kurdistan", Europe and other countries all our publicities and our slogan have been about Yes for self-administration in everywhere and for all the communities, but No to State.
We raised our voice against the Kurdistan Regional Government (KRG) and its very recent scenario of referendum on "independent Kurdish State". We are very sure the other anarchists among Arab, Turkish, Assyrian and others had the same attitude. We also believe the same attitude from our anarchist comrades throughout the world to say no to State, authority, nationalism and to be against the nationalist and against pro-fascist war. (more…)
Tags: Anti-War, Civil War, International Solidarity, Iraq, Kurdish-Speaking Anarchist Forum (KAF), Kurdistan, Revolution, Syria, Turkey, War
Posted in Autonomy
Wednesday, August 23rd, 2017
Anarchist and revolutionary must be ready for revolution to happen in every moment, especially now, when social and political protest all around the world are arising more and more often. Moreover, the possibility of global catastrophes and cataclysms is always present, and saving ourselves along with continuing our struggle in that case should always be in our agenda.
To write this article, we adopted the experience of people's struggle in Ukrainian Maydan, successes and failures of recent anti-governmental protests in Belarus and Russia and analyzed the capacities and repressive tactics of police and intelligence in our country in last years. Though this tips were written first of all for comrades from above-mentioned countries, they may be useful for anarchists in any part of the world.
Note: for publishing this article, our site www.pramen.io was officially labeled as "extremist" by the Central district court, and blocked in Belarus (only accessible via Tor or VPN).
https://pramen.io/en/2017/08/14-tips-on-how-to-get-ready-for-the-revolutionary-situation/
Tags: Analysis, Belarus, Insurrection, Revolution, Riots, Social Insurrection, Ukraine
Posted in Autonomy
Friday, June 27th, 2014
Here's a letter from an anarchist friend (he's in Kiev). It's supposed to be a reply to Crimethinc's recent article on Ukrainian revolution and to everyone who so eagerly claims Ukrainian revolution to be a right-wing only affair. Hope you enjoy.
–
Comrades!
I'm writing to you from Ukraine. I participated a lot in Maidan riots and different anarchist initiatives during that time and want to make several comments that I find to be important for a better understanding of events. In general I agree with your hypothesis', but I want to emphasize several details which will make the picture not so dark.
To start with, nationalists and fascists took over the forefront of the confrontations only in the media image of Maidan. They have no real control over activities of protesters, but they controlled the scene of Maidan and the fascination of the mainstream medias.
Fascists from "Right Sector" and other organizations had a control only over their members. And it is very remarkable to emphasize that their organizational structures hadn't been very hierarchical. Groups among them were decentralized. (more…)
Tags: Crimea, Letter, Maidan, Revolution, Russia, Ukraine
Posted in Anti-Fascist
Saturday, April 6th, 2013
Information via Contra-Info. Also read the Oral declaration to the court by Pola Roupa, member of Revolutionary Struggle – October 24th, 2011.
On April 3rd, 2013 the judgment on the Revolutionary Struggle case was a slight improvement of the prosecutor's proposal. The court's decision on the Revolutionary Struggle case:

Defendants who have denied participation in the organization
– Acquittal of Marie Beraha, Sarantos Nikitopoulos and Kostas Katsenos of all charges (on benefit of doubt).
– Conviction of Vaggelis Stathopoulos and Christoforos Kortesis for alleged participation in the organization.
Admitted members of Revolutionary Struggle
– Acquittal of Nikos Maziotis, Pola Roupa and Kostas Gournas of the accusation of 'directing a terrorist organization.'
– Conviction of Nikos Maziotis, Pola Roupa and Kostas Gournas for 'simple synergy' with the actions of Revolutionary Struggle (without a shred of evidence concerning their involvement in specific actions, but rather applying the Nazi principle of joint liability).
To sum up, Revolutionary Struggle member Nikos Maziotis was sentenced to 86 years' imprisonment; his sentence was merged into 50 years. Revolutionary Struggle members Pola Roupa and Kostas Gournas were both sentenced to 87 years; each sentence was merged into 50 years and 6 months. For all three of them, the maximum prison term is 25 years (which are typically served either as a full sentence or by day wages in prisons, or after the completion of 3/5 of the prison term, when a prisoner can be granted conditional release under specific conditions).
Vaggelis Stathopoulos and Christoforos Kortesis were sentenced to 8 and 7 years' imprisonment, respectively. The sentence against Vaggelis Stathopoulos was merged into 7 years and 6 months.
In addition, for all five convicted anarchists, the judges' decision provided for deprivation of their political rights (5 years for the three admitted members of Revolutionary Struggle, and 3 years for the other two anarchists), as well as non-suspensive effect of appeal.
While Nikos Maziotis and Pola Roupa are on the run, Kostas Gournas, Vaggelis Stathopoulos and Christoforos Kortesis were immediately taken to prison. The militant slogans of the audience and the clenched fists of the three anarchist fighters were the last moments of the trial.
Solidarity with all anarchists imprisoned or persecuted by the Greek State! The battle for freedom is far from over.
Long live Revolutionary Struggle!
Tags: Athens, Christoforos Kortesis, Greece, Kostas Gournas, Kostas Katsenos, Maria Beraha, Nikos Maziotis, Pola Roupa, Revolution, Revolutionary Struggle, Sarantos Nikitopoulos, Trial, Vaggelis Stathopoulos
Posted in Social Control
Tuesday, January 25th, 2011
Anti-Terrorist detention of 3 people for Graffiti
On January 12th, three people have been arrested in Belleville, Paris. They are accused of graffiti in solidarity with the revolt in Maghreb. The slogans were: "Algérie – Tunisie / Insurrection", "Vive l'anarchie". (more…)
Tags: Algeria, France, From Sidi Bouzid to Bab-el-Oued, Graffiti, Keep Bombing, Paris, Poster, Revolution, Tunisia
Posted in Social Control