Posts Tagged 'Revolutionary Struggle'
Friday, February 10th, 2012
Declaration of the members of Revolutionary Struggle on February 6th, 2012, regarding the armed scuffle of Dafni, in which Lambros Foundas was killed in battle with the police
The repressive operation against the Revolutionary Struggle started with an armed scuffle in Dafni on March 10th, 2010, when our comrade Lambros Foundas was killed in battle with the policemen Andreas Haskis and Theodoros Koumarapis. (more…)
Tags: Athens, Greece, Kostas Gournas, Lambros Foundas, Nikos Maziotis, Pola Roupa, Revolutionary Struggle, Trial
Posted in Prison Struggle
Monday, January 23rd, 2012
From Contra-Info:
In April 2010, in a joint letter with my comrades Pola Roupa and Nikos Maziotis, we claimed political responsibility for our participation in Revolutionary Struggle (Epanastatikos Agonas). We declared that we're proud of the organization and our fellow fighter Lambros Foundas, who was killed by cops in the armed scuffle of Dafni. (more…)
Tags: Athens, Greece, Kostas Gournas, Lambros Foundas, Nikos Maziotis, Pola Roupa, Revolutionary Struggle, Trial
Posted in Prison Struggle
Tuesday, January 17th, 2012
Dark Nights is an anarchist & anti-prison PDF freesheet to download and print out on the fly.
FREEDOM WILL BLOSSOM FROM THE ASHES OF THE PRISONS
Click here: 16 pages A4 PDF + Click here: 4 pages A4 supplement
Longer format issue of Dark Nights; the frontpage carries the new open letter from Luciano 'Tortuga', anarchist in Chile hurt in a bomb attack against Santander Bank in Santiago. A major section of this issue is given over to a New Year Anti-Prison Actions Round-Up, which couldn't begin to cover the vast nature of the second international call-out for anti-prison demos on the New Years Eve, but is nevertheless a contribution to be spread and distributed.
The remaining full articles include the cases of the revolutionary anarchist group Revolutionary Struggle, the Conspiracy of Cells of Fire, Stella Antoniou, Sonja Suder & Christian Gauger of the Revolutionary Cells (RZ).
Special separate supplement covers the latest sabotages and attacks in Italy; Update on the "Bombs Case" in Chile; Joint declaration of subversive and revolutionary prisoners in support of the comrade Luciano Tortuga (Chile); Sabotage and attacks against automated car tolls and social control (Portugal); Update on the Two Imprisoned Combatants in Yogyakarta (Indonesia).
Dark Nights will continue a more frequent publishing schedule generated from the international network of translation and counter-information for the present time as a new editorial and design collective take over the freesheet.
Anti-Copyright Network 2012
Tags: 14/14, Billy, Conspiracy of Cells of Fire, Dark Nights, Eat, Luciano Pitronello Schuffeneger, PDF, Revolutionary Cells (RZ), Revolutionary Struggle, Stella Antoniou, Zine
Posted in Library
Saturday, December 31st, 2011
New from Act For Freedom Now! Revolutionary Struggle PDF – Trial Solidarity Zine
Download now for free from Actforfreedomnow! A collection of letters, texts and communiques from the armed group ' Revolutionary Struggle' and their accused. Released during their current trial and intended to be one more nail in the coffin of the legitimacy of the State and the capitalist system.
From the introduction:

In the days of April 2010, when the Greek government finally agreed to accept a loan from the International Monetary Fund to begin the take-over of the country into the hands of the international financiers, the security services had prepared a media spectacle to mark the occasion: the capture of 6 anarchist fighters for the purpose of the submission of the social struggle.
Anarchist fighters who had been a thorn in their side for some time, were now hostages. Hostages who had humiliated the demoralised and brutal Greek intelligence services, anti-terrorist divisions and their American occupier counterparts, the CIA, who had sought out the Revolutionary Struggle ('Epanastatikos Agwnas' – EA – in Greek language) for a Rocket Propelled Grenade attack against the US Embassy in Athens. This daring and symbolic action came amongst scores of other targeted attacks which struck for years with symbolically definitive high-impact blows against the institutions of capitalism and government, accompanied by dozens and dozens of pages of critical, thoughtful and articulate anarchist analysis of the institutional structures that parasite on the social wealth produced by labour, with social and economic self-organisation put forward as an anti-capitalist and anti-state egalitarian alternative. Revolutionary Struggle are Nikos Maziotis, Pola Roupa, Kostas Gournas and the fallen Lambros Foundas. Together they formed a group of social-libertarian anarchists based in the busy capital, Athens, who directed their armed activities in the class interests of the exploited workers of Greece and within/alongside the specific mass anarchist/anti-authoritarian movement from 2003-2010.
And now, they continue their fight in the court rooms and prisons of the Greek regime, where they push an even harder fight to the legitimacy of the capitalist enemy. As this collection was being assembled, the show-piece trial against the comrades continues, which is partnered by a campaign of repression against the anarchist/anti-authoritarian movement in general and specifically to several anarchists who deny responsibility. What the Greek security services and their foreign colleagues wish to prevent through intimidation, surveillance and imprisonment is contagion. Contagion of tactics which made a mockery of their system and showed how easily it could be struck by anyone. Contagion of ideas which has now spread far beyond the world-wide anarchist/anti-authoritarian movement into the general masses of people who are angry with everything, wishing to see it all come down and something much more humane begin. …
FREEDOM FOR THE PRISONERS – HONOUR TO LAMBROS FOUNDAS
Trail updates and more from: actforfree.nostate.net
Tags: Athens, Kostas Gournas, Nikos Maziotis, PDF, Pola Roupa, Revolutionary Struggle, Zine
Posted in Library
Thursday, December 22nd, 2011
From IMC UK:
15 December 2011
At 4:30 am on Thursday 15th of December we attacked Bristol LLoyds bank depot in solidarity with comrades imprisoned in Greece, Chile, Switzerland and all over the world. We painted the message "UNTIL ALL ARE FREE" on the building and positioned three bins of flamable material soaked in gazoline in front of their wooden doors and set them alight. Unfortunately our attempt to burn the building down was scuppured by fast emergency services response.
We took this action to send our love and solidarity to our Revolutionary Struggle comrades on trial in Greece and to the Chillean comrades persecuted for the "bomb case", also to Silvia, Costa and Billy the Swiss comrades persecuted for "IBM nanotechnology building" and for all those imprisoned for their political beliefs.
ATTACKS WON'T STOP UNTIL WE ARE ALL FREE!
Anarchist individuals/ Cells of FAI
Tags: Anarchist individuals/ Cells of FAI, Arson, Bristol, Chile, Costantino Ragusa, Greece, International Solidarity, Lloyds Bank, Luca Bernasconi, Revolutionary Struggle, Silvia Guerin, Switzerland, UK
Posted in Direct Action
Friday, November 11th, 2011
Declaration of Revolutionary Struggle from the courtyard of the special court in Koridallos prisons (October 5th, 2011)
The revolutionary voice of Pola Roupa reading the organization's statement (make sure to activate the cc button for English subtitles): (more…)
Tags: Korydallos Prison, Kostas Gournas, Nikos Maziotis, Pola Roupa, Revolutionary Struggle, Trial
Posted in Prison Struggle
Thursday, November 10th, 2011
UPDATE ON REVOLUTIONARY STRUGGLE CASE
From Actforfreedomnow. Day 3, 1/11/11
With the repetition of the procedure P. Roumeliotis (defence advocate of K.Katsenos) asked to place his position on the objection for vagueness of the order, before the court publishes its decision. With a detailed and absolutely thorough argumentation, supported by theory but also by legislations, Romeliotis proved that there is an absolute nullity of the order and the call, because the actions the defendant is accused of have not been described and consequently he cannot defend himself, a fact that -besides the articles of the Code of Penal Procedure, which are being violated- it is also a direct violation of article. 6 paragraph 1 of the ECHR (European Convention for Human Rights), according to which a defendant should be informed in detail about the actions for which they are accused. In the particular case, we have a series of actions in which everywhere we have two perpetrators and simultaneously have seven defendants (the total minus M. Beraha) that are accused for complicity! How can the defendant defend himself, when you won't tell him precisely what he is accused of, when he isn't placed in the real incidents? These points were also deposited in writing by the advocate. (more…)
Tags: Costas Katsenos, Greece, Kostas Gournas, Maria Beraha, Nikos Maziotis, Pola Roupa, Revolutionary Struggle, Trial
Posted in Prison Struggle
Saturday, October 29th, 2011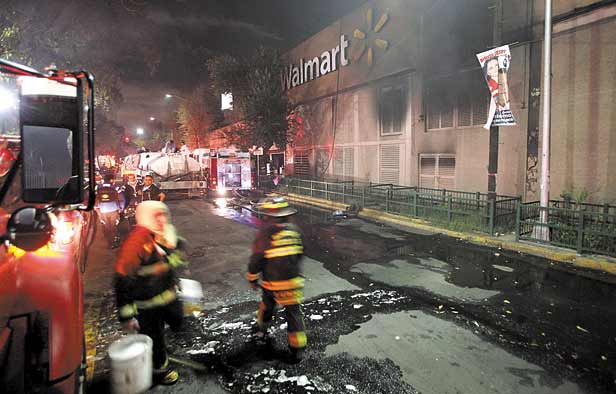 From culmine via this is our job:
To all like-minded arsonists and antagonists, the fourth communiqué from the Conspiracy of Cells of Fire – Mexico / Informal Anarchist Federation:
Neither exasperated, indignant, nor broken! Arsonists at war against every authority!
All our solidarity with comrade Gabriel Pombo da Silva!
We're celebrating two months of direct attacks on capital and the State!
Against the system of domination!
For Total Liberation!
Yesterday [26/10/11] at 6:23 p.m., liberatory fire again burned where it hurts most, destroying merchandise. The Conspiracy of Cells of Fire (CCF) faction of the Mexican Informal Anarchist Federation (FAI-M), Veracruz section, gave life to liberatory fire at the Wal-Mart located at Universidad and Avenida Las Palmas in the heart of Coatzacoalcos, Veracruz. With this new attack, we avenge comrade Gabriel Pombo da Silva (held captive in Aachen prison) and demand his immediate release from the German and Spanish states. We also stand in solidarity with our comrade Tamara, with the Bombings Case compas in Chile, with the imprisoned Conspiracy of Cells of Fire compas in Greece, and with all our comrades abducted by the State in Mexico and the rest of the world. (more…)
Tags: 14/14, Arson, Coatzacoalcos, Conspiracy of Cells of Fire, Conspiracy of Cells of Fire - Mexico, Conspiracy of Cells of Fire : Imprisoned Members Cell, Gabriel Pombo da Silva, Germany, Informal Anarchist Federation - Mexico (FAI-M), Informal Anarchist Federation (FAI), International Solidarity, Luciano Pitronello Schuffeneger, Mexico, Revolutionary Struggle, Spain, Tamara, Veracruz, Wal-Mart
Posted in Direct Action
Friday, October 28th, 2011
From boubourAs / actforfreedomnow!, a communique previously untranslated into English claiming responsibility for the direct action against the Athens Stock Exchange by RO- Revolutionary Struggle on 2 September 2009. The release of this communique comes as the global social struggle against the capitalist system threatens to develop to a new level, shaking the entire legitimacy of the exploitative banking system. The RO- Revolutionary Struggle in their texts and actions reveal a foretelling vision of a free society of equality and harmonious co-operation without the violent parasitism and coercion imposed on us by the super-elite.
From the Revolutionary Organisation – Revolutionary Struggle
On the 2nd of September in the early morning we attacked the temple of money, the stock exchange of Athens, by placing an expropriated van with 150 kilos of ammonium nitrate (AN/FO). This action is the continuation of a strategy of attacks with large quantities of explosives in order to hurt the infrastructure of multinational and local capital, a strategy initiated the 18th of February last year with the attempt on the central offices of Citibank on Nea Kifissia and continued with the bomb attack on the Eurobank branch on Vouliagmenis avenue, Argiroupoli on May 12th last year.
Maybe the explosion, despite the enormous amount of damage it caused to the building, did not stop the operation of the stock market since it did not destroy the central software system, but we believe that it worked, and it will continue to work negatively on the market and on the psychology of all kinds of opportunists, since the message was clear and was received by economic power as a whole: those responsible for the current crisis, the major shareholders, the golden boys, the capitalists, will pay for their criminal activity, and no State mechanism can protect them. (more…)
Tags: Athens, Economic Crisis, Kostas Gournas, Lambros Foundas, Nikos Maziotis, Pola Roupa, Revolutionary Struggle
Posted in Direct Action
Friday, October 28th, 2011
October 24 2011
Heavy accusations against the capitalist economic-social system and the urban system of power, the state and its persecutory mechanisms were made by the members of Revolutionary Struggle at the first (substantial) day of their trial, when the chairman gave them the word in order to place themselves in short concerning the charges. Their statements were anything but short. For over half an hour, Nikos Maziotis, Pola Roupa and Kostas Gournas (we mention them according to how they mentioned in the court brief and in the order they spoke) addressed charges against the system and defended their political choices, transforming the room of the terror-court into a step for their opinions. (more…)
Tags: Christofos Kortesis, Costas Katsenos, Greece, Kostas Gournas, Lambros Foundas, Maria Beraha, Nikos Maziotis, Pola Roupa, Revolutionary Struggle, Sarantos Nikitopoulos, Trial, Vaggelis Stathopoulos
Posted in Prison Struggle
Wednesday, October 12th, 2011
10 & 11 October 2011
On the night of Monday 10 October, the windows of Bristol Magistrates Court were smashed and 'FIGHT BACK' sprayed on the front of the building. On the night of Tuesday 11 October, the windows of Bristol Civil Justice Centre were smashed.
One of many reasons these buildings were attacked was in solidarity with people persecuted after the riots. These attacks were part of the struggle against power, a struggle that flared up again in August as people fought police and attacked police stations, cop cars and courts as well as so much else.
Now the state is trying to make an example of the small percentage of rebels they've managed to catch – and is threatening collective punishment of families and households. Cracks are showing in the myth of democratic social consensus as authority, under attack, resorts to more naked force. They're trying to frighten the rest of us back into quiet obedience – but it's not going to work.
It should be obvious by now that we're not acting in order to ask for some kind of reformed, more 'just' replacement for this – or anything else – within this democratic society. The borders of democracy are made up of violently enforced racial, economic, social, sexual and governmental structures. Police, courts and prisons are just one part of this. 'Justice' has always been about maintaining hierarchies and inequalities through force. The rich always get away with shit while the poor are punished for the slightest transgression.
Physical attacks like these are just one part of the struggle for freedom, whether they're done in open joy by a crowd of former strangers or quietly in the dark by a small group of friends. At the same time, we struggle to overcome internal hierarchies and the cops in all of our heads. Much more is possible.
This action was done with thoughts of N Maziotis, P Roupa, K Gournas, C Kortessis, V Stathopoulos, S Nikitopoulos and M Beracha, standing trial far from here from October 24, accused of participation in Revolutionary Struggle's exemplary contribution to the fires that burn in Athens for many years with words and deeds: our struggle is one. Solidarity with the accused of that case who is still uncaptured and with every social fighter forced into clandestinity- stay free and stay fighting! Power has not won.
Nothing has ended, everything has begun.

International Revolutionary Front – some Bristol participants.
Tags: Bristol, Fuck the Law, Greece, International Revolutionary Front, International Solidarity, Nikos Maziotis, Revolutionary Struggle, UK
Posted in Direct Action
Monday, October 10th, 2011
2 comrades, Eat and Billy are imprisoned having taken responsibility for this action. There has been a call-out for revolutionary solidarity with the struggle in Indonesia – translated into several languages, which can be found on the website Contra-Info, in Greek, Spanish, Italian, French, German and Portuguese. More details to follow.
7 October 2011
NEGARA-KORPORASI-POLISI-MILITER ADALAH TERORIS SEBENARNYA
"Pemberontakan sosial akan terus berlanjut karena mentari terus bersinar."
Kali ini kami mengatakan, bahwa apa yang kami lakukan merupakan puncak dari semua kegelisahan serta kemarahan kami terhadap sistem yang sedang berjalan ini. Sistem yang memberhalakan uang, sistem yang merecoki keseharian masyarakat dengan televisi, agar mereka membeli barang-barang yang tak mereka perlukan agar mereka terus bekerja seperti mesin. Sistem yang mengharuskan kami beserta masyarakat lainnya tidak memiliki kendali atas hidup kita sendiri.
Sistem yang lainnya menguntungkan borjuis, para pebisnis, dan para birokrat negara yang menjadi sekutu setianya. Bagi kami semua, ini bukan saatnya untuk diam, bukan saatnya untuk tenang menonton acara di depan televisi dan berkata bahwa "semua baik-baik saja".
Untuk setiap penindasan di Papua Barat.
Untuk setiap penindasan di Kulon Progo.
Untuk setiap penindasan bersejarah di Aceh.
Untuk setiap penindasan di Wera, Bima.
Untuk setiap penggusuran dan perampasan lahan di Takalar dan Pandan Raya di Makasar.
Untuk setiap penindasan terhadap kawan-kawan kami yang berjuang.
Untuk Tukijo dan para kombatan sosial yang mendekam di penjara hanya karena berjuang mempertahankan hak hidupnya.
Untuk setiap konsensi hutan yang akan menghancurkan setiap keanekaragaman hayati mengatasnamakan uang dan bisnis!
Dan untuk setiap penjara yang seharusnya terbakar rata dengan tanah.
Maka selama negara dan kapitalisme masih eksis, tak pernah akan ada kata damai antara mereka yang tak berpunya dengan mereka yang berpunya.
Penyerangan terhadap pusat-pusat finansial: ATM, bank, gedung korporat adalah target yang penting, karena mereka adalah salah satu kolaborator yang menyebabkan penderitaan di muka bumi ini. Ini bukanlah terorisme karena kami tidak mengadvokasikan untuk menyerang orang-orang, terorisme adalah peperangan antar negara. Terorisme adalah beras dan pangan di dapurmu yang semakin menipis. Terorisme adalah bajingan berseragam yang membawa senjata ke mana-mana. Terorisme adalah pembantaian orang-orang tak berpunya.
Maka kami mengatakan: sudah cukup!
Dan ini juga untuk kalian! Para kombatan yang tak pernah surut untuk berjuang di luar sana, meski kalian harus mendekam di jeruji besi karena keyakinan kalian akan kebebasan: Conspiracy of Cells of Fire (Yunani), kombatan Chile: Tortuga! Lives on! Gabriel Pombo da Silva, Thomas Meyer Falk (Germany) Polykarpos Georgiades, Revolutionary Struggle! Salut bagi kombatan Manado, Makassar, dan Bandung, kalian adalah inspirasi di tengah ketidakberdayaan masyarakat akan hidup mereka yang semakin tidak menentu dan tak berdaya.
"Biarkan api menyala dalam kegelapan!"
Long Live Luciano Tortuga Cell – International Revolutionary Front – FAI
–
English Translation:
STATES-CORPORATIONS-MILITARY-POLICE ARE THE TERRORISTS

"Social rebellion will continue as the sun continues to shine."
This time we say, that what we are doing is the culmination of all our anxieties and anger against a system that is running this. Systems that idolize money, a system that nags the public daily with television, so they buy things they do not need so that they continue to work like a machine. System that required us and other people to not have control over our own lives.
Another system that benefits the bourgeoisie, the businessmen, and state bureaucrats who become loyal allies. For us all, this is not the time to be quiet, not the time to calmly watch the event in front of the television and say that "all is okay".
For each incident of repression in West Papua.
For each incident of oppression in Kulon Progo.
For every historic repression in Aceh.
For each incident of oppression in Wera, Bima.
For any evictions and land seizures in Takalar and Pandan Raya in Makassar.
For each of the oppression of our comrades who are struggling.
To Tukijo and social combatants languishing in jail just because of fighting for their life right.
For each forest concession that would destroy any biodiversity on behalf of money and business!
And for every prison should have burned to the ground.
So long as the state and capitalism still exist, never will there be words of peace between those dispossessed by those who are propertied.
Attacks on financial centers: ATMs, banks, corporate buildings is an important target, because they are one of the collaborators who cause suffering on this earth.
This is not because we do not advocate terrorism to attack the people, terrorism is a war between countries. Terrorism is rice and food in your kitchen that are running low. Terrorism is a crook in uniform who carries weapons everywhere. Terrorism is the massacre of the dispossessed.
So we say: enough!
Tortuga! The combatants who never stopped to fight out there, although you have to crouch on the bars but you have freedom of thought: Conspiracy of Cells of Fire (Greece), combatants in Chile: Tortuga! Lives on! Gabriel Pombo da Silva, Thomas Meyer Falk (Germany) Polykarpos Georgiades, Revolutionary Struggle! Kudos for the combatants in Manado, Makassar, and Bandung, you are an inspiration in the middle of the powerlessness of their lives that society makes increasingly uncertain and helpless.

"Let the fire burn in the darkness!"

Long Live Luciano Tortuga Cell – International Revolutionary Front – FAI
Tags: ATM Burned, Billy, Chile, Conspiracy of Cells of Fire, Eat, Gabriel Pombo da Silva, Indonesia, Informal Anarchist Federation (FAI), Informal Global Federation / Anarchist Network, International Conspiracy for Revenge, International Revolutionary Front, International Solidarity, Kulon Progo, Long Live Luciano Tortuga Cell - International Revolutionary Front - FAI, Luciano Pitronello Schuffeneger, Polykarpos Georgiades, Revolutionary Struggle, RO-FAI (Indonesia Section), Thomas Meyer Falk, Tukijo
Posted in Direct Action
Saturday, October 8th, 2011
The members of Revolutionary Struggle will be released under restrictive conditions on Tuesday, October 11th.
Their release was ordered on the condition that they will sign off at a local police station every five days, while they will be banned from exiting the prefecture of Athens.
Outside the court room was where the biggest interest was, in the first meeting of the special terror-court that began to try the case of Revolutionary Struggle in the prisons of Korydallos.
The scene outside the female prisons of Korydallos seemed somehow surreal. Dozens of people waited for their turn in order to enter the court room, where soon would begin an important political trial, while a few dozen meters away, exactly outside the gate of the male prisons, there were exterior guards assembled with a banner and chanting. For a moment we thought that it was a solidarity demonstration!
The police measures were even tougher than the 17N trial, mainly with the dissemination of armed (masked and not) cops in the area outside the court room.
With the beginning of process from the chairman of the terror-court Nikolaos Davros, the defendants announced their advocates of defence which are: for Nikos Maziotis and Pola Roupa, its Spiros Fitrakis and Dafni Vagianou. For Kostas Gournas, Maria Beraha and Vaggelis Stathopoulos, its Marina Daliani and Dafni Vagianou. For Christoforos Kortesis its Giannis Rahiotis and Paraskeui Giannakopoulou. For Sarantos Nikitopoulos, its Spiros Fitrakis, Anny Paparrousou and Dimitris Katsaris. For Kostas Katsenos, its Panagiotis Roumeliotis, Harris Ladis and Frederikos Bergamos.
Immediately afterwards, Spiros Fitrakis declared on behalf of all defense advocates, that they participate in the strike that was declared by the national assembly of Lawyer's Associations, and that they only attended [the court] in order for their colleagues who are defending Kostas Katsenos, who was persecuted and surrendered a few days before the trial started, to ask for an interruption in order for them to study the brief. He also stated, that all defendants wish that the trial is open to all forms of Media and he asked from the court to allow the television crews to enter the court room, in order for the defendants to make political statements, to present their political opinion. Pola Roupa clarified to the chairman of the court, who answering the advocate had said that cameras cannot enter the court room, that they do not care if the cameras are in the room, but for it to be possible to make statements to all media, outside the court procedure. After this dialogue with P.Roupa, the chairman declared that the defendants "will be facilitated, but to not abuse it"!
P. Roumeliotis and H. Ladis asked for a 30 day interruption (the maximum allowed by the law), so that they can study the enormous brief, that concerns 50-55 offences, since advocates for Katsenos were appointed just a few days ago and have no knowledge of the brief. The public prosecutor Antonios Liogas proposed that the interruption is for 15 days, a period of time that he considers sufficient, since "the evidence is specific"! Obviously, he thinks that the advocates should also agree beforehand with his own opinion about the "evidence" and not study the brief, as they should.
Regarding the demand for statements by defendants to the media, he said that he does not have an objection to the defendants giving interviews, but this it is not a matter of the court. Afterwards the chairman read the names of the witnesses of the prosecution. None of the big shots was present (we remember the names of Voulgarakis [ex-minister of public order] and Kokkino [finance consultant for Greek industry]), while neither was there any public defense declared either (journalists sat in those seats).
After a ten-minute break, the chairman announced that the court decided the interruption of the trial until Monday 24th of October, at 9 in the morning. As for the demand of the defendants to make statements to the media, he said that -outside the strict procedural conditions- the court expresses the opinion and the wish for the defendants to make statements in the courtyard, while being led to the vehicle that will transport them to the prisons opposite, "in the legitimate time of 2-3 minutes" (its obvious that he consolidated with the police, who have the first word).
While the imprisoned defendants left the room in handcuffs, the chant "the passion for freedom is stronger than the prison cells" was repeatedly heard. Afterwards and after they waited for the room to empty from all those who had arrived in the trial, minus journalists and lawyers, in the courtyard, behind a closed gated door, Pola Roupa read out to the journalists (and the television cameras) their statement. As soon as she finished, before getting a chance to answer any of the questions that began to formulate, the cops grabbed her and almost picked her up and led her to the prison-van. She only managed to shout, that she has made a specific written charge about the imprisonment conditions, for the women and mothers and children.
Tags: Athens, Greece, Korydallos Prison, Kostas Gournas, Nikos Maziotis, Pola Roupa, Revolutionary Struggle, Trial
Posted in Prison Struggle
Saturday, October 8th, 2011
Barcelona, ​​October 5th, 2011
19.30 GMT+1, bomb alert in the Greek consulate in solidarity with Epanastatikos Agonas (Revolutionary Struggle).
We demand the unconditional release of N.Maziotis, P.Roupa, K.Gournas, Ch.Kortesis, V.Stathopoulos, S.Nikitopoulos and M.Beraha.
We are going to win.
Subversive struggle
Tags: Barcelona, Bomb alert, Catalunya, Embassy, Greece, Revolutionary Struggle
Posted in Direct Action
Thursday, October 6th, 2011
5 October 2011
"In Bristol last night (Wednesday October 5th) we broke into a police compound just south of the river. Under the cover of darkness we set fire to a marked police car. We didn't hang around long enough to see whether or not it went up… we can only hope.
We did this for a few reasons. One, as a show of our anger and disgust for the police after hearing about the beating of many friends and comrades in Amsterdam during a demonstration last week.
Wednesday also marked the beginning of the trial against the 'Revolutionary Struggle' group in Greece. With this solidarity action we send you heart felt greetings, you are an inspiration to many, stay strong and proud.
It should go without saying that this was done as much for these reasons as for our own enjoyment. With NO feelings of obligation we enjoyed every moment from the organisation to the orchestration. And of course this is not a glorification of foreign struggles, we have a laundry list of personal/regional reasons to resist, from raids and evictions to locally imprisoned rebels.
This action was done in the spirit of what has become known as the LEGEND OF THE EVENING POST SMASHER*."
Anon
–
[*Reference to a window smashing action against offices of a right-wing newspaper in Bristol, for which the cops seek a suspect from reported DNA evidence, which resulted in a local squat being raided. The cops didn't find the man they were looking for, but made a political investigation, and seized computers, phones, papers. The newspaper, which naturally had their journalists present at the raid, tried to play a key part in the local repressive operations of the police, exactly like every other newspaper in the country. They all justified the police murder of Mark Duggan and excused the daily brutality and disgusting behaviour of the police, printing suspects photographs and spreading hatred and vengeance etc. The newspaper, known as the 'Evening Post' is a very typical daily newspaper owned by Northcliffe Media (formerly Northcliffe Newspapers Group), it is a large regional newspaper publisher in the UK and Central and Eastern Europe, owned by the Daily Mail and General Trust. In UK, it operates from over 30 publishing centres, and also has 18 daily titles.]
Tags: Amsterdam, Arson, Fuck the Law, Greece, International Solidarity, Revolutionary Struggle, Trial, UK
Posted in Direct Action