Posts Tagged 'Rigaerstrasse'
Sunday, February 9th, 2020
In the night from Saturday to Sunday (01.-02.02) we threw stones at a patrol car on the Bethaniendamm. Because the driver braked out of initial overconfidence, we were able to destroy the front and side windows.
This is to be understood as the direct answer to the attacks on our demos this weekend. Whether provocative and beating at the unlock demo on Friday or the Sponti in Kreuzberg on Saturday.
Even if you are caught up in common police state fantasies at your congress, you can be sure of one thing; that we always create moments where the balance of power is in our favour and know how to use it.
You can kill us but the idea of freedom will never die.
REVENGE FOR MARIA!
Translator's note:
According to media reports, the patrol car was badly damaged and had to be taken to a garage, the two cops also resigned from duty and one was taken to hospital. The night before, riot police got into clashes with stone throwers in Rigaer Street, damaging several of their vehicles and injuring an officer. More about the murder of Maria.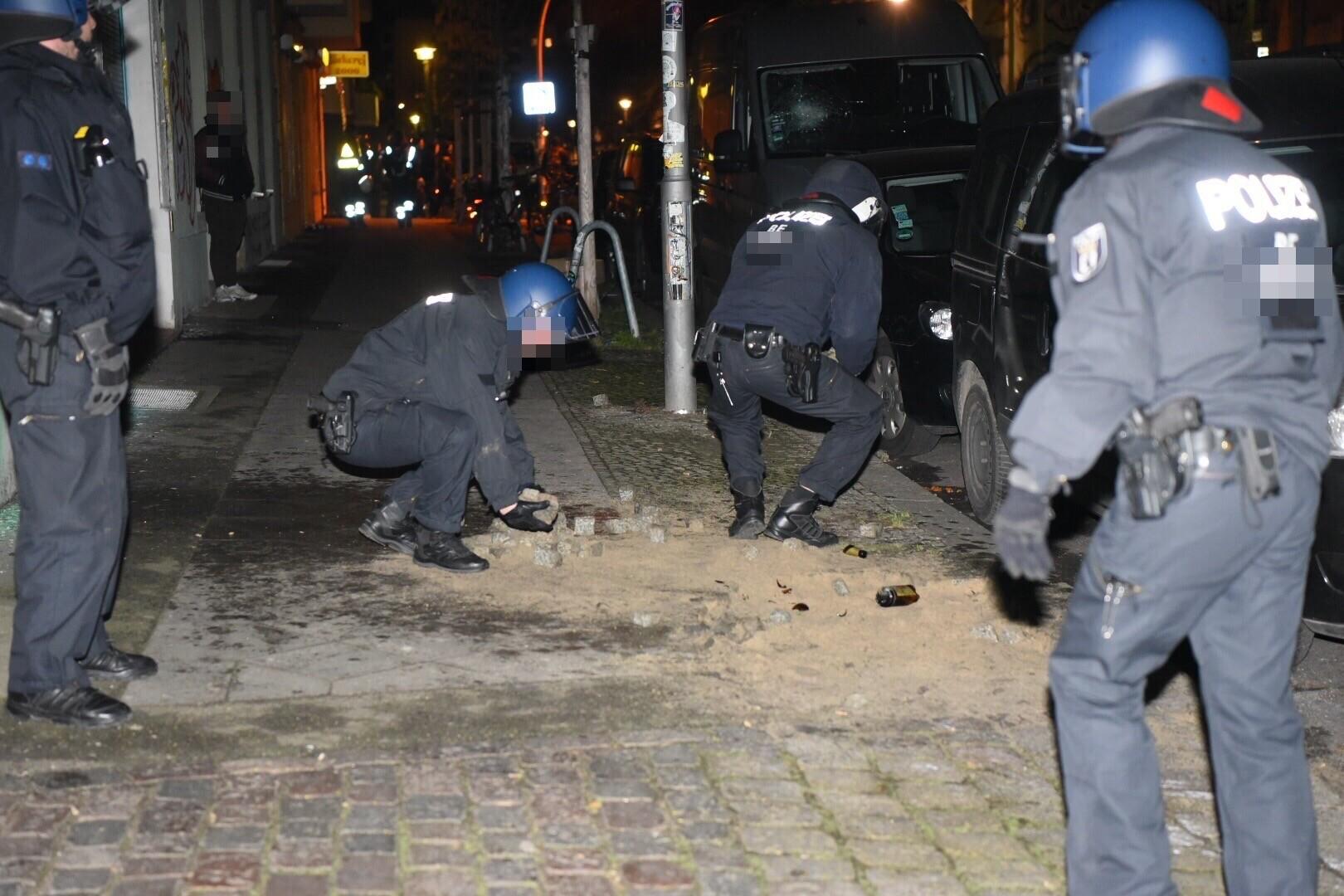 Foto: Pigs collecting stones in Rigaer Street, during riot on 31/01/2020
Tags: Berlin, Germany, Kreuzberg, Maria P., Rigaerstrasse, Riots, Sabotage
Posted in Direct Action
Saturday, February 1st, 2020
Recibido por correo electrónico. Para descargar el PDF aquí.
UN MAR DE POSIBILIDADES EN EL DESIERTO DE HORMIGÓN
Esta publicación es una recopilación de textos que surge de los debates y el trabajo que comenzamos a raíz de las jornadas «Un mar de posibilidades en el desierto de hormigón, Territorio, ciudad e insurrección» que sucedieron en Madrid durante junio de 2019 en La Emboscada y en Local Anarquista Motín. Es el fruto de un trabajo conjunto de algunas compañeras de Berlín y Madrid, que no termina con la publicación de estas páginas y que pretende extender el debate que hemos compartido. ¿Qué significa tomar territorio frente al Estado y el Capitalismo? ¿Cómo podemos tomarlo a través de nuestras luchas? ¿Cómo funciona la dominación en los territorios que habitamos? ¿Supone nuestra manera de habitar el territorio un conflicto con el sistema?
Diciembre 2019,
Madrid y Berlín
Índice:
-Territorio, ciudad e insurrección. Proyectualidad y propuestas de lucha.
-Conclusiones de las jornadas (Madrid)
-Conclusiones de las jornadas (Rigaer 94)
-Lo llaman "Zona de peligro" (Rigaer 94)
-La lucha por el territorio en Exarchia
-Rompiendo la espada del capital que amenaza Exarchia
-La ciudad como instrumente de dominación
-La única administración posible. Sobre la cuestión de las ciudades
Tags: Berlin, Eviction, Exarchia, Madrid, PDF, Repression, Rigaer 94, Rigaerstrasse, Sabotage, Social Insurrection, Squatting, Zine
Posted in Library
Wednesday, January 8th, 2020
On the 6th of January, we chose to open a banner amidst the crossroad of Liebig and Rigaer Strasse and attack a police car in order to show our solidarity with the threatened house projects in Berlin and the evicted squats in Athens.
The banner says: "Solidarity with Squats in Greece – Revenge 4 Koukaki Eviction".
When it was installed across the street, a patrol car arrived and was attacked with stones by the backup team and forced to flee.
There are some similar conditions for the anarchist movement in Berlin and Athens, for example the aim of the government to eliminate us and take our neighborhoods and occupied spaces. Despite the differences between the movement in Germany and Greece, the enemy is the same. The smell of garbage in uniforms is the same, the barriers of the prison is the same. Ultimately, the goal of these two states are the same, to eliminate the resistance of the fighting anarchist movements.
(more…)
Tags: Athens, Banner drop, Berlin, Eviction, Germany, Liebig 14, Liebig34/XB, Rigaer 94, Rigaerstrasse, Solidarity Action, Squatting
Posted in Direct Action
Tuesday, July 23rd, 2019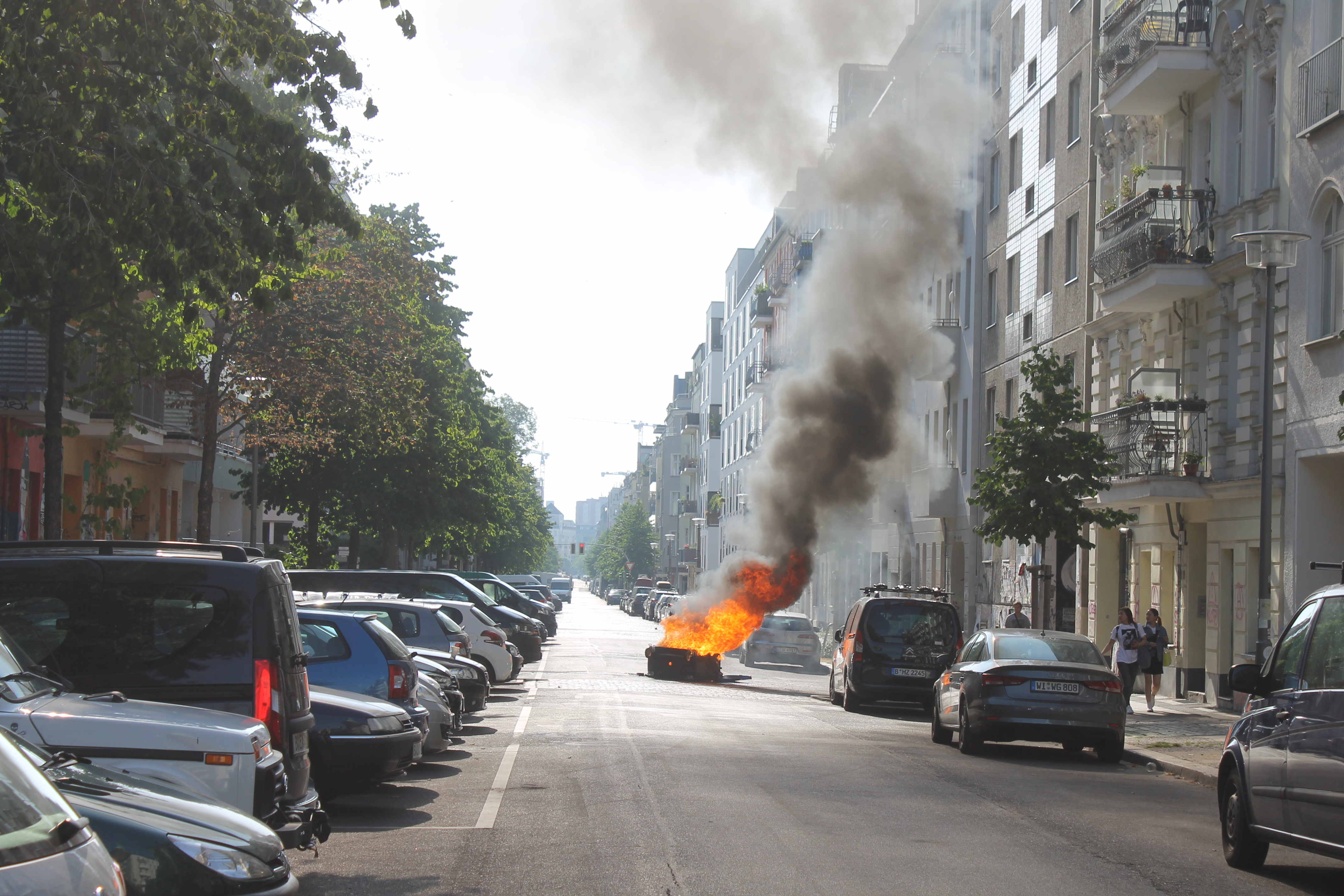 This morning [20/7], the cops of the LKA 5.21 unit under the command of Kranich raided Liebig34. Unusual was the saturday, unusual the mix of units from different departments. New were a few civil cop faces, not new: the repression.
The reason for this raid was probably stones thrown from the house during the last few weeks. After the cops collected stones from the Dorfplatz around 2:30 this morning, they obtained a court order and search warrant to search part of our house and returned around 6:30 a.m.. They came through the backyard and the front door, sawed the doors and barris, picked them up and thus forcibly gained access to our project. A lawyer was quickly on the scene and was able to observe and testify. Altogether the cops were about three hours in the house, having searched officially and intensively three connected rooms and the attic. They also snooped around in unlocked private rooms, tore posters from the walls, knocked over furniture, cut internet cables and destroyed windows. (more…)
Tags: Berlin, Germany, Liebig34/XB, Raids, Repression, Rigaerstrasse
Posted in Social Control
Monday, July 22nd, 2019
Received Saturday 20 July
This morning 6:30, the police broke into Liebig34 to search evidence and DNA in one room. The reason is an attack with stones against repression forces on Friday night. Soon after many riot police vans and a helicopter arrived, a barricade was burning in Rigaer Street. After some hours police left, no one was arrested. There is a call for resistance tonight and solidarity actions. More info as it comes.
https://twitter.com/Liebig34Liebig
https://twitter.com/rigaer94
Tags: Berlin, Eviction, Germany, Liebig34/XB, Raids, Rigaerstrasse
Posted in Social Control
Saturday, July 13th, 2019
The Fight for Liebig34 goes further.
The Court hearing for the eviction of our anarcha-queer-feminist housing project will take place on the 20th of September 2019. Padovicz wants to snitch away the house, while the politicians are trying to keep our mouths shut. Both parties are awaiting a final court decision. We do not let any cis-men decide about the future of our anarcha-queer-feminist project, cause simply no one should decide about us, but ourselves.
The last weeks in Nordkiez
Lateley, the presence of cops in our neighbourhood increased massively. Helicopters are flying daily and nightly over our roofs. Multiple police vans drive through our streets and ID-controls become part of everyday normality.
Also, during our self-organized neighbour fest in which a lot of children participated, the cops reacted in an aggressive way, trying to ruin our day. Several persons sympathising with our project, have been arrested and taken into custody. The arrests of these friends were very violent and sexist. Whether it's about getting a coffee in the morning at the other side of the street or having dinner in front of our house, the cops find ways to intimidate us. The system of state tries to silence us by all means. As a consequence, we face daily confrontation with the cops. However, their provocation is not something we allow to set us back or keep us small. It is something that encourages us to resist.
We are aware that their violent behaviour is purely a reaction on our mobilization in our joint-fight against gentrification, patriarchy and capital. All of this, shows us, that our battle against "the city of the rich and powerful" is effectively starting to worry the establishment.
A glance into our future
It remains important to not let them take away Dorfplatz and the neighbourhood, but to show presence, since we want to shift life and summer to the streets in Berlin. Let us all together. Let us express to Padovicz and everyone else what we think of this court date which we received. Be creative and support us with solidarity actions. Further, it's fundamental that the focus is not only on the eviction day of Liebig34, but that decentralized actions happen everywhere at any moment.
We won't be robbed of our desires and conviction when our house will be evicted. The fight against capital and patriarchy is not solely connected to one day or one project. Let's form rebellious feminist gangs!
We will continue to battle further for a life free of hierarchies, away from patriarchy and capitalism. For a liberated society in which living spaces are no commodities in a consumerist world.
Liebig34
https://de.indymedia.org/node/34491
Join us Day X: https://vimeo.com/325552190
Follow us on https://twitter.com/Liebig34Liebig
Tags: Berlin, Eviction, Germany, Liebig34/XB, Rigaerstrasse
Posted in Autonomy
Monday, June 24th, 2019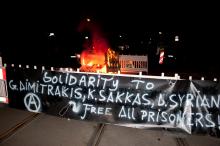 From the urban desert of the danger zone in Friedrichshain we send a signal of our solidarity to Yiannis Dimitrakis, Kostas Sakkas and Dimitra Syrianou. On Monday morning, June 24, we erected a burning barricade on Weidenweg (Street near Rigaer and Liebig) together with a fixed banner (see text on picture). We were waiting with stones to welcome the first patrol car but they needed time to mass up strong forces to enter the area of Rigaer Straße, and we disappeared safe.
(more…)
Tags: Berlin, Burning Barricades, Dimitra Syrianou, Germany, Giannis Dimitrakis, International Solidarity, Kostas Sakkas, Rigaerstrasse, Solidarity Action
Posted in Direct Action
Monday, November 13th, 2017
They call it "Dangerzone"* – but it is just an ungovernable neigbourhood
Greetings from Berlin to Athens
We, individuals and groups from the Rigaer Street, welcome the initiative, to start a discussion about an insurrection and fill it with experiences from the past, current theories and practical possibilities. This is how we understood the call for the Insurrection Festival in Athens.
In the program, we discovered several aspects, that we in the Nordkiez of Friedrichshain are engaged in. There is no anarchist, anti authoritarian or left radical movement in Berlin, there is just a scene. The dullness of the majority of a fascist society, makes it complicated to get moving. In order to destroy overall power structures, we need to search for the confrontation in our local communities. A concentration of people, ideas and structures working against the state, are necessary to be able to protect oneself from outside aggression and be able to actually develop. (more…)
Tags: Athens, Berlin, Germany, Rigaer 94, Rigaerstrasse
Posted in Autonomy
Thursday, March 16th, 2017
In the evening of March 15, International Day against Police Violence, we attacked a prowling Riot Police van in the "dangerzone" (label used by authorities for this Friedrichshain area) of Rigaer Street with many stones.
This was to send a small message of solidarity to the evicted squats in Athens, Villa Zografou and Alkiviadou Squat.
After the attack we left this area and learned from scum media, that a police helicopter came to Friedrichshain in order to find us and that this helicopter was attacked with laserpointer, what resulted in the arrest of three people.
Police started the war in our areas long ago, we must face this aggression. The execution of Hussam Fadel Hossein, Iraqi refugee, in the refugee camp of Kruppstraße in Berlin, on September 27. last year by police officers is one of many connections to the evicted Alkiviado Squat, that resulted in the arrest of many refugees.
And the eviction of Villa Zografou is the connection to the struggle of house projects in Friedrichshain against daily police aggression.

Anarchy and attack
Tags: Berlin, Fuck the Police, Germany, International Solidarity, Rigaerstrasse, Squatting
Posted in Direct Action
Thursday, February 2nd, 2017
We are writing to you from the threatened houseproject Rigaer 94
in one of Berlins once notorious squatting neighbourhoods.
Our contexts might be worlds apart or really close but the reality we lived last year
bears the prints of the same systematically oppressive system.
In solidarity with all threatened projects, individuals and emancipatory struggles, we would like to better connect our structures and work on a closer link based on support, in our struggles.
Let's keep walking this path together, but first a short summary of the recent past and our situation.
Last year saw us, the neighbourhood and people around, on the receiving end of much police repression, starting with the declaration by the state that our street and neighbourhood was a danger zone (Gefahrengebiet), giving the police extra search and detain powers and a green light for constant street harassment of anyone fitting their vision of a 'leftist', not white or somehow not normative person (this evolved into almost anyone being controlled, no matter how they presented).
This saw a massive rise in police riot vans cruising the streets, meaning constant conflicts for the neighbourhood, and in our efforts to fight for a autonomous and cop free area.
Rigaer 94 was at the centre of these conflicts, as the state and its cops declared it the crux of militant struggle.
This tactic can be seen in the wider context of reactionary imposed controls and intimidation, such as states of emergency and curfews, employed as constant stress factors (and datamining) to those against the aggressive progression of gentrification and public control. (more…)
Tags: Arson, Berlin, Eviction, Fuck the Law, Fuck the Police, Germany, International Solidarity, Kadterschmiede, Rigaer 94, Rigaerstrasse, Riots, Squatting
Posted in Autonomy
Thursday, September 1st, 2016
Received 1 September:
Our shards against their repression
This is the beginning of our week. And every day should start like this for those profiteers responsible for the prison system…
This morning, August 15th, we visited Television Service Jürgen Krüger and the SPD office of Björn Eggert in Oranienstraße in Kreuzberg and smashed their windows.
Television Service Krüger since thirty years holds the monopoly on examination of electronic sets from prisoners in Berlin. No radio passes him without being checked. This shall prevent forbidden goods or manipulated sets passing behind the walls. For prisoners this service costs a lot of money.
The company directly profits from the surveillance of prisoners. Besides this, it happened more than one time, that Krüger damaged radios or TV from prisoners.
Further Jürgen Krüger does the technical utilization from seized mobile phones and gives the hacked data to authorities. This company was hit several times, which could not prevent them continuing to take advantage of repression against prisoners… (more…)
Tags: Berlin, Björn Eggert (SPD), Black December, Black July, Germany, Rigaer 94, Rigaerstrasse, Sabotage, Solidarity Action, Television Service Jürgen Krüger
Posted in Direct Action
Thursday, August 4th, 2016
While the situation in the rebellious Northern Part of Friedrichshain is calming down for the moment and we find time to build Rigaer 94 back up again, the social war around us is continuing with its normal intensity. We received news about the state attacks on people and squats in Thessaloniki. Here and there we are fighting against the social democracy and confront the social war with polymorphous struggle. Whether in the black july or in our daily local conflicts, we are involved in a common fight that gains power in its mutuality.
In this very moment, the greek state seems to be striking out with a general attack against autonomous structures. In Thessaloniki and in other cities, self-organized structures of migrants are especially becoming more and more endangered. While fullfilling its function as a manager of migration-streams, the state attacks those who try to move, self-determined, through a world of exploitation and oppression and who won't bow to it's authority.
Three occupied houses in Thessaloniki were affected and over a hundred people arrested. One person was killed during the eviction [Correction received: one day after the three evictions, a young migrant woman died due to medical negligence at one of the state's detention facilities in Thessaloniki.]. In Athens, squats which are being used by migrants are also threatened with eviction. The goal is to create an atmosphere of fear, while oppressing those who are self-organising and attacking the authority of the state. (more…)
Tags: Analysis, Arson, Berlin, Black July, Fuck the Law, Fuck the Nations - Squat the World, Fuck the Police, Germany, Rigaer 94, Rigaerstrasse, Riots, Squatting
Posted in Autonomy
Sunday, July 17th, 2016
There's a huge map of solidarity actions for the partly evicted Rigaer 94 with many pictures and links:
https://linksunten.indymedia.org/image/184540.png
Tags: Berlin, Eviction, Germany, Rigaer 94, Rigaerstrasse
Posted in Autonomy
Tuesday, July 12th, 2016
Before the demonstration the media and lots of politicians were nervous and expected a violent event on top of almost three weeks of actions in solidarity with Rigaer 94. For that they ordered 1800 cops from different parts of Germany.
The demonstration started almost on time at 21:15 at Wismarplatz in Friedrichshain with about 6000 people, after a manifestation of 45 minutes took place, where the speaker read some writings about the situation in the neighborhood these days. The first two lines were built by civil cops in yellow vests and after some cop cars before the real demonstration was visible. In the front they were holding lot's of banners and signs. In the end it looked still organized and seemed to be a big beautiful black block.
When the demonstration reached Frankfurter Allee, the first big street, two cop cars were attacked with stones. People were showing their solidarity with fireworks and banner from the rooftop. (more…)
Tags: Berlin, Demo, Eviction, Fuck the Police, Germany, Rigaer 94, Rigaerstrasse, Riot
Posted in Autonomy
Friday, July 8th, 2016
We appreciate the call for a Black July from Rigaer 94. Many comrades in a lot of countries followed the call for a Black December of Nikos Romanos (Greek Prisoner) . It's not just about the Rigaer 94 that people now connect and think about strategies, attack different enemies of our freedom and struggle against the cops and the system.
Especially in Germany the fight against the system was weak the last years. People were not able to combine their fights and actions without dissociating from others. The question of violence was not discussed anymore and the alliances got wider and more in accordance to the system. Now there is a house that struggles without compromises, maybe their attitude impressed some of us, some still think that they should have brought their house themselves and could be "free" now. But the sign they send, saying that they keep their status and fight, now shows it's effect on a lot of us. It's a window that opens up for a short time that we should use to stand together. A moment when we are fucking angry and use our strength to go on the streets and take them back!
Thanks to all of you who used the concept of Tag X to show your solidarity with the Rigaer 94 and their ideas!
For a Black July
Let us feel the heat coming from our hearts to the streets every night
(more…)
Tags: Arson, Berlin, Black July, Fuck the Police, Germany, Rigaer 94, Rigaerstrasse, Sabotage
Posted in Autonomy