Posts Tagged 'Riots'
Tuesday, November 12th, 2019
December 2nd, the rulers of the world are coming to Madrid. Some of the biggest murderers of this planet, of the biggest responsible of its devastation. They come to fill their mouths and calendars with the next plans of "fight against climate change". While global capitalism continues intact and most of the CO2 emissions emanate from industrial production, while their companies keep devastating forests and mountains to extract its natural resources.
And if that wasn't enough, at the same time, Chile burns and their streets are still covered by the ammunition caps from the security forces. But Piñera couldn't see his political planning disturbed by the revolt, he couldn't admit the mediatic focus questioning his dictation before such a social explosion. And thanks to the kindness of Spanish government, now he will be able to continue with his plans without getting disheveled.
But in Chile, normality couldn't be held anymore, and we neither want to hold it here. We won't allow the world leaders meet to design the destruction under the look of sustainability and respect, as if everything continues to go normally. As if they haven't been destroying all this time, as if they wouldn't carry thousands of corpses in their backs. We won't give them such legitimacy. Also, because we know, that the best way to show solidarity with the rebels is nothing but extend the revolt. Like in Hamburg, we want this summit to become hell.
Therefore, we encourage the system enemies to meet in Madrid, in the dates when the world owners have their appointment in this city. Stay aware to the next calls and infos. There will be enabled spaces to host those coming from other places.
On the other hand, neither do we trust that politics gestated in parliaments and offices will stop the destruction or stop the way to the collapse, that is increasingly inevitable. But we trust in the ability of every one to act, individually or in groups. That's why we want to make a call for decentralized action to point the responsible of environmental destruction. Politicians won't act against the Capitalism interests, but we do. Against climate change; direct action.

Attack those who destroy the Earth.
Tags: Black Bloc, Climate Chaos, Cop25, Demo, Ecological Destruction, Madrid, Riots, Spain
Posted in Eco Struggle
Tuesday, November 5th, 2019
For nearly two weeks the oppressed in Chile have seized the streets of the country, carrying out a variety of attacks on repressive units, government structures and businesses. The State's response to their insurgency, though it has caused dozens of deaths and rape, thousands injured and arrested, cannot stop the fury of the insurgents.
Today, October 30, at 1:00 pm, as part of the International Week of Solidarity for the Chilean Insurrection, we broke the front windows of an Elta post office, a Piraeus bank and the "showcase" of forced prostitution of women, "Xoriatiko Bakery". We blocked traffic with rubbish bins in flames as barricades in the two directions of Patision – filling the road with hundreds of fliers – seeking confrontation with the cops. The clash with the State-run garbage lasted for quite some time during which the mat riot cops made their appearance and became some of the fastest runners. Pink is one of our favourite colours. We also hope that the pigs like it as they will be forced to return to the police headquarters like pink prawns.
We used the ASOEE University as a base, just as the Chilean comrades have repeatedly chosen to launch their attacks on police forces. We see academic institutions not as academic asylums but as shelters for all kinds of oppressed, rebellious organisation and a base of aggression. The best way to express solidarity is to take aggressive action. We do not want to go into lengthy analysis upon analysis. Anyway we hear our comrades from afar get organized and attack. We won't say any more. We let them and their fires talk to us.
For every insurgent soul, dozens of stones on the heads of the cops
FROM GREECE TO CHILE SEND EVERY COP TO INTENSIVE CARE
Anarchists
[Text taken from actforfree.nostate.net].
Tags: Athens, Burning Barricades, Chile, Fuck the Police, Greece, International Solidarity, Riots
Posted in Direct Action
Tuesday, November 5th, 2019
Wednesday 30/10 we did an intervention to the central offices of METKA EGN to show solidarity in the insurrection in Chile. We choose to intervene in this company with a banner texts and flyers to give emphasis to the role that this Greek company has also in South America with a plan to impose a cruel neoliberal agenda and degrade the lives of the people in Chile with the investments in energy and exploitation of the land.
Thursday 31/10 we wanted to do a microphonic in Propylaia but because of the rain it was cancelled but we manage 40 comrades to make an intervention and open the bars of the subway so everybody can pass freely while we were sharing texts and flyers.
Friday 1/11 we did a gathering at the embassy of Chile and after a demo back to Exarchia.The pre gathering was in the subway station of Evaggelismos were we shared texts after a while 100 comrades moved with order to Vasilisis Sofia street to approach as close as we can to the embassy that was full of cops. We stand there for one hour and in the way back the riot police was following us and they were provocative trying to find reason to attack us.We manage to finish the demo in Exarchia shouting slogans in the way. In the demo participated also comrades from the popular front of Turkey that they had gathering in the embassy of Turkey.
From the 19th of October, the Chilean state has been overrun by thousands of insurrectionary peoples who have occupied the streets and squares of the country. The mass demonstrations, originally due to the raising of ticket prices for public transport, developed into a generalised insurrection which sweeps everything in its path. (more…)
Tags: Analysis, Athens, Chile, Greece, International Solidarity, Repression, Riots, Santiago, Social Insurrection
Posted in Autonomy
Wednesday, October 30th, 2019
Desde el territorio dominado por el Estado de $hile:
UN LLAMADO A LA SOLIDARIDAD ANARQUISTA INTERNACIONAL CON LA INSURRECCION: REVUELTA Y ACCION DIRECTA FRENTE A LA NUEVA ARREMETIDA DEL ASESINO ESTADO MILITAR DE $HILE
El Viernes 18 de octubre del presente año, hemos presenciado y sido parte de como por medio de la acción directa y el sabotaje a los distintos estandartes del capitalismo moderno, los cánones de la normalidad fueron sobrepasados por el actuar insurrecto; una normalidad impuesta desde hace siglos en este territorio y consolidada por medio de una dictadura civico y militar que implanta el brutal modelo neoliberal vigente. El estallido de la revuelta se desarrolló en toda la extensión de la capital exhibiendo acciones de sabotaje hacia las estaciones del metro de Santiago, el edificio de ENEL (empresa multinacional italiana "distribuidora" de luz), los buses de la línea red (Transantiago), cadenas de bancos, cafeterías y restaurantes de comida rápida, concesionarias de autos, supermercados y farmacias, cada símbolo del capital fue atacado.
El desborde y descontento de miles de hordas e individuxs que sin líderes ni dirigentes, rebasó la ciudad con una extensa batalla contra lxs eternxs protectorxs de la propiedad privada y la paz social de lxs poderosxs fueron parte de una extensa jornada de protesta y rebeldía que culminó con el fascista presidente de derecha Sebastián Piñera, decretando Estado de Emergencia y poniendo a cargo de las tropas de los asesinxs militares al asqueroso general Javier Iturriaga. El avance de los dias siguientes no fue distinto, continuaron las acciones de sabotaje acompañadas de multitudinarias expropiaciones masivas a los grandes centros comerciales, el ataque a edificios gubernamentales y los incesables enfrentamientos contra la policia, argumentos perfectos para imponer Toque de queda en casi todo el territorio y con esto dando completa libertad y legitimidad al actuar de las policias y fuerzas militares que han asesinado y torturado históricamente en nombre de la autoridad. (more…)
Tags: Analysis, Chile, International Solidarity, Riots, Santiago, Social Insurrection
Posted in Autonomy
Wednesday, October 30th, 2019
From the 19th of October the Chilean state has been overrun by thousands of insurrected individuals who have occupied the streets and squares of the country. The mass demonstrations, originally due to the raising of ticket prices for public transport, developed into a generalised insurrection which sweeps everything in its path.
The first acts of social disobedience with callings for mass forced entries into and sabotage towards public transport, with thousands of high school and university students breaking the protective gates and entering the metro lines, quickly facing state repression.
The images we see from Chile remind us of the insurrected metropolitan landscape of Athens, when clashes with police, expropriation and looting of department stores, the vandalism of state and capitalist targets, and the passion for the struggle which flooded our own roads was a reality which clashed with that imposed on us by capitalism.
At this moment, the insurrected of Chile face, on their streets, the whole "range" of state repression, because except for the rifles and tear gas of the police, on Friday night, President Piñera decided to impose a state of emergency on the city of Santiago, sending tanks to its streets and imposing a night-time curfew. It is the first time after the fall of the dictatorship of Pinochet in Chile that the army is taking to the streets to repress demonstrators, whereas, at the moment of writing, there are 7,000 arrested and at least 18 dead (some sources state more), 4 shot by cops, the others run over by military vehicles. (more…)
Tags: Analysis, Athens, Chile, Greece, International Solidarity, Riots, Santiago, Social Insurrection
Posted in Autonomy
Monday, October 28th, 2019
Algunas palabras desde y por la revuelta de octubre
"A partir de cierto punto no hay retorno.
Ese es el punto que hay que alcanzar."
Franz Kafka
La indómita protesta por parte de estudiantes secundarios contra el alza del pasaje del tren subterráneo y la inmediata respuesta represiva fue el escenario propicio para que días más tarde la guerra social se dejara vislumbrar con una explícita crudeza.
La dinámica del conflicto fue rápida, impredecible e instintiva. El malestar enfocado principalmente contra el transporte público subterráneo se generalizó y comenzó a explotar, visibilizarse, reconocer formas de combate estallando–literalmente-en cada esquina de Santiago. El 18 de Octubre del 2019 un contexto de revuelta generalizada se desató por toda la capital; barricadas y enfrentamientos se sucedían en cualquier momento y en cualquier lugar. Distintos símbolos, estructuras e infraestructuras del poder fueron atacadas a lo largo de toda la ciudad, y prontamente de todo el país. El orden se resquebrajaba y la transgresión inundaba todas las calles, de pronto los sujetos se aglomeraban y atacaban lo que siempre consideraron sus cadenas. No hay planificación, sino espontaneidad que sabe reconocer claramente a su enemigo: El Estado, el capital y sus fuerzas represivas. Los objetivos siniestrados o saqueados son el mejor de los ejemplos: Ministerios, instituciones financieras, empresas depredadoras de la tierra, grandes bodegas almacenadoras de mercancía y comida, y un largo etcétera.
La violencia revolucionaria se ha validado y desatado en los más amplios aspectos de lxs oprimidxs. (more…)
Tags: Analysis, Chile, Repression, Riots, Santiago, Social Insurrection
Posted in Autonomy
Saturday, October 26th, 2019
DESDE CHILE: UNA MIRADA ANÁRQUICA AL CONTEXTO DE REVUELTA Y REPRESIÓN
Actualmente en Chile se vive una situación de Estado de Emergencia decretado por el gobierno derechista de Sebastián Piñera producto del estallido de una revuelta que explotó el día viernes 18 de octubre de 2019.
Este texto nace con la necesidad comunicar a compañerxs de diversas latitudes del mundo la situación que actualmente se vive en en este territorio.
Desde una mirada anárquica se comparten acá lo que consideramos algunos puntos principales para dar conocer y aportar a entender el momento actual.
—
PRELUDIO: LA JUVENTUD EN LUCHA Y LA CHISPA QUE ENCENDIÓ LA HOGUERA.
Luego de una semana de evasiones masivas al servicio de trenes subterráneos, protagonizadas principalmente por estudiantes secundarios durante el mes de octubre ante el alza del valor en los pasajes del transporte, se propagaron por diversos puntos de la ciudad de Santiago múltiples episodios de desobediencia individual y colectiva que derivaron en destrucción de infraestructura y enfrentamientos con las fuerzas policiales dentro y fuera de las estaciones del tren subterráneo. (more…)
Tags: Analysis, Chile, International Solidarity, Repression, Riots, Santiago, Social Insurrection
Posted in Autonomy
Saturday, October 26th, 2019
24 OCTOBER TO 1 NOVEMBER. INTERNATIONAL WEEK IN SOLIDARITY WITH THE REVOLT IN CHILE.
"Far from the specialists of solidarity who turn it into a jocular farce of humanism and victimization mutilating all our combative characteristics, anarchist solidarity does not fit into rules or infallible recipes.
The essence of solidarity is the continuation and sharpening of the anarchist offensive with every means, from a sacrilegious and aggressive poster to an action with explosive or shots against the organs of the existent. Solidarity transmits the solid message that everything continues and, as other compas have already said before us" :
"Solidarity between anarchists is not just words…"
The news about the revolt in the territory dominated by the State of Chile has travelled this globalised world, not only from last Friday October 18 and the military's presence in the streets with the respective curfew, but also from the constant putting in practice that the anarchists have managed to uphold throughout the years, standing firm against long sentences and even death of comrades in offensive actions.
Today democracy is showing its face without masks, that face that the prisoners and the populations have to suffer every day, the face of torture, rape and death around the corner, today the State is extending and launching orders to its minions, police and military have to fulfill the functions for which they were programmed, now bluntly, and the revolt responds with dignity, stones, incendiary devices, looting and incipient news of armed attacks against police stations.
From outside this territory we feel the air of rebellion and it calls us back to solidarity action with the weapons that we know how to forge, with the offensive in all the imaginative ways and the conviction that the social war transcends every border, physical and mental.

LET'S BREAK DOWN THE MEDIA FENCE!
LET'S EXTEND THE BLACK INTERNATIONAL AGAINST EVERY FORM OF AUTHORITY.
Tags: Black International, Chile, International Solidarity, Repression, Riots, Santiago, Social Insurrection
Posted in Autonomy
Tuesday, October 1st, 2019
EN: We are behaving badly, very badly– and we can behave worse!
El Estado mexicano en su lógica dominadora, continúa acusándonos de "provocadores" e imponiendo el pacifismo ciudadano del "pueblo bueno". Y ahora trata de ir más lejos…
Desde el púlpito mañanero AMLO intenta invisivilizarnos, exterminarnos, desaparecernos, es por eso que tergiversa el sentido de la lucha anárquica, de nuestra historia y hasta el mismísimo significado de la palabra ANARQUÍA. Por eso nos denomina "conservadores" mientras imparte "lecciones" a sus mascotas felices, con el consentimiento de las focas aplaudidoras que fingen ser periodistas cada mañana en palacio nacional.
Para AMLO, al igual que para todos los presidentes anteriores (y para todos lxs jefes de Estado en la historia), el/la mejor anarquista es el que está muertx o el oportunista que renuncia a las ideas y le lame las botas, como es el caso del estalinista converso Paco Ignacio Taibo.
Esa es la razón por la que AMLO miente y nos señala como "conservadores". Todxs sus enemigxs, somos "conservadores", incluixs lxs anarquistas. (more…)
Tags: Arson, Ayotzinapa, Demo, Mexico, Mexico City, Riots, Sabotage
Posted in Direct Action
Thursday, September 26th, 2019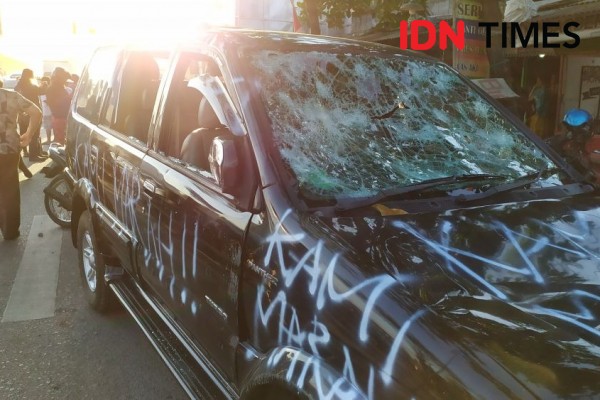 A demonstration outside Hasanuddin University (Unhas) I, Makassar Perintis Independence Street, took place as a series of demonstrations of community and student alliances of various regions. During the end of the demo today, comrades stopped two official state cars, brought the drivers out and trashed the vehicles. According to corporate media 19 people were arrested in the nearby area in a police round-up.
At September, 26, 2019, two cars of the Forestry Service South-Sulawesi Province (Makassar-Indonesia) had been damaged, by breaking all the windshields and then turning it in the middle of the road.
Here is the communique from that action:
1. We are angry because the country along with the Army and Police violently chased, evicted, fired, and killed our brothers in Papua, Kulon Progo, Urut Sewu, Bara barayya and Polongbangkeng.
2. We are angry because the government continues to attack us with torturous rules.
3. We are angry because the capitalists continually try to destroy our lives, destroy nature, burn forests, heap the oceans, destroy mountains, displace the living space of each species, build artificial buildings, to control what we should and should not consume.
4. We are angry because the media are preaching everything that is not important, eliminating cases of murder until the slaughter and continuing to work with the authorities to destroy the struggle of our combatants who fight for a better life.
5. There is no compromise for rulers and capitalists.
Below are link/news about that action:
https://nasional.tempo.co/read/1252801/unjuk-rasa-di-makassar-rusuh-massa-merusak-mobil-pelat-merah/full&view=ok
https://sulsel.idntimes.com/news/sulsel/aanpranata/unjuk-rasa-di-depan-unhas-dua-mobil-dinas-dirusak/full
Tags: Demo, Indonesia, Makassar, Riots, Sabotage, Sulawesi
Posted in Direct Action
Sunday, August 25th, 2019
PDF: 'For The Insurrection To Succeed, We Must First Destroy Ourselves'
Newly formatted zine of an older text from a situationist-type view of the Greek insurrection and related events of 2008.
From Ruins of Capital
Tags: Greece, Insurrection, PDF, Riots, Zine
Posted in Library
Saturday, May 4th, 2019
Palang Hitam / Anarchist Black Cross Indonesia has temporarily ceased activity due to problems with a former member who misused international donations. At present there is no anarchist organization supporting those facing repression, so support is being provided spontaneously and individually. Here is an update about the situation in several cities.
In Bandung, there was a peaceful action by a group of anarchists almost 1000 strong. It even consisted of mothers, children and teenage girls. Police attacked them and broke the bloc into two groups. They were then chased, beaten and arrested. The pretext for this was 'vandalism', some spray-painted graffiti. Many of those who were arrested were stripped and had their heads shaved. Some were spray-painted on their faces and bodies as well. Many were forced to crawl along the road in their underwear. In total 619 anarchists were arrested, of these, 3 still remain in custody for destruction of property. (more…)
Tags: 1st May, Bandung, Demo, Indonesia, International Solidarity, Jakarta, Repression, Riots
Posted in Social Control
Sunday, March 31st, 2019
EN: 29th of March – Day of the Young Combatant, some words from Sin Banderas Ni Fronteras
29 DE MARZO
DÍA DE LXS JOVENES COMBATIENTES
El 29 de marzo es el día en que la memoria combativa se vuelve acción a través del presente contínuo de la confrontación anárquica con el mundo del poder y la autoridad. Es un momento en que el choque con las fuerzas del dominio recuerda que en dictadura y democracia el Estado oprime, tortura, asesina y encarcela y que en todo contexto histórico las voluntades indomesticables acechan los planes de los opresores para ponerlos en peligro y forjar su destrucción.
Desde su origen en dictadura conmemorando a los hermanos Vergara Toledo, el 29 de marzo constituye una fecha que no ha podido ser pacificada, recuperada ni exterminada por la institucionalidad y el reformismo, por lo que el poder y su prensa servil intentan despolitizar su conmemoración. A la vez, cada año se levantan actos conmemorativos, barricadas y ataques a la policía en los que participan enemigxs declaradxs del poder junto a la juventud salvaje de barrios y poblaciones. (more…)
Tags: Chile, Day of the Young Combatant, Riots, Santiago
Posted in Direct Action
Monday, December 17th, 2018
The following text is an initiative of debriefing and not a result of a collective work with all the participants. Some of them may even disagree with the style and the concerns of the text. However, it is an attempt to reveal the facts and considerations that define the project.
On the morning November 14th, comrades, individuals and members of collectives occupy the central Polytechnic building in order to stand a political presence during the three-days anniversary of the 1973 insurrection and to keep the polytechnic open on November 17th. The two objectives are related to a wider political aim. To not compromise with the bourgeois-democratic state – (especially as a final and positive result of an insurrection )- and therefore to refuse the cessation of the conflict with the state repressive forces. For some of us, it was also important not to portray the uprising as an event of the past, as a museum piece. On the contrary, to express the necessity of these moments to exist nowadays and that its memory can be honored only if and when it is becoming action. We acknowledge that a part of the people participating in the Polytechnic rebellion of 1973 struggled against Authority, whether it was dictatorial or democratic. That's why the request was 'DOWN WITH AUTHORITY'. Some consciously or not, continue the struggle started from that moment until now. Many of the greatest incidents of the post-dictatorship period occurred in Polytechnic and were straightly connected to struggles bearing an anarchist sign. (more…)
Tags: Athens, Dimitris Armakolas, Exarchia, Greece, Riots, Squatting
Posted in Autonomy
Monday, October 8th, 2018
After the magnificent period of resistance around the G20 summit in Hamburg in 2017, after the G7 summit of June 2018 in Quebec – placed under an unparalleled repressive level, with its "free expression zone" – and the G20 summit at Buenos Aires in November / December 2018 promises to be a great moment, given the current popularity of Macri, the history of local struggles, and the animosity of the region towards Trump …
Now the 2017 G7 summit is announced to take place at the end of summer 2019 in Biarritz. We have no illusions about the repressive level that we are entitled to expect from Gérard Collomb. It is clear that this summit will once again be a law enforcement laboratory, as will judicial measures against demonstrators and those who are organizing themselves. (more…)
Tags: Biarritz, Counter-Summit, Demo, France, G7, Riots, Social War
Posted in Autonomy