Posts Tagged 'Rojava'
Thursday, January 16th, 2020
13.01.2020: The Şehit Sorxwin Roboskî and the Şehit Soro Amed Revenge Units carried out actions against factories in Başakşehir, Istanbul that supply clothing and equipment to the Turkish military. The Revenge Units issued a written statement explaining their actions that took place on January 11th, 2020:
"On January 11th, our members organized an action against a factory that makes military clothing for the occupying Turkish army. The factory is located in the PİK Dökümcüler Industrial Estate in the Başakşehir district of Istanbul. 8 minibuses owned by the factory were destroyed as a result of this action. At the same time as this action was carried out, members of our unit also sabotaged a factory on another block located in the same industrial estate. This factory manufactures equipment for military vehicles belonging to the occupying Turkish army. (more…)
Tags: Anti-Militarism, Arson, International Solidarity, Istanbul, Kurdish Struggle, Kurdistan, Revenge Units, Rojava, Sabotage, Turkey
Posted in Direct Action
Monday, December 30th, 2019
The genocide in Syrian territory since the invasion of the fascist Turkish state, with the agreement and complicity of the international community, continues. Day by day hundreds of civilians find themselves on the agonizing receiving end of the bombings and attacks carried out Erdogan's fascist army and ISIS's reemerging Islamist terrorism. For 2.5 months the revolutionary forces of rebel militias intensify defensive confrontation with every means against the imperialist international monopolies, which attempt to occupy the Syrian territories, displacing thousands of civilians with their military operations.
The NATO summit in London at the beginning of December ended with a pervasive sense of unity and an exchange of guarantees between the member states, despite superficial disagreements over the fascist Turkish state's invasion of Syria. The constant arrests and interrogations of militants in various states on suspicion of supporting the Kurdish rebels are proof of this. The latest anti-terrorist operation in the UK against the family environment of a YPG volunteer has led to his father being arrested on charges of supporting a terrorist organization.
The fascist Turkish state builds rivalry in the areas of security and energy in the eastern Mediterranean as it chooses to seal the alliance with Libya on the same day as the slaughterer of the Palestinians, Netanyahu is in Athens for the trilateral agreement between Greece, Cyprus and Israel for the EastMed pipeline. They also called for NATO's support, demanding that alliance members officially declare the YPG and the YPJ as terrorist organizations. A prime example is Erdogan's message to the Greek government amid transnational shocks and destabilization in relations between the two states on the basis of the disputed agreement with Libya: power relations and instability can change for the benefit of the Greek state with the precondition that the YPG/YPJ and DHKP-C Kurdish and Turkish fighters are extradited as terrorists. (more…)
Tags: Arson, Car Burning, Greece, International Solidarity, Islamic State in Iraq and Syria (ISIS), NATO, People's Defence Units (Y.P.G.), Revolutionary Solidarity Commando Haukur Hilmarsson, Rojava, Sabotage, Syria, Thessaloniki, Turkey, War, YPJ (Women's Protection Unit)
Posted in Direct Action
Sunday, December 29th, 2019
From A2day:
Anarchist sites report that in recent months in Donetsk and Kiev region base stations (aka towers) of mobile operators were attacked 4 times. Behind the attacks are mostly anarchists.
The first attack was to blow up the base station of the Phoenix operator. Then it was reported that two Lifecell towers were set on fire. December 10, 2019 it was reported about the arson of the mobile base station "Vodafone Ukraine".
For example, when attacking the Lifecell communication towers, anarchists claimed that the main reason for the attack was solidarity with the Democratic Federation of North and East Syria (Rojava), the struggle of the Kurdish people for liberation from the Turkish occupation.
Wishing to give intensity to these attacks, we, a cell of the Informal Anarchist Federation, set fire to another cell communication base station in Kiev. Unlike the aforementioned attacks, our motives and view of the targets under attack are different. We suggest taking a broader look at the topic of communication towers.
Mobile operators are eager to capture as many subscribers as possible. This is a fact. There are three main operators in Ukraine: "Kyivstar", "Vodafone Ukraine", Lifecell. These companies do anything to place their mobile antennas everywhere, to get more money and control. They do not care what we think about it. But the most important thing is that the operators cooperate perfectly with the police, leaking them all the data of their subscribers. Each mobile operator receives more than 20,000 court orders annually for temporary access to things and documents.
(more…)
Tags: Anti-technology, Arson, Black December, FAI Cell "Misha Zhlobitsky", Informal Anarchist Federation (FAI), International Solidarity, Kiev, Kyivstar, Lifecell, Misha Zhlobitsky, Rojava, Sabotage, Smartphones, Surveillance, Ukraine, Vodafone
Posted in Direct Action
Saturday, December 21st, 2019
FR: Bristol (UK) : Sabotage chez l'entreprise d'armements Babcock
The war machine is in operation 24/7. Despite the night shift at Babcock in Long Ashton, we snuck over the fence and damaged a fuel tank that forms part of their heating system.
Babcock are the second biggest contractor to the Ministry of Defence in the UK. They have 4 premises in Bristol alone. They specialise in the navy and nuclear industries. We hope our small act will show how many different ways it is possible to resist, without voting!
This "prison island" will continue whoever is prime minister. We reject all politicians and have only contempt for those who buy their lies and cheap promises.
To those who forget the many aspects of control and repression used in the social war, and buy into Labour's hype by focusing only on the National Health Service… we laugh at you in the darkness, and angrily ask…. Do you remember Iraq?
Solidarity with those on the streets in the Green Zone in Baghdad, and belated greetings to everyone who rebelled on the International Day of Action for Rojava 14th December.
Tags: Anti-Militarism, Babcock (Arms Company), Bristol, International Solidarity, Iraq, Rojava, Sabotage, UK, Vandalism
Posted in Direct Action
Tuesday, December 17th, 2019
Oak is happy to announce our first audiozine episode. Visit Oakjournal.org for link or visit soundcloud.com/oakjournal directly to listen. And please subscribe to the RSS feed so you can get all the episodes. More episodes and print to come early 2020.
In this episode we hear from Yellow Finch tree sitter Rhubarb. We also hear from Popular Front founder and conflict reporter Jake Hanrahan. The episode explores contemporary resistance from both the macro and micro level. Topics include: resistance to Mountain Valley Pipeline, extraction resistance movements in general, autonomous zones, tree sitting, Hong Kong, Rojava, American Leftism, and much much more.
Readings in this episode include:
O Lost…? by John Zerzan
Barbarian Tongue by Trace Fleeman y Garcia
The New World by SMH (more…)
Tags: Appalachians Against Pipelines (US), Hong Kong, Mountain Valley Pipeline (US), Oak Journal, Oak Radio, Popular Front (UK), Radio, Rojava, USA, Zine
Posted in Interviews
Sunday, December 15th, 2019
From Anarchists Worldwide:
In the early morning hours of December 14th, 2019, the International Day of Action for Rojava, we paid a visit to the offices of local war profiteers, Trakka Corp/Trakka Systems, in Moorabin, south-east Melbourne, to let them know that their greed-driven collaboration with the fascist Turkish State's war machine has not gone unnoticed.
In August 2019, Trakka Systems were contracted by Sikorsky, a Lockheed Martin company, to supply "cutting edge, high intensity, multi-mission Trakka Beam A800 searchlights" for their Black Hawk helicopters, including the Sikorsky TAI (Turkish Aerospace Industries) variant destined for use by the fascist Turkish Armed Forces in their ongoing invasion and occupation of the Autonomous Administration of North and East Syria (Rojava).
As a small contribution to the International Day of Action for Rojava we decided to take direct action against Trakka Systems to express our solidarity with the people of Rojava and their internationalist comrades who, since October 9th, 2019, have courageously resisted the genocidal occupation plans of Erdoğan's fascist forces. We also carried out this action to highlight the shameless activities of capitalist vultures like Trakka Corp / Trakka Systems, one of many companies operating within so-called Australia who willingly collaborate with war-mongering authoritarian regimes for profit. Not only do Trakka Systems do business with the Turkish Armed Forces, they are also in bed with other international military and police forces such as those of Israel, Indonesia and the US, who they supply with the latest in 'Critical Vision Technology'.
Finally, we hope that our small action contributes in some way towards a revival of militant, targeted direct action and sabotage in so-called Australia.
Biji Rojava!
Death to Turkish State Fascism!
Death to War Profiteers!
Long Live International Solidarity!

– Anarchists
Tags: Australia, Graffiti, International Solidarity, Lockheed Martin, Melbourne, Rojava, Sabotage, Sikorsky, Trakka Corp / Trakka Systems, Vandalism
Posted in Direct Action
Sunday, December 15th, 2019
Posted on December 10, 2019. Note A2DAY: Ukrainian media, citing the police, report that on December 10 the tower of the operator Vodafone, not Lifecell, was burned in Kiev. A2DAY: "Makhnovists" affinity-group confirmed that due to the mistake tower of another operator was attacked.
Сommuniqué:
In the night of December 10 a group of anarchists burned down the cell tower of Lifecell operator settled by the crossroad of Hostomel road and Big Ring Road in Kyiv. Lifecell is owned by the Turkish company Turkcell. This company is the participant of aggression of Erdogan's regime against the people's self-government in Kurdistan. The latest episode of its criminal politics is the invasion of Turkish army into the Democratic Federation of Northern and Eastern Syria (Rojava) in October 2019.
Turkcell constructs its towers in the areas of Syria occupied by the Turkish government as it happened in Afrin, Shahba and Idlib. This mobile network which is under control of Ankara authorities appears in every place invaded by Erdogan's soldiers. Kurdish guerillas destroy Turkcell towers — we are proud to take the torchlight of the struggle from their hands. Revolutionary resistance and solidarity lie beyond state borders and national boundaries.
We performed an attack against Lifecell/Turkcell also as the response to the violent incident which took place in front of Embassy of Turkey in Ukraine. On October 11 anarchists and people from Kurdish community organized the peaceful demonstration against the aggression of the Turkish state. Embassy workers have attacked demonstrators and smashed a face of one of the female comrades participated in the event. Violence should not be left without a response.
Freedom to the peoples — death to the Empires!
Makhnovists
Tags: Arson, International Solidarity, Kiev, Kurdish Struggle, Lifecell, Rojava, Sabotage, Solidarity Action, Turkcell, Turkcell GSM, Ukraine, Vodafone
Posted in Direct Action
Wednesday, November 20th, 2019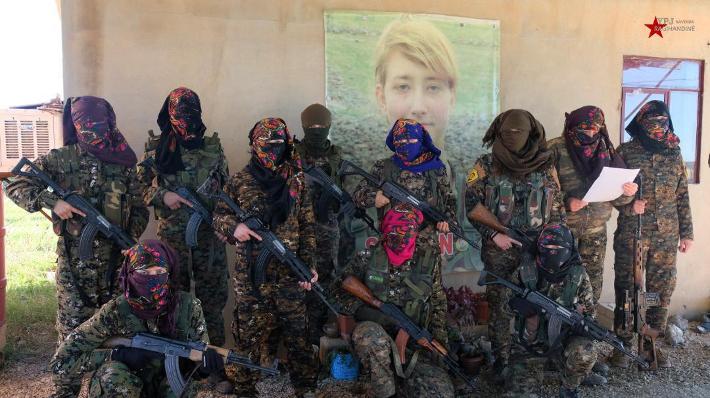 نامه ای از جانب یک آنارشیست انترناسیونالیست در روژاوا
Translation to Persian: Hasse Golkar
via barrikade:
Comrades,
I think it is important now that our voices of Rojava, out of the heart of that battle, are being heard. A fight for the life, for an existence in dignity, for real democracy and for the freedom of all women. I want to tell how the resistance of Serekaniye went on, how the beginning was, how the end was and also what happened in between. Serekaniye right now is in the hands of jihadist groups that are being supported by Turkey, upon approval by the United States. At a time they said there would be a five-day firearm rest…. we didn't believe it for one second. And that's how it was – the attacks didn't stop, maybe they've been reduced, but they continued attacking us with heavy artillery, bombings and airplanes. When there are bombings, there is not much that can be done; hide behind a tree and hope, that they didn't see you running or that they found your place.
Those five days of supposed firearm rest actually have been decisive for the United States and Turkey, to redefine the conflict, to realign the situation of war, confrontation and resistance against our forced withdrawal that no one expected. No one could believe it, after 11 days of resistance, beautiful and very hard at the same time. Leaving the city. The Turkish invasion of Serekaniye did start some days before, 8th of October, with a bombing of our military post that hasn't been answered, for not to unleash what happened later anyway. It was an attempt of the friends to protect the people and the society. But the next day, about 3 to 4 pm, another bombing of a post of the YPG took place, where 5 friends have fallen, and since then they bombed the whole border. (more…)
Tags: Islamic State in Iraq and Syria (ISIS), Kurdish Struggle, Kurdistan, Letter, People's Defence Units (Y.P.G.), Rojava, Serekaniye, Syria, Til Temir, Turkey, War, YPG International
Posted in Autonomy
Thursday, November 14th, 2019
In October 2019 the Turkish state invaded Northern Syria. The target of their aggression was Democratic Federation of Northern and Eastern Syria (Rojava). By the fault of rulers blood is being shed again and peacful people are suffering and dying. The goal of the president of Turkey Erdogan is to destroy revolutionary Autonomy of Syrian Kurds. Revolutionaries of Kurdistan build a society of stateless popular self-management. And Rojava became an example and model for Kurds in Turkey. That is why «Turkish sultan» started a war.
In the night of November 11 we destroyed two cell phone network towers of the Lifecell company settled by the Zahaltsy and Piskivka settlements in Kyiv region. Lifecell is fully owned by Turkish giant TURKCELL, the largest mobile provider of the State of Turkey. As a large corporate tax payer Turkcell appears as the indirect sponsor of the aggression of Erdogan`s regime. There are also widely known connections of the provider with the ruling «Justice and Development Party» which construct the basis of the current system in the country. These are the reasons why we consider the property of Lifecell as a legitimate target for the sabotage.
We stay in solidarity with revolutionaries and people of Kurdistan. They fight the occupation and oppression — for the liberty and social justice. We call to everyone who cares about the situation to participate in the resistance in a manner according to their abilities.
Freedom to the peoples — death to the Empires!

Сell of Revolutionary Solidarity
Tags: Arson, International Solidarity, Kiev, Kurdish Struggle, Lifecell, Rojava, Sabotage, Syria, Turkcell, Turkey, Ukraine, Сell of Revolutionary Solidarity
Posted in Direct Action
Monday, October 28th, 2019
A coalition of Bristol groups blocked all the entrances to BAE and MDBA in Filton this morning, [25/10/19] preventing the arms factories from opening. We stand in solidarity with the people of North and East Syria and against Turkish fascism! #Riseup4Rojava #BoycottTurkey #StopArmingTurkey

via Bristol Kurdish Solidarity Network
Tags: Anti-Fascism, Anti-Militarism, Bristol, International Solidarity, Kurdish Struggle, Rojava, Syria, UK
Posted in Direct Action
Saturday, October 26th, 2019
On Monday, October 21nd, we send a message to several world media. We wrote an e-mail, that the bomb is in Istanbul Airport (Turkish Airlines company) and in MKEK – Mechanical and Chemical Industry company in Ankara.
There was no bomb. We just wanted to start a evacuation. When the police evacuate some place, they block production in this place.
This is sabotage of Turkish economy!
This is sabotage of Turkish army!
This is our support for revolutionary fighters in Rojava!
# Anarchists
Tags: Ankara, Evacuation warning, Istanbul, Kurdish Struggle, MKEK, Rojava, Turkey, Turkish Airlines
Posted in Direct Action
Saturday, October 26th, 2019
Branches of Turkish banks was attacked
Berlin, London, Sofia, Amsterdam, Paris. In these cities was attacked branches of Turkish bank (Işbank). For actions we used manual from the Network of Revolutionary Cells (SRB): "How to start evacuation"
Money from Turkish bank support terrorism of Turkish state. Turkish army killing civil people. For example, they killing a child named Sara Yusuf Hüseyin. Turkish army also killing revolutionary fighters in Rojava. We have to stop it!
Fight against Turkish bank is fight against terrorism!
– Commando Sara Yusuf Hüseyin
Tags: Berlin, Bulgaria, Commando Sara Yusuf Hüseyin, Evacuation warning, France, Germany, Kurdish Struggle, Kurdistan, London, Paris, Rojava, Sofia, Turkey, Turkish bank (Işbank), UK, War
Posted in Direct Action
Saturday, October 26th, 2019
US State gives green light for the Turkish military invasion of Northern Syria
October 7th, 2019
After a period of a hypocritical stance by the American state towards the Kurds of Northern Syria and the other rebellious peoples of the region whom they supported militarily as they gave their lives in battle against ISIS (Islamic State) and their armed forces of men and women liberated one city after another by expanding the revolutionary project of Democratic Confederalism, the US regime has shown its true face by giving the green light to the Turkish state for the military invasion of the region. It is the expected development of the "democratic" American state and the "democratic" West in general. (more…)
Tags: Athens, Greece, International Solidarity, Kurdish Struggle, Kurdistan, Nikos Maziotis, People's Defence Units (Y.P.G.), Pola Roupa, Revolutionary Struggle, Rojava, Syria, War
Posted in Autonomy
Saturday, October 12th, 2019
Received 11.10.19:
"A few weeks ago on the day Anna Campbell died (killed on 15/03/18), some people from Ghent made a solidarity action with her, they put up a graffiti piece in memory of her achievements and her death. The artwork was made under a bridge in Ghent where many people can see it. In loving memory of Anna Cambell. Rest in Power!"
Tags: Anna Campbell, Belgium, Ghent, Graffiti, Rojava
Posted in Anti-Fascist
Friday, October 11th, 2019
In the afternoon of 9 October the fascist Turkish occupation army and its Islamist murder gangs started their war of aggression against the liberated areas of Rojava. With massive artillery fire and widespread air raids on towns and villages along the Syrian-Turkish border, the front was opened and ground invasion began.
The fascist AKP-MHP regime is turning its threats into reality and under the cynical name 'Operation Sources of Peace' has launched a new campaign of extermination against the people of the region. From the North, jihadist gangs try to advance to the cities and settlements along the border and the villages in the vicinity have become the scene of fierce battles between the self-defence forces of the population and the invading troops. While the fascist invaders attack the civilian population of Rojava under the protection of their heavy weapons, artillery and the bombardment of their war planes, sleeper cells of the Islamic state carry out coordinated attacks in the interior and spread fear and terror. (more…)
Tags: Afrin, Al-Nusra Front, Antifa, International Solidarity, Islamic State in Iraq and Syria (ISIS), Kurdish Struggle, Kurdistan, People's Defence Units (Y.P.G.), Repression, Rojava, Syria, Turkey, War
Posted in Anti-Fascist