Posts Tagged 'Russia'
Thursday, September 24th, 2020
The rebellions of misery
"All control systems are based on the punishment/award binomial. When punishments are disproportionate to rewards and when employers no longer have any rewards left, uprisings occur."
Burroughs(1)
In the second decade of this century, urban revolts are becoming more frequent throughout the global geography, with subtle variations in duration and intensity. Hong Kong, France, Algeria, Iraq, Haiti, Lebanon, Catalonia, Ecuador, Bolivia, Sudan, Chile, Belarus, and now the United States of America, have been the sites of massive protests widely reported in the means of mass domestication. As I have pointed out on other occasions, these demonstrations have very particular motivations that explain them; however, it is indisputable that they all possess an intangible link that serves as a common denominator of most of these mobilizations: the weariness and rage of despair.
Far from the leftist rhetoric that insists against all evidence that "as long as there is misery there will be rebellion", what has really motivated the recent rebellions has not been "misery" but the conjunction of weariness and despair. These two factors – which drive the nostalgia for the "devil you know" and yearn for the return to the welfare state, to industrial capitalism and to the society of labour – are the causes of the widespread unrest that has led to the global revolt of our days.
It is increasingly axiomatic that "misery" only produces "misery". That is to say, servitude, begging and even the loss of all dignity. As the proverb goes, "hunger is a bad counsellor". She is the mother of all those specimens that hang a sign around their neck that says "I will do any work" (even for the SS, as George Steiner reminds us). Therefore, instead of creating rebels and refusers, misery breeds disease, malnutrition, mortality, fear, sexual exploitation, corruption, soldiers, police, informants and voters: human misery. (more…)
Tags: Analysis, Argentina, Germany, Gustavo Rodriguez, Repression, Riots, Russia, Social Insurrection
Posted in Anti-Fascist
Thursday, September 3rd, 2020
Our comrade Alexey has passed away
On the morning of September 1st, 34-year-old anarchist Alexey "Socrates" Sutuga died, due to severe head injuries, in the intensive care unit of the Sklifosovsky Institute. For more than a week, doctors fought for his life, but the injuries were too serious.
Alexey died after a fight near a grocery store on August 23 near the Baumanskaya metro station in the center of Moscow. The circumstances surrounding the incident remain unclear. Four people, who apparently took part in the beating of Alexey, have been detained. In the criminal case, the Sutuga family is represented by a famous lawyer, and we hope that thanks to her, we will find out all the details of that night. So far, there is no reason to believe that there was any political motivation behind the attack.
Alexey Sutuga took part in creating Autonomous Action since the early 2000s. At first in the local group in Irkutsk, and later in Moscow, where he was also an active member. He took part in many different anarchist initiatives. It is impossible to list all of them here. (more…)
Tags: Alexei Sutuga, Alexey Sutuga, Antifa, Autonomous Action, Irkutsk, Moscow, Russia
Posted in Uncategorised
Thursday, April 16th, 2020
On Saturday 11th of April, relatives took Ilya Romanov, anarchist prisoner from LPU-21. Prosecutor did not appeal decision of the court of Zubovo-Polyanski of Republic of Mordovia, which has ordered to release Romanov for basis of his health. We congratulate Ilya, and everyone who was fighting for his release from prison!
Court had decided 31st of March that Romanov should be released, as he was paralyzed in the colony after stroke.
Ilya Romanov joined anarchist movement in the Soviet Union in late 80's, and he is one of the oldest veterans of the movement. Most of the time since 1998 he has spent in prisons of Russia and Ukraine. In 2015 he was sentenced to 10 years in prison, as authorities claimed he had "justified terrorism" and "prepared a terrorist attack". Investigation began, when a firecracker exploded in his hand, not far from military commission of Nizhny Novgorod. Due to explosion, his left hand had to be amputated.
In prison colony, a new criminal case was opened against Romanov. His lawyers say, that cellmate of Romanov used his smuggled smartfone to publish calls to global jihad, obviously as part of a plot by authorities. In 2018 he was sentence to a new prison sentence, in autumn of 2019 he suffered a stroke after which partially paralysed him.
Tags: Ilya Romanov, Nizhny Novgorod, Russia
Posted in Prison Struggle
Thursday, April 9th, 2020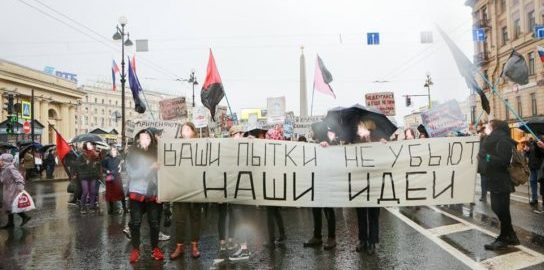 From ABC Dresden:
Around a month ago before the whole Europe was locked down by the national states, anarchist movement in different parts of the world was shaken by the news from Russia around "Network Case". Liberal news portal "Meduza" published information that some of the defendants from Penza were involved in murder of two people while they were on the run. This information brought back the topic of how we organize our solidarity and what are the limits of our solidarity. Although we are not located in the region, we have a connection to our comrades in Russia. We organized many solidarity events for those prosecuted under "Network" case in the city of Dresden. For example, an evening at the end of December, where we encouraged people to write to Russian Anarchists and Antifascists in prison.
This text is not an attack on the solidarity campaign or the anarchist movement in Russia. We are writing it to proceed with further discussion – only that way we can learn and avoid repeating the same mistakes as before.
"Network" creation
We think most of the people who are going to read this text already know the history of the case. But we will repeat a short version of it so everybody is on the same page here. (more…)
Tags: "Network Case", ABC Dresden, Analysis, Germany, International Solidarity, Russia
Posted in Prison Struggle
Sunday, March 8th, 2020
On February 18 and 19, there were rallies in Moscow in solidarity with Ilya Romanov, who, at the moment, is locked up in a penal colony in Mordovia [Eastern European Russia, near Nizhny Novgorod; NdAtt.]. In October 2019, Ilya had a stroke. Since then, he has been locked up in the penal colony hospital, a facility which is not suitable for treating his condition, which is still very critical. Indeed, the comrade is partially paralyzed (apparently half of his body is paralyzed). Ilya still has difficulty speaking, eating and being independent, even in the smallest gestures of everyday life. Ilya's family and his lawyers were made aware of the stroke days after it happened, and the neurologist's visit took place only two and a half weeks afterwards. He is not in any rehabilitation process and all the lawyers' requests to have him transferred to a suitable hospital have been rejected; for weeks neither his family nor his lawyers were able to meet him or understand the gravity of his situation. It was not until November 28 that one of his lawyers was able to meet Ilya; The lawyer said that Ilya is paralyzed down one half of his body and cannot speak. He urgently needs the help of a speech therapist, as well as other doctors, but he is not allowed any specialist. Ilya is left to himself in a bed on a ward where he is locked up and he has been fed porridge for months. His neighbors on his ward in adjacent beds said that even the nurses in the ward never take care of him, but the inmates working there do it. On December 4, the medical commission of the penal colony again gave a negative opinion regarding Ilya's transfer to a suitable hospital, because his condition did not seem serious enough to be incompatible with detention (!!!). The lawyers continue to use the legal channels and apparently his family has called to the European Commission of Human Rights.
For those who do not know Ilya, some words on his journey: Ilya has participated in anarchist actions and demonstrations since the end of the 1980s. In 2002, he was arrested in Ukraine, accused of arms trafficking and of terrorism, as well as the preparation of an explosive device which was to be placed in front of a building of the Ukrainian secret services, to protest against the violent expulsion of a rally, Place Maidan, carried out by the police in October 2002. For this, Ilya was sentenced to 10 years in jail. On his release in 2013, he returned to Russia and had an accident during the manufacture of a firecracker [according to other sources, the device exploded while he placed it in front of a recruitment office of the army, in Nizhny Novgorod, October 26, 2013 ; NdAtt.]. Because of this accident, he had his left hand amputated and was condemned to another 10 years in prison, for terrorism, the sentence of which was transformed into nine years in a penal colony. He still has six years to serve. The way Ilya was treated is just one more sign of the brutality the Russian state has been using lately against anarchists. Ilya is a comrade who has never compromised with power, and that's why they want to silence him.
Those who would like to help him and his relatives will find below the account number of his ex-wife and companion Larisa Romanova, as well as the Paypal account open for Ilya. Letters, postcards, expressions of affection are appreciated (when Ilya cannot read, there are bed neighbors in his ward who can help him. For obvious reasons, however, he will not be able to answer letters).
For economic support : account n. 5368 2900 5608 4546 (holder Larisa Valerievna Romanova, bank: VTB)
Paypal account address: abc-msk @ riseup.net
To write to him:
FKU LPU num 21 UFSIN Rossii po Respublike Mordovija,
431200, Respublika Mordovija, Ten'gushevskij rajon, p. Barashevo,
Ul. Shtabnaja, d. 1,
Romanovu Il'e Eduardovicu (Bol'nica N. 2)
Russia
The address in Cyrillic letters:
ФКУ ЛПУ № 21 УФСИН России по Республике Мордовия,
431200, Республика Мордовия, Теньгушевский район, п. Барашево,
ул. Штабная, д. 1,
Романову Илье Эдуардовичу (Больница № 2)
Российская федерация.

via Round Robin, Attaque, ABC Moscow.
Tags: ABC Moscow, Ilya Romanov, International Solidarity, Moscow, Repression, Russia
Posted in Prison Struggle
Monday, February 24th, 2020
Tiocfaidh ár lá – Our Day Will Come
On Saturday the 22nd of February there was a protest held outside the Russian embassy in Dublin, Ireland in solidarity with anarchists and anti-fascists being persecuted by the Russian state. On the 10th of February, as part of "The Network" show trials and ongoing repression since 2017, seven anarchists were convicted on fabricated lies created by the Federal Security Services (FSB) the successors and continuity of KGB. Dimitry Pchelintsev received 18 years, Ilya Shakursky 16 years, Arman Sagynbaev 6 years, Andrei Chernov 14 years, Vasily Kuksov 9 years, Mikhail Kulkov 10 years and Maxim Ivankin 13 years imprisonment. The main "evidence" used against the seven were:
1) "Confessions" that were tortured out of the accused. Torture, which includes beatings, sleep deprivation and what could only be described as sexual assault from electric shocks to bodily parts.
2) Materials planted in the homes of the accused. From the very start of the trial and throughout, the defence for the accused attempted to have the "confessions" thrown out of the trial as evidence. The court refused. Its clear the state had them guilty before they were even arrested!
At the Russian embassy in Dublin the police were there before our arrival. Throughout the protest embassy staff continuously came out to take pictures of us.
The repression and tactics used by the Russian state are nothing new. Throughout the world, states fabricate "evidence" to remove anyone deemed as a danger to the power of the state.
In Ireland this can be seen in recent years with the case of the Craigavon 2, who the British state blamed on killing a cop in Craigavon, Armagh. The only evidence the state used against the two was a statement made by an individual whose father came out publicly calling his son a liar and in the trial the same witness contradicted himself. The rest of the evidence was circumstantial. The British intelligence service even had a tracking device on the car of one of the accused on the night of the shooting, which the data on the device mysteriously went missing. The Craigavon Two are still in jail doing life.
Also in Ireland in the last few days a republican Paul McIntyre was arrested and charged with the murder of journalist Lyra Mckee who was shot dead in Derry during a riot that erupted after a series of police raids on homes. The police have publicly said they have no evidence linking Paul McIntyre to the killing other than picking up shell casings. This is yet another new case of repression by the British state against their political enemy.
We send our solidarity to our comrades in Russia as well as across the world and to all those fighting oppression and being persecuted.
YOUR TORTURE WILL NOT KILL OUR IDEAS!
Tags: "Network Case", Craigavon 2, Demo, Dublin, International Solidarity, Ireland, Russia, Solidarity Action, Torture
Posted in Direct Action
Sunday, February 23rd, 2020
+ RUPRESSION collective statement regarding the article "Four went in the forest and only two went out" (about "the investigation" of the connection between the "Network" case and the disappearance and death of two young people in Ryazan oblast).
+ Defendant in controversial terrorism case says murder allegations reported by 'Meduza' are 'insane'
From Anarchy Today:
We have written about our attitude to the Network case and related contradictions before. Since then, nothing has changed for the better. Participants chose the role of typical victims of the regime, remaining indistinguishable from the rest of the same. This was more convenient for parents, human rights activists, and liberal circles shouting about the new 1937. The trial of the Penza group ended, and the defendants received huge sentences, from 6 to 18 years.
Worst of all, the public played along with the authorities. The FSB was trying to prove the crime of an anarchist conspiracy, while the public was passionately denying the very existence of an anarchist organization, not challenging its "criminality ". However, in this case, the very existence of the anarchist underground was of the greatest value, giving meaning to the cruel punishment that was taking place: at least someone dared to challenge this hated authority. Who knows, if the guys had taken an active position of the anarchist underground participants, the authorities might not have dared to popularize them with such huge terms. (more…)
Tags: "Network Case", Penza, Repression, Russia
Posted in Social Control
Wednesday, February 19th, 2020
We must not forget the anarchists and anti-fascists suffering repression in Russia! We are calling for people to take action of all forms to express support for these prisoners, to protest the prison system, and to spread information about the use of torture as an instrument of repression in Russia.
Why now? On 10th February, 630 kilometers from Moscow, the court in Penza passed sentence on seven people accused of organizing the so-called "anarchist terrorist community 'Network'". This entire case is based on confessions the defendants were forced to agree to via intense torture as well as weapons planted by police and an extremely tenuous accusation that they were "planning to plan terrorist actions to overthrow the government of Russia". For a "crime" without victims involving no real action and no real plan, the sentences decreed by the court are shockingly high. Dmitry Pchelintsev and Ilya Shakursky, the supposed organizers of this fabricated "Network," were sentenced to 18 years and 16 years in prison, respectively. The others have been sentenced as follows: Arman Sagynbaev 6 years, Andrei Chernov 14 years, Vasily Kuksov 9 years, Mikhail Kulkov 10 years, and Maxim Ivankin 13 years of imprisonment.
Scientists, journalists, human rights defenders, and other groups in Russia have protested and demanded that the sentence be repealed.
International solidarity is especially important at this moment because the "Network case" is not over. In St.-Petersburg, two more people, Viktor Filinkov and Julian Boyarshinov, await trial on related charges. The next court hearings are planned for February 25-28. This is why we ask that solidarity actions take place the last week of February.
Many other anarchists and anti-fascists in Russia are experiencing repression and torture, including Azat Miftahov, Ilia Romanov, Egor Lesnyh, Evgeny Karakashev and Kirill Kuzminkin. They also deserve our attention.
If you have a Russian consulate or embassy in your city, consider organizing an action in front of it!
Email action reports to rupression@protonmail.com or via Telegram to @RUPRESSION_bot or Rupression social networks.
We will inform the prisoners about any actions that take place.
For more information about the Network case, details of financial support and prisoners addresses: rupression.com
YOUR TORTURE WILL NOT KILL OUR IDEAS!
–
Russia – Un appello ad Azioni di Solidarietà – 22-29 febbraio
Non dimentichiamo le persone anarchiche e le antifasciste che subiscono la repressione in Russia!Chiediamo a tutt* di agire in qualsiasi modo per esprimere sostegno a questi prigionieri, per manifestare contro il sistema carcerario, e per
sensibilizzare sull'uso della tortura come strumento di repressione in Russia.
Perché ora? Perché il 10 febbraio, a 630 kilometri da Mosca, la corte di Penza ha giudicato sette persone accusate di organizzare la presunta «community anarchica terrorista di nome "Network" [NdT: Сеть, pronuncia "set'"]». L'intero caso è montato su confessioni estorte agli imputati sia con pesanti torture, sia su armi portate dalla polizia [NdT: come le molotov del G8 alla Diaz], e con l'accusa per niente fondata che stessero «pianificando azioni terroriste per sovvertire il governo della Russia». Per un "crimine" senza vittime che non implica né azioni e né piani reali, le sentenze decretate dalla corte sono drammaticamente alte. Dmitrij Pčelincev e Il'â Šakurskij, i supposti organizzatori di questo sedicente "Network", sono stati condannati rispettivamente a 18 e 16 anni di prigione. Gli altri sono stati condannati ai seguenti anni in prigione: 6 anni a Arman Sagynbaev, 14 anni a Andrej Černov, 9 anni a Vasilij Kuksov, 10 anni a Mihail Kul'kov e 13 anni a Maksim Ivankin.
Scienziati, giornalisti, difensori dei diritti umani e altri gruppi in Russia protestano e richiedono che la sentenza sia revocata [NdT: "repealed" in originale inglese].
La solidarietà internazionale è particolrmente importante in questo momento perché il "caso Network" non è finito. Altre due persone a San Pietroburgo, Viktor Filinkov e Ûlian Boâršinov, attendono un processo per accuse simili. La prossima udienza è fissata per il 25-28 febbraio. È per questo che vi chiediamo di tenere azioni di solidarietà l'ultima settimana di febbraio.
Molti altri anarchici e antifascisti in Russia stanno subendo repressioni e torture, fra cui Azat Miftahov, Il'â Romanov, Egor Lesnyh, Evgenij Karakašev e Kirill Kuz'minkin. Meritano la nostra attenzione.
Se avete un consolato o un'ambasciata russa nella vostra città, valutate di organizzare un'azione lì davanti!
Mandate resoconti delle azioni a rupression@protonmail.com o via Telegram a @RUPRESSION_bot o ai canali social di Rupression.
Informeremo i prigionieri delle azioni che avranno luogo.
Per altre informazioni riguardo il caso Network, dettagli per il supporto finanziario e gli indirizzi dei prigionieri: rupression.com
LE VOSTRE TORTURE NON UCCIDERANNO LE NOSTRE IDEE!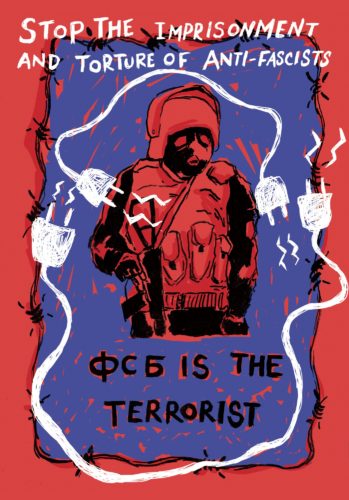 Tags: "Network Case", International Solidarity, Repression, Russia
Posted in Social Control
Tuesday, February 11th, 2020
Note from the Russian Reader: This verdict doesn't leave me at a loss for words. I'm just convinced there is no point in using them when everyone who could listen has made a point of tuning out people like me. If someone invited me to appear on their aptly named alternative radio program or their globe-spanning Qatar-based international TV network (as nearly happened in the past), I could talk for hours about the Network Case. But that's not going to happen. Although if I were a betting man, I would wager that our tiresome planet's obnoxious pillars of liberal truth—the New York Times, the Guardian, the Washington Post, and Al Jazeera, among others—will suddenly weigh in on the case after blithely ignoring it for two years, as will many if not all of the crypto-Putinist "Russia watchers" in our midst, eerily silent until now. Barring a sudden revolution, don't imagine this is the last such case in Russia, a country that has worried so many people around the world for the last several years that they're determined not to know anything particular about it except "Putin" and "troll factories." And don't imagine that a show trial just as juicy and unjust won't be coming to a theater near you. Please don't reprint, repost or otherwise reference this article without prefacing it with my remarks. I'd like to preempt "spontaneous" shows of "solidarity" by people who couldn't be bothered to do anything when it would have made a difference. Despite the well-known saying, it IS a popularity contest, and seven innocent young men in Penza have lost it.
Bumaga
February 10, 2020
The Volga District Military Court, [sitting in Penza], has [convicted and] sentenced seven defendants in the Network Case.
Dmitry Pchelintsev was sentenced to 18 years in a maximum-security penal colony. Ilya Shakursky was sentenced to 16 years in a penal colony and fined 50,000 rubles. Investigators claimed they were organizers of a "terrorist community." Both men alleged that FSB officers had electrocuted them in order to obtain confessions.
Maxim Ivankin was given 13 years in a maximum-security penal colony, while Andrei Chernov was sentenced to 14 years, and Mikhail Kulkov, to 10 years. They were found guilty of involvement in a "terrorist community" and attempting to sell drugs.
Vasily Kuksov was sentenced to 9 years in a penal colony. He was accused of involvement in a "terrorist community" and illegal possession of a weapon. Another defendant, Arman Sagynbayev, received 6 years in prison.
The verdict handed down by the court in Penza suggests that the acquittal of the Petersburg defendants in the case is less likely, Viktor Cherkasov, the lawyer for Viktor Filinkov, a defendant in the Network Case, told Bumaga.
"It sends a message," said Cherkasov. "It is difficult to hope [for a positive outcome], but we are still determined to protect Filinkov's interests."
Cherkasov said that he planned in court to point to the faked evidence in the case. He also that he would take the case to the European Court of Human Rights if Filinkov were found guilty. The next hearing in the Network Case in Petersburg should take place between February 25 and February 28.
[In October 2017 and January 2018], antifascists and anarchists were detained in Penza and Petersburg. They were accused of organizing a "terrorist community," allegedly called "the Network." Its alleged purpose was to "sway the popular masses for further destabilization of the political situation" in Russia.
The defendants in the case said investigators had tortured them as a way of forcing them to confess and weapons had been planted on their persons and property to further implicate them. [Some of] the arrested men had played airsoft together: this, investigators, said was proof they were planning terrorist attacks.
Investigators claim that the Petersburg defendants in the case, Filinkov and Yuli Boyarshinkov, acted as the group's sapper and signalman, respectively. Their trial is scheduled to resume in late February.
Translated by the Russian Reader
Tags: "Network Case", Andrei Chernov, Arman Sagynbayev, Dmitry Pchelintsev, Ilya Shakursky, International Solidarity, Maxim Ivankin, Mikhail Kulkov, Penza, Repression, Russia, St. Petersburg, Torture, Trial, Vasily Kuksov, Viktor Filinkov, Yuli Boyarshinkov
Posted in Prison Struggle
Thursday, January 30th, 2020
Anastasia Pchelintseva and Anna Shalunkina after their weddings to Dmitry Pchelintsev and Maxim Ivankin. Photo courtesy of 7×7 and Novaya Gazeta
via The Russian Reader:
Two Defendants in Network Case Married in Prison
Novaya Gazeta
January 29, 2020
Dmitry Pchelintsev and Maxim Ivankin, two defendants in the Penza trial of the so-called Network (a terrorist organization banned in Russia)* have been married in remand prison, reports 7×7.
Registry Office workers registered Dmitry Pchelintsev's marriage to his girlfriend, Anastasia Tymchuk, in the room on the premises of Penza Correctional Facility No. 4 where the defendants are currently held. Journalists, relatives, and friends of the couple were not allowed to attend the ceremony. Tymchuk reported that the groom made her a windcatcher as a wedding gift. (more…)
Tags: "Network Case", Dmitry Pchelintsev, International Solidarity, Maxim Ivankin, Repression, Russia, Torture
Posted in Prison Struggle
Sunday, December 29th, 2019
OVD Info
December 26, 2019
The state prosecutor has asked the Volga District Military Court to sentence the five defendants in the Penza portion of the Network Case to between six and eighteen years in prison, according to a member of the campaign to support the defendants who was present in the courtroom.
The prosecution asked the court to hand down the longest sentence to Dmitry Pchelintsev: 18 years in a maximum-security penal colony. It asked the court to sentence Ilya Shakursky to 16 years, Andrei Chernov to 14 years, Maxim Ivankin to 13 years, Mikhail Kulkov to 10, Vasily Kuksov to 9 years, and Arman Sagynbayev to 6 years. It asked that all the defendants except Kuksok and Sagynbayev be sent to maximum-security penal colonies.
The prosecutor told the court that the defendants' accounts that they were tortured into testifying had not been corroborated.
All the defendants are accused of involvement in a "terrorist community," punishable under Article 205.4.4 of the Russian Criminal Code. Pchelinsky and Shakursky are accused of organizing a "terrorist community," punishable under Article 205.4. In addition, some of the defendants are accused of illegal possession of firearms (Article 222.1), illegal possession of explosives (Article 222.1.1), attempted arson or bombing with mischievous intent (Article 167.2 in combination with Article 30.3), and large-scale attempted drug trafficking (Article 228.1.4.g in combination with Article 30.3).
The criminal case against the Network "terrorist community" was launched in October 2017. According to the FSB, eleven young men in Penza and Petersburg organized the Network and were planning to overthrow the government. The defendants in the case claimed the FSB subjected them to psychological pressure, tortured them with electric shocks, beat them, and planted weapons on them. Some of the defendants recanted the confessions they made in the days following their arrests. OVD Info has reported on each of the defendants in the case in detail.
via The Russian Reader.
Tags: "Network Case", Frame-up, International Solidarity, Repression, Russia, Torture, Trial
Posted in Social Control
Thursday, December 19th, 2019
What, When and Where?
Father Frost Against – festival (formerly Father Frost Against Putin) is a cultural and political festival designed to stimulate critical thought and reflection, and to work out new activist strategies, with a focus on developments in Russia and the post-Soviet space. The festival has been organised since 2014, and the 7th edition will take place in various locations in Helsinki, Finland, on 3 – 5 January 2020 and is organized by local activists with active support and participation from individuals and groups from Russia and the post-Soviet space.

Main Aims of the Festival
Redefine social and political fields, through information exchange with successful projects and strategic planning.
Creating a space for networking and connecting with like-minded people.
Involving new participants and guests in the festival program.
Developing a new language to indicate current and relevant issues.
Who are we?
We are Studio 4.413 /a laboratory of alternative discourse and intersectional kinship based in St. Petersburg, created to shift art and activist communities. Studio 4.413 includes artists, human rights activists and independent media representatives from Russia and the post-Soviet space.
https://www.facebook.com/studio4413/ (more…)
Tags: Dictatorship, Festival Father Frost against Putin, Finland, International Solidarity, Russia, Solidarity Event
Posted in Autonomy
Wednesday, November 27th, 2019
The Moscow Anarchist Black Cross group is supporting the declaration released by the Rupression-campaign about Arman Sagynbaev, prisoner of the so-called Network case, and will stop supporting him. Arman has been removed from the list of political prisoners, supported by the ABC Moscow. From now on, no donations transferred via Anarchist Black Cross Moscow for the Network case prisoners, or political prisoners in general, will be used to support Arman Sagynbaev or passed to his lawyers.
Declaration by the Rupression-campaign
Several women have spoken up with their stories of violence and abuse perpetrated by Arman Sagynbayev – we have no reason not to believe them. Arman has always had a questionable reputation. As an example, long before the arrests, Victor Filinkov and Igor Shishkin stopped their communication with him; some of the other defendants were barely familiar with him. Many of us didn't know the details, because not all the stories, which are rather personal, were known more widely. We didn't expect him to continue to be dangerous for women while in jail and that's why we didn't give enough attention to the details. Now we recognize and understand, that it was a mistake. (more…)
Tags: "Network Case", Arman Sagynbaev, Russia
Posted in Prison Struggle
Wednesday, October 30th, 2019
On the Sunday morning, October 27, 2019, an explosion occurred in the Proletarsky district of Donetsk. The mobile communications tower of the Phoenix operator was blown up. The civilian population was not injured, but the equipment was destroyed. An explosive device was landed under a booth with equipment and triggered remotely. The people who committed the explosion published a video of the action. They also demonstrated a leaflet explaining their motives: "This was done to draw the attention to the inhuman tortures in the basements of the MGB (Ministry of State Security of "Donbass People's Republic"). Abuses and tortures with electric wires in the "people's" republics has become an everyday normality. The people of Donbass should go to a protest rally against tortures, or the fascist republic will be left without communication. "
Our comrades from the Combatant-Anarchist resource report that they received anonymous information that this action was performed by anarchists, in memory of the act of Mikhail Zhlobitsky.

From Anarchy Today
Tags: Donetsk, Russia, Sabotage, Solidarity Action, Torture, Ukraine, Videos
Posted in Direct Action
Saturday, October 26th, 2019
Collective Anarchy Today | a2day.net gave answers to the questions that we were asked by comrades from France. The interview was prepared for this event: https://foireanarchistemarseille.noblogs.org/
The interview in English is available here: https://a2day.net/anarchy-today/
Tags: "Network Case", Analysis, Anti-Fascism, Azat Miftakhov, Belarus, Collective Anarchy Today, Ilya Romanov, Kirill Kouzminkin, Misha Zhlobitsky, Russia, Ukraine
Posted in Interviews