Posts Tagged 'Sabotage'
Friday, April 3rd, 2020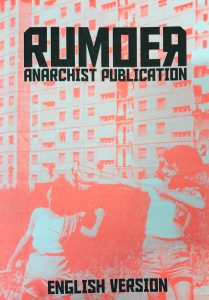 The second edition of the anarchist publication Rumoer is out! A publication which will hopefully provoke discussion, irritation, inspiration, agitation, and attack. Because we do not want a raise in wages, but the destruction of work. Because we do not want to shout 'boo!' but want to hear BOOM! We want a confrontation without compromise with the system that is destroying our lives and the planet.
In this issue some extra attention for the rampaging Covid-19 virus. But also just the ongoing anarchist interventions and other topics: an interview with a graffiti maker in Lebanon, the fight against Shell, post-gentrification and the use of the Signal app.
If you want to receive the new Rumoer, send an email to: rumoer (((A))) riseup /// net. Since most social centres are currently closed, we ask you to help spread the latest edition. Order some extra copies and bring it to your neighbours, isolated family, friends and comrades.
You can also download the new Rumoer or print it yourself. The link to the downloads can be found at rumoer.noblogs.org
Remember, the streets are empty, the possibilities are open. Keep 1.5 meters away, but always at least ten times as much from the police!
Tags: Coronavirus, Counter-info, Graff, Graffiti, Lebanon, PDF, Rumoer (Zine), Sabotage, Shell, Signal (PGP App), Zine
Posted in Library
Thursday, March 26th, 2020
PDF: Quale internazionale? Intervista e dialogo con Alfredo Cospito dal carcere di Ferrara. Terza parte (Vetriolo, giornale anarchico, n. 4, inverno 2020)
Il testo che riportiamo qui è la terza e ultima parte di "Quale internazionale? Intervista e dialogo con Alfredo Cospito dal carcere di Ferrara", pubblicata nel mese di marzo 2020 nel numero 4 del giornale anarchico "Vetriolo". Le parti prima e seconda sono state pubblicate rispettivamente nel numero 2 (autunno 2018) e 3 (inverno 2019). Data la complessità e la vastità degli argomenti trattati e del testo stesso, non è stato possibile pubblicarlo integralmente in un solo numero del giornale e si è scelto di suddividerlo in tre parti. Tutto lo scritto verrà stampato in un volume di prossima pubblicazione.
Con l'occasione, segnaliamo e correggiamo un errore presente nella terza parte (invitiamo a fare attenzione a questo passaggio durante la lettura del giornale). L'errore si trova nella quarta colonna di pagina 11, righe 4 – 11. Per una maggiore comprensione riportiamo l'intera frase: «Questo concetto può riacquistare un senso, una sua concretezza, una sua attualità solo se accompagnato dalla «rivolta», dalla violenza. La «rivoluzione» si accontenta del "pathos" (sentimenti, passioni, fascinazione) e della "praxis" (azione distruttiva, la propaganda del fatto, la violenza)».
L'errore è nella parola «rivoluzione», cui bisogna sostituire «rivolta». Quindi la frase corretta è: «Questo concetto può riacquistare un senso, una sua concretezza, una sua attualità solo se accompagnato dalla «rivolta», dalla violenza. La «rivolta» si accontenta del "pathos" (sentimenti, passioni, fascinazione) e della "praxis" (azione distruttiva, la propaganda del fatto, la violenza)».
Per richieste di copie: vetriolo[at]autistici.org
Tags: Alfredo Cospito, Analysis, Ansaldo Nucleare, Attentat, Black International, Counter-info, Ferrara, Informal Anarchist Federation (FAI), International Revolutionary Front, International Solidarity, Interviews, Italy, Nucleo Olga FAI/FRI, PDF, Roberto Adinolfi, Sabotage, Vetriolo
Posted in Interviews
Thursday, March 26th, 2020
Frente a las crecientes medidas de excepción por el Covid-19, en Porto Alegre salimos a colar unos afiches, para que el miedo no sea el único estímulo en las calles.
Porque sabemos que cuando el poder dice preocuparse por nosotros, necesitamos urgentemente desconfiar de él.
La normalidad que defienden, en estos tiempos de pandemia, saldrá triunfante de ella, con un control propio de un estado de guerra, impuesto en nombre de la salud y seguridad. Así, para nosotrxs, lxs anárquicxs, es imposible defender esa normalidad, no defenderemos una vida de miseria. Por eso, no retrocedemos al colmo de fomentar plataformas alternativas, consumos alternativos, espiritualidades alternativas, lecturas alternativas, sumisión alternativa que ayuden a pasar la cuarentena online. (more…)
Tags: Brazil, Coronavirus, Flyposters, Gabriel Pombo da Silva, Ilya Romanov, International Solidarity, Marco Camenisch, Porto Alegre, Sabotage, Vandalism
Posted in Direct Action
Sunday, March 22nd, 2020
An Early Easter Egg on Political Prisoners Day
We, as an early Easter egg, claim responsibility for the fires during the night of 18.03.2020 at two companies involved in the construction of the new Zwickau-Marienthal prison. [1]
Today is the anniversary of the International Day of Political Prisoners. This day was proclaimed to remember the many fighting comrades and comrades-in-arms who are in the dungeons of prisons worldwide. The date is based on the day on which the Paris Commune was proclaimed in 1871. For many people, the Paris Commune was and still is a reference point for revolutionary efforts for social justice and political freedom. The smashing of the Commune, the massacre of thousands of Communards and the deportation of hundreds of them to the penal colonies, where they died a slow death, was intended to show all revolutionaries in the world what a bourgeois government is prepared to do when it sees its power threatened.
Even today thousands of revolutionaries are sitting in the prisons of this world. The emancipatory struggle has been going on since the commune, and its children have come and are still coming under the wheels of repression. There has always been a struggle for the liberation and support of the prisoners. A fundamental critique of domination has been linked to a critique of the prison system and the morality of punishment. The demand for the liberation of the prisoners often turned into a demand to abolish prisons and to overcome the principle of punishment completely. (more…)
Tags: Arson, Germany, Park Bench 3, Sabotage, Saxony, Solidarity Action
Posted in Direct Action
Sunday, March 22nd, 2020
The coronavirus is sweeping around the world. Death tolls are rising and the capitalist economy is seeing new lows for every day. The nation state apparatuses are using warlike measures to battle the pandemic. Borders closing, blanket curfews, quarantines, forced labour, the only people allowed in the streets are cops. It's the state apparatus wet dream coming true. For us anarchists it is our worst nightmare turning into reality. What we see is a glimpse of the future. If there ever is a day civilisation falls to ruins this is somewhat how it will look like.
There will be no end of what measures state apparatuses will use to gain control. And in this game, who will be sacrificed? It will be the precarious workers, the migrants, the women associated persons… the others.
The coronavirus is our Earths latest weapon against the humans (Earlier versions were the Spanish flu and AIDS). This pandemic is a population control, a hit back and a revenge for all the wild animals, plants and habitats that the humans have enslaved, annihilated and destroyed. The coronavirus turns the civilisers who
thought they where immortal into mere mortals. What it all comes down to is a show of power. If humans ever thought they had some sort of control the coronavirus clearly shows what illusion this is. Humans and the civilisation have no control, no matter how much they try to annihilate the wild and the free. If our planet decides that our moment of rule is over, in an instant, just like that – people looking pale, some sneezing, some coughing, some deaths… silence… (more…)
Tags: Coronavirus, Earth Liberation Front, Informal Anarchist Federation (FAI), Nihilists Hoping for the End of Civilisation cell - FAI/ELF, Sabotage, SCA (Forestry Industry), Sweden, Umeå
Posted in Direct Action
Friday, March 20th, 2020
On the night of February 24 to 25, we set fire to an electric car from the Car2Go company.
The new models of mobility and urbanism that are proposed to us by States and companies, in this case by way of "Carsharing" or "Smart Cities", are part of a capitalist propaganda that seeks to whitewash the image of the hostile, devastating and inhuman capitalism of always. However, they are only an extension of the industrial disaster that perpetuates miserable conditions of existence that make its development and profit possible.
We do not want to reform capitalism, we want to destroy it. We don't need any more reason to attack.
War on the State, capitalism and the daily annihilation of our lives.
For anarchy.
Tags: Arson, Car2Go, Madrid, Sabotage, Smart Cities, Spain
Posted in Direct Action
Friday, March 20th, 2020
PDF: The Time is Now
This is a PDF explaining how to sabotage game farms. It needs to reach as many people as possible. Against all authority, speciesism and capitalism.
THE TIME IS NOW, BRING DOWN THE GAME FARM INDUSTRY
A step by step guide to sabotaging game farms and putting an end to this fucked up industry.
Game farming is abhorrent. Hunters will use the excuse of conservation as a justification for their murderous actions, but game farming cannot be sustained in any way. Breeding wild animals to be released with the sole purpose of killing them, modifying the countryside to suit the needs of the hunting community and killing all other wildlife in the process with the only aim of capitalising on animal exploitation. Game farming is, indeed, a multi million industry that can be toppled very easily using direct action.
As game farming is an incredibly lucrative business based on breeding and rearing wild animals, direct action focused on sabotaging the infrastructure and releasing the animals into the wild is the biggest and most impactful action anyone can do bring the business to their knees. I will repeat this to clarify: YOU CAN STOP THIS INDUSTRY BY WALKING IN THE COUNTRYSIDE.
This document will solely focus on how to liberate and sabotage game bird farms as a map has been made available with hundreds of entries throughout Europe where you can find your closest farms. That does not mean we do not encourage you to seek other farms, like deer, wild boar and even fox (yes, people are breeding foxes for hunting) and do exactly the same thing. You might need to modify some of the advice, but it will still be good for the most part.
Tags: Animal Liberation, Manuals, PDF, Sabotage, UK, Zine
Posted in Library
Tuesday, March 10th, 2020
If you look closely almost every police intervention requires vehicles. And even the Power Rangers need wheels. The vehicles and not radio or riot gear, not even the policemen themselves, are the key to their capacity to intervene. A mobile unit without mobility is just useless.
It can not be understood why there are still areas that suffer the militarized police ravages that do not use this easy and so effective tactics.
First of all the wheels are not punctured, but cut to be precise. Cutting wheels in any of its variety and situations [Here Manual in Spanish] is by far the easiest, cheapest and most effective method to counter its immediate repressive action.
[Make one stabbing cut with a screwdriver or sturdy boxcutter into the softer sidewall of the tyre, not the tread]
Especially organized in coordinated parties of "Wheel Hunters" (see below).
I.e. a campaign of 20 vehicles per day for a week would collapse car cranes, workshops and some stocks. To increase the khaos, also cut the wheels of these same car cranes.
We agree that burning vehicles is in any case the most effective and definitive but has a number of drawbacks: alert all the rest of cops, reinforcements are called, they usually carry fire extinguishers in their vehicles, they will be likely to initiate an CSI [forensic] investigation and request CCTV records, which could initiate a repressive campaign, if you get caught in the action they will charge you with terrorism and attempted murder, and much more dangerous, you will face a shot instead of a blow. (more…)
Tags: Fuck the Police, Manuals, Sabotage
Posted in Library
Monday, March 9th, 2020
325 receives and transmits:
Anonymous Submission to North Shore Counter-Info:
before the sun rose in the early early morning of 02/20/2020 we took direct action against pipeline infrastructure in Acheson AB
outraged by the Reactionary Colonial Mounted Pigs invasion of sovereign Wet'suwet'en territory and in solidarity with the Secwepemc we decommissioned a section of pipe that the klanadian state (financers of this project) had left sitting in the open air with little defense
solidarity means attack
"smile for the camera, boys" shouted the security guard after us
even though the camera could not capture it we were smiling beneath our masks
"joy is arming itself"
we hope to discourage a lot of the fear that currently surrounds resistance
it has now been weeks after a direct attack on a large corporation with no sign of police repression
there are many others living in this colony ready and willing to act
neither the pigs nor reactionary gangs can stop sabotage
do not wait for permission
strike hard while your enemy is unprepared
find your friends and act with joy!
Kenney said we are in a state of anarchy, prove him right!
there are online field guides teaching sabotage
Act spontaneously, but do your homework
we broke our drill bit while eating through the steel pipe these companies publish comprehensive engineering reports which can be found on their own websites
study these and use proper materials
it is worth noting the existence of perimeter-monitoring technology
there was a thick black cable lining the top of the fenced perimeter around the material storage site
it is also possible for these sensor cables to be under topsoil
this perimeter sensor may have tipped off the guard or maybe he found us by the noise we made or by chance but the response was immediate and impotent
This action was done in support of all land defenders
Mohawks who consistently assert their autonomy
Zapatistas and other indigenists in southern Mexico
democratic forces of Rojava
pirates of Somalia
countless tribes of the Amazon
Mapuche in Chile
Standing Rock Sioux Nation
Quechua, Guarani, Aymara of Bolivia
Anishinaabe of Minnesota
feminists in Mexico
redneck coal miners in the Appalachian mountains
rebels of Haiti
farmers of la Z(A)D
to the many nations that inhabit the beaver hills meeting grounds
Many have put effort into reconciling with klanada
consistent colonialism has given only disrespect in return, reconciliation is now dead
to #shutdowncanada colonial land claims must be disputed everywhere alongside the current struggles in so-called BC
the entirety of klanada is illegitimate and there should be insurrection everywhere
Another world is possible!
– your friends in amiskwaciywaskahikan
Tags: #ShutDownCanada, Anti-pipelines, Canada, Indigenous Struggle, International Solidarity, Sabotage, Secwepemc, Wet'suwet'en
Posted in Direct Action
Friday, March 6th, 2020
The following text is entirely drawn from articles published by the media of the regime.
France3, Sunday 23rd February 2020
Fire has destroyed a building housing a research laboratory in the university area of Gières (Isère), a Grenoble suburb. Firefighters fought the flames during the night and are still in action this morning Sunday 23rd February 2020. A crisis unit was set up between 3 and 4am, as disaster struck in the 1,300-square metres building in rue de la Piscine.
«The fire is most likely to be of criminal origin because a door of the building seems to have been forced and the fire started in several points», announced Eric Vaillant, a public prosecutor from Grenoble.
The flames devastated 700 square metres of the first floor. The damage amounts to several hundred thousand euros, a great deal of research material has been destroyed but there were no casualties. According to the laboratory director «about 10 years' work» has gone up in smoke. At the height of the intervention 43 firefighters and five firefighting hoses were mobilized. (more…)
Tags: 3SR Lab, Anti-technology, Arson, France, Gières, Grenoble, Sabotage
Posted in Direct Action
Friday, March 6th, 2020
From Anarchists Worldwide: The following interview with self-described primal anarchist advocate, writer, editor, independent researcher, publisher, musician and rewilding human, Kevin Tucker, originally appeared in the first issue of the new Indonesian anarchist journal, Jurnal Anarki. Jurnal Anarki is written entirely in Bahasa Indonesian, and this is the first time content from it has been republished in English. We'd like to thank comrade Eat for making this possible!
1. Looking at the Anarcho-Primitivist Primer by John Moore, he explains that Anarcho-Primitivism has nothing to do with romanticizing the primitivist way of life, or as many people love to accuse Zerzan of, suggesting that we go back to the stone age. What do you think about John Moore's interpretation of Anprim? Do you have a different interpretation, or perhaps even a critique of the Primer?
I don't know if I would call it a critique of John Moore's primer, but the 'Anarcho-Primitivist Primer' was admittedly a quick and personal take on anarcho-primitivism (AP). It was really only a few pages long, the kind of thing you hand out to contextualize other pamphlets, zines, and books you might have at the same time. It wasn't meant to be definitive, even though, I would say, at the time it was still effective.
That said, I have a lot of appreciation for John, but his work was still limited by the time and when he died in 2002 there was a lot that had been kind of left unaddressed, to the point where a pamphlet like his earlier 'Lovebite' was dated pretty quickly.
A part of that is the terminology and framing. Personally, I've been moving towards a framing of "primal anarchy" over the term "anarcho-primitivist" for the last fifteen years now. "Primitive," as a term, just doesn't really cut it anymore, but it also reinforces this idea that "primitive" refers to a point in time or place. Like it's something that has gone or remains in a few places. I think primal is a lot more fitting, which is the direction that Paul Shepard had been leaning in for some time. (more…)
Tags: Analysis, Anti-technology, Climate Chaos, Earth Liberation Front, Eat, Eco-Extremism, Ecological Destruction, Indigenous Struggle, Indonesia, Informal Anarchist Federation (FAI), Interview, John Zerzan, Jurnal Anarki, Kevin Tucker, Primal Anarchy, Sabotage, USA
Posted in Interviews
Saturday, February 29th, 2020
Decolonization Means No State × 4
These flyers were produced with the intention to disrupt the liberal narratives surrounding the Wet'suwet'en struggle, and the activism we have seen emerge as a result of the most recent waves of state violence. Simultaneously we are inspired by the actions of many of our comrades, especially the Mohawk blockades and those engaged in militant demos and sabotage. We hope these flyers continue to feed the fire of insurrection.
Reconciliation is Dead, and Decolonization Means no State were heavily inspired by Tawinikay's (aka Southern Wind Woman) work – much of the words appearing on them are Tawinikay's directly. Her work provides a critical and revolutionary stance on current struggles to shut down so called Canada – we are very grateful for this work. As anarchists working to refine our perspective and practice, Tawinikay's critical intervention with the struggle and Indigenous solidarity work many of us engage in demands our engagement.

Against the state and capital
For a growing militant movement
Links to Tawinikay's work: 1, 2
Tags: #ShutDownCanada, Anti-pipelines, Canada, Ecological Destruction, Indigenous Struggle, PDF, Sabotage, Wet'suwet'en
Posted in Library
Wednesday, February 26th, 2020
How to Make Paint Bombs
Eggs filled with paint. Make a tiny hole either end of the egg, about the size of a syringe (no needle). Get the egg fluid/yolk out without leaving DNA traces on the egg. You can use the syringe or air pressure. After you have got the disgusting egg mess out by any safe means possible, let it dry and seal the bottom of the egg with strong tape (no DNA traces!). We like to use a parchment parcel tape because the paint bonds with the tape before drying, which helps destroy any forensics on the tape and the parchment doesn't survive the action as well as the plastic-type tape. Fill the egg with paint via the syringe, being careful about all the paint traces, i.e. don't get paint everywhere. Let it dry and cover the top hole with tape. We find it good to place all the eggs in an egg box.
Be careful about the egg box because sometimes they are marked with a QR/barcode that shows where the eggs/egg box is manufactured and also it's point of sale. Be careful about where you got the paint, tape, eggs from etc. Police forensics can trace different types of paint, tape and eggs too. Keep a clean preparation space, clothes and no unexposed skin or hair. It's a good preparation practice for further illegalist work.
With the eggs -paint-bombs- you can hit up targets quickly and almost silently (compared with smashing the windows), and gives you a good practice for
using stones and molotovs in actions. Learn how to throw if you can't do it very well! The paint will splash back if you are too close to the target. Make sure the paint won't come out during flight. The eggs can be transported inside the box and used in night actions, demos etc. Just don't smash them on yourselves or in your bag accidentally and never throw anything from the back of a crowd, only from the front before disappearing into the mob!
It's possible to make a lot of these and mass paint-bomb targets with high coverage in places under quite intense surveillance due to the speed of use and lack of noise. Using the paint-bombs newer comrades and those a 'little out of shape' can gain experience and learn from the techniques, checks and practices used in an active setting.
Serve up the eggs as needed to banks, corporations, government facilities, advertising, technocrats, animal abusers, fascists, etc.
Good luck, and take care of each other!
Tags: Manuals, Paint attack, Paint bombs, PDF, Sabotage, Vandalism
Posted in Library
Wednesday, February 26th, 2020
Let's make March the hottest month in history!
Urgent Call to Anarchic Action:
As ANARCHIC WARRIORS IN THE FIGHT AGAINST PATRIARCHY, we call all our comrades to be present in the fight in the streets next Sunday 8th March and let's extend the insurrection throughout the month of March: In one day there is not enough room for all our fury! We will go out again with our anti-systemic rage and hope to spread fury again within the numb sectors of the so-called "feminist movement". This is a war and we are prepared for war. We know that since the heights of power prepare the repression of the protest. But we are not intimidated, we will turn the protest into a widespread insurrection.
In his morning circus-mass, the peje-ganzo-poop-president every day starts the massive media machine and tries to impose a change of reality to ensure public opinion and be able to repress at ease.
First, he accused the anarchists of being "conservatives", and now he extends the title to the so-called "feminist movement". He accuses that there is a "black hand" in the struggle for the destruction of patriarchy. Saying what lies behind our rage because they rape us and kill us, is the right hand of fascism.
This reversal of roles is the script of the change of reality that they try to impose from Power. Again he thinks that he grabs us with the assholes but he doesn't fool us. We know who are the true conservatives and fascists. All government is of a Conservative and fascist nature.
In its Fourth Transformation, examples of conservatism abound… The alliance between evangelical fascism and the retro-Bolshevik left is the main test of the union of misogynist dogs.
The morning message of Christian morality and its call to strengthen the Mexican hetero-patriarchal family is the evidence. Family structures which are hetero-patriarchal are the basis of the State (sacred or secular) and the continuity of patriarchy.
As we have expressed before: We are aware of the presence in the national palace of a misogynist and sexist, pro-life, ultra-conservative and evangelical fascist who has been an ally of the left in its constant opportunism to "take power" at all costs.
They can fool the good people (happy, content and ignorant) but us, NEVER. That's why we will not put a limit on the revolt.
We will continue releasing the subway turnstiles throughout March, inviting individual and collective disobedience, spreading the fury…
We do not want dialogue or new laws: we want to burst the system of hetero-patriarchal domination. And we will do it with all our creativity, like Mrs. Yakul, teaching us about the Chilean insurrectionists, not with drums and choreographies but with the stone and the molotov.
The struggle has reached a decisive turning point: let's extend the revolt.
Let the sky explode with the chambermaid God and everything!
Let's destroy everything that dominates us!
The Insurgentes subway square will be the Plaza de Las Insurgentes!
If one day we do not return home: Do not light candles, light barricades!
Neither God, nor State, nor Master, nor Husband!
The State-Capital, with AMLO or without AMLO [Mexican President], Patriarchy is what weaves!
Let's destroy everything that dominates and conditions us!
Anarchic solidarity with all the comrades and fellow prisoners around the world!
Against the patriarchal civilization!
For the control of our own lives!
For the destruction of gender!
For the insurrectional anarchic tension!
For Anarchy!
Fire to all that exists!
Phenomenal Witches and Insurrectionists (F.B.I), formerly Female Witches and Insurrectionists / F.B.I. (Féminas Brujas e Insurreccionalistas)
Mexico City, Monday 24 February 2020.
Tags: Arson, Demo, F.B.I. (Féminas Brujas e Insurreccionalistas), International Solidarity, Letter, Mexico, Mexico City, Molotov, Repression, Riots, Sabotage, Sexism
Posted in Autonomy
Wednesday, February 26th, 2020
Mexico: Femicide State
A solidarity action with women in Mexico has taken place in the Hague. Early in the morning of Feb 25, we marked the Mexican embassy with red paint, symbolizing the blood of the countless women that have been murdered.
In Mexico, an average of 10 women are killed every day, which is an increase of 3 compared to 7 per day in 2017, according to the Mexico office of UN Women. Mexico has the second highest rate of trans women being murdered in the world and sex-workers are also disproportionately targeted.
The murders of a 25-year-old woman and a 7-year-old girl in Mexico City have shocked the nation this month. Ingrid, 25, was stabbed, skinned, eviscerated and photos of her mutilated body were published in a newspaper. The girl, Fátima, was abducted from school, police officers delayed searching for her and later her body was found wrapped in a plastic bag.
These murders have triggered a rise of near-daily street protests, disruption of public services, fury on social media and demands for government actions against femicides -the crime of killing women or girls because of their gender-.
However, president Andrés Manuel López Obrador does not know how to respond to the issue and shows little patience for those who questioned him about the government's commitment to fighting gender-based violence. In Mexico City, not much is done either. The government is more focused on cleaning graffities demanding justice and on using the police force to face women protesters, rather than acknowledging that the authorities are passive, complicit or even abusive toward women who try to report violence.
Met with such obstacles and forced to fend for themselves, women in Mexico do what they can to protect their own life and the lives of women around them. They are forming groups to demand justice and learn self-defense, to question long-held macho culture and to push the government into action.
Women are the ones who continue pointing out that the government, media and all other patriarchal institutions have an outstanding debt to them, a historical debt. This dept consists of a lot of damage that needs compensation and the guarantee of non-repetition. Until this dept is paid, women will fight for the dignity of all, for calling their names without violence or sorrow.
Tags: Den Haag, International Solidarity, Mexico, Netherlands, Paint attack, Paint bombs, Sabotage, Sexism, Vandalism
Posted in Direct Action