Posts Tagged 'Sabotage'
Wednesday, September 16th, 2020
via: Sans Nom
At around 4am during the night of Thursday September 10, in Otley Road, Bradford (West Yorkshire), a pylon topped with a 5G antenna was set on fire. The fire lit at the foot of the pylon rose right to the summit, destroying everything along the way.
The next day. Given the structural damage to the pylon, it had to be cut in three and disassembled. At least 90 mobile phone antennas have been sabotaged [in the UK] since April and the last period of lockdown, often by fire, according to official figures.
As has now become customary in some countries, vultures and State parrots immediately jumped on the hypothesis of conspiratorial opponents to 5G, while this attack is anonymous and there are plenty of other reasons for taking on this kind of telecommunication structure.
These devices contribute to alienation and the alimentation of this techno-scientific world, that empties our existence and perfects the exercise of power through control. Against all viruses, including that of the technological pandemic, fire is in any case a good remedy. Next!
[summary from the English press, 11 September 2020]
Translated by Act for freedom now!
Tags: 5G, Arson, Bradford, Sabotage, UK
Posted in Direct Action
Monday, September 14th, 2020
ES | Barcelona, España: Adjudicación de atentado incendiario contra antena telefónica
FR | Barcelone (Espagne) : Incendie d'une antenne-relais
Technological domination is a giant with feet of clay. All it takes is a little bit of determination and caution to make it wobble. On the night of August 31st we set fire to a mobile phone antenna in El Prat de Llobregat (Barcelona).
Solidarity and complicity with all those who walk with their heads held high, both inside and outside the prisons.
And long live anarchy!
Tags: Arson, Barcelona, Catalonia, Catalunya, Sabotage, Spain
Posted in Direct Action
Friday, September 11th, 2020
Desde los inicios de lo que hoy conocemos como dominio y civilización, la cosificación y explotación de lo salvaje ha reducido la vida a simples productos y servicios, y por lo tanto, necesita que estos sean movilizados y dirigidos hacia y dentro de las grandes urbes, siguiendo con esto las trayectorias trazadas por los artífices del modelo económico imperante en los distintos períodos de la historia conocida.
El transporte de la mercancía ha resultado ser desde entonces un órgano vital para el Poder y sus propósitos de control sobre los territorios que hoy denominan ciudades. La organización y la forma en que se rige el ritmo de la vida en estos lugares, responde solo a los intereses y el beneficio de unos pocos orquestadores de este sistema de consumo y muerte.
Las máquinas que día a día recorren las innumerables carreteras y calles transportando mercancía humana, son igualmente incinerables que las que transportan mercancías extraídas de la tierra. Ambos tipos cotidianamente mueven a través de las innumerables carreteras y calles, tanto en el Wallmapu como en $antiago, lo que llaman "recursos"; unos producto de la explotación de la tierra, otras para la explotación humana. Así es como se mantiene el flujo de la devastación de la tierra, y así se mantiene el flujo de la devastación de nuestras vidas. (more…)
Tags: Arson, Black September, Chile, Claudia López, Francisco Solar, Jhonny Cariqueo, Joaquín García Chanks, José Huenante, Juan Aliste Vega, Macarena Valdés, Marcelo Villarroel Sepúlveda, Monica Caballero, RED (Ex-Transantiago Bus Company), RP Global (Company), Sabotage, San Miguel, Santiago, Transantiago, Wallmapu
Posted in Direct Action
Sunday, September 6th, 2020
"Bread, Salt, Land and Freedom" can be heard in the streets of all Belarus at present. Everywhere people and our friends have been streaming onto the streets since August 9th. Unusual for a country where activists disappear, are tortured or draconian prison sentences are supposed to suppress any thought of another world. But the population is looking for alternatives and our companions are right in the middle of it:
"We should not forget that anarchists are against not only this presidential election, but against any president in general. The Belarusian people have long known that power corrupts everyone. Lukashenko may be replaced by an opposition politician, who will keep power in the country and continue repression against his own population. We must rise up not to get a new president, but to live without presidents. Decentralization of power should be a key factor in the transition from dictatorship to a free society."
Pramen
While the madman from Belarus, self-proclaimed president, congratulates his murderous cop units and symbolically walks through Minsk with a Kalashnikov, the strikes and attacks on these units continue. The fear must be deep-seated of losing power, so he had the Internet turned off, sent the military to fight the demos and his whole family ran through the streets with weapons.
In Berlin, too, we follow the events and were inspired by the attack on the Belarusian embassy in Paris.
We send our greetings and strength to our anarchist friends and all the other rebels in the streets, following the call for international solidarity:
"Support from the outside inspires not only the hearts of anarchists, but also the hearts of everyone on the street."
For this reason we threw stones and paint bottles at the Belarusian embassy near Treptower Park during the night of August 27. We crossed their disgusting emblem at the gate with an A in a circle.
For a upheaval of the circumstances – until anarchy!
Fear turned into rage, rage into victory!
To all our comrades in revolt, courage, hold on!
(Translation from http://zf2r4nfwx66apco4.onion/node/1598520077610523)
Video: https://streamable.com/gepr2qv
Tags: Belarus, Berlin, Germany, International Solidarity, Sabotage, Solidarity Action
Posted in Direct Action
Thursday, August 27th, 2020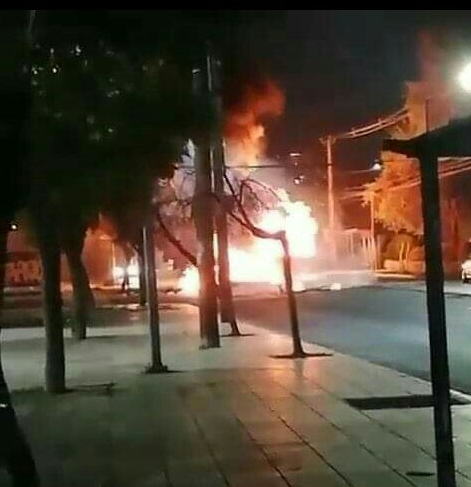 The context of fear and submission to the pandemic that has been so well capitalized on by states around the world, especially the one that the "Chilean" state is trying to subjugate us with. And one month after the arrest of Mónica Caballero and Francisco Solar.
Different anarchic individuals organized themselves in advance to give a little taste of the incendiary sabotage during the commemoration of the murder of the land fighter Maca Valdés in the emblematic and historical town of Simón Bolívar and the fighters Erick Rodríguez and Iván Palacios.
At 21:30 we intercepted a caterpillar bus from route 402 of the modern fleet of the wealthy and fascist company Metbus. It came without people because it was the last route. We got the driver off the bus – not before he had taken all his things out – and reminded him that this was not against him but against his bosses. We gave him money to pay for a taxi to his house and set the machine on fire to the sound of the shouts of joy and adrenaline from the people who were demonstrating. (more…)
Tags: Arson, Chile, Francisco Solar, Monica Caballero, Sabotage, Santiago, Transantiago
Posted in Direct Action
Wednesday, August 19th, 2020
PDF: Domestic Extremist Criminal Damage Events: Behaving Like Criminals or Terrorists?
Analysing relationships between the professional careerists, universities, security industry, policing and repression, we can get an overview on how the authorities intend to implement repression, by which means, and the individuals responsible for certain decisions and strategizing. The recent document which came to our attention "Domestic Extremist Criminal Damage Events: Behaving Like Criminals or Terrorists?" by Paul Gill and co, of the 'Department of Security and Crime Science', University College London, tries to comprehend the many acts of property damage and arson done in Bristol by a wide range of groups and, presumably, individuals. A mere look at the title gave us an appreciation of the mindset behind this paper of those who equate anarchist/activist vandalism and sabotage to terrorism.
This document is for sale in certain places on the internet but is being circulated here so comrades can see how through analysis of the documents of the enemy, -as they try to put us under the microscope-, that we can also do the same. To collect information, to view their prejudices, weaknesses and mental limits, and to see their conclusions and what kinds of thinking and methodology end up influencing their investigations (which never seem to be going particularly well… even if some comrades end up in jail, many more remain free, and the current growth of new anarchy remains as prevalent and needed as ever). (more…)
Tags: Analysis, Arlene Robinson (Security Reseacher), Bristol, Paul Gill (Security Researcher), Repression, Sabotage, UK, University College London (UCL), Vandalism, Zoe Marchment (Security Researcher)
Posted in Social Control
Sunday, August 2nd, 2020
This is what the investigators looking into the unexpected blaze at the Parsec 3.26 on April 27, on the outskirts of Lecce in full lockdown, have had. And since Finimondo published a text which did not condemn what happened and were not outraged by it, quite the contrary, and as the animators of Finimondo live not far from the headquarters of that company whose social and economic reason for being is to embody Big Brother, you want to bet that 1 + 1 +
So today, Monday July 27th, we were dragged out of bed early in the morning. No, it wasn't the alarm clock, it was the Digos [political police]. They came to carry out a search and to give one of us a notice of investigation. They suspect he was the one who left "a pot containing petrol and two camping gas canisters" near the techno-cop company in Salento. The search, particularly attentive to computer equipment (which allows "understanding of the actual purposes of the act") and clothing (being strangely attracted to multicolour, black must have gone out of fashion), had a positive outcome. No, but what are we saying, positive is too little, we would go as far as to say very positive. In fact, it seems they have discovered that there are traces of Finimondo's text on the computer used by the suspect who has fired the Prosecutor's imagination so much (you don't say?). Moreover two camping gas canisters were seized (oh really?). Finally – you will never believe it! – they even found pots in his kitchen (seriously?). They didn't seize them, only photographed them, for everlasting evidence. As we anticipated, 1 + 1 + …
Who knows if all this will be enough for the brainstorming of the public prosecutor's office of Lecce, in the guise of prosecutors Guglielmo Cataldi e Giovanna Cannarile, to pass to action. With the times being as they are, that would be nothing surprising. Only the near future will tell. And then, this Parsec 3.26… with all its means and technique… at least a nice clear image of the skull, or the cheekbones, or the scrotum of the well-meaning arsonist… all their algorithms, for what? to have some Digos agents sent out to photograph a couple of pots? Crazy.
Well, we'll think about that tomorrow. We're going back to sleep…
[27/7/20]
Finimondo

Translated by Act for freedom now!
Tags: Arson, Facial Recognition, Finimondo, Italy, Lecce, Parsec 3.26 (Company), Raids, Repression, Sabotage
Posted in Social Control
Thursday, July 30th, 2020
PDF: 325 #12 – 'Against the Fourth and Fifth Industrial Revolutions' (ACN)
Presenting 56 pages of anti-organisational, insurrectional, anti-civilisation anarchy of the 21st Century. A collection of critical texts and letters from anarchist points of view examining the new changes in production and social control brought about by new technologies which are ushering in a totalising prison-world and the advance of smarter-than-human machines. This issue of 325 builds on the considerations and content of the last issue which took as it's focus the subject of the Technological Singularity. Six years later, the mechanisms, ideologies and impacts of this global dystopian project are nearer and clearer and the texts you will read in this new issue deal with the emerging realities of these technological revolutions.
For the first time, 325 is coming out in 3 languages: First in English, with Spanish and Italian to follow. Printed copies will be available soon, but we also encourage people to print out their own copies and distribute them in their area.
CONTENTS : 325#12
3. Editorial
4. Automation, Robotics & Labour in the 4th & 5th Industrial Revolutions
8. From Riot to Insurrection – Excerpt
9. A Small Criticism of Science and its World
10. Covid-19 World: Epidemics in the era of Capitalism
12. The Fractures of Dominion
13. Coordinated Incendiary Attacks Against Relay Antennas in Grenoble, France
14. The 4th and 5th Industrial Revolutions
17. The Artificial Reproduction of the Human: The Road of Transhumanism
23. Machine Psychology: A Disappearing Act
25. Oblique Look
28. Smartphones, Ringtones, Capital
29. Cashless Societies and Crypto-Currencies: End of the Traditional Era of Banking and Finance
32. Contribution to the 1st International Meeting Against Techno-Sciences by imprisoned anarchist Dino Giagtzoglou
38. Cybernetic Society and its World
48. Against Starlink
50. Space : Part 1
51. To Be Released
53. Direct Action Chronology
ANTI-COPYRIGHT NETWORK 2020
Tags: 325 Magazine, Analysis, Anti-Prison, Anti-technology, Artificial Intelligence (AI), Artificial Reproduction, Biotechnology, Coronavirus, Crypto-Currencies, Cybernetics, Fifth Industrial Revolution, Fourth Industrial Revolution, Insurrection, International Solidarity, Konstantinos Yagtzoglou, Nanotechnology, PDF, Prison Society, Robotics, Sabotage, Starlink, Technological Singularity, Transhumanism, Zine
Posted in Library
Thursday, July 30th, 2020
"5G NETWORK HARMFUL TO HEALTH AND THE PLANET. STOP 5G!"
We learn from the press of the regime that between the end of June and the middle of July 2020 a blackout occurred in Cremona which left much of the city in the dark; in another episode a telephone exchange would have caught fire: some writings against 5G were found near the place of the fire.
via: roundrobin.info
Translated by Act for freedom now!
Tags: 5G, Anti-technology, Arson, Cremona, Italy, Sabotage
Posted in Direct Action
Monday, July 20th, 2020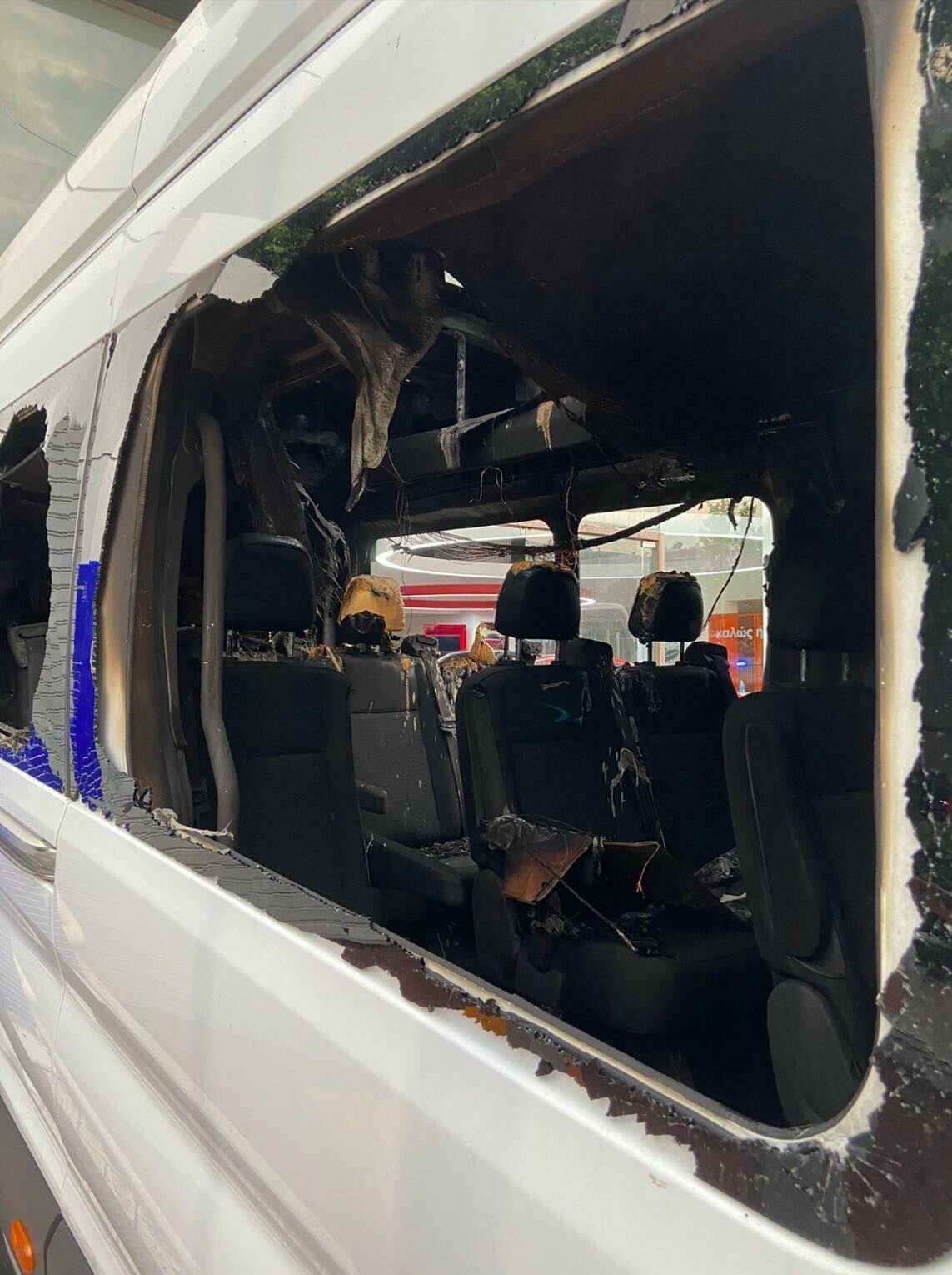 Besieged bodies among the concrete, between the cameras eyes, crossing daily life with careful but daring steps, moved by an ethic forged by negations.
We are folks that woke up from the social lethargy, having as weapon our solidarity to the fighting individuals towards the world. We want to be the crack that will join the others, destroying a system that represents injustice and "deadly injuries".
So, at the night of 7/7/2020, we chose to plant four incendiary devices to the Ford car dealership of Sfakianakis company, resulting to three burnt-down vehicles and a destroyed showcase. Our target was totally not random, as this specific company equips the state apparatus with vehicles, and also the moment of our attack coincides the uprising in USA, the homeland of Ford.
By that we choose to be the aroma of night-flower that bungs the nostrils of the decay, and we want this smell to break every authoritarian nose, to close every mouth that pukes shit, to cut every hand that points at our bodies full of racism, homophobia and sexism.
Carmine Night-Flowers
Tags: Arson, Athens, Ford, Greece, International Solidarity, Sabotage
Posted in Direct Action
Tuesday, July 14th, 2020
Solidarity means attack – no eviction remains without response
Today (10/7/2020), as a first response to the raid and evictions in the front building of Rigaer94, we attacked a branch of the Berliner Sparkasse in Lichtenberg with stones and destroyed the windows.
The raid and eviction are the beginning of the planned elimination of various projects in the coming months. In addition to an attack on one of our spaces, yesterday's raid concerned the extension of the siege in the northern district of Friedrichshshain and the attempt to prepare the framework for the eviction of Liebig34. This will not remain without consequences. With our action we call for
decentralized actions against their plans. We do not want to wait for Day X, the phase of evictions has already begun and we must give a strong, collective response on the streets.
In doing so, we are joining the call of the Koukaki Squats in Athens in order to enter into dialogue with the comrades there who are facing similar challenges. The evacuation of Dervenion56 in Exarchia was the occasion for this international call [1]. (more…)
Tags: Berlin, Dervenion 56, Germany, International Solidarity, Liebig34/XB, Rigaer 94, Sabotage, Solidarity Action, Sparkasse Bank
Posted in Direct Action
Monday, June 29th, 2020
Saturday afternoon around 3pm (27.06) a van belonging to a homophobic foundation, that goes around the city of Warsaw spreading hatespeech (like announcing the supposed link between sexual education, homosexuality and child-abuse) got stopped by a group of queer rebels and anarchist friends in front of squatted autonomous social center in the very center of the city. The crew of that van got verbally and physically attacked and the van got redecorated, rid of numberplates, mirrors and windows got painted, the hateful banners got ripped and tires got stabbed. On a side of the van stop bullshit was written. Some bystanders tried to play heroes and got in the fights with rebels and fast realized that it wasn't a good idea. One comrade got wounded. Spontaneous action took place in broad daylight in the very center of the city next to the police station, showing that the time of fear and defensive has passed.
The police was lazy that day and have arrived on the spot too late (the cop shop is around 100 m away).
The State and the right wing psychopaths have lunched their anti LGBTQ+ offensive after catholic church child-sexual abuses gain some publicity in the country. In doing so, they are trying to divert the attention away from the priests and use the momentum to push forward their fascist ideologies trying to make link in people's minds that homosexuality equals paedophilia and sexual education is responsible for both, therefore targeting sexual education and LGBTQ+ folks. Since few years there has been an increase in the queerphobic attacks on individuals, groups and events like pride-demos.
The van of that foundation got attacked already several times throughout the city, this time it could be treated as a sort of spontaneous birthday gift for the squatted social center was celebrating it's 9th anniversary.
Pictures and the description of that event was published on a Stop Bzdurom organization website (Stop Bullshit), which targets queerphobic propaganda.
Tags: Poland, Queer, Sabotage, Warsaw
Posted in Direct Action
Thursday, June 25th, 2020
EN | Genoa, Italy: Incendiary Attack Against a Police Vehicle Depot in Marassi
I danni della globalizzazione sono arrivati anche in occidente e ci siamo trovati a farne I conti direttamente. La reazione non è stata certo in una prospettiva di soluzione delle cause, bensì un ulteriore passo veloce verso il progresso ed un intensificarsi del dominio tecno-scientifico, della trasformazione e del rapido adeguamento delle logiche di autoritarismo e profitto.
Anche in tempi di pandemia il governo ha garantito gli affari delle case farmaceutiche e dei signori della guerra. Attraverso le politiche capitaliste gli Stati hanno continuato la produzione industriale a scapito dei lavoratori e le operazioni militari a scapito di intere popolazioni.
Anche nel porto di Genova hanno continuato a transitare navi cariche di carri armati e altri armamenti, dirette verso gli Emirati Arabi.
Lo Stato ha chiarito quali sono I suoi interessi, molto lontani dai reali bisogni degli individui, ed in continuità con la politica tecno-industriale:
imposizione di tecnologie nocive come il 5G e controllo sociale di massa (realizzato con la militarizzazione dei territori, l'accellerazione tecnologica e l'utilizzo di vari mezzi come droni, GPS, motoscafi, elicotteri e vari progetti "smart"). (more…)
Tags: Arson, Genoa, International Solidarity, Italy, Operation Bialystok, Operation Prometeo, Operation Scripta Manent, Sabotage
Posted in Direct Action
Wednesday, June 24th, 2020
Three weeks ago a 4G/3G mobile phone tower was torched. We did this as a response of pure hostility to the technoindustrial nightmare we are living in.
Like a vengeful wraith, we placed our enchanted incendiary devises in the cables connecting the tower to the leviathanic network. We howled to the moon when we lit the fuses and cursed the civilisation for all eternity. Only by fire can the technoindustrial leviathan be exorcised. Minutes later the cables were engulfed by a raging fire making the tower loose its connection to cyberspace. In the sudden silence when mobile phone calls and internet connections became emptiness, only the devouring fire could be heard.
Only darkness brings us to the place where we feel at home. The bright industrial lights that make the city shine burnes our eyes and clouds our hearts. But the cybernetic silence we caused with our fire to the tower made our bodies feel alive and joy filling our hearts.
Today everything is back to normality except the burnt cables and the silenced tower. Programmers and bosses are waging the next assault on our beloved darkness. 5G towers are now live in Malmö, Gothenburg and Stockholm. The next level of Levathianic control are rolled out in front of our eyes. The slaves of the society are applauding their incarceration.
We wish that the totality of civilisation was engulfed in flames. Burnt to ashes darkness would finally flourish. In every step our foot touch the concrete and asphalt we put a curse on Leviathan. In every step our foot touch earth and soil and plants and roots we sing our joy for the dark and the wild.
We know that a future without Leviathan never will come but this doesn't stop us from dreaming of its death. It never stops us from conjuring incendiary devices burning its rotting body. It never stops us from cursing its shining armour and techno industrial light. Kill kill kill is all that Leviathan can say. Burn burn burn is our response.
Little cursing and conjuring lovers of darkness
FAI/ELF
Tags: Arson, Earth Liberation Front, Informal Anarchist Federation (FAI), Malmo, Sabotage, Sweden
Posted in Direct Action
Saturday, June 13th, 2020
On June 11, international day of solidarity with anarchist prisoners, as a small act against policing and imprisonment we cut wires of nine security cameras in a concentrated area. We want to remind prisoners that they are with us in the struggle against white supremacy and police.
Let's keep things conflictual, forever fuck cops, towards a world with no prisons!
(A)
Tags: Fuck the Police, June 11th Solidarity, Philadelphia, Racism, Sabotage, USA
Posted in Direct Action