Posts Tagged 'Sabotage'
Sunday, June 5th, 2011
2 June 2011
"Direct action was taken against Ken Clarke's constituency offices on Thursday. While doughnut eating cops were dozing near by, the Tory social club on Rectory Road, West Bridgford had its doors D-locked shut and "Tory Scum" painted on it. The offices of the Rushcliffe Conservative Association across the road were attacked with paint and the messages "Class War" and "Fuck Ken in the Head" were painted. (more…)
Tags: 'Little' Joe Foster, David 'Paddy' Foster, Edward Woolward, Fuck the Law, Ken Clarke, Nottingham, Rushcliffe Conservative Association, Sabotage, Solidarity Action, Tory Scum, UK, West Bridgford
Posted in Direct Action
Sunday, May 29th, 2011
21 & 23 May 2011
from Culmine, translated by War on society:
–
We are a small stone of the mountain, a drop within the ocean, a sigh running through the wind, we are the minoritarian struggle, the despised, the dangerous, the reckless, those who love violence, those who make the fire to sing the insolent song of their dead…
The early morning of Saturday the 21st we made our approach to the PDI [investigative police] headquarters located on Rodríguez street in the heart of Curicó and we placed a fuse-lit incendiary device under a bus, at one of its wheels, located some 100 meters from the place; the truth is that it appears this set off an alarm, so that while we were quickly getting away we heard fire sirens approaching the place, and so we did not make sure after, the bus only suffered minor damage. Two days later, the morning of Monday the 23rd, we set fire to a barricade in the northeast sector of the city at the intersection of Av. Colon and Av. Balmaceda.
We wish to dedicate these fires to the memory of Punk Mauri, at two years since his parting, also we send strength to comrade Gabriel Pombo da Silva recently repressed by his jailers, our minds and hearts are with you in these difficult moments, not forgetting the countless warriors imprisoned around the world, to Silvia, Costa and Billy in their hunger strike, to the latest hostages captured by the Greek dictatorship especially to Theofilos Mavropoulos, the comrade wounded by the police in a clash and likewise to the anonymous combatant who took flight, to the warriors who fill the $hilean dungeons, and to those who fly far away in their insurgent escape.
MAURICIO MORALES, WARRIOR, NEVER MARTYR, DEMANDS VENGEANCE FROM EVERY ANARCHIST HEART
GABRIELA CURILEM AND DIEGO RIOS IN THE STREET FLOUTING AUTHORITY

CARLO GIULIANI INFORMAL CELL
Tags: Carlo Giuliani Informal Cell, Chile, Costantino Ragusa, Curicó, Gabriel Pombo da Silva, Luca Bernasconi, Mauricio Morales, Sabotage, Silvia Guerini, Theofilos Mavropoulos
Posted in Direct Action
Saturday, May 28th, 2011
26 May 2011
"Montreal, Quebec. On the night of May 26, the cars in a police parking lot on rue Dollard were attacked with paint stripper. We refuse to be complacent in the misery around us. The police are an occupying army in our streets and any act to further remove them from our lives warms our hearts.
Much love to Theofilos Mavropoulos and prisoners everywhere, both inside and out, fighting for freedom.
Onward the struggle."
Some anarchists
Tags: Canada, Fuck the Law, Greece, International Solidarity, Montreal, Sabotage, Theofilos Mavropoulos
Posted in Direct Action
Friday, May 27th, 2011
27 May 2011
"Last night Inside Out Security in New Basford had it's windows smashed.
We did this because they are responsible for making surveillance equipment that watches us everywhere we go. They are specifically responsible for a large number of CCTV cameras in schools around Nottingham. These cameras in schools further stigmatise and terrorise the young, positioning them as the dangers to each other, training them to become used to being watched, controlling their behaviour and taking away their freedom. Instead of encouraging the young to love and live with wild passion this society is caging them- forcing them into lives not of their choosing.
We want to destroy these companies that profit from the sickness of social surveillance on behalf of capitalism and the state.
We also did this in solidarity with those who resist the G8 and G20 conferences occurring in France this week. While the government leaders from around the world discuss ways to keep their power, we will fight their systems of oppression that are all around us.
So their surveillance is there to protect us? Fuck that. Their cameras exist to make us live in fear, to do as we are told, to make us feel alienated and scared of one another. The surveillance system is there to serve the interests of the rich and protect their property, power and capital.
We see something that destroys our freedom, our relationships with each other and we wish to attack it with the means we have available. So whilst this was a small act of defiance, quickly remedied in part by their insurance, we carry out this act because of the very fact that we search for freedom from all forms of social control. Every time we see similar acts of rebellion, from throwing rocks at cops to the burning of a prison, a smile spreads across our face and recognition that the attack against this society of domination continues. We will continue our participation in this attack, because it is our passion- settling for a life of meaningless subordination is not an option for us, not when all around us are examples of our friends, families and ourselves being continually fucked over by rampant capitalism, and the colluding state.
We must look to each other with love and solidarity.
We must destroy what keeps us apart with rage.
Against the prison society.
For total freedom."
Tags: CCTV, Inside Out Security, New Basford, Sabotage, UK
Posted in Direct Action
Tuesday, May 24th, 2011
23 May 2011
"In the early hours of Monday, 23rd May, we sabotaged two banks in Cambridge (UK) in defiance of capital and the state. The Lloyds TSB and Barclays banks on Cherry Hinton Road had their locks glued, windows spraypainted and
cashpoints trashed (using glue and spraypaint). Anonymous, easily reproducible acts of attack against the system have the potential to generalise into greater and greater disruption of the false peace of this society's 'normality'. Rebellious greetings to those who struggle against this global system of domination! x"
Autonomous anonymous
Tags: Barclays bank, Cambridge, Lloyds TSB, Sabotage, UK
Posted in Direct Action
Wednesday, May 4th, 2011
2 May 2011
A group of activists sabotaged the ATMs of three banks with spraypaint and a D-lock on the High Street in Harborne, Birmingham.
HSBC, Nat-West and Lloyds TSB were hit.
Tags: ATM, Birmingham, D-Lock, HSBC, Lloyds Bank, Nat West, Paint attack, Sabotage, UK
Posted in Direct Action
Tuesday, April 12th, 2011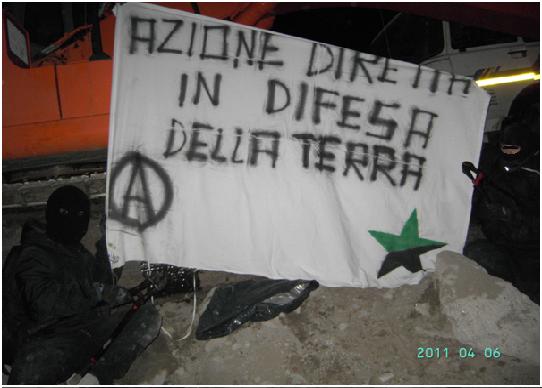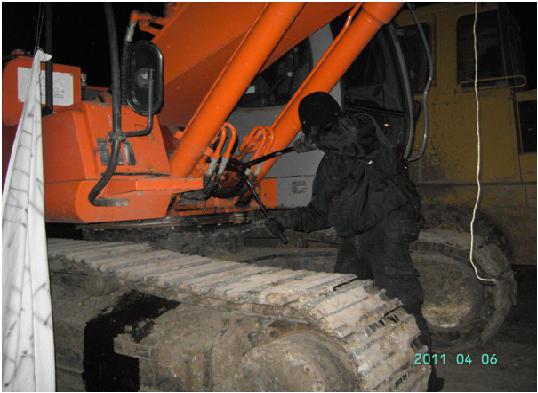 6 April 2011
In Albano Laziale, near Rome, there was an action made by eco-anarchists against a developing local open rubbish-dump where an incinerator is planned. The rubbish-dump is a huge hole of approximately 40m of great depth more than a soccer-field. The comrades were able to infiltrate the facility despite the presence of employees and security. Many different parts of the facility were sabotaged including 2 excavators, 1 truck, 1 seam compressor, various hydraulics, various electrical works etc. Sand in the tank of one vehicle. Stolen documents of the service yard, including building plans and photos of the intense activities in the yard.

"Direct Action in Defense of the Earth"
Tags: Albano Laziale, Italy, Rubbish-dump, Sabotage
Posted in Direct Action, Eco Struggle
Tuesday, April 12th, 2011
12 April 2011
"In the early hours of this morning individuals who choose to be nameless attacked two points of this society's infrastructure, we used different methods each time, but maintained the same quality of love and hate throughout. In both Bulwell and West Bridgford T3 mobile masts where set on fire. We used car tires we had left nearby days earlier, bundles of rags coated in petrol and disposable lighter. A little later we took our knives, our paint stripper and our expanding foam to work on two e-on vehicles and a G4 van. We choose these methods due the close proximity of the vehicles drivers and surveillance. The knives took on the tires, the paint stripper the bodies of the vehicles and the expanding foam destroyed the exhaust pipes.
These action was carried out because we know that in order to be free the infrastructure of dominant society must be destroyed, we recognise that this infrastructure is cultural and social as well as physical, and that in order for us to survive all aspects must be challenged. However, these actions were also carried out because we can not always wait, because we are hungry and impatient in our search for freedom, and each time we act against the totality of this society with our force we find a little bit more freedom from the social prison we find ourselves in. Basically they were a FUCK YOU to every aspect of oppression. Fuck you we are getting read. Fuck you we are becoming less afraid by the day. Fuck you our lives will be our own.
For us these actions live side by side with all actions where individuals decide that they wish to take their lives into their own hands. We believe that those actions can take the form of occupying banks, they can take the form of informal education collectives, they can take the form of banner drops and peoples kitchens. They can take the form of all kinds of things, and they need to be if we are to destroy all forms of domination.
But we choose these actions because they represent us, they are a manifestation of our fury and our disgust, they are a physical representation of our refusal to obey the joyless status quo.
We dedicate these actions to the friends we know who still feel caged. These actions are in solidarity with our friends in Bologna Martino Trevisan, Robert Ferro, Nicusor Roman, Stefania Carolei, and Pistolesi Anna Maria, who have been imprisoned due their dedication to a liberated anarchist world. This action is for all comrades fighting for a way out of societies jaws."
Tags: Arson, G4S, International Solidarity, Italy, Nottingham, Sabotage, T3, UK
Posted in Direct Action
Tuesday, April 12th, 2011
April 10, 2011
"In the early morning of April 10 we blew up a generator which supplies power to a small toll gate on the D1 highway. As a result, CCTV stationed there was cut off. The state of constant control must not leave us dormant. They treat us like laboratory rats caged in a bleak maze. Due to the public's resignation they are free to impose an atmosphere of fear as they please. Such an atmosphere of fear and enforcement is accompanied by a ubiquitous supervision carried out by various authorities to keep an eye on those who would feel like breaking free from the vicious circle.
We refuse to come to terms with the pre-packed and pre-designed life.
We refuse to go to work so that the rich can get richer while the poor are forced to live off the crumbs from a rich man's table.
We refuse to obey and comply.
Solidarity to the imprisoned Chilean anarchists!
Honour to Lambros Foundas!
Smash the State and Capitalism!"
Revoluční boj [Revolutionary Struggle]
link: jailbreaking.noblogs.org
Tags: Czech Republic, D1, Revoluční boj [Revolutionary Struggle], Sabotage
Posted in Direct Action
Monday, March 28th, 2011
26 March 2011
"People take different actions depending on what means they have at hand. While others may choose to picket outside an outlet involved with the publicly acknowledged theft from us all by capital, we ourselves have become a little camera-shy.
We choose our own time and place to suit our means and wish to stay free and off their files in our project to bring the tentacles and apparatus of the system and its social control to the ground. So, both the T-mobile and Vodaphone repeater towers each burned out in Hambrook and Siston Common and Longwell Green. Solidarity to anyone anywhere truly fighting for the death of the living corpse machine (not its remaking) whatever your choice of tactics."

Fire starter brigade
Tags: Bristol, Sabotage, T-Mobile, UK, Vodafone
Posted in Direct Action
Thursday, March 24th, 2011
20 March 2011
"On Equinox night last Sunday two huge graders at Broken Cross Open Cast Coal Site in South Lanarkshire were trashed. One of them was as big as a three story building and used to load coal on to lorries, headed for railheads and power stations. Hydraulics, electrics and steel cables were cut, and anything breakable was broken. They won't be used for a while.
This action was taken by autonomous activists in solidarity alwaysvaltrexonline.com with all those opposing corporate rule and ecological suicide, and despite ever increasing security at Scottish Coal's mines in the area. Scottish Coal will soon be applying for three new open cast mines in the Douglas Valley, including a whole new 1 million tonne extension to Broken Cross, extending the life of the mine and its impacts on the people around it for years to come.
Fuck Scottish Coal."
Tags: Broken Cross Mine, Douglas Valley, Mining, Open Cast Mine, Sabotage, Scotland, Scottish Coal, South Lanarkshire, UK
Posted in Direct Action, Eco Struggle
Tuesday, March 22nd, 2011
20 March 2011
"Extensive damage done to four dumper trucks, two large excavators, two heavy duty bulldozers, a generator and a pump.
On Equinox night we entered the gravel and coal opencast extraction site at Castlebridge near Rosewell, Mid Lothian. The absence of security and the conveniently unlocked cabs made our night very productive. Tyres were drilled, hydraulics and electronics cut. Inside the cabs we found all sorts of expensive goodies like GPS, radios and various dials and screens to rip out and smash. The excavators had a bewildering array of electronic panels and engines the size of cars, we did what we could to immobilise these machines that destroy our health and that of the earth.
Scottish Coal will repair what was done, but hopefully at great cost.
We took this action in solidarity with the communities of the Douglas Valley who are currently resisting plans to roll out three new mines over the next couple of years. We aim to undermine the use of coal as a fuel in this country as we will always be reliant on extraction elsewhere in the world, where the damage done to environment and communities is potentially much worse.
Love, Rage and Bolt Croppers."
Tags: Douglas Valley, Mining, Rosewell/Castle Bridge Coal Mine, Sabotage, Scotland, Scottish Coal
Posted in Eco Struggle
Sunday, January 23rd, 2011
19 January 2010
"In the earlier hours of Wednesday morning the Nottingham Probation Services Office on Derby Road was attacked. Four of it's vehicles had their paint stripped, tyres slashed and locks glued shut. All the doors to the building were also glued.
This was just a gesture, a middle finger flicked up at the prison system. To that system we say Fuck your attempts to control our lives, fuck you for imprisoning our comrades, and fuck your surveillance because we will not be stopped from having these moments. These moments where the industrial prison complex, the culture of domination and capitalism can not stop us from responding with anger and disgust at the world that has been created.
This action is done in solidarity with all prisoners. We do not differentiate between those who have been imprisoned for their political beliefs and those who are imprisoned because they were not born into a position of wealth and power. This action was for those who have spent their lives having their actions criminalized by the elite, and it is for those anarchist prisoners around the world who aim to destroy the elite."
Tags: Nottingham, Probation, Sabotage, UK
Posted in Direct Action
Tuesday, January 11th, 2011
10 January 2010
"We are warming up… early on January 10th, as anarchists with revolutionary intent we continued in the trajectory that our horror and disgust at the society we find ourselves engulfed by demands.
as a result – bailiff and debt collecting firm Revenue on Bonnville Road, windows all down one side of the building smashed (despite regular security patrol close by).
– O2 repeater tower secluded behind a nearby industrial estate, lock cut from the gate with bolt-croppers then a tyre filled with rags wedged through the biggest bunch of cables(rags also tied around the cables) and doused with paraffin and ignited with a birthday candle wick to torch the whole thing.
– Brislington police station, paintstripper used to damage the bodywork of three squadcars and one mobile c.c.t.v unit and windows put out (inside their fenced vehicle compound).
– HSBC bank on the main Bath Road, front windows shot out.
as the country lurches further into the certainty of even more clearcut class attacks on the poor by the rich, we would predict a certain rise in the use of a variety of tools and tactics by the exploited and excluded in return in this social war that some still desperately try to bury their heads from as it rages before their eyes. for us, while we respect a diversity of tactics based on participants ability and on results not dogma, a meaningful struggle against the state, capitalism and the prison-based society it produces and represents must be defined by complete and permenant conflict with the ruling order rather than demands or dialogue. now is not the time and never has been for us to waste time and breath caught up in the politics of representatives or leftists/activists wishing us to wittle away our time in petty politics rather than seeking to expand our relationships of utter revolt with each other. we seek only to find those who wish to conspire with us for a fight that will take us beyond everything we know of this world, to realise a libertarian autonomous society through collective destruction of the present one.
these actions of sabotage are simple and achieve these aims directly. in many areas there are targets, it is simply impossible for them to be all defended at once by our enemies so we take our time and strike at will. the allseeing eye still has blindspots it would seem. when struggling against the network of technological repression, police – communications infrastructure – bailiffs – banks all pose very real and attackable faces to the not so invisible machine.
the fight continues."
Tags: Bristol, Sabotage, UK
Posted in Direct Action
Friday, November 5th, 2010
Summer 2010
"Water Pumping Station at Axford in Berkshire Sabotaged to protect River Kennet SSSI (Site of Specific Scientific Interest).
The Thames water pumping station at Axford, nr Newbury, in Berkshire is causing severe damage to the ecology of the River Kennet, designated as a Site of Special Scientific Interest. The River is based on chalkland so any variations in the aquifer can cause damage to the habitats of species such as Water Crowfoot, water voles, river lampray, and brown trout. The pumping station at Axford currently abstracts 9.4 million litres of water a day, with a yearly licence for 4,049,000 cubic metres. 85% of this is pumped out of the catchment area for domestic and industrial use in Swindon, so is lost from the river system. Both Natural England and the World Wildlife Fund have condemed current abstraction levels from the Kennet as the cause of habitat destruction. The water licence is up for review in 2011, but as demand is increasing the chances for the Kennet are slim.
Earlier this summer fences to the compound at Axford were cut. To avoid the door and window alarms on the main pump facility air vents were removed and access was gained through the walls. The pumps were stopped and control room trashed. The back up generator was decomissioned and control pannels smashed. Locks on fluridation units were glued. This action was taken in defence of the River Kennet and the species that live there. Defend your local river system."
Tags: Berkshire, River Kennet, Sabotage, SSSI, Thames
Posted in Direct Action, Eco Struggle