Posts Tagged 'Sabotage'
Sunday, December 11th, 2016
Last night we sabotaged the locks of Rainbow Bakery with superglue.
We did this for Feral, an anarchist comrade who died in the Oakland fire.
Before living in Oakland, Feral worked at Rainbow Bakery. While working there, she suffered daily emotional abuse at the hands of her bosses – Matt Tobey and Lisa Dorazewski – and was paid a shitty training wage for the entire time she worked there. They knew they could get away with this behavior because few other places in town would hire a trans woman. When she had an emotional breakdown (exacerbated by their cruelty towards her) and needed a week off from work, they cut her hours to zero, leaving her with no job and no possibility of receiving unemployment. (more…)
Tags: Bloomington, Feral Pines, Indiana, Rainbow Bakery, Sabotage, USA
Posted in Direct Action
Tuesday, December 6th, 2016
"The big city also has a massive concentration of attack targets. (…) A few combatants can put large contingents of enemy forces in check by means of appropriate actions, the guerrilla must make it very clear that their attacks are directed in principle against all institutions of the enemy class, against all administrative positions, police and trustees but also against senior officials of these institutions, against judges, directors etc; Making it very clear that the war will bring them to the residential quarters of the rulers. (…) It uses surprise as a weapon and it the one that determines the time and location of operations."
– The Modern Capitalist State and the Strategy of Armed Struggle / RAF.
The ideas and practices antagonistic to capital and the state have been a headache for the bourgeois order since it penetrated strongly into Chilean territory centuries ago generating diverse reactions executed by the armed apparatuses of the state whether in dictatorship or democracy.
During the 60s the OPV took power while in the 1970s the various armed Marxist groups were formed to combat the established power of their respective epoch. While the OPP fought during Allende's rule, the MIR, FPMR and Mapu Lautaro fought against the military dictatorship, becoming part of the war against domination and against the state.
During the democratic transition these organization felt the offensive blow of the state and dismantled, however some of their fighters decided not to surrender.
During the 90s resurgent new currents of autonomy and horizontality emerged from the reduced anti-capitalist expression and came to public attention, mainly via demonstrations and street violence. From anonymity, sabotage with explosive devices against different targets of state and capital began to resonate and it was in the following decade when these actions led to anarchy being placed under the watchful eye of police intelligence.
The living expression of this new stage of anti-capitalism began to solidify the new autonomous and libertarian subversion in Chilean territory.
In the minds of agents of power there was no possibility that in the midst of democracy that there were individuals willing to violate and disrupt social peace and capitalist production. Bombings, street fighting, long days of protest accompanied by strong attacks against the police, sabotage, destructive fire and propaganda of insurrectionist ideas via multiform methods began to be part of the new diverse and decentralized praxis without command nor leadership of the anti-capitalist expression, the praxis of the insurrectionary anarchist struggle.
Over time, the state began to restructure itself, armed to the teeth, making its vigilance constant and abundant and introducing its discourse in society under the protection of its ever-faithful friend: the press. Simultaneously, modifications made jail an effective punishment for those who stray from the imposed normality, physical and mental annihilation under tons of concrete, and if possible murdered, this being the ultimate for of punishment for the subversives.
Using these tactics the state classified the subversive struggle as delinquency. For those of us who make it our lives this has no relevance because the vindication of revolutionary honor will always contradict their 'truths'. However we need to understand that this qualifier aims at the prevalence of the interests of the powerful. Therein lies the aim of the insurrectional attack, to strike and to disrupt the power until they are unable to control its disgusting order.
In this way under the prism of the ideas and events exposed we have returned generating a series of actions which have not ceased, and we continue. Today we claim as part of our project: Bullets sent to the parish priest of the Church of the Sacrament in March, robberies in universities for political means in July, the placing of an incendiary device on a Transantiago bus (without passengers) in August. All these actions were claimed by the Death Brigade, Illegalist Band Sebastían O. Seguel and the Hermina Concha Nuclei of Attack, allied to the FAI-FRI are now part of the Antagonistic Nuclei of the New Urban Guerrilla.
On December 2nd, we left a fake explosive device inside the West Military Village located at Av. Pajaritos, Central Station, Santiago, Chile.
Our device consisted of a fire extinguisher with a cell phone wired to it to resemble a remote control (see photo). As we have already noted, the non-placement of an actual explosive device was a political decision. Because although despicable being who deserve to die live in this place there are also workers here day and night who are not our targets.
For this same reason we used fake devices at the Plaza Alameda Mall and on a Transantiago bus (with passengers) in December 2015. It contrast to this was the explosive device we left at the Gendarmerie Reinsertion Center in February of this year which was composed of 1kg of ANFO that was strategically placed next to a gas cylinder.
Now, returning to the morning of December 2nd: This hostile action where the military and police live was designed to demoralize the historical enemy of the revolutionaries. An enemy we will fight with all of our weapons and our forces. From our position we warn those of power: today was a simulation but we have weapons and explosives and we will not hesitate to use them when we decide on the day, time and place to strike.
From now on we warn you: disgusting military, tread with care: Maria Riquelme (Block 4, Apt. 12), Iván Pinto (Block 11, Apt. 24), Luis Orellana (Block 11, Apt. 1123), Oscar Moya (Block 11, Apt. 1124), Sergio Martínez (Block 11, Apt. 1142). Your peace and quiet is over. Today we chose randomly, anybody could be here, with caution we observed them.
Finally it is necessary to send a combative greeting and a sign of complicity to the comrades of the Conspiracy of Cells of Fire (in prison and on the street) in Greece. With this action we wish to humbly contribute to the initiative of the Nemesis Project. We hope that this proposal resonates with every revolutionary and is materialized via concrete actions throughout the world.
Neither do we forget our brother in prison. Marcelo Villarroel, Freddy Fuentevilla and Juan Aliste, nine years since the manhunt began against them. We do not forget how the extinct torturer Alendro Bernales gave his message between the lines via the press: "They walk with death". Neither do we forget the extensive legal process they had to face in a case initiated by the Military Justice which was eventually transferred to Civil Justice by the Military Prosecutor Roberto Reveco. A transfer which resulted in no major change in the predominant desire of power for huge sentences. Even so our brothers remained staunch and immovable, dignified and ungovernable. To you our solidarity.
We also wish to send a symbolic internationalist greeting to the autonomous guerrilla women who give life to the Revolution in Rojava in the Middle East. Women who practise ideas antagonistic to capital, state and patriarchy in the midst of an ongoing military conflict against bastard police and soldiers opposed to freedom and autonomy.
Finally we remember our brother and partner Sebastián Oversluij Seguel, 3 years since his death in an attempted bank robbery on December 11th, 2013 in the commune of Pudahuel, Santiago, Chile. Murdered by the hands of the vigilante William Vera, a military man with a lengthy resume, an assassin of capital with experience in military conflicts overseas.
For all this and more: Attack the Military Corps!
Hostility is fully justified!
War on the enemy in your territory!
Everything continues..We will be back!

Insurrectional Column 'Wrath and Plot' – FAI/FRI,
Antagonistic Nuclei of the New Urban Guerrilla
via Contra Info, translated by Insurrection News

Tags: Antagonistic Nuclei of the New Urban Guerrilla, Arson, Chile, Conspiracy of Cells of Fire, Freddy Fuentevilla Saa, Informal Anarchist Federation (FAI), Insurrectional Column 'Wrath and Plot' – FAI/FRI, International Revolutionary Front, International Solidarity, Juan Aliste Vega, Marcelo Villarroel Sepúlveda, Nemesis Project, Sabotage, Santiago, Sebastián Oversluij Seguel
Posted in Direct Action
Thursday, December 1st, 2016
Also see: Excavator burns in Berlin – against G20-Summit.
Today at 23:00 we placed burning tires at the south entrance of the venue for the OSCE and G20 summits, the 'Messe Hamburg'. The glass facade on Karolinenstraße was subject to intensive attack with hammers, paint and stones. We decided on this demolition initiative since we reject the summits which are summits for a world that we reject just as much as the planned meetings.
The summits are a symbol of the never-ending cycle of production and consumption for this commodity society which excludes people from social life and includes others. We want to destroy this cycle as well as the summits.
The exhibition halls are practically in the living room of the Schanzen and Karolinen district as the state chairperson of the Greens, Gallina stated and for a long time have been a wrecking ball over the heads of the residents. In the 1950s and 60s the city of Hamburg bought up large areas and many buildings in the Karolinen district and issued a competition which was a premise for the total destruction of the Karos for an expansion of the venue for the 'Justice Forum'. Along the Feldstraße the construction of a gigantic sports and multi-purpose hall was planned for a long time. When the Hamburg senate gradually moved away from demolition plans in the 1970s, Messe AG tried to continue the demolition and finally the 'Messe Hamburg' got new spaces and halls on the edge of the Karolinen district. The new building was flanked by hotel buildings in the Schanzen Park, Schröderstiftstraße and Feldstraße. (more…)
Tags: Arson, G20, Germany, Hamburg, Sabotage
Posted in Direct Action
Saturday, November 26th, 2016
In the night from the 23rd to the 24th of November the self-service shop of the Sparkasse bank in Magdeburg Buckau had its whole interior repainted in order to express our solidarity with the accused comrades and our rage against this repressive system.
For more info and inspiration for your own action check www.solidariteit.noblogs.org
No Prisons! No states! Freedom for all!
–
Tags: Germany, Magdeburg, Sabotage, Solidarity Action, Sparkasse Bank
Posted in Direct Action
Saturday, November 26th, 2016
Genoa: "17/11 VEHICLE OF ENI TORCHED [oil and gas company] — Solidarity with arrested in Op. Scripta Manent. FOR ANARCHY"

Trento: "In the night between 7th and 8th, 9 cars of Italian postal service were torched. Stop deportation. For the arrested in Scripta Manent. Ignis Ardens."
Bologna: "In a night of boredom in Bologna, a supermarket was sanctioned and its invasive eyes were blinded. Immediately after this act, the flames of a roadblock broke the city quietness, screaming our complicity with those hit by repression. You can act everywhere and in every moment. No one has to give us the green light, or impose the means on us.
Tired of those who imprison us.
Tired of those who are watching and spying us.
As reply fire and action!
Solidarity for the arrested in scripta manent and for everyone behind bars."
Some skeevygenic timewasters
Via radioazione.org
–

Pisa, Italy – Telephone repeater sabotaged in solidarity with the prisoners of Operation Scripta Manent
We receive from anonymous mail:
"7th November 2016 – Telephone repeater set on fire near Pisa solidarity with those arrested following "op. scripta manent" and with all prisoners.
Informa-azione.info
Translated by act for freedom now!
–
Italy – Update on operation "Scripta Manent" 10/11/2016
From letters that arrived yesterday 9th October, some of the comrades tell us that their mail is being received and sent out frequently enough, but letters, leaflets and books with news and press reviews posted by comrades are being seized, including letters by editors of Croce Nera Anarchica.
We call for everybody to frequently keep on sending news, publications and press reviews to the comrades inside.
Croceneranarchica.org
Translated by act for freedom now!
–
Umbertide (Perugia), Italy – Emanuele Filiberto's villa attacked
"Attack on the rich in Umbria. And what sort of rich!
From the local press we learn with joy that a few nights ago Prince Emanuele Filiberto of Savoy's Umbria villa was attacked by unknown 'vandals' in Umbertide (Perugia).
In particular the entrance gate was set on fire, and some olive and grape plants were uprooted, stolen or somehow damaged.
Thinking of Gaetano Bresci and today's anarchists who still believe in direct action, we are spreading what we learned from the local press.
A hug to the prisoners Anna, Valentina, Alfredo, Nicola, Daniele, Danilo, Sandrone and Marco."
Via autistici.org/cna
Translated by act for freedom now!
–
Campania, Italy – Three radio station bases torched in solidarity with the prisoners of Operation "Scripta Manent"
"Fire to technological dominion.
Campania, in the month of October three radio station bases were set on fire in solidarity with those arrested following operation:" scripta manent" and with all the imprisoned anarchists in the world."
Informa-azione.info
Translated by act for freedom now!
–
Genoa, Italy – Anarchist comrade Carlo has been sentenced

Carlo, anarchist comrade of Genoa, on November 15 was sentenced to 14 months for incitement as a result of his written statement in solidarity with the action of comrades Alfredo and Nicola [shooting of CEO Roberto Adinolfi of Ansaldo Nucleare as Olga Cell – FAI/IRF].
Anarchist comrade Carlo from Genoa tells us that this morning the sentence against him was read out. The comrade was sentenced to 14 months, but remains in liberty, on charges of 'incitement' while the aggravating circumstance of terrorism was dropped along with that of recidivism.
Words from the accused comrade will follow soon.
Solidarity and complicity with Carlo!
Via autistici.org/cna
Translated by act for freedom now!
Tags: Arson, Italy, Operation Scripta Manent, Repression, Sabotage
Posted in Direct Action
Wednesday, November 2nd, 2016
Update: Apoist Youth Initiative call for resistance to intensify in Europe
We, the Apoist Youth Initiative NRW – Revenge Team Sehîd Alîsêr Firat, claim the attack against the UETD (Union of European & Turkish Democrats) office in Grevenbroich on 28.10.16. This attack was revenge for the execution of two YJA-Star guerrilla fighters. They were executed by the Turkish military after being captured.
The execution of the two guerrilla warriors is symbolic of all ongoing attacks by the Turkish state against the will of the free women in Kurdistan. Through the publication of the video of their execution, the identity of the free women is to be shamed and humiliated. In the video it is clearly visible that the soldiers are using German G3 rifles. Everyone can clearly see in this video that the German state is on the side of the Turkish state in the war against democracy in the Middle East, in the war against the free women.
We repeat again: We will continue to attack all the institutions of the Turkish state until the dictator Erdogan is overthrown, Kurdistan is liberated and women gain their freedom. We are warning all German supporters of the Turkish state one last time: If you do not stop supporting fascism in Turkey, we will also attack you.

Jin Jiyan Azadî!
Bijî Serok Apo!
Long live international solidarity!
Apoist Youth Initiative – NRW
Revenge Team Sehîd Alîsêr Firat
November 1st, 2016
via Linksunten Indymedia, translated by Insurrection News
Tags: Apoist Youth Initiative – NRW, Germany, Grevenbroich, Kurdish Struggle, Kurdistan, Revenge Team Sehîd Alîsêr Firat, Rojava, Sabotage, Turkey, UETD (Union of European & Turkish Democrats)
Posted in Direct Action
Tuesday, September 13th, 2016
This is dedicated to all the very young ones, youths with no direction yet, the kids that punch out at everything. Those that hate being told what to do and hate authority, who've fell foul of the law, who don't even consider anarchy. Rebels without a cause. A prison gate is a border, it is a part of the class system, crime, scarcity and resource war. They need people to control and use in private prison labour. The prisons are exploding.
HMP Bristol, Horfield – 2 cars of screws are scratched up and tyres punctured, one a black sportscar – P6 SHT.
Horfield, Bristol – 12 Oak Road, house of screw has 'bars' sprayed on the windows and "screw" scrawled on the house in spraypaint.
Done in the International Week of Solidarity to Anarchist Prisoners, 23-30 August.
Solidarity to the anarchists in Italy arrested in Operation Scripta Manent and to all those in the prison uprising in America, 9 September.

Eco-anarchist vandals – FAI/IRF
Tags: Bristol, Eco-anarchist vandals - FAI/IRF, HMP Bristol, Informal Anarchist Federation (FAI), International Revolutionary Front, International Week for Anarchist Prisoners, Operation Scripta Manent, Prison Labour Strike, Sabotage, UK, Vandalism
Posted in Direct Action
Sunday, September 4th, 2016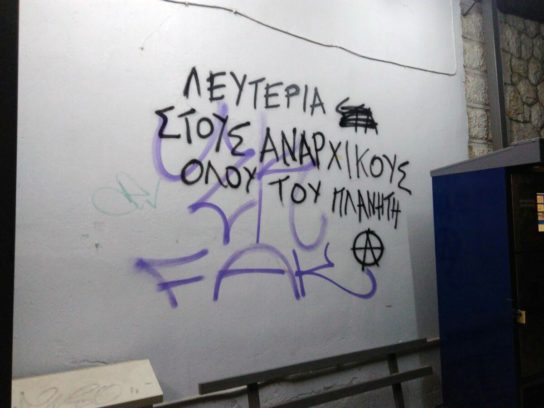 Photo above -"Freedom for anarchists all over the planet".
More pics on Contra-info.
Some days ago, we spray-painted slogans in the centre of Karditsa and blocked ATMs in response to the international call for a week of actions in solidarity with imprisoned anarchists.
We don't forget our imprisoned sisters and brothers throughout the world!
No imprisoned anarchist left alone!
The passion for freedom is stronger than all prisons!
Strength to fugitive comrades!
Anarchists
(September 2nd 2016)
Tags: Greece, International Week for Anarchist Prisoners, Karditsa, Sabotage
Posted in Direct Action
Thursday, September 1st, 2016
Received 1 September:
Our shards against their repression
This is the beginning of our week. And every day should start like this for those profiteers responsible for the prison system…
This morning, August 15th, we visited Television Service Jürgen Krüger and the SPD office of Björn Eggert in Oranienstraße in Kreuzberg and smashed their windows.
Television Service Krüger since thirty years holds the monopoly on examination of electronic sets from prisoners in Berlin. No radio passes him without being checked. This shall prevent forbidden goods or manipulated sets passing behind the walls. For prisoners this service costs a lot of money.
The company directly profits from the surveillance of prisoners. Besides this, it happened more than one time, that Krüger damaged radios or TV from prisoners.
Further Jürgen Krüger does the technical utilization from seized mobile phones and gives the hacked data to authorities. This company was hit several times, which could not prevent them continuing to take advantage of repression against prisoners… (more…)
Tags: Berlin, Björn Eggert (SPD), Black December, Black July, Germany, Rigaer 94, Rigaerstrasse, Sabotage, Solidarity Action, Television Service Jürgen Krüger
Posted in Direct Action
Thursday, August 18th, 2016
Wilson Storage and Wilson Parking benefit from the suffering caused by Wilson Security on Manus, Nauru and elsewhere. In the past week we attacked both subsidiaries with glue, concrete, paint and hammers. We will continue to attack Wilson Group until they pull out of detention wholly and permanently. Any company associated with the border industrial complex is a target. We urge our comrades to join us in solidarity with protesters on Nauru and all others incarcerated.
Tags: Australia, Melbourne, Migrant Struggle, Racism, Sabotage, Wilson Security
Posted in No Borders
Friday, August 12th, 2016
In the early hours of 6th August at Easton-in-Gordano Services, whilst the truck drivers were inactive in their cabs, 10-15 cars on four car-transporters were spray-painted causing their greedy earth-destroying companies loss of time and money infinitely larger than that we expended doing this opportunist crime.
Solidarity to all the imprisoned comrades and those on the run. Towards the international week of solidarity to anarchist prisoners – 23rd-30th August.

Eco-anarchist vandals – FAI/IRF
Tags: Bristol, Eco-anarchist vandals - FAI/IRF, Informal Anarchist Federation (FAI), International Revolutionary Front, International Week for Anarchist Prisoners, Sabotage, UK
Posted in Direct Action
Sunday, August 7th, 2016
Somos parte de lo que la prensa llama vandalismo, somos parte de lo que la ciudadanía llama delincuencia, somos lxs individuxs que mediante pequeñas acciones tienden a romper con la asesina rutina, que dan el paso de la autocompasión y misericordia divina a la realidad tangible que enrostra su peor cara en el cotidiano, ese cotidiano que a gritos pide ser destruido para dar paso al ímpetu avasallador de la autonomía y la libertad total.
El saqueo y la destrucción se vuelven innato en un contexto de lucha para revoltosxs, rebeldes y antisistémicxs, sin lugar a dudas aquella práctica espontánea, como también organizada no decaerá nunca. Desde que lxs estudiantes secundarios, técnicos y universitarios le ruegan al Estado mejoras en la educación, las minorías deseosas de sedición continúan molestando a la autoridad incentivando al desborde generalizado. (1) (more…)
Tags: Chile, Sabotage, Santiago, Sebastián Oversluij Seguel
Posted in Direct Action
Sunday, August 7th, 2016
"…with simple materials we sabotaged the locks so that the owners of this so-called 'job' can have it clear in their heads that there are subjects that do not want and do not respect the commercialization of humiliation, suffering and death of animals." – Javier Recabarren affiliate cell of ALF
The ALF assumes the low-scale sabotage committed during the night of July 28 in the periphery of Santiago against 2 butcher shops, 1 private dwelling (butcher owner's house), 1 access fence into the butcher and other shops, and lastly, 1 shop selling chicken.
The flow of commercialization in the shops selling dead animals was interrupted as we filled tens of their locks with liquid steel, which the bastard owners discovered later that morning with surprise. In the following days, we left a message on paper, making it very clear why this action was committed.
(more…)
Tags: ALF, Animal Liberation, Chile, Sabotage, Santiago
Posted in Direct Action
Sunday, July 17th, 2016
On the night of Sunday 26th June we glued the locks and spray painted the entrance to Wilson Security on Sydney Road, Coburg in Melbourne.
Wilson provides security at Nauru and Manus Island detention centres and are responsible for numerous, well documented abuses of detainees.
Solidarity with the protestors at Nauru detention centre!
Close the camps!
Tags: Australia, Melbourne, Migrant Struggle, Sabotage, Wilson Security
Posted in No Borders
Saturday, July 9th, 2016
Last night we demolished 8 ATM machines in The Hague, the Netherlands in solidarity with the anarchist comrades accused of expropriation in Aachen, Germany.
Last week, on 6 July, a comrade got arrested in Amsterdam and is now in jail awaiting extradition to Germany. The week before a comrade from Spain got already extradited to Germany. We call out to anybody to make action in solidarity with the imprisoned comrades! We are fucking angry!
We are not interested in knowing whether the comrades are actually responsible for the bank robberies or not. Expropriation is an ethically just and politically
legitimate practice, a method of struggle that is part of the history of all revolutionary movements.
Indeed, despite the constant attempts by Power to reduce this method to within the scope of a 'common crime', motivated by individual greed, the fact is that the
expropriation of places of accumulation of capital is a constant in our history: from the anarchist-syndicalist groups in the early twentieth century who robbed banks to support strikes or help the families of imprisoned comrades, to the various autonomous groups of the the 70s and 80s.
Immediate freedom for our comrades! Burn all prisons! Destroy all banks!
Tags: Aachen, Den Haag, Netherlands, Sabotage, Solidarity Action
Posted in Direct Action