Posts Tagged 'Sabotage'
Thursday, June 9th, 2016
The last days of May, in the centre of Athens, we torched two ATMs of Alpha Bank, as well as an excavator used for the metro line extension in the area of Exarchia.
We perceive the State's effort to upgrade the control and disciplining mechanism as a way of establishing a consumerist and peaceful normalcy everywhere, and attacking spaces that diffuse anarchist theorisations and practices – which is why we choose to attack every form of Power with all available means.
We also carried out this action in memory of our comrade Mauricio Morales, who was killed on May 22nd 2009; and in solidarity with our incarcerated comrades.
ALL OUR FALLEN COMRADES COME ALIVE
THROUGH THE FLAMES OF INSURGENCY
GUERRILLA GREETINGS TO THE CCF COMRADES
GALLOWS FOR THE JUDGES, BULLETS FOR THE COPS
FIGHT NATIONS, SQUAT THE WORLD

Cell for the diffusion of insurrectionist violence / FAI-IRF
–
via contra info
Tags: Arson, Athens, ATM Burned, Cell for the diffusion of insurrectionist violence / FAI-IRF, Fuck the Nations - Squat the World, Greece, Informal Anarchist Federation (FAI), International Revolutionary Front, Mauricio Morales, Sabotage
Posted in Direct Action
Thursday, June 9th, 2016
At a time when human zombies nourish their survival with social norms and superficial appearances driven by the legitimacy of Power, essentially legitimising the present miserable life, the conflict with the latter automatically marks an opening up of a field of dialectic to the feelings of the living. Boredom knocks on the door of all of us, and we try to transmute it into its denial. We are exactly there where the wait for a mass uprising has become trite, where the appetite for destruction of the rotten world is identical to our pleasure.
In the early hours of May 27th 2016, we burned two vehicles of the Hellenic Post (ELTA) in Aghioi Anargyroi.
With this action we send a minimum signal of strength to CCF, who is on trial for the escape plan and other cases, and to the rest of the anarchists implicated in these cases as well.
Let's get more dangerous for Power.
Exponents of the creative nothing / Commando Mauricio Morales
Informal Anarchist Federation/International Revolutionary Front (FAI/FRI)
–

via contrainfo
Tags: Arson, Athens, CCF Escape case, Exponents of the creative nothing / Commando Mauricio Morales - FAI/FRI, Greece, Informal Anarchist Federation (FAI), International Revolutionary Front, Mauricio Morales, Sabotage
Posted in Direct Action
Thursday, June 9th, 2016
We are far from taking a strong defence of any individual who presents him/herself as enemy of the State and of all forms of dominion (over humans, animals and nature). We see how – and many imprisoned and not imprisoned comrades are right in this – not everyone can be defined a comrade or relations be forged with them.
In particular we want to generate a debate on what's happening with the groups of action that deny anarchy is political objective and everyday struggle. These are so-called eco-extremists who shout coolly 'death to anarchy' thus disowning their own origins and formation, the idea following which they used to take nourishment from the warriors of the urban guerrilla of the past and the present, and then they went on to emphasize certain aspects that have always been within anarchy and its struggle for the liberation of humans, our brothers the animals and the earth.
Being extraneous to the constant tension we want to keep and to our struggle to make anarchy alive, a certain self-proclaimed eco-extremist sector is throwing away the libertarian ideal that manifests itself in the insurrectional struggle.
A certain small group linked to the imaginary category of 'symbolic populations' and musical/countercultural university areas (they disown university but they attend it… and they study the subjects they hate so much), despise the human animal and therefore see the enemy everywhere. (more…)
Tags: Arson, Chile, Informal Anarchist Federation (FAI), International Revolutionary Front, Jauría Saboteadora Heriberto Salazar (FAI-FRI), Sabotage
Posted in Autonomy
Monday, May 30th, 2016
On the morning of May 23rd in complicity with the full moon we decided to attack, in a city taken by police and military, we joined the night which makes us invisible and provides anonymity and secrecy. We torched a Banamex branch by placing tires in front of it and watering them with gasoline. So we illuminated the darkness and struck a blow, it's a fleeting moment, but it's a moment we enjoy and that for a few seconds makes us feel a little freer, releasing the fire that slowly eats away at the awful branch and it's ATMs. We decided to videotape it so that everyone can see that some actions are easy to carry out, to encourage all comrades to take action wherever they are.
It is undeniable, we are everywhere. We see banks and those responsible for them as direct generators of poverty and social inequality. Banks are the temples where the "God" of money comes and goes, where misery is managed, where that "God" is placed above any form of life. (more…)
Tags: Arson, Banamex Bank, Conspiracy of Cells of Fire, Fernando Barcenas, Francisco Solar, Informal Anarchic Individualities, International Solidarity, Mauricio Morales, Mexico, Monica Caballero, Sabotage, Sebastián Oversluij Seguel, Tamara Sol
Posted in Direct Action
Monday, May 30th, 2016
Update : An open letter from anarchist groups in Warsaw is published below.
Correction: Radykalne Ogrodki Dzialkowe (ROD) was attacked with a raid and searches only, there was no attempted eviction.
On the night between Sunday the 22nd & Monday the 23rd of May three comrades were detained near the car park of South Warsaw police station. Cops claim to have found an explosive device under a police car. All three comrades were taken into custody at the station and one comrade was severely beaten. The comrades refused to cooperate and denied all accusations of 'terrorism' and attempting to bomb the police station. The comrades received support from the anarchist community and 3 squats from Warsaw (Przychodnia, Syrena, Radykalne Ogrody Działkowe) and were provided with legal representation.
The same day police raided and tried to evict Radykalne Ogrody Działkowe squat where one of the arrested comrades lived and search for evidence. According to the "Reclaim The Fields" website: "Cops arrived between 4 and 5AM. They invaded the squat area by cutting fences and demolishing the gate with a forklift. Six undercover police invaded people's rooms. One friend woke up and found himself surrounded by cops questioning him about his identity. They then proceeded to search the entire squat." (more…)
Tags: Arson, Poland, Repression, Sabotage, Warsaw
Posted in Social Control
Monday, April 18th, 2016
from Irakunditxs via Contra Madriz
translated by Earth First! Journal
Every tool in the toolbox! Capitalist society is held up by two fundamental pillars: repression and social control. This time we have wanted to hit a part of the system of social control via communication antennas. Between Saturday night and Sunday morning (April 2-3), led by the stars, we approached two antennas in the road between Iruña and Irurtzun (Nafarroa) and with the help of pliers we opened a breach inside wire mesh that surrounds the antennas. With wooden-handled mallets we destroyed the electricity meters inside both antennae and we broke the two AC units inside each, as well. With axes we cut the cables to the antennas' electrical device as well as wires to the distribution substation that power the antennas.
This time we demand and make this action public in part to launch an irrintzi solidarity campaign with our imprisoned compañeros who are on hunger strike in the murderous and torturous state jails: José Adrián Poblete Darre, Xavier Corporales Barruecos, and Antonio Chavero Mejías. We do this for you.
In solidarity with the compañerxs Monica and Francisco who have recently been charged in the first degree to 12 years (a sentence is but an opinion). Strength and courage.
[This was done] in protest of the violations which are penetrating the Earth and nature, such as the TAV and the other infrastructures which serve only for the interests of the same people as always. Ama lurra defenda dezagun! [Euskara language.]
PS. It's a shame that the fire we had hoped to gift in the end did not happen…. Do not fret, as we will take care of that next time. estatuari gerra, gerra beti!
[Euskara language.]
Tags: Antonio Chavero Mejías, Euskadi (Basque Country), Francisco Solar, Iruña, Irurtzun (Nafarroa), José Adrián Poblete Darre, Monica Caballero, Sabotage, Solidarity Action, Spain, Xavier Corporales Barruecos
Posted in Direct Action
Thursday, March 24th, 2016
Modern capitalistic society is a society of control. And this because the system engages in an unending and total attempt to maintain the normality of social life. From this condition of control, the technology of surveillance could not be absent, as the technological development is directly related to the progression of authority and its ways it imposes itself.
State and capital, as active users of technology, shape this form of surveillance, aiming at profits and their own further imposition. From cameras in big cities and public transport for the security of those "who have nothing to hide" (and for this reason prefer to show everything) to the cameras in work spaces in order to "secure" our productivity and normality in consumerist procedures. And from the new biometric IDs to personal files on everyone, which is formed in relation to visited internet sites, preferences, music listened to, books read, financial transactions, data that is recorded by various colossal companies that have identified a big part of our lives with targeted ads and product promotion for consumption.
As years pass, as much as technology develops, we will have to deal more and more with inventions that, consciously or not, contribute to repression. This is a logical consequence since a big part of research on this field is financed and guided by state and inter-state authorities, as well as multinational companies that try to solve their concern for better fortification and profit production. (more…)
Tags: Arson, Greece, Grigoris Tsironis, Sabotage, Tasos Theofilou, Thessaloniki
Posted in Direct Action
Tuesday, March 22nd, 2016
Attacking UK's coal transport system – Severing the lines that feed the machine
Severing the lines that feed the machine is not impossible. When people take up civil uprising in the UK, if people are able to shove their obligations to one side to open up an avenue, they mainly have the ability and possibility to be able to grasp their will for something new. The war is not over when those moments stop, it sparks up in little raptures here and there, showing that we are not crushed, things can be brought to a grinding halt again, even for a split second.
It just takes a few bright spirits and we see it clear, when the smug confidence of authorities is knocked, a few pins get hit out and things can be seen in a different light. Out of synch and off balance, everything no longer appears structurally sound, life feels more up for grabs.
The new horizon peaked through our cloudy day, Sunday 6th March, and we hope this uncomplicated act of sabotage we have undertaken exposes the vulnerability of their complex matrix.
We took a risk assessment and as night just started to close in we entered the 1st railway tunnel, we cut both lines with a portable disc cutter, we didn't imagine de-railing a locomotive but wrecking disruption and economic damage (time is money). We entered a 2nd and did a further two cuts, marking them all with pink paint, and leaving a banner as a warning. (more…)
Tags: Anti-Coal, Avon Gorge, Avonmouth, Bristol, Sabotage, UK
Posted in Eco Struggle
Monday, March 21st, 2016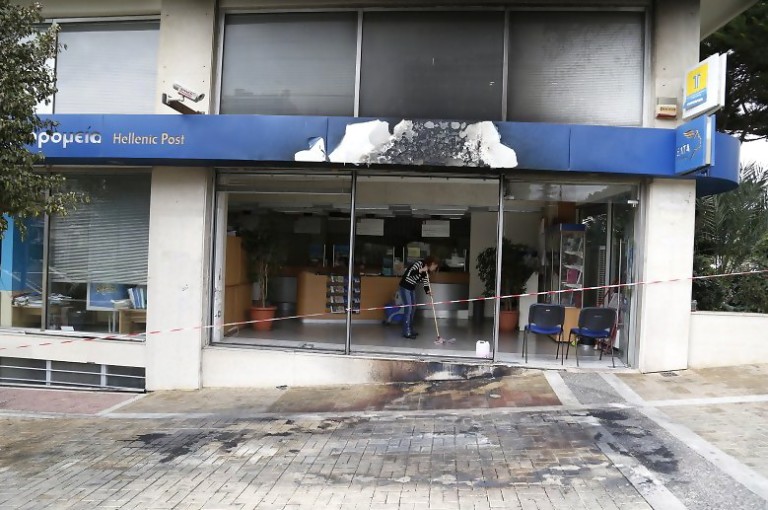 "Who will shatter the rock that for millennia has sat upon individual autonomy? For so long now learning to live has meant learning to die."
How many years of commercial society? How many more of "civilised" existence? And all this for what? We take part in the most paranoid experiment of human domination. From the early stages of domestication up to economy's invasion into life, oppression, exploitation and coercion have been the most structural components of society. The Power's structures and logics have strived to ensure their presence over the centuries, transformed themselves, gained flexibility by stepping on human relations and finally imposed their universality through the commercialisation of existence. Non-compliance margins have narrowed. The ways of vomiting "needless waste" are being humanised. The sometimes aggressive and sometimes passive indifference of the capitalist world towards the sustainability of human or nonhuman beings, that are deemed unnecessary in various ways, is discernible at a glance, not very far away. How many bodies stacked dead or alive in seas or the coldness of gray rooms?
There are no excuses in the face of the existent; everyone sees, everyone knows. The expression of our position towards this situation takes shape through anarchist action. We'll avoid distant and hypothetical analysis. We know that (not only in our own lives) the moments of freedom are so assimilable into the repeated everyday routine that we are unable to imagine any possible turn of events. The only sure thing is that we feel this world to be unbearably hooked in our skin, and the more we attack it, the less it leaves its marks on us.
While some were sleeping exhausted and dazzled by a three-day weekend of frenzied consumption and entertainment, some chose to swing into action. In the early hours of Tuesday March 15th 2016, we torched and destroyed a van and an ATM of the Hellenic Post (ELTA) branch in the district of Nea Smyrni, Athens. Because of the fire's extent, the branch acquired a new facade as well.
Also this is a minimum act of complicity with incarcerated comrades that have recently faced or are once again facing the halls of judges and prosecutors. Strength to Mónica Caballero and Francisco Solar, the Conspiracy of Cells of Fire, Revolutionary Struggle, as well as all imprisoned anarchists around the world, and everyone who in any way contribute to the intensification of anarchist war against Power.
PS. And because memory is integral to the continuation of anarchist struggle we cannot but recall the death of comrade Lambros Foundas, on March 10th 2010, after an armed clash with cops.
Until anarchy
Incendiary Disobedience Cell

-via contrainfo
Tags: Arson, Athens, Greece, Incendiary Disobedience Cell, Lambros Foundas, Sabotage, Solidarity Action
Posted in Direct Action
Monday, March 21st, 2016
On March 11th 2016, we cut the counterweights along the catenary of Avilés/Xixón rail line in both directions. The cuts were made at the height of the town of Villabona, locality where our comrades Mónica and Francisco are held hostage. These cuts produce a voltage drop on the line forcing a halt to train traffic, causing serious delays and economic losses. The action aims to send a warm revolutionary hug to our comrades on the occasion of the trial/farce organised by the Spanish State.
Also solidarity graffiti were painted on the two signs of the -penitentiary centre- indicating where they are held hostage.

Love for freedom, and hate of those who take it from us

Some anarchist individualities
-via contrainfo
Tags: Asturias, Francisco Solar, Monica Caballero, Sabotage, Solidarity Action, Spain, Villabona
Posted in Direct Action
Wednesday, March 9th, 2016
On Monday, March 7 between 2 and 4 am, on the eve of the trial that intends to bury alive (the prosecution demands 44 years) anarchist comrades Monica Caballero and Francisco Solar, who were remanded more than two years ago, we put out of action several bank ATMs of Santander (Spanish origin) with a hammer, paint and left noise bombs in these branches:
Calle 13-32 La Plata
Boedo 805
Moreno 2300 Capital
We left flyers vindicating our comrades.
With this gesture of solidarity we are with those who face the powerful and their world.
Freedom to Monica and Francisco!
Love and encouragement… long live sabotage!
–
Buenos Aires, Argentina: Sabotajes coordinados a cajeros automaticos ensolidaridad con Monica y Francisco.
El dìa lunes 7 de marzo entre las 2 y las 4 am en visperas del jucio que pretende enterrar en vida (la fiscalia pide 44años) a los compañeros anarquistas Monica Caballero y Francisico Solar en prision preventiva hace mas de 2 años, dejamos inhabilitados varios cajeros automaticos del banco Santander (de origen Español) a martillazos, con pintura y bomba de ruido en las sucursales:
Calle 13-32 La Plata
Boedo 805
Moreno 2300 Capital
Dejando volantes reivindicando a lxs compañerxs.
Con este gesto nos solidarizamos con aquellos que enfrentan al poder y su mundo.
Libertad a Monica y Francisco!
Cariño y aliento… Viva el sabotaje.
Tags: Argentina, Buenos Aires, Francisco Solar, International Solidarity, Monica Caballero, Sabotage, Santander Bank
Posted in Direct Action
Tuesday, February 23rd, 2016
1. Turn up the Heat.
2. Communique by CCF – Urban Guerilla Cell.
3. 'Forever Guilty' – Text by Panagiotis Argirou on the trial for the 250 attacks of the CCF / FAI-IRF.
4. 'Against the Slander of Civil Anarchism' by Sureños Incivilizados (Chile)
5. Civitavecchia, Italy: FAI/FRI take responsibility for an explosive attack on the city court.
6. Athens, Greece: FAI take responsibility for two incendiary attacks.
7. Athens, Greece: FAI take responsibility for an explosion at Tax Office.
8. Direct Action Chronology.
9. Police allege helicopter escape attempt by revolutionary comrades held hostage in Korydallos Prison, implicate comrade in clandestinity Pola Roupa of Revolutionary Struggle (Greece)
http://325.nostate.net/wp-content/uploads/2016/04/44-dark-nights.pdf
Tags: Chile, Conspiracy of Cells of Fire, Dark Nights, Greece, Informal Anarchist Federation (FAI), International Revolutionary Front, Italy, Panagiotis Argirou, PDF, Pola Roupa, Revolutionary Struggle, Sabotage, Sureños Incivilizados, Zine
Posted in Library
Tuesday, February 9th, 2016
In the night between 28 and 29 January the headquarters of Rotodyne offices in Saronno was hit by a Molotov cocktail. Rotodyne develops equipment for the maintenance and construction of helicopters and warplanes (EH 101, NH-90, EuroFighter Typhoon), including the Lockheed F35 Lightning, designed and used by the Marines, the aeronautic and the US navy, as well as by many other NATO countries, including Italy.
The distributors of its products, and the companies with which it collaborates, are Alenia-Airmacchi, Augusta Westland (Finmeccanica group), Aereotech, Patria Helicopters.
Its products have been adopted by the Danish, Irish, Greek, Oman and Italian armed forces; by the Dutch, Swedish and Italian police; by the army, coast guards and the Italian navy.
It's impossible to remain passive in the face of those for whom war is a business.
It is right to attack them before their products can contribute to causing death and devastation.
To stand by without acting would have made us accomplices.
–

via actforfree, informa-azione.
Tags: Aereotech, Alenia-Airmacchi, Anti-Militarism, Augusta Westland (Finmeccanica group), Molotovs, Patria Helicopters, Rotodyne, Sabotage, Saronno
Posted in Direct Action
Sunday, February 7th, 2016
My heart abhors and defies
The powerful of the earth,
My arm makes war on the cowardly oppressor
(Rebel Love – Pietro Gori)
We are living in a state of permanent global war, the perpetual war between oppressors, we know it and we know the main and secondary characters of dominion. Above all the oppressed know it, those who suffer arbitrary power over their lives.
Right now we are witnessing the passage of tanks and military in the streets of the rich and opulent West, the increase in controls and garrisons in defence of the order of commerce and consumption, the militarization of the territory.
Changes that strike even the most dormant minds, but which the strategy of global control will try to make us digest.
Among the exploited, gentlemen, there are two classes of individuals. Those of one class, not realizing what they are and what they might be, take life as it comes, believe that they are born to be slaves, and content themselves with the little that is given them in exchange for their labour. But there are others, on the contrary, who think, who study, and who, looking about them, discover social iniquities. (Auguste Vaillant)
We are not so short-sighted as to believe that this global war has such clear and sharp sides. Just as we recognize the enemies of freedom, we cannot bear the resignation and tolerance of those who are willing to give a piece of their lives every day. That is why we don't delude ourselves that we are working for any revolution, we see clearly that the only anarchy realisable is what we experience when we finally free ourselves of every burden and decide to attack power. An experience that we feel we share with comrades around the world participating in the project of spreading the F.A.I / F.R.I. anarchist seed.
Tonight we planted this seed in the form of an explosive device placed in one of the key locations of State repression dispersed throughout the territory: the court of Civitavecchia. We decided to take our freedom ourselves. We have sharpened tools, analysed tactics, because we thirst for anarchy, and we are impatient.
Courts and prisons are simply outposts of dominion; places that are not just symbolic, but physical, where the State and the authorities stamp those who do not conform to the dictates of global control with the brand of condemnation, guilt, imprisonment and exclusion.
While holy doors are opening wide to spread miserable feelings such as mercy and compassion, we are breaking down ideological and real walls to allow the real hatred that motivates us to be reconciled with the love of a free life. Today we acted convinced that we don't want to carry the experiences of the comrades we have lost, like those who are locked up or on the run, in some antrum of our heart, but to free them, leaving them to arm our hands, warm our flesh.
That is why our greeting goes to the comrades and prisoners who with their non-submission contribute to the spreading of joyful conscious subversion.
FREEDOM TO THE ANARCHIST PRISONERS ALL OVER THE WORLD!
FIRE TO THE PRISONS !! BLACK POWDER TO THE COURTS !!!
LONG LIVE THE F.A.I / F.R.I.
Fireworks committee for an extraordinary year, F.A.I / F.R.I.
–
via informa-azione
Translated by Act for freedom now
Tags: Civitavecchia, Fireworks committee for an extraordinary year / FAI-FRI, Informal Anarchist Federation (FAI), International Revolutionary Front, Italy, Sabotage
Posted in Direct Action
Friday, January 22nd, 2016
Disruption of VINCI and French Consulate
To the defenders of the ZAD,
Solidarity from anarchists in so-called 'Melbourne, Australia'- the never-ceded indigenous land of the Wurundjeri people of the Kulin Nation, stolen and occupied by the genocidal settler-colonial state.
In response to recent threats of violent eviction by the French State, actions were taken at several locations in Melbourne, the city built on the stolen lands of the Wurundjeri people of the Kulin Nation, in colonised Australia. The actions targetted the French consulate and offices of companies of the VINCI corporate-family linked to the proposed destruction of land at the Zone-A-Defendre.
The French consulate was attacked with paint and its locks were stuffed and glued.
The Offices of Menard-Bachy and Fressynet (both companies owned by VINCI), had their windows broken and slogans in support of the ZAD painted on the facade.
The Melbourne office of Electrix (a company owned by VINCI) was redecorated with a number of slogans celebrating resistance to VINCI's plans.

For information see http://zad.nadir.org
(photos and text)
http://torvps7kzis5ujfz.onion/~lumichel/index.html
http://torvps7kzis5ujfz.onion/~lumichel/index.pl.html
(or clearnet links ):
https://web.archive.org/save/http://torvps7kzis5ujfz.onion.link/~lumichel/index.html
Polish –
https://web.archive.org/save/http://torvps7kzis5ujfz.onion.link/~lumichel/index.pl.html
Tags: Australia, Electrix, Fressynet, International Solidarity, Melbourne, Menard-Bachy, Paint attack, Sabotage, Vinci, ZAD
Posted in Direct Action