Posts Tagged 'Santiago'
Wednesday, January 22nd, 2020
When analyzing any edge of the prison, one must first establish or rather, make its history and its purpose visible. We are the ones in the dump of this society, another instrument of oppression through the law to perpetuate the privilege of the class society, made by power in its image and likeness, the jail is like all the bad things in the tight system between cement walls.
The very existence of the jail is political, a gear that makes the machinery of death of the State roll, social control, intimidation, isolation, directed against whoever it is is necessary to exalt the triumphant values of the bourgeoisie: competition, submission, exploitation, harassment, bourgeois individualism, violence; all this reflects its worst face in this place.
Here the children of violence, poverty and ignorance are raised, a school of fear that maintains the lucrative prison business, being a product of domination will never have a reforming end, which proclaims with the voice of a prisoner sick with rage. Nothing good can be taken out of confinement and uniformity; therefore, the mere existence of the prison reflects the type of system that governs us, has the color it has, is adorned as it is adorned; the existence of the jail has a political aim; therefore, for whatever reason, all prisoners are political prisoners, because it transcends the filter of the law, which is the preferred son of power.
What to do with social cannibalism if there were no prisons? It is the question to dream… (more…)
Tags: Chile, Letter, Santiago, Santiago 1, Social Insurrection
Posted in Prison Struggle
Thursday, January 16th, 2020
Tags: Anti-Prison, Chile, International Solidarity, Juan Aliste Vega, Marcelo Villarroel Sepúlveda, Santiago, Solidarity Event
Posted in Prison Struggle
Sunday, January 12th, 2020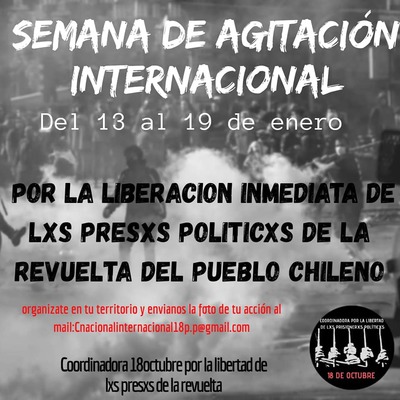 WEEK OF INTERNATIONAL AGITATION IN SUPPORT OF THE PRISONERS OF THE REVOLT IN CHILE. FROM JANUARY 13-19.
"THOSE WHO FORGET THE POLITICAL PRISONERS FORGET THE STRUGGLE"
More than 80 days after the social outbreak in Chile, the struggle and social organization persists in the unwavering conviction of confronting and breaking with the model of power and economy that has perpetuated inequalities, injustices and abuses for decades.
Undoubtedly the revolt that still breathes in Chile means this is a turning point with no return, it is within a long journey of struggle that has also brought with it a hard cost: hundreds and hundreds of prisoners of the revolt that are today in the different prisons in this territory. Each week this number increases and in an obvious phenomenon of mass incarceration the State seeks to intimidate and criminalize social protest. We speak of political prisoners of the revolt because of the fact of the mass imprisonment of social fighters after the outbreak of the 18th [October], responding to a political decision of the State and not to technical/legal criteria, understanding the complicity between the different powers of the State in order to perpetuate the existing model of control. That is why we make this call for international solidarity with the prisoners of the revolt in order to reveal the political condition of their imprisonment and demand their immediate freedom. We extend this call appealing to the multiple initiatives and solidarity actions that arise in each territory.
THOSE WHO FORGET THE POLITICAL PRISONERS FORGET THE STRUGGLE!
IMMEDIATE FREEDOM TO THE PRISONERS OF THE REVOLT!
CO-ORDINATION FOR THE FREEDOM OF THE OCTOBER 18th POLITICAL PRISONERS
— (more…)
Tags: Chile, International Solidarity, Riots, Santiago, Social Insurrection
Posted in Prison Struggle
Thursday, January 2nd, 2020
via Noticias de la Guerra Sociale:
[Reportes redactados y difundidos por redes sociales]
Santiago de Chile
9 de diciembre
53vo Día de Revuelta Social
¡EL AMOR POR LA LUCHA ES NUESTRA ENERGIA!
En la Plaza de la Dignidad se junta cada vez menos gente. Hoy no somos miles, apenas somos cientos. A pesar de esto la conflictividad no disminuye, el amor por la lucha y la sed de venganza son incombustibles.
El monumento a Baquedano está intervenido con lienzos en contra los abusos en del SENAME, bellísimas arpilleras y costuras rebeldes. También hay algunos chemamüll Mapuche.
Hasta allí llegó una columna que caminó 500 kilómetros desde la ciudad de Concepción, se van abriendo paso entre aplausos y en sus ojos se nota la decisión de seguir avanzando, los esbirros que tenían copado el sitio son quienes retroceden.
Al poco rato llega una caravana de vehículos blindados policiales, son recibidos por lxs encapuchadxs con una lluvia de bombas incendiarias y piedras.
Hermanxs de la primera línea relatan que el viernes un manifestante término con fractura craneal y hemorragia interna al ser golpeado directamente con una bomba lacrimógena en su cabeza, está grave y hospitalizado. Comienza la acampanda de la "Mesa Social" afuera de la Corte Suprema.
Encapuchadxs realizan una bulliciosa protesta dentro de un Mall contra el consumismo navideño. (more…)
Tags: Chile, Noticias de la Guerra Social, Santiago, Social Insurrection
Posted in Autonomy
Thursday, December 26th, 2019
Parte II
Ya ha pasado más de un mes desde que difundimos la primera parte de este texto compartiendo información y reflexiones anárquicas sobre el contexto chileno desde el inicio del llamado "estallido social" desatado el día 18 de octubre. El anterior abordaba hasta la víspera de la gran manifestación en el centro de la ciudad anunciada para el día viernes 25 de octubre.
Desde ese día hasta ahora han ocurrido muchos sucesos que podrían ser expuestos de manera detallada, sin embargo hemos seleccionado ciertos elementos y reflexiones que nos parecen relevantes para difundir, sabiendo que otrxs compañerxs han estado también aportando a al registro y la circulación de información sobre lo que está ocurriendo en estas tierras en revuelta.
Esperamos que estas palabras que lanzamos hacia nuestrxs compañerxs de todas partes puedan nuevamente contribuir a propagar una vez más experiencias y reflexiones que puedan ser esparcidas en los más diversos idiomas y latitudes donde se expresa la anarquía:
1. EL INTENTO FALLIDO DE PACIFICAR LA REVUELTA
Con más de 1,5 millones de personas en el centro de la ciudad de Santiago, la autoconvocada "marcha más grande de la historia" concentró el día viernes 25 de octubre a toda la diversidad de personas en lucha.
Con una prácticamente inexistente participación de partidos políticos de izquierda y sin ningún tipo de capacidad de amenaza desde grupos fascistas, todas las formas de manifestación se desarrollaron hasta altas horas de la noche a pesar de la restricción del toque de queda, incluyendo una vez más intensos disturbios y enfrentamientos con la represión en el centro y las periferias de Santiago y otras ciudades.
Mientras la represión hacía su trabajo propagando e intensificando sus formas de violencia, desde el gobierno y los medios de comunicación se intentó imponer la idea que esta marcha sería la culminación de un proceso en el que la gente instaló sus demandas y que ya era hora de "volver a la paz". Los canales de televisón culminaron esa noche las transmisiones conjuntas iniciadas el 18 de octubre y, luego de la campaña de lavado de imagen sobre los militares, los días posteriores el gobierno retiró a las tropas de las calles. Luego, los días sábado 26 y domingo 27 de octubre, se decretó el fin del toque de queda en Santiago otras ciudades del país.
(more…)
Tags: Analysis, Chile, Repression, Riots, Santiago, Social Insurrection
Posted in Autonomy
Thursday, December 19th, 2019
November 29th
42nd Social Revolt Day
LONG LIVE IRREDUCTIBLE ENEMIES OF POWER!
"We are facing a powerful and implacable enemy, who does not respect anything or anyone. He doesn't respect the lives of human beings, he doesn't respect our heroes." The phrase is repeated again and again by the President of the Republic, this time at an early graduation of police.
FEAR is one of the most powerful weapons of power, so it continues to encourage a climate of paranoia to demobilize and divide the oppressed.
The State redoubled its efforts to approve its "Anti-hooded Law." Piñera points to Anarchists, Barras Bravas [organized supporters of football teams] and drug traffickers as a coordinated trident that unleash violence.
The media plan is to exacerbate the coverage of looting of small stores. The capitalist press launches a powerful emotional charge to delegitimize the Social Revolt.
There is an obvious complicity (by action or omission) between the police, home owners and traffickers, individuals without codes who are not interested in those who are harmed by their actions.
Undoubtedly, private property is part of what we want to destroy, but today our objectives are full of strategic symbolism. If the attack on any premises needs explanation, it is not symbolic enough.
A provisional solution would be "self-defense committees," but our inexperience and ineffectiveness in these practices allow the "yellow vests" to begin to arm themselves with an undeniable fascist affinity. Let the militia return to the street! It is the speech repeated by the lovers of the neoliberal system, although in their pockets the bills have always shone by their absence. (more…)
Tags: Alexis Grigoropoulos, Analysis, Anti-Authoritarian, Chile, Concepción, Copiapo, Dictatorship, Macul, Police Brutality, Repression, Riots, Santiago, Social Insurrection, Yungay
Posted in Direct Action
Sunday, December 8th, 2019
—To Joaquín García Chanks and Marcelo Villarroel Sepúlveda, comrades and co-conspirators.
"For I am the sworn poet of all the intrepid rebels of the entire world,
And whoever comes with me leaves peace and routine behind,
And you play to lose your life every moment."
Walt Whitman, To a frustrated European revolutionary (1856), Leaves of Grass.
"… where there is danger, what grows saves us."
Friedrich Hölderlin, Patmos.
A month and six days after the insurrection began, Anarchy is still alive in the Chilean region. It is an unprecedented event in Chile and Latin America. It has been the kairos of Anarchy: the emancipatory moment that occurs in the relevant time and place, the bold incarnation of a pronounced denial of the State and of all authority.
The echo of the old anarchic slogan "Neither God nor State nor Patriarchy" rumbled throughout the southern geography and has made hearts vibrate from Cape Horn to the banks of the Sama and Camarones rivers.
It is evident that in their daily subversive work, the insurrectionary anarchism of the informalist tendency, maximized their potentialities and also explored their difficulties and their own limits, using ephemeral junctions – mutating from one place to another – that allowed them (via conflict and various contingencies) to sketch out the chromatic possibilities of their theoretical-practical background and, encourage unmanageable disobedience, concentrating specifically on individual actions and / or small affinity groups aimed at attack and expropriation.
However, dynamite was missing. Diesel and gasoline failed. The attack was spared. There was a lack of expropriations. The headquarters of ALL political parties were not demolished. No prisons or madhouses were assaulted. We lashed out at the symbols but missed the target. A gigantic bonfire is still pending for the hundreds of flags that are seen on the marches (including the red and black ones, because ALL the flags are full of blood and shit). This shortage has allowed the power of denial to divert to be "triumphant", instead of injecting the conflict with life and going beyond the institutional songs that already threaten to impose the peace of the grave. (more…)
Tags: Analysis, Chile, Gustavo Rodriguez, Letter, Revolution, Riots, Santiago, Social Insurrection
Posted in Autonomy
Thursday, December 5th, 2019
To Joaquín García Chanks and Marcelo Villarroel Sepúlveda, comrades and co-conspirators.

"… every revolutionary opinion draws its strength from the secret conviction that nothing can be changed."
George Orwell, The Road to Wigan Pier.
"Alicia: How long does it last, forever?
White Rabbit: Sometimes just for a moment."
Lewis Carroll, Alice in Wonderland.
The discontent are the new starting point of the impetuous popular protests that run through the geography of the globe. Hong Kong, France, Algeria, Iraq, Haiti, Lebanon, Catalonia, Ecuador, Bolivia and Chile, are the lavish protagonists of the wave of massive urban revolts that shakes the world.
While it is true that these profuse protests have very particular triggers that explain them (specifically Hong Kong and Catalonia, with their independentist rallies), it would be naive to think that this accumulated rage is disconnected. The increase in the costs of goods and services, coupled with austerity – with its consequent loss of jobs and unequal economic survival as global growth slows down – are the common denominator of most of these mobilizations.
However, it is undeniable that these protests also share another great backdrop that far exceeds the economic analysis and that very conveniently is not addressed in the means of mass domestication and intentionally escapes the analysis of political scientists and apologists of domination: anti-government convulsion, a tiredness against those who govern and, against all political parties, whatever their ideological color. A feature that withholds the absence of leadership and / or leaders and facilitates the ephemeral realization of Anarchy. (more…)
Tags: Analysis, Chile, Gustavo Rodriguez, Letter, Riots, Santiago
Posted in Autonomy
Tuesday, November 5th, 2019
On the context of Revolt
We have witnessed an apparently unforeseeable phenomenon; from a practically harmless claim, thousands of youths gave free vent to their fatigue, facing their daily lives destroying symbols and flags, fears, lies and, why not, certain ways. It's not possible to try to analyse, perhaps in vain, the reason for such a situation in this short text; I don't think it is necessary to classify events in terms of superficiality and claiming slogans or to attribute this catharsis to an accumulation of situations; sometimes things are simpler.
Today I am smiling with happiness at the explosion of the order of things, the momentary rupture of the status quo, the burning of the symbols of lies and misery; I am enjoying the potential of this outbreak. Let's not deceive ourselves, it would be naïve to think that Revolt brings our values or our politics with it. That after the cathartic feast the counter of suffering incurred by existence will be zeroised or go to an inevitable becoming anarchist; the coming about of the Revolt must be enjoyed, the essential will that undermines all immobility, the flames of a momentarily chaotic becoming which can only survive with constant combustion to thus keep up its fearless beauty. Today I am smiling for a gift that no one gave me.
Joaquín García Chanks
24th October 2019
—
Translated from Italian by act for freedom now!
via: insuscettibilediravvedimento
Tags: Chile, Joaquín García Chanks, Letter, Santiago
Posted in Prison Struggle
Tuesday, November 5th, 2019
Wednesday 30/10 we did an intervention to the central offices of METKA EGN to show solidarity in the insurrection in Chile. We choose to intervene in this company with a banner texts and flyers to give emphasis to the role that this Greek company has also in South America with a plan to impose a cruel neoliberal agenda and degrade the lives of the people in Chile with the investments in energy and exploitation of the land.
Thursday 31/10 we wanted to do a microphonic in Propylaia but because of the rain it was cancelled but we manage 40 comrades to make an intervention and open the bars of the subway so everybody can pass freely while we were sharing texts and flyers.
Friday 1/11 we did a gathering at the embassy of Chile and after a demo back to Exarchia.The pre gathering was in the subway station of Evaggelismos were we shared texts after a while 100 comrades moved with order to Vasilisis Sofia street to approach as close as we can to the embassy that was full of cops. We stand there for one hour and in the way back the riot police was following us and they were provocative trying to find reason to attack us.We manage to finish the demo in Exarchia shouting slogans in the way. In the demo participated also comrades from the popular front of Turkey that they had gathering in the embassy of Turkey.
From the 19th of October, the Chilean state has been overrun by thousands of insurrectionary peoples who have occupied the streets and squares of the country. The mass demonstrations, originally due to the raising of ticket prices for public transport, developed into a generalised insurrection which sweeps everything in its path. (more…)
Tags: Analysis, Athens, Chile, Greece, International Solidarity, Repression, Riots, Santiago, Social Insurrection
Posted in Autonomy
Wednesday, October 30th, 2019
Desde el territorio dominado por el Estado de $hile:
UN LLAMADO A LA SOLIDARIDAD ANARQUISTA INTERNACIONAL CON LA INSURRECCION: REVUELTA Y ACCION DIRECTA FRENTE A LA NUEVA ARREMETIDA DEL ASESINO ESTADO MILITAR DE $HILE
El Viernes 18 de octubre del presente año, hemos presenciado y sido parte de como por medio de la acción directa y el sabotaje a los distintos estandartes del capitalismo moderno, los cánones de la normalidad fueron sobrepasados por el actuar insurrecto; una normalidad impuesta desde hace siglos en este territorio y consolidada por medio de una dictadura civico y militar que implanta el brutal modelo neoliberal vigente. El estallido de la revuelta se desarrolló en toda la extensión de la capital exhibiendo acciones de sabotaje hacia las estaciones del metro de Santiago, el edificio de ENEL (empresa multinacional italiana "distribuidora" de luz), los buses de la línea red (Transantiago), cadenas de bancos, cafeterías y restaurantes de comida rápida, concesionarias de autos, supermercados y farmacias, cada símbolo del capital fue atacado.
El desborde y descontento de miles de hordas e individuxs que sin líderes ni dirigentes, rebasó la ciudad con una extensa batalla contra lxs eternxs protectorxs de la propiedad privada y la paz social de lxs poderosxs fueron parte de una extensa jornada de protesta y rebeldía que culminó con el fascista presidente de derecha Sebastián Piñera, decretando Estado de Emergencia y poniendo a cargo de las tropas de los asesinxs militares al asqueroso general Javier Iturriaga. El avance de los dias siguientes no fue distinto, continuaron las acciones de sabotaje acompañadas de multitudinarias expropiaciones masivas a los grandes centros comerciales, el ataque a edificios gubernamentales y los incesables enfrentamientos contra la policia, argumentos perfectos para imponer Toque de queda en casi todo el territorio y con esto dando completa libertad y legitimidad al actuar de las policias y fuerzas militares que han asesinado y torturado históricamente en nombre de la autoridad. (more…)
Tags: Analysis, Chile, International Solidarity, Riots, Santiago, Social Insurrection
Posted in Autonomy
Wednesday, October 30th, 2019
From the 19th of October the Chilean state has been overrun by thousands of insurrected individuals who have occupied the streets and squares of the country. The mass demonstrations, originally due to the raising of ticket prices for public transport, developed into a generalised insurrection which sweeps everything in its path.
The first acts of social disobedience with callings for mass forced entries into and sabotage towards public transport, with thousands of high school and university students breaking the protective gates and entering the metro lines, quickly facing state repression.
The images we see from Chile remind us of the insurrected metropolitan landscape of Athens, when clashes with police, expropriation and looting of department stores, the vandalism of state and capitalist targets, and the passion for the struggle which flooded our own roads was a reality which clashed with that imposed on us by capitalism.
At this moment, the insurrected of Chile face, on their streets, the whole "range" of state repression, because except for the rifles and tear gas of the police, on Friday night, President Piñera decided to impose a state of emergency on the city of Santiago, sending tanks to its streets and imposing a night-time curfew. It is the first time after the fall of the dictatorship of Pinochet in Chile that the army is taking to the streets to repress demonstrators, whereas, at the moment of writing, there are 7,000 arrested and at least 18 dead (some sources state more), 4 shot by cops, the others run over by military vehicles. (more…)
Tags: Analysis, Athens, Chile, Greece, International Solidarity, Riots, Santiago, Social Insurrection
Posted in Autonomy
Monday, October 28th, 2019
Algunas palabras desde y por la revuelta de octubre
"A partir de cierto punto no hay retorno.
Ese es el punto que hay que alcanzar."
Franz Kafka
La indómita protesta por parte de estudiantes secundarios contra el alza del pasaje del tren subterráneo y la inmediata respuesta represiva fue el escenario propicio para que días más tarde la guerra social se dejara vislumbrar con una explícita crudeza.
La dinámica del conflicto fue rápida, impredecible e instintiva. El malestar enfocado principalmente contra el transporte público subterráneo se generalizó y comenzó a explotar, visibilizarse, reconocer formas de combate estallando–literalmente-en cada esquina de Santiago. El 18 de Octubre del 2019 un contexto de revuelta generalizada se desató por toda la capital; barricadas y enfrentamientos se sucedían en cualquier momento y en cualquier lugar. Distintos símbolos, estructuras e infraestructuras del poder fueron atacadas a lo largo de toda la ciudad, y prontamente de todo el país. El orden se resquebrajaba y la transgresión inundaba todas las calles, de pronto los sujetos se aglomeraban y atacaban lo que siempre consideraron sus cadenas. No hay planificación, sino espontaneidad que sabe reconocer claramente a su enemigo: El Estado, el capital y sus fuerzas represivas. Los objetivos siniestrados o saqueados son el mejor de los ejemplos: Ministerios, instituciones financieras, empresas depredadoras de la tierra, grandes bodegas almacenadoras de mercancía y comida, y un largo etcétera.
La violencia revolucionaria se ha validado y desatado en los más amplios aspectos de lxs oprimidxs. (more…)
Tags: Analysis, Chile, Repression, Riots, Santiago, Social Insurrection
Posted in Autonomy
Saturday, October 26th, 2019
DESDE CHILE: UNA MIRADA ANÁRQUICA AL CONTEXTO DE REVUELTA Y REPRESIÓN
Actualmente en Chile se vive una situación de Estado de Emergencia decretado por el gobierno derechista de Sebastián Piñera producto del estallido de una revuelta que explotó el día viernes 18 de octubre de 2019.
Este texto nace con la necesidad comunicar a compañerxs de diversas latitudes del mundo la situación que actualmente se vive en en este territorio.
Desde una mirada anárquica se comparten acá lo que consideramos algunos puntos principales para dar conocer y aportar a entender el momento actual.
—
PRELUDIO: LA JUVENTUD EN LUCHA Y LA CHISPA QUE ENCENDIÓ LA HOGUERA.
Luego de una semana de evasiones masivas al servicio de trenes subterráneos, protagonizadas principalmente por estudiantes secundarios durante el mes de octubre ante el alza del valor en los pasajes del transporte, se propagaron por diversos puntos de la ciudad de Santiago múltiples episodios de desobediencia individual y colectiva que derivaron en destrucción de infraestructura y enfrentamientos con las fuerzas policiales dentro y fuera de las estaciones del tren subterráneo. (more…)
Tags: Analysis, Chile, International Solidarity, Repression, Riots, Santiago, Social Insurrection
Posted in Autonomy
Saturday, October 26th, 2019
We learn on 16th of October the comrade Tamara Sol Farías Vergara has been given «conditional release», getting out of prison and in this way managing to reunite with her family, friends and comrades. This information has brought great joy since the comrade had been imprisoned since January 21 of 2014 [that day, Tamara Sol fired on a bank's guardian, as an act of revenge for comrade Sebastián Oversluij, murdered by an armed guardian (of a private security agency) during a robbery, on 11 December 2013, in the municipality of Pudahuel (near Santiago); sentenced to seven years, she had tried to escape, she had been transferred into various prisons and recently, in May, she had been denied "conditional release"]. Soon we will be updating and giving more information regarding Sol.

Solidarity doesn't stop until the comrades will be free from prisons.
Long live anarchy.
Tags: Chile, Santiago, Sebastián Oversluij Seguel, Sol F. Vergara, Tamara Sol
Posted in Prison Struggle