Posts Tagged 'Santiago'
Tuesday, May 28th, 2013
Who believed that May would pass without direct action?
With fire we responded again.
Recalling the warrior Mauricio Morales and showing solidarity with the comrades imprisoned in Temuco, we set fire to the entrance of the National Association of Prison Guards, located at Santa Monica steps in downtown Cumming Street of the city of Santiago, on Sunday May 12. With this we add a new action to those which have already been claimed by other groups in "alternative medias" but silenced by the "official release".
We said in our previous attack on a property of Gendarmerie of Chile in January this year, we will not let the torturers be tranquil in their dens. The criticism of the authoritarian system and prison facilities cannot be separated from the direct attack on those who try to break the will of our rebel imprisoned comrades. Prison guards have decided voluntarily to live as enemies of freedom and are active contributors to domination, in exchange for shares of power that materialize in confinement and to humiliate our prisoners and their families.
In April, the anti-authoritarian comrade Ariadna Torres was punished in the Women's Prison of Temuco for insulting a judge and the jailers who seized a letter from the companion to the outside.
We sent a copy of this email again to the jailers of Chile so that they know that our anarchist comrades, anti-authoritarians and revolutionary prisoners in Chile are not for the authorities little games, and for every attack the answer will come back with fire, explosions and shrapnel.
We ask comrades of action why there has been a decline in violent activity against the enemy? One thing is the excitement of the street-fighting, but in May there has been fewer direct attacks and planned bombings, arson and sabotage against the wealthy, and also their system of misery. That the anti-authoritarian attacks are sustained over time and not by a police story, depends on us. That the option for revolutionary violence and its connection with the anti-authoritarian struggle (and its various forms of being implemented) be not just a youth fashion, depends on us. Boosting and multiplying the direct actions in quantity and quality depends only on our will.
In May, we remember those comrades murdered by the State in Chicago in 1886; to Daniel Menco, young man killed in 1999; to young Rodrigo Cisternas, worker killed by police in Chile in 2007 after being crushed by a police vehicle with a backhoe; to the compa Henry prisoner since May of last year in Bolivia [currently on house arrest]; and Nicola Gai and Alfredo Cospito, prisoners in Italy, imprisoned for a year accused of the shot to the leg of a boss of a scientific nuclear company.
Regards to the clandestine comrades and prisoners worldwide.
MAURICIO MORALES LIVES IN DIRECT ACTION.
Insurrectional Anti-authoritarian Cell Panagiotis Argyrou, affinity of the FAI/FRI. Chile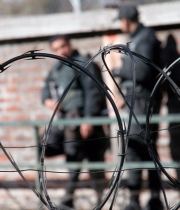 Tags: Alfredo Cospito, Arson, Chile, Conspiracy of Cells of Fire, Conspiracy of Cells of Fire : Imprisoned Members Cell, Greece, Henry Zegarrundo, Informal Anarchist Federation (FAI), International Revolutionary Front, International Solidarity, Italy, Mauricio Morales, Nicola Gai, Panagiotis Argirou, Santiago
Posted in Direct Action
Wednesday, April 18th, 2012
From vivalaanarquia, 4/16/2012, transl waronsociety:
Ivan Silva and Carla Verdugo were arrested transporting an explosive device in the Granja neighborhood today at 3:30 AM.
They were taken to the 13th Precinct where one of the prosecutors of the Bombs Case, Christian Toledo came. Ivan and Carla were carrying a backpack which according to the press had a fire extinguisher full of black powder with two butane gas canisters and a fuse as well as a change of clothing.
It was also reported in the press that Carla had romantic ties with the compa Juan Aliste Vega.
According to police sources, Carla and Ivan wanted to plant the explosive device during the night because today the trial preparation hearing of Juan Aliste Vega was happening.

We know that the state and its representatives will try by all means to dole out an exemplary punishment, therefore we call all individuals and affinity groups to show once again the solidarity and support that unite us in this struggle against the system of domination.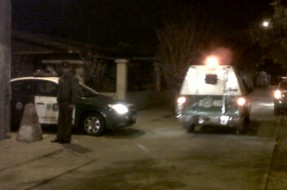 Tags: Carla Verdugo, Chile, Ivan Silva, Juan Aliste Vega, Repression, Santiago
Posted in Social Control
Thursday, March 1st, 2012
From Hommodolars –
Translated from spanish by sabotagemedia:
Making the stars shine with our solidarity.
The news spread fast and (as it has always had to be) the isolation was not a problem. A call-out for direct solidarity with 3 political prisoners, defendants in the security case.
With news that the compañeros were also on hunger strike my response to this situation was immediate, "I too am going to go on strike," with astonishment and concern the compañerxs who informed me of the situation warned me not to be so crazy, to think things through, more calmly, was I prepared for a hunger strike? In my condition a measure of this nature could be lethal, because I could lose everything gained as far as my health is concerned, and its true… (more…)
Tags: Chile, Freddy Fuentevilla Saa, Hunger Strike, Juan Aliste Vega, Letter, Luciano Pitronello Schuffeneger, Marcelo Villarroel Sepúlveda, Repression, Santiago, Santiago 1
Posted in Prison Struggle
Thursday, January 12th, 2012
From liberaciontotal, translated with endless love and respect for Tortuga by war on society:
Note from the group of friends and lovers of Tortuga:
Publishing this letter, at this time, could mean hellish punishment for our cub, but the urgency to report from his wild sweetness what he feels and what motivate him is sufficient reason to understand his desires.
Let us appropriate his writings to ourselves. Let us recreate, like so many times, complicity with the persecuted and the incarcerated inside and outside of the damn prisons!!
Let us understand ourselves by simply looking at ourselves and recognizing ourselves: We are anarchists, insurgents, informals, nihilists, enemies of all authority. Of all fucking authority.
Because we do not have time to rest while they prevent us from feeling ourselves free.
* * * (more…)
Tags: Chile, Letter, Luciano Pitronello Schuffeneger, Repression, Santiago
Posted in Prison Struggle
Monday, September 26th, 2011
Luciano 'Tortuga' Pitronello, wounded comrade in action, has next been demanded to appear before the court on November 22 2011, for the explosive attack against Santander Bank in Santiago, Chile, June 1 2011.
Tags: Chile, Luciano Pitronello Schuffeneger, Repression, Santiago
Posted in Prison Struggle
Saturday, September 17th, 2011
9/11 In Chile: The day before, activities and actions in the north, and the events in Santiago
From Arde Moyano Records. Revolutionary greetings to all comrades in Chile.
Text from: Hommodolars
Wednesday September 14th 2011
This article is necessary to understand this: "Algunas reflexiones sobre el 11 de Septiembre"…These articles are a contribution towards a "proletarian understanding of the germinal Chilean revolutionary process developed in the years '60 – '70 and bloodily cut short by the military coup of September 11th 1973; These are, mainly, the role of the left wing of the capitol in the UP [Popular Unity, the leftist party that backed Salvador Allende] and later fighting against the dictatorship, developing the self-activity of the proletariat, criticizing the democracy and necessity of a radical rupture with the reproduction of capitalism in every sphere, connected to the present struggles whose efforts have fought from below against thugs of the state and military regime (of whom the governing clique of today is a direct successor), suffering in many cases torture, imprisonment, assassination and disappearance".
This is the "military communiqué" which appeared in a new commemoration, where the previous article helped to understand the process of class war which resulted in the current spectacular capitalism. And perhaps it could be helpful to give class content to expressions of the anger of the streets, understanding them in the totality that is capitalism.
*****
September 11th in $hile
From: Viva La Anarquía
Heavy clashes broke out at the end of the demonstration called for at the central cemetery by human rights organizations, on the 38th commemoration of the last coup.
Over 300 encapuchadxs attacked several media, police and special forces snipers and pacos de rojo [red police] in the vicinity of the general cemetery, several mass media groups were targeted as during the previous year, sustaining heavy losses due to the destruction of their equipment.
More than 10 police were wounded as well as a mounted police horse. A youth was arrested during clashes in possession of 4 molotov cocktails, perhaps another frame-up by the police? In all, more than 27 were arrested.
More than 10,000 people attended the demonstration.
More than 450 moments of conflict were reported during the night in Santiago alone: at the end of another September 11th, more the 280,000 people were still effected by the power outages, buses were burned, supermarkets looted and set aflame, churches attacked and nearly burnt. 280 were arrested on the "national" level and 40 cops were wounded (3 seriously). These are just some of the events of day. The night began with fires across Santiago, explosions and barricades in Villa Francia around 9 pm, events that couldn't be ignored by the special operation of the "authorities" and in other places during the night there were actions such as the attempted arson of a church and two looted supermarkets.
In the hills of San Bernardo there were bursts of gunfire, the same as the night before. In Villa Francia alone the police arrested 14 people. Outside the Liceo Dario Salas there were long clashes and in one instance a cop threw tear gas into an apartment. A few short and long distance buses were attacked with stones. Some of the communities in the Metropolitan Region where the 450 conflicts took place were: Maipú (Ciudad Satélite and Camino Rinconada), Recoleta, Huechuraba, Peñalolén, Pudahuel, Lo Espejo, Villa Francia, La Victoria, Gran Avenida, Los Morros, La Pincoya Conchalí, Florida, San Miguel, Macul, Avenida Central, San Ramon and San Bernardo. The unrest spread throughout the night in various parts of the $hilean territory.
Concepción: Barricades were built, in particular outside the Vega Monumental and the University of Concepción. There were power outages because of the "cadenazos" [a method of sabotaging power lines or transformers using chains], the press was attacked and a pharmacy was looted. The same situation was reported in Quilpué and Villa Alemana.
Valparaiso: Throughout Sunday night, barricades were reported in the area of ​​Playa Ancha Rodelillo, specifically in the area of ​​the University of Playa Ancha, which also had power outages due to cadenazos and several clashes with police and destruction in the city.
Arica: About 100 encapuchados started disturbances on Avenida 21 de Mayo, behind the University of Tarapaca, destroying traffic signals within about 5 blocks and intimidating vehicles passing by the place, with no police presence.
Valdivia: The commemoration of September 11 began here with a group of people who setting up a barricade in the town of Pablo Neruda, forcing police to clear the area. There were also power outages in the Corvin neighborhood.
In turn, Chilectra [Chilean Energy Company] reported that 135,000 customers in the Metropolitan Region partially lost electrical service. Some of the communities effected: Florida, Lo Espejo, Huechuraba, Maipú, Pedro Aguirre Cerda, Estación Central, Conchalí, Pudahuel, San Joaquin, San Miguel, Peñalolén, Lo Prado, San Ramon, Quilicura, Lampa, Independencia, Recoleta and Macul, Puente Alto, La Pintana and San Bernardo.
Other Facts:
A 15-year-old was hit by a bullet in the chest and seriously injured in the neighborhood of ​​El Bosque.
14 police injured, two seriously injured, one lost an eye (Quilacura) and the other was struck by more than 40 buckshot pellets in the arms and legs (San Bernardo).
Other information: The press claims the actions were quieter than in previous years, but apparently that's all they know to say from a few years back. A police colonel reported that the riots were heavier than last year but just as intense as a few years ago.
VIDEOS:




Tags: Anti-Fascism, Chile, Dictatorship, Neo-Liberalism, Pinochet, Santiago, September 11
Posted in Direct Action
Monday, June 13th, 2011
Translations have appeared by other comrades concerning Luciano's health (he awoke from the medically-induced coma) and the solidarity action that occurred. Both translations follow:
from culmine, translation by santiasko anarchista:
At noon on Thursday (June 9th) we went to the Indisa Clinic with a banner and dropped leaflets in front of the building, where Luciano is imprisoned, the leaflets read:

AN ANARCHIST COMPAÑERO IS WOUNDED AND KIDNAPPED BY THE POLICE.
THIS IS GROUNDS FOR SOLIDARITY.
STRENGTH TO TORTUGA!
The press in its faithful work to maintain the dominate system enjoyed displaying images and testimonies of what happened on June 1 and have defamed Luciano and his close comrades, but none of this surprises us, the press just plays its role. (more…)
Tags: Chile, Luciano Pitronello Schuffeneger, Santiago
Posted in Prison Struggle
Monday, April 25th, 2011
In the context of the April 14-21: International Week of Solidarity with the Imprisoned Chilean Anarchist Comrades, 'Unknowns for the freedom of the prisoners' have carried out an attack against BBVA Bank. Here below is the communique, from Culmine via War on Society:
21 April 2011
"In those moments in which we decide to locate our lives as a deed of propaganda and move to the attack on this prison society, we discover the complicity of the night as our unconditional lover, caressing every solidarity action of every one of the comrades who takes to assault the misery of everyday life that capitalism offers us everywhere in the world, and it is for this that we return to her to send a message of freedom to the prisoners, because we know that every cinder that flies from the flames of every barricade and burning ATM opens the door of every cell to embrace all of our imprisoned sisters and brothers on the planet, passing through the cracks in the walls to arrive at the dungeons where they remain sequestered.
The night of Thursday April 21st, at the end of the 60th DAY OF THE HUNGER STRIKE of those incarcerated and kidnapped for the "BOMBS CASE" FRAME-UP and without any response on the part of the State-Capital, a group of individuals armed with our hearts overflowing with the longing for freedom, some few pamphlets, hammers, gasoline and our indomitable and insurrectional dreams decided to disturb the social order and the complicit silence of the citizenry in the face of the abhorrent frame-ups of people struggling for freedom, attacking the BBVA branch at the intersection of Rodolfo Phillipi and Alameda in downtown Santiago, destroying its windows and then splashing gasoline to set it on fire, demonstrating to this disgusting society that we are more than commodities tradeable on the market and that the logics of money only reproduce themselves when one naturalizes them oneself.
Barricades were erected on the south side of Alameda obstructing traffic and pamphlets were thrown about the situation of our sister/brother prisoners and for their immediate freedom, (we want to make clear that at no time did we attack the public transport as the bourgeois press is misreporting — if we had, then some buses would have been destroyed), later a couple of slogans were shouted in solidarity with the prisoners of the bombs case and the traffic block was maintained for some minutes to facilitate the escape of the insurgents.
This action marking the final day of the "Week of Action and Propaganda for Freedom, from April 14 to 21. End to the imprisonment of the accused in the bombs case frame-up arrested August 14, 2010," demonstrates that we are not afraid of their new research division called the Department of Public Order and that their supposed advances do nothing more than intensify the solidarity and the action of every rebel, that their policies to terrorize the population and criminalize social protest do not work and will not work, because the seeds of freedom are making fertile their new fruits and the diaspora of the insurgents has been undertaken everywhere as has been demonstrated with the solidarity actions in Italy, England, Greece, Argentina, Bolivia, Peru, Ecuador, Canada, Venezuela, Spain, throughout $hile and in many other places of the world, shouting that they cannot quiet our indomitable hearts.
It is necessary to make clear that every day is an opportunity to denounce the political-judicial frame-ups and the terrorism of the State, so they are very mistaken if they intend to implement their public control policies strategically on commemorative days, as every second that passes is an opportunity to assault the monotony of everyday life and to sharpen our ideas against the State-Capital.
We extend this message as a solidarity greeting to all the comrades imprisoned in the world from Bologna to Argentina, from Canada to Peru, from Bolivia to Greece, from France to Mexico and in every corner of the earth.
We will not stop until we see our sisters and brothers free and the frame-up has ended in total collapse, neither their repression nor their bars will silence us, we demand:
-IMMEDIATE FREEDOM TO THE ACCUSED FOR THE "BOMBS CASE" FRAME-UP
-NON-IMPLEMENTATION OF THE ANTI-TERRORIST LAW
-END TO THE PREVENTIVE DETENTION
-END TO THE ANTI-TERRORIST LAW AND ITS SECRET WITNESSES
-END TO THE ART. 7 CLAUSE 19 OF THE CONSTITUTION (UNANIMOUS VOTE REQUIRED FOR CONDITIONAL RELEASE)
-REVINDICATION OF PRISONERS' RIGHTS
FOR THE GERM OF REVOLT TO SPREAD THROUGH ALL THE LAND, FREEDOM TO THE PRISONERS OF THE ABSURD "BOMBS CASE" FRAME-UP NOW!!!!
For fear to not destroy solidarity…
For solidarity to destroy prison…"

Unknowns for the freedom of the prisoners…
Tags: 14/14, Arson, BBVA, Chile, Santiago
Posted in Direct Action
Monday, March 28th, 2011
11 March 2011
"Through this e-mail, we claim responsibility for the explosion that took place on Friday, March 11 at a location next to the Television studios on San Cristóbal hill. Said action was painstakingly and prophetically covered on Sunday, March 13 by El Mercurio, as is their custom, as an explosion related to the judicial decision extending Pablo Morales' preventive detention period. Nothing could be further from the truth. The reason for Friday night's bomb detonation was to send a message to one of the pillars of the system of domination: the official press, specifically television. We haven't forgotten how those representatives of power insulted us. Especially cruel was TVN's Special Report, which showed comrade Mauricio Morales' lifeless body and has become the mouthpiece for Prosecutor Peña and his mob. In case they haven't already realized it, that's the reason why the press was attacked during the last September 11 march, with special attention given to TVN's mobile reporting unit. To us, the situation is not settled, and we will no doubt have many more encounters with those reporter-cops. Additionally, March 11 marked the first year of the Piñera government, which represents a strengthened alliance of Capitalist and State interests, the likes of which Chilean history hasn't seen before. Clearly, the haute bourgeoisie no longer needs the military or the hack politicians of the concertación.
The intent of our action was to neither help nor hinder the situation of anticapitalist prisoners. We think that would be impossible. Nevertheless, while we recognize those prisoners as part of a wide anticapitalist spectrum that certainly isn't limited by the number of houses it squats, our knowledge of or relationship to them has nothing to do with the science fiction movie that BIPE (Police Special Investigations Squad) and DIPOLCAR (Carabineros Police Intelligence Department) sold to Peña and his prosecutors, who are hungry for success, fame, and TV cameras. However, we are well aware that, no matter what, they'll try to smear the prisoners and link them to any actions that take place. If there are no actions or bombings, they'll say the prisoners are guilty and that's why the bombings stopped. If there are actions and explosions, they'll say it's only to show that the prisoners are innocent. In the end, the new subversion and the new diffuse autonomous guerrilla war can't be guided by what power thinks.
An entirely different matter is the recent attack carried out on a private house, which was followed by a communiqué containing a threat to attack a school. We completely reject that action. We won't interpret it, we don't understand it, and we don't know what goal it hoped to achieve other than tainting anticapitalist struggle and rebellious ideas. We think it was either the work of police, parapolice squads engaging in false flag operations, or people with terrorist tendencies who made a serious mistake. Our actions, about which we won't go into detail now so as to not make the work of the police or the prosecutor's mob easier, have always had clear objectives and been carefully designed—based on the time, the location, and the physical characteristics of the chosen targets—to avoid injury to innocent people. We also attempt to limit the damage we cause to the targets we attack, and not to nearby homes. To us, actions are a means of propaganda, agitation, and sabotage. Sometimes they are a means of direct attack, but only when they respond to the murderous police who have killed our brothers and sisters here in the cities or on Mapuche territory, spinelessly shooting them in the back. We have no reason to beg forgiveness for wounded police or the damages to their buildings, because we are proud of ourselves and know that those wounds and damages are nothing compared to the valued lives of our brothers and sisters, which those bloodthirsty vermin brought to an end for a paltry salary from the owners of the country. The moral standards of subversives and revolutionaries can't be compared with those of the police, and we therefore repeat that we have nothing to do with indiscriminate attacks on the civilian population. On the off chance that the people who attacked that private house chose it at random and come from the anticapitalist milieu, we think they should profoundly rethink their political orientation and their actions, which only benefit the enemy.
On a television program yesterday, Interior Minister Rodrigo Hinzpeter theatrically asked how it was possible that we could coexist for so long with the injustice of people being in prison for not paying a fine. His words would have made us smile had they not been tinged with the shadow of death, coming from a person who supports the genocide of Arabs by Israel, which is where he learned many of his black arts. Prison is part of this system of death, exploitation, and oppression in which a privileged minority enjoy power and wealth while the rest of the population barely survives in a country with one of the world's worst distributions of income, in a country where the police kill Mapuche, students, and subversive militants with with total impunity and the blessing of concertación politicians or the right, in this bloodstained police democracy. That's the real tragedy. That's the real injustice. Not so much that a person who doesn't pay a fine goes to prison, which is certainly tragic and unjust, but that suit-and-tie terrorists make deals to raise the prices of medicine for pregnant women, children, and the elderly, who will never set foot in prison. Or that we will never see the murderers of Mapuche handcuffed, with media vultures asking them why they did it. No, that type of treatment is reserved for the poor. After all, it's for the poor that prisons are built. Never will we see landowners pay for the immense damage their forests cause to communities: drying out the soil, preventing the spread of culture, hindering agriculture due to a lack of irrigation, paying the police to shoot children. That's the real terrorism in this country, which moves its chess pieces to win approval for power stations that pollute nature and poison people, while earnest politicians are delighted to welcome the U.S. ambassador from the comfort of their very progressive presidential easy-chairs. Who are the terrorists? Are they not the same ones who applauded or looked the other way while people were being thrown into the sea, the same ones who are now party members in Mr. Hinzpeter's coalition government?
To conclude, we offer some information to demonstrate the authenticity of our action and to show anticapitalists that we can all form action groups, that it's in our hands, that we have never needed leaders or any ridiculous foreign financing. We carried out Friday's action at night, and we were armed in case things got dicey. We left a bomb consisting of almost two kilos of black powder mixed with powdered aluminum inside an empty fire extinguisher. The charge had a detonation system comprising two cell phones (in case one failed), which provided the necessary energy through a connection to their respective vibrators. The bomb was set to detonate at 9:45 p.m. in an area where no one could have been hurt. It was a symbolic and propagandistic action to mark the first year of the Piñera government. We also claim responsibility for the bomb left in Vitacura near the Las Tranqueras Police Station in January, which sadly failed to explode due to a problem with its detonation system.
Finally, we call on everyone to fight more fiercely and take the streets on March 29, Young Combatant's Day, to remember our dead and show with fire in the streets that we do not fear Piñera or Hinzpeter's fascism. We end with a few words that get louder and louder each time rebels shout them in the streets and the prisons:
Wake up, it's time to fight!
While there is misery, there will be rebellion!
For the spread and multiplication of autonomous anticapitalist cells in $hile and the rest of the world!
To the streets on March 29!"
—INTERNATIONAL REVOLUTIONARY FRONT: ARACELY ROMO INSURRECTIONAL COMMANDO
PS regarding recent events in Japan: In just a few days, a representative of the largest terrorist State in the world – the same one that dropped the bombs on Hiroshima and Nagasaki, causing over 200,000 deaths – will be welcomed with the red carpet and much deference by the degenerate leaders of Chile. What a treasure!
Tags: Aracely Romo Insurrectional Commando, Chile, International Revolutionary Front, Santiago, TVN
Posted in Direct Action
Sunday, February 27th, 2011
Around 200 comrades came together to march in the street to the center of Santiago for the release of and in solidarity with all comrades in prison. The comrades kidnapped on August 14th continue the 4th day of the hunger strike, with the clear intention to gain their freedom and end the political-judicial montage they continue to be subjected to, under which those who express solidarity for them are persecuted, watched, and taken hostage. (more…)
Tags: 14/14, Barricades, Chile, Demo, Hunger Strike, Letter, Santiago
Posted in Prison Struggle
Wednesday, January 26th, 2011
On the 21 January 2010, the Insurrectional Cell for Total Liberation took responsibility for detonating loud noise-bombs against the Foreign Ministry and the Police headquarters in the centre of Santiago, capital of Chile. The same group claimed for sending bomb-threats to the ambassador of the Greek state in Chile, Chrysoula Karykopoulou. This was done in solidarity with the Conspiracy of Cells of Fire on trial in Athens, Braulio Duran & Adrian Magdaleno (prisoners of the Mexican State*), and the comrades arrested in Chile for the "Caso Bombas"/'Bombs Case'.
*See BiteBack Mexican prisoners
Tags: 14/14, Chile, Greece, Insurrectional Cell for Total Liberation, International Solidarity, Santiago
Posted in Direct Action
Sunday, January 23rd, 2011
From hundreds of kilometres away

"to be at war is not a different way of managing society. It is, irreducibly and irreconcilably, ideas about happiness and its worlds. Power knows this, and so do we … " Invisible Committee

In a couple of hours the trial of the Greek comrades will begin, some of them with enthralling courage have claimed militance in the anarcho-revolutionary group Conspiracy of Cells of Fire. Their commitment as militants of freedom with actions of radicalization for a better life, without structures, without stereotypes or any kind of power, the only way for anti-social construction. For all of us a fine example of permanent action for the revolutionary uprising. It is here and now that words and deeds become one. Far from theorising concepts of Revolution, it is concrete actions that show the fury of those of us who yearn to destroy the current state of affairs. Today more than ever we see ourselves in sincere need to create spaces, material and otherwise and self-organization to form a future of conscious individuality, to sow the anti-authoritarian ideas in every corner of the world, with the goal of a better life, away from domination and any form of exploitation.
The current society, founded as a forced association of individuals, will never make possible our dreams of autonomy and freedom. The political-social and economic reality of recent years shows that the modernist criminal system can no longer sustain itself, the spread of the uncontrollable revolutionary idea is putting in check "control and social peace." That 's why the State and power are using as a response their Machiavellian tool- prison. In these moments of physical confinement, my spirit leads me to shout louder than ever:

May solidarity destroy all walls!!
Tear down the prison walls! Subvert any established and imposed moral, and social value!
Greek comrades: from hundreds of miles away I send a strong and fraternal embrace full of inherited love and rage.
Hi, comrades!!
Andrea Urzúa Cid – Libertarian Political Prisoner
– Central Penitenciario Femenina – Sezione Speciale di Alta Sicurezza,
Santiago, Cile. 15 gennaio 2011
from sysiphus and actforfreedomnow
Tags: Andrea Urzúa Cid, Chile, Conspiracy of Cells of Fire, Letter, Santiago
Posted in Prison Struggle
Wednesday, August 25th, 2010
CALL FOR INTERNATIONAL SOLIDARITY WITH THE 14 HOSTAGES OF THE CHILEAN 'DEMOCRACY'
Welcome to Chile, society of jails and jailers.
This past Saturday the 14th of August, in the cities of Santiago and Valparaíso, an action coordinated by police of all types (special task forces) violently raided three squatted social centers and many private homes in fives communes. The police intimidated people with weapons of war, broke windows and doors, and took many personal items with them from all of the houses. (more…)
Tags: 14 / 14, Chile, International Solidarity, Repression, Santiago
Posted in Social Control
Wednesday, August 18th, 2010
Breaking news coming in from Chile about a wave of repression aimed at dismantling the anarchist movement. International solidarity and resistance – Spread this information and take action! (Updated)
–
From Mainstream:
Raids Lead To Arrest Of 14 Alleged Members Of Chilean Anarchist Group.
Police say financing likely came from Italy, Greece, Mexico and Argentina. Police on Saturday led simultaneous raids that resulted in the arrests of 14 people suspected of belonging to a Chilean anarchist group accused of more than 100 bombings. 14 Suspects accused of 23 Bomb Attacks nabbed in Chile. (more…)
Tags: Chile, CSO Jonny Cariqueo, CSO Sacco and Vanzetti, Repression, Santiago
Posted in Prison Struggle