Posts Tagged 'Santiago'
Thursday, April 16th, 2020
31 March 2020
12 years after the death of Jonny Cariqueo Yáñez, who was assassinated on March 31 by a heart attack caused by a strong beating by the repressive forces of the State of $hile, during his arrest in a police hunt that March 29, 2008 in the commune of Pudahuel.
On the afternoon of March 31 of this year, a few hours from the curfew, we abandoned an homemade incendiary device on a Transantiago bus, for it to catch fire in or near its terminal, in one of the peripheries from the city.
This is an attack on the cruel and bloody machinery that governs civic life, against amnesia, passivity and inertia, attitudes which we reject, even in times of sanitary protection, since the war continues. The political-social-economic crisis that was being experienced in the country, which has been enhanced with the current world health crisis, shows us, once again, the clear interests and priorities of power in preserving the pockets of the rich and their companies rather than looking after the well-being of the common people, the poor people, the people marginalized and hostages of the police state. So we insist on breaking with the tranquility that seeks and promotes power. (more…)
Tags: Anti-Prison, Arson, Chile, Coronavirus, Day of the Young Combatant, International Solidarity, Javier Recabarren, Jonny Cariqueo, Norma Vergara, Santiago, Solidarity Action, Transantiago
Posted in Direct Action
Saturday, April 4th, 2020
El viernes 27 de Marzo la Cárcel de Alta Seguridad declaro el total aislamiento de los prisioneros que mantiene como rehén. La prohibición represiva con excusa de la cuarentena por el covid-19 incluía el fin de cualquier tipo de visita como también la eliminación de las encomiendas para lxs prisionerxs, cortando en la práctica cualquier contacto con el exterior como también dejándolos a a merced y dependencia de los carceleros y el Estado.
Rápidamente en medio de cuarentenas y restricciones para movilizarse por la ciudad se gestionaron distintas iniciativas para revertir las intenciones de sepultar a nuestrxs compañerxs. Desde adentro y afuera de los muros finalmente fue posible revertir parcialmente las medidas represivas y restrictivas del Estado carcelero.
(more…)
Tags: Chile, Coronavirus, Repression, Santiago
Posted in Prison Struggle
Tuesday, March 31st, 2020
These words of love and war go to Jhonny Cariqueo and his fireproof father.
I never met you in person Jhonny, I knew you were a compañero, an inhabitant of Pudahuel who like many young people went out at night to commemorate another year of the Day of the Young Combatant back there in 2008.
Minions can't bear the insolence to challenge them, not even with words nor with homemade weapons, and they throw themselves to the wild charge entrusted in them by the state. They take you after an act in a square in your commune. I imagine those moments, screams, weapons to the head, immobility, looks of hatred between both sides. You were transferred with other brave ones to the dungeons of the sadistic 26th Police Station, beaten and humiliated by those that are only courageous for abuse but not for combat. They beat you, your heart clenches, you communicate it to your captors, they in their cruelty just ignore you and mock you. My spirit burns with rage at imagining this. They release you. I imagine you coming to your house, with yours worries, tiredness, the desire to sleep, your father's love.
Spend the night and imagine that you felt bad, your chest clenches, without you wanting it, the dead woman's hand takes you on the shoulder. You pass away cause of the beating at the police station and the lack of attention where your great heart stopped working. Compañero, the police MURDERED you and that will walk with us for the rest of life.
I attended your funeral, hugs between compas, faces of anger and pain, We made a basket and bought a flower crown. A diagonal red-black flag of Anarchy was designed, like your scream, like your rap, like your ideas. (more…)
Tags: Chile, Day of the Young Combatant, Jhonny Cariqueo, Letter, Militant Youth, Santiago
Posted in Prison Struggle
Monday, March 30th, 2020
COMBATIENDO EL AISLAMIENTO DENTRO Y FUERA DE LAS PRISIONES
CONTRA LA COMODIDAD Y EL ESTANCAMIENTO
NADA HA ACABADO
TODO CONTINÚA
SOLIDARIDAD CON GABRIEL POMBO DA SILVA
Y CON LXS COMPAÑERXS PRESXS EN CHILE, ITALIA, GRECIA Y TODO EL MUNDO.
Tags: Anti-Prison, Chile, Flyposter, Gabriel Pombo da Silva, International Solidarity, Riots, Santiago, Social Insurrection
Posted in Autonomy
Saturday, March 28th, 2020
El viernes 27 de marzo del 2020 la Cárcel de Alta Seguridad suspende de forma indefinida las visitas y encomiendas dejando en la práctica completamente aislados a los distintos presos que se encuentran rehenes del Estado. No podemos entender estas medidas de forma distinta a una
acción represiva que lejos de buscar una "cuarentena" o medidas sanitarias deja a nuestrxs compañerxs presos a merced de sus carceleros sin la posibilidad de comunicación ni ingresos de elementos básicos para la higiene y la subsistencia.
Recordemos que en esta prisión se encuentran secuestradxs cumpliendo condena Juan Aliste, Marcelo Villarroel, Juan Flores, Joaquín García, Mauricio Hernandez Norambuena y algunos prisionerxs de la revuelta.
Hoy la ciudadanía consigue "permisos de tránsito" para abarrotarse en los supermercados e ir a producir, aún en las comunas con cuarentena total.
¡No aceptamos este aislamiento total disfrazado de medida sanitaria!
¡No dejaremos que sepulten a nuestrxs compañerxs en prisión!
–
On Friday, March 27, 2020, the High Security Prison indefinitely suspends visits and parcels, effectively leaving the various prisoners who are hostages of the State completely isolated. We cannot understand these measures differently than another repressive action, that far from seeking a "quarantine" or sanitary measures, leaves our comrades imprisoned at the mercy of their jailers without the possibility of communication or an income of basic needs for hygiene and subsistence.
Let us remember that in this prison there are our kidnapped prisoners serving sentences such as Juan Aliste, Marcelo Villarroel, Juan Flores, Joaquín García, Mauricio Hernandez Norambuena and some prisoners of the revolt.
Today, citizens get "transit permits" to fill up in supermarkets and go to their jobs, even in districts with total quarantine.
We do not accept this total isolation disguised as a sanitary measure!
We will not let our comrades be buried in prison!
Tags: Chile, Coronavirus, Repression, Santiago
Posted in Prison Struggle
Saturday, March 28th, 2020
A day of robberies in big chain stores to distribute to homeless people. Audio-visual material recorded in the streets of Santiago, $hile in times of quarantine and militarized curfew under the pretext of the Covid-19 virus.
Background music: Golpebalabeso/Niña Debacle/Paniko. Recorded in Chauri Chaura Studio.
All sanitary measures were taken to avoid harming the street people in terms of hygiene and viruses, but the use of white overalls is a gesture of rebellion and action against the power here in the territory governed by the $hilean state. Many high school students resist and attack the police in their jails-schools while wearing these clothes that the police hate and fear. Here is a video for those who didn't know and to give some context.
Long live the violent war against authority and power!
As long as misery exists there will be rebellion!
Prisoners of war to the streets!

via Vegan Straight wAr, AWW.
Tags: Chile, Coronavirus, Santiago, Videos
Posted in Direct Action
Thursday, March 26th, 2020
Compañeras y compañeros:
Tenemos la feliz oportunidad de comunicar que luego de más de dos años de la crisis epiléptica que alertó de la Malformación Artereovensa del parietal derecho del cerebro ha habido un avance efectivo en el abordaje clínico de la MAV. Es así como el pasado jueves 19 de marzo del 2020, muy temprano en la mañana en medio de un nuevo Estado de Excepción Juan fue trasladado desde la Cárcel de Alta Seguridad y sometido a una radio cirugía, que a través de rayos gamma ejecuto la resección de la malformación en sí. Este procedimiento fue la respuesta del equipo de salud que lo trató desde un comienzo ante los enormes riesgos que significaba una operación de cerebro convencional. Ésta cirugía pudo ser llevada gracias a la salud y fortaleza física con que nuestro compañero ha sabido sortear todos estos años de encierro y en particular con los efectos de una epilepsia sintomática.
Ahora nos encontramos en el comienzo del fin del proceso a pesar de la gran tecnología que ha sido desplegada y del éxito de la intervención los resultados definitivos no son perceptibles antes de un año.
(more…)
Tags: Anti-Prison, Chile, Juan Aliste Vega, Santiago
Posted in Prison Struggle
Wednesday, March 18th, 2020
PDF: Portada – Memoria y Combate
PDF: Libro – Memoria y Combate
La presente publicación nace con la intención de difundir destellos de la vida de un anarquista de la región chilena que falleció producto de un accidente. La publicación busca ser un aporte para la construcción de la memoria combativa, que, en este caso y como podrán encontrar en sus páginas se ha manifestado con diferentes gestos concretos a lo largo de los años con iniciativas, propaganda, sabotajes, fuego, reflexiones, anécdotas y más, gestos anónimos por el compañero y que hoy son compilados y salen a la luz en un nuevo formato. Para nosotrxs la muerte de un anarquista no puede pasar desapercibida, sea la forma que sea su muerte. Un/a compañerx que asume su vida en permanente lucha contra la opresión, la explotación y el poder en sus múltiples formas y concreta sus ideas en hechos es totalmente dignx de rescatar, difundir y replicar, es por eso que no olvidamos a Javier Recabarren, su muerte es un llamado para continuar firmes en la praxis subversiva anarquista. (more…)
Tags: Chile, International Solidarity, Javier Recabarren, PDF, Santiago, Zine
Posted in Library
Sunday, March 1st, 2020
—To Joaquín García Chanks and Marcelo Villarroel Sepúlveda, comrades and co-conspirators.
"Let's continue the assault on the existent with all means, undeterred by those who would silence us with weapons from the stockpile of reaction, be they the kick of the democratic jackboot, the empty chatter of opinion or the siren calls of the candy men of hope."
Jean Weir; Tame words from a wild heart.
"Whomever is determined to carry out their action is not a brave person, they are simply someone who has clarified their ideas, who has realized the futility of striving to play the role assigned to them by Capital. They are aware, and attack with cold determination. And in doing so they realize themselves as a human being. They realize themselves in pleasure. The kingdom of death disappears before their eyes."
Alfredo Maria Bonanno; Selected Texts.
"Let us put a stop to the conjuring tricks of dialectics. The exploited are not carriers of any positive project, be it even the classless society … Capital is their only community. They can only escape by destroying everything that makes them exploited."
At Daggers Drawn
When history is written – with capital letters, the one that the victors have always written and will write – about the generalized insurrection in Chile at the end of the first decade of the 21st century, it will have to be read with extreme meticulousness, since it will be reflected in the supposed motivations of the "crisis" that produced the revolt.
Once again, the economic analysis will prevail – with emphasis on "the obscenity of misery" that has caused that uncertain denomination they call "Neo-Liberalism" – and, the poor negotiating capacity of a superb government that failed to meet popular demands and chose for the continuity of a regime of corruption and impunity, a (constitutional) heir of one of the bloodiest fascist dictatorships in the Americas.
However, nothing will be recorded of that anonymous power that shaped the anger of despair, of the nihilistic actions that transformed into a sweeping energy which disrupted normality whilst mercilessly attacking the reality that oppresses us. (more…)
Tags: Analysis, Chile, Gustavo Rodriguez, Letter, Repression, Riots, Santiago, Social Insurrection
Posted in Autonomy
Saturday, February 29th, 2020
EN: International Call for a Subversive, Dissident and Anarcho-Feminist March
CONVOCATORIA POR UN MARZO SUBVERSIVO, ANARCOFEMINISTA Y DISIDENTE
La sociedad está estructurada desde diversas cadenas de opresión que se cruzan y entrecruzan, entendemos que solamente la confrontación radical es capaz de acabar con cada una de ellas. Estas pesadas cadenas tienen al patriarcado como una de sus bases principales, por lo cual hacemos un llamado a levantar un marzo subversivo, anarcofeminista y disidente. Históricamente ha sido un mes combativo y pretendemos que lo siga siendo.
La destrucción de la autoridad en sus múltiples dimensiones no puede ir alejada del cuestionamiento y enfrentamiento constante a la dominación machista, en sus formas y conductas, por eso no vemos el enfrentamiento contra el patriarcado como una lucha parcial.
Somos críticxs con las posturas hegemónicas del feminismo social demócrata, que margina y excluye a las sexualidades y cuerpxs no normados. Los géneros son construcciones sociales impuestos de los cuales no nos interesa ser parte, apelamos a una deconstrucción completa de nuestras maneras de vernos y relacionarnos… sin reglas de lo que queramos ser. (more…)
Tags: Chile, Demo, International Solidarity, Santiago, Sexism
Posted in Autonomy
Friday, February 21st, 2020
Words of a prisoner in revolt, from Santiago. 1, Module 14, accused of throwing an incendiary device.
As an anarcho-nihilist individualist I write these words from a prison in the $hilean territory, already in my first month in prison I have been able to reaffirm my position as anti-prison and stubbornly unmanageable in front of the whole machinery and framework that tries to make you part of it.
Nowadays while the flame of the insurrection is still burning and continues with great force in different parts of the world and in this same territory, it is important to remain firm despite all the consequences that our actions bring. Nothing we do is in vain, but always being attentive especially in these moments, to where each time our enemies are becoming more and more professional, that it is of relevance that we also do so too and continue positioning ourselves even more in the realities that we live, going hand in hand with self-care, making it part of ourselves and throwing us on the path to which each one of us decided to take.
As an anarcho-nihilist prisoner I call for solidarity in its many forms and not to give up, I send my most complicit hugs and much newen [Mapuche term meaning Strength, Energy], I greet all those who remain steadfast and to the prisoners of the world.
BEFORE CONTROL, CHAOS AND INSURRECTION.
From Anarquia.
Tags: Chile, International Solidarity, Letter, Molotov, Riots, Santiago, Santiago 1, Social Insurrection
Posted in Prison Struggle
Wednesday, January 22nd, 2020
When analyzing any edge of the prison, one must first establish or rather, make its history and its purpose visible. We are the ones in the dump of this society, another instrument of oppression through the law to perpetuate the privilege of the class society, made by power in its image and likeness, the jail is like all the bad things in the tight system between cement walls.
The very existence of the jail is political, a gear that makes the machinery of death of the State roll, social control, intimidation, isolation, directed against whoever it is is necessary to exalt the triumphant values of the bourgeoisie: competition, submission, exploitation, harassment, bourgeois individualism, violence; all this reflects its worst face in this place.
Here the children of violence, poverty and ignorance are raised, a school of fear that maintains the lucrative prison business, being a product of domination will never have a reforming end, which proclaims with the voice of a prisoner sick with rage. Nothing good can be taken out of confinement and uniformity; therefore, the mere existence of the prison reflects the type of system that governs us, has the color it has, is adorned as it is adorned; the existence of the jail has a political aim; therefore, for whatever reason, all prisoners are political prisoners, because it transcends the filter of the law, which is the preferred son of power.
What to do with social cannibalism if there were no prisons? It is the question to dream… (more…)
Tags: Chile, Letter, Santiago, Santiago 1, Social Insurrection
Posted in Prison Struggle
Thursday, January 16th, 2020
Tags: Anti-Prison, Chile, International Solidarity, Juan Aliste Vega, Marcelo Villarroel Sepúlveda, Santiago, Solidarity Event
Posted in Prison Struggle
Sunday, January 12th, 2020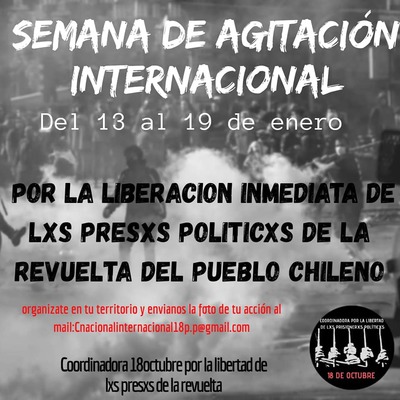 WEEK OF INTERNATIONAL AGITATION IN SUPPORT OF THE PRISONERS OF THE REVOLT IN CHILE. FROM JANUARY 13-19.
"THOSE WHO FORGET THE POLITICAL PRISONERS FORGET THE STRUGGLE"
More than 80 days after the social outbreak in Chile, the struggle and social organization persists in the unwavering conviction of confronting and breaking with the model of power and economy that has perpetuated inequalities, injustices and abuses for decades.
Undoubtedly the revolt that still breathes in Chile means this is a turning point with no return, it is within a long journey of struggle that has also brought with it a hard cost: hundreds and hundreds of prisoners of the revolt that are today in the different prisons in this territory. Each week this number increases and in an obvious phenomenon of mass incarceration the State seeks to intimidate and criminalize social protest. We speak of political prisoners of the revolt because of the fact of the mass imprisonment of social fighters after the outbreak of the 18th [October], responding to a political decision of the State and not to technical/legal criteria, understanding the complicity between the different powers of the State in order to perpetuate the existing model of control. That is why we make this call for international solidarity with the prisoners of the revolt in order to reveal the political condition of their imprisonment and demand their immediate freedom. We extend this call appealing to the multiple initiatives and solidarity actions that arise in each territory.
THOSE WHO FORGET THE POLITICAL PRISONERS FORGET THE STRUGGLE!
IMMEDIATE FREEDOM TO THE PRISONERS OF THE REVOLT!
CO-ORDINATION FOR THE FREEDOM OF THE OCTOBER 18th POLITICAL PRISONERS
— (more…)
Tags: Chile, International Solidarity, Riots, Santiago, Social Insurrection
Posted in Prison Struggle
Thursday, January 2nd, 2020
via Noticias de la Guerra Sociale:
[Reportes redactados y difundidos por redes sociales]
Santiago de Chile
9 de diciembre
53vo Día de Revuelta Social
¡EL AMOR POR LA LUCHA ES NUESTRA ENERGIA!
En la Plaza de la Dignidad se junta cada vez menos gente. Hoy no somos miles, apenas somos cientos. A pesar de esto la conflictividad no disminuye, el amor por la lucha y la sed de venganza son incombustibles.
El monumento a Baquedano está intervenido con lienzos en contra los abusos en del SENAME, bellísimas arpilleras y costuras rebeldes. También hay algunos chemamüll Mapuche.
Hasta allí llegó una columna que caminó 500 kilómetros desde la ciudad de Concepción, se van abriendo paso entre aplausos y en sus ojos se nota la decisión de seguir avanzando, los esbirros que tenían copado el sitio son quienes retroceden.
Al poco rato llega una caravana de vehículos blindados policiales, son recibidos por lxs encapuchadxs con una lluvia de bombas incendiarias y piedras.
Hermanxs de la primera línea relatan que el viernes un manifestante término con fractura craneal y hemorragia interna al ser golpeado directamente con una bomba lacrimógena en su cabeza, está grave y hospitalizado. Comienza la acampanda de la "Mesa Social" afuera de la Corte Suprema.
Encapuchadxs realizan una bulliciosa protesta dentro de un Mall contra el consumismo navideño. (more…)
Tags: Chile, Noticias de la Guerra Social, Santiago, Social Insurrection
Posted in Autonomy