Posts Tagged 'Santiago'
Sunday, August 7th, 2016
"…with simple materials we sabotaged the locks so that the owners of this so-called 'job' can have it clear in their heads that there are subjects that do not want and do not respect the commercialization of humiliation, suffering and death of animals." – Javier Recabarren affiliate cell of ALF
The ALF assumes the low-scale sabotage committed during the night of July 28 in the periphery of Santiago against 2 butcher shops, 1 private dwelling (butcher owner's house), 1 access fence into the butcher and other shops, and lastly, 1 shop selling chicken.
The flow of commercialization in the shops selling dead animals was interrupted as we filled tens of their locks with liquid steel, which the bastard owners discovered later that morning with surprise. In the following days, we left a message on paper, making it very clear why this action was committed.
(more…)
Tags: ALF, Animal Liberation, Chile, Sabotage, Santiago
Posted in Direct Action
Thursday, July 7th, 2016
5 de Julio. Camufladxs por la ciudad nos dirigimos a unas improvisadas instalaciones de maquinarias retroexcavadoras junto a varios container donde dormían algunxs custodixs. Dos bombas de ruido lanzamos a la infraestructura como ataque contra quienes devastan la tierra sin cuestionamientos amparadxs por el Poder.
¡Fuerza Natalia Collado! Tus palabras nos llenan de frenesí y nos inspiran para contribuir de alguna manera (por mínima que sea) a la lucha contra el Dominio.
No olvidamos a Sebastián Oversluij a más de dos años de su muerte en combate en una tentativa de expropiación. Abrazamos sus ideas y actos que en vida defendió fieramente. La defensa de la tierra, lxs animales y la guerra contra toda inmunda autoridad.
¡A PROPAGAR LA ACCIÓN CONTRA LA DOMINACIÓN!
¡NATALIA COLLADO A LA KALLE!
¡SEBASTIÁN "ANGRY" OVERSLUIJ PRESENTE!
Frente de Liberación de la Tierra – FLT
Tags: Chile, Earth Liberation Front, International Solidarity, Natalia Collao, Noise-bomb, Santiago, Sebastián Oversluij Seguel
Posted in Eco Struggle
Tuesday, July 5th, 2016
Two comrades, Jean Gutiérrez Zambrano and Andrés Aravena Sotelo, are being held on remand for 90 days for investigations. They were arrested following films and police controls relating to a students' demo organized by Confech (Confederación de Estudiantes de Chile) on 9th June in Santiago of Chile. Prosecutor Sebastián Gana accuses the comrades of having thrown molotov bottles at cop cars at various times during the demo.
–
More info: Publicacion Refractario
via: croceneranarchica.
Translated by act for freedom now!
Tags: Chile, Fuck the Police, Molotovs, Santiago
Posted in Prison Struggle
Wednesday, June 22nd, 2016
The Anarchist Radio Berlin presents the "No Borders" project of the video collective "Sur Negro"!
'No Borders, Social Struggles across the world' (Sin Fronteras, La lucha social a través del mundo) is the name of a web series presenting experiences of social organizations and anti-capitalist resistance in different regions of the world. Its special focus lies on anti-authoritarian practices within social movements.
The first season of this web series was realized in cooperation with Anarchist Radio Berlin, Rosa Negra Anarchist Federation Locals (USA) and the anarchist social center Casa Volnitza (Santiago de Chile). Recorded in the year 2015 in 12 cities of the U.S. the web series is organized in 11 chapters. Each chapter of 30 minutes contains interviews with social and political organizations that explain their practices and therefore give detailed insights into the contexts of their social struggles in their city. In addition, each chapter has a music segment presenting musicians involved in their cities' struggles. The first episode is already online!
You'll find the trailer as well as more information and links on the project on the blog of A-Radio Berlin:
http://aradio.blogsport.de/2016/06/16/sur-negro-no-borders-new-antiauthoritarian-web-series-goes-live-1st-season-social-struggles-in-the-usa/
Enjoy! And please help us to spread the info on this great project by
putting it on your blogs or sharing this mail 🙂

A-Radio Berlin
Tags: Anarchistisches Radio Berlin, Casa Volnitza, Chile, Santiago, Sur Negro (Video Collective), USA
Posted in No Borders
Sunday, June 19th, 2016
Anti-clerical violence has been unleashed with force as one more expression of the anarchic conflict against power and all bastard authority. The impact has been varied, politicians scream for the imposition of new laws and tougher penalties for those who attack order and the symbols of capital. The press plays it role of defamation and talks of social peace, ultimately pro-government. The citizenship, the sheep criticize everything without questioning their rotten enslaved lives and the religious ones cry as always appearing like the good ones in the movie.
We extend and claim the anti-clerical violence because we see the church as one more piece of domination, which is demonstrated by their influence on the policies of social control. Encouraging the power to impose new laws of punishment and fascist morality which are reaffirmed by vain speeches cloaked with a non-existent god that people believe without question for a life sentence that ends in a heavenly paradise. Who can believe in such a story? What a load of shit. (more…)
Tags: Chile, Fuck the Church, Mauricio Morales, Santiago, Sebastián Oversluij Seguel, Vandalism
Posted in Direct Action
Thursday, May 26th, 2016
'We will ensure that there is not one safe place left for them. Our weapons are charged and ready to talk… if words make them sweat, actions will spill blood' Sebastián Oversluij.
Today I write to you from captivity, Mauricio Morales. These words are from and for you and I hope they reach you.. How many years have passed since you physically abandoned this disgusting modern world? Does it really matter? Not to me. Time is just time and the future is uncertain, the attack is here and now… There's the present to be set on fire and blown up! The present war!
For me you didn't 'fall in battle'. Because, dying while attacking authority is falling? no, in my opinion, and I believe that many repeat this phrase mistakenly. For me you died attacking authority, with dignity and pride. You died with the courage of the warrior you are, amidst the triumph of Power and the respect of those who consider you a comrade. I don't idolise you or any other, even less do I cry for you. I honour your courage, your acting in total coherence with your words, ideas and practices; a fighter of praxis. (more…)
Tags: Hunger Strike, Kevin Garrido, Letter, Mauricio Morales, Santiago, Santiago 1
Posted in Prison Struggle
Thursday, May 26th, 2016
Barricadas lunes 23 de mayo, 7am.
El 22 de mayo del año 2009, muere nuestro compañero anarquista Mauricio
Morales, mientras intentaba activar un artefacto explosivo que dejaría
en la escuela de gendarmería de $hile, institución destinada a formar
seres que humillan y torturan han trasgredido la ley de los poderosos.
A 7 años de su muerte abrazamos sus ideas de libertad y de rechazo a
gendarmería y/o cualquier institución o símbolo de autoridad.
La memoria de nuestrxs compañerxs es vital para continuar la lucha
contra este sistema de dominación.
POR LA AGUDIZACIÓN DE LOS CONFLICTOS
POR LA EXPANCIÓN DE LOS FOCOS DE INSURRECCIÓN
QUE SE EXPANDA LA REVUELTA ANÁRQUICA
A 7 AÑOS DE NUESTRO COMPAÑERO MAURICIO MORALES, CONTINUAMOS LUCHANDO
CONTRA TODA AUTORIDAD Y POR LA ANARQUÍA. (more…)
Tags: Arson, Burning Barricades, Chile, Mauricio Morales, Santiago
Posted in Direct Action
Thursday, May 26th, 2016
A poem for our insurrectionary comrade Mauri:
by Tsakalaki
for Punky Mauri
…in continuation
Mauricio I don't profess to know you
either your moment of pain
in Santiago that night
amongst stillness
just before the storm returns
in the eye of the conflict
we are both blown within
your poems exposed the wound
once more
opening the emotions covered for too long
realising the eternal burning sun inside
the melting of glaciers from the heart
somewhere, somewhere
amongst another burning barricade
I embraced existence
once again along with you
not in memory
in continuation
Tags: Chile, Mauricio Morales, Santiago
Posted in Uncategorised
Sunday, May 15th, 2016
PDF: La Bomba 17
Tags: Chile, La Bomba Zine, PDF, Santiago, Zine
Posted in Library
Thursday, April 21st, 2016
Actividad libre de alcohol y humo
Habrá: Comida vegetariana y vegana
Música en vivo: Yigo dos mil dosis, Deviolencia, Juan trova, En huelga
de arte, Guerrillero oculto
Proyecciones
Feria Libertaria (¡Trae la tuya!)
Rifas y mucho más…
Aporte: $2.000
Fecha: Sábado 30 Abril
Hora: Desde las 18:00 hrs.
Lugar: Casa Volnitza #1629 metro Los Héroes
PARA CONOCER MÁS DE ESTA ACTIVIDAD DEJAMOS UNA RESEÑA DE LO QUE FUE EL 1º CAMPEONATO SOLIDARIO
Esta iniciativa nace como una propuesta para realizar jornadas de solidaridad concreta con la realidad anticarcelaria, pero al margen de lo "festivo" y el uso de alcohol y drogas. Excluyendo lo competitivo, los deportes de combate, para muchxs son una forma de vida, y en este caso se convirtieron en el motor de esta jornada, cuyo eje articulador fue generar reflexión sobre la realidad anticarcelaria y a la vez, solidarizar con los compañeros involucrados en el caso Security, especialmente con el compañero Marcelo Villarroel Sepúlveda. (more…)
Tags: Chile, Martial Arts, Santiago, Solidarity Event
Posted in Autonomy
Saturday, March 26th, 2016
Bomba de ruido en visita nocturna a sede de la UDI.
Madrugada del 23 de Marzo – Santiago
Cuando nos declaramos a viva voz enemigxs de la dominación, contrarixs a la forma de vida impuesta vigilada y controlada por el poder, es una obligación aportar en aquel camino elegido, aportar desde la multiformidad de la acción directa en pos de la lucha. Es así como queremos vivir y lo demostramos con acción antagónica, diciéndole a las policías, al poder. Aquí estamos, existimos, no nos rendimos. Multiplicaremos nuestro accionar, lo potenciaremos, para atacar cuando menos se lo esperen. (more…)
Tags: Arson, Burning Barricades, Célula por el Incendio Javier Recabarren, Chile, Claudia López, Francisco Solar, Freddy Fuentevilla Saa, International Solidarity, Javier Recabarren, Jhonny Cariqueo, Juan Aliste Vega, Lambros Foundas, Marcelo Villarroel Sepúlveda, Mauricio Morales, Monica Caballero, Santiago, Sebastián Oversluij Seguel
Posted in Direct Action
Tuesday, March 15th, 2016
Reivindicación de amenaza a párroco de iglesia Los Sacramentinos
La iglesia y sus mutaciones a lo largo de la historia ha logrado prevalecer como símbolo y ejecutante de poder en el mundo, con pequeñas reinversiones han logrado que su moral y divina autoridad sigan siendo legitimas, permaneciendo así como forma de control para la humanidad. La sangre derramada por la inquisición en su época es reemplazada hoy por cánones morales, rutinas de comportamiento que no son más que el reflejo de una sociedad enferma. Heteronormatividad, supremacía del hombre por sobre todo, monarquías, justificación de la explotación humana y animal, vicios como machismo, pedofilia, el poder llevado a la escala más pequeña, la imbecilidad legitimada en más imbecilidad, y por supuesto no podría estar ausente el castigo más "duro" al que se puede someter a un bastardo pederasta: Una vida de oración.
A lo largo de la historia la iglesia siempre ha sido un blanco de ataque para quienes luchan contra el poder. No podemos olvidar como Mateo Morral atentó contra los reyes católicos en el año 1906. Acá en Chile el ataque tampoco ha sido la excepción, en el año 1915 el poder montó una cacería contra compañerxs anarquistas tratando de buscar a los responsables de ataques dinamiteros contra conventos religiosos. La Brigada de la Muerte en la España de 1936 saqueaba iglesias, profanaban tumbas de sacerdotes y asesinaban a los que se mantenían vivos por salvaguardar el fascismo en pequeños pueblos.
En la actualidad en Chile estas acciones han continuado, distintos células insurreccionales han bombardeado iglesias con cargas explosivas e incendiarias. Hasta en protestas han sido blanco de ataques, por ejemplo: La Iglesia de la Gratitud Nacional ubicada en plena Alameda. Su puerta principal fue incendiada por insurrectxs en una manifestación el 25 de agosto del año 2011. Esta nuevamente vio las llamas el 23 de mayo del año 2015 en la conmemoración por la muerte del anarquista Mauricio Morales, y días después, el 28 de mayo -nuevamente en una manifestación- sus puertas fueron alimentadas por el fuego anarquista.
Sin más, mediante este correo electrónico reivindicamos el envío de una carta a Rafael Cáceres Olave, párroco de la iglesia Los Sacramentinos en los días previos al juicio que enfrentaban lxs anarquistas Mónica Caballero y Francisco Solar en España acusadxs de distintas explosiones en iglesias adjudicadas por el Comando Insurreccional Mateo Morral. La carta contenía un mensaje por nuestrxs compañerxs y balas. Elegimos a este sujeto por ser párroco de la iglesia a la que Mónica había sido acusada de atentar en el denominado Caso Bombas en Chile.
El incendio, el ataque, la amenaza contra cualquier representante de la iglesia y el poder esta plenamente justificada. Tenemos las armas y nuestra voluntad para atentar contra ellxs. Sus días de jolgorio han acabado.
Derribando su historia, falsa moral, poder y autoridad…
Nos erigimos y gritamos fuerte:
¡Mónica Caballero y Francisco Solar a la kalle!
¡Muerte al estado/capital/iglesia y que viva la anarquía!

Brigada de la Muerte FAI/FRI
Tags: Brigada de la Muerte FAI/FRI, Chile, Francisco Solar, Fuck the Church, Informal Anarchist Federation (FAI), Insurrectionalist Commando Mateo Morral, International Revolutionary Front, International Solidarity, Mauricio Morales, Monica Caballero, Santiago
Posted in Direct Action
Sunday, March 13th, 2016
English translation via insurrectionnews:
"This silent, instinctive coordination of solidarity not only causes a great inconvenience to normal life at different points in the world, but also strengthens our ties, making it clear there are no borders and that we do not need leaders or vertical structures to attack several bars in the same cage."
Words from compas in Brazil claiming an arson attack in solidarity with Monica Caballero and Francisco Solar
Early on Saturday March 12, we detonated a noise bomb outside the 'Vespucio Sur' highway management building in the city of Santiago. We decided to make our objective clear and carry out the action at a time when the area was free of passers-by because we do not consider it desirable to harm people who have nothing to do with the targets of our attacks.
We do not consider the struggle against civilization to be distinct or external to the struggle against all forms of authority. We identified the highway management companies as being important arteries that gives life to the network of domination, facilitating the advancement of civilization and enriching themselves via the imposition of an urbanism that is servile to the interests of power.
Both the present and past history show us that the germ that leads to authority has also developed in communities that existed prior to civilization and has also manifested itself in groups that have remained outside or against civilization. That is why our struggle is essentially ANTI-AUTHORITARIAN. This is why we feel it is important to distance ourselves from the self-proclaimed 'eco-extremist tendency' that has defended the indiscriminate attack that is contrary to the idea of being 'against all authority' and denounces international solidarity with imprisoned companeros who are related in word and deed to insurrectionary anarchy. Such ideas are neither an 'evolution' or 'more radical' but are in fact quite the opposite. We have no interest in engaging in virtual polemics with them, we prefer dialogue with our companeros via action.
Our companeros are those who position themselves in their lives and through their actions as enemies of all forms of domination and put into practice their solidarity with companeros who remain dignified and combative even inside the cages of power.
…Companeros like Monica Caballero and Francisco Solar, who have elevated our insurgent spirits with their serene and defiant attitude before the Spanish courts. The international solidarity will not end once the trial is over!
…Companeros like Javier Recabarren, a young anarchist insurgent who died after being hit by a bus in March 2015.
…Companeros like Sole and Baleno who were found dead in the cells of the Italian state on March 28, 1998.
…Companeros like Jonny Cariqueo, a young anarchist who died from the beatings by police officers who arrested him after the Day of the Young Combatants demonstration on March 29, 2008 in the Pudahel district.
…Companeros like Joaquin Garcia who on March 09 injured Alvaro Corvalan, former chief intelligence officer of the dictatorship with a blow to the face inside the maximum security prison.
…Companeros like the irreducible anarchists of the Conspiracy of Cells of Fire who are currently facing trial for their attempted prison escape.
With our companeros we will continue to strengthen our actions and sharpen our ideas.
Following in the footsteps of Severino, Lambros Foundas and Mauricio Morales…to multiply anarchic / anti-authoritarian cells of multifaceted action!
Against all leaders.
Against civilization and all forms of authority.
DEATH TO THE STATE AND LONG LIVE ANARCHY!
Cell of Individualists and Anarchic Nihilists for Anti-authoritarian Insurrection
Informal Anarchist Federation / International Revolutionary Front
–
"Esta coordinación silenciosa, instintiva y solidaria no solo provoca un incomodo en la vida normalizada de distintos puntos del mundo, sino que fortalece nuestros lazos que dejan claro que no existen fronteras, que no necesitamos cabecillas ni estructuras verticales para atacar varias rejas de la misma jaula".
Palabras de compas de Brasil reivindicando ataque incendiario en solidaridad con Mónica Caballero y Francisco Solar
La madrugada del sábado 12 de marzo detonamos una bomba de ruido en las afueras de la empresa concesionaria de la autopista "Vespucio Sur", ciudad de Santiago. Decidimos actuar en un horario libre de transeuntes para dejar claro nuestro objetivo y porque no consideramos un acto sublime el dañar a personas que no tienen que ver con los objetivos de nuestro ataque.
No concebimos la lucha contra la civilización como algo distinto o externo a la lucha contra toda forma de autoridad. Identificamos a las empresas administradoras de autopistas como una hebra importante del tejido que da vida a la red de la dominación, facilitando el avance de la civilización y enriqueciendose con la imposición de un urbanismo servil a los intereses del poder.
La historia, el pasado y el presente nos muestran que el germen y ejercicio de la autoridad también se ha desarrollado en comunidades que han existido antes de la vida civilizada y tambien se ha manifestado y manifiesta en grupos que se han mantenido fuera o en contra de la civilización. Por eso nuestra lucha es esencialmente ANTIAUTORITARIA. Esto nos obliga a marcar una importante distancia con una autodenominada "tendencia eco-extremista" que ha defendido el ataque indiscriminado, se desmarca de la idea de estar "contra toda autoridad" y reniega de la solidaridad internacional con compañerxs presxs afines en palabra y acción con la anarquía insurreccional. Tales ideas no son para nosostrxs una "evolución" o "algo más radical" sino todo lo contrario. No nos interesa levantar polémicas virtuales con ellxs, preferimos dialogar con nuestrxs compañerxs a través de la acción.
Nuestrxs compañerxs son quienes se posicionan en su vida y en sus actos como enemigxs de toda forma de dominación y ponen en práctica la solidaridad con lxs compañerxs que se mantienen dignxs y en pie de guerra aun estando en las jaulas del poder.
…Compañerxs como Mónica Caballero y Francisco Solar, quienes han elevado nuestro espíritu insurrecto con su serena y desafiante actitud ante los tribunales españoles. Que la solidaridad internacional no cese una vez terminado el juicio!
…Compañerxs como Javier Recabarren, pequeño insurrecto afín a la anarquía muerto en marzo de 2015 al ser atropellado por un bus.
…Compañerxs como Sole y Baleno, quien fue encontrado muerto en una celda del Estado Italiano el 28 de marzo de 1998.
…Compañerxs como Jonny Cariqueo, joven anarquista muerto tras las golpizas de policías que lo detuvieron luego de una marcha por el Día del Joven Combatiente el 29 de marzo de 2008 en la comuna de Pudahuel.
…Compañerxs como Joaquín García, quien el 09 de marzo hirió con un golpe en el rostro al ex jefe de inteligencia de la dictadura Álvaro Corvalán en la prisión de máxima seguridad.
…Compañerxs como lxs irructibles anarquistas de la Conspiración de Células del Feugo, que en estos días enfrentan el juicio por su intento de fuga.
Con nuestrxs compañerxs, seguiremos fortaleciendo nuestro accionar y afilando nuestras ideas.
…En la senda de Severino, Lambros Foundas y Mauricio Morales… ¡A multiplicar las células anárquicas/antiautoritarias de acción multiforme!

Contra todos los jefes.
Contra la civilización y toda forma de autoridad.
¡MUERTE AL ESTADO Y VIVA LA ANARQUÍA!

Célula de Individualistas y Nihilistas Anárquicxs por la Insurrección Antiautoritaria.
Federación Anarquista Informal/Frente Revolucionario Internacional (FAI/FRI)
Tags: Célula de Individualistas y Nihilistas Anárquicxs por la Insurrección Antiautoritaria / FAI-FRI, Chile, Conspiracy of Cells of Fire, Francisco Solar, Informal Anarchist Federation (FAI), International Revolutionary Front, International Solidarity, Javier Recabarren, Joaquin Garcia, Monica Caballero, Santiago
Posted in Direct Action
Monday, March 7th, 2016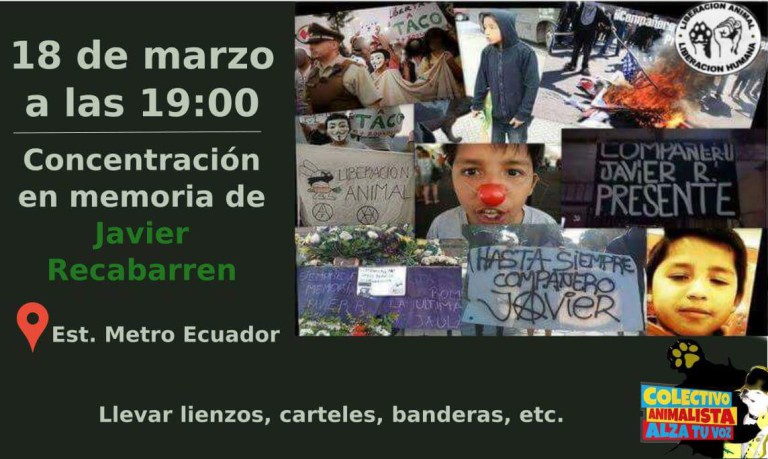 [ENMARCADO EN LA SEMANA DE AGITACIÓN]
A 1 año de la muerte de Javier Recabarren:
Concentración/Homenaje:
Día/hora: 18 de Marzo, 19:00hrs
Estación metro Ecuador
Incentivamos a llevar lienzos, carteles, banderas etc.
Colectivo Animalista Alza Tu Voz.
Tags: Chile, Demo, Javier Recabarren, Santiago
Posted in Direct Action
Saturday, February 27th, 2016
Reivindicación de ataque incendiario/explosivo contra Banco Santander. La Cisterna. Chile, 2016.
A lxs insurrectxs, a lxs revolucionarxs, a compañerxs afines y cómplices: asumimos la absoluta responsabilidad del ataque destructivo llevado a cabo durante la madrugada del día jueves 25 de febrero de 2016 con un artefacto incendiario/explosivo contra la sucursal del Banco Santander ubicada en Avenida José Miguel Carrera casi esquina Avenida Fernández Albano.
Con una mezcla incendiaria compuesta por napalm y bencina dentro de un bidón plástico, y adosados a él cinco cartuchos de gas butano-propano, todo detonado gracias a un doble sistema de relojería configurado para manejar el tiempo necesario que nos permitió retirarnos del lugar y entorno sin contratiempos ni sorpresas pese a ser una noche particularmente asediada por contingentes policiales bajo la burda estrategia del control preventivo masivo. Ante éste contexto, caracterizadxs y decididxs logramos nuevamente avanzar y ridiculizar sus medidas represivas concretando así la destrucción anteriormente planificada.
Saliendo al paso del aparecido subrogante de turno, jamás hemos pretendido iniciar o contribuir a un debate "democrático" ni dictatorial ni popular eso deben tenerlo más que claro, la historia así lo ha demostrado y nuestro presente aporta y nutre la continuidad de la guerra contra el Estado-Capital. Transitando en éste permanente conflicto hemos decidido responder al llamado solidario con Francisco Solar y Mónica Caballero, prisionerxs en España desde el año 2013 y prontos a iniciar el juicio en su contra que ansía la sepultura de lxs compañerxs con varias décadas de cárcel. (more…)
Tags: Arson, Celula Revolucionaria Paulino Scarfo - FAI/FRI, Chile, Informal Anarchist Federation (FAI), International Revolutionary Front, International Solidarity, Santander Bank, Santiago
Posted in Direct Action