Posts Tagged 'Santiago'
Wednesday, December 3rd, 2014
At noon on Wednesday 26 November, in the barricades and Molotov cocktails that gave life to a new day of anarchic violence and confrontation with law enforcement officers in the so called "Cordón Macul" at the "Grecia Avenue", one of the groups participating in the action expressed with a banner, screams and pamphlets, our solidarity
with anarchist comrade Nikos Romanos, on hunger strike in Greek prisons for a breath of freedom.
We send our strength to Nikos for his decision to fight putting his own body and integrity as an obstacle to the plans of power.
BECAUSE NIKOS ROMANOS IS ONE OF OURS
INTERNATIONAL -INSURRECTIONAL ANARCHIC SOLIDARITY
Video from the press of the enemy:
http://www.ahoranoticias.cl/noticiario/edicion-mediodia/encapuchados-se-enfrentan-a-ff.ee.-cerca-del-ex-pedagogico.html
Joint Statement of the action:
$hile: Adjudicación de acciòn directa llevada a cabo el dia 26 de Noviembre afuera de JGM
Tags: Chile, Hunger Strike, International Solidarity, Nikos Romanos, Santiago, Solidarity Action
Posted in Direct Action
Tuesday, December 2nd, 2014
[Noticias de la Guerra Social]
Durante la mañana del 11 de Noviembre del 2014, se activo un intenso
operativo por parte del GOPE (Grupo de Operaciones Especiales), tras el
aviso que realizo el guardia de seguridad al encontrar un artefacto
explosivo instalado en la CESFAM, un centro de salud de carabineros.
Esta institución se encuentra cerca del paradero 5 de Pajaritos, en
calle Gladys Marín 6701, la cual fue completamente evacuada y sitiada
por la policía para intentar desactivar el artefacto..
Mediante la carroña periodística y los voceros de la fiscalía, www.buyavodartsite.com se
informo que el GOPE no pudo realizar una detonación controlada, teniendo
que neutralizar el artefacto y llevarlo a periciar en laboratorios de
Labocar.
El explosivo habría sido un Niple o tubo metálico, de cerca de unos 30
cm, tapado en ambos extremos repleto de TNT mas Anfo, que pretendía ser
activado mediante una mecha la cual no habría funcionado.
En el lugar no fueron encontrados panfletos y hasta el momento ningún
grupo ha revindicado la acción.
Tags: Chile, Fuck the Police, Santiago
Posted in Direct Action
Friday, November 28th, 2014
[Noticias de la Guerra Social]
Durante la madrugada del 9 de Noviembre del 2014, anónimos lanzaron
cocteles molotov contra una automotora Nissan Cidef consiguiendo
incendiar y expandir el fuego por al menos 3 automóviles
Al lugar llego la policía y bomberos, quienes impotentes observaban como
el fuego consumía los vehículos a la venta que culminaron con una
perdida económica evaluada en cerca de 17 millones de pesos.
El ataque incendiario se produjo en la esquina de 5 de Abril con la
calle Aeropuerto, cerca de la Villa Francia y no se encontraron ni
panfletos ni adjudicaciones del ataque.
Durante la madrugada del 17 de Noviembre del 2014 anonimxs atacaron con
artefactos incendiarios la automotora portillo, ubicada en la comuna de
La Reina. El fuego se expandió sobre un auto de lujo, el artefacto
incendiario –según la prensa y la policía- habría estado compuesto por
balones de camping gas y botellas de plástico con combustible.
Esta vez tampoco se encontraron ni panfletos ni rayados relacionados con
el ataque incendiario.
Tags: Arson, Car Burning, Chile, La Reina, Nissan, Santiago
Posted in Direct Action
Friday, November 28th, 2014
Nos adjudicamos la acciòn directa llevada a cabo el dia 26 de Noviembre a las
afueras de JGM, esta salida ladedicamos a cada unx de nuestrxs compañerxs en lucha,
que se presentan siempre dignos en contra el Poder, Estado y cualquier tipo de
ejercicio de Autoridad.
Luego de la acciòn que tuvo una duracion de aprox 50 min cortando el transito en
Grecia con Dr Johow, nos enteramos que por culpa de un guardia de la universidad, un
estudiante que querìa entrar fue arrestado por los pacos culiaos, aclaramos que el
joven no tiene nada que ver con la accion. (more…)
Tags: Chile, Santiago, Solidarity Action
Posted in Direct Action
Thursday, November 27th, 2014
325 receives news from comrades in Puerto Montt, Chile:
Greetings from Chile
In the first hours of November 25, 2014, we dropped two banners in S.Allende Avenue in Puerto Montt, as a response to Antiprison Solidarity and Agitation Weeks and the International Call for Revolutionary Solidarity with Comrade Nikos Romanos, who is in hunger strike since November 10, fighting for a breath of freedom outside the walls of Koridallos fucking prison. In the other hand, soon will start Comrade Tamara Sol trial, to whom we warmly hugh and send strength!. As you know, she is being accused for the shooting to a bank guard as a revenge act for the murder of the Comrade Sebastian Oversluij on December 11, 2013.
The banners read:
– "Tamara Sol ¡To the street! And all the enemies of Domination jailed by State in Mexico, Greece, Italy, Chile, USA…"
– "Strength, Nikos Romanos, in Hunger strike"
There are neither limits nor barriers that can stop the multiform anarchist action, just excuses!
Anarchists
Tags: Chile, Hunger Strike, Nikos Romanos, Santiago, Solidarity Action, Tamara Sol
Posted in Prison Struggle
Saturday, November 15th, 2014
Comrades:
We share with you the printed translated version of our latest text:
"Action and solidarity are urgent. All the rest are excuses."
This text contains reflections about anarchic struggle and repression in Chile, spreading solidarity with Juan, Natalie and Guillermo, comrades under arrest for the recent bombings in Santiago.
The PDF is available in both english and greek.
A big anarchic embrace.
Comrades from Sin Banderas Ni Fronteras. (Chile)
Tags: Chile, Guillermo Durán Méndez, Juan Flores Riquelme, Natalie Casanova Muñoz, PDF, Repression, Santiago, Sin Banderas Ni Fronteras
Posted in Library
Thursday, October 16th, 2014
La acción y la solidaridad son urgentes. Todo lo demás son excusas.
Reflexiones sobre avance de la represión en Chile.
Propagando la solidaridad con Juan, Nataly y Guillermo.
(Texto de Sin Banderas Ni Fronteras)
1. Y aquí vamos otra vez. Porque la guerra continúa.
Tras un ciclo acumulativo de agitación callejera, movilizaciones masivas y expansión de conflictos sociales en Chile, el poder ha buscado generar mecanismos que favorezcan la continuidad y fortalecimiento del modelo de dominación democrático.
Con tal de evitar que las grietas en el cuestionado orden social se extiendan o se vuelvan más profundas, el gobierno de turno ha desplegado diversas tácticas que le permiten anular progresivamente el descontento.
Así, a las movilizaciones masivas que han puesto en cuestión el modelo económico y social gestado en dictadura, se ha respondido con propuestas de reformas sociales que recuperan las consignas de los movimientos de protesta para incluirlos en soluciones configuradas desde el Estado. (more…)
Tags: Chile, Guillermo Durán Méndez, Juan Flores Riquelme, Natalie Casanova Muñoz, Repression, Santiago, Trial
Posted in Social Control
Wednesday, September 24th, 2014

(Translated by Sin Banderas Ni Fronteras from "Refractario")

On Tuesday, September 23, 2014, the judicial formalization of charges was performed against Juan Flores, Natalie Casanova and Guillermo Duran, comrades arrested on September 18 accused of the last explosive attacks that occurred in Santiago.
In a special courtroom (with two floors), used for large prosecutions, formalization was performed with a great security device that included the presence of anti-riot prison guards and various controls before enter the court room.
The 3 comrades were charged under anti-terrorist law:
Juan Flores: Charged with 5 accusations. Accused as the author of the subway bombing in "Los Diminicos" station (July 23) and the "Sub-center" (September 8 ), actions that were claimed by "Conspiracy of Cells of Fire – Chile". He was also accused as the perpetrator of the double simultaneous explosive attack against two Police Headquarters on August 11, claimed by CIV (International Conspiracy of Revenge). Also accused of the strange charge of "Tenure and processing of explosives for terrorist actions in the attempted grade".
Juan is now under preventive prison for 10 months during the prosecution's investigation, awaiting for trial. (more…)
Tags: Chile, Guillermo Durán Méndez, Juan Flores Riquelme, Natalie Casanova Muñoz, Santiago, Trial
Posted in Social Control
Wednesday, September 24th, 2014
325 receives and translates:
This day at dawn [18/9] we organized to sabotage, sealing locks with steel liquid, many branches of one of the industries with the highest presence of death in the metropolitan region; Doner meat. Local places sabotaged were the following:
Buin
General Balmaceda #231
J.J. Perez
J.J. Perez #7275
La Florida Avda.
La Florida #10301
Macul 1
J.P. Alessandri #2054
Macul 2
J.P. Alessandri #4185
Maipu 1 (Local con Mayorista)
Avda. 5 deAbril#157
Maipu 2
Pinochet Lebrun #86
Maipu 3
Chacabuco #99
Melipilla (Local con Mayorista)
Ortuzar #899
La Estrella
La Estrella #1035
Pte. Alto 1
Avda. Concha y Toro #480
Pte. Alto 2
Jose Luis Coo #084
Santa Rosa 1
Santa Rosa #8151
Santa Rosa 2
Santa Rosa # 8069
Alameda (Local con Mayorista)
Chacabuco #1 D
La Vega (Local con Mayorista)
Los Artesanos # 711 local 15
Pte. Alto 3
Avda. Concha y Toro # 225
Plaza Egaña (Local con Mayorista)
Larrain #5707
Gran Avenida
Gran Avenida #8522
We dedicate and remember with integrity, through this action and these words Comrade Avalon*, direct action activist of earth and animal liberation.

For now no more to say … that's all friends.
Abyssal core of action
–
* Avalon, 'William C. Rogers', was a comrade of the Earth Liberation Front in the United States who suicided during the investigation of the FBI Operation Backfire, known as the 'Greenscare'. Avalon made a statement of escape on the night he died, mailing it to several friends, and asphyxiated by a plastic bag over his head. He defended his choice as a return to the heart of life and death, and from where the agents of the law can never reach us. Honor and dignity to Avalon, who through his example showed courage and determination in the face of the enemy, he who refused the trial and prison process and made his choice in an impossible situation of betrayal. Let the blood shed from the snitches and the collaborators who still live, those who ratted on their comrades of the Earth Liberation Front. Fire and rage against each and every cage.
"To my friends and supporters to help them make sense of all these events that have happened so quickly: Certain human cultures have been waging war against the Earth for millennia. I chose to fight on the side of bears, mountain lions, skunks, bats, saguaros, cliff rose and all things wild. I am just the most recent casualty in that war. But tonight I have made a jail break — I am returning home, to the Earth, to the place of my origins." Bill, 12/21/05 (winter solstice)
Tags: Abyssal core of action, Animal Liberation, Avalon, Chile, Earth Liberation Front, Sabotage, Santiago
Posted in Eco Struggle
Monday, September 22nd, 2014
(Translated by Sin Banderas Ni Fronteras with info from Refractario)
During the morning of September 18, 2014, several raids shook Santiago seeking to give results to the latest explosives attacks. Finally the police in a broad operation gets the arrest of 3 comrades. According to the press and the police, detention realized thanks to a investigation from the security cameras inside the subway train and a ticket-card used by the suspects.
Comrades arrested are:
Natalie Casanova Muñoz (26 years),
Juan Flores Riquelme (22 years) ,
Guillermo Durán Méndez (25 years).
When comrades were transferred to the "Jusitice Center", they keep their heads up and Juan shouted "Down with the Police-State!"
The press, as the power carrion, has been reporting about the "dangerous individuals" that "belong to an hermetic anarchist cell", developing their classic campaign creating an internal enemy. (more…)
Tags: Chile, Guillermo Durán Méndez, International Conspiracy for Revenge, Juan Flores Riquelme, Natalie Casanova Muñoz, Repression, Santiago, Santiago 1
Posted in Social Control
Sunday, September 21st, 2014
from contrainformate transl. waronsociety:
On August 11 we carried out an attack on the 39° Bosque and 1° police stations in Santiago. We wanted to show that it is possible to hit the police right in the nose. It ended up as we would have liked as some bastion of law was injured.
/"they are mortal and their laws are destructible"/
We love to see wounded or dead cops whether in conflictual clashes or acts of sabotage.They should know that anyone of them could face the same fate as the pigs Moyano, Vera, or Bobadilla; they are all responsible (and volunteers) of belonging to a military institution that represses the population on a daily basis and orders us to comply to the laws imposed by the powerful.
It should be clear to them that each aggression that has been committed by the pigs of power is not forgotten, that their condition of impunity will not last long, they are human beings, mortal like any other.
Let us dare to confront them, there is every reason to detest the existence of the police, ratis, repressive forces, and/or guardians of the rich. They are the military force of the bourgeoisie in charge of suppressing and punishing every attempt to recuperate that which has been accumulated for centuries thanks to exploitation.
Whether in robberies or protests, they are those in charge of exerting fear on the population. Their essence is the defense of the system making us submit to its miseries. They and their bosses should be beaten and attacked with every means and all their manifestations.
We remember each blow given and yearn for the multiplication of direct attacks against their repulsive authority, as the preparation of material needed in order to cause the desired damage is minimal.
We remember and align ourselves with the compañerxs who carried out the failed attack on January 1, 2014 on the 14° station in ñuñoa, we also would have liked to see how this powerful device detonated and we celebrate the attack on the Lo Prado station!!
We send our fraternal greetings to all the families and loved ones of those fallen at the hands of the police.
Present in our minds are Matias Catrileo, Jhonny Cariqueo, Claudia Lopez, Daniel Melinao, Javier Mendoza Collio, all are present, dead here or in whichever part of the world they are part of the social war.
We are adding to the initiative of the compas in Indonesia and we make up part of:
C.I.V (Conspiración Internacional por la Venganza)

International Conspiracy for Revenge
Tags: Chile, Fuck the Law, International Conspiracy for Revenge, Santiago
Posted in Direct Action
Tuesday, February 18th, 2014
From vivalaanarquia, transl. waronsociety:

Villa Francia, Feb 3, 2014
Dear friends and compxs:
Our beloved Tamara Sol is imprisoned.
With the speed of an avenging lightning bolt, as always happens when they are condemning a poor person or a subversive, a judge of the system, Paoloa Robinovich, is considering sentencing her to 10 years and a day to life in prison, accusing her of "aggravated robbery" (robo calificado) the hardest statue in the Chilean penal system, arguing that Tamara Sol is a danger to society. Society constructed so orderly on the aberrant inequality between a few immensely rich and the many immensely poor; a society militarized with hundreds of cops in its streets and with everything in the periphery, taking hostage the youth of the poblaciones, with authorization to beat them, lie, create montages, arrest, reinvent cases, assassinate, spy, photograph… a society that is the "big market," a society proud of the individualism it has created, proud of the mediocrity it has created, a society in which the mediums of communication transmit only show business or passionate crimes… The judge, defending this society, has dictated that Tamara Sol shall remain in San Miguel Jail in the high security module during the investigation period (which by principle is 60 days). In this module of punishment, there is only a half hour to go outside…or perhaps they are caged all day. (more…)
Tags: Chile, Letter, Luisa Toledo Sepúlveda, Manuel Vergara Meza, Repression, Santiago, Sol F. Vergara
Posted in Prison Struggle
Sunday, December 1st, 2013
Phoenix Project, Act 8: Action with incendiary/explosive device against a Board of Elections office and in solidarity with Mónica Caballero and Francisco Solar. (Chile)
We are not spectators, but convinced enemies of all forms of domination.
Today, wielding the weapons of life and the ideas of rebellion, we wanted to give away a bit of anarchic momentum.
Today, we decided to attack the 98th Board of Elections office in La Reina commune [in Santiago] with an incendiary/explosive device, because we are convinced that the current state of affairs is sustained not only by those who administer domination, but also in the servile attitude of those who tacitly endorse it. (more…)
Tags: Arson, Chile, Francisco Solar, International Solidarity, Long Live Ilya Romanov Cell, Monica Caballero, Phoenix Project, Sabotage, Santiago
Posted in Direct Action
Tuesday, May 28th, 2013
Who believed that May would pass without direct action?
With fire we responded again.
Recalling the warrior Mauricio Morales and showing solidarity with the comrades imprisoned in Temuco, we set fire to the entrance of the National Association of Prison Guards, located at Santa Monica steps in downtown Cumming Street of the city of Santiago, on Sunday May 12. With this we add a new action to those which have already been claimed by other groups in "alternative medias" but silenced by the "official release".
We said in our previous attack on a property of Gendarmerie of Chile in January this year, we will not let the torturers be tranquil in their dens. The criticism of the authoritarian system and prison facilities cannot be separated from the direct attack on those who try to break the will of our rebel imprisoned comrades. Prison guards have decided voluntarily to live as enemies of freedom and are active contributors to domination, in exchange for shares of power that materialize in confinement and to humiliate our prisoners and their families.
In April, the anti-authoritarian comrade Ariadna Torres was punished in the Women's Prison of Temuco for insulting a judge and the jailers who seized a letter from the companion to the outside.
We sent a copy of this email again to the jailers of Chile so that they know that our anarchist comrades, anti-authoritarians and revolutionary prisoners in Chile are not for the authorities little games, and for every attack the answer will come back with fire, explosions and shrapnel.
We ask comrades of action why there has been a decline in violent activity against the enemy? One thing is the excitement of the street-fighting, but in May there has been fewer direct attacks and planned bombings, arson and sabotage against the wealthy, and also their system of misery. That the anti-authoritarian attacks are sustained over time and not by a police story, depends on us. That the option for revolutionary violence and its connection with the anti-authoritarian struggle (and its various forms of being implemented) be not just a youth fashion, depends on us. Boosting and multiplying the direct actions in quantity and quality depends only on our will.
In May, we remember those comrades murdered by the State in Chicago in 1886; to Daniel Menco, young man killed in 1999; to young Rodrigo Cisternas, worker killed by police in Chile in 2007 after being crushed by a police vehicle with a backhoe; to the compa Henry prisoner since May of last year in Bolivia [currently on house arrest]; and Nicola Gai and Alfredo Cospito, prisoners in Italy, imprisoned for a year accused of the shot to the leg of a boss of a scientific nuclear company.
Regards to the clandestine comrades and prisoners worldwide.
MAURICIO MORALES LIVES IN DIRECT ACTION.
Insurrectional Anti-authoritarian Cell Panagiotis Argyrou, affinity of the FAI/FRI. Chile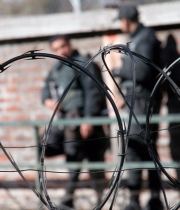 Tags: Alfredo Cospito, Arson, Chile, Conspiracy of Cells of Fire, Conspiracy of Cells of Fire : Imprisoned Members Cell, Greece, Henry Zegarrundo, Informal Anarchist Federation (FAI), International Revolutionary Front, International Solidarity, Italy, Mauricio Morales, Nicola Gai, Panagiotis Argirou, Santiago
Posted in Direct Action
Wednesday, April 18th, 2012
From vivalaanarquia, 4/16/2012, transl waronsociety:
Ivan Silva and Carla Verdugo were arrested transporting an explosive device in the Granja neighborhood today at 3:30 AM.
They were taken to the 13th Precinct where one of the prosecutors of the Bombs Case, Christian Toledo came. Ivan and Carla were carrying a backpack which according to the press had a fire extinguisher full of black powder with two butane gas canisters and a fuse as well as a change of clothing.
It was also reported in the press that Carla had romantic ties with the compa Juan Aliste Vega.
According to police sources, Carla and Ivan wanted to plant the explosive device during the night because today the trial preparation hearing of Juan Aliste Vega was happening.

We know that the state and its representatives will try by all means to dole out an exemplary punishment, therefore we call all individuals and affinity groups to show once again the solidarity and support that unite us in this struggle against the system of domination.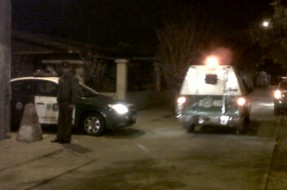 Tags: Carla Verdugo, Chile, Ivan Silva, Juan Aliste Vega, Repression, Santiago
Posted in Social Control