Posts Tagged 'Sean Swain'
Monday, April 1st, 2019
June 11th: The international day of solidarity with Marius Mason and long-term anarchist prisoners. In the 15 years this tradition has been observed, June 11th has facilitated support and action inspired by imprisoned anarchists — from noise demonstrations outside of jails to letter-writing nights, from fundraisers to arson. Setting aside this day is one way of remembering anarchists who are serving long prison sentences, generating support for them, and inspiring solidarity actions.
Because social struggles phase in and out, this day is a way to make sure that our imprisoned comrades are not forgotten. Our lack of memory is partially a result of the techno-alienation of the larger culture we're fighting against. But it's also a product of the dynamics of the anarchist space. People become burnt out and the cycle of forgetting continues.
June 11th is a way of combating that amnesia, of trying to sustain a long-term memory in the anarchist space. Not only does this generate support for anarchists locked in the state's prisons, it forces us to look back at what came before. Considering what previous generations did can both inspire us with ideas we've forgotten, and help us understand how our current practices came to be. (more…)
Tags: Connor C. Stevens, Eric G. King, Freddy Fuentevilla Saa, International Solidarity, J20, Jeremy Hammond, Joaquín García Chanks, June 11, June 11th Solidarity, Lisa, Marius Mason, Michael Kimble, Operation Panic, Operation Renata, Operation Scintilla, Operation Scripta Manent, Repression, Sean Swain, USA
Posted in Prison Struggle
Tuesday, November 14th, 2017
via itsgoingdown:
This following essay is written by anarchist prisoner, Sean Swain, and was originally released on the Final Straw Radio show. For more info about how to support Sean, go here.
In Ohio prisons, pretty much everyone is in a gang whether they're in a gang or not. If you're an Ohio prisoner and you're not in a gang, prison administrators will put you in one. And if there's no gang for you, they'll just create a new one.
The reason is, it's a federal bloc grant swindle. Here's how it works:
The U.S. Department of Justice keeps a kind of database on what it calls "Security Threat Groups," or STGs, not to be confused with STDs, or "sexually transmitted diseases." The Department of Justice does not monitor chlamydia or gonorrhea. Yet. At least, as far as I know.
(more…)
Tags: Gangs, Letter, Racism, Sean Swain, USA
Posted in Prison Struggle
Friday, August 26th, 2016
On September 9th, prisoners across the United States will begin a strike that will be a general work stoppage against prison slavery. In short, prisoners will refuse to work; they will refuse to keep the prisons running by their own labors. Prisoners are striking not just for better conditions or changes in parole rules, but against prison slavery. Prisoners state that under the 13th Amendment which abolished racial slavery, at the same time it allowed human beings to be worked for free or next to nothing as long as they were prisoners.
Prisoners see the current system of prison slavery to thus be a continuation of racial slavery, which is a system that generates billions of dollars in profits each year for major corporations in key industries such as fossil fuels, fast food, banking, and the US military.
Soon after the passing of the 13th Amendment, many former slaves were soon locked up in prisons on petty offenses, quickly returned to their former roles as slaves. Over a century later, the Drug War sought to deal with the growing unemployment rate brought on by changes in the economy (outsourcing, financialization, deregulation, etc), as well as the threat of black insurrection which grew in the 1960s and 70s, by throwing more and more people in prison. At the same time, the state and corporations continued to look towards prison labor as a source to generate massive profits. (more…)
Tags: Anti-Prison, International Solidarity, Letter, Prison Abolition, Prison Industrial Complex, Prison Labour, Prison Labour Strike, Repression, Sean Swain, USA
Posted in Prison Struggle
Sunday, February 7th, 2016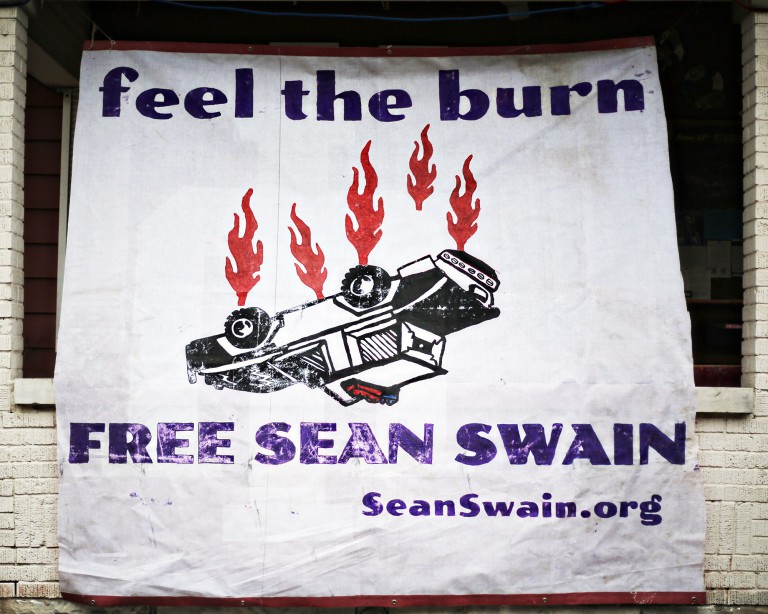 Warren Correctional Institution, not content with merely restricting Sean's communications with the outside world, has now assigned a lieutenant to read through all printed materials sent to Sean.
Please take a minute to send Sean some reading material. That stack of zines in the bathroom? That one book you've had for years but will never read? All those fancy new publications you designed? Send them all! Let's help Sean (and the fuckweasels who intercept his mail) something to pass the time.
Send reading material to:
Sean Swain #243-205
Warren CI
P.O. Box 120
Lebanon, Ohio 45036
USA
–
We receive & transmit:

Bloomington, Indiana (USA): Banner hung in solidarity with Sean Swain
We hung a banner in solidarity with Sean Swain's struggles against the prison system in Ohio. Despite repeatedly being transferred and having his communications cut off, Sean remains uncompromising in his pursuit of freedom, putting his life on the line in struggle against the state. We keep his words and deeds with us as we carry out our own struggles against prison society.
Fundraising, letters, demonstrations, banners, graffiti, and direct attacks form a bright tapestry of revolutionary solidarity. Let's always be searching for new ways to break down the isolation of imprisonment and build complicity through the prison walls.
Tags: Banner drop, Bloomington, Indiana, Sean Swain, USA
Posted in Prison Struggle
Tuesday, December 8th, 2015
From seanswain.org:
Black December is coming, and none too soon. We've hashed out our theories and we've analyzed our reality, we know what kind of future we want and what we are going to have to tear apart in order to get it. The time for philosophizing and talking it out has ended and we face the inevitable moment of conflict with the forces of control and conformity and subjugation.
December really is the perfect starting point, here in the U.S. anyway. It's the darkest month of the year, the most non-daylight hours to carry our acts of resistance and rebellion. Also, in the cold, everyone wears ski masks. So, a rebel about to strike a Walmart or a police car or some fascist administrator's house doesn't look quite as conspicuous as he or she might look in, say, July or August in the same gear.
Having read the Black December proposals, I would like to speak to those who are, so far, paralyzed by fear and skepticism, who still don't believe that we can undertake radical, militant actions against the common enemy, that political violence even of the clandestine variety is doomed, and that it's okay to "play" at being anarchists, but it's foolhardy for us to put our proverbial money where our mouths are. (more…)
Tags: Black December, Letter, Sean Swain, USA
Posted in Prison Struggle
Saturday, December 5th, 2015
From Wildfire

Download Issue #3: PDF
It seems fitting that we are releasing this issue now, in December. Following the letter from imprisoned anarchists in Greece and the call for international activity, Black December rages on, writing the memory of our fallen comrades with words, banners, stones, and fire. In that spirit, we dedicate this third issue of Wildfire to the memory of New Afrikan anarchist and Black Liberation Army combatant Kuwasi Balagoon, and earth liberationist William Avalon Rogers.
Kuwasi Balagoon was killed by medical neglect while doing a life sentence for an expropriation in which two police and one guard were killed. Kuwasi died from an AIDS-related illness on December 13, 1986. William Avalon Rogers took his own life while in jail on charges related to arsons committed by the Earth Liberation Front. He died on the winter solstice, December 21, 2005. This month will mark the ten year anniversary of Avalon's death.
We write this not as a reminder of the risks inherent in struggle, nor to emphasize the brutality of the state. We remember Kuwasi and Avalon because their lives have created small spaces in our own lives where domination ceases and freedom blooms. We remember Kuwasi and Avalon because they have inspired us to act, in our own ways, against order. We remember Kuwasi and Avalon because we want to continue the struggles to which they gave their lives.
Most of all, we remember Kuwasi and Avalon because so many others involved in the struggles for black liberation, earth liberation, animal liberation, and anarchy remain behind bars. We intend to see all of these comrades free, and until that day, to act in solidarity with their struggles and with prison revolts wherever they happen.
Unwavering solidarity to all rebellious prisoners!
Memory is a weapon.
CONTENTS
– "A Balanced Approach" by Lacino Hamilton
– "The Freedom Movement" by Terrence Adderly
– A letter from Casey Brezik
– "Who Should Step Down?" by Jose Villareal
– News from Alabama by anonymous
– A response to Sean Swain by Christopher Reynolds
– A response to issue #1 by Anarcho-Faheem
– A reply to Michael Kimble by Sean Swain
– "Work Strikes: A Response" by Michael Kimble
– "Buckin in the BOP" by anonymous
– Call for a Black December
– A chronology of some actions August-November 2015
Tags: Avalon, Black December, Black Liberation Army, Casey Brezik, Christopher Reynolds, Jose Villareal, Kuwasi Balagoon, Lacino Hamilton, Michael Kimble, PDF, Sean Swain, Terrence Adderly, USA, Wildfire (Prison Zine), Zine
Posted in Library
Thursday, November 19th, 2015
From seanswain.org:
Sean Swain is having a very hard time right now and could really use being reminded that he is not alone. If you haven't written to Sean in a while or haven't heard back from him due to the ODRC messing with his mail or cutting off his other methods of communication, now would be a great time to flood him with letters, cards, photos, drawings, books, zines, anything.
In particular, now would be a good moment to remind Sean that he matters to you, that you are glad he is alive, and that you see him as contributing to the world in a way that matters to you. Every once in a while we all need a loving kick to the head to get us back on track and feeling ready to continue fighting. Now is that moment for Sean. So send him a kick; he deserves it.
Write to Sean at:
Sean Swain #243-205
Warren Correctional Inst.
P.O. Box 120
Lebanon, Ohio 45036
USA
Tags: Ohio, Sean Swain, USA
Posted in Prison Struggle
Thursday, October 15th, 2015
New site from USA releasing the home addresses and personal info of prison officials, guards, corporate CEO's etc. Hunt and stalk.
It's been an exciting few months over here in the battlefield of the blogosphere. We've had infos dropped about the home addresses of various public officials, prison employees, and even profiteering CEO's (Shout out to Ryan Shapiro!) Our presence has caused some squirming on all sides. We thinks that it is completely paramount to ask ourselves why. Why would people who claim to desire the destruction of the prison system and capitalism be uncomfortable with doxing the people who have been doxed on our site? Why would people who seem so secure in their power and moral righteousness feel threatened by the presence of their home addresses on our website? Posted by bona fide punk ass trolls no less? Why would anarchists and jailers share the same opinions? Most importantly: What side are you on? (more…)
Tags: #Lulz Not Lulls Dox Campaign, Counter-info, Fuck the Law, Sean Swain, The Blast! Blog, USA
Posted in Prison Struggle
Saturday, April 4th, 2015
From Wildfire:

[Download Issue #1: http://wildfire.noblogs.org/files/2015/04/wildfire-1.pdf]
(Prints 8.5×11)
We're excited to announce the first issue of Wildfire, a new quarterly newsletter of anarchist prison struggle.
We have two goals with this project: to spread the words and actions of anarchist prisoners in the United States and to offer news and updates on anti-authoritarian struggle for comrades in prison who might not otherwise have access to this information.
Wildfire flows with our continued frustration with the state of anarchist prison solidarity in the United States: the lack of prisoners' voices in our publications, the half-hearted solidarity shown toward captured fighters, the dead-end of "political prisoner" designation. It also flows from our long-term relationships with imprisoned comrades, the mutual affinity found in struggling together. Rather than complain and critique, we prefer to strike out in another direction, embodying our own vision of solidarity. We hope this publication can be a contribution to a more diverse, more combative, and stronger anarchist struggle against prison. (more…)
Tags: Brandon Baxter, Casey Brezik, Connor Stevens, Dante Cano, Eric McDavid, Jason Hammond, Jennifer Gann, Michael Kimble, PDF, Sean Swain, Tommy Jones, USA, Wildfire (Prison Zine), Zine
Posted in Library
Tuesday, February 10th, 2015
Via ABC Hurricane:
With fascist fuckweasels ignoring his hungerstrike, anarchist prisoner Sean Swain has vowed to refuse his blood pressure medication, beginning February 9. This medication keeps his blood pressure regulated. To stop taking this medication "cold turkey" is extremely dangerous, as it could cause a spike in blood pressure which can lead to heart attack, stroke or aneurysm.

"Freedom or death," Sean said. "I'm not fucking around."
Fuckweasels have engaged in a concerted, provable pattern of harassing every element of Sean's communication, waging a war against anarchist expression. (more…)
Tags: Hunger Strike, Sean Swain, USA
Posted in Prison Struggle
Monday, January 20th, 2014
PDF: Dark Nights #39 – Jan 2014
32 page issue of Dark Nights covers two months prisoner's letters and extended direct action chronology (always incomplete), all translations via the international network of informal counter-info!
1. Letter from anarchist comrade Gabriel Pombo da Silva
2. Letter from anarchist comrade Claudio Lavazza
3. Solidarity with Maria, Javier & Gabriel
4. Text about the struggle against torture and the FIES isolation units
5. Letter from comrades Monica and Francisco
6. Text in solidarity with Franscisco Solar and Monica Caballero by CCF
7. Anarchist comrade Sebastián Oversluij killed during bank expropriation
8. Update on the CCF trial
9. "Let's become dangerous… For the diffusion of the Black International" by CCF-FAI/IRF
10. 'Requiem for the Passing Moon' by Hans Niemeyer
11. Letter from eco-anarchist comrade Marco Camenish about his hungerstrike
12. Letter from Giannis Mihailidis
13. Letter from Spyros Mandylas
14. Carlos, Amelia & Fallon – 3 anarchist comrades arrested for molotov attacks
15. Adriano Antonacci and Gianluca Iacovacci accused of subversive association with terrorist intent
16. Inter Arma's text about being targeted by the lackeys of the anti-terrorist agency
17. 'A Vision of the Future: Where All the Roberto Adinolfis Walk With a Limp' by Sean Swain
18. Direct Action Chronology
https://server.nostate.net/325-new/html/wp-content/uploads/2015/09/dark-nights-39.pdf
http://interarma.info/wp-content/uploads/2013/12/dark-nights-39.pdf
ACN 2014
Tags: Adriano Antonacci, Amelie Pillierst, Carlos López Martin, Claudio Lavazza, Conspiracy of Cells of Fire : Imprisoned Members Cell, Dark Nights, Fallon Poisson, FIES, Francisco Solar, Gabriel Pombo da Silva, Giannis Mihailidis, Hans Niemeyer, Informal Anarchist Federation (FAI), International Revolutionary Front, Monica Caballero, PDF, Roberto Adinolfi, Sean Swain, Spyros Mandylas, Zine
Posted in Library
Friday, January 10th, 2014
By Sean Swain, anarchist prisoner
Back in May 2012, Roberto Adinolfi managed Ansaldo Nucleare, constructing nuclear power plants all over Europe, including the one in Kroko, Slovenia, and Cernadova, Romania. Adinolfi had power, money, prestige, and influence. To him, the suffering and death in Fukushima, Japan wasn't nearly as real as his spacious, air-conditioned office or his luxurious Genoa home or his expensive suits.
Sometimes, you have to crack a few eggs to make an omelet. And besides, none of his death-traps had melted down yet.
Yet. Key word. Yet.
Roberto Adinolfi with his power, money, prestige, and influence never noticed that vehicle following him home. He suspected arrogantly that he would spend an entire career raking in money hand over fist by rolling the radioactive dice and betting millions of other people's lives, and he would never have to answer to anyone at any time, anywhere. (more…)
Tags: Ansaldo Nucleare, Anti-Nuclear, Fukushima, Informal Anarchist Federation (FAI), Letter, Nuclear Disaster, Nucleo Olga FAI/FRI, Roberto Adinolfi, Sean Swain, USA
Posted in Autonomy