Posts Tagged 'Sebastián Oversluij Seguel'
Thursday, December 26th, 2019
It's been six years since our anarchic comrade fell from the bullets fired by a security guard during an attempt to expropriate a Bank on December 11, 2013.
From that day we began to write the lines of memories that have allowed the life of the comrade to last in anarchic actions remembering the various methods that our comrade used as a weapon against power, from participating in musical projects, libraries, drawing to taking part in the direct actions.
Today we know that his actions and memories are claimed beyond the close circles that shared his life with him throughout the years, which is a positive sign that confronts all forgetfulness and regret.
"Pelao Angry" is a comrade that we lack. Maybe he would be with us in the midst of the current revolt, fighting the interests of power in a thousand ways. What we do know is that around the world his name resonates in barricades, books and the most varied initiatives of anarchic practice.
Six years after his death in action, our option remains to keep our memory on a war footing against all authority.
AGAINST FORGETFULNESS AND REPENTANCE
SEBASTIAN "ANGRY" OVERSLUIJ PRESENT!
Chile. December 2019
Tags: Chile, International Solidarity, Sebastián Oversluij Seguel
Posted in Autonomy
Saturday, October 26th, 2019
We learn on 16th of October the comrade Tamara Sol Farías Vergara has been given «conditional release», getting out of prison and in this way managing to reunite with her family, friends and comrades. This information has brought great joy since the comrade had been imprisoned since January 21 of 2014 [that day, Tamara Sol fired on a bank's guardian, as an act of revenge for comrade Sebastián Oversluij, murdered by an armed guardian (of a private security agency) during a robbery, on 11 December 2013, in the municipality of Pudahuel (near Santiago); sentenced to seven years, she had tried to escape, she had been transferred into various prisons and recently, in May, she had been denied "conditional release"]. Soon we will be updating and giving more information regarding Sol.

Solidarity doesn't stop until the comrades will be free from prisons.
Long live anarchy.
Tags: Chile, Santiago, Sebastián Oversluij Seguel, Sol F. Vergara, Tamara Sol
Posted in Prison Struggle
Wednesday, August 21st, 2019
Communiqué received together with the photos on 08/16/2019:
I. Street fight in confluence with the new urban guerrilla
As groups, we use revolutionary violence to make visible the obvious contradictions that the systemic and changing operation of capital implies, depending on the State that legitimizes it as the social order of the day.
Each gear justifies the next and is consolidated as a structure under the protection of a judicial apparatus that condemns many to misery, softens abuses and violations of priests condemned to a life of confinement in palaces, and forgives tax crimes within the reach of 1% of Chilean citizens that conserve 26.5% of the wealth; an executive power in charge of justifying and accelerating the measures that favor the wealthy and thirsty group of tyranny that is on duty; a legislative power in charge of discussing among its caste the daily evolution of millions of people… and always protecting their privileged status in power. (more…)
Tags: Antagonist Cells of the New Urban Guerrilla, Antagonistic Nuclei of the New Urban Guerrilla, Arson, Attentat, Chile, Chilectra, Erick Rodríguez, Forces for the Overflow of Civilization, Heather Heyer, Herminia Concha, Insurrectional Column "Ira and Complot" - FAI / FRI, Iván Palacios, Javier Recabarren, Juan Aliste Vega, Karr-kai cell / Antagonist Cores of the New Urban Guerrilla, Kevin Garrido, Marcelo Villarroel Sepúlveda, Michele Angiolillo, Mikhail Zhlobitsky, Sabotage, Santiago, Santiago Maldonado, Sebastián Oversluij, Sebastián Oversluij Seguel, Transantiago
Posted in Direct Action
Sunday, April 21st, 2019
"Revolution is aimed at new arrangements; insurrection leads us no longer to let ourselves be arranged, but to arrange ourselves, and set no glittering hopes on 'institutions'."
– Max Stirner

"Don't follow me… I'm not leading you…
Don't walk ahead of me… I'll not follow you…
Carve your own path… Become yourself…"
– Conspiracy of Cells of Fire,
Imprisoned Members Cell

"I know that there will be an end to this fight between the formidable arsenal of the State and me. I know that I will be vanquished, I will be the weaker, but I hope I can make you pay dearly for the victory."
– Octave Garnier

On this date over 100 years ago, 21st of April 1913, Illegalist and Individualist anarchist Raymond Callemin was executed by guillotine by order of the French state.
On the anniversary of his execution I write this in memory of all those that have fallen or been jailed in the social war against society.
The illegalist current is an offshoot of individualist anarchism. Refusing to be exploited, forced to work for some rich tyrant, instead the illegalist chooses to rob them. It's an anti-work ethic for individual autonomy to be realised in real life right away through Individual expropriation also known as individual reclamation. (more…)
Tags: Alfredo Cospito, Analysis, André Soudy, Belgium, Clement Duval, Conspiracy of Cells of Fire, Édouard Carouy, Étienne Monier, France, Illegalism, Informal Anarchist Federation, International Revolutionary Front, Jean De Boe, Jules Bonnot, Marcus Jacob, Mauricio Morales, Misha Zhlobitsky, Nicola Gai, Octave Garnier, Operation Scripta Manent, Raymond Callemin, Rene Valet, Sebastián Oversluij Seguel, Victor Serge
Posted in Autonomy
Wednesday, January 9th, 2019
Contribution from La Rebelión de las Palabras for the meeting taking place in Santiago, Chile on 23rd December in combative memory of nihilist-anarchist comrade Sebastian Oversluij, "Angry". The meeting was also within the context of Black December and internationalist anarchist praxis. 5th year since Sebastian's death during a bank expropriation.
From the Spanish State, we greet first of all the compas that raised the commemorative activity for Angry, to a new anniversary of his death in action when he was trying to expropriate one of the temples of Capital. The noise of the blast that killed him awoke new feelings of rabid sadness that roamed the globe, unleashing actions of revenge, activities in his memory, and that inspired more individuals and groups that from the offensive or not, returned to take a breath to continue on this difficult path. We did not know Angry, nor did we know the political and social context of the Chilean territory where he developed, lived and fought. However, the courage, the determination and the coherent commitment that he showed with his last action reverberate in us, and we also feel affinity with his words, his music with the rap band Palabras En Conflicto, which we know and like, and with his drawings and gestures, contributions that mark his offensive trajectory, feeling honored to be able to participate in this activity contributing the present writing.
We have been asked to write something about the context of anarchism in the territories dominated by the Spanish State. However, to be honest, we do not feel legitimacy for such a task, since we do not know in depth the concrete context of many places of the state, and others we know them in a partial, ephemeral way or in any case, from an approach that starts from our assessment, our subjectivity and our own processes, affinities, preferences, with what we have decided to make a general assessment that, we repeat, part of our own personal valuations, without having to be taken as an absolute reason or that we intend to speak for others companions who, perhaps, have another point of view and something to say about it. (more…)
Tags: Black December, Chile, Counter-info, International Solidarity, La Rebelión de las Palabras, Santiago, Sebastián Oversluij Seguel, Solidarity Event, Spain
Posted in Autonomy
Wednesday, December 26th, 2018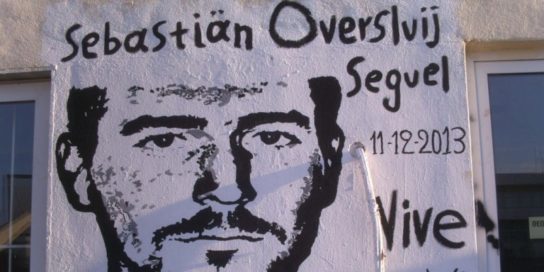 Nota: Palabras leídas en actividad conmemorativa por el -Angry- en la Biblioteca Antiautoritaria Sebastián Oversluij ubicada en algún lugar de Santiago de Chile el 23/12/2018.
"Al ke roba porke no tiene komida va a dar kon sus huesos a la kárcel de por vida… Al ke si tiene komida pero odia a los bankeros y les roba el dinero ke reparte entre sus kompañerxs". (Kanción de Rap)
En la kárcel y en la kalle la memoria sin axión kotidiana es komo un kuerpo sin alma, komo un kúmulo de palabras vacías ke se usan sin darle koherencia real a nuestras konvixiones antagónikas… Por ello la importancia esencial de mantener vivxs entre nosotrxs a todxs nuestrxs hermanxs ke han kaído en la lucha direkta y frontal kontra el Poder, el Dominio y toda Autoridad. (more…)
Tags: Chile, Marcelo Villarroel Sepúlveda, Santiago, Sebastián Oversluij Seguel, Solidarity Event
Posted in Prison Struggle
Sunday, December 23rd, 2018
ES: Contribución del proyecto contrainformativo anarquista 325 al Encuentro en Memoria del Angry
Contribution for the meeting taking place in Santiago, Chile on 23rd December in combative memory of nihilist-anarchist comrade Sebastian Oversluij. 5th year since Sebastian's death during a bank expropriation.
Dear comrades,
We are writing from '325', which is a nihilist-anarchist and anti-civilisation group of counter-information and action. Since 2003 we exist as an informal group originally out of UK and spread into Europe. We want to send our greetings to all the comrades at the gathering, for many years we follow the struggle there in Chile and try to spread solidarity to the fight. From Chile to Indonesia, to Europe, and beyond…
We think that the tendencies of attack are the most vital part of anarchy, as direct action is the constitutive part of the fight for freedom, liberation and eco-defense. We think that it's important to combine and multiply our struggle with comrades around the globe, because everywhere that anarchists are fighting, we can become a more dangerous and subversive threat against power when we internationalise and break down the borders between us. This is the reason that the States and corporations across the world are becoming afraid of anarchy again in the 21st Century, because we are the only real opposition to power's domination and they do not want us to grow and link up with each other to conspire.
On the 5th year since Sebastian Oversluij`s death in a bank robbery, we keep him present, with all the comrades that are still living with us in our hearts and deeds. Even though we never met Sebastian we are inspired by his actions and life's vision as he himself expressed it. We are touched by his freedom and energy. The banks and the capitalists are our enemies, and those that attack and expropriate them are our comrades, accomplices and friends.
The future belongs to those who struggle for liberation. They hasten the collapse of this prison-world.
Let's light up the nights and days,
Blazing hugs for a Black December
325
Tags: Black December, Chile, Counter-info, International Solidarity, Santiago, Sebastián Oversluij Seguel, Solidarity Event
Posted in Autonomy
Wednesday, December 12th, 2018
El pequeño sabotaje que realizamos la madrugada del Martes 11 de Diciembre tiene su origen en una persona: Sebastián Oversluij Seguel, el Angry como cariñosamente le decíamos nosotrxs en nuestra intimidad subversiva, fue un compañero insurreccionalista y miembro activo de esta organización.
El Angry aporto en innumerables proyecto revolucionarios, levantando instancias de discusión, bibliotecas barriales (donde el conocimiento se puso a disposición de cualquier persona interesada), opto por una dieta vegana (libre de tortura animal), apoyo tokatas donde se reunían fondos en solidaridad con lxs presxs políticxs y lxs perseguidxs, propago ideas libertarias y antiespecistas en muchísimos lugares por donde anduvo. Colaboro en jornadas de agitación, repartiendo propaganda, armando barricadas, pegando afiches, asistiendo a marchas, levantando huertos, creando canciones, pintando, dibujando, y, por supuesto, saboteando el normal funcionamiento de una que otra institución represiva. Ese era nuestro hermano. (more…)
Tags: Banco Estado, Black December, Chile, International Solidarity, Juan Aliste Vega, Marcelo Villarroel Sepúlveda, Sabotage, Santiago, Sebastián Oversluij Seguel
Posted in Direct Action
Monday, December 3rd, 2018
December is still a month marked with the stamp of the insurgent memory of the
anarchists who rise up in open antagonism against any form of power.
December 2018 will be 10 years since the comrade Alexandros Grigoropoulos was
snatched from the streets when he was killed by police bullets in the neighborhood
of Exarcheia, Greece, in 2008. It is also the month that will mark 5 years since the
comrade Sebastián Oversluij was killed by the bullets of a mercenary of capital
during a bank expropriation in 2013 in Chile.
Because the memory of our dead is fuel to stoke the flames of our lives in permanent revolt, the Black December is once again a meeting point of multifaceted action, and to reflect upon ourselves and on our strengths in this minority struggle and about the current manifestations of our totalitarian enemy, which is power and its world of hierarchies, fascism. patriarchy, speciesism and the multiple expressions of the desire for superiority of some over others.
Once again, Black December continues to be an invitation for insurgent communication via the savage heat of offensive action against power.
In iconoclastic memory of our dead.
Offensive solidarity with the comrades who face repression in Argentina, Brazil,
Chile, Russia, Italy, Greece and all over the world.

For a Black December, long live anarchy!
–
ES/GR: Por un Diciembre Negro / Για ένα Μαύρο Δεκέμβρη
Tags: Alexis Grigoropoulos, Black December, Black International, Black International of Anarchists of Praxis, Insurrection, International Solidarity, Sebastián Oversluij Seguel
Posted in Autonomy
Saturday, July 7th, 2018
Tags: Chile, Conspiracy of Cells of Fire, La Bomba Zine, Nemesis Project, PDF, Santiago, Sebastián Oversluij Seguel, Zine
Posted in Library
Thursday, December 29th, 2016
For my part I did not know Angry, but his death (to which I was not indifferent) brought him close to me via his writings, drawings, songs and the memories of other people that they relived with great affection and that allowed me and allows others to go beyond the day of December 11 and take a deeper meaning from the memory of a compañero and also of others. A sense of recognition of the person himself, of a being who took the step of defying himself, the society and this civilization of domination by compelling himself to live another life that was not established or pre-fabricated. With the ups and downs, contradictions and successes that come from rebellious decisions and wills.
The memory of which I speak comes from a feeling of affinity with the compañero and certain experiences, practices, desires, feelings and ideas that fill our life with a sense of self, pride and the impulse to walk along a similar path of struggle and confrontation, of desires and creation. (more…)
Tags: Chile, Letter, Natalia Collao, Sebastián Oversluij Seguel
Posted in Prison Struggle
Wednesday, December 21st, 2016
[Text for a gathering in memory of Sebastian Oversluij that took place in an anarchist squat in Chile]

The real death is forgetfulness.
On the 11th of December 2013 a robbery took place on a bank at the district of Pudahuel. When the anarchist Sebastian Oversluij walked in the bank announcing the robbery, he received the bullets from the armed guard-keeper of the bank-defender of the wealthy and authoritarian. Sebastian fell down dead after he emptied his machine gun…
But every day there are deaths without dying. Deaths that are repeated every day… because of the mornings alarm clock so you won't be late at work, because of the sad routes between the lonely crowd that goes to offices, factories, stores, because of the boss's yells who wants more from you and faster, because of the mechanical movements during the work that kills creativity, because of the feigned politeness, because of the debasing salary as recompense for the life that they have stolen from you.
A life that is measured based on money.
When we rob a bank, we don't steal the money, we take back the life that they have stolen from us.
But a robbery can be an addictive job also. A job like everyone else's, with the only difference that the "salary" isn't sure and in case of industrial accident, jail or death awaits you. Often the robbers are not different from the salaried workers, they only work less in conditions of high risk. But they share the same cast of mind. The one of a consumer who deifies money, who admires the power of riches and his car, his clothes, his watch, which are the prolongation of himself.
Sebastian Oversluij was not a robber. He was an anarchist. He refused to be a slave on the boss's blocks. He was a disclaimer of work because he refused the morality of working, the morality of a slave who thinks like a consumer. A robbery by itself isn't a revolutionary action. But it is one of the methods of the anarchist war, so that we take back from the bosses the stolen time and organise it aggressively against them, planning anarchist actions, helping comrades in captivity, strengthening publishing ventures and creating armed infrastructure of attack against dominion.
We belong to the generation that Sebastian belonged to. A generation that has no age, no nationality. The generation of the impatient, the uncompromising and the dreamers.
We don't need heroes, we want comrades who set fires with their ideas.
When we keep alive in our memory Sebastian and all the comrades who fell on the battlefield, we keep the struggle alive. A fight against dominion and we know that jail or death are often the cost. But as one said: "Five free birds started the journey to the South. Only one arrived, but what their journey for certain wanted to say, that it was worth it for trying to fly…"

Conspiracy of Cells of Fire – Urban Guerrilla Cell
Giorgios Polidoros,
Christos Tsakalos,
Gerasimos Tsakalos,
Olga Economidou
Tags: Christos Tsakalos, Conspiracy of Cells of Fire, Conspiracy of Cells of Fire - Urban Guerilla Cell, Gerasimos Tsakalos, Giorgios Polidoros, Greece, Informal Anarchist Federation (FAI), International Revolutionary Front, Olga Economidou, Sebastián Oversluij Seguel
Posted in Prison Struggle
Wednesday, December 21st, 2016
[Text for a gathering in memory of Sebastian Oversluij that took place in an anarchist squat in Chile]
One can never be really lost unless oblivion wraps one in her arms.
It's been three years now that comrade Sebastian Oversluij does not walk anymore through the paths of searching for the wild beauty of anarchist action. It's been three years now that some of our brothers and sisters there in Chile feel his absence stretching their hearts. It is three years since the bullets of a sneak-security guard of the "Banco Estado" took his life, extinguishing the flame of the anarchist spirit that used to burn inside him.
But we, in our turn, as well as many others, we are not willing to let our comrade disappear in the fog of oblivion. We honor our brother just like we honor his choice of passing into action, attacking a bank-a temple of money, emptying the enemy's wallet, expropriating the minimum that we should get comparing to what authority expropriates from our own lives. The bank robbery carried out by an anarchist always carries inside the seed of refusal. The refusal to submit to a world where you're restricted to sell your soul to the cruel laws of free market, so that you can live to work and work to consume and consume to fill in your existential gaps with a pile of useless objects.
We know that we are very far away and that our words have to cross an entire ocean to reach you. But we hope you'll be able to feel the affinity we all feel with all those who discover the ways to keep our brothers close to us at the events, in discussions, in our imagination, but above all in the continuing of spreading the constant anarchist revolt itself.
The members of Conspiracy of Cells of Fire- FAI/IRF
Mihalis Nikolopoulos
Giorgos Nikolopoulos
Haris Hatzimihelakis
Theofilos Mavropoulos
Panagiotis Argirou
Damiano Bolano
Tags: Chile, Conspiracy of Cells of Fire, Damiano Bolano, Giorgos Nikolopoulos, Haris Hatzimichelakis, Informal Anarchist Federation (FAI), International Revolutionary Front, Mihalis Nikolopoulos, Panagiotis Argirou, Sebastián Oversluij Seguel, Theofilos Mavropoulos
Posted in Prison Struggle
Wednesday, December 21st, 2016
In the evening of Friday December 16th, shortly before 20:00, we decided to pay a visit to the Piraeus Bank branch located at Canningos Sq. After smashing the ATM screen and the windows next to it with a hammer, we poured gasoline on the machine and torched it. Before leaving, we also threw a molotov to the ex-Ministry of Commerce located opposite the bank.
This action is dedicated to the memory of anarchist-nihilist Sebastian Oversluij, who was shot dead by a security guard while attempting to expropriate a BancoEstado branch in Santiago, Chile, on December 11th 2013.
This is also an act of complicity in solidarity with anarchist Tamara Sol Farías Vergara, who is held captive in the Chilean dungeons for taking revenge for the loss of Sebastián by opening fire against another private security guard of the same bank on January 21st 2014.

REMEMBER AND FIGHT FOR THE FALLEN AND IMPRISONED COMRADES!
INFORMAL COORDINATION AND ATTACK BY ALL MEANS!
–

via ContraInfo
Tags: Athens, Greece, International Solidarity, Molotov, Piraeus Bank, Sabotage, Sebastián Oversluij Seguel, Tamara Sol
Posted in Direct Action
Friday, December 16th, 2016
Nos reapropiamos del tiempo, es decir lo recuperamos, lo robamos. Así y solamente así logramos ponernos en comunión con otras individualidades para levantar una coordinación operativa con el objetivo de cuestionar y golpear lo establecido. Convencidxs de esto, irrumpimos con barricadas diversas calles y avenidas de Santiago, accionando contra el orden existente con el que lxs Poderosxs pretenden dominarnos.
La acción de propaganda realizada en las calles de la urbe va cargada de memoria vengativa pues ya van 6 años de absoluta impunidad desde que el Estado de Chile masacró a 81 presos. Efectivamente, fue en la madrugada del 8 de diciembre del 2010, en el ala sur y norte del piso 4, Torre 5 de la cárcel de San Miguel, donde la maquinaria Estatal mostró su verdadera cara, esta vez sin disimular ni ocultar la tortura y la muerte que trágicamente encarnó los cuerpos calcinados de 81 personas. (more…)
Tags: Arson, Burning Barricades, Chile, San Miguel prison, Santiago, Sebastián Oversluij Seguel
Posted in Direct Action