Posts Tagged 'Sebastián Oversluij Seguel'
Monday, December 7th, 2015
-En el marco del llamamiento a un Diciembre Negro.
-A 2 años de la muerte en combate del Anarquista Sebastián Oversluij.
-A lxs Rebeldes Subversivxs, Revolucionarixs, Anarquistas y
Antiautoritarixs que luchan por la destrucción de toda forma de Poder y
Autoridad en el mundo entero.
Queremos recordar lo bonito que es que se paralice el espacio-tiempo
social, a través de pequeños o mayores cortocircuitos sociales. Queremos
recordar lo peligrosa que es la anarquía cuando quiere. Por un Diciembre
Negro. Nikos Romanos, Panagiotis Argirou.
Desde las prisiones griegas, desde la resistencia cotidiana en las
entrañas de la bestia de la sociedad carcelaria se gesta un llamado al
recuerdo de la inestabilidad de la paz social bajo la amenaza constante
de rompimiento de la normativa, el que nos invita a hacer de este
recuerdo particular una iniciativa que se multiplique en la
multiformidad del ataque antagonista y antiautoritario, que nos invita a
propagar la acción que desborda la teoría sin dejar pie para excusas o
letargos. (more…)
Tags: Black December, Chile, Greece, International Solidarity, Sebastián Oversluij Seguel
Posted in Autonomy
Thursday, November 12th, 2015
Full coverage of Black December via Contra-Info on this #tag.
Also read: International call for a Black December.
I hate the individual who bends his body under the weight of an unknown power, of some X, of a god.
I hate, I say, all those who, surrendering to others, out of fear, out of resignation, a part of their power as a man, are not only crushed themselves but crush me, and those I love, under the weight of their frightful cooperation or their idiotic inertia.
I hate, yes, I hate them, for I sense it, I do not bow before the officer's braid, the mayor's sash, the capitalist's gold, moralities or religions; for a long time I have known that all of this is just baubles that can be broken like glass.
— Joseph Albert (Libertad)
There are times in history when the randomness of some events can cause dynamic variables, able to almost entirely paralyse the social space-time.
It was Saturday night, on 06/12/2008, when the culmination of a conflict between two worlds took place in just a few moments. On one hand, the youthful, enthusiastic, spontaneous and impetuous insurrectionary violence; on the other hand, the official state institutional organ that, legitimately, claims the monopoly on violence through repression.
No, it was not about an innocent kid and a paranoid cop found in the wrong place at the wrong time, but a rebellious young comrade who attacked a patrol car, in an area where clashes with the forces of repression were common, and a cop who patrolled the same area and, out of a personal perception about the honour and reputation of the police, decided to confront the troublemakers on his own. It was a conflict between two opposing forces: on one Insurgency, on the other Power, with the main protagonists of this conflict each representing their own sides.
The murder of Alexandros Grigoropoulos by the cop Epameinondas Korkoneas, and the large-scale riots that ensued, caused a powerful, high-tension social electroshock, because the image of "social peace" was shattered and the existence of these two opposing worlds was made visible, in the most manifest way, triggering situations from which there was no easy return, at least not without a creation and manifestation of events whose momentum nobody could any longer pretend they did not notice, they did not see, they did not hear, they did not take into account. (more…)
Tags: Alexis Grigoropoulos, Black December, Conspiracy of Cells of Fire, Conspiracy of Cells of Fire : Imprisoned Members Cell, Greece, Informal Anarchist Federation (FAI), International Revolutionary Front, International Solidarity, Korydallos Prison, Nikos Romanos, Panagiotis Argirou, Sebastián Oversluij Seguel
Posted in Direct Action
Sunday, September 13th, 2015
September 2015 version of the international anarchist anti-prisons newsletter, released with intent to spread info about the hunger strike of Evi Statiri, life companion of Gerasimos Tsakalos of CCF.
PDF: Dark Nights #43 – Sept 2015
1. "Beyond right and wrong" by Conspiracy of Cells of Fire – FAI/IRF.
2. 14th Sept: Evi Statiri starting hunger strike in Korydallos prison.
3. "From the land of the forgotten against oblivion…" by Olga Ekonomidou of CCF.
4. Direct Action Chronology.
5. Chile: Words from anarchist prisoner Sergio Álvarez in memory of Sebastián
'Angry' Oversluij.
6. Malaysia: Police raid anarchist centre Rumah Api.
https://server.nostate.net/325-new/html/wp-content/uploads/2015/09/dark-nights-43.pdf
Tags: "Beyond right and wrong", Chile, Conspiracy of Cells of Fire, Conspiracy of Cells of Fire : Imprisoned Members Cell, Dark Nights, Evi Statiri, Greece, Hunger Strike, Informal Anarchist Federation (FAI), International Revolutionary Front, Korydallos Prison, Malaysia, Olga Economidou, PDF, Rumah Api (social center/house project), Sebastián Oversluij Seguel, Sergio Alvarez, Zine
Posted in Library
Wednesday, September 9th, 2015
El día jueves 24 de agosto a eso de las 2 am colocamos un artefacto explosivo de fabricación casera compuesto por una botella plástica de medio litro rellena de pólvora negra , mechas detonantes y de iniciación. Adheridas a un cigarrillo que sirvió como retardo, todo únido a dos camping gas (gas butano) en la entrada de una de las sedes del circulo de suboficiales de la policía federal argentina ubicada en Alberti entre Chile y Mexico del barrio porteño de Balvanera. A pesar de que las cámaras sigan nuestros pasos, contamos con buenos amigxs y la determinación e imaginación creativa para evadir la seguridad de esta paz social.
Con este gesto nos solidarizamos con las y los compañeros anarquistas fugados y encarcelados en distintas partes del mundo. Que son ejemplos de lucha y convicción!
El poder es quien ejerce el monopolio de la violencia, la jurídicamente justificable, no solo la policial (la económica, la mediática, la social, el discurso democrático).
Por eso ESTAMOS con los amotinadxs, con los fugadxs, con los pibes y las pibas encerradas en los penales y psiquiátricos de argentina (y el mundo) "comunes" y anónimos que se rebelan, con los "suicidados" asesinados por el servicio penitenciario.
Memoria y vindicación a SERGIO "URUBU" TERENZI, MAURICIO MORALES Y SEBASTIAN OVERSLUIJ
Hagamos practica la libertad, enfrentemos la resignación. Exaltemos la vida!
Saludos y ánimos.
Algunos anarquistas y nihilistas
Tags: Argentina, Buenos Aires, International Solidarity, Mauricio Morales, Sabotage, Sebastián Oversluij Seguel, Sergio Urubu Terensi
Posted in Direct Action
Wednesday, September 2nd, 2015
From Contra-Info [+ pics] via It's Going Down:
On August 30th, we sabotaged with paint an ATM bank, "Bancomer," in response to the "International Week in solidarity with anarchist prisoners", and also to commemorate the black memory of our comrade Sebastián Oversluij (Pelao angry). This act was performed also to the surprised looks of passers-by; before the futility of "the bodies of order." This street is the most guarded by dogs of the state, not only by the steady pace of patrols from both police and military, but also from the presence of security guards from ITESM.
Ever so rabidly do we act; an act that demonstrates our hatred for their money, their economy, their social order … to their civilization. This act was not to protest any "improvement" for the "people." This action was carried out by anarchic individuals in anti-social solidarity and complicity with our comrades in affinity who are kidnapped by the state; to bring the anarchic idea to it's ultimate conclusion. Forward comrades, destroy all prisons! We will burn your civilization!
A strong embrace of solidarity to the companion Tamara Farias, vengeance arrived!
Comrade Sebastian Oversluij presente …!
Freedom for all anarchist prisoners
The ongoing war …
For anarchy!
Incendiary Cell for Earth Liberation – FAI/FRI
Tags: BBVA-Bancomer, Incendiary Cell for Earth Liberation - FAI/FRI, International Week for Anarchist Prisoners, Mexico, Sabotage, Sebastián Oversluij Seguel, Tamara Sol
Posted in Direct Action
Tuesday, August 25th, 2015
Inter Arma received and translated:
As anarchists, we stand in solidarity and complicity with the anarchist comrades who chose the path of armed confrontation with the state and capital, thus transforming words into bullets and fire and theory into a moving force for actions. The feelings of comradeship don't allow us to forget neither anarchists prisoners, hostages in the hands of every single state, nor of course those who were killed in action. Whether they are in Greece or in Chile, Mexico, Spain or in any corner of the planet, our ideas know no boundaries, challenging any restrictions imposed on us.
Sebastian Oversluij, not wanting the state to rest assured and capital to flow unhindered, invaded on 11/12/2013 a Banco Estado bank branch in Chile, planning to expropriate it. He refused to accept the capitalist institutions, refused to respect the good-for law-abiding citizens and liberals- banking system, which holds a key role in the proper function of capitalism. The killing of the comrade that day, wasn't executed by a random person, but by a uniformed trash, which, recognizing its role and responsibilities, pulled the trigger to protect the system that he protects and serves faithfully. The cops and the guards, like modern praetorians, take up the protection of authoritarian regimes, suppressing anyone who violates the legality, so as not to undermine authority. (more…)
Tags: Greece, International Solidarity, International Week for Anarchist Prisoners, Sebastián Oversluij Seguel
Posted in Direct Action
Tuesday, August 25th, 2015
En memoria del compañero anarquista Sebastián "Angry" Oversluij, difundimos folletos que toman ilustraciones y frases que el compañero plasmó en sus canciones. Cualquiera puede imprimirlos y nosotros/as ya lo estamos difundiendo entre compañeros/as y espacios afines.
Invitamos a visitar nuestro blog, el cual funciona hoy como un archivo de la memoria en torno al compañero Angry, en donde todos/as pueden encontrar sus dibujos, reflexiones y los discos de sus proyectos musicales.
Pronto actualizaremos el blog con motivo de los 2 años desde que el compañero fue asesinado al momento de asaltar un banco.
http://nuncaderodillasblog.wordpress.com/
nuncaderodillas pdf
CON SEBASTIÁN OVERSLUIJ, CLAUDIA LÓPEZ, JHONY CARIQUE Y MAURICIO MORALES EN LA MEMORIA
LA REVUELTA GERMINA, LA INSURRECCIÓN NUNCA TERMINA!
Tags: Chile, Counter-info, Santiago, Sebastián Oversluij Seguel
Posted in Library
Saturday, August 22nd, 2015
EL COMETA PASARÁ ETERNAMENTE.
Cuando llegó la propuesta de ayunar por la semana de agitación en memoria
del Pelao Angry mi corazón se revoloteó entero, mi interior dijo vamos y
decidí desafiar a la cana y a mi cuerpo. No es fácil ayunar en una cana tan
plástica como Santiago 1, toda la alimentación de aquí no ayuda en nada
para hacer ayunos y dañarte lo menos posible.
Ahora compartiré lo que siento individualmente por recordar a Pelao.
Físicamente compartimos 2 veces pero esto no hace que me sienta cercanx,
leyendo su libro y compartiendo con seres que lx conocían ha hecho que
cuando lo traigo a mí sienta emociones liberadoras, son sensaciones
encontradas, pero todo el rato trato de deconstruir la idealización de la
muerte física sin "apologizar" el contexto en el que murió. Viene a mí una
sensación de tranquilidad sabiendo que físicamente se fue enfrentándose en
ese arrojo que tanto le gustaba, ese arrojo puro y hermoso que hace
destruir de cualquier forma la civilización. (more…)
Tags: Chile, Javier Pino, Letter, Santiago 1, Sebastián Oversluij Seguel
Posted in Prison Struggle
Friday, August 21st, 2015
Saludos compañerxs, junto con darles todos mis cariños escribo estas
palabras en respuesta al llamado de agitación en memoria de nuestro
hermano caído en combate Sebastián Oversluij, llevado a cabo en esta
semana. En mi posición actual de preso no fueron los muchos los detalles
de los cuales me pude enterar de este llamado pero frente a la
iniciativa individual y colectiva hecha por compañerxs surge en mi la
necesidad de hacerme presente aunque sea con el gesto solidario más
mínimo, tomando las armas que tenga a mi alcance para continuar en
actitud de guerra recordando a aquellxs que dieron su vida y su muerte
en la lucha contra el Poder, la Autoridad y su Dominación. Por eso
durante el día jueves junto al comparo Ignacio Muñoz encerrado en el
módulo 34, hicimos ayuno entendiendo que nuestra corporalidad puede y
debe ser tensionada como un frente más desde dónde atacar. Y aunque el
ayuno o huelga de hambre no haga un correlato con el carácter que le fue
dado a este llamado más enfocado al empapelar las calles con afiches,
rayado, dibujos, panfletos, murales, etc; creo que cada individuo con
cada una de sus particularidades, posibilidades y contexto debe aportar
en las instancias que surjan de la memoria y busquen generar una
proyectualidad del conflicto. (more…)
Tags: Chile, Letter, Santiago, Sebastián Oversluij Seguel, Sergio Alvarez
Posted in Prison Struggle
Sunday, May 31st, 2015
Tamara Sol Farís Vergara is Transferred to High Security Prison
This Wednesday, May 27th, 2015, Tamara Sol Farías Vergara was transferred to the ill-named "Centre for Feminine Orientation" (COF) located at Vicuña Mackenna and Capitan Prat streets in San Joaquin, Santiago.
The prison guard, Jenny Muñoz Gajardo, a Commandant who is in charge of the incarceration of over 500 women in the [prison] centre of extermination of "San Miguel," is a loyal representative of police brutality and is paid millions of pesos to employ the logic of prison punishment and the control over people's lives. This officer let her rage out with Tamara Sol and did not let her say goodbye to her cellmate, taking her out forcefully, without giving Sol the chance to pack her personal belongings (her prison mates gathered up what they could in a bag that Sol has yet to receive). We are told that Tamara Sol resisted with punches, screams and spits while being forced out by the prison guards, and was then handcuffed and taken to solitary confinement around 6pm. (more…)
Tags: Chile, Letter, Prison Transfer, Repression, Santiago, Sebastián Oversluij Seguel, Sol F. Vergara, Tamara Sol
Posted in Prison Struggle
Wednesday, February 4th, 2015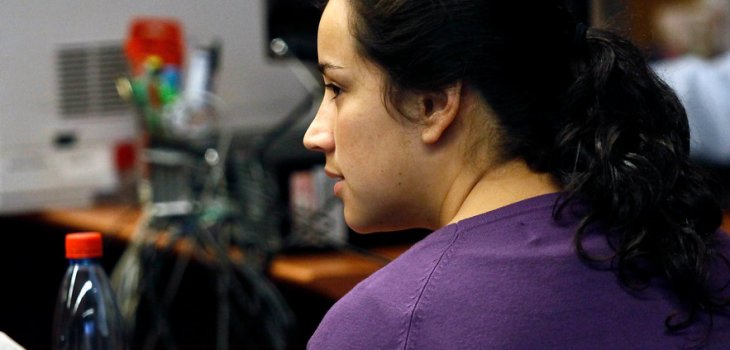 Updated:
According to info received, Tamara Sol was found guilty by the court and sentenced to 7 years and 2 months in prison, with a fine of $215.000 (US$ 345 – €300). Recall that Tamara Sol is the comrade who was arrested after a BancoEstado security guard was shot in revenge for the death of Sebastián Oversluij Seguel.
Definitive charges and sentences are the following:
Attempted Murder: 7 years
Theft [of the gun of the security guard who was shot]: 61 Days + fine.

After the trial, there was clashes between Sol family's and the tribunal guards (gendarmes). The family rebuked the judges and threw leaflets, calling the judges "fascists" and accusing them of developing a biased and political judgment. Also, the judges order to take a DNA sample of Sol, to include it in the National Register of Convicted.
However, there still exists an appeal opportunity against the sentence.
A video of the audience: http://www.youtube.com/watch?v=_eFns2YZUFY
And pictures of the meeting:

(from left to right: Luisa Toledo -grandmother-; Ana Vergara -mother-; Manuel Vergara -grandfather-)

(the man with the red megaphone is the father of Sol)
Solidarity to Tamara Sol!
Tags: Chile, Repression, Sebastián Oversluij Seguel, Sol F. Vergara, Tamara Sol, Trial
Posted in Prison Struggle
Tuesday, February 3rd, 2015
Inter Arma received from Sin Banderas Ni Fronteras:
After one year of detention in San Miguel prison, anarchist comrade Tamara Sol started to face the trial in which power aims to annihilate her. Tamara is accused of shooting a bank guard in January 2014, just days after a bank guard killed comrade Sebastian Oversluij in an attempted bank robbery, in a different bank branch.
In November 2014, a brief preparation for trial against Tamara was performed, which finally started on this January 23. Tamara is facing a democratic inquisition that wants to sentence her to several years in prison, with charges of attempted murder and accomplished simple theft. (more…)
Tags: Argentina, Banner drop, Buenos Aires, Chile, Sebastián Oversluij Seguel, Sol F. Vergara, Solidarity Action, Tamara Sol, Trial
Posted in Prison Struggle
Monday, January 12th, 2015
Inter Arma received and translated:
[Athens, 25-31/12/2014]
FROM CHILE TO GREECE
"Bad evening my lords even if it's not your will… the rebels are on the ramparts fuck your Christ!"*
These "holy" days when social problems are buried beneath the hypocritical smiles of a rotten society – that forgives itself with a smokescreen of fake love and joy, in an atmosphere full with festive togetherness, trying to stimulate the sense of security, prosperity and of a fictional consuming ability of the citizens in order for the commercial economy affected by the crisis to counterbalance its losses – and the streets of the metropolis inundated by giggly consuming assholes, while dozens of homeless people are suffering in the darkest corners and workers in the trade sector (without them being blameless) spit blood for the exhausting work hours and the "white nights" of the bosses, we decided to "mail" our own gifts to our loved ones and at the same time send some greeting mines to our enemies with the promise of a rebellious 2015. (more…)
Tags: Black December, Francisco Solar, Informal Anarchist Federation (FAI), International Revolutionary Front, International Solidarity, Lambros Foundas, Monica Caballero, Nikos Maziotis, Operation Pandora, Permanent Unholy Synod / FAI-IRF, Sebastián Oversluij Seguel, Sol F. Vergara, Solidarity Action, Type C prisons
Posted in Direct Action
Sunday, December 28th, 2014
[Noticias de la Guerra Social]
Durante Diciembre del 2014, distintas expresiones de combate callejero
se volvieron a encontrar en la calle buscando mantener viva la memoria
insurrecta del compañero anarquista Sebastian Oversluij abatido durante
una expropiación bancaria el pasado 13 de Diciembre del 2013.
Ya desde Noviembre el sabotaje a la maquinaria del olvido se expreso con
fuego y combate, asi fue el ataque incendiario contra una micro en el
sector de Macul con Grecia (1) o el bloqueo dela línea férrea del tren de carga por parte del "Grupo Anarquista Coordinado – GAC. Banda Organizada Mauricio Morales /
Célula Incendiaria Sebastián Oversluij." (2)
Por solo nombrar algunos hechos, a continuacion un breve recuento
–siempre incompleto- de lo ocurrido hasta ahora.
Tags: Chile, Repression, Santiago, Sebastián Oversluij Seguel, Solidarity Action, Surveillance
Posted in Direct Action
Saturday, December 20th, 2014
Reniego del mundo de la sociedad que me guió desde el nacer. Reniego de
sus costumbres de sus valores que me moldearon por sufrir su imposición
de poder. Reniego de sus autoridad de sus obligaciones que me coartaron
en toda mi crianza. Reniego de su bastarda cultura de sus dogmas guiados
por la sed de servidumbre y sometimiento. Rechazo lo que me formó porque
rechazo los vicios mismos que me regalan continuamente. Escupo frente a
todos la mierda y el odio contenido ante tantos castigos ante tanta
presión social. Reniego del bien también del mal. No soporto sus tontas
creencias que hacen de nuestra voluntad muerte y de nuestra muerte un
borrego fiel y agradecido por darnos nada. Rompo con la mierda con el
consumo doy un paso al lado para poder analizarlos de mejor manera para
poder atacarlos, ver una doble efectividad porque reniego eternamente de
su pasividad que consume las disposiciones más nobles en la comodidad
alienante de la civilización. Mato mis miedos ya que son producidos como
medios de control por ellos, los mismos dueños y fieles siervos del
capital en todos aquellos que hablen el mismo idioma del sometimiento.

[Extraído del libro "Fuego de vida". Lxs compañerxs del blog "Nunca de
Rodillas" hemos corregido algo de la gramática y la puntuación para
hacer el texto entendible para todxs. El título "Reniego" lo pusimos
nosotrxs.]
Encuentra más textos en el blog
http://nuncaderodillasblog.wordpress.com, en la sección "Textos".
–
Propaganda/sticker en memoria del compañero Sebastián Oversluij, "Angry"
PDF : ANGRY1
¡QUIENES LUCHAN JAMÁS SON OLVIDADXS!
Sebastián Oversluij Seguel "ANGRY" fue un compañerx que abrazó ideas
anárquicas, nihilistas e insurreccionales, que en un intento de
expropiación bancaria el 11 de diciembre del 2013 fue asesinado por un
guardia bastardo protector del dinero de lxs ricxs llamado William Vera.
El "ANGRY" tuvo una vida de combate, peleó contra todo lo que lo atara,
por su autonomía y por la liberación total(animal, humana y de la
tierra) por eso era vegano y ademas se negaba a consumir drogas y
alcohol.
¡Recordaremos siempre al compañero y a todxs quienes luchan por la
libertad y enfrentan al poder y a toda autoridad!
¡NUESTRAS VIDAS SIGUEN EN CONFLICTO!
La mejor forma de honrar su memoria es seguir la lucha!
Tags: "Reniego" - Texto del compañero Sebastián Oversluij, Chile, Fuego de vida, Sebastián Oversluij Seguel
Posted in Cognitive Liberty