Posts Tagged 'Sergey Romanov'
Wednesday, November 4th, 2020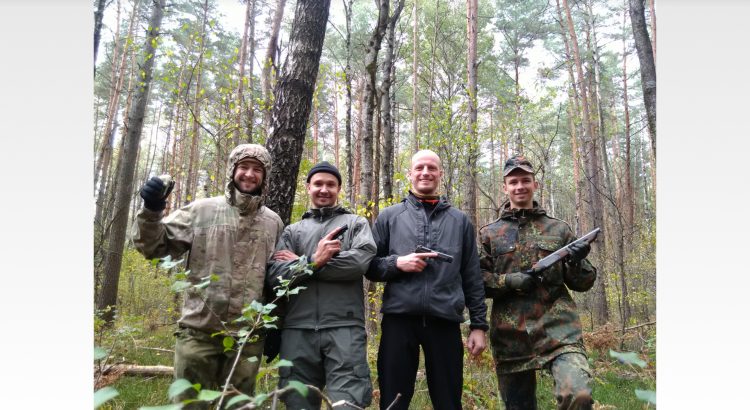 What's happened?
On October 22 in Soligorsk (Belarus) administrative building of State committee of forensic examination was attacked and cars were set on fire at the parking lot of Soligorsk district prosecutor's office. On the night of October 28 the building of traffic police department of Mozyr district police department was set on fire. Soon a group of anarchists-revolutionaries: Ihar Alinevich, Dmitry Dubovsky, Dmitry Rezanovich and Sergey Romanov were detained by a mobile group of Mozyr border detachment near the Ukrainian border in Zabozye village of Yelsky raion (Belarus). The detainees are currently held in a KGB remand prison in Minsk. They were charged under part 3 of article 289 of the Criminal Code (act of terrorism committed by an organized group).

Anarchist Revolutionaries
Each of the detainees had been an opponent of the fascist state for many years and had regularly experienced its repressions. (more…)
Tags: Belarus, Dzmitry Dubouski, Dzmitry Rezanovich, Ihar Alinevich, Ihar Alinievich, International Solidarity, Repression, Sergei Romanov, Sergey Romanov, Siarhei Ramanau, Social Insurrection, Soligorsk
Posted in Social Control
Wednesday, October 10th, 2018
Repressions and prisons have become part of our lives, as well as of lives of all those recalcitrant comrades who prefer to conduct an offensive struggle against the state and capital, attacking all manifestations of power and destroy the oppressive order. More and more often in the course of this struggle, we hear calls from all corners of the world for solidarity with repressed and imprisoned like-minded people, we hear stories how yet another one of us was put behind bars, beaten, tortured or even killed , and also hear how this or that infrastructure of anarchists was destroyed, plundered, how this or that initiative suffered from raids from punitive groups of the Ministry of Internal Affairs (MVD).
The authorities, like a hundred years ago, are trying to stop us. Today, like yesterday, we are opposed by the guardians of the state structures that were trained and endowed with the "legal right" or in simple words — state dogs loyal to their masters and interested in maintaining the status quo, repressing anarchists and other unruly people. (more…)
Tags: Andrei Chernov, Arman Sagynbaev, Arson, Dmitry Pchelintsev, Ilya Romanov, Ilya Romanov anarchist cell / FAI–IRF, Ilya Shakursky, Informal Anarchist Federation (FAI), International Revolutionary Front, International Solidarity, July Boyarshinov, Kiev, Maxim Ivankin, Mikhail Kulkov, Oleksandr Kolchenko, Sabotage, Sergey Romanov, Ukraine, Vasily Kuksov, Victor Filinkov, Yevgeny Karakashev
Posted in Direct Action