Posts Tagged 'Shell'
Friday, April 3rd, 2020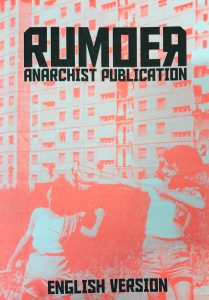 The second edition of the anarchist publication Rumoer is out! A publication which will hopefully provoke discussion, irritation, inspiration, agitation, and attack. Because we do not want a raise in wages, but the destruction of work. Because we do not want to shout 'boo!' but want to hear BOOM! We want a confrontation without compromise with the system that is destroying our lives and the planet.
In this issue some extra attention for the rampaging Covid-19 virus. But also just the ongoing anarchist interventions and other topics: an interview with a graffiti maker in Lebanon, the fight against Shell, post-gentrification and the use of the Signal app.
If you want to receive the new Rumoer, send an email to: rumoer (((A))) riseup /// net. Since most social centres are currently closed, we ask you to help spread the latest edition. Order some extra copies and bring it to your neighbours, isolated family, friends and comrades.
You can also download the new Rumoer or print it yourself. The link to the downloads can be found at rumoer.noblogs.org
Remember, the streets are empty, the possibilities are open. Keep 1.5 meters away, but always at least ten times as much from the police!
Tags: Coronavirus, Counter-info, Graff, Graffiti, Lebanon, PDF, Rumoer (Zine), Sabotage, Shell, Signal (PGP App), Zine
Posted in Library
Saturday, April 16th, 2011
11 April 2011
"Just before midnight on Monday night some angry souls with paint descended upon the Shell offices at Duckmaster near Bolsover (not far from Chesterfield), They proceeded to paint the doors and windows in red and black, with a hint of green for good measure.
This action was carried out as small gesture of love and solidarity with those fighting against Shell in County Mayo Ireland.
This was done with rage against Shell, one of many multi-nationals who continue to rape and pillage the planet in the name of profit.
This was done because we are anarchists who are in love with this planet, and willing to strike wherever and whenever we see fit in order to defend it from corporate greed.
We know this action alone will not stop Shell, but it is a manifestation of desires to see harm done to those who destroy the planet and every living creature on it. We will continue, we will build and develop skills, we will strike again.
We encourage others to express their desires for the defense of the earth, and those with similar inclinations to take action against Shell and all other multi-nationals throughout the summer. "
Tags: Chesterfield, Duckmaster, Ireland, Rossport, Shell, Solidarity Action, UK
Posted in Direct Action, Eco Struggle