Posts Tagged 'Social Insurrection'
Tuesday, September 22nd, 2020
The ethical question is not about weapons, but about which ones.
by Adrian Wohlleben
There is no such thing as a peaceful insurrection. This is America; there is no imaginable scenario in which social conflicts will continue and people will not be armed, on all sides. Whether weapons are necessary is an open question, but in any case, they are inevitable. However, as friends noted some time ago, there is an important distinction to be made between "being armed and the use of arms". If guns are an inevitable feature of any American insurrection, it is a question of doing every­thing possible to make their use unnecessary.
For participants and observers of this summer's uprisings, the clashes in Kenosha following Jacob Blake's shooting have dragged the question of armed violence to the forefront of debates. Does the presence of guns on 'our side' offer any sense of relief from danger? Do they make anything possible that isn't otherwise? Can we imagine them being used in a way that would open the situation up, and made people feel more powerful?
In his "Critique of Violence" (1921), penned in the immediate aftermath of a defeated communist insurrection in Germany, Walter Benjamin attempts to bypass sterile oppositions between violence and 'nonviolence', legitimate and illegitimate force, instead directing our attention to the more decisive difference between modes and manners of violence. By suspending the question of the 'aims' or goals of violence—which, on Benjamin's view, quickly devolves into myth and metaphysics—and instead differentiating between its means and uses, we shift the problem from an instrumental or technical register to an ethical one. Instead of asking, "for the sake of what end does this act occur?", we should ask, What is this act like from the inside? What does it do to us, and those around us? How does it activate, or deactivate, our capacity to fully participate in existence? In this way, Benjamin is able to reframe the problem of revolutionary violence: its difference from state violence resides not in the 'tasks' or agenda it claims to serve, but first and foremost in the relation to the world, to oneself, and to others that it engenders. (more…)
Tags: Analysis, Ill Will Editions, Kenosha, Racism, Riots, Social Insurrection, USA
Posted in Autonomy
Tuesday, September 22nd, 2020
Las rebeliones de la miseria
«Todos los sistemas de control se basan en el binomio castigo-premio. Cuando los castigos son desproporcionados a los premios y cuando a los patrones ya no les quedan premios, se producen las sublevaciones.»i
Burroughs
En esta segunda década del siglo cada vez son más frecuentes las revueltas urbanas a lo largo y ancho de la geografía global, con sutiles variaciones en cuanto a su duración e intensidad. Hong Kong, Francia, Argelia, Irak, Haití, Líbano, Cataluña, Ecuador, Bolivia, Sudán, Chile, Bielorusia y, ahora, Estados Unidos de Amérikkka, han sido sede de multitudinarias protestas ampliamente reseñadas en los medios de domesticación masiva. Como he señalado en otras ocasiones, éstas manifestaciones tienen motivaciones muy particulares que las explican; sin embargo, es indiscutible que todas poseen un vínculo intangible que funge como denominador común de la mayoría de estas movilizaciones: el hartazgo y la rabia de la desesperanza.
Lejos de la retórica izquierdista que insiste contra toda evidencia que «mientras haya miseria habrá rebelión», lo que en verdad ha motivado las rebeliones recientes no ha sido la «miseria» sino la conjunción del hartazgo y la desesperanza. Estos dos factores –que impulsan la añoranza por lo «malo conocido» y anhelan el retorno al Estado benefector, al capitalismo industrial y a la sociedad del trabajo–, son los causantes del malestar generalizado que ha desembocado en la revuelta global de nuestros días.
Tags: Analysis, Gustavo Rodriguez, Riots, Social Insurrection
Posted in Library
Tuesday, September 8th, 2020
Anti-fascist revolutionary Michael Reinoehl was assassinated by pigs near Lacey, Washington on September 3 in retaliation for the shooting of a member of the fascist group Patriot Prayer.
Reinoehl claimed responsibility for the shooting as an act of self-defense against the fascist who threatened Reinoehl and a friend with mace and a knife. Reinoehl went to downtown Portland on Saturday night to provide security for revolutionaries who were threatened by a caravan of fascist Trump supporters who paraded through the city center.
"Had I stepped forward, he would have Maced or stabbed me," Reinoehl said in an interview. "I was confident that I did not hit anyone innocent and I made my exit… I feel it's important that the world at least gets a little bit of what's really going on. I had no choice. I mean, I, I had a choice. I could have sat there and watched them kill a friend of mine of color. But I wasn't going to do that." (more…)
Tags: #BlackLivesMatter, Anti-Fascism, Anti-Fascist, Antifa, Fuck the Police, Lacey, Michael Reinoehl, Neo-Nazis, Patriot Prayer (Fascist Group), Police Brutality, Portland, Racism, Repression, Riots, Social Insurrection, USA, Washington
Posted in Uncategorised
Thursday, September 3rd, 2020
Belarus: Rebellion Against Dictatorship
As the Anarchist Radio Berlin, we gladly present this interview with an anarchist in Belarus on the current situation in the country. Since weeks people are in the streets in the aftermath of the last election.
In the interview, recorded on the 31st of august 2020, we learn about underlying reasons and the built up to the current protest movement, as well as the role of alternative media and the current state repression.
Links mentioned in the interview:
ABC Belarus: ways to donate to support anarchists (add note "STREET FUND" to direct money towards actions instead of repression costs)
Pramen: news from an anarchist perspective (also in english)
Belarus97.org: support people detained in general
Support people who lost their job because of their political views (Caution: links to Facebook!) https://bit.ly/344ANgH
Length: 56 min
You can find other English audios as well as all issues of the monthly anarchist show "Bad News" here.
Tags: Anarchist Radio, Anarchistisches Radio Berlin, Belarus, Minsk, Radio, Social Insurrection
Posted in Interviews
Sunday, August 16th, 2020
The following text is a translation by Anarchists Worldwide of an article from Estallido Antisocial / Antisocial Outburst, a new anarchist publication from Chile. You can download a copy of the publication HERE.
TENSIONS WITH REFORMISM AND THE CONSTITUENT PROCESS IN THE MIDST OF FIRE AND RIOTING IN CHILE
The idea and practice of anarchic insurrection in the Chilean region and the world is enough to make us forget who we are and to uncritically join social revolts in which diverse and sometimes contradictory interests are involved.
For us, insurrectionists and antisocial anarchists, it has been a great joy to share moments of generalised rebellion between like-minded people and sometimes with circumstantial accomplices united by the desire to bring out the rage against what oppresses us.
However, when we go deeper into the visions about the struggle and what we want to destroy and build, the differences usually come out and we are not interested in this going unnoticed just to be socially accepted. On the contrary, the fire of our indomitable hearts calls us to propagate the idea and practice of confrontation against all forms of social order. (more…)
Tags: Analysis, Chile, Estallido Antisocial / Antisocial Outburst, Riots, Santiago, Social Insurrection
Posted in Autonomy
Wednesday, August 12th, 2020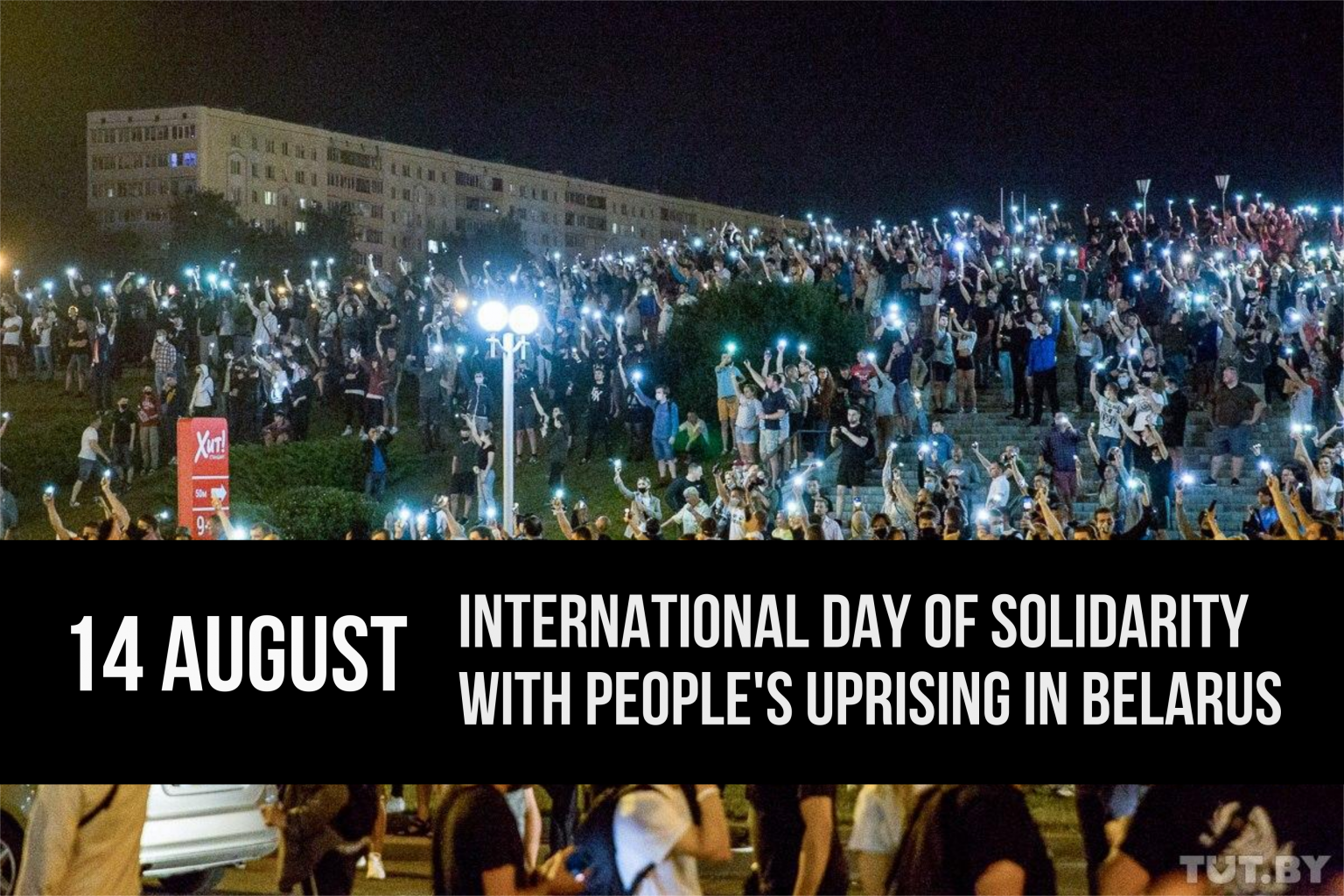 For the first time in the history of Belarus, people across the country rebelled against the dictatorship. Many thousands of demonstrations are held not only in the capital, but also in small towns. People take to the streets and not only peacefully protest against the authorities, but also fight against the state apparatus – they help friends and comrades and clash with punishers.
August 10, barricades appeared in the streets of Minsk for the first time, while protesters began using molotov cocktails. Some enterprises and firms went on strike.
In recent days, standing shoulder to shoulder, we have felt what the energy of the people means. We have realized that together we can overthrow a tyrant!
The blockage of the Internet could not stop the news flow. People all over the world have learned that the Belarusian dictatorship is ready to drown the population in blood just to stay in power. In three days, police and internal troops detained more than 5000 people, hundreds suffered from cop violence. At least one person has been killed.
Now more than ever, international solidarity is important in the fight against Lukashenko. Therefore, we call you all to join the international day of actions in solidarity with Belarusian people! In what format can you express your solidarity? You can hold rallies and demonstrations at Belarusian embassies and other institutions of Belarusian power in your country. Take collective photos. Take part in direct actions. Any, even the smallest solidarity can support the fire of rebellion that will tear down the dictatorship in our country!
Send your reports to belarus_abc@riseup.net or post on social networks with the #Belarus hashtag.
Tags: ABC Belarus, Belarus, Dictatorship, International Solidarity, Repression, Riots, Social Insurrection
Posted in Autonomy
Tuesday, August 11th, 2020
Elephant in the room – Bringing down the dictatorship. Interview on protests in Belarus
Since Sunday streets in Belarus are filled with rage of protesters trying to bring down the dictatorship. People from all parts of the society have been clashing in the night of August 9 in 33 different cities around the country. They are fighting against president Lukashenko who is ruling the country for the last 26 years.
We got together with one of comrades from Belarus who is living in emigration and clarified some things that are happening in Belarus right now.
Music:
Lyapis Trubetskoy
Zdrada Pałki
–
How did the Belarusians come to rebellion against the dictatorship
From Pramen:
If you had asked people in Belarus how long the dictatorship of Lukashenko was left in early 2020, they would have looked at you like a fool. In a respected dictatorship, such questions are not asked, because you know what can happen. And in general, it so happens that the reign of the great leader is timeless. But the situation has changed so radically over the last 8 months that Belarusians took to the streets and for the first time in the new history of Belarus they fought back the police in at least 33 different cities of the country.
Today Belarusians have woken up in a new country. In it, people openly talk about hatred for the government and prepare for a violent confrontation with the police and state. They discuss online and live effective methods of struggle. Several factories went on strike the day after the elections. (more…)
Tags: Belarus, Coronavirus, Dictatorship, Elections, International Solidarity, Minsk, Repression, Riots, Social Insurrection
Posted in Autonomy
Tuesday, August 4th, 2020
PDF: 1 pag. Como vivimos…
PDF: Formato libro. Como vivimos…
El presente libro, está dedicado al guerrero anarquista Gabriel Pombo Da Silva, secuestrado por el Estado español. Querido compañero, te queremos pronto en las calles, la libertad vino hace tiempo a por ti.
Como vivimos desde la anarquía la lucha y los disturbios por el Poder en Bolivia, es el grito furibundo de una recopilación de textos germinados por la sed de lucha contra la dominación, en un escenario tramoyado por la pugna interburguesa por el Poder, en el que sencillamente los ácratas no intervenimos. Ese forcejeo por la silla presidencial no nos incumbe, pero sí la ofensiva constante contra toda autoridad, sin desperdiciar la crítica que nos señala el camino de la praxis. Es necesario enfocarnos en el encandilamiento feligrés-social, que conduce a los ciudadanos a buscar su presente (y futuro) en las urnas de la dominación, con la intención de elegir a su nuevo amo, lo cual atenta contra cualquier expectativa de libertad individual y colectiva. La insurrección es permanente. Quienes luchamos contra toda forma de autoridad no necesitamos esperar por una fecha específica en el calendario para reaccionar contra las imposiciones. No necesitamos quien nos gobierne ni nos dirija; sabemos organizarnos, elegir a nuestrxs afines en la lucha y avanzar hacia la liberación total sin recular. (more…)
Tags: Analysis, Anti-Fascism, Bolivia, Como vivimos desde la anarquía la lucha y los disturbios por el Poder en Bolivia, Edições Crônica Subversiva, Elections, Evo Morales, Fuck the Elections, Gustavo Rodriguez, Indigenous Struggle, Insurrection, Jeanine Áñez, PDF, Social Insurrection, Zine
Posted in Library
Monday, July 27th, 2020
Jack Halberstam, a renown queer theorist, committed to the "anti-social project" and active contrasexual militant, begins his book The Queer Art of Failure[1], with an irreverent and fun excerpt, taken from the 20th episode of the 1st season of SpongeBob, which invites us to reflect:
Mr. Krabs: And just when you think you found the island of milk and honey they grab you by the britches…and haul you way up high. Then higher, and higher, and higher until you're hauled up to the surface flopping and gasping for air. And then they cook ya, and then they eat ya, or worse…
SpongeBob (terrified): What could be worse than that?
Mr. Krabs (in a low voice): Gift shops.[2] (more…)
Tags: Analysis, Coronavirus, Gustavo Rodriguez, LGBTQ+, Queer, Social Insurrection
Posted in Cognitive Liberty
Wednesday, June 3rd, 2020
#justice4georgefloyd Let's get this trending once again. Another black man has been taken from us by white racist cops and once again they will see our power. I send my shout out to everybody out there fighting. I say to you: keep it going, the fight is going to get hard but stay in the fight. We are Michael Brown, we are Eric Garner, let's fight. # I can't breathe # HANDS UP DON'T SHOOT.
I want to address the nation again and those who are in power as I sit and watch the protest. I call out President Trump on his bullshit ass comment. I say to you: those people who you call thugs, those people who you call criminals, are my people. Those people who are out there and doing what they doing, they doing it out of anger, they acting out of emotion, so calling them thugs is out of the question.
You the thug, Mr. Trump, and if you got a problem with that, I'm at Pacific Missouri Eastern Correctional Center and you can come personally and talk to to me. But calling my people thugs and criminals, watch your fucking mouth when you speak on my people.
If you would do your fucking job and send these bitch ass cops to jail they wouldn't be out there in the first place.
Second I want to call out the bitch ass cops in the streets of America. I see you and I see what the fuck y'all doing to my people and that shit not gonna fly. I'm telling you this now: KEEP YOUR FUCKING HANDS TO YOUR SELF. DON'T ABUSE ANOTHER ONE OF THOSE PROTESTERS, WHEREVER YOU ARE IN THE WORLD, BECAUSE I AM WATCHING.
To the people out there I say to you: keep up the good fight, y'all are standing y'all ground to the max and I love every bit of what y'all doing. I love everybody out there let me tell y'all: if the police try to hurt you, y'all have a right to defend yourself.
Third. I want to call out that bitch ass cop who push that young lady to the ground. Why don't you come push me like that… Don't touch another woman out there, and if you got a problem you can come talk to me. Just set up an interview I'll be more than willing to accept it.
Send our brother some love and light: Joshua Williams, 1292002, Missouri Eastern Correctional Center, 18701 Old Highway 66, Pacific, MO 63069. Learn more about Josh at: https://www.freejoshwilliams.com/
Tags: #justice4georgefloyd, Ferguson, George Floyd, Joshua Williams, Racism, Repression, Riots, Social Insurrection, USA
Posted in Anti-Fascist
Friday, April 24th, 2020

PDF: Lo Prado en llamas #1 Marzo 2020
Tags: 'Lo Prado en llamas', Chile, PDF, Riots, Santiago, Social Insurrection, Zine
Posted in Autonomy
Saturday, April 18th, 2020
Desde algún lugar de la comuna de Lo Prado presentamos una publicación y este material audiovisual titulado: LO PRADO EN LLAMAS. Un compilado de acciones en el marco de la revuelta registradas desde el 18 de octubre de 2019 hasta el 18 de marzo de 2020 en la Zona Poniente de Santiago de Chile.
En su mayoría, el material audiovisual que mostramos son de diversos gestos que han realizado vecinos organizados de algún sector de la comuna, mientras el detalle de estos se podrá encontrar en la publicación física y online. Las iniciativas van desde barricadas, propaganda y actividades, pero también participación de convocatorias más amplias, desde manifestaciones a cicletadas organizadas por vecinos que se mantienen activos y luchando en otras partes. También se han incluido archivos que han sido tomados desde la prensa y redes sociales.
Finalizamos dejando este material libre como mínimo aporte para rescatar algunas partes de la lucha que se ha dado en nuestra comuna, ya que creemos en la construcción de la memoria a través de diferentes medios, por ejemplo, la propaganda, sin ningún tipo de intromisión de organismos estatales, creaciones autónomas, independentes y anónimas de la gente para la gente.
Canciones incluidas:
01 Intro. Trap Instrumental.
02 Octubre 2019. Manifestación, Los Muertos de Cristo.
03 Noviembre 2019. Niñxs Salvajes, Dagas Ácratas.
04 Diciembre 2019. No Necesitamos Banderas, Los Prisioneros.
05 Enero 2020. Agita y Dispara, Típico pero Cierto.
06 Febrero 2020. Punk y Bicicleta, Destruye Huye Krea.
07 Marzo 2020. Robar Nuestras Vidas. Nido del Cuco.
08 Outro. Ambiente del año nuevo en Plaza de la Dignidad.
Tags: 'Lo Prado en llamas', Chile, Repression, Santiago, Social Insurrection, Video, Videos
Posted in Autonomy
Monday, March 30th, 2020
COMBATIENDO EL AISLAMIENTO DENTRO Y FUERA DE LAS PRISIONES
CONTRA LA COMODIDAD Y EL ESTANCAMIENTO
NADA HA ACABADO
TODO CONTINÚA
SOLIDARIDAD CON GABRIEL POMBO DA SILVA
Y CON LXS COMPAÑERXS PRESXS EN CHILE, ITALIA, GRECIA Y TODO EL MUNDO.
Tags: Anti-Prison, Chile, Flyposter, Gabriel Pombo da Silva, International Solidarity, Riots, Santiago, Social Insurrection
Posted in Autonomy
Monday, March 30th, 2020
Warning – Video from the English right wing mass media.
A massive riot has broken out on the border between the Hubei province (its capital city is Wuhan, the supposed source of the outbreak of the Coronavirus) and neighboring Jiangxi province, on the Yiangtzee River bridge that connects the two provinces. Thousands of angry people who have been on lockdown for months swept out from the Hubei province in protest to try to cross the bridge, they were met by the riot cops of the neighboring province who prevented the protest from passing, despite the Chinese state saying restrictions have been lifted. Rioters turned over and smashed cops vehicles, assaulted the cop lines with rocks and even stole a riot shield from one van, attacking the cops with their own weapons. We hear that no one is really believing the Communist Party's lies that the virus outbreak is under control and that the people have had enough of the repression.
It is only expected to see more anti-social rage like this break out around the world as governments and states show their true authoritarian nature in the face of Coronavirus and the mass fear that it is creating, which is a disease of its own.
We will be back soon with a report about the influx of technologies that are being rapidly deployed to repress us all even further, in the name of the war against Covid-19!
The Uncivilized
Tags: China, Coronavirus, Hubei, Repression, Riot, Social Insurrection, Wuhan
Posted in Direct Action
Thursday, March 26th, 2020
Originally published by Publicacion Refractario. Translated by Enough 14.
March 25, 2020. The spread of Covid 19 around the world reached the territory dominated by the Chilean State, the rate of sick people grows exponentially and we assume the number of dead people will grow.
Far from speculating on its origins and roots, we believe that it is clear that today we have to fight against a disease on the one hand and the increasingly restrictive measures of social control that states seek to impose on us and others. The reality in prisons is no different, as shown by the riots, escape attempts and mobilizations that have multiplied inside the prisons, since enduring such an illness inside the prisons in practice is a death sentence.
The revolt that is shaking the foundations of the Chilean state has changed drastically due to the force of the context. We do not sit down to cry, but we rather assume the need to know how to overcome these new scenarios and also maintain the confidence that we will take the streets again.
From Refractario we call to remain alert regarding the situations inside the prisons: In the southern prisons where different Mapuche community members are imprisoned, in the Santiago 1 prison and the San Miguel prison where most of the prisoners of the revolt are held, in the High Security Prison where our comrades, prisoners of the social war, are being held hostage.
Communication with the prisoners is likely to become less and less fluid, with restrictions on visits and increasing bans looming. We're out here, we're with the prisoners, and we're watching what might happen.
It is likely that in practice, due to the increasingly restrictive measures to move around the city and to communicate, the Refractory page will fall out of date. We will try our best to keep the site as up to date as possible within our capabilities. Since 2012, when we started and continued this project, keeping active in different periods in spite of different obstacles, our possible absence for this period will only be due to force majeure. As soon as we can, we will keep our website active and updated as it has been for 8 years now.
Remain vigilant for our prisoners of social war!
We'll be back on the streets!
We're gonna get our prisoners out of jail again!
Refractario, Marzo 2020
Tags: Anti-Prison, Chile, Coronavirus, Counter-info, Mapuche, Publicacion Refractario, Repression, Social Insurrection
Posted in Autonomy