Posts Tagged 'Social Insurrection'
Monday, March 30th, 2020
COMBATIENDO EL AISLAMIENTO DENTRO Y FUERA DE LAS PRISIONES
CONTRA LA COMODIDAD Y EL ESTANCAMIENTO
NADA HA ACABADO
TODO CONTINÚA
SOLIDARIDAD CON GABRIEL POMBO DA SILVA
Y CON LXS COMPAÑERXS PRESXS EN CHILE, ITALIA, GRECIA Y TODO EL MUNDO.
Tags: Anti-Prison, Chile, Flyposter, Gabriel Pombo da Silva, International Solidarity, Riots, Santiago, Social Insurrection
Posted in Autonomy
Monday, March 30th, 2020
Warning – Video from the English right wing mass media.
A massive riot has broken out on the border between the Hubei province (its capital city is Wuhan, the supposed source of the outbreak of the Coronavirus) and neighboring Jiangxi province, on the Yiangtzee River bridge that connects the two provinces. Thousands of angry people who have been on lockdown for months swept out from the Hubei province in protest to try to cross the bridge, they were met by the riot cops of the neighboring province who prevented the protest from passing, despite the Chinese state saying restrictions have been lifted. Rioters turned over and smashed cops vehicles, assaulted the cop lines with rocks and even stole a riot shield from one van, attacking the cops with their own weapons. We hear that no one is really believing the Communist Party's lies that the virus outbreak is under control and that the people have had enough of the repression.
It is only expected to see more anti-social rage like this break out around the world as governments and states show their true authoritarian nature in the face of Coronavirus and the mass fear that it is creating, which is a disease of its own.
We will be back soon with a report about the influx of technologies that are being rapidly deployed to repress us all even further, in the name of the war against Covid-19!
The Uncivilized
Tags: China, Coronavirus, Hubei, Repression, Riot, Social Insurrection, Wuhan
Posted in Direct Action
Thursday, March 26th, 2020
Originally published by Publicacion Refractario. Translated by Enough 14.
March 25, 2020. The spread of Covid 19 around the world reached the territory dominated by the Chilean State, the rate of sick people grows exponentially and we assume the number of dead people will grow.
Far from speculating on its origins and roots, we believe that it is clear that today we have to fight against a disease on the one hand and the increasingly restrictive measures of social control that states seek to impose on us and others. The reality in prisons is no different, as shown by the riots, escape attempts and mobilizations that have multiplied inside the prisons, since enduring such an illness inside the prisons in practice is a death sentence.
The revolt that is shaking the foundations of the Chilean state has changed drastically due to the force of the context. We do not sit down to cry, but we rather assume the need to know how to overcome these new scenarios and also maintain the confidence that we will take the streets again.
From Refractario we call to remain alert regarding the situations inside the prisons: In the southern prisons where different Mapuche community members are imprisoned, in the Santiago 1 prison and the San Miguel prison where most of the prisoners of the revolt are held, in the High Security Prison where our comrades, prisoners of the social war, are being held hostage.
Communication with the prisoners is likely to become less and less fluid, with restrictions on visits and increasing bans looming. We're out here, we're with the prisoners, and we're watching what might happen.
It is likely that in practice, due to the increasingly restrictive measures to move around the city and to communicate, the Refractory page will fall out of date. We will try our best to keep the site as up to date as possible within our capabilities. Since 2012, when we started and continued this project, keeping active in different periods in spite of different obstacles, our possible absence for this period will only be due to force majeure. As soon as we can, we will keep our website active and updated as it has been for 8 years now.
Remain vigilant for our prisoners of social war!
We'll be back on the streets!
We're gonna get our prisoners out of jail again!
Refractario, Marzo 2020
Tags: Anti-Prison, Chile, Coronavirus, Counter-info, Mapuche, Publicacion Refractario, Repression, Social Insurrection
Posted in Autonomy
Sunday, March 1st, 2020
—To Joaquín García Chanks and Marcelo Villarroel Sepúlveda, comrades and co-conspirators.
"Let's continue the assault on the existent with all means, undeterred by those who would silence us with weapons from the stockpile of reaction, be they the kick of the democratic jackboot, the empty chatter of opinion or the siren calls of the candy men of hope."
Jean Weir; Tame words from a wild heart.
"Whomever is determined to carry out their action is not a brave person, they are simply someone who has clarified their ideas, who has realized the futility of striving to play the role assigned to them by Capital. They are aware, and attack with cold determination. And in doing so they realize themselves as a human being. They realize themselves in pleasure. The kingdom of death disappears before their eyes."
Alfredo Maria Bonanno; Selected Texts.
"Let us put a stop to the conjuring tricks of dialectics. The exploited are not carriers of any positive project, be it even the classless society … Capital is their only community. They can only escape by destroying everything that makes them exploited."
At Daggers Drawn
When history is written – with capital letters, the one that the victors have always written and will write – about the generalized insurrection in Chile at the end of the first decade of the 21st century, it will have to be read with extreme meticulousness, since it will be reflected in the supposed motivations of the "crisis" that produced the revolt.
Once again, the economic analysis will prevail – with emphasis on "the obscenity of misery" that has caused that uncertain denomination they call "Neo-Liberalism" – and, the poor negotiating capacity of a superb government that failed to meet popular demands and chose for the continuity of a regime of corruption and impunity, a (constitutional) heir of one of the bloodiest fascist dictatorships in the Americas.
However, nothing will be recorded of that anonymous power that shaped the anger of despair, of the nihilistic actions that transformed into a sweeping energy which disrupted normality whilst mercilessly attacking the reality that oppresses us. (more…)
Tags: Analysis, Chile, Gustavo Rodriguez, Letter, Repression, Riots, Santiago, Social Insurrection
Posted in Autonomy
Friday, February 21st, 2020
Words of a prisoner in revolt, from Santiago. 1, Module 14, accused of throwing an incendiary device.
As an anarcho-nihilist individualist I write these words from a prison in the $hilean territory, already in my first month in prison I have been able to reaffirm my position as anti-prison and stubbornly unmanageable in front of the whole machinery and framework that tries to make you part of it.
Nowadays while the flame of the insurrection is still burning and continues with great force in different parts of the world and in this same territory, it is important to remain firm despite all the consequences that our actions bring. Nothing we do is in vain, but always being attentive especially in these moments, to where each time our enemies are becoming more and more professional, that it is of relevance that we also do so too and continue positioning ourselves even more in the realities that we live, going hand in hand with self-care, making it part of ourselves and throwing us on the path to which each one of us decided to take.
As an anarcho-nihilist prisoner I call for solidarity in its many forms and not to give up, I send my most complicit hugs and much newen [Mapuche term meaning Strength, Energy], I greet all those who remain steadfast and to the prisoners of the world.
BEFORE CONTROL, CHAOS AND INSURRECTION.
From Anarquia.
Tags: Chile, International Solidarity, Letter, Molotov, Riots, Santiago, Santiago 1, Social Insurrection
Posted in Prison Struggle
Wednesday, February 5th, 2020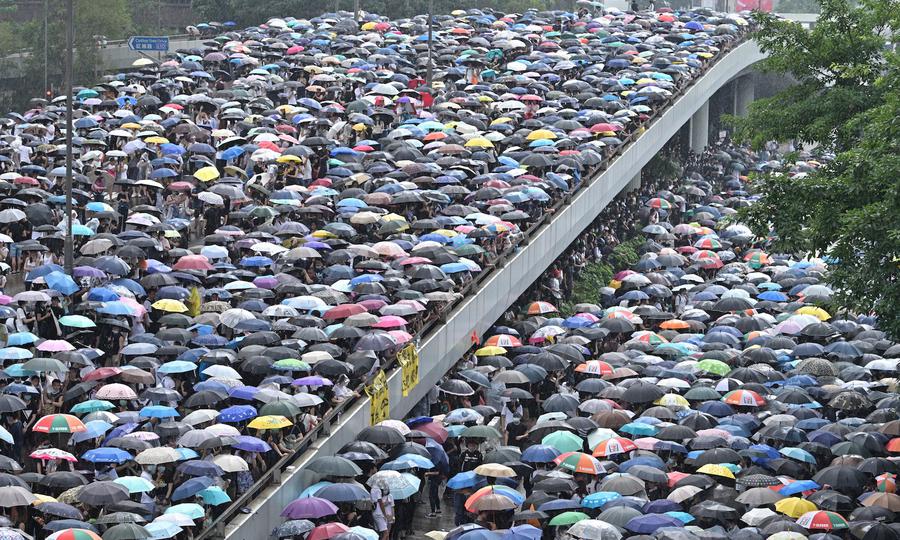 "On Wednesday 12th June, when someone shouted out that drones had started flying above them, everyone opened up their umbrellas almost simultaneously."
Four texts from Dialectical Delinquents:
1. Coronavirus – an exercise in intensified social control.
2. Hong Kong – its relevance to the rest of us… …its resistance to the science & technology of social control.
4. China: A-Z of some moments of international opposition.
Tags: Anti-technology, CCTV, China, Coronavirus, Dictatorship, Facial Recognition, Hong Kong, Repression, Riots, Social Insurrection, Surveillance
Posted in Social Control
Saturday, February 1st, 2020
Recibido por correo electrónico. Para descargar el PDF aquí.
UN MAR DE POSIBILIDADES EN EL DESIERTO DE HORMIGÓN
Esta publicación es una recopilación de textos que surge de los debates y el trabajo que comenzamos a raíz de las jornadas «Un mar de posibilidades en el desierto de hormigón, Territorio, ciudad e insurrección» que sucedieron en Madrid durante junio de 2019 en La Emboscada y en Local Anarquista Motín. Es el fruto de un trabajo conjunto de algunas compañeras de Berlín y Madrid, que no termina con la publicación de estas páginas y que pretende extender el debate que hemos compartido. ¿Qué significa tomar territorio frente al Estado y el Capitalismo? ¿Cómo podemos tomarlo a través de nuestras luchas? ¿Cómo funciona la dominación en los territorios que habitamos? ¿Supone nuestra manera de habitar el territorio un conflicto con el sistema?
Diciembre 2019,
Madrid y Berlín
Índice:
-Territorio, ciudad e insurrección. Proyectualidad y propuestas de lucha.
-Conclusiones de las jornadas (Madrid)
-Conclusiones de las jornadas (Rigaer 94)
-Lo llaman "Zona de peligro" (Rigaer 94)
-La lucha por el territorio en Exarchia
-Rompiendo la espada del capital que amenaza Exarchia
-La ciudad como instrumente de dominación
-La única administración posible. Sobre la cuestión de las ciudades
Tags: Berlin, Eviction, Exarchia, Madrid, PDF, Repression, Rigaer 94, Rigaerstrasse, Sabotage, Social Insurrection, Squatting, Zine
Posted in Library
Thursday, January 30th, 2020
From: Elephant Editions | Drafts.
Notes: Original title I giovani in una società post-industriale Anarchismo, 1988, pp. 1-11; Opuscoli provvisori n. 19
Class modifications
Loss of meaning of the old repartitions
Excluded and included
The logic of things
For a class analysis
Far from objective security
Life
Precariousness as a choice of life
Adaptation
The weak part
The new ghetto
The function of affectivity
Lack of identity
And being devoid of identity, he goes into the fray
Unpredictability
Levels of tension
Dominion's project
Going beyond the old class struggle projects
Revolutionary presence
The conditions surrounding what remains of the human being are far more bewildering for the young, those still looking towards the future not having on their back the abyss waiting to open and swallow up an old man.
I am well aware that the following considerations might move some to laughter, and I'd like to see young readers do such. What to do with an old man's words? What can they mean to those looking wide-eyed at the wonders that await them far from cataloguing a life that has seen everything?
After all, youthful hopes and strength are precisely there, almost made to be deliberately squandered when confronted with others' advice and experience.
That is the way of the world, and as I am now playing the role of talking gibberish, I might as well go the whole hog.
The text I am proposing here is an attempt to clarify the conditions I mentioned earlier, post-industrial society and its foolish servants on the one hand, young people with their still unexpressed potential on the other.
Yet it is not a given that everything will go as it is threatening to do. There is still an area of shadow, a chaotic amalgam that could always bring forth the unexpected. This unexpected thing should always be about to spring forth, especially in the heart of a young person not atrophied before their time. I deceive myself that they are not, I dream that their pulsations are strong and sure, able to accelerate in the face of humiliation and abuse and the rules that society imposes on us, with which it seeks to shape and coerce our lives. (more…)
Tags: Alfredo M. Bonanno, Analysis, Anti-technology, Italy, Militant Youth, Sabotage, Social Insurrection, Young People
Posted in Autonomy
Wednesday, January 22nd, 2020
When analyzing any edge of the prison, one must first establish or rather, make its history and its purpose visible. We are the ones in the dump of this society, another instrument of oppression through the law to perpetuate the privilege of the class society, made by power in its image and likeness, the jail is like all the bad things in the tight system between cement walls.
The very existence of the jail is political, a gear that makes the machinery of death of the State roll, social control, intimidation, isolation, directed against whoever it is is necessary to exalt the triumphant values of the bourgeoisie: competition, submission, exploitation, harassment, bourgeois individualism, violence; all this reflects its worst face in this place.
Here the children of violence, poverty and ignorance are raised, a school of fear that maintains the lucrative prison business, being a product of domination will never have a reforming end, which proclaims with the voice of a prisoner sick with rage. Nothing good can be taken out of confinement and uniformity; therefore, the mere existence of the prison reflects the type of system that governs us, has the color it has, is adorned as it is adorned; the existence of the jail has a political aim; therefore, for whatever reason, all prisoners are political prisoners, because it transcends the filter of the law, which is the preferred son of power.
What to do with social cannibalism if there were no prisons? It is the question to dream… (more…)
Tags: Chile, Letter, Santiago, Santiago 1, Social Insurrection
Posted in Prison Struggle
Thursday, January 16th, 2020
Everyone has become aware of the revolutionary events taking place in Lebanon. This movement has gone global, and the international media is reporting on it and lauding it for its uniqueness and success.
The KAFEH movement is proud of its participation in the events of this revolution, and of being at the center of the movements. Whether in calls and invites, sit-in, setting tents, confrontations, statements, or permanent presence and full readiness, KAFEH has been at the forefront.
These protests represent KAFEH ideologically in every way :
First and foremost, this revolution is without a leader or hierarchy to control it, and automatically rejects whoever tries to lay claim on it and speak and take decisions on its behalf. This represents the philosophy of the anarchist and non-authoritarian KAFEH movement; enforcing direct decision by the people. (more…)
Tags: KAFEH!, Lebanon, Middle East, Riots, Social Insurrection
Posted in Autonomy
Sunday, January 12th, 2020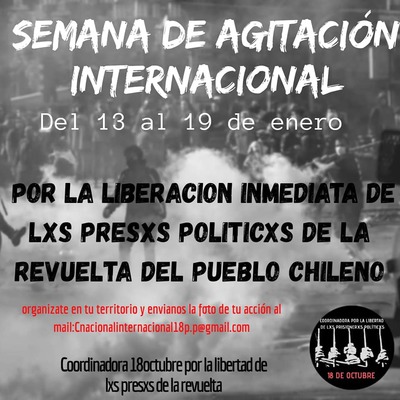 WEEK OF INTERNATIONAL AGITATION IN SUPPORT OF THE PRISONERS OF THE REVOLT IN CHILE. FROM JANUARY 13-19.
"THOSE WHO FORGET THE POLITICAL PRISONERS FORGET THE STRUGGLE"
More than 80 days after the social outbreak in Chile, the struggle and social organization persists in the unwavering conviction of confronting and breaking with the model of power and economy that has perpetuated inequalities, injustices and abuses for decades.
Undoubtedly the revolt that still breathes in Chile means this is a turning point with no return, it is within a long journey of struggle that has also brought with it a hard cost: hundreds and hundreds of prisoners of the revolt that are today in the different prisons in this territory. Each week this number increases and in an obvious phenomenon of mass incarceration the State seeks to intimidate and criminalize social protest. We speak of political prisoners of the revolt because of the fact of the mass imprisonment of social fighters after the outbreak of the 18th [October], responding to a political decision of the State and not to technical/legal criteria, understanding the complicity between the different powers of the State in order to perpetuate the existing model of control. That is why we make this call for international solidarity with the prisoners of the revolt in order to reveal the political condition of their imprisonment and demand their immediate freedom. We extend this call appealing to the multiple initiatives and solidarity actions that arise in each territory.
THOSE WHO FORGET THE POLITICAL PRISONERS FORGET THE STRUGGLE!
IMMEDIATE FREEDOM TO THE PRISONERS OF THE REVOLT!
CO-ORDINATION FOR THE FREEDOM OF THE OCTOBER 18th POLITICAL PRISONERS
— (more…)
Tags: Chile, International Solidarity, Riots, Santiago, Social Insurrection
Posted in Prison Struggle
Friday, January 10th, 2020
"La pasión por la destrucción es también la pasión creadora"
–Mijail Bakunin–
"La insurrección es una fiesta. El ruido de su derrota nos divierte"
–Fuerzas Autónomas y Destructivas León Czolgosz–
El avance de la revuelta: Días y meses en el combate
La revuelta que sacude a la región chilena sigue sin interlocutores válidos ni una dirección que la guíe. Continúa acéfala, autoconvocada, caótica y destructiva… imparable, a pesar de lxs muertxs, heridxs, mutiladxs y lxs casi 2.000 mil presxs que repletan aún más las cárceles de todo Chile. La chispa comenzada por una estrategia de evasión masiva al tren subterraneo en respuesta a una nueva alza del pasaje, cristalizó la continuidad de luchas y métodos contra el poder, desatándose con toda la fuerza y vitalidad un 18 de octubre.
Las constantes réplicas del terremoto que significó los primeros días de la revuelta se repiten diariamente en mayor o menor intensidad, expresadas en audaces ataques a comisarías, símbolos del capitalismo y en los duros enfrentamientos con carabineros. Aunque se perciba un cierto desgaste (normal y entendible después de más de 80 jornadas de combate), la violencia contra el poder goza de buena salud, legitimándose como la principal herramienta para quebrar con todo lo impuesto en sectores que hasta hace poco la condenaban. Esto último junto con la inexistencia de una conducción definida, creemos que representan, de una u otra forma, los ingredientes principales que han llevado a que la revuelta permanezca incontrolable.
(more…)
Tags: Analysis, Chile, Kalinov Most, Repression, Riots, Social Insurrection
Posted in Autonomy
Sunday, January 5th, 2020
"Sobre Fantasmas Insurreccionales y Banderas Falsas" – Núcleos Antagónicos de la Nueva Guerrilla Urbana (Lectura)
"Sobre Fantasmas Insurreccionales y Banderas Falsas" – Núcleos Antagónicos de la Nueva Guerrilla Urbana (Impresion)
In Favor of Revolutionary Violence: Introduction of Analysis of the Revolt in Chile
Introduction translated by AMW.
The following is the introduction to "On Insurrectional Ghosts and False Flags," a text by Antagonistic Nuclei of the New Urban Guerrilla that analyzes the revolt that has taken place in Chile during the fourth quarter of 2019.
The use of revolutionary violence has been vilified, and unimaginable amounts of blasphemies, myths and false rumors have arisen around it. We have heard that it is useless, that it contributes nothing, that it is only functional to repress, that it is used by infiltrators and/or immature elements, that it has short political projectivity, that it does not represent the people, etc., etc., etc…
In this text we will not attempt to make a detailed analysis of its use at the historical level. To do this, just look for examples in any history book. Its contributions to the struggle that dignifies the lives of people, regardless of where it is used, the regime it fights, or the idiosyncrasies of those who employ it, has contributed significantly to its development. It is not necessary to mention that neither slavery, nor feudalism, nor monarchies, nor abusive working hours, nor colonialism, nor the most basic civil rights, nor the number of dictatorships have been defeated with only peaceful methods. Therefore, we consider that discarding this tool is nonsense in relation to the revolutionary cause. (more…)
Tags: Analysis, Antagonist Cells of the New Urban Guerrilla, Antagonistic Nuclei of the New Urban Guerrilla, Anti-Fascism, Chile, Núcleos Antagónicos de la Nueva Guerrilla Urbana, On Insurrectional Ghosts and False Flags, Operation Condor, PDF, Repression, Riots, Sobre Fantasmas Insurreccionales y Banderas Falsas, Social Insurrection
Posted in Library
Thursday, January 2nd, 2020
via Noticias de la Guerra Sociale:
[Reportes redactados y difundidos por redes sociales]
Santiago de Chile
9 de diciembre
53vo Día de Revuelta Social
¡EL AMOR POR LA LUCHA ES NUESTRA ENERGIA!
En la Plaza de la Dignidad se junta cada vez menos gente. Hoy no somos miles, apenas somos cientos. A pesar de esto la conflictividad no disminuye, el amor por la lucha y la sed de venganza son incombustibles.
El monumento a Baquedano está intervenido con lienzos en contra los abusos en del SENAME, bellísimas arpilleras y costuras rebeldes. También hay algunos chemamüll Mapuche.
Hasta allí llegó una columna que caminó 500 kilómetros desde la ciudad de Concepción, se van abriendo paso entre aplausos y en sus ojos se nota la decisión de seguir avanzando, los esbirros que tenían copado el sitio son quienes retroceden.
Al poco rato llega una caravana de vehículos blindados policiales, son recibidos por lxs encapuchadxs con una lluvia de bombas incendiarias y piedras.
Hermanxs de la primera línea relatan que el viernes un manifestante término con fractura craneal y hemorragia interna al ser golpeado directamente con una bomba lacrimógena en su cabeza, está grave y hospitalizado. Comienza la acampanda de la "Mesa Social" afuera de la Corte Suprema.
Encapuchadxs realizan una bulliciosa protesta dentro de un Mall contra el consumismo navideño. (more…)
Tags: Chile, Noticias de la Guerra Social, Santiago, Social Insurrection
Posted in Autonomy
Thursday, December 26th, 2019
Parte II
Ya ha pasado más de un mes desde que difundimos la primera parte de este texto compartiendo información y reflexiones anárquicas sobre el contexto chileno desde el inicio del llamado "estallido social" desatado el día 18 de octubre. El anterior abordaba hasta la víspera de la gran manifestación en el centro de la ciudad anunciada para el día viernes 25 de octubre.
Desde ese día hasta ahora han ocurrido muchos sucesos que podrían ser expuestos de manera detallada, sin embargo hemos seleccionado ciertos elementos y reflexiones que nos parecen relevantes para difundir, sabiendo que otrxs compañerxs han estado también aportando a al registro y la circulación de información sobre lo que está ocurriendo en estas tierras en revuelta.
Esperamos que estas palabras que lanzamos hacia nuestrxs compañerxs de todas partes puedan nuevamente contribuir a propagar una vez más experiencias y reflexiones que puedan ser esparcidas en los más diversos idiomas y latitudes donde se expresa la anarquía:
1. EL INTENTO FALLIDO DE PACIFICAR LA REVUELTA
Con más de 1,5 millones de personas en el centro de la ciudad de Santiago, la autoconvocada "marcha más grande de la historia" concentró el día viernes 25 de octubre a toda la diversidad de personas en lucha.
Con una prácticamente inexistente participación de partidos políticos de izquierda y sin ningún tipo de capacidad de amenaza desde grupos fascistas, todas las formas de manifestación se desarrollaron hasta altas horas de la noche a pesar de la restricción del toque de queda, incluyendo una vez más intensos disturbios y enfrentamientos con la represión en el centro y las periferias de Santiago y otras ciudades.
Mientras la represión hacía su trabajo propagando e intensificando sus formas de violencia, desde el gobierno y los medios de comunicación se intentó imponer la idea que esta marcha sería la culminación de un proceso en el que la gente instaló sus demandas y que ya era hora de "volver a la paz". Los canales de televisón culminaron esa noche las transmisiones conjuntas iniciadas el 18 de octubre y, luego de la campaña de lavado de imagen sobre los militares, los días posteriores el gobierno retiró a las tropas de las calles. Luego, los días sábado 26 y domingo 27 de octubre, se decretó el fin del toque de queda en Santiago otras ciudades del país.
(more…)
Tags: Analysis, Chile, Repression, Riots, Santiago, Social Insurrection
Posted in Autonomy