Posts Tagged 'Social Insurrection'
Wednesday, January 22nd, 2020
When analyzing any edge of the prison, one must first establish or rather, make its history and its purpose visible. We are the ones in the dump of this society, another instrument of oppression through the law to perpetuate the privilege of the class society, made by power in its image and likeness, the jail is like all the bad things in the tight system between cement walls.
The very existence of the jail is political, a gear that makes the machinery of death of the State roll, social control, intimidation, isolation, directed against whoever it is is necessary to exalt the triumphant values of the bourgeoisie: competition, submission, exploitation, harassment, bourgeois individualism, violence; all this reflects its worst face in this place.
Here the children of violence, poverty and ignorance are raised, a school of fear that maintains the lucrative prison business, being a product of domination will never have a reforming end, which proclaims with the voice of a prisoner sick with rage. Nothing good can be taken out of confinement and uniformity; therefore, the mere existence of the prison reflects the type of system that governs us, has the color it has, is adorned as it is adorned; the existence of the jail has a political aim; therefore, for whatever reason, all prisoners are political prisoners, because it transcends the filter of the law, which is the preferred son of power.
What to do with social cannibalism if there were no prisons? It is the question to dream… (more…)
Tags: Chile, Letter, Santiago, Santiago 1, Social Insurrection
Posted in Prison Struggle
Thursday, January 16th, 2020
Everyone has become aware of the revolutionary events taking place in Lebanon. This movement has gone global, and the international media is reporting on it and lauding it for its uniqueness and success.
The KAFEH movement is proud of its participation in the events of this revolution, and of being at the center of the movements. Whether in calls and invites, sit-in, setting tents, confrontations, statements, or permanent presence and full readiness, KAFEH has been at the forefront.
These protests represent KAFEH ideologically in every way :
First and foremost, this revolution is without a leader or hierarchy to control it, and automatically rejects whoever tries to lay claim on it and speak and take decisions on its behalf. This represents the philosophy of the anarchist and non-authoritarian KAFEH movement; enforcing direct decision by the people. (more…)
Tags: KAFEH!, Lebanon, Middle East, Riots, Social Insurrection
Posted in Autonomy
Sunday, January 12th, 2020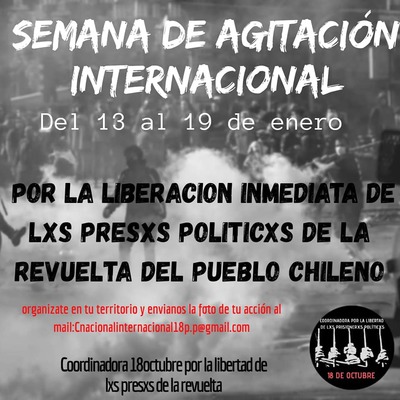 WEEK OF INTERNATIONAL AGITATION IN SUPPORT OF THE PRISONERS OF THE REVOLT IN CHILE. FROM JANUARY 13-19.
"THOSE WHO FORGET THE POLITICAL PRISONERS FORGET THE STRUGGLE"
More than 80 days after the social outbreak in Chile, the struggle and social organization persists in the unwavering conviction of confronting and breaking with the model of power and economy that has perpetuated inequalities, injustices and abuses for decades.
Undoubtedly the revolt that still breathes in Chile means this is a turning point with no return, it is within a long journey of struggle that has also brought with it a hard cost: hundreds and hundreds of prisoners of the revolt that are today in the different prisons in this territory. Each week this number increases and in an obvious phenomenon of mass incarceration the State seeks to intimidate and criminalize social protest. We speak of political prisoners of the revolt because of the fact of the mass imprisonment of social fighters after the outbreak of the 18th [October], responding to a political decision of the State and not to technical/legal criteria, understanding the complicity between the different powers of the State in order to perpetuate the existing model of control. That is why we make this call for international solidarity with the prisoners of the revolt in order to reveal the political condition of their imprisonment and demand their immediate freedom. We extend this call appealing to the multiple initiatives and solidarity actions that arise in each territory.
THOSE WHO FORGET THE POLITICAL PRISONERS FORGET THE STRUGGLE!
IMMEDIATE FREEDOM TO THE PRISONERS OF THE REVOLT!
CO-ORDINATION FOR THE FREEDOM OF THE OCTOBER 18th POLITICAL PRISONERS
— (more…)
Tags: Chile, International Solidarity, Riots, Santiago, Social Insurrection
Posted in Prison Struggle
Friday, January 10th, 2020
"La pasión por la destrucción es también la pasión creadora"
–Mijail Bakunin–
"La insurrección es una fiesta. El ruido de su derrota nos divierte"
–Fuerzas Autónomas y Destructivas León Czolgosz–
El avance de la revuelta: Días y meses en el combate
La revuelta que sacude a la región chilena sigue sin interlocutores válidos ni una dirección que la guíe. Continúa acéfala, autoconvocada, caótica y destructiva… imparable, a pesar de lxs muertxs, heridxs, mutiladxs y lxs casi 2.000 mil presxs que repletan aún más las cárceles de todo Chile. La chispa comenzada por una estrategia de evasión masiva al tren subterraneo en respuesta a una nueva alza del pasaje, cristalizó la continuidad de luchas y métodos contra el poder, desatándose con toda la fuerza y vitalidad un 18 de octubre.
Las constantes réplicas del terremoto que significó los primeros días de la revuelta se repiten diariamente en mayor o menor intensidad, expresadas en audaces ataques a comisarías, símbolos del capitalismo y en los duros enfrentamientos con carabineros. Aunque se perciba un cierto desgaste (normal y entendible después de más de 80 jornadas de combate), la violencia contra el poder goza de buena salud, legitimándose como la principal herramienta para quebrar con todo lo impuesto en sectores que hasta hace poco la condenaban. Esto último junto con la inexistencia de una conducción definida, creemos que representan, de una u otra forma, los ingredientes principales que han llevado a que la revuelta permanezca incontrolable.
(more…)
Tags: Analysis, Chile, Kalinov Most, Repression, Riots, Social Insurrection
Posted in Autonomy
Sunday, January 5th, 2020
"Sobre Fantasmas Insurreccionales y Banderas Falsas" – Núcleos Antagónicos de la Nueva Guerrilla Urbana (Lectura)
"Sobre Fantasmas Insurreccionales y Banderas Falsas" – Núcleos Antagónicos de la Nueva Guerrilla Urbana (Impresion)
In Favor of Revolutionary Violence: Introduction of Analysis of the Revolt in Chile
Introduction translated by AMW.
The following is the introduction to "On Insurrectional Ghosts and False Flags," a text by Antagonistic Nuclei of the New Urban Guerrilla that analyzes the revolt that has taken place in Chile during the fourth quarter of 2019.
The use of revolutionary violence has been vilified, and unimaginable amounts of blasphemies, myths and false rumors have arisen around it. We have heard that it is useless, that it contributes nothing, that it is only functional to repress, that it is used by infiltrators and/or immature elements, that it has short political projectivity, that it does not represent the people, etc., etc., etc…
In this text we will not attempt to make a detailed analysis of its use at the historical level. To do this, just look for examples in any history book. Its contributions to the struggle that dignifies the lives of people, regardless of where it is used, the regime it fights, or the idiosyncrasies of those who employ it, has contributed significantly to its development. It is not necessary to mention that neither slavery, nor feudalism, nor monarchies, nor abusive working hours, nor colonialism, nor the most basic civil rights, nor the number of dictatorships have been defeated with only peaceful methods. Therefore, we consider that discarding this tool is nonsense in relation to the revolutionary cause. (more…)
Tags: Analysis, Antagonist Cells of the New Urban Guerrilla, Antagonistic Nuclei of the New Urban Guerrilla, Anti-Fascism, Chile, Núcleos Antagónicos de la Nueva Guerrilla Urbana, On Insurrectional Ghosts and False Flags, Operation Condor, PDF, Repression, Riots, Sobre Fantasmas Insurreccionales y Banderas Falsas, Social Insurrection
Posted in Library
Thursday, January 2nd, 2020
via Noticias de la Guerra Sociale:
[Reportes redactados y difundidos por redes sociales]
Santiago de Chile
9 de diciembre
53vo Día de Revuelta Social
¡EL AMOR POR LA LUCHA ES NUESTRA ENERGIA!
En la Plaza de la Dignidad se junta cada vez menos gente. Hoy no somos miles, apenas somos cientos. A pesar de esto la conflictividad no disminuye, el amor por la lucha y la sed de venganza son incombustibles.
El monumento a Baquedano está intervenido con lienzos en contra los abusos en del SENAME, bellísimas arpilleras y costuras rebeldes. También hay algunos chemamüll Mapuche.
Hasta allí llegó una columna que caminó 500 kilómetros desde la ciudad de Concepción, se van abriendo paso entre aplausos y en sus ojos se nota la decisión de seguir avanzando, los esbirros que tenían copado el sitio son quienes retroceden.
Al poco rato llega una caravana de vehículos blindados policiales, son recibidos por lxs encapuchadxs con una lluvia de bombas incendiarias y piedras.
Hermanxs de la primera línea relatan que el viernes un manifestante término con fractura craneal y hemorragia interna al ser golpeado directamente con una bomba lacrimógena en su cabeza, está grave y hospitalizado. Comienza la acampanda de la "Mesa Social" afuera de la Corte Suprema.
Encapuchadxs realizan una bulliciosa protesta dentro de un Mall contra el consumismo navideño. (more…)
Tags: Chile, Noticias de la Guerra Social, Santiago, Social Insurrection
Posted in Autonomy
Thursday, December 26th, 2019
Parte II
Ya ha pasado más de un mes desde que difundimos la primera parte de este texto compartiendo información y reflexiones anárquicas sobre el contexto chileno desde el inicio del llamado "estallido social" desatado el día 18 de octubre. El anterior abordaba hasta la víspera de la gran manifestación en el centro de la ciudad anunciada para el día viernes 25 de octubre.
Desde ese día hasta ahora han ocurrido muchos sucesos que podrían ser expuestos de manera detallada, sin embargo hemos seleccionado ciertos elementos y reflexiones que nos parecen relevantes para difundir, sabiendo que otrxs compañerxs han estado también aportando a al registro y la circulación de información sobre lo que está ocurriendo en estas tierras en revuelta.
Esperamos que estas palabras que lanzamos hacia nuestrxs compañerxs de todas partes puedan nuevamente contribuir a propagar una vez más experiencias y reflexiones que puedan ser esparcidas en los más diversos idiomas y latitudes donde se expresa la anarquía:
1. EL INTENTO FALLIDO DE PACIFICAR LA REVUELTA
Con más de 1,5 millones de personas en el centro de la ciudad de Santiago, la autoconvocada "marcha más grande de la historia" concentró el día viernes 25 de octubre a toda la diversidad de personas en lucha.
Con una prácticamente inexistente participación de partidos políticos de izquierda y sin ningún tipo de capacidad de amenaza desde grupos fascistas, todas las formas de manifestación se desarrollaron hasta altas horas de la noche a pesar de la restricción del toque de queda, incluyendo una vez más intensos disturbios y enfrentamientos con la represión en el centro y las periferias de Santiago y otras ciudades.
Mientras la represión hacía su trabajo propagando e intensificando sus formas de violencia, desde el gobierno y los medios de comunicación se intentó imponer la idea que esta marcha sería la culminación de un proceso en el que la gente instaló sus demandas y que ya era hora de "volver a la paz". Los canales de televisón culminaron esa noche las transmisiones conjuntas iniciadas el 18 de octubre y, luego de la campaña de lavado de imagen sobre los militares, los días posteriores el gobierno retiró a las tropas de las calles. Luego, los días sábado 26 y domingo 27 de octubre, se decretó el fin del toque de queda en Santiago otras ciudades del país.
(more…)
Tags: Analysis, Chile, Repression, Riots, Santiago, Social Insurrection
Posted in Autonomy
Thursday, December 19th, 2019
November 29th
42nd Social Revolt Day
LONG LIVE IRREDUCTIBLE ENEMIES OF POWER!
"We are facing a powerful and implacable enemy, who does not respect anything or anyone. He doesn't respect the lives of human beings, he doesn't respect our heroes." The phrase is repeated again and again by the President of the Republic, this time at an early graduation of police.
FEAR is one of the most powerful weapons of power, so it continues to encourage a climate of paranoia to demobilize and divide the oppressed.
The State redoubled its efforts to approve its "Anti-hooded Law." Piñera points to Anarchists, Barras Bravas [organized supporters of football teams] and drug traffickers as a coordinated trident that unleash violence.
The media plan is to exacerbate the coverage of looting of small stores. The capitalist press launches a powerful emotional charge to delegitimize the Social Revolt.
There is an obvious complicity (by action or omission) between the police, home owners and traffickers, individuals without codes who are not interested in those who are harmed by their actions.
Undoubtedly, private property is part of what we want to destroy, but today our objectives are full of strategic symbolism. If the attack on any premises needs explanation, it is not symbolic enough.
A provisional solution would be "self-defense committees," but our inexperience and ineffectiveness in these practices allow the "yellow vests" to begin to arm themselves with an undeniable fascist affinity. Let the militia return to the street! It is the speech repeated by the lovers of the neoliberal system, although in their pockets the bills have always shone by their absence. (more…)
Tags: Alexis Grigoropoulos, Analysis, Anti-Authoritarian, Chile, Concepción, Copiapo, Dictatorship, Macul, Police Brutality, Repression, Riots, Santiago, Social Insurrection, Yungay
Posted in Direct Action
Tuesday, December 17th, 2019
via Popular Front.
Tags: Add Oil (Hong Kong), Anti-Authoritarian, Anti-Authoritarianism, Black Bloc, China, Counter-info, Hong Kong, Police Brutality, Popular Front (UK), Repression, Revolution, Riots, Social Insurrection, Videos
Posted in Interviews
Tuesday, December 17th, 2019
بەکوردى بۆ بڵاو کردنەوە [ku]
"From Baghdad to Beirut, we shall continue. No Sunni, no Shia…" [ar]
The Iraqi government is made up of all bourgeois factions in Iraq, and it is accepted by regional forces and the world bourgeoisie, but the proletariat tried to bring it down…
The "Green Zone" in Baghdad is a centre of the world's capitalism; the proletariat tried to occupy it and lost a lot of lives for it…
The port of Basra is a global corridor for oil exports and international trade and the proletariat blocked it, and tried to control it.
The Iraqi police, security forces, special forces and military forces are forces of global capitalism (with the participation of Shia, Sunni, Christian, Kurdish, and Turkmen bourgeoisie, with a large numbers of regional and international forces, including troops of America and Europe, Turkey, Iran, etc.), but the proletariat attacked them, their centres and detachments in the streets, and as many as 650 proletarians have been killed by them and more than 20 thousand wounded (this is not to mention the number of abducted and imprisoned…).
The proletariat in all rebellious areas of Iraq burned down the headquarters of the political parties (religious and national without exception), they burned down the houses of members of parliament and State officials and they also attacked security and police stations, media, judicial institutions and the Ministry of Justice, newspapers and television stations… By doing this, the proletariat attacked the whole State.
According to the prime minister Adel Abd al-Mahdi, this movement destroyed the national economy (capitalism) in all its aspects. The proletariat in its struggle attacked without exception everything, any symbol, any person, any base attached to the history of the authority and repression including military, diplomatic institutions, trade centres and secret services, internal as well as external. All the attacks on the repressive forces of Pasdaran in the city of Karbala are not really anti-Iranian as the media said, but it is a part of the class action against the repressive forces and centres in all their forms just like the attack on the Green Zone and the other places. (more…)
Tags: Anti-Militarism, Baghdad, Basra, Beirut, Iran, Iraq, Israel, Karbala, Lebanon, Middle East, Repression, Social Insurrection, Turkey, War
Posted in Autonomy
Tuesday, December 10th, 2019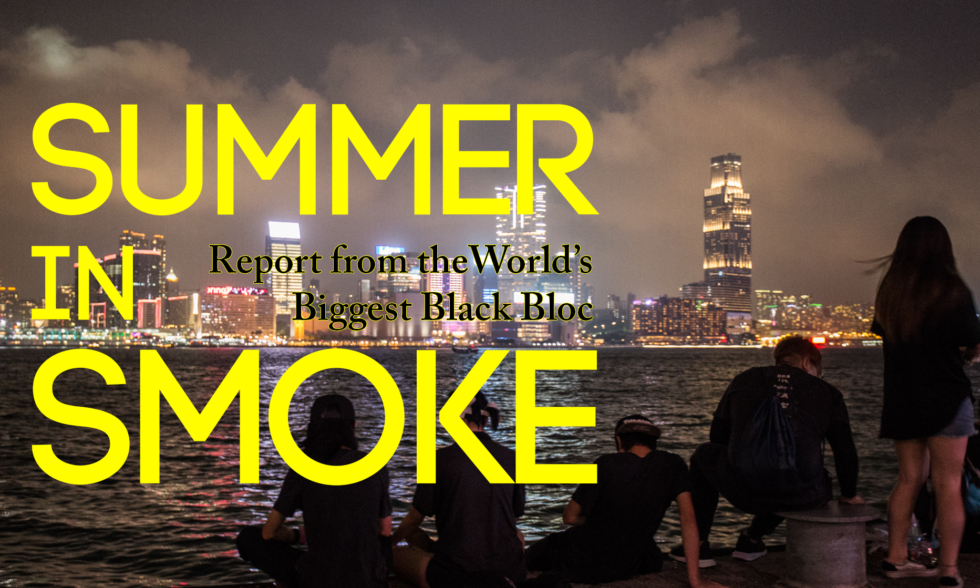 The following article was submitted to Chuang by Vitalist International. It is an account of events in Hong Kong over the summer and early fall of 2019, much of it from a firsthand perspective. We provided minor edits and designed the layout, but otherwise reproduce the piece here in more or less its original form. While the main thrust of the article is in agreement with our own views of events in Hong Kong, the piece is an intake and the opinions expressed here belong to its authors. At the bottom, we've included a gallery (provided by the authors) of 70+ posters, memes, graffiti and other graphics used in the movement.
für Sandra in liebendem Angedenken
by Vitalist International
It was only a matter of time before it happened. The protesters and the cops both knew it. On October 1st, a teenager was shot point-blank in the chest by police. The bullet missed his heart by approximately three centimeters.
Thousands of Hong Kongers gathered the next evening at a playground to fold paper cranes and wish the young protester a speedy recovery. They held banners saying "stop shooting our children!" and used the flashlights on their smartphones as torches to light up the night. In the center of the playground, a thousand origami cranes spelled out "Hong Kongers, Add oil!", a Chinese expression which has come to define the movement, meaning roughly: don't stop, keep going, add fuel to the fire. Within an hour, the protesters were setting up barricades in the streets and throwing molotovs at the nearest police headquarters.
The movement that began as a protest against a proposed extradition agreement with China has now entered its fourth month of unrest, with no end in sight. The bill — now withdrawn — would have granted the Chinese State unprecedented authority to extradite dissidents, criminals, and refugees to be processed in the shadowy court system of the mainland. Coming on the heels of 2012's Moral and National Education Law and 2014's Electoral Reform Bill,[i] this amendment was only the latest attempt at slowly dismantling the region's tenuous political arrangement of "One Country, Two Systems." With the movement rapidly evolving into widespread resistance against Chinese control, and the Hong Kong government declaring a State of Emergency, the situation has reached a political stalemate, with violence escalating on both sides. (more…)
Tags: Analysis, Arson, Black Bloc, China, Dictatorship, Hong Kong, How to make Molotovs, Intelligent Surveillance, International Solidarity, Letter, Repression, Revolution, Riots, Sabotage, Social Insurrection, Surveillance, Xinjiang
Posted in Autonomy
Sunday, December 8th, 2019
—To Joaquín García Chanks and Marcelo Villarroel Sepúlveda, comrades and co-conspirators.
"For I am the sworn poet of all the intrepid rebels of the entire world,
And whoever comes with me leaves peace and routine behind,
And you play to lose your life every moment."
Walt Whitman, To a frustrated European revolutionary (1856), Leaves of Grass.
"… where there is danger, what grows saves us."
Friedrich Hölderlin, Patmos.
A month and six days after the insurrection began, Anarchy is still alive in the Chilean region. It is an unprecedented event in Chile and Latin America. It has been the kairos of Anarchy: the emancipatory moment that occurs in the relevant time and place, the bold incarnation of a pronounced denial of the State and of all authority.
The echo of the old anarchic slogan "Neither God nor State nor Patriarchy" rumbled throughout the southern geography and has made hearts vibrate from Cape Horn to the banks of the Sama and Camarones rivers.
It is evident that in their daily subversive work, the insurrectionary anarchism of the informalist tendency, maximized their potentialities and also explored their difficulties and their own limits, using ephemeral junctions – mutating from one place to another – that allowed them (via conflict and various contingencies) to sketch out the chromatic possibilities of their theoretical-practical background and, encourage unmanageable disobedience, concentrating specifically on individual actions and / or small affinity groups aimed at attack and expropriation.
However, dynamite was missing. Diesel and gasoline failed. The attack was spared. There was a lack of expropriations. The headquarters of ALL political parties were not demolished. No prisons or madhouses were assaulted. We lashed out at the symbols but missed the target. A gigantic bonfire is still pending for the hundreds of flags that are seen on the marches (including the red and black ones, because ALL the flags are full of blood and shit). This shortage has allowed the power of denial to divert to be "triumphant", instead of injecting the conflict with life and going beyond the institutional songs that already threaten to impose the peace of the grave. (more…)
Tags: Analysis, Chile, Gustavo Rodriguez, Letter, Revolution, Riots, Santiago, Social Insurrection
Posted in Autonomy
Sunday, November 24th, 2019
The Anarchist Union of Iran and Afghanistan believes that the Islamic Republic of Iran's regime will not hesitate to massacre millions of Iranians, like it has done in Syria and Iraq as well as in Iran these these last few days. Therefore, the Anarchist Union of Iran and Afghanistan is prepared to declare that it will cooperate with all Kurdish, Arab and Baloch armed opposition forces. With respect to the widespread repression of defenseless people in Iran, we must be able to provide them with the right tools to defend themselves, before there are more dead and the people's movement has been permanently suppressed. Therefore the need to form an armed revolutionary front to support and defend the people against the Islamic regime's executioners is urgent and necessary. If it is possible to transport weapons to people inside Iran, you should not hesitate for a moment to prevent more people from being bled and buried. The duty of the revolutionary and radical opposition outside of Iran is to provide logistical and strategic support to the struggles and resistance of the people inside Iran
Anarchist Union of Iran and Afghanistan
آدرس و اسامی صفحات مرتبط با اتحادیه آنارشیستهای ایران و افغانستان
Tags: Afghanistan, International Solidarity, Iran, Repression, Social Insurrection, War
Posted in Autonomy
Tuesday, November 5th, 2019
Wednesday 30/10 we did an intervention to the central offices of METKA EGN to show solidarity in the insurrection in Chile. We choose to intervene in this company with a banner texts and flyers to give emphasis to the role that this Greek company has also in South America with a plan to impose a cruel neoliberal agenda and degrade the lives of the people in Chile with the investments in energy and exploitation of the land.
Thursday 31/10 we wanted to do a microphonic in Propylaia but because of the rain it was cancelled but we manage 40 comrades to make an intervention and open the bars of the subway so everybody can pass freely while we were sharing texts and flyers.
Friday 1/11 we did a gathering at the embassy of Chile and after a demo back to Exarchia.The pre gathering was in the subway station of Evaggelismos were we shared texts after a while 100 comrades moved with order to Vasilisis Sofia street to approach as close as we can to the embassy that was full of cops. We stand there for one hour and in the way back the riot police was following us and they were provocative trying to find reason to attack us.We manage to finish the demo in Exarchia shouting slogans in the way. In the demo participated also comrades from the popular front of Turkey that they had gathering in the embassy of Turkey.
From the 19th of October, the Chilean state has been overrun by thousands of insurrectionary peoples who have occupied the streets and squares of the country. The mass demonstrations, originally due to the raising of ticket prices for public transport, developed into a generalised insurrection which sweeps everything in its path. (more…)
Tags: Analysis, Athens, Chile, Greece, International Solidarity, Repression, Riots, Santiago, Social Insurrection
Posted in Autonomy
Wednesday, October 30th, 2019
Desde el territorio dominado por el Estado de $hile:
UN LLAMADO A LA SOLIDARIDAD ANARQUISTA INTERNACIONAL CON LA INSURRECCION: REVUELTA Y ACCION DIRECTA FRENTE A LA NUEVA ARREMETIDA DEL ASESINO ESTADO MILITAR DE $HILE
El Viernes 18 de octubre del presente año, hemos presenciado y sido parte de como por medio de la acción directa y el sabotaje a los distintos estandartes del capitalismo moderno, los cánones de la normalidad fueron sobrepasados por el actuar insurrecto; una normalidad impuesta desde hace siglos en este territorio y consolidada por medio de una dictadura civico y militar que implanta el brutal modelo neoliberal vigente. El estallido de la revuelta se desarrolló en toda la extensión de la capital exhibiendo acciones de sabotaje hacia las estaciones del metro de Santiago, el edificio de ENEL (empresa multinacional italiana "distribuidora" de luz), los buses de la línea red (Transantiago), cadenas de bancos, cafeterías y restaurantes de comida rápida, concesionarias de autos, supermercados y farmacias, cada símbolo del capital fue atacado.
El desborde y descontento de miles de hordas e individuxs que sin líderes ni dirigentes, rebasó la ciudad con una extensa batalla contra lxs eternxs protectorxs de la propiedad privada y la paz social de lxs poderosxs fueron parte de una extensa jornada de protesta y rebeldía que culminó con el fascista presidente de derecha Sebastián Piñera, decretando Estado de Emergencia y poniendo a cargo de las tropas de los asesinxs militares al asqueroso general Javier Iturriaga. El avance de los dias siguientes no fue distinto, continuaron las acciones de sabotaje acompañadas de multitudinarias expropiaciones masivas a los grandes centros comerciales, el ataque a edificios gubernamentales y los incesables enfrentamientos contra la policia, argumentos perfectos para imponer Toque de queda en casi todo el territorio y con esto dando completa libertad y legitimidad al actuar de las policias y fuerzas militares que han asesinado y torturado históricamente en nombre de la autoridad. (more…)
Tags: Analysis, Chile, International Solidarity, Riots, Santiago, Social Insurrection
Posted in Autonomy