Posts Tagged 'Social War'
Wednesday, August 21st, 2019
For three weeks already the offensive of the United Revolutionary Movement of the Peoples HBDH (Turkish: Halkların Birleşik Devrim Hareketi) continues unabated. For weeks now the fascist AKP-MHP regime and its supporters in the whole of Turkey and the occupied Northern Kurdistan have been shaken by endless fire and bomb attacks of the militias and guerrilla forces of the revolutionary alliance.
The United Revolutionary Movement of Peoples was founded on March 12, 2016 and is the front organization of various revolutionary, socialist and communist parties and organizations of Turkey and Kurdistan. In the HBDH the Kurdish Freedom Movement in leadership of the Kurdistan Workers Party PKK unites with the revolutionary left of Turkey to a common front in the struggle against AKP-MHP fascism, for the liberation of the occupied Kurdistan and the establishment of a socialist Turkey.
Simultaneously with the renewed rise of the threats of Turkish fascism against the Democratic Federation of Northeast Syria, the militias and guerrilla units started a new offensive in the heart of Turkish colonialism. In the following some of the past actions are summarized:

Declaration of 30 June
On the 29.06 at 16.00 o'clock, in the district Datca of Muğla, Palamutbükü, a sabotage action against a television station was accomplished. The United Revenge Militia of the Peoples confessed to the action with which a television station was met, which legitimizes fascism with its propaganda of lies. Tourists from home and abroad were warned against using Turkey as a holiday destination. Nobody should travel to the areas used by AKP-MHP fascism as the main source of financing for war and massacres.

Declaration of 02 July
In a statement signed with United Revenge Militia of Peoples, the group confessed to a sabotage action against the Grand Efe Hotel and surrounding hotels in the Özdere region in the Menderes district of Izmir. Two hotels had to be evacuated as a result of the action. The group threatened with further attacks against tourist destinations and called on domestic and foreign tourists to stay away. Otherwise they would have to face the reality and pain of the dirty war. The group called on the oppressed, workers, women and youth to stand against fascism. (more…)
Tags: Anti-Fascism, Arson, Attentat, Insurrection, International Solidarity, Kurdistan, PKK (Kurdish People's Party), Rojava, Sabotage, Social War, Turkey, United Revolutionary Movement of Peoples (HBDH), War
Posted in Direct Action
Monday, October 8th, 2018
After the magnificent period of resistance around the G20 summit in Hamburg in 2017, after the G7 summit of June 2018 in Quebec – placed under an unparalleled repressive level, with its "free expression zone" – and the G20 summit at Buenos Aires in November / December 2018 promises to be a great moment, given the current popularity of Macri, the history of local struggles, and the animosity of the region towards Trump …
Now the 2017 G7 summit is announced to take place at the end of summer 2019 in Biarritz. We have no illusions about the repressive level that we are entitled to expect from Gérard Collomb. It is clear that this summit will once again be a law enforcement laboratory, as will judicial measures against demonstrators and those who are organizing themselves. (more…)
Tags: Biarritz, Counter-Summit, Demo, France, G7, Riots, Social War
Posted in Autonomy
Sunday, October 7th, 2018
PDF: Dark Nights #47 – EN
PDF: Dark Nights #47 – ES
'Against Surveillance State UK – Against Facial Recognition CCTV'
'Contra la Vigilancia del Estado de Reino Unido – Contra el CCTV de Reconocimiento Facial'
International anarchist newsletter in English and Spanish versions. Latest issue of Dark Nights returns after more than two years. Download, copy and distribute.
Boletín anarquista internacional en versiones en inglés y español. El último número de Dark Nights regresa después de más de dos años. Descargar, copiar y distribuir.
Anti-Copyright Network

+ Facial Recognition CCTV article as A4 PDF to be enlarged to A3 and flyposted.
Tags: Analysis, Anti-technology, CCTV, Dark Nights, Facial Recognition, Insurrection, Intelligent Surveillance, Novichok Case, PDF, Repression, Sabotage, Social War, Zine
Posted in Library
Thursday, September 27th, 2018
Tired of being silent, tired of seeing systematic violence every day through racism, sexism and waged labor that take place in society, whose essential values are authority and profit. Sick of exploitation we see all political parties as main responsible, as they repress freedom with the state, reformist and repressive apparatus (TV, the mass-media, associations, the army, the civil protection, etc.) The state and capital are the biggest criminals, they even violate their own laws, they steal through taxes, they kill through wars and waged labor, rejections of migrants' boats in the sea, concentration camps for immigrants in Europe and Africa, they contaminate irreversibly men, animals and the entire planet, all for their profit and power.
Let's not forget the hypocritical complicity of society made of citizens who pretend not to see the horrors of present and past racism and nationalism. This acceptance is the pillar of totalitarianism and democracy: in the course of time the authority based on indifference, fear, apathy was able to create Gulags and nazi concentration camps, and today the concentration camps in Libya and outside our homes. It's history that repeats itself. (more…)
Tags: Haris Hatzimihelakis, Haris Hatzimihelakis cell/Black International (1881-2018), Informal Anarchist Federation (FAI), Insurrection, International Solidarity, Italy, Social War, Treviso
Posted in Direct Action
Thursday, September 27th, 2018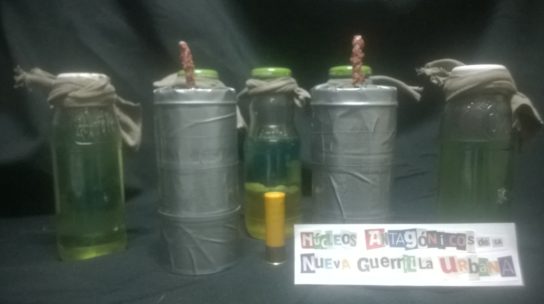 Santiago, 11 de Septiembre 2018
"Hemos decidido rebelarnos frente a esta realidad de mierda, que sin duda nada tiene que ver con nosotros. Pasan los años, y una pregunta me da vuelta en la cabeza. ¿Será siempre así? ¿Es que no tenemos derecho a una vida digna y alegre? ¿Todos los días serán iguales?
Nos cansamos de aplanar esquinas. De estudiar sin saber para qué. De tener que sacarse la cresta por un pedazo de pan. Nos cansamos de ver prostitutas de 11 años y que nos inunden con el Mapocho para salvar a Providencia. Estamos cabreados de los milicos asesinos, de pacos locos y prepotentes, de gerentes ladrones. (…) Queremos ser personas, vivir nuestra juventud. (…) Que no quede ningún asesinato, tortura o atropello sin justicia".
–Movimiento Juvenil Lautaro
El 11 de Septiembre es un hito, marca una antes y un después, lo queramos o no. El 11 de Septiembre ricxs y poderosxs de Chile golpearon la mesa e hicieron prevalecer sus privilegios. El proyecto legalista de la Unidad Popular y también expresiones más radicalizadas de la lucha, vieron notoriamente mermadas sus fuerzas para combatir lo que se avecinaba, de esta manera terminaron siendo aplastados por la bota militar. La derrota fue instalada. Los deseos y las ansias de libertad no pueden ser defendidos solo con buenas intenciones, esto lo aprendimos del dolor que conlleva una lección como esta.
La sociedad chilena fue quirúrgicamente modificada entre decretos, leyes, toques de queda, detenidxs desaparecidxs, muertxs (en falsos y reales enfrentamientos), montajes que avalaban el actuar dictatorial, torturadxs (humilladxs, violadxs, o llevadxs al extremo en simulaciones de fusilamiento), presxs políticxs, exiliadxs, entre otros tantos hechos cuya descripción se vuelve una pesadilla. No obstante y pese a ello, el 11 de Septiembre es una fecha de memoria y de no resignación a los sueños por una vida mejor. (more…)
Tags: Black September, Chile, Informal Anarchist Federation (FAI), Insurrection, International Revolutionary Front, Núcleos Antagónicos de la Nueva Guerrilla Urbana, Santiago, Social War
Posted in Direct Action
Saturday, November 15th, 2014
325 receives and transmits from sosyalsavas:
The fourth issue of Social War (an insurrectional anti-civ magazine from Istanbul, Turkey) is out now!
There are translations from alfredo m. bonanno, enzo martucci, kaczynski, 325, crimethinc. anarchist comics (A Nestor Makhno comic) and  an interview with a kurdistan anarchist forum about the situation in kurdistan, iraq and syria… and there are also some articles about current issues and civilization, and of course actions.
We need all kind of support for distribution and also for content. If you can write articles, please send us your local action news and photos.
http://sosyalsavas.org/2014/11/anarsist-dergi-sosyal-savasin-4-sayisi-pazartesi-itibariyle-yayinda/
Tags: Insurrection, Istanbul, Social War, Turkey, Zine
Posted in Autonomy
Wednesday, September 24th, 2014
Insurrection
It is within the perspective of generalised mass armed struggle that the insurrection takes on libertarian meaning, and marks the definitive critique of any 'closed' attempt to organise the management of the class conflict.
Generalised armed conflict is the natural outcome of a situation that is getting worse every day. The exploited are beginning to point out this necessity in a series of anti-institutional actions that are continually spreading. The isolated acts of punishment carried out by minority clandestine groups against some of those responsible for exploitation are coming to be accepted with satisfaction and approved by the mass. (more…)
Tags: Alfredo M. Bonanno, Elephant Editions, Insurrection, Social Insurrection, Social War, Towards the generalisation of armed struggle
Posted in Library
Monday, June 25th, 2012
PDF : Genocide and Spectacle
An anarchist reflection on the current context in Rio de Janeiro, the operation Shock of Order, and the 2014 FIFA World Cup and 2016 Summer Olympics in Brazil.
Tags: Anti-Fascist, Brazil, FIFA, Flor do Asfalto squat, Homeless Liberation, Olympics, PDF, Police Brutality, Rio de Janeiro, Social War, Zine
Posted in Library
Tuesday, February 1st, 2011
There is nothing as beautiful as the faces of insurgents. Nothing in this world is so attractive, is so full of hope. No journalist, no politician, no religious leader or other will ever be able to erase the beauty of rebellion or bury it in words devoid of joy and desire.
It is primarily this beauty that strikes us when we learn of revolts taking place in North Africa. From Tunisia to Yemen, Egypt to Algeria, despite the dozens of dead and thousands injured and arrested, fear is giving way to courage, sadness is overcome by hope, the misery of being reduced to survival turns into the scream of life.
One might question the economic conditions in these countries, the rising food prices, unemployment, the authoritarian regimes and their police. One might ask why, given such conditions, revolt always takes so long to break out; how do our contemporaries manage to suffer poverty and oppression for years and years without taking up arms and shooting the politicians, the bankers and the bosses. Furthermore, we could demonstrate how also here in Belgium, more and more people are thrown overboard, condemned to languish in detention centres and prisons, and exploited in ever harsher conditions, putting up daily with authority in all its forms. One might ask …
But it is time to stop complaining. Many of us, here and elsewhere, find ourselves stuck in this world where only money counts, where our homes resemble slums more and more, where industrial pollution is poisoning us slowly. Now it is clear to everyone that they (that is, those at the top of society) will push their exploitation and domination even further, they are talking about "economic crisis "and calling on us all to accept the harshening of life at every level. But them, they are not in crisis, on the contrary, their profits are just getting higher. And who is being called upon to pay the price, here as elsewhere?
Obviously there are differences between here and there, even if the rule of money knows no borders, even if a regime, all regimes, whether democratic or authoritarian, will always mean oppression, confinement and exploitation. But the revolt, in all its beauty, explodes the differences. Burning a bank in Tunisia and Egypt calls for a bank burned in Brussels; just as the release of prisoners by the insurgents in Tunisia calls for razing the prison walls here; just as men and women, side by side behind the barricade, call to put an end to submission and patriarchy.
What fuels the revolt are not only, and it looks almost not that much, sweatshop conditions. No, the oxygen of the fire of revolt in all languages, is a beginning of freedom, this stranger who is so absent in this world, but who rises proudly in the act of rebelling. And then, everything can start to change.
Let's leave aside any analysis of political scientists, journalists knights-of-the-democracy, or those who are already preparing to take the place of the Ben Ali and Mubaraks of this world. We are simply alongside those who, in Tunisia and Egypt and elsewhere know that freedom is neither the law nor the sharia, who want neither boss nor government, who want to try to live as free people, because, during the rebellion, they have already tasted it's possible – and it's sweet.
Love and courage to insurgents around the world.
Let's set fire to the powder keg, us too.
Some insurgents from here..
–
Leaflet published in Bruxelles Indymedia, 30 January 2001
Tags: Beautiful like the smile of the insurgents, Belgium, Brussels, Social War
Posted in Autonomy
Monday, December 6th, 2010
One day before the memorial of the assassination of Alexandros Grigoropoulos on December 6th, the Greek democratic dictatorship decided to activate in a tragicomic way its repression mechanisms in order to prevent the upcoming uprising of the society. All the regime's servants are on the alert trying to manipulate the public opinion and terrorize the parts of the society that resist. (more…)
Tags: 6 December, Greece, Repression, Social War
Posted in Social Control
Wednesday, December 1st, 2010
Time passes and everything stays the same… It could be for some like this, describing the reality that whips many of us, under a pessimistic pretext, like at the end of their conviction. Repression goes up a level, hate against the poor, destruction of the environment, exploitation of human dignity, assassinations of lives, like the small wild life that remains on this planet called Earth. Nothing has changed. Little we have influenced in the disruption of this reality, of this world that our free minds don't belong to. If nothing has changed it's perhaps for the lack of obligation, of courage and of conviction. For many this all seems like a game, to stand with a placard, yell a slogan, reform a law, only to alleviate their sense of guilt… but for many others this is serious, the thing here is, to what point one is seriously willing to go? (more…)
Tags: Autonomous Cells of the Immediate Revolution – Praxedis G. Guerrerro, Conspiracy of the Cells of Fire, Global, Greece, International Solidarity, Mexico, Revolutionary Struggle, Social War
Posted in Direct Action, Prison Struggle
Saturday, June 19th, 2010
14 June 2010
"On 14/06/10 we stormed into a super-market of the chain Masoutis on M.Kyriakou street, we took basic need goods (olive oil, pasta, milk etc.) and destroyed the anti-theft systems and the surveillance camera while we also smashed the cash machines and burnt all the money they had inside.
From the beginning we had decided that the goods of the appropriation would be distributed among the comrades who participated, not outside the super-market. With this choice of ours we want to make clear that this, and other practices aim not at promoting some of us as saviours of the society – rather, we want society itself to familiarise itself with such practices and to embrace them without waiting for the "revolutionary" philanthropist/ friends of the poor. Especially in a period like this one, where the rottenness of the present system is pushing it toward collapse. As for the term "Robin Hoodies" (in Greek: Super-market Robins) we believe it consists another typical attempt to twist the meaning of such actions by Mass Media, which present comrades as some sort of elite stealing for the poor. In result, the distribution of the goods is presented in a way that refers to the narcosis and the passivity reflected in the thinking "someone will think-act-take care of us".
We do not believe in a society of "weak-minded" people who must necessarily be ruled, as is wished by the ruling propaganda. We are happy when people walk on with the belief that their life belongs to them, away from mediators and needless gabble, when they organise under the premise of solidarity, anti-authoritarianism and self-organisation; under the guidance of active negation and attack. When they do not fall for the fallacy of the regime that "by helping each other we will scrape through the crisis". It is important, finally that when distributing goods you have no way of telling if the recipients are indeed in solidarity, even if that is not active, or if they are just hypocrites taking care of themselves only – and perhaps even, in another case, they would be the first to inform to the police. Of course we applaud similar actions by comrades who distribute the goods: as as we said earlier the aims are the same.
The burning of money is a symbolic action speaking for itself. These little pieces of paper that turned into ashes within seconds have managed, in even less seconds, to destroy lives, relationships, to transform the human and her desires by transforming life into indexes, digitalising feelings and experiences, simplifying the feelings of joy and misery down to the 'alternatives' – I have/ I have no money.
As for the action itself it took place exactly as planned. Our getaway was relaxed and with no unexpected incidents. We used bins to block off some roads precautionary while we made sure to know the movements of the cops before and during the action. It is telling that pigs of the Z force (motorcycle cops –trans.) were sitting around confused by the fountain on Egnatia Ave, obviously waiting for reinforcements and tried to approach only when we were already gone.
We are consciously and actively in solidarity with every other action sabotaging capitalism within the urban environment in which we act.
PS 1. A warning toward the "macho Greeks" who might want to become heroes: they'll receive the treatment they deserve, exactly as it happened when one of them was spotted to be calling the cops – he was chased, along with the bunch who were about to intervene. But as the saying goes, "the mother of the fast one has never mourned"
PS 2. We can only laugh at the misinformation of the media about supposed clashes with repression forces, trolleys filled with goods that we never managed to hand out etc…
PS 3. Of course we support the appropriation of money for the needs of the movement, it is just that we wanted to give a different context to this particular action."
The thieves' thieves
Tags: Fuck the Law, Greece, Social War, Supermarket Sweep, Thessaloniki
Posted in Direct Action
Friday, June 18th, 2010
12 June 2010
At a 50,000 strong leftist anti-government demo against economic restructuring and capitalist crisis, Berlin riot cops were attacked with an explosive device after baton charging a section of the crowd. 13 police had minor injuries and two needed serious hospital treatment.
Tags: Berlin, Economic Crisis, Fuck the Law, Germany, Social War
Posted in Direct Action